Do you make purchases without going through the customer reviews or asking your friends who are already using the product?
Well! We all know the obvious answer already. Customers trust personal recommendations from family and friends over brand marketing and advertising. Believe the stats if not us.
Over 90% of consumers read online reviews before purchasing a product or visiting the business.
According to HubSpot Research, over 60% of consumers consider customer reviews more trustworthy — meaning businesses that accumulate more positive reviews have the extra advantage.
Over 85% of consumers trust online reviews without trusted recommendations.
According to a BrightLocal survey, around 57% of customers visit a company's website after reading positive reviews.
The same survey also found that over 68% of customers are willing to provide customer feedback if prompted by the company.
Shortly, businesses need delighted customers sharing positive reviews to get visitors to their site and make purchases for businesses to grow in today's competitive market. And the good news is even the customers are happy to help.
So coming to the main point or rather the pain point of many businesses: How do you get your customers to write shining reviews that help close deals?
If you are looking for answers, you are in the right spot!
Scroll down to learn about the benefit of customer reviews, followed by sure-fire ways to ask for reviews from your customers that will make generating positive customer reviews a cinch.
Let's get started!
Create Your
Social Inbox Now
Manage all social media customer support inquiries in a unified inbox.
Benefits of Asking Customers for Reviews
Boost in Reputation
A company that receives more five-star reviews from customers is considered more trustworthy, as it instills confidence in shoppers and drives more sales.
Higher Customer Ratings
Research shows when consumers are asked for reviews by businesses; they give an average rating of 4.34 stars out of 5 stars. Whereas the average review rating is 3.89 stars out of 5 when customers provide a review of their own,
Increased Outreach
By being proactive in requesting customer feedback and encouraging customers to write reviews, your satisfied customers turn into powerful brand promoters that help to strengthen the relationships between businesses and customers.
Modes and Formats of Customer Reviews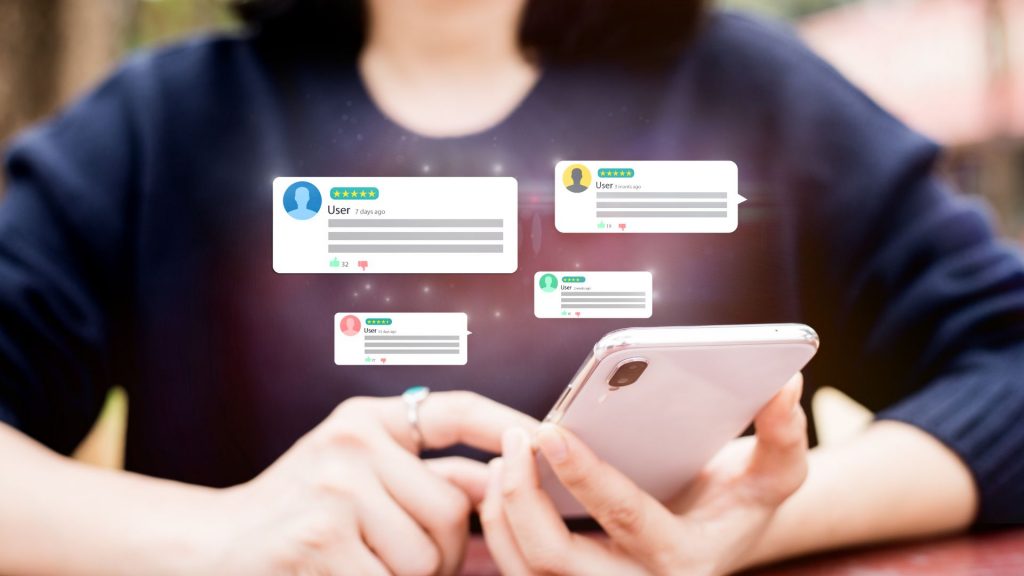 In-person
There's nothing better than conversing with satisfied customers and asking them to pen their thoughts online. If you want a genuine response from satisfied customers, approach them with all honesty. You can also ask for customer reviews over the phone.
It's important to have a clear communication channel with your customers to provide timely support and resolve their issues. One option is to provide an in-app chat, which allows customers to reach out to your support team directly from your app. Another option is to use SMS for customer communication, but it's important to weigh the pros and cons of in-app chat vs. SMS before deciding which one to use for your business. In-app chat offers a more personalized and secure experience, while SMS is convenient and has high open rates.
Through Website
Many businesses still don't use their website to ask for customer reviews. Businesses should consider their website a flagship store for their brand–all roads should lead back here.
The primary goal of a website is to inform potential customers about its services and secure conversions. Including visible CTAs or call-to-action on the website is the best way. That said, many businesses also include a dedicated review page for customers.
Social Media
Social media is great for you to have fun with your review requests. People who follow your social media accounts are most likely interested in your business or have purchased from you already. Engaging content will solidify customer loyalty. Employ the power of social media to mobilize your followers and remind them to share their opinions on your products or services.
Google My Business Reviews
Who doesn't know Google? Google is the King of web traffic. Did you know that Google's search engine performs over 4 billion searches daily? Imagine getting famous on Google will make your business reach new heights. Google My Business puts business data on search, maps, and Google+. Customers can leave reviews and essential for business credibility.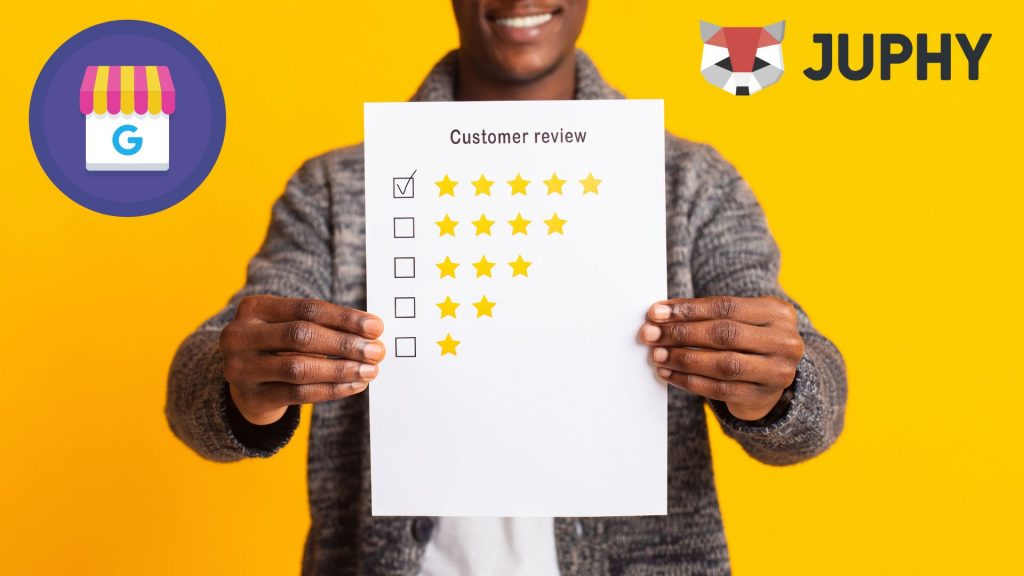 You can integrate your Google My Business account with Juphy to monitor and manage your reviews in the most efficient way. Click here to start your 7-day free trial.
Amazon reviews
Amazon is a powerhouse for E-commerce products. It is one of the best popular review sites for E-commerce products.
Amazon trains consumers to use their review systems. If you are an Amazon seller, try to customize your Amazon page. Make your Amazon page tell your business story that reflects your brand and product details.
Email
With over 80% of customer testimonials coming from email requests, the email inbox is a prime spot to hunt for important customer reviews. Most customers are used to receiving feedback requests via email, which is the most comfortable.
There are different ways to ask for a review via email. The most popular method is sending a feedback request right after purchase. This method is a tried-and-tested strategy and gets good results!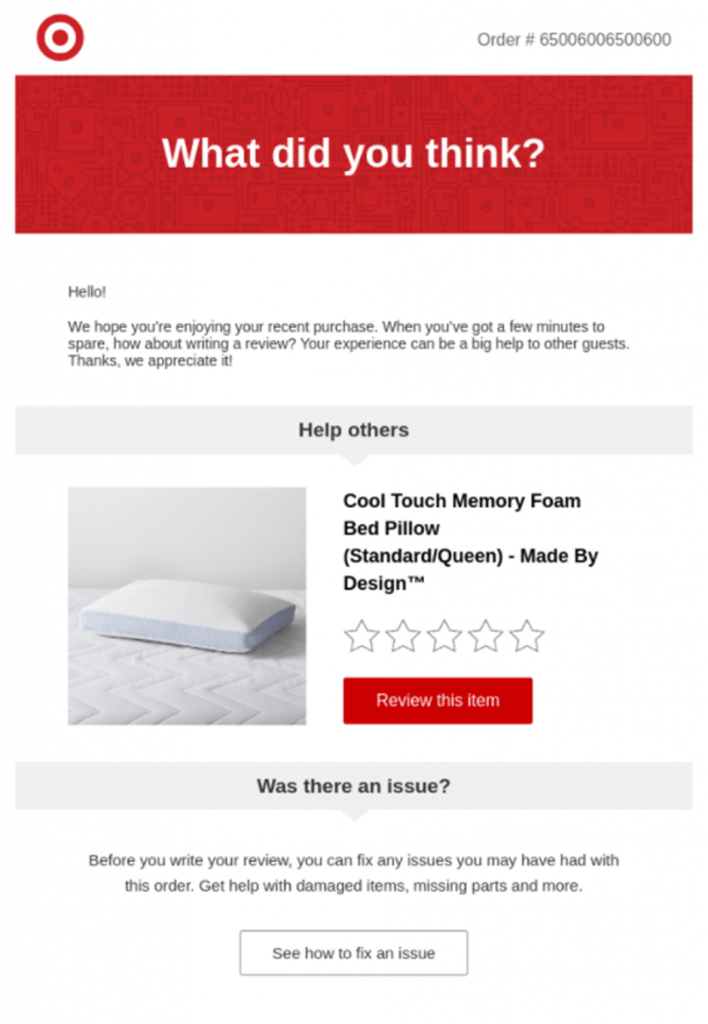 Top Tip: Follow-up emails work best if sent a couple of days after the purchase or a day after the customer has interacted with your brand. It will help you get an accurate insight into their experience.
How to Ask for Reviews in the Best Way Possible
Here are some of the ways and examples for how to ask for review examples:
1. Identify the Right Moments
Business relationships have natural ebbs and flow, so make sure you're soliciting reviews at the right juncture in of customer journey to get optimal results. You can seek customer reviews strategically at the right moment, like:
After a successful experience success with your product or service
When they re-order from your business
After they tag your brand in a post on social media
If they are spending more time on your website than browsing other services or products
If they have referred another customer to your business
These are signs of customer satisfaction, and the chances are high that they would leave a positive review.
Etsy is an excellent example of asking for customer reviews at the right time.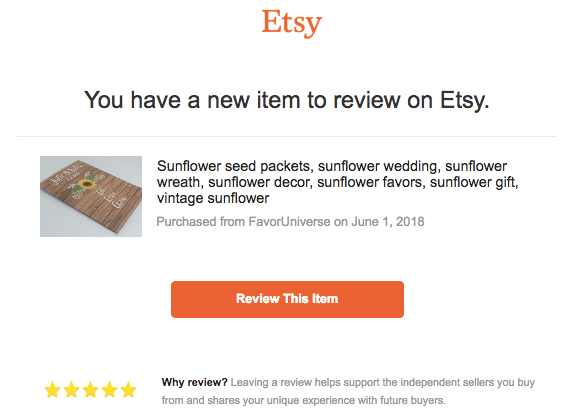 So, make sure you ask for a review at the right moment. Else it could result in a customer leaving a negative review.
2. Offer Incentives
Ensure you give customers a good reason to leave a review beyond outstanding service/products or incentives.
You can offer incentives to customers for writing the review. Incentives could be some sort of discount or a coupon code for the next purchase, gift cards, or upgrade in their current service or package. It totally depends on the product or service you offer. Here is an excellent example from G2 Crowd: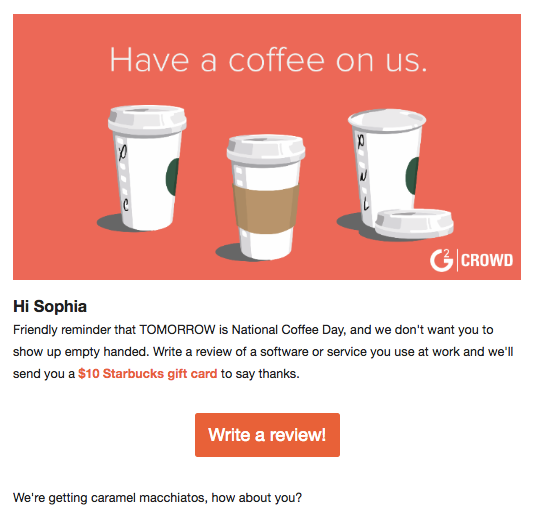 3. Be Flexible with the Avenue
Don't ask your customers to leave you a positive review on any specific site of your choice. Instead, give them the liberty to write a review on their preferred platform or format.
If you're sending out an email requesting a customer review, ensure the email has links to the site where they can leave feedback. Similarly, send the request via Messenger if you want reviews on your Facebook page.
4. Respond to the Negative Reviews as Well
Make sure to reply to every review, even if it is a one-star review. Reply within a time frame and thoughtfully. Ensure you provide a satisfactory resolution as it could help your business in the long run.
The value of empathy and compassion in customer service strikes a chord with customers. It leads to an uptick in total reviews, particularly positive ones. Even the Harvard Business Review discovered that businesses that respond to negative reviews have better customer ratings.
Here's an example of how HubSpot replied to a negative employee review on the Glassdoor page.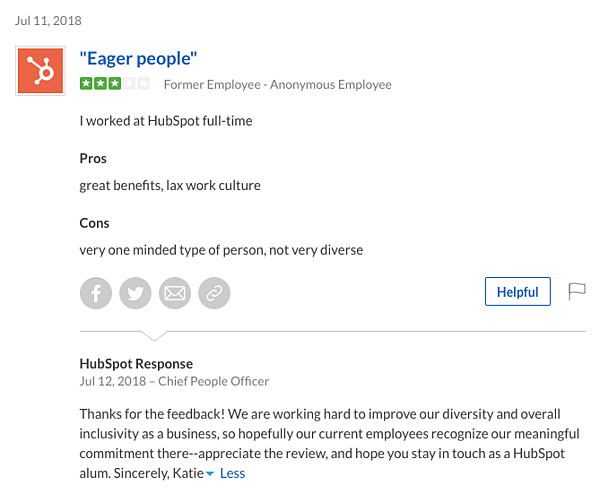 When you receive positive customer reviews, keep the momentum by highlighting and sharing them on different platforms to encourage other customers to do the same.
Make sure to do this periodically and highlight the most interesting reviews on the company's page and the brand's social media channels to open up the option to your audience.
Social proof is an influential marketing tactic – it means that if customers see others like them sharing reviews, they're more likely to follow the crowd.
So, in addition to asking for new customer reviews, ensure you're promoting the positive ones across your brand's channels.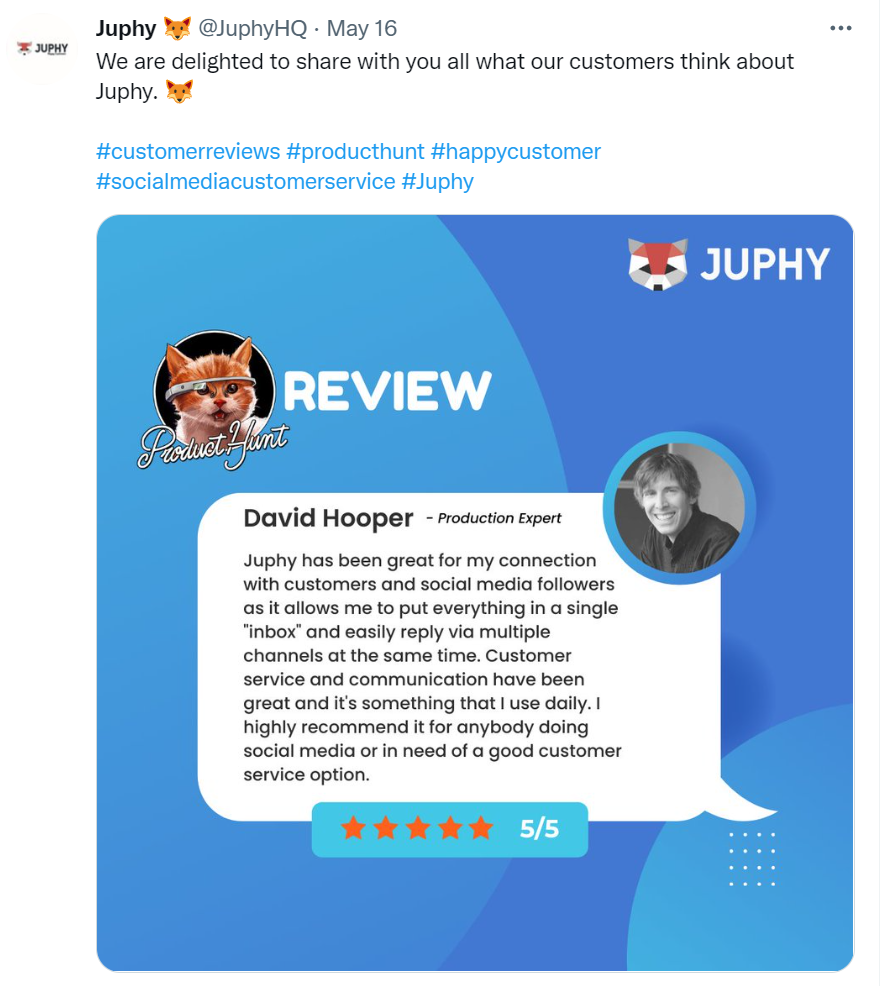 Review Request Templates for Specific Platforms
Here are some of the review request examples for different platforms:
Email
While some customers write reviews, you can help them inspire their feedback submissions by emailing review requests directly.
Review Request Email Example:
Hey everyone!
The positive reviews from outstanding customers like you could help us boost our confidence. Could you take a minute from your schedule and share your happy experiences? We will be forever grateful.
Google
If you have Google My Business Page, seek out Google reviews. Google reviews increase your online visibility. Here's how to ask for a Google review example:
Review template:
Dear (Customer Name),
Thank you for your kind association with us. We hope you loved our service. Will you take a moment to jot down the feedback form on our Google Business Page (enter the URL Link)? We would be delighted to hear from you furthermore!
Text message
Text message communication is also a popular means of getting reviews from customers. Here's the review message sample:
Review message sample:
Thanks for visiting (business name). Please share your feedback at (link). We value your feedback, and read it!
Personalized Template
Nothing can make a customer feel appreciated while receiving a personalized review template from the business owner.
Hi (Customer Name),
We have a favor to ask? Would you mind heading to (platform) and writing a quick review for us?
Reviews help us keep up with your needs and boost our confidence.
Hope to see your smiling face soon.
Juphy: For Companies That Take Reviews and Ratings Seriously
Juphy is a unified inbox service that enables you to manage all your social and email inboxes, customer reviews, queries, and social media engagements in just one platform.
Juphy enables businesses to integrate with different review platforms such as Google My Business, App Store, Google Playstore, Facebook Business Reviews, and many more and helps businesses collect and efficiently manage customer reviews. Click here to learn more about Juphy's integrations.
With Juphy's powerful integration tools, you can now turn every consumer feedback into successful business results.
Juphy's powerful features, such as the unified inbox, focus on improved social media customer support and enable your business to handle, flag and reply to all types of user engagement such as chat, email, direct messages, mentions, comments and of course reviews, in a single dashboard.
Conclusion
Reading customer reviews is the fastest way for customers to find out about your business and whether it's right for them or not. If you don't have online reviews, you're missing out on a large part of your audience.
Don't forget that a steady stream of reviews will impact your reputation, ranking, and even your revenue. Follow There are various ways to ask for customer reviews, but the most effective differs from other businesses. The best bet is a few strategies, experiment with the popular methods, and Juphy.
Create Your
Social Inbox Now
Manage all social media customer support inquiries in a unified inbox.
Related Article – How to Respond to Negative Customer Feedback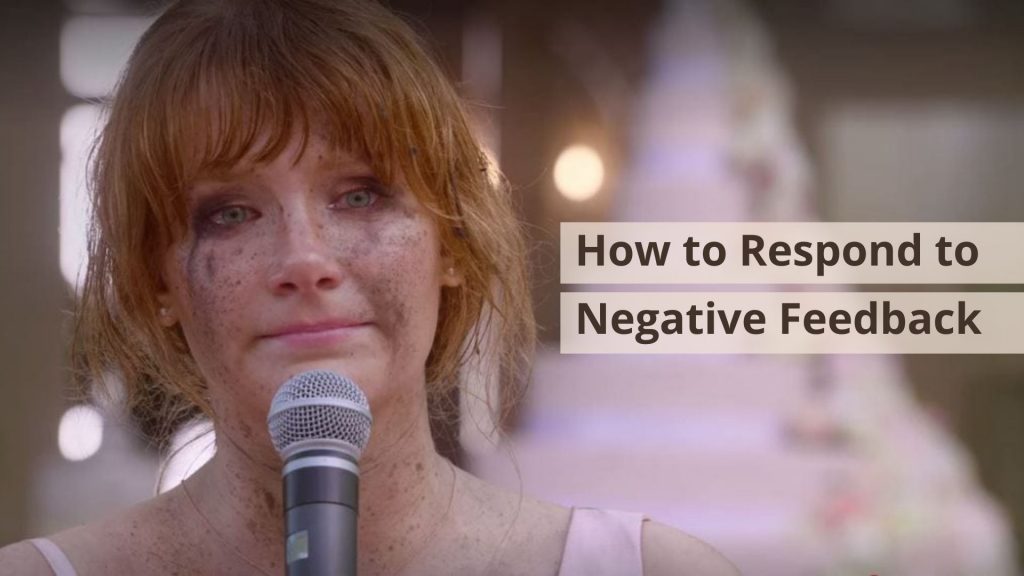 Handling negative customer feedback requires patience, strategy, dedication, and professionality. Read more to learn about tips & tricks.