In this article, we expound on six customer service challenges and practical solutions to help your team overcome them.
Excellent customer service is the backbone of businesses today, especially with many consumers preferring to do their shopping digitally from the comfort of their homes.
Anything can go wrong with their purchase or shopping, and they're counting on your efficient customer service team to save the day.
Doubt this? Check out these customer experience (CX) stats:
Identifying the common customer service challenges your team will likely face and solving them to improve customer satisfaction is essential to retaining a good percentage of your existing customers. It also increases the likelihood of attracting new customers.
Create Your
Social Inbox Now
Manage all social media customer support inquiries in a unified inbox.
Why Is Customer Service Critical for Any Business?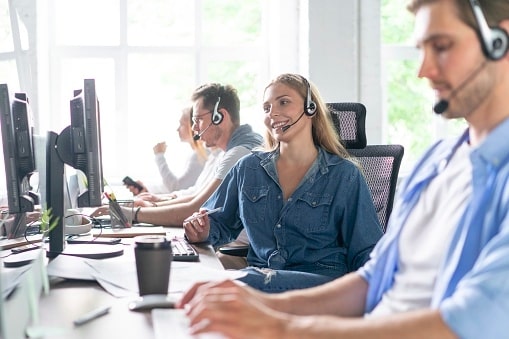 If your customers have to go through a harrowing experience to have their complaints and requests attended to by your customer support team, you will not likely retain only a few. Customer service challenges are one of the leading causes of customer churn.
Here's why customer service is essential for your business:
It Boosts Customer Loyalty and Retention Rates
Customers who are satisfied with how you respond to their queries and challenges will likely stick with your brand or become repeat customers. 3 out of 5 consumers say that exceptional customer service is necessary if they'll feel loyal to a brand.
It's also 5-25x more expensive to attract new clients than to retain existing ones. With excellent customer service, you can retain up to 86% of your one-time customers and turn them into brand ambassadors!
It Satisfies Modern-day Customers' Expectations
Today's customers expect to be served well when they do business with a brand. Up to 69% of consumers are willing to pay more to get quality customer service from a brand. If they consistently have a poor CX with the business, they're 4x more likely to churn (according to Bain & co.) 
Depending on this data, it's necessary to work towards meeting customers' expectations whenever they do business with you. Otherwise, you put your customers at risk of churn. Remember, customers need about 12 positive customer experiences to make up for one negative CX they've previously had with a business.
How Providing Customer Service Can Be a Tough Job In Some Cases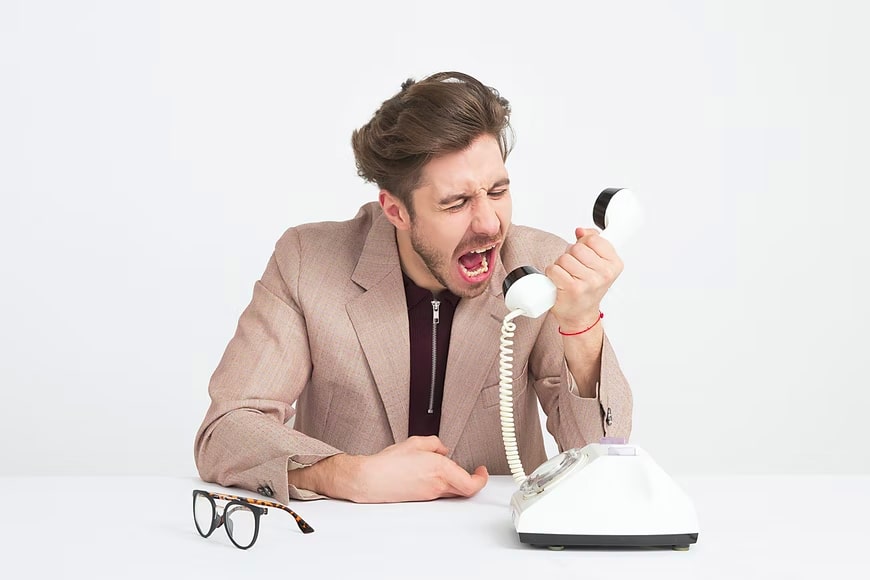 Sometimes, customer service can be pretty tricky, and there are many explanations for this. Understanding these can help you help your customer service team to handle customer challenges more effectively.
Poor workplace technology: Subpar customer service technology with slow systems and difficult-to-operate features make it difficult for agents to handle a lot of queries in the shortest possible time.

Inadequate training: If your customer service personnel don't have the adequate training needed to perform, it will not be easy to do a good job in many cases. Agents should be well-trained to handle the most stressful situations, even when they're under a lot of pressure.


Difficult and demanding customers: Angry customers who feel your company has wronged them will be among the frequent tickets that your agents have to handle. Not knowing how to handle customers like this can affect your team's performance on the job.
While many other challenges make customer service a difficult job, tackling the above will help you dramatically to improve the job experience for your customer service team.
The 6 Most Common Customer Service Challenges and Their Practical Solutions
We've researched six customer service challenges and how to overcome them with the right tools and tips. Look through them to see if any of them resonate with the customer challenges your team is currently facing.
Find solutions on how to improve:
1. Not Having a Clear Idea of What the Problem Is
Usually, when customer agents deal with customers, the customers are likely agitated, anxious, or on the verge of getting angry. Emotions like these make it difficult for them to expressly provide information on the issues they need to be solved.
In other cases, the customers themselves need help understanding the problem and cannot coherently explain it to the customer service rep. This lack of communication, in turn, makes it tough for the customer service agent to understand the problem and proffer the right solution.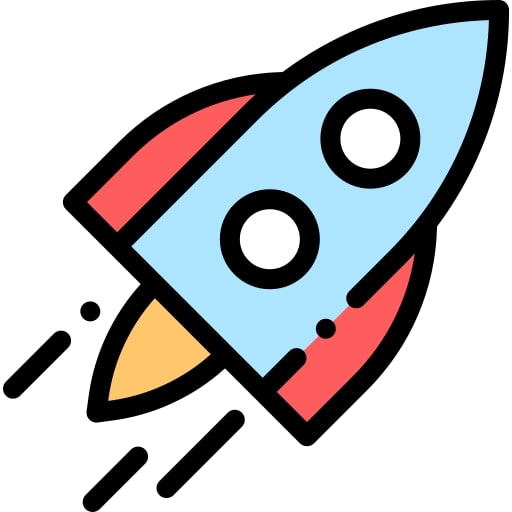 Solution: Ask the customer to explain step-by-step the issue they're facing. Encourage them to share enough details to help you get clarity on their challenge—for instance, details like when the issue happened, the circumstances surrounding its occurrence, etc.
If possible, take notes as they explain so you don't miss out on any helpful detail. If you need to get a second opinion, don't hesitate so you can resolve the query ASAP. If you need more time to find a solution, let the customer know, guaranteeing them you will reach out as soon as possible.
2. Not Using the Right Tools
Technology and tools are some of the key support systems for customer service teams. Working with tools that cannot handle the volume or type of work your customer service reps do will lead to poor customer satisfaction.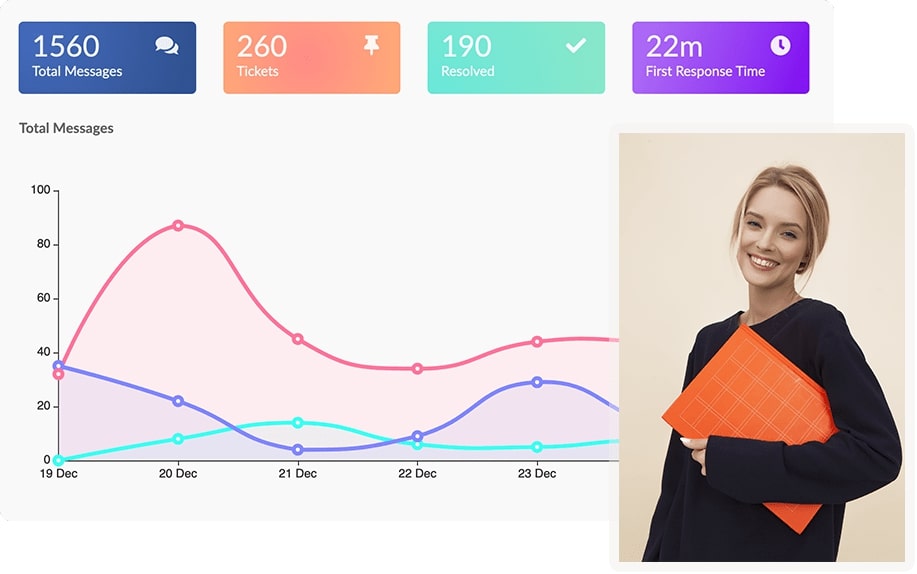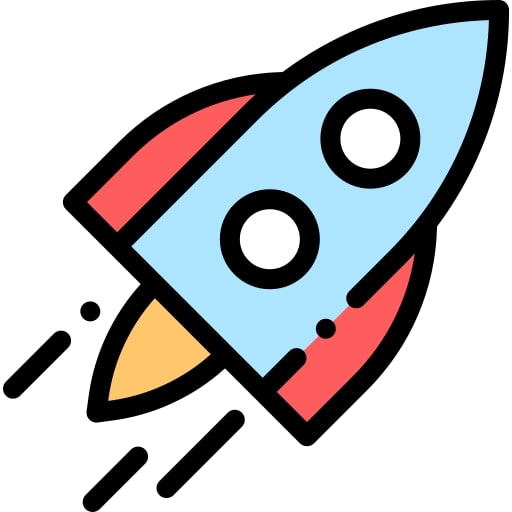 Solution: Don't choose tools and support channels because another company uses them. Find out the needs peculiar to your organization and which tool and support channel will be best for your team. For instance, if your business runs mainly on a social network, phone calls may not be the right support channel.
Instead, a social media management tool like Juphy may be a better fit. Juphy provides a workspace for customer service teams to handle your customers' queries and complaints quickly and easily.
Its features make for better team collaboration, and canned responses help the team attend to queries quickly without repeating the same responses a thousand times to different clients.
3. Having Many Customer Queries at Once
The number of digital buyers in the world, as of 2021, was 2.14 billion. With 86% of consumers expecting your business to have a customer service team at their beck and call, it's quite likely that your team has way more queries than they can handle from time to time.
According to a study, one of the things that annoy customers the most is "long queues." This comes just beneath talking with "automated phones" and "being passed around." See the infographic below: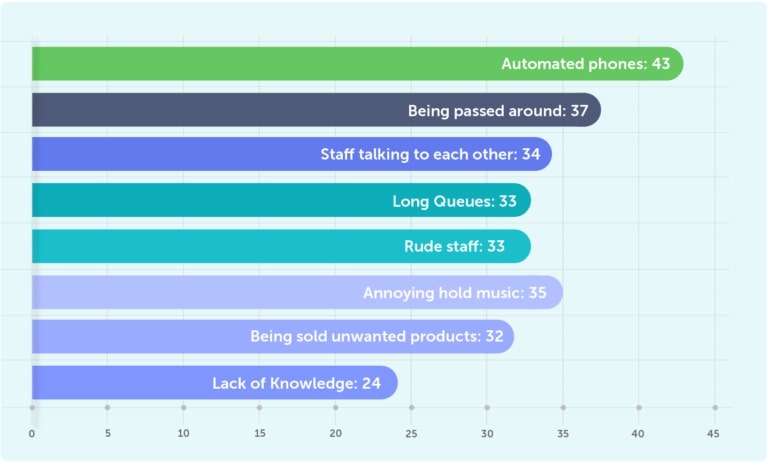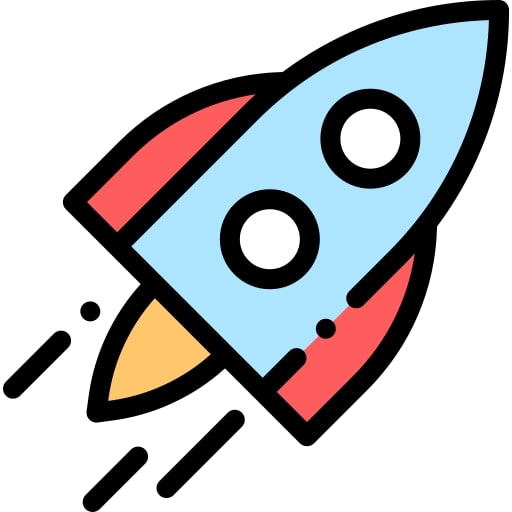 Solution: As long as you're able to resolve customers' issues, they won't mind being put on hold for a while. This can help you attend to multiple customer queries at a time so that customers don't have to deal with long wait times.
Importantly, never tell a customer that you're dealing with another customer simultaneously, as they may start to feel you're treating their issue trivially. Also, make sure not to put any of them on hold for too long so they don't get upset.
4. No Proper Crisis Management Protocol
A crisis can occur at any time in a business. Whether it's server downtime, power failure, security breaches, etc., it's not unheard of. The problem lies in not having a crisis management protocol in place to quickly assist customers who may be affected by it.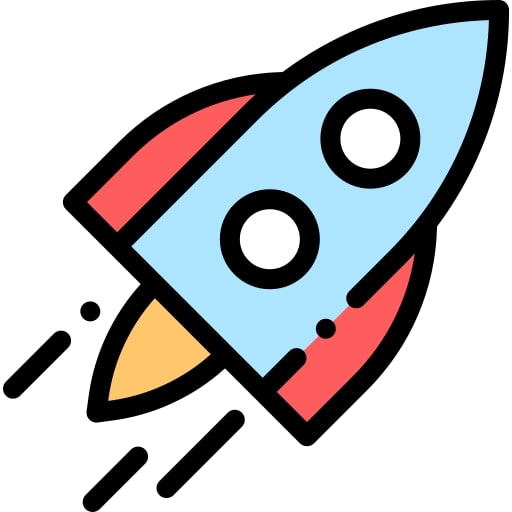 Solution: The first step during a crisis is to communicate the challenges to your customers, so they're not in the dark about what's happening. Create an efficient communication plan detailing what customer service employees need to do in such a situation so everybody's up to speed on the appropriate line of action.
Next is to apologize to customers that reach out during a crisis and reassure them that efforts are in place to get things back to normal. Send updates frequently, letting them know how close you are to a solution.
When all has been righted, send out information notifying the public (all your customers) that the crisis has been rectified, and they can go back to using your products or services hitch-free.
5. Not Being Able to Grant Customer Requests
It's more common than you think to find a customer making a complaint or requesting a service the business doesn't offer or a feature you don't intend to integrate soon.
In cases like this, customer service agents find it difficult to say "no" to customers. Because customers may feel the business is uninterested in customer feedback or does not consider their requests.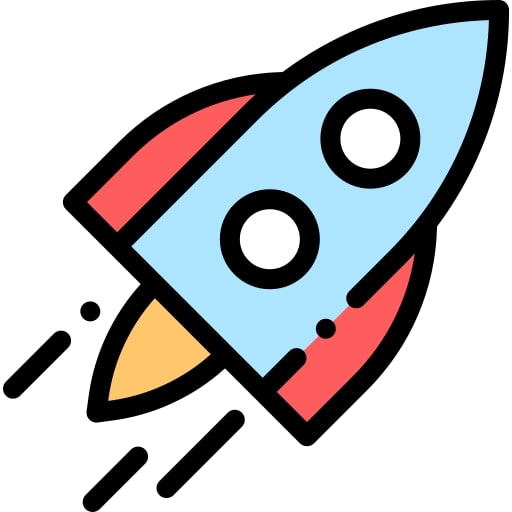 Solution: Speak politely with customers, explaining the company's current expansion or feature integration plans. If you have to decline their request at that time, do so while maintaining a positive tone.
Don't go for generic or template-based replies; speak to their needs, and offer a substitute if the company has such.
6. Missing Out/Forgetting Previous Customer Complaints & Information
Another common challenge with customer service is needing adequate information about previous consumer complaints, interactions with the company, or purchases. 83% of consumers dislike the fact that they have to repeat the same information to multiple agents many times before their issues are attended to.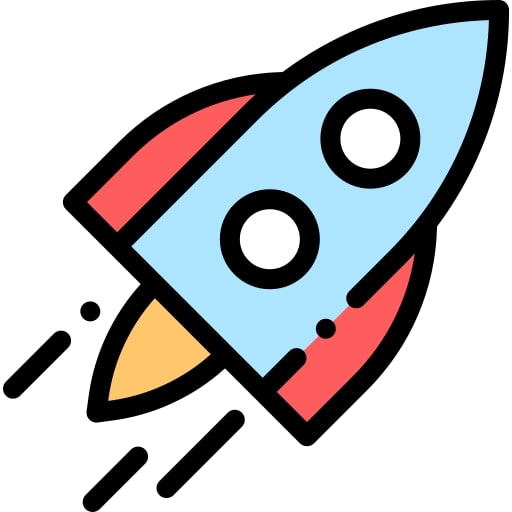 Solution: Work with a unified customer management tool that allows every agent on the team to find information about previous conversations or queries with customers so that when they contact your team, you're up-to-date on the problem.
Juphy is a management tool that helps improve your customer service team's collaboration with its unified inbox. This allows the team to find previous conversations that other team members have had with a customer if any.
There's also a team inbox where the agents can discuss existing customer queries with other customer support members. They never have to miss out on vital customer information again!
How Juphy Helps Improve Your Customer Service Team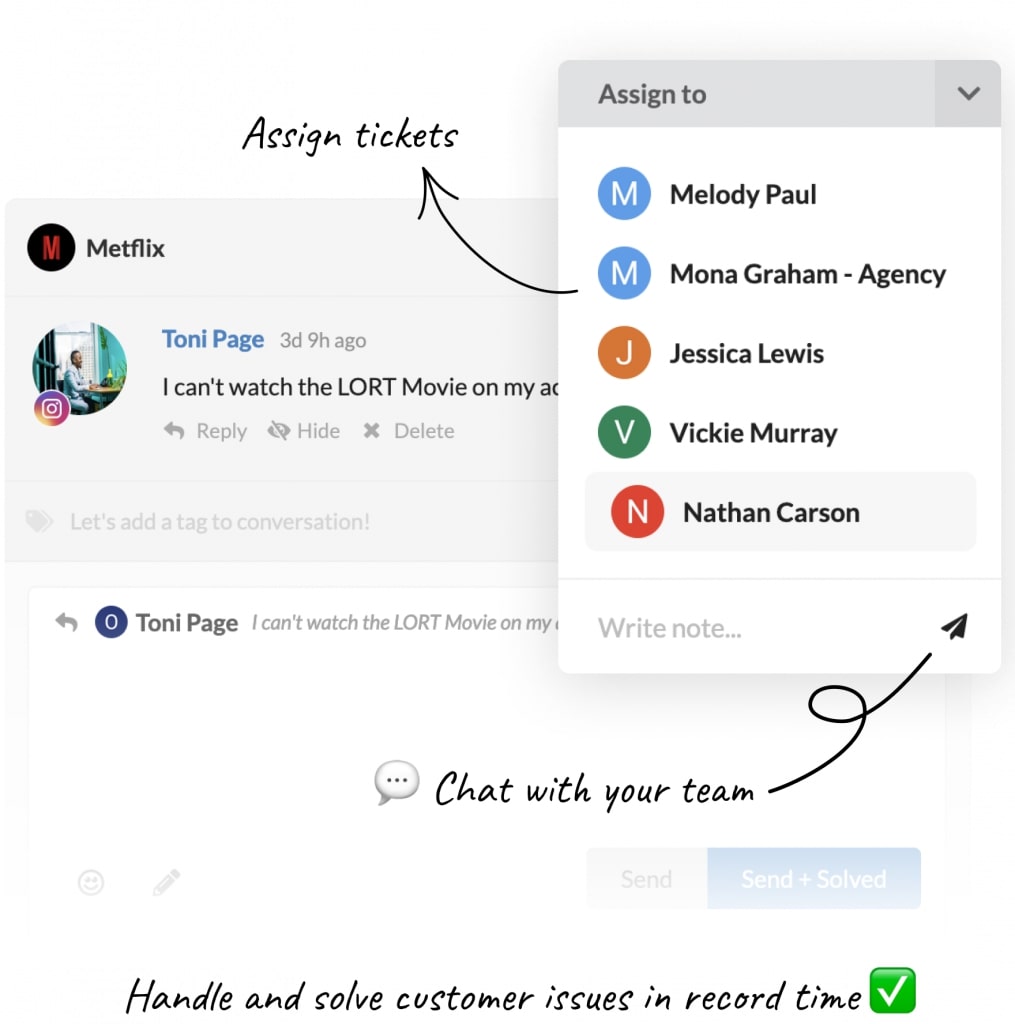 Juphy is a top-rated customer service management tool that makes the job easier for your team with its customer-support-focused features.
It offers:
A unified social inbox where your support team can access all the social media accounts linked with the business via a single login. With every social media account accessible from one dashboard, they never miss a request or query notification again.
Reports and analysis features give a detailed breakdown of how well the team handles customer queries and what areas of support you can improve.
Automation and canned responses to make the job less repetitive and tiresome, improving productivity and enhancing job performance.
Ankit Singla
Founder of MasterBlogging
"I am in love with Juphy. I started using it when it first launched. I manage multiple social media accounts and managing all of them was a pain. Thanks to Juphy, now I handle them with ease and never miss a single message/comment. I love it so much that I have pinned Juphy's tab in my browser so that I can quickly access it and reply to all the pending messages. Thanks, Juphy team for such a time-saving product. Keep crushing!!"
✓ Product Hunt Verified Review
Juphy sets your team up to attend to customers with ease and speed, boosting customer satisfaction and retention in the long run. You, too, can start to enjoy Juphy's practical solutions for your support team; sign up for a free 7-day trial here.
Create Your
Social Inbox Now
Manage all social media customer support inquiries in a unified inbox.
Related Article – Customer Service Training: Best Ideas and Resources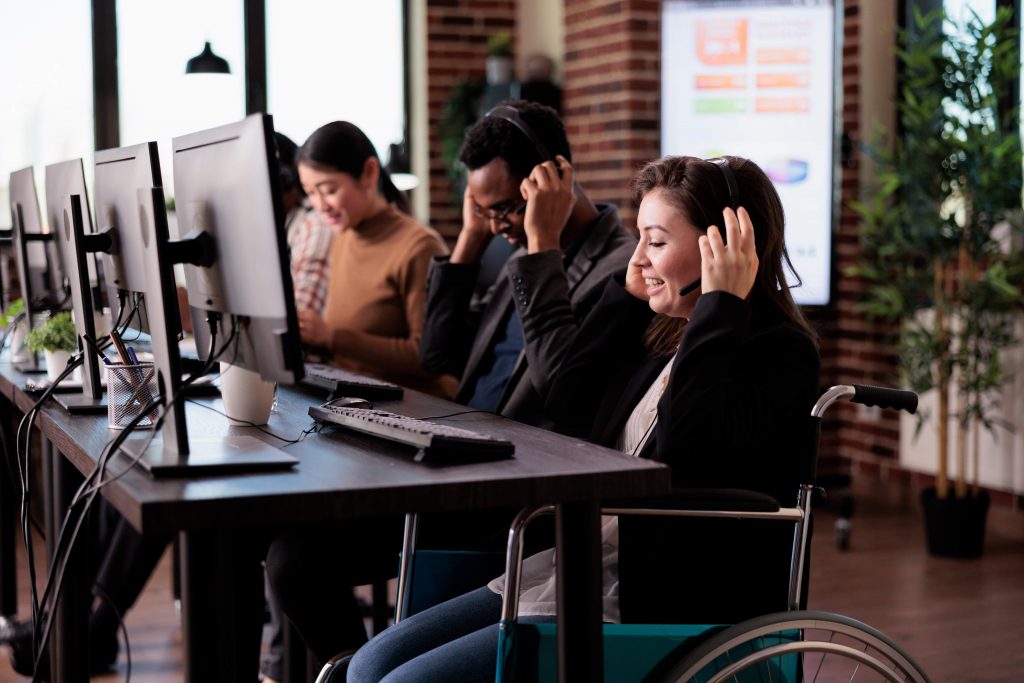 Are you collecting ideas for customer service training? Conduct perfect customer service training using our free exercises and resources. Read more now!