Conversational marketing is on the rise, mainly driven by consumers' increasing expectations for convenience and tailored digital experiences. Hence, brands use social media and messaging platforms to interact with customers.
WhatsApp is the world's most widely used direct messaging app, used by about 1.3 billion people to communicate with friends and family and connect with businesses daily. And over 100 billion messages are exchanged every day on the messaging app.
Even though WhatsApp was not born as a marketing tool, 68% of WhatsApp users agreed that it's the easiest way to connect with a business. Millions of brands use WhatsApp Business to create personal connections with consumers at scale.
For this reason, companies are now employing WhatsApp Business to sell their products/services while considering the marketing opportunities this platform offers.
WhatsApp Business was specifically created keeping small business owners in mind. It helps businesses to connect with customers and support them with immediate, personalized customer service.
For anyone who wants to start their business and sell products online but lacks the skills, capital, or time to build a website, WhatsApp is the go-to channel that can help to reach your customers immediately, at no cost.
If you have never considered adding a WhatsApp Business account to your brand's social selling strategy, then get ready.
We are about to explore why that might be a good idea with the benefit it offers.
This blog also unearths how WhatsApp is driving conversational and social commerce and how you can, as a business, use WhatsApp to level up your selling game with the best practices and integration with Juphy.
Let's go!
Create Your
Social Inbox Now
Manage all social media customer support inquiries in a unified inbox.
How Do Small Businesses Use WhatsApp?
WhatsApp for Business empowers brands to use WhatsApp as a home for customer service chats, timely notifications, and product recommendations.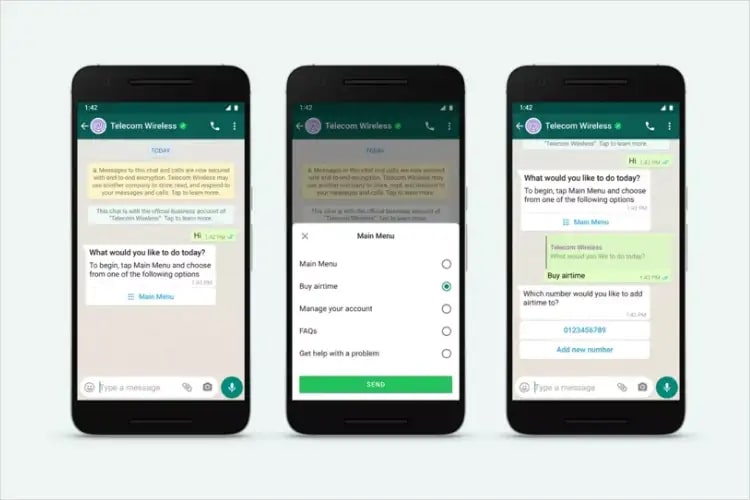 The app is comfortable and familiar for most users, so it's an easy platform to reach and engage with customers.
With WhatsApp for Business, brands can benefit from automated responses to common queries (much like Facebook Messenger chatbots) and provide customer service at scale.
For example, when a user contacts a business to enquire about a particular product or service, brands can give recommendations on WhatsApp.
In fact, Netflix started sending movie and TV series recommendations via WhatsApp in India. You can ask Netflix for a movie or TV series recommendation, and the answer will be based on the content you already enjoyed.

Plus, with the introduction of WhatsApp Pay, their in-app payment feature allows users to make transactions. It opens up a door of opportunities for integrated e-commerce on the platform.
WhatsApp Pay will soon help users to buy a product directly within the app — streamlining the end-to-end purchasing process.
Is WhatsApp a Good Tool for Sales?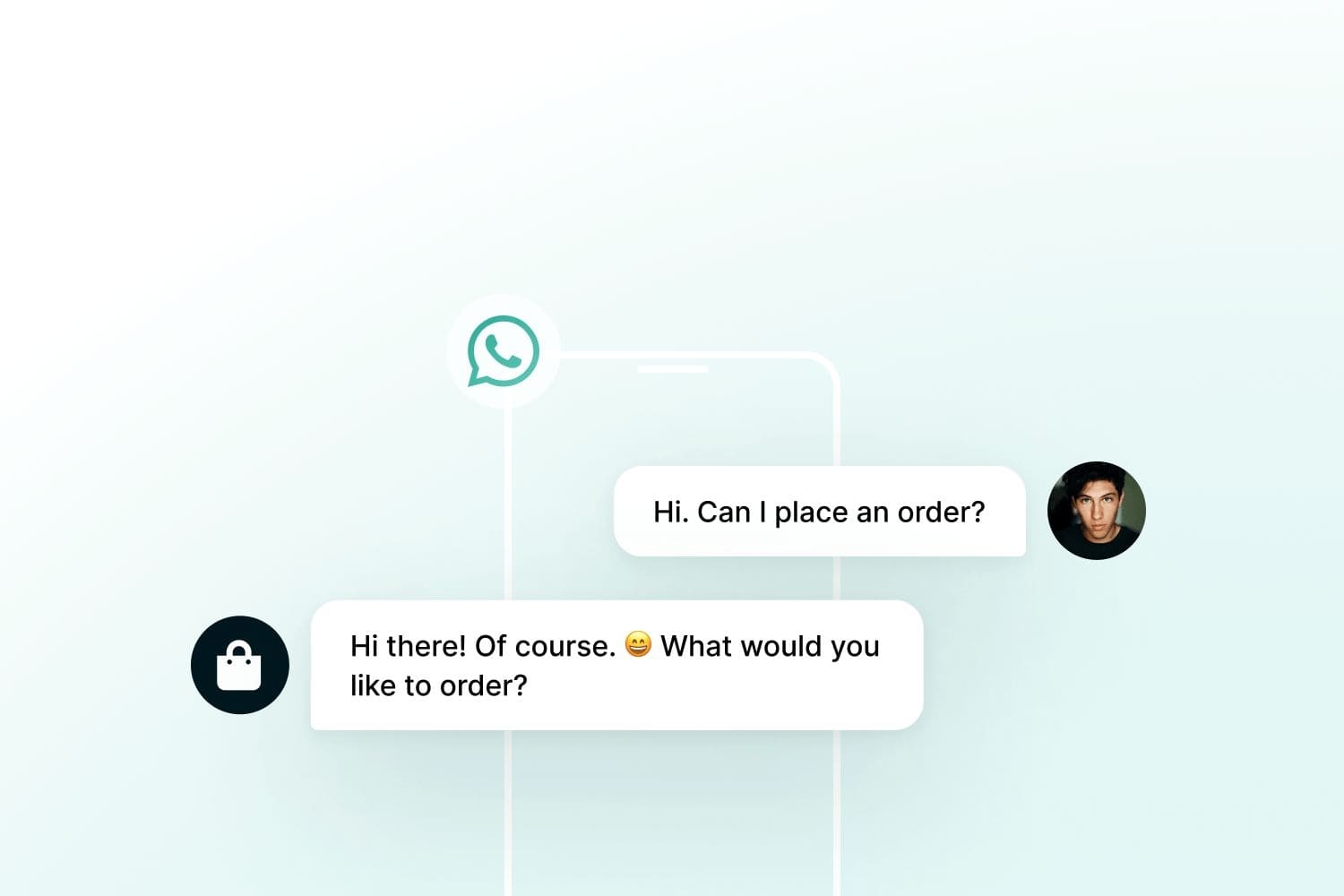 Considering the global pandemic milieu, there has been a significant shift in consumer needs and sentiments, boosting online engagement with businesses and social commerce.
But that's not all. WhatsApp has over 2.2 billion monthly active users, and its notifications have a 98% Message open rate, making it the perfect place to provide personalized customer experiences.
Hence, the sales teams need to craft social media strategies to interact with customers through the app and guide the customer through the sales process through social media.
When it comes to sales, establishing a healthy relationship with customers is essential.
WhatsApp, the third-most popular social networking site worldwide after Facebook and YouTube, enables fast, convenient, and informal interactions, ultimately leading to stronger customer relations.
According to Facebook, companies that use WhatsApp for sales enable them to:
Make 20% of customer interactions via WhatsApp result in sales.
Increase their customer base by 10%.
Increase their overall sales by 15%.
Increase new client contacts by 40%.
Let's look at some more reasons why WhatsApp is good for sales:
WhatsApp is highly cost-effective and saves you from additional expenditures invested in conducting conversations, thereby contributing to business profit.
Whatsapp is easy to use and has rich-media features like text, images, gifs, and video sharing. WhatsApp allows you to conduct personalized conversations with potential customers.
With end-to-end encryption, all user data is secured. It is safe for businesses to communicate with consumers. In turn, it helps attract customers' trust better.
WhatsApp enables businesses to conquer two-sided conversations and perform direct interactions with customers. This tends to strengthen business credibility.
How Can Businesses Make Sales on WhatsApp Business?

WhatsApp is more than just a place to answer one-off customer questions. The WhatsApp Business App is a free-to-use application that suits small businesses and individuals, empowering them to connect with customers & drive sales.
To start selling on WhatsApp, the first and most primary thing to do is to download the WhatsApp Business account. If you don't have one yet, follow these simple step-by-step instructions.
1. Download the WhatsApp Business App
WhatsApp Business app is available for free download from the App Store or Google Play. You can also download it via WhatsApp's site.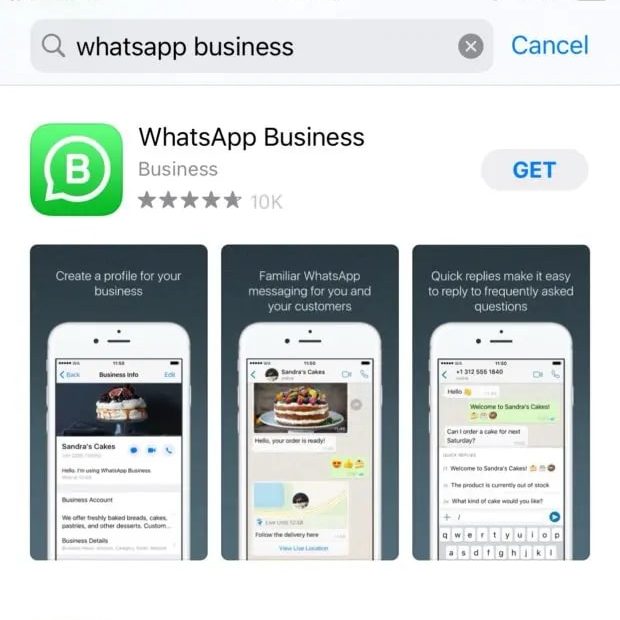 2. Create a Business Profile
Once WhatsApp is installed on your smartphone, the next step is to enter your phone number and create your business profile. You can't use the same phone number you already use for WhatsApp. You will need a number that will be specifically dedicated to your business.
Once the app is open, you need to verify your phone number, choose the name of your business (it can not be changed later), and set up a profile picture, ideally your brand's logo.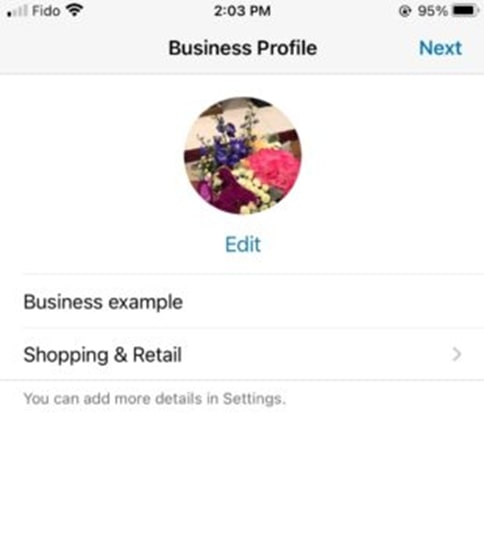 3. Set Welcome Messages, Business Descriptions, and Opening Hours
This is one of the main differences from standard WhatsApp. You need to complete every field that applies to your business. The more complete your business profile, the easier it will be for your contacts to identify you and your brand to increase conversions.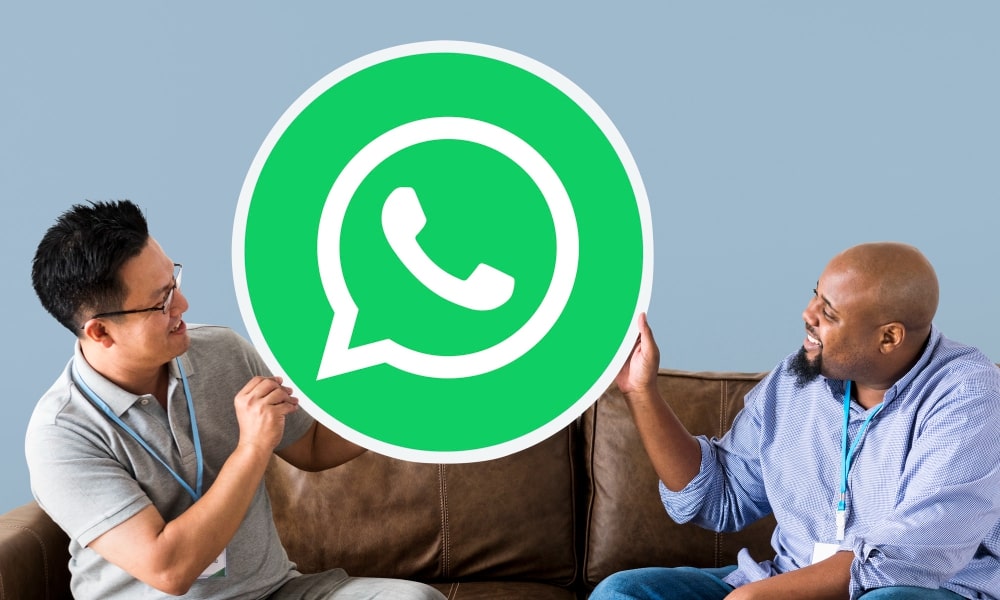 You will need to complete the following fields:
1) Your business' operation hours
2) Business address, website, and contact information
3) Complete business description (no more than 225 characters, including spaces)
4) A welcome message to send to customers once their first message is received
5) A message of absence, if customers contact you outside opening hours
6) Quick answers to reply to the frequently asked questions
4. Explore WhatsApp Business Tools
In the next step, you can learn about setting up a product catalog for your eCommerce or automated messaging, or you can also skip the tutorial and go to settings straight away.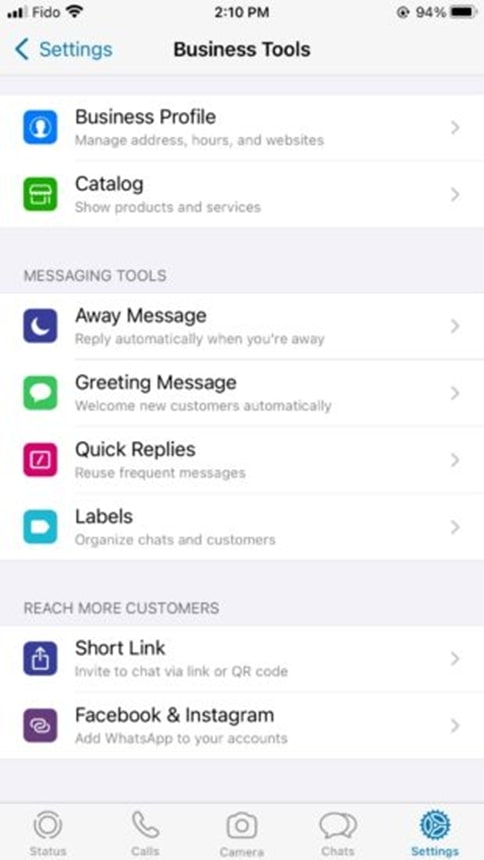 Catalog: You can create a catalog to showcase and share your products and services within your business account.
In the product catalog, you can give out the following information:
Product or service name
Product image
Price
Description
Website link
Product or service code
To create a product catalog on WhatsApp Business, follow these steps:
Open the WhatsApp Business app and click the more options icon in the upper right corner.
Go to Settings > Business tools > Catalog.
Click on Add new item and create a new catalog.
Click the plus icon followed by Add images.
Click on Gallery and select photos or click on Camera to take pictures.
Add a name to your photo and optional details such as price, description, website link, and product/service code.
Click on Save.
Note: Every image that you upload to the catalog is subject to review to check if the image, service/product meets the WhatsApp Commerce Policy.
Short link: Share the auto-generated short link with new customers to make it easy for new customers to connect with your business.
Labels: You can sort your conversations with customers by adding tags like "New customers" or "Pending payment." The default labels for WhatsApp business include the following;
New Customer
New order
Pending payment
Paid
Order complete
Automated messages: You can set up automatic replies to manage customer expectations, a message to greet customers, or an away message for out-of-business hours.
Quick replies: These are the best tool to answer the most common questions and situations. For example, to thank a customer or to explain a specific policy.
Broadcasting: You can set up a broadcasting list of up to 256 contacts for marketing as advertisements or newsletters or to connect with your teammates.
Message Statistics: Get insights into essential metrics such as how many messages were successfully sent, delivered, and read.
That's it! Now that you have created a WhatsApp business account, start using the app to communicate with customers and sell your products/services.
Benefits of Using WhatsApp for Sales
WhatsApp lets you communicate with customers on a channel they are already using. Most people check their messages several times a day, making WhatsApp the most comfortable and convenient way to contact businesses.
Also, your customers won't have to check their emails constantly to get an update on their order/query.
With a WhatsApp Business account, you can make your social media customer service more efficient and personal with its direct messaging feature, along with several other tools that come with WhatsApp Business that you can use to elevate communication with customers.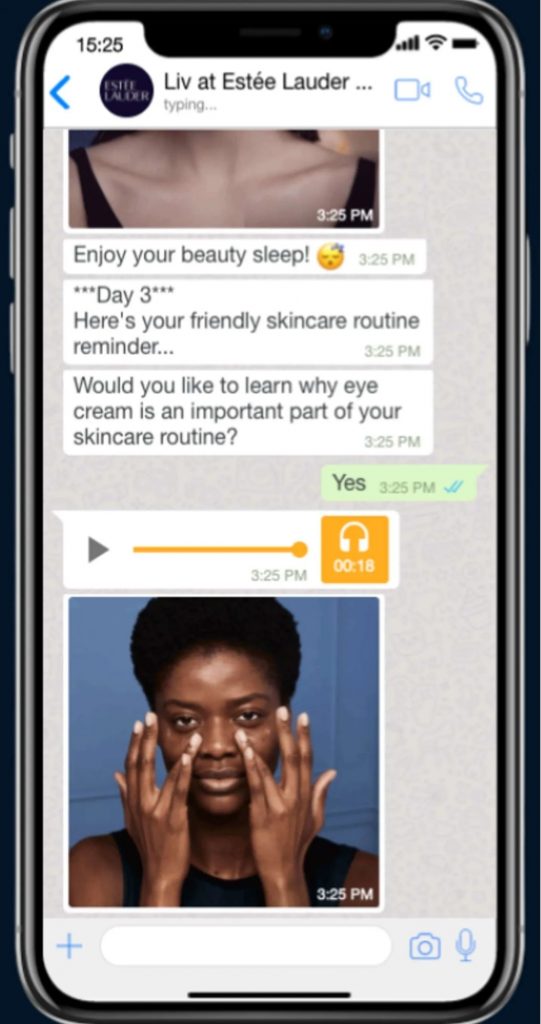 The beauty brand Estee Lauder used WhatsApp to provide skincare consultations, replacing over-the-counter skin care consultations. The brand provided tips on maintaining a productive skincare routine.
WhatsApp is billed as the top messenger app in 128 countries, allowing you to expand your business through other channels. It's primarily a popular choice in Brazil, Mexico, and Malaysia, where 60% of the population use WhatsApp.
WhatsApp messages are shorter and more direct than email, meaning you can react faster to customers' questions and problems, reducing the likelihood of churn. One of the biggest customer frustrations is endless waiting lines and delayed responses.
There's something intimate about making it onto your customers' list of phone contacts. It shows your customers you're on their level and gives off a more relaxed vibe than phone or email.
In the age of the GDPR, data privacy concerns are on the rise. Thanks to its end-to-end encryption and commitment to protecting user privacy, WhatsApp is the safe choice for customers wanting to message businesses. It also ensures a spam-free experience.
Best Practices for Using WhatsApp for Sales
Like any other social and messaging platform, WhatsApp Business can yield the best results only when used efficiently with an effective strategy. Listed below are the five best practices to help your company boost sales with WhatsApp Business:
Use Facebook's "Click to WhatsApp" Advertising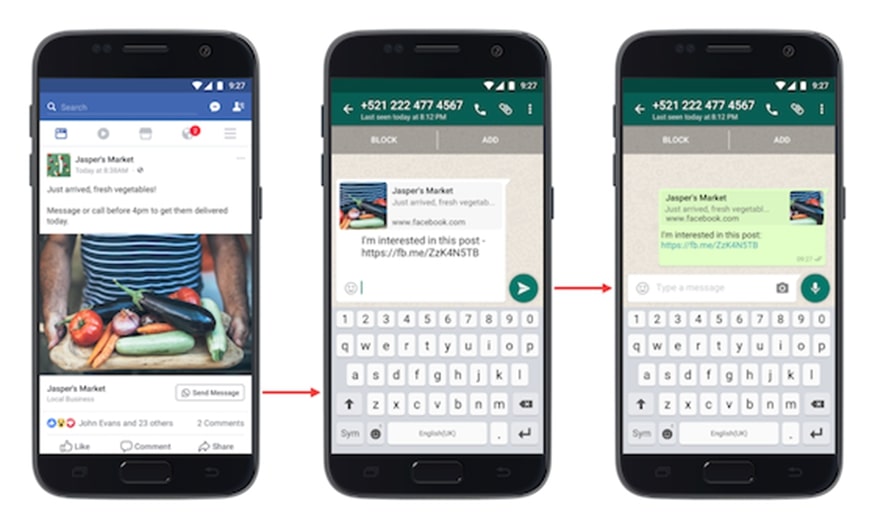 A "click to WhatsApp" ad can attract customers through their preferred messaging app. To drive them to WhatsApp, you can create a business ad on Facebook with a "Send Message" button that will initiate instant conversations on WhatsApp when people click on it.
Empowering customers to reach you with the click of a button accelerates the buying process and increases conversions. One thing you need to ensure is connecting your WhatsApp account to your Facebook page.
Leverage QR Advertising
The more hassle-free it is for people to discover your brand and reach you, the better the chances of generating leads and closing sales. WhatsApp QR code act as an effective digital front door for your business and provides your potential customers an easy way to start a conversation with you.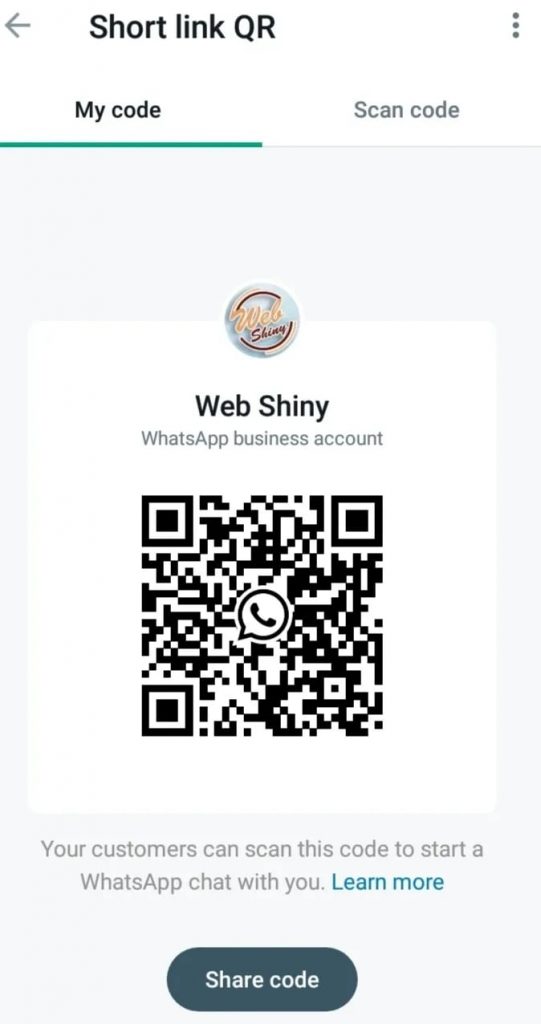 With QR advertising, businesses can now place their QR codes on promotional materials, enabling audiences to scan their way to quick communications. You can create message templates that customers can quickly edit and send once they open your short link. You can update this message anytime in the Short-Link section.
Offer Product Demonstrations
Thanks to the rich media features of WhatsApp, you can instantly forward product demonstrations to your customers. Quality product demonstrations generate excitement about your product or service.
You can share different images and educational videos using the multimedia functions on your WhatsApp account to exhibit your products or services.
You can respond to product-related queries when your prospective buyer needs your assistance, leading to better business engagement and higher conversion rates.
Customer Relationship Building
Reaching many customers and creating great customer relationships is the holy grail for most businesses to increase their sales. The appeal of WhatsApp is that you're connecting with your customers on a channel they're using to communicate with their loved ones.
Messaging apps help build strong customer connections and keep customers engaged with the brand.
With faster, more direct, and personalized service, WhatsApp can bring you closer to your customers and, ultimately, greater conversions.
Special Offers through Promotional Messages
Promotional messages are the best way of reaching a wider audience with the lowest investment. It can help businesses get ROI up to 33x. According to a report by Forbes, 80% of customers are more likely to buy from a brand that sends personalized offers.
Promotional messages include special offers or direct discount coupons that help drives sales. There are different types of promotional messages like:
Cross-sell promotional message
New Product Launch offer message
Festive Wishes + promotional offer message
Order Confirmation + Upsell promotional message
You can use the broadcast messaging feature to send messages and special offers to all your customers quickly and amplify sales.
Also read: Best Practices for Writing Whatsapp Promotional Messages.
Importance of Integrating WhatsApp with Other Channels and Sales Tools
An omnichannel WhatsApp strategy is one where you connect your WhatsApp Business channel to an omnichannel solution. An omnichannel solution allows you to manage all your communication channels in one product.
Businesses that use an omnichannel solution and offer an immersive experience to experience have the edge over their rivals.
When you use the regular WhatsApp Business app with a large team, things can get messy. You may miss out on customer queries, reply late to messages, orders may not be delivered timely, and problems may not be solved efficiently, costing your business up to $500,000 of annual revenue.
In short, a total mess.
By integrating all your channels with WhatsApp and Facebook to email and Instagram– in one view, your team never misses a message, and there is never confusion about who picks up each message. You can also tag each other within message threads to discuss a specific customer question.
Keeping an overview of your team's performance and customer happiness is difficult when your communication channels are scattered and not connected to an omnichannel solution.
Integrating WhatsApp business with a sales tool like Juphy, where all channels are integrated and available on one dashboard, allows your team to collaborate more efficiently. Juphy integrates all WhatsApp chats in a single platform so you can manage all your conversations in one place.
You can also get real-time reports. The more comprehensive your insights, the more efficiently you can serve your customers and manage your team.
WhatsApp Integration with Juphy!
Juphy integration with WhatsApp Business
Respond faster to WhatsApp messages that need the most attention with the help of automation, collaboration, and analytics tools in a centralized platform – Juphy.
Juphy is an all-in-one social media tool that enables WhatsApp integration that helps businesses to create global connections, provide excellent social media customer support, recommend products and services, tailor responses, unify different channels, and speed up the response time.
Set up your WhatsApp business with Juphy and boost your sales with Juphy's top customer and business-friendly features.
Streamline and Manage WhatsApp Communications: Scale your efforts for faster responses by seeing and responding to WhatsApp messages in the same inbox as your other social and messaging networks with Juphy's social inbox that merges all incoming messages in one single dashboard.
Speed up Responses: With the canned response feature, you can answer the most common questions with pre-defined message templates. This automates the repetitive task of replying to every message manually and frees up your team for more thoughtful work.
You can use automation rules to prioritize and sort messages based on content, tone, and urgency. You can also put tags and sort them with specific keywords, phrases, and more.
Improve Team Collaboration: Team collaboration makes responding to and managing messages more efficient by assigning tasks, preventing redundancies, starting conversations, approving content, and more as a team.
Your team can manage all the incoming WhatsApp messages with ease.
✅ Multi-Account Filtering
✅ Team Inbox
✅ Assign Conversations
✅ Search All Conversations
Order Placement and Tracking: Juphy's WhatsApp Business Integration allows customers to place and track orders through WhatsApp. This feature can significantly improve the customer experience and streamline the ordering process for businesses.
Personalized Recommendations: Add a personal touch to the customer buying journey by offering product recommendations based on their previous chat and order history.
Juphy's WhatsApp Business Integration allows businesses to send personalized product recommendations to customers through WhatsApp. This feature can increase sales and improve customer satisfaction by providing tailored recommendations based on the customer's preferences.
Take this scenario, for example. A customer sends a message to a business via Whatsapp asking for recommendations for a specific product type. The company uses Juphy's automation rules to tag the message as a potential lead and assign it to a sales team member. The sales team member reviews the customer's purchase history and preferences and sends a message with personalized product recommendations.
Elevated Customer Support: Juphy's Whatsapp Business Integration allows businesses to provide instant customer support through Whatsapp. This feature can significantly improve customer satisfaction by quickly and efficiently responding to customer inquiries.
Promotional Offers and Discounts: Businesses can use WhatsApp Business to send customers promotional offers and discounts directly. This feature increases customer engagement, encourages repeat purchases, and becomes more potent with Whatsapp broadcasting and bulk messages.
Final Words
WhatsApp for Business is incredibly convenient and allows companies to interact with customers more personally, making customers feel unique and involved.
While WhatsApp has powerful features that will boost your lead generation and sale closure rates, an effective strategy with the above best practices and tools like Juphy will streamline all business activities.
Say what's up to Juphy's WhatsApp Integration and see The difference yourself!
You can start your 7-day free trial without credit card information or book a live online demo with Juphy today!
Create Your
Social Inbox Now
Manage all social media customer support inquiries in a unified inbox.