I keep a tidy inbox. Whenever a marketing email arrives, I send it to the trash in seconds without bothering to open it and see what it says. Because of people like me, email open rates couldn't even get close to 30% in 2022, while conversion rates were even worse. So marketers try to find more useful ways to deliver their messages and engage their customers. WhatsApp Business stands as a magnificent solution with its 99% message opening rate. Furthermore, you can reach out to multiple customers with a single tap, thanks to WhatsApp Broadcast.
Create Your
Social Inbox Now
Manage all social media customer support inquiries in a unified inbox.
What Is WhatsApp Broadcast?
WhatsApp Broadcast is the messaging version of marketing emails but with better results and some limitations. The messages with multiple recipients are called bulk messages. Broadcasting enables you to share messages, multimedia, attachments, locations, links, and more with a number of customers with a single tap on the "send" button.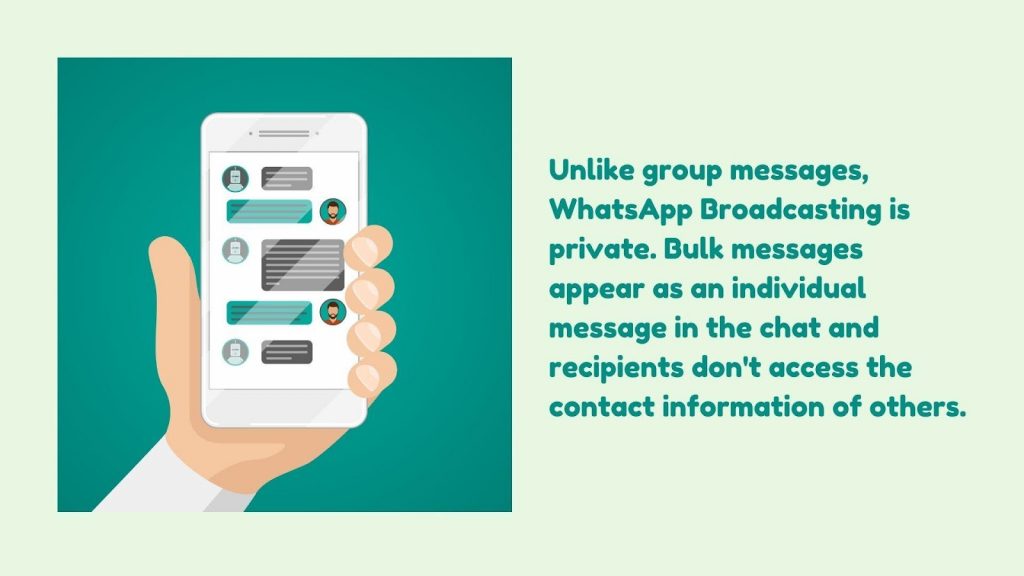 WhatsApp Business App and WhatsApp Business API both allow users to send bulk messages. Similar to using Bcc in email, recipients in a broadcasting group cannot see who else received the message. Each recipient receives the message as a standard message and can reply to it, with their response appearing on your Chats screen as a regular message. It's important to note that replies from individual recipients are not sent to others in the bulk message list, making it different from regular WhatsApp group messages.
In our two previous articles on WhatsApp Business App and WhatsApp Business API, we explained the differences in detail. In summary, the app is for small businesses and works on the mobile app, while the API is an integrated business solution for larger companies. These differences also change the working process and limitations on broadcasting.
Further Reading
What Are Bulk Message Limitations?
A small shop, where the owners possibly know many of their customers by name, can make good use of the WhatsApp Business App despite its restrictions. The broadcasting limitations are:

You can create an unlimited number of broadcasting groups, but you can send bulk messages to a maximum of 256 recipients in each group. Although there is no limit to the number of groups you can create, your telephone has storage limits.

You need to ensure that each group member has added you to their contacts. They don't receive the messages if you're not added.

You can use up to four connected devices and one phone simultaneously on WhatsApp Business App. It might look enough at first glance, but it probably won't be sufficient if your sales, marketing, and support teams share the same account.

WhatsApp Business App doesn't support integration with CRM tools or chatbots. You can still receive and respond to messages with a social media oriented customer support tool like Juphy. Still, you'll need the API to send bulk messages via CRM or provide 24/7 customer support with chatbots.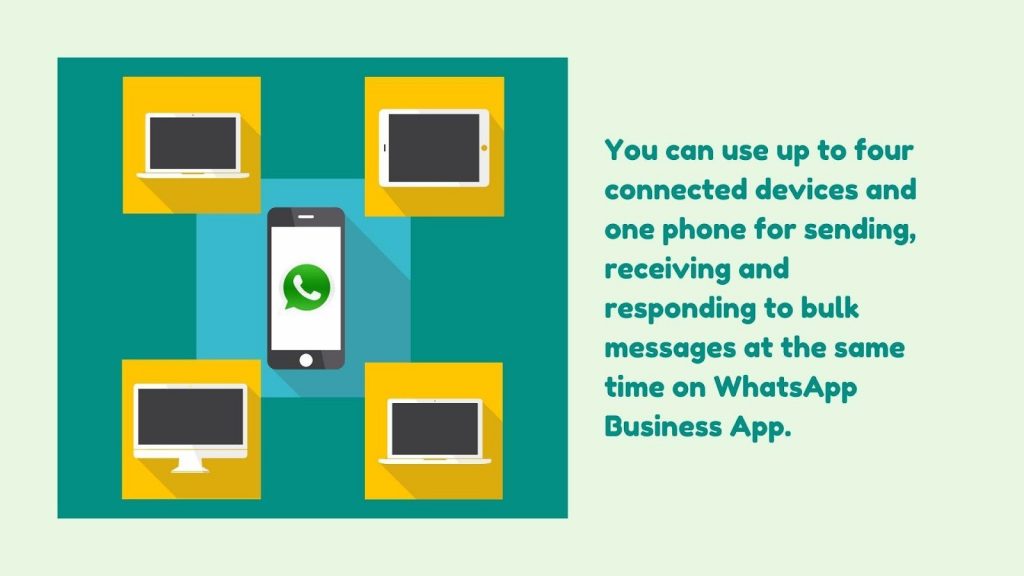 On the other hand, WhatsApp Business API is free of these limitations. First of all, you can initiate conversations even if your customers haven't added you to their contact lists. Also, you can broadcast to unlimited unique users, simultaneously have dialogues with multiple customers, automate notifications and have multiple administrators from different teams. And lastly, you can make further smart decisions thanks to the analytics and reports. 
Apart from all these limitations, another question may pop into your mind: Is it possible to send bulk messages on WhatsApp Business without adding contacts? The answer is yes. But you need to use unofficial tools to do so. Software like WASender and WAPlus enables you to send bulk messages to as many numbers as you want without adding them to your contact list. But if you are reluctant to use unofficial tools – which can get you banned if WhatsApp catches you red-handed- sticking with WhatsApp Business API and official third-party providers should be the safer choice.
How to Set up Whatsapp Broadcast
If you are using WhatsApp Business App, sending bulk messages is simple. Just open the app, go to Chats, tap the menu button shown with three dots on the upper right side, and hit "New Broadcast". Then you can give your list a name and start adding your customers' numbers. Upon saving the list, you are ready to send bulk messages to your customers. You can add or remove contacts from the list any time you want.
WhatsApp Business API is a totally different story. Since it is integrated into your system, it will be programmed according to your needs, you will have predetermined messaging templates, and the messaging process will probably become even simpler. Keep in mind that your templates need to be approved by WhatsApp, and you can send them out if they comply with their commerce policy.
As for the contacts, you won't need to add thousands of them to a list for each broadcast. Just fill in the contact numbers to a CSV file, upload it, and you're ready to go. You can also categorize the contacts in the CSV file by assigning tags – to send special discounts only to your loyal customers, for example.
Benefits of Using WhatsApp Broadcast for Businesses
The first and definitely the best benefit of WhatsApp Broadcast is that it actually works. You can send notifications, announcements, promotion messages, and much more while enjoying the confidence that your messages will be opened.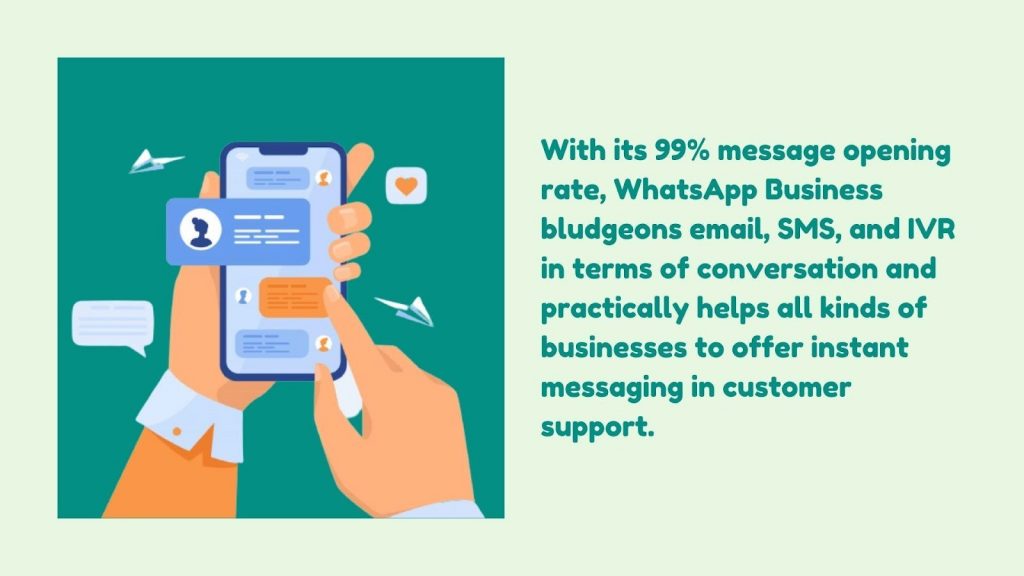 The second benefit, although it can be questionable for some businesses, is that WhatsApp ensures that broadcasting will not end up in redundancy like emails. Meta is quite serious about not spamming users with low-quality messages. If you deluge your customers with tons of trivia, you'll risk being suspended or even blocked from using the platform for your business. So choose your messages wisely and try to keep them as informative and engaging as possible.
Best Practices for Whatsapp Bulk Messaging
In this article on best practices for writing WhatsApp promotional messages, we explained how to use the platform as an advertising medium and make the most of it in detail. Bulk messages are no different. 
Keep the message short and clear: Whether it is a delivery update or a promotional message, it is important just to make your point as soon as possible. No message from a brand is worth scrolling down endlessly to get a small piece of information.

Create an engaging format: Even though it's basically a text message, WhatsApp is not like SMS. You can place a header for quick information, use different fonts when you want to grab attention, adorn your message with emojis, and send links and multimedia.

Make your message actionable: If you share information, you must expect some kind of result. For example, when you deliver a flash sale alert, you want your customers to visit your store and make a purchase. Call-to-action remarks such as "Click to see the new products" will likely drive your customers to do so.

Make sure you can engage with your customers in real-time: Sending in bulk means that your customers will receive your message simultaneously, and they might want to respond simultaneously. Imagine 256 people demanding detailed information on your recent campaign. Tracking the responses on different devices can be as problematic as speed. Fortunately, there's an easy way to tackle this problem.
Manage Your WhatsApp Business Broadcasts With Juphy in Real Time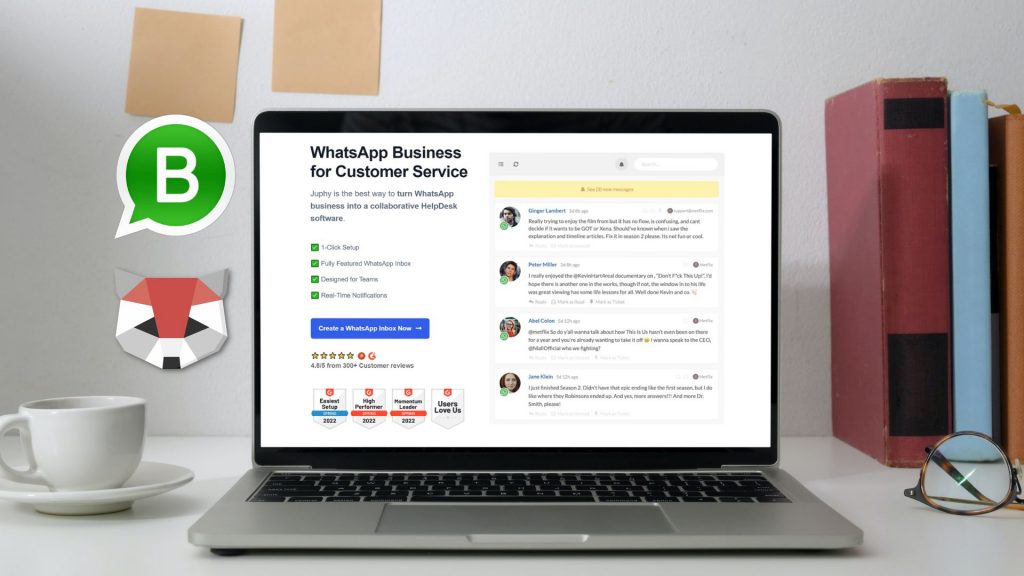 Juphy is an advanced multi-channel help desk for social media focused teams. It enables you to manage your WhatsApp Business account alongside all of your other social media profiles on a single, convenient dashboard. Tons of incoming WhatsApp messages will be less of a problem because you'll be able to orchestrate your team easily and respond to your customers in record time.
Juphy allows you to manage all WhatsApp chats in a single inbox that multiple users can access. Before the messages flood in, you can create canned responses and save them to use in a tight squeeze more quickly. For example, when your customers ask about your pricing, you can send them the ready-to-use answer.
Tracking chats and keywords is also made easy with Juphy. You can tag messages and chats to keep track of similar conversations, filter them, and provide appropriate responses with a proven strategy. Tracking certain keywords with Juphy's automation rules and having them organized neatly according to sentiment will give you a clearer picture of your communication performance. Furthermore, with clear and actionable reports, you can also track your team's performance.
Last and best of all, Juphy takes only two minutes to set up. Just enter the phone number dedicated to your WhatsApp Business account and make sure the management and access options are turned on. The account will appear in the list of platforms, and you'll be able to receive and respond to all of your customer messages in no time. Very soon, you'll be able to broadcast and keep interacting with your customers individually without ever leaving your inbox.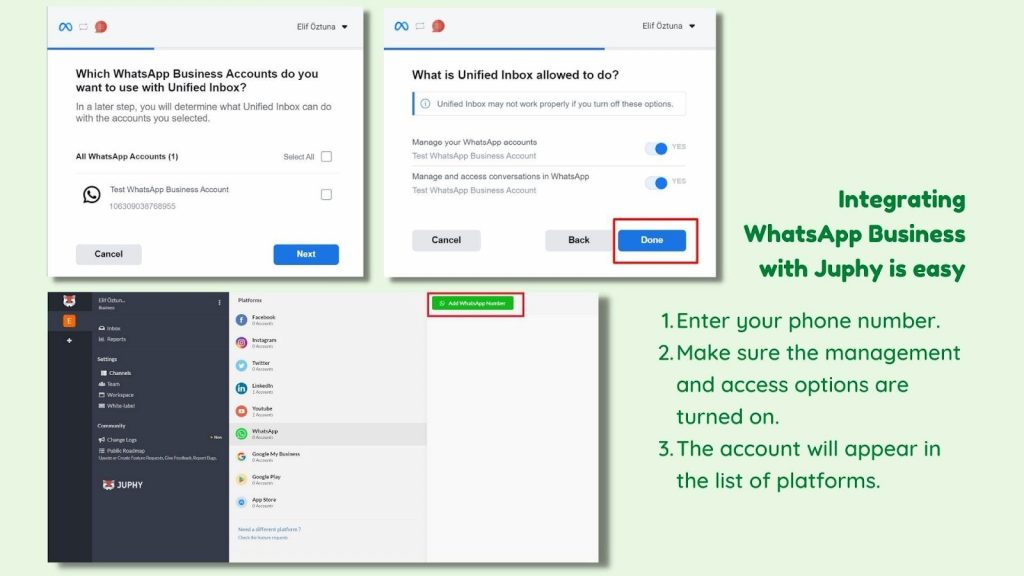 Want to see how easy it is to manage all your social media accounts, including WhatsApp Business? Start your 7-day free trial today!
FAQ
1. What is WhatsApp Broadcast?
WhatsApp Broadcast is a service that enables you to send messages to a number of your customers simultaneously. It differs from WhatsApp groups because the recipient can't see that the message is broadcasted or reach the numbers of other people in the broadcast list.
2. Which platforms support WhatsApp Broadcast?
WhatsApp Broadcasting is embedded in the WhatsApp Business App. On the other hand, the WhatsApp Business API doesn't have the built-in bulk messaging functionality since it doesn't have a separate interface. Official third-party providers build the feature according to your requirements.
3. Are there limits to broadcasting on WhatsApp?
With WhatsApp Business App, you can send messages to a maximum of 256 unique users simultaneously if they add your number to their contact lists. On WhatsApp Business API, the number of contacts you can send bulk messages to is determined by tiers. In Tier 1, you can broadcast to 1.000 unique users in a rolling 24-hour period; in Tier 4, you can reach unlimited users.
4. How can I start using WhatsApp Broadcast?
Open the WhatsApp Business App, go to Chats, tap the three dots on the right, and hit "New Broadcast". Name your list and add contact numbers to which you want to send bulk messages. Then select your broadcast list (you can create more than one), compose your message, and hit the send button.

Create Your
Social Inbox Now
Manage all social media customer support inquiries in a unified inbox.
Related Article – Best Practices for Writing Whatsapp Promotional Messages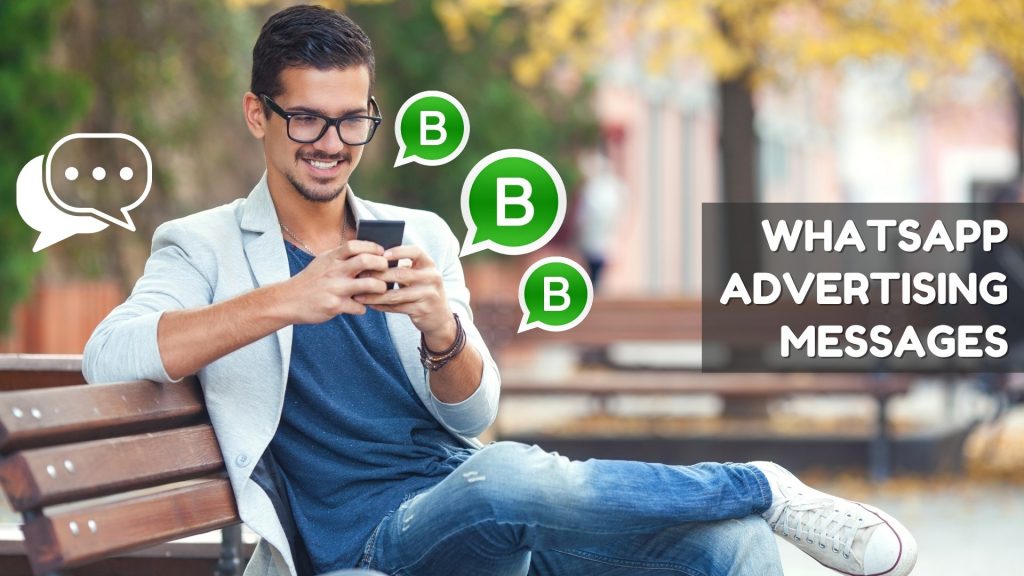 Take advantage of the capabilities of WhatsApp promotional messages for your business. Learn how to effectively create and deliver messages. Read more now!