Once, I had a client who ardently believed that creating high-quality content alone would be sufficient to attract not only their existing, engaged followers but also the friends of these followers. Their hope was to gradually grow their brand's following this way. However, I had to break it to them that this was a misconception. There's no such thing as purely organic reach in today's saturated social media landscape. Without the leverage of Instagram Ads, even the most captivating content may merely serve as a storefront poster—only visible to those who intentionally visit and explore. In fact, even viral content seldom reaches its potential without some form of advertisement, especially when it comes to branded content. Instagram is keen on facilitating business opportunities; hence it's imperative to understand Instagram Ad Specs and the best practices for creating, deploying, and tracking Instagram Ads. This knowledge is a pivotal component in today's thriving world of social commerce.
Create Your
Social Inbox Now
Manage all social media customer support inquiries in a unified inbox.
The Importance of Instagram Ads in Today's Digital Market
For the brands promoting or selling their products on Instagram, investing in Instagram Ads is quite vital since only about 10% of followers see the content organically. The algorithm takes data such as the number of followers, engagement rates, posting frequency, time spent on the platform, followers' interests, etc., into account and shows the content to the most relevant audience (or so they say, but algorithms work in mysterious ways). According to data from Social Status, the average Organic Reach Rate on Instagram in June 2023 was 12.21%. It means that you need to spend some money to earn some because if you rely on the tiny fraction of followers who organically see your content, your business is pretty much doomed.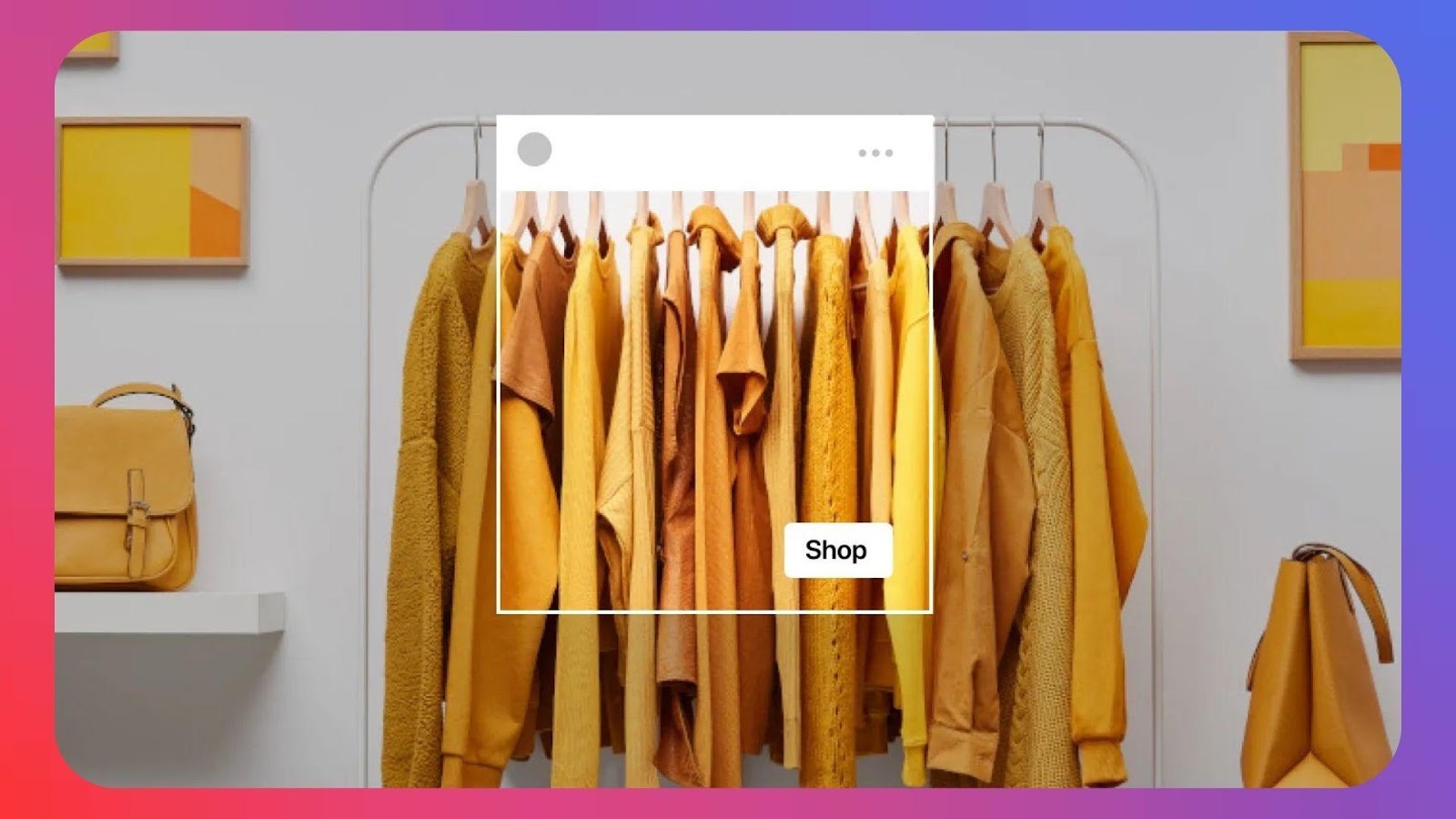 To show branded content to relevant audiences and boost selling opportunities quickly, Instagram offers a variety of ad formats for Feed posts, Stories, and Reels. One size doesn't fit all, and you can't get the best out of your advertising investment if you try to fit a piece of horizontal content into a vertical space.
Different Types of Instagram Ads and Their Specifications
Currently, Instagram offers eight different types of ad formats. Still, we recommend you create a solid Instagram marketing strategy and learn more about Instagram Shopping before releasing your sponsored content.
Since it is a part of the Meta family, Instagram Ads are created through Facebook Business Manager. The ads can be published both on Instagram and Facebook simultaneously. They appear in people's Instagram Feeds and Stories along with content from the Instagram accounts and hashtags they follow. 
You can also buy ad space in Instagram's Explore section. The ads won't appear on the grid but appear when people scroll through Explore content among the posts and stories relevant to their interests.
To place an Instagram ad, you should log in to your Facebook Business Manager account and,
Select your audience
Choose the placement(s) you want to run your ad
Set your budget and time frame
Pick an advertising format
Choose an objective and the relevant call-to-action (Shop Now, Book Now, Get Offer, etc.)
Place your order
Measure, optimize, and manage your ad
Now let's explore the formats and their specifications.
Photo Ads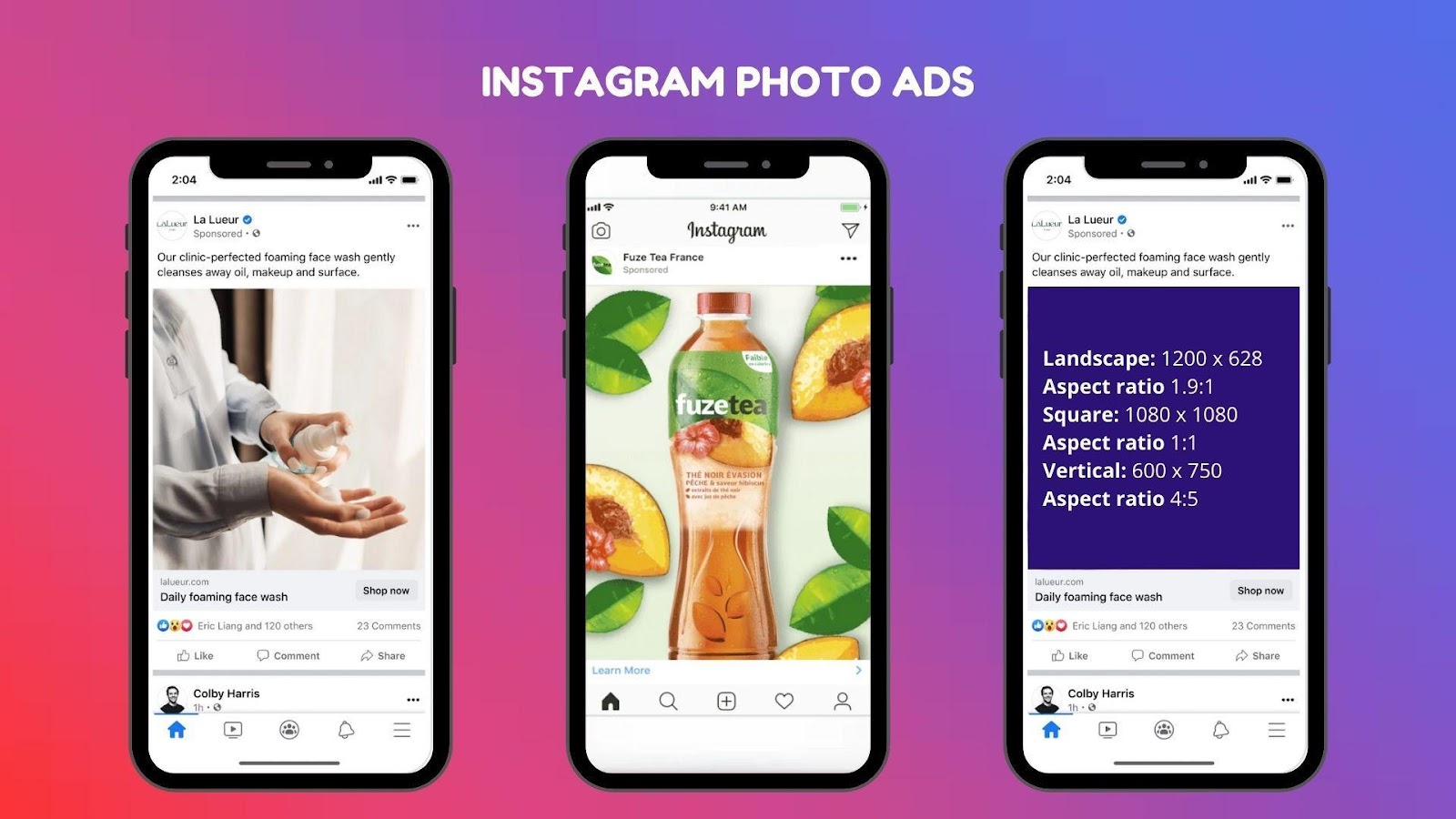 Instagram Image Ads are single photo ads that appear in the Feed. The image can be square, landscape, or vertical, and the ad can contain a call-to-action button below the image. Although the ad has a caption and hashtag area below, you can also add text directly to your image. Remember that the caption displays two lines of text (about 125 characters), and it's better to limit the overlaid text since it can distract the user and cause problems with accessibility.
The allowed formats are JPG and PNG, and the maximum file size is 30MB. Resolution and aspect ratio requirements are as follows:
Landscape: 1200 x 628 pixels, aspect ratio 1.9:1
Square: 1080 x 1080 pixels, aspect ratio 1:1
Vertical: 600 x 750 pixels, aspect ratio 4:5
Video Ads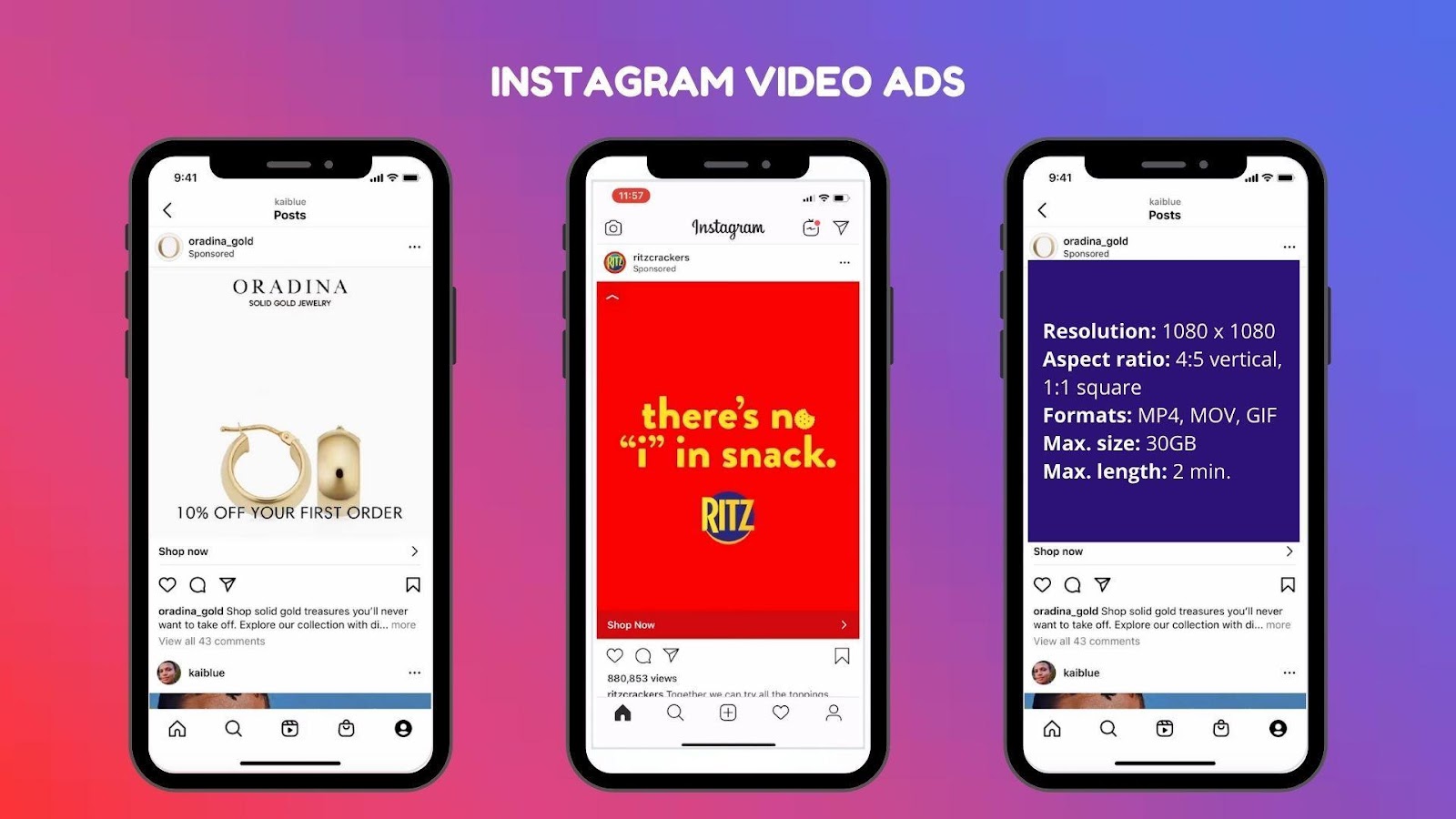 Motion attracts attention, and the time spent watching videos on Instagram increased by 80% in 2016/17. This makes Instagram Video Ads a highly popular format. They appear in the Feed in square or vertical formats. You can publish video ads on Stories and Reels as well, but they will require a different format, which we'll explain below. The format requirements for video ads are;
Recommended resolution: 1080 x 1080 pixels
Aspect ratio: 4:5 for vertical or 1:1 for square format
Video formats: MP4, MOV and GIF
Maximum file size: 30GB
Maximum video length: 2 minutes
Carousel Ads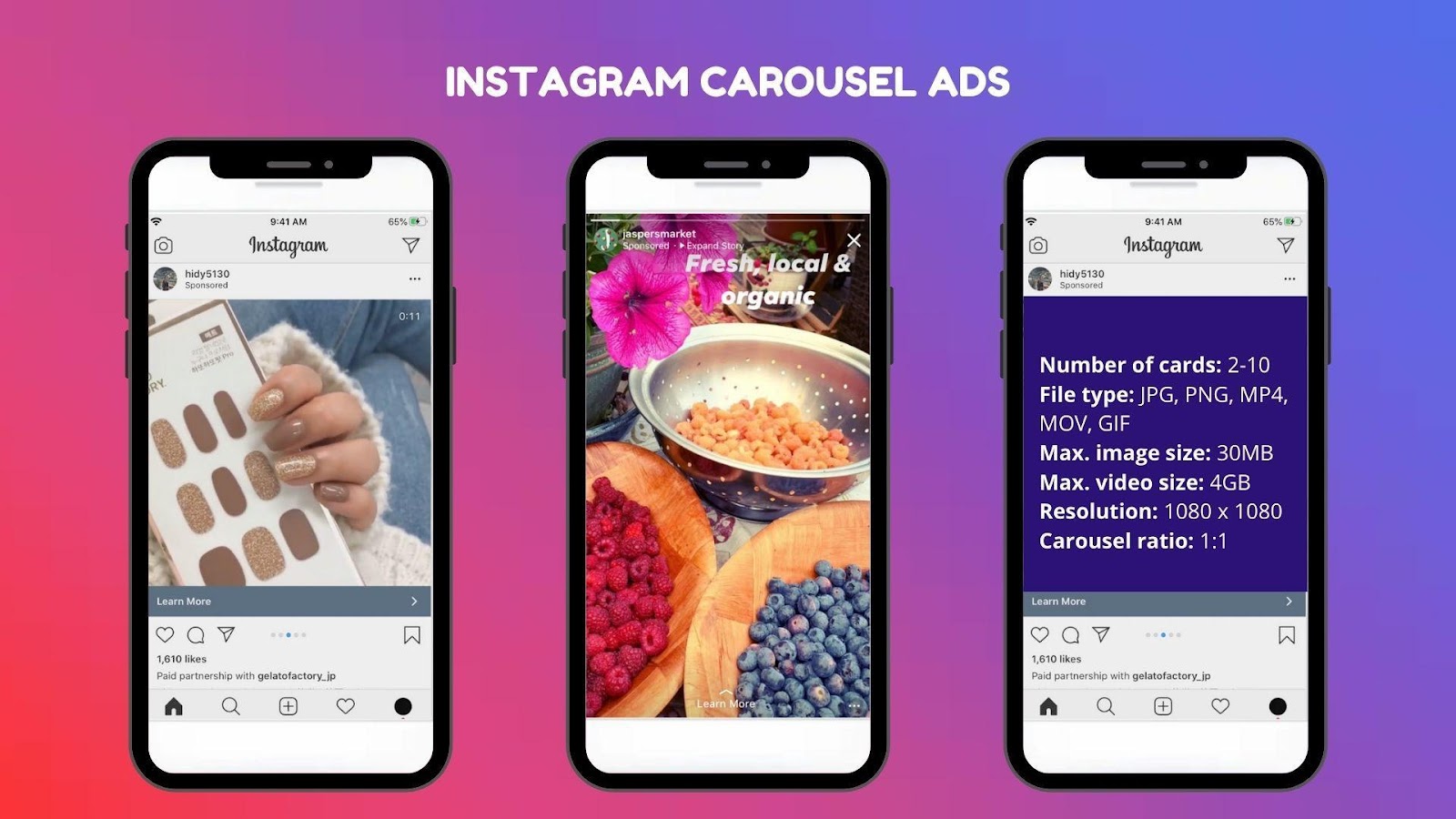 There may need to be more than a single photo or video to tell the different angles of your story, or you might want to showcase a number of your products at once. Then Instagram Carousel Ads can meet your needs. The Carousel Ads are a line of images and videos stuffed into a single Feed post or Story. The Carousel Ads feature a series of small dots positioned beneath the image, allowing users to scroll through the cards. Tapping the call-to-action button on each card leads them to their respective links.
Number of cards: Min. 2, Max. 10
File type: JPG or PNG for images, and MP4, MOV, or GIF for video
Maximum image size: 30MB
Maximum video file size: 4GB
Video duration: 1 second to 2 minutes
Recommended image resolution: At least 1080 x 1080
Carousel ratio: 1:1
Maximum number of hashtags: 30
This format can also be applied to Instagram Story Ads. Same as the Feed Carousel, it takes up to 10 cards. It automatically displays between 1 to 5 cards but gives viewers the option to tap Expand story to see the remaining cards.
Slideshow Ads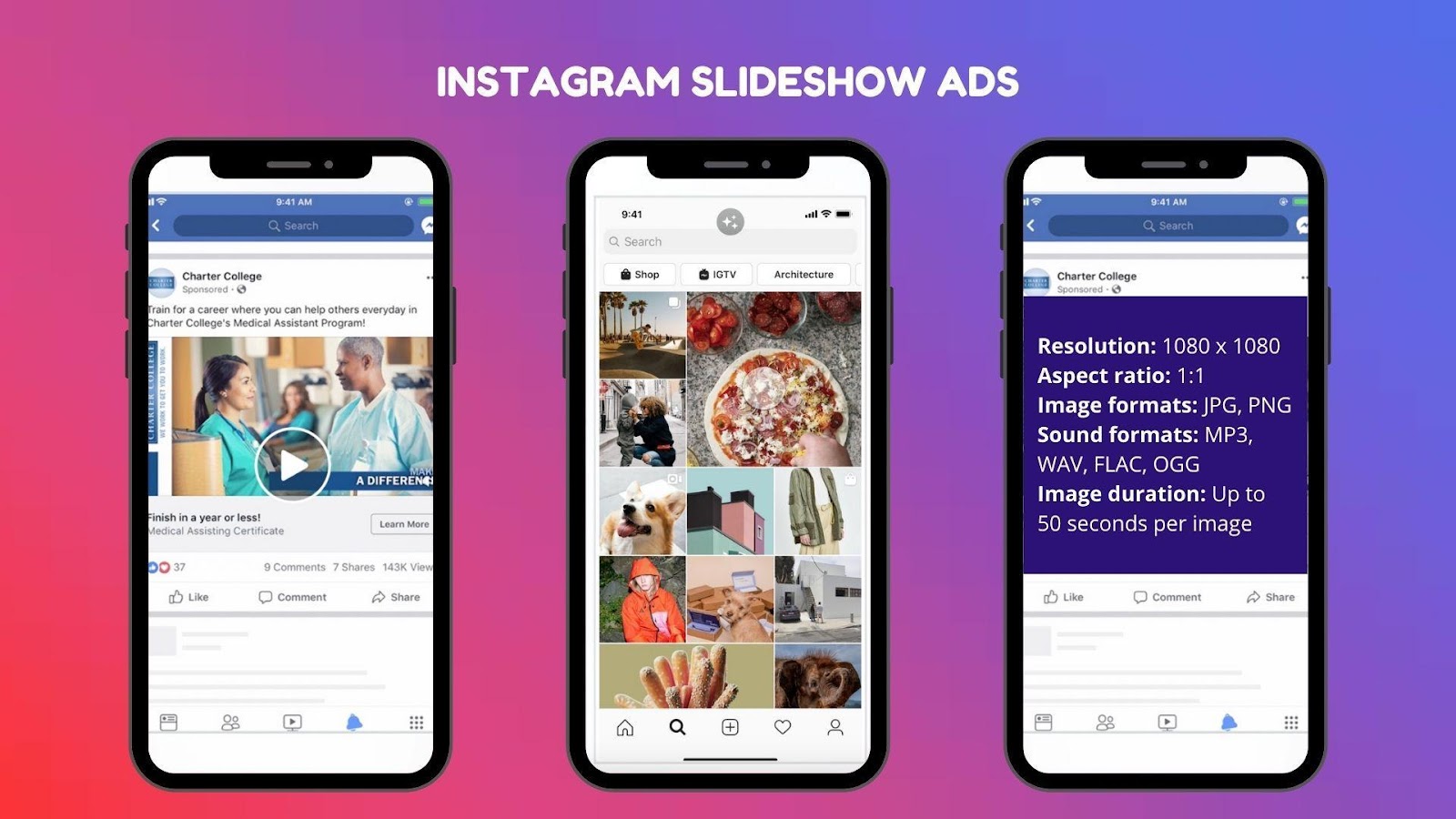 You might not have the budget to tell your stories in a series of beautifully crafted videos, but you can still take advantage of motion, sound, and text in Slideshow Ads. Facebook Mobile Studio offers stock images, video-editing tools, and a range of music. You can also create a quick mashup on desktop or mobile with the images and videos you already have. Slideshow Ads are beneficial for markets where people have slower connections and older devices, as this format uses five times less data than videos.
Resolution: 1080 x 1080
Aspect ratio: 1:1
Image formats: JPG, PNG
Sound formats: MP3, WAV, FLAC, OGG (Ensure you avoid copyright infringement.)
Image duration: Up to 50 seconds per image
Stories Ads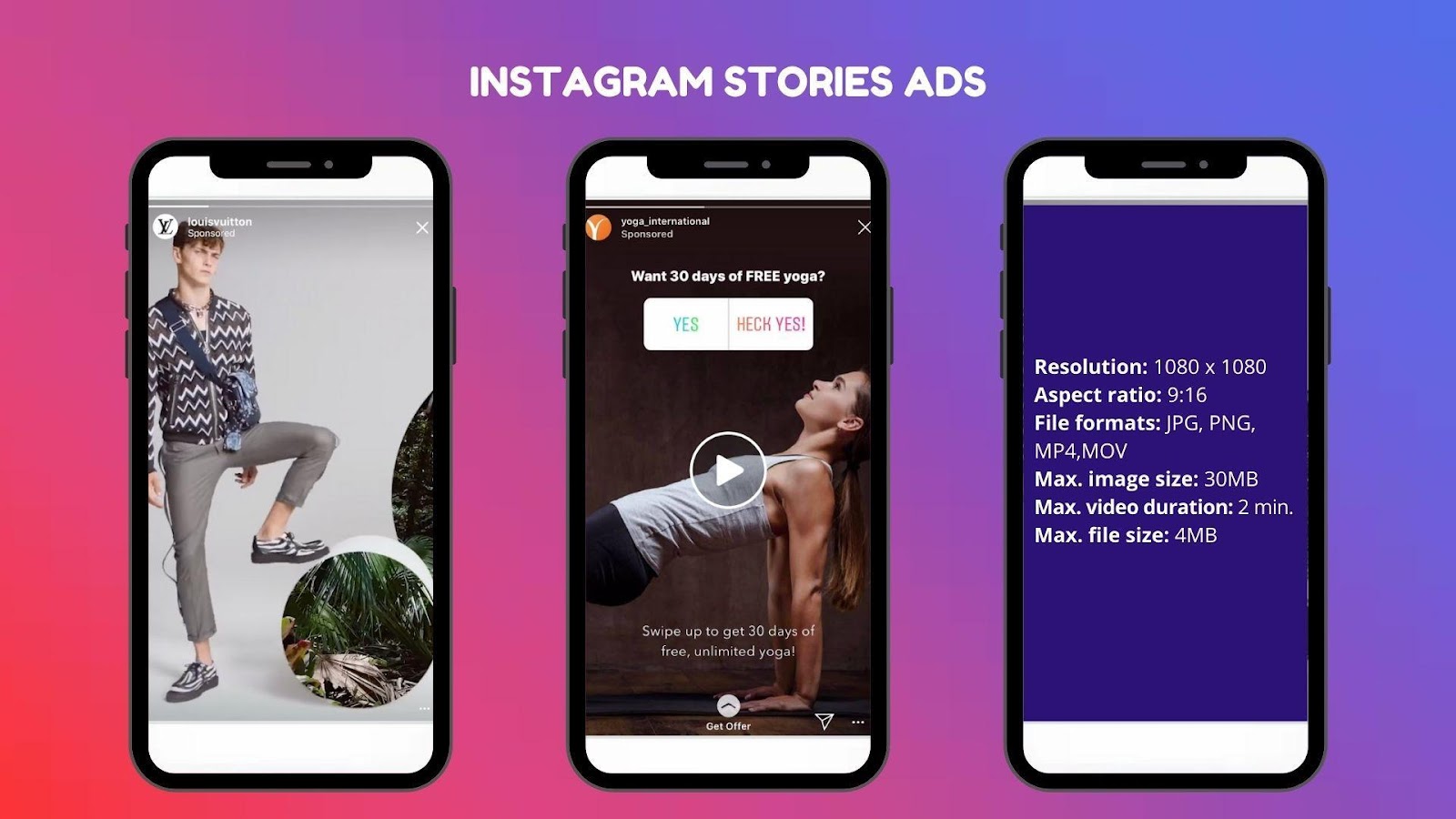 Instagram Story Ads are usually vertical, fullscreen creatives, but this format can support the same media you use in other placements. You can upload a single photo or up to a 120-second video with an aspect ratio of 9:16 and 16:9 to 4:5. You can add text, links, tags, stickers, and even polls to Instagram Stories Ads, leading to higher engagement rates. Specs for a more immersive experience are as follows:
Resolution: 1080 x 1080 pixels
Aspect ratio: 9:16
File formats: JPG or PNG for image, MP4 or MOV for video
Max image size: 30MB
Maximum video duration: 2 minutes
Maximum file size: 4MB
For further reading, here is a guide for you to boost your sales through Instagram Stories.
Reels Ads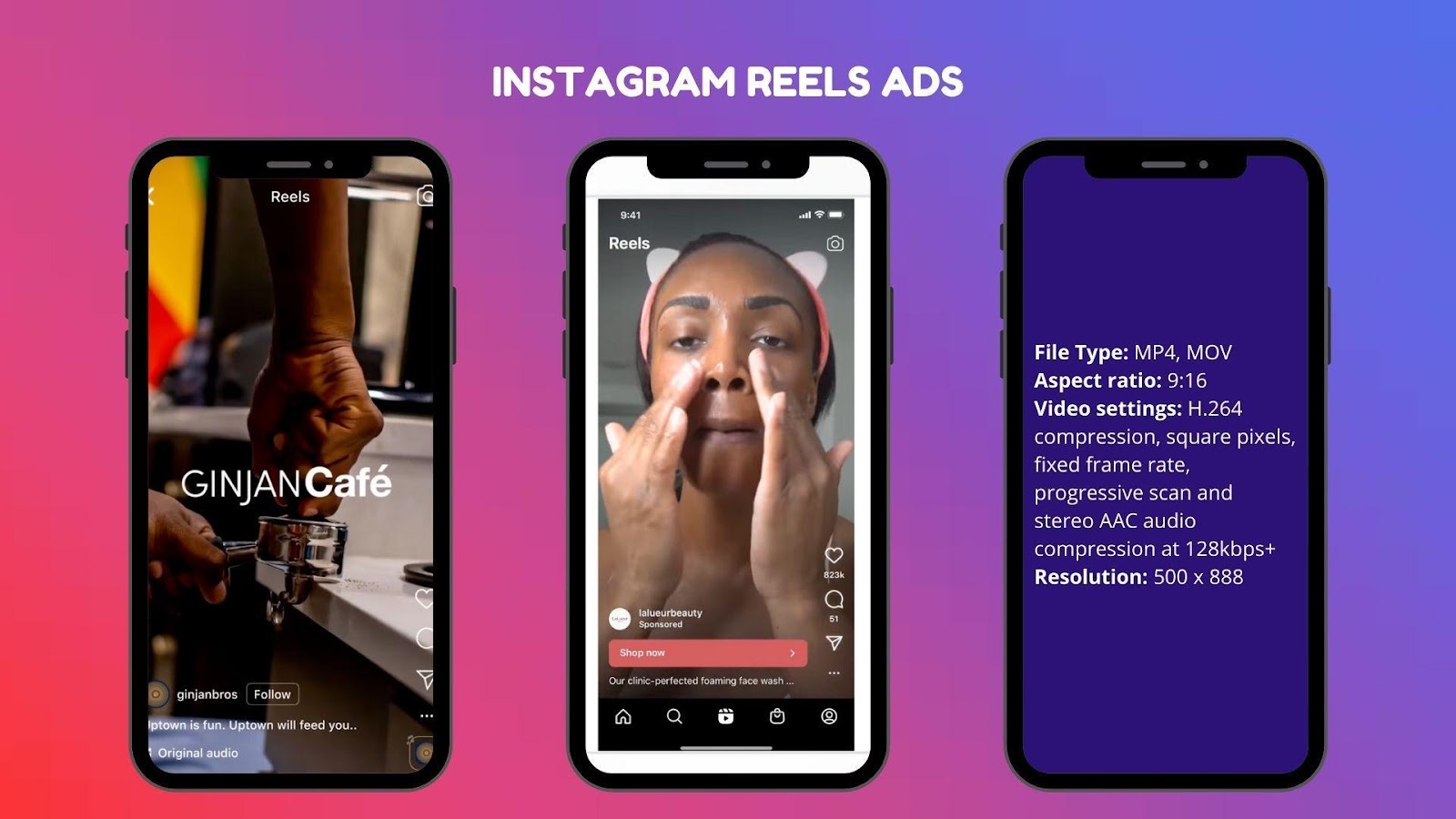 Like Instagram Stories Ads, Instagram Reels Ads appear when users scroll through Reels. Unlike Stories, you can only use fullscreen, vertical assets for Reels ads. Captions and audio are optional but highly recommended, but you should be careful not to use licensed music.
File Type: MP4, MOV
Ratio: 9:16
Video settings: H.264 compression, square pixels, fixed frame rate, progressive scan, and stereo AAC audio compression at 128kbps+
Resolution: At least 500 x 888 pixels
Meta suggests that you consider leaving roughly 14% of the top, 35% of the bottom, and 6% on each side of your asset free from text, logos, or other key creative elements to avoid covering them with the profile icon or call-to-action.
Lastly, Reels Ads should not contain,
Media that has a face or camera effect
Media with a GIF
Media with product tags
Videos that contain edit lists or special boxes in file containers
Shopping Ads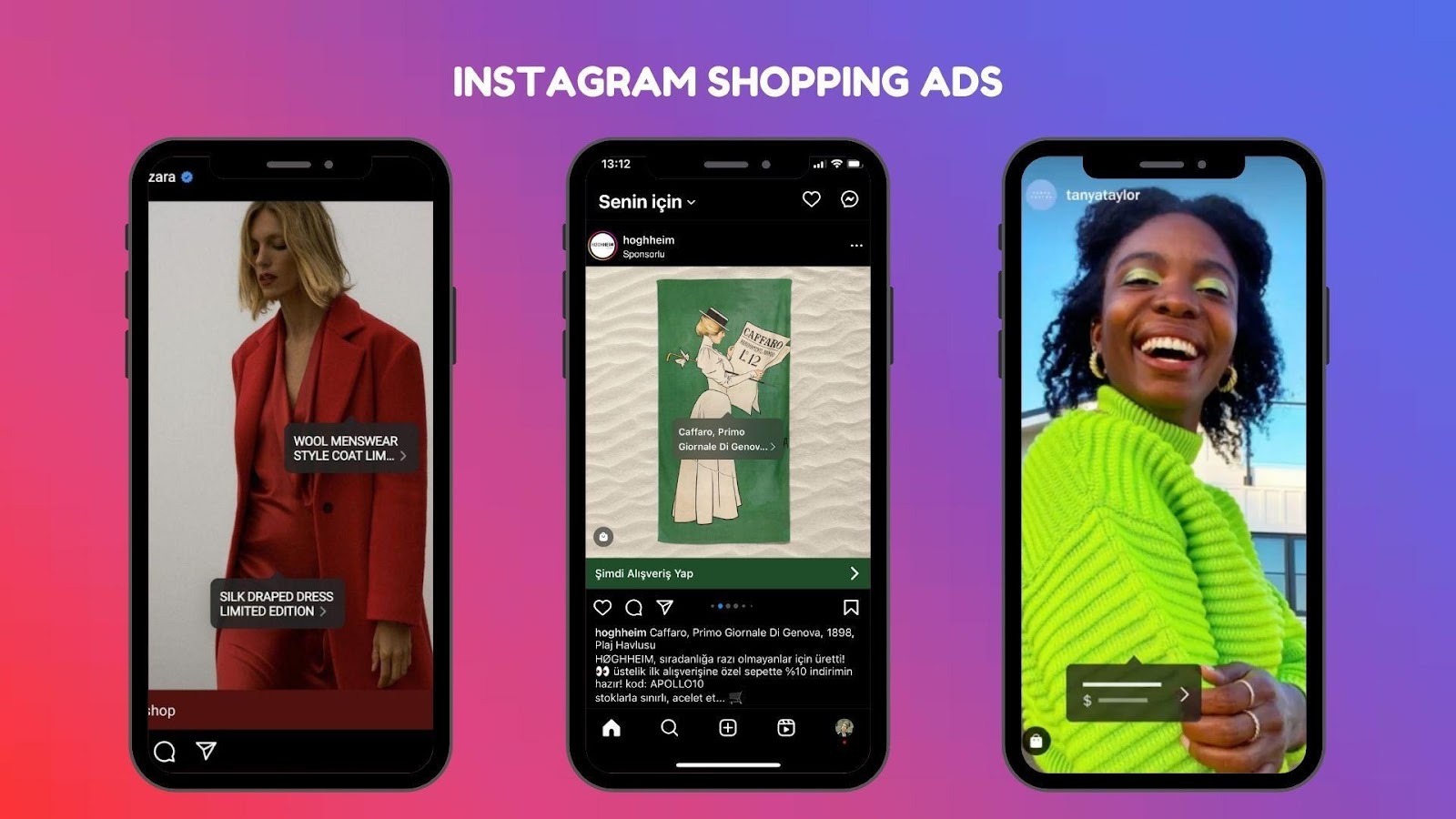 If you have an Instagram Shop, you can directly promote products from your catalog in the feed. Users who tap on the ad will be directed to the product description page within the app, and, if available, make the purchase right then and there. You can also find out more about Instagram Shopping Tags here.
The Shopping Ads can be videos or images both in the Feed and Stories, so they don't have strictly set specifications.
Collection Ads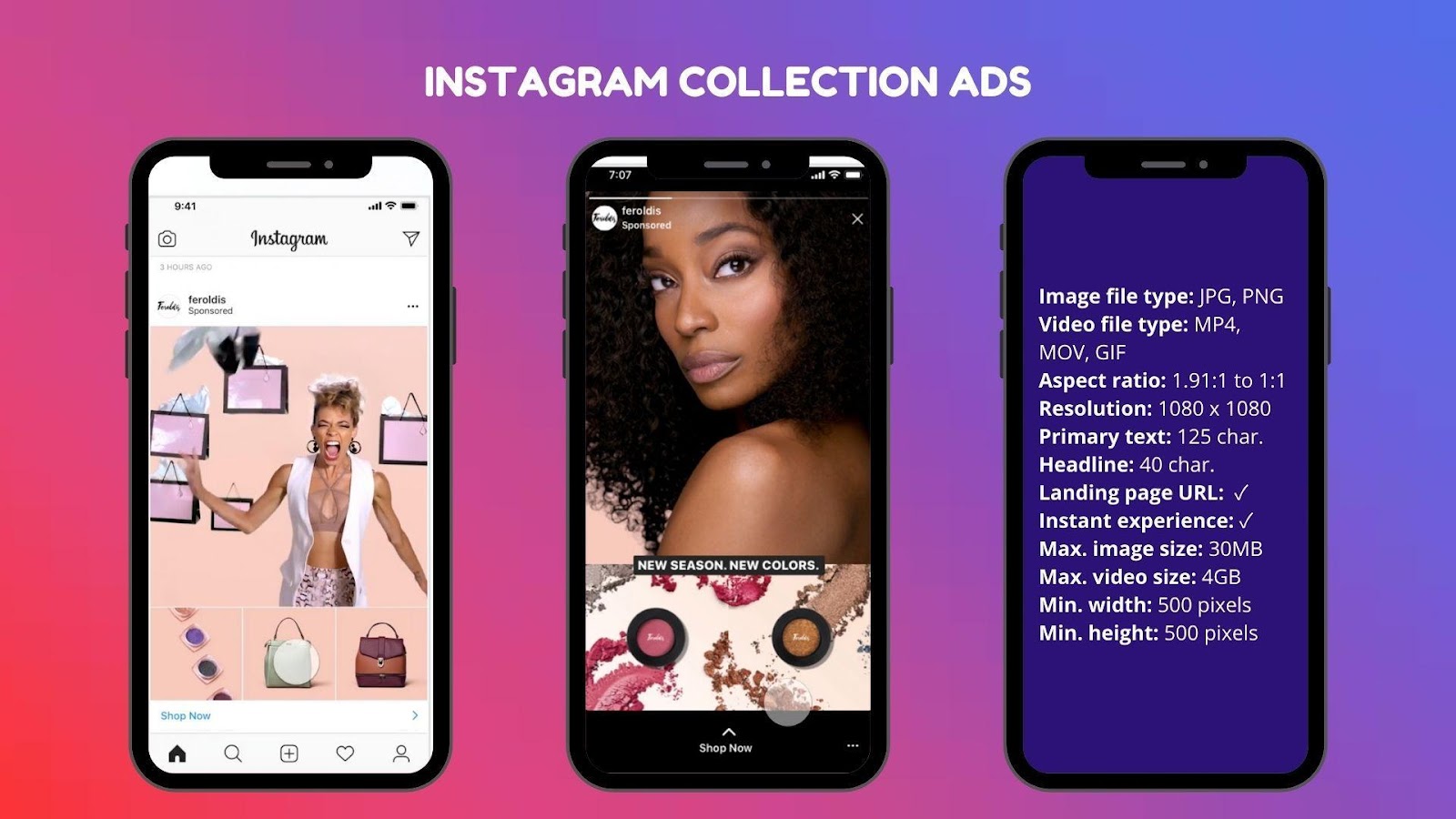 Instagram Collection Ads is a more complicated but highly interactive ad format. A collection ad in Instagram Feed includes a cover image or video followed by 3 product images. Upon tapping, the user sees a full-screen landing page, which Meta calls an "Instant Experience". You are required to create an Instant Experience when utilizing Collection Ads, but it's relatively easy because you can use the Storefront or Customer Acquisition templates or build a custom one of your own.
Here is a full requirement list for Collection Ads:
Image file type: JPG or PNG
Video file type: MP4, MOV or GIF
Aspect Ratio: 1.91:1 to 1:1
Resolution: At least 1080 x 1080
Primary text: 125 characters
Headline: 40 characters
Landing page URL: Required
Instant experience: Required
Max. image size: 30MB
Max. video size: 4GB
Min. image/video width: 500 pixels
Min. image/video height: 500 pixels
Bonus: Playables
Apart from the eight ad formats, Meta offers Playable Ads that lets users interact with a preview before downloading the app. Playables can also opt into Instagram Feed, and Stories using the Placement asset customization feature, and the lead in video will deliver instead of the playable on these placements. Users will be taken to a fullscreen playable to interact with upon tapping the video.
Best Practices for Creating Effective Instagram Ads
Different Instagram ad formats are intended for different audiences, so the number 1 best practice should be trying different types to test, measure and optimize. For example, a video tutorial might work better than a carousel ad that shows the different use cases of a product.
The rest basically depends on your Instagram advertising strategy, but whether you promote your products with a single image or a 2-minute long vertical video, you should always keep these tips in mind:
Create clear and compelling visuals: Unleash your creativity, make your product instantly recognizable, and stop the users on their tracks. Cover as much of the screen as possible to avoid distraction. Make all your assets mobile-friendly. For example, if you use text, choose large font sizes that are easy to read. Remember that visuals are the key to success on this platform. For further reading, you can check out our Product Photography Guide for Social Selling.
Know your audience or leave targeting to the algorithm: If you have a clear picture of who you want to address on Instagram, you can create your own audience by manually entering your targeting options. You can also let Meta's almighty algorithm define audiences for you based on your current follower data.
Audience understanding goes beyond merely knowing their demographics. You must dive into psychographics as well, which refers to their interests, behaviors, and lifestyles. You can collect this data through Instagram Insights, surveys, or by analyzing the behaviors of your existing customers. A thorough understanding of your audience helps you in crafting content that resonates with them, ultimately improving your engagement rate.
Choose your words wisely: Utilize call-to-action buttons and give users clear directives on what you want them to do. If you want to use overlaid text, keep it to a minimum (like "Summer Essentials") so it doesn't steal the thunder of your call-to-action. Remember that only 125 characters are instantly visible in a caption, so make those two lines count. Also, add closed captions to your videos for the people who will watch them on mute.
Always test, measure, and optimize: Test different ad formats and conduct split testing with different audiences, call-to-actions, and visuals. You can create an A/B test to compare two or more ad sets or campaigns to see which performs best for your chosen business objectives. Measuring and tracking the results should give you better precision on budget, type, target audience, and more.
Different ad formats cater to different objectives and audiences: 
Photo Ads: Use high-quality images that clearly display your product or service. Make sure your photos are visually appealing and align with your brand aesthetics.

Video Ads: Keep your videos short and engaging. Use the first few seconds wisely to grab the viewer's attention. Include captions for those who watch with the sound off.

Carousel Ads: This format is excellent for showcasing different features of a product or telling a story. Ensure the first image is captivating enough to encourage users to swipe to see more.

Stories Ads: Stories are viewed vertically, so design your ads to fill the entire screen. Use fun elements like filters, stickers, and GIFs to engage your audience.

Remember, no one-size-fits-all strategy works here. Depending on your audience and objectives, some formats may work better than others. Feel free to continuously experiment and learn from your metrics to improve your Instagram Ads strategy.
There are eight metrics you need to track to measure and improve your Instagram Ads performance:
Impressions: How many times your content is displayed to users
Reach: How many people actually saw your Instagram ad
Click-Through Rate (CTR): The number of clicks your ad is generating
Cost-Per-Click (CPC): Measures the cost of each click your ads are generating
Engagements per Follower: Engagement with your content relative to your follower count.
FollowerGgrowth: Shows whether your follower count is increasing or declining
Comments Received: Shows how engaging your sponsored content is
Referral Traffic: Instagram's impact on your website traffic
How Juphy Streamlines Your Instagram Ad Comments
Hopefully, placing ads on Instagram will give you more awareness, a growing number of engaged followers, and successfully converted customers. But this will also mean more work for your marketing and sales departments. With Juphy, there's no need to worry about overtime.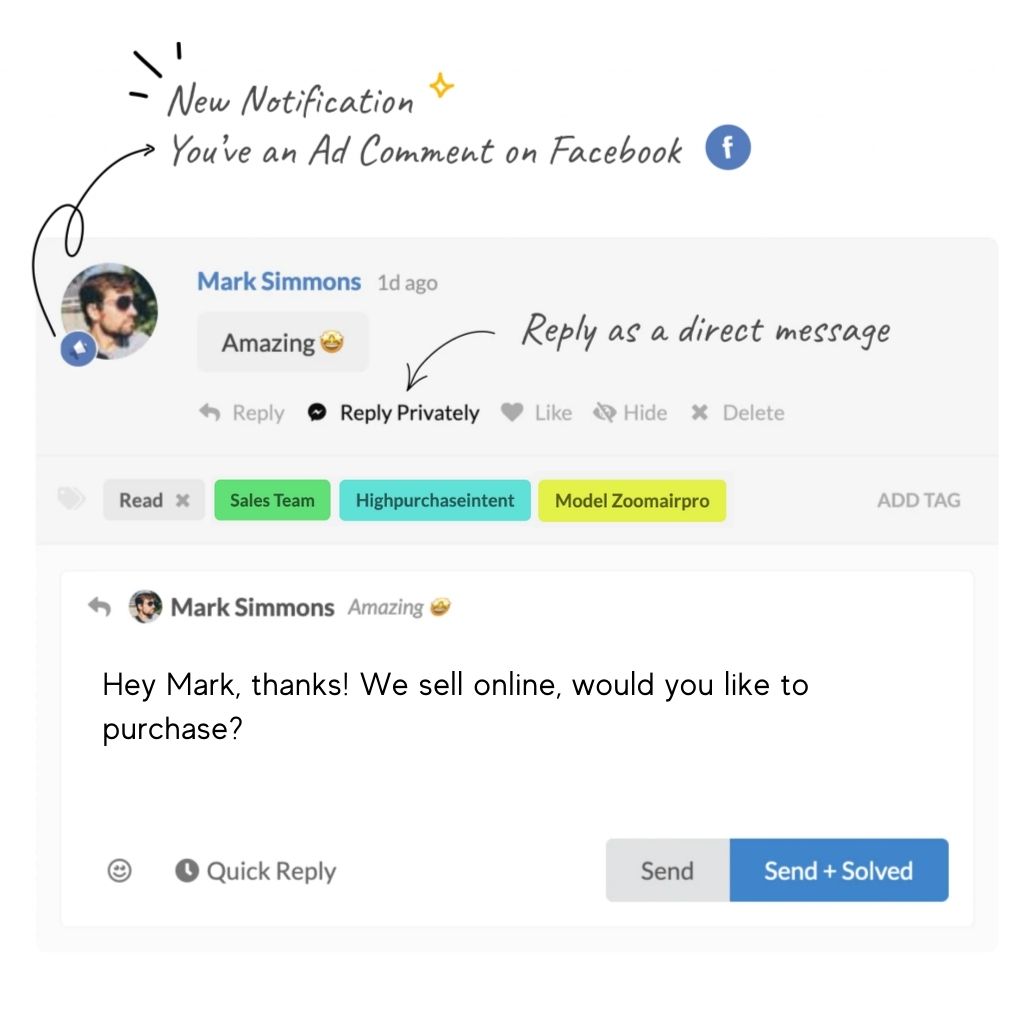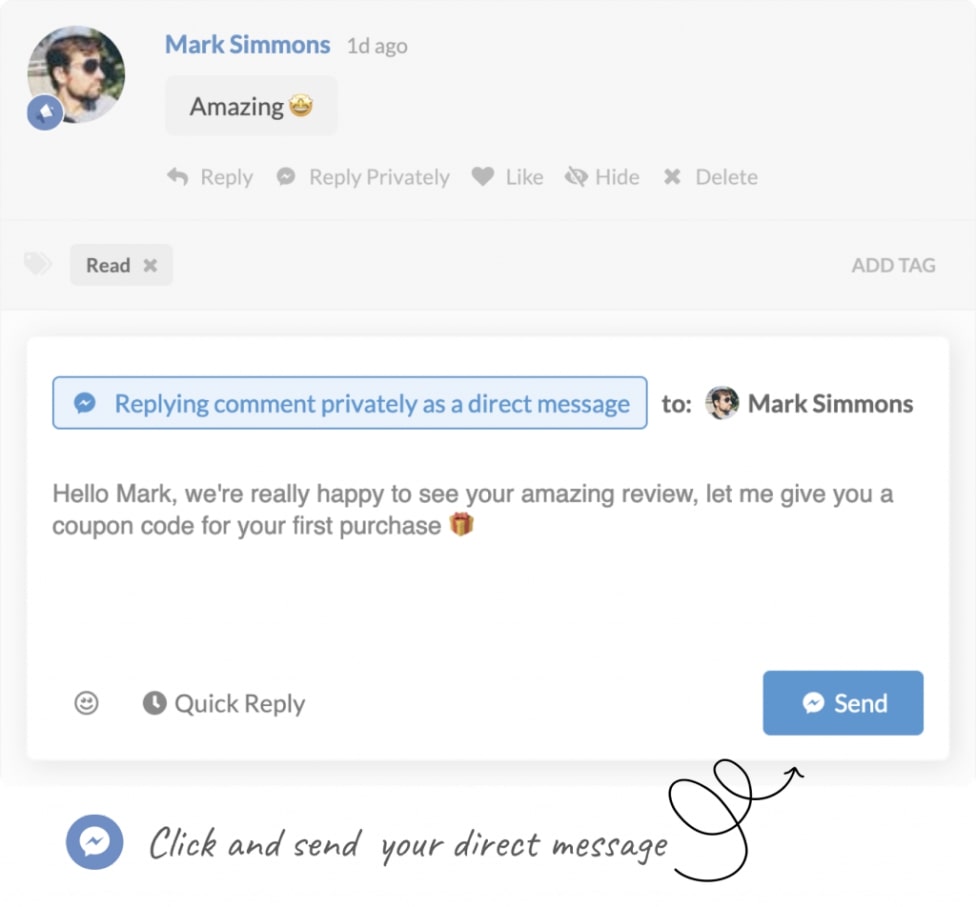 Juphy streamlines your Instagram Ads Comments as well as other social media platfıorms on a single, easy-to-use dashboard. With its advanced social and conversational commerce features, Juphy helps you to handle customer inquiries in real-time. You can easily manage all social conversations, segment your customers and identify potential buyers, follow up on orders, and track your performance to improve your sales results.
Depending on your audience and allocated budget, moderating ad comments and managing DMs can sometimes become overwhelming. Juphy's automation rules, canned responses, and team collaboration feature help you use your time more efficiently and deliver excellent customer care.
You can also track your Instagram Ads and Instagram Shopping performances, providing valuable insights into your sales and engagement metrics. While tracking campaign performance in the Reports section, you can also monitor your customers' browsing and purchase histories and analyze their behavior patterns and top-performing products.
You can try Juphy and see how it improves your Instagram Ads management performance for free. Click here to start your Freemium Plan.
Conclusion
As one of the most popular social media platforms that a social media giant backs, Instagram has become one of the largest sources of traffic for many businesses. Utilizing Instagram Ads as a part of your overall marketing strategy can help you reach a great number of relevant and engaged audiences and improve your lead generation and sales opportunities significantly. Juphy empowers businesses to tap into the power of Instagram Ads while effectively managing the resulting increase in sales and customer engagement.
Create Your
Social Inbox Now
Manage all social media customer support inquiries in a unified inbox.