Instagram Stories have been around since 2016, but it appears to be making a significant comeback in popularity in recent years. Currently, over 500 million people post an Instagram Story daily, and 36% of businesses use the feature for brand promotion.
With the struggle for visibility that many users face on Instagram, Instagram Stories have become a potential billboard to catch users' attention. This may mostly be because of its very visible position at the top of the Instagram home page.
Reports reveal that young adults spend at least 32 minutes viewing Stories on the platform. That's a potential audience for your products right there! If you're wondering which features to leverage on Instagram for effective social commerce, then you should try out Instagram Stories.
This article will show you the ins and outs of the feature and how you can make the best of it for your business's social growth.
Create Your
Social Inbox Now
Manage all social media customer support inquiries in a unified inbox.
What Is an Instagram Story?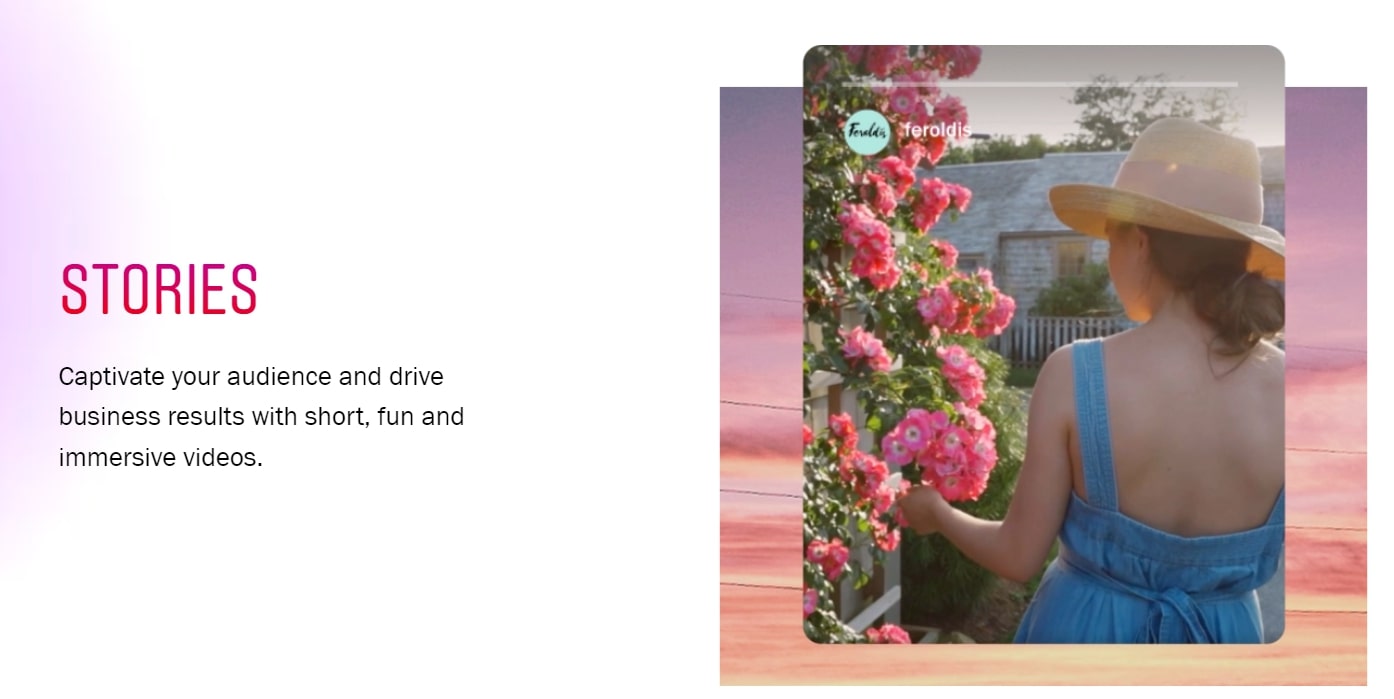 Instagram Stories are one of the most-used features of Instagram that enable users to share vertical pictures, videos, and other types of disappearing content. They're usually on the feed for a maximum of 24 hours, unlike regular posts that can stay on your profile for as long as you like.
Instagram Stories present a simple, temporary means of sharing updates, information, and other forms of content to your Instagram followers. Stories are displayed in a slow-moving slideshow. However, users can also tap each story's left and right edges to navigate back and forth.
The feature helps users create an interesting sequence of posts that their viewers can follow. Stories appear as circles at the top of the Instagram home page.
The Importance of Instagram Stories in Social Commerce
Everyone is familiar with Instagram as a platform for sharing cool pictures and videos. Today, many brands have been able to use Instagram to increase brand awareness, engage with customers, generate leads and drive sales. Now Instagram Stories take it up a notch higher.
Instagram Stories helps you show off your products and brand in a fun and eye-catching way. This is important because you don't want to come off as a "stiff" brand. People buy with emotions, and being able to represent your brand in a way that people can relate to can stir up emotions and help build a stronger relationship with your audience.
Instagram Stories provides all you need to actively engage with your audience and make them fall in love with your brand, from behind-the-scenes content and user-generated content to polls, questions, and quizzes. And love is one of the most powerful emotions in business that influences people's buying decisions.
The Rise of Instagram as a Social Commerce Platform
Visuals are very powerful elements in business. Seeing what a brand offers and just reading about it have different effects, with good and quality visuals being more effective in provoking an action. With Instagram's emphasis on visual content, this makes it an effective tool for social commerce.
Over time, the Instagram team has developed the platform with some additions that make selling and engaging with customers easier and smoother. Now, there are Instagram Shops, Reels, Checkout, and Stories; each of these additions with different features that have enabled social commerce. It's no wonder that Instagram has earned its place as one of the largest platforms for social commerce.
Benefits of Instagram Stories for Social Commerce
Instagram Stories have been around for over half a decade, and over 36% of businesses use it to promote their product. Instagram Stories are also very popular for increasing engagement, which helps to keep your brand at the front of your audience's minds.
Additionally, your posts can easily get "lost" in your followers' feeds due to the new algorithm. Instagram Stories, however, are displayed in chronological order. So, posting frequently throughout the day will help you maintain visibility to your audience.
Instagram Stories also lets you get personal and real with your audience to form bonds with them and build trust. All of these are necessary to drive sales and raise an army of brand advocates.
The Basics of Instagram Stories
70% of Instagram users — about 350 million people — watch Instagram Stories daily. The appeal of this Instagram feature lies in the time-sensitivity of Instagram Stories and the perceived authenticity of most content. People also just like tapping through several posts.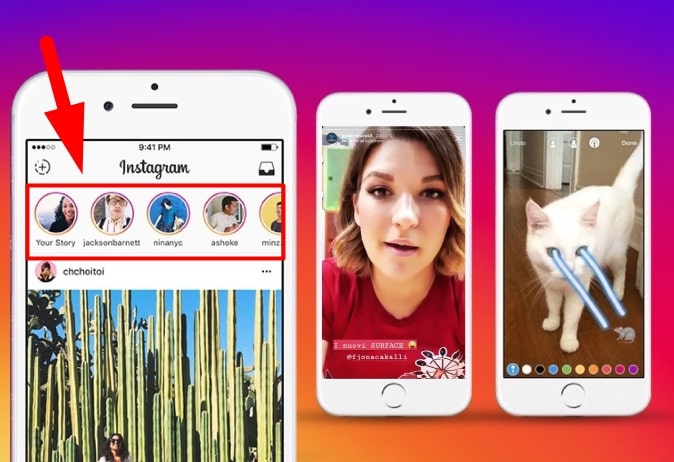 According to a survey by the Instagram Business team, some people reported that Instagram Stories bring people closer together in a fun and engaging way; you and your friends/family, and even your brand and customers. 39% of those surveyed said that they developed an interest in a brand/product after viewing it in Instagram Stories.
You too can leverage Instagram Stories to enhance your relationship with customers and drive sales. But to do this, you should be able to create an Instagram story. So, let's run through the basics of how to create one:
Open the Instagram app on your device.
Swipe right from your feed or long-press your profile picture to access the Instagram Stories feature.
You can swipe left or right at the bottom of the screen to choose filters. Then take a picture or record a video using the camera. Alternatively, you can swipe up to access media in your gallery.
Customize your Story by adding stickers, drawings, texts, or other interactive elements.
When you're satisfied with the finished work, tap "Your Story" at the bottom of the screen to post it. Your story will only be visible to your followers for 24 hours.
Features of Instagram Stories for Effective Social Commerce
Here are six features of Instagram stories that make them an excellent tool for driving engagement and boosting sales:
Polls: Use polls to ask interesting questions or collect feedback about your brand's services/products. This can strengthen the relationship you have with your audience.
Countdown Sticker: Create anticipation and urgency with the countdown sticker. You can use this sticker for product launches and time-sensitive promotions.
Quiz Sticker: Engage your followers with a quiz with the quiz sticker. For example, you can ask them something about your brand and offer a reward to people with correct answers. This is an effective way to boost brand awareness.
Swipe Up Link: Smoothly direct viewers to external websites like your product page with this feature. The feature is only available to accounts with over 10k followers. But once you cross that milestone, the Swipe Up link is an effective way to drive traffic.
Text and Edit: Add more details about your story content in a text box and customize it to suit your brand's aesthetics. This allows you to create informative stories that are also captivating.
Hashtags: Increase visibility with relevant hashtags such as location, trending, and product hashtags. Hashtags will help you expand your reach to potential customers.
How Instagram Stories Drive Engagement and Sales — 5 Strategies
Instagram Stories can help to promote brand awareness, drive engagement and boost sales in many ways. Here's how:
Posting How-tos and Tutorials Content Help Educate Your Audience
You can use Instagram Stories to share tutorials or guides on how to use your product, dedicating each story to a step.
For example, if you sell beauty products, you can create a sequence of stories showing your audience how they should apply skincare products based on expert recommendations.
In this instance, the first story might be about using cleansers first, including a product recommendation.
The next might be for toner, with a product suggestion as well.
This goes on for each story until the last step.
Such content can stir up questions from your audience, which will end up in your DM, and you may be able to make some sales. Overall, using Instagram Stories this way will educate customers and encourage engagement.
Frequently Using Polls and Quizzes Help You Gather Feedback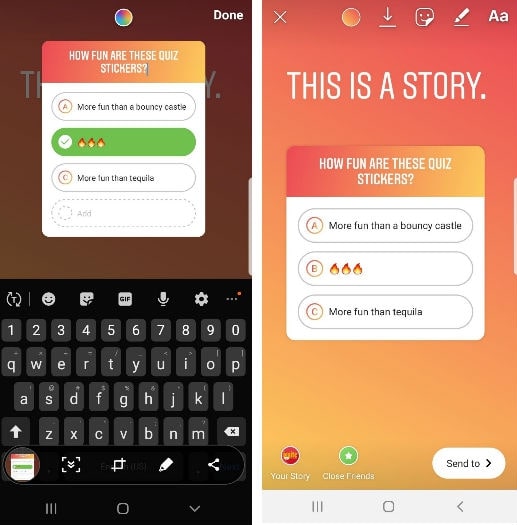 Polls and quizzes are fun. Engaging with your audience with polls and quizzes can help build a sense of community and stronger relationships with potential customers.
You can use polls to ask your audience their preference between two products. For example, if you have a clothing line, you can create a poll to find out if your followers prefer a particular style or color. This will help you gain insights into your followers' preferences and tailor your product offerings to suit them.
Quizzes are also interactive and compelling. For example, if you're a body products retailer, you can create quizzes to determine if your audience knows the best type of products for their skin types. Then you can make recommendations based on their replies. This equates to more sales.
Communicating the Latest Brand Updates Keep Customers In the Know
Whether you're opening a physical location, extending your reach to other continents, or introducing a new product, your Instagram Story is a good place to make such announcements.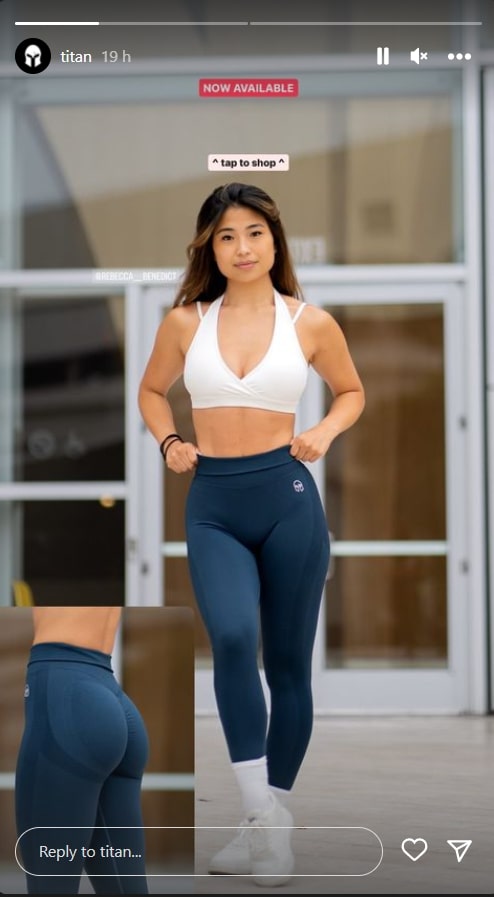 Your followers make up your online community, a mix of customers and potential customers. When you make announcements on your Instagram story, you keep them informed about new updates to your brand, making them feel like a part of the brand rather than spectators. You can even make it more exciting by using interactive elements like the question sticker.
Say you're launching a new collection of women's sports clothing; you can announce the launch date on your story and use a countdown sticker to remind people of your announcement till the launch date. With this, you can create anticipation for the collection and get people ready to buy as soon as you launch.
Sharing Teasers of Upcoming Products Builds Urgency & Anticipation
After announcing the upcoming product, you can use stories to get people excited about it. You can post engaging videos or clips of the product design. You can even show a snippet of the making of the product. It's like how movie companies promote upcoming movies with trailers, but in this case, you do it on your Instagram story.
Because Instagram stories disappear after 24 hours, they're perfect for posting teasers. If you can successfully get people anticipating your new product, it's likely to get sold out faster.
Posting Customers' Photos/Videos Grows Trust
Show your audience how other people like them are using your products. If a customer buys a dress from you, you can ask them for pictures when they wear the dress and seek permission to post it. To ensure you don't ruin your unified Instagram layout grid, Instagram Stories serves as a means for posting the customer's photos.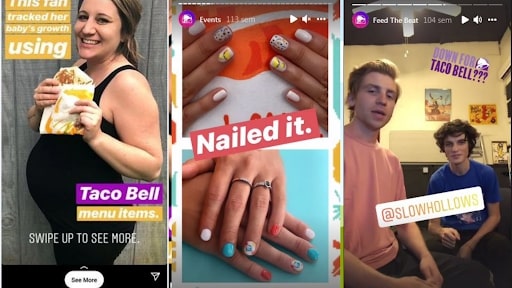 Instagram Shopping and Product Tagging
Instagram Shopping is a feature of Instagram that helps you create a shoppable storefront on Instagram. It gives you the power to make a super cool catalog of your products on Instagram that you can easily share, even on your stories.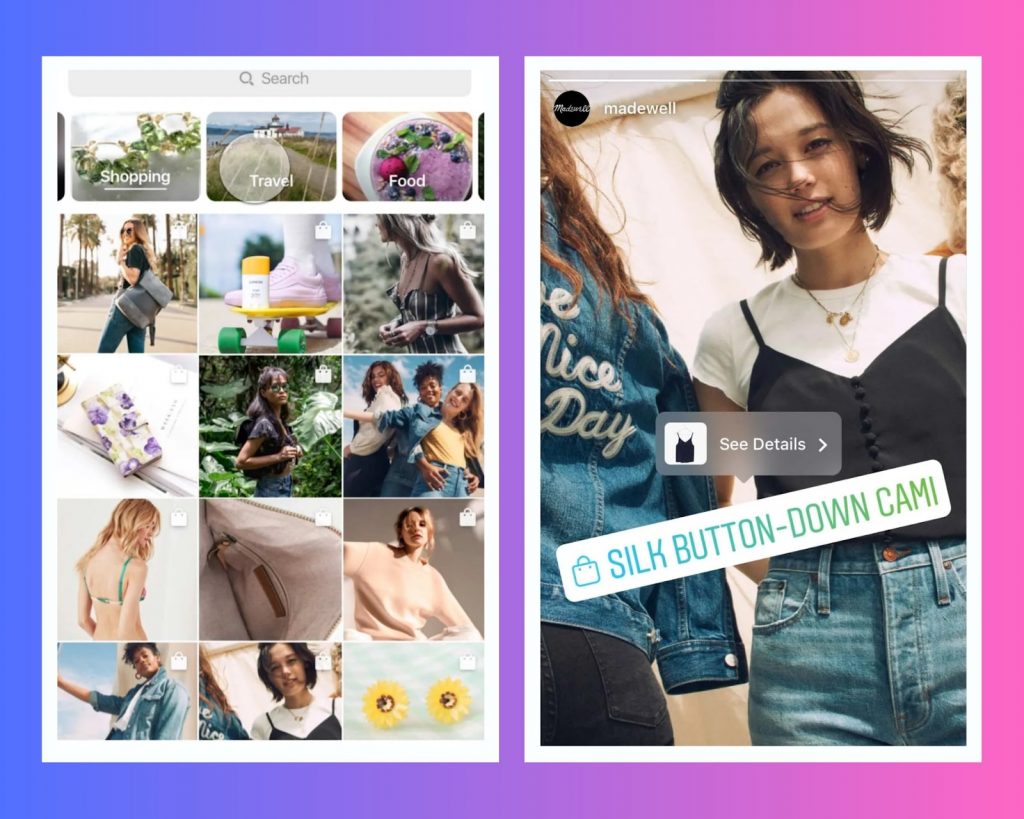 Creating shoppable stories can make the shopping experience easy and seamless for customers. Say you post a picture of a customer wearing a particular shade from your store on your story. If you have enabled Instagram Shopping, you should have a catalog of your products, including the shades. Having done this, you can tag the shades on your story using the product sticker to help viewers shop in the moment of discovery.
Tapping on the Product Sticker in your story will give them more details about the product (name, price) and ultimately convince make a purchase. It's a seamless way to easily connect your viewers with the products they're interested in. You can easily make shoppable stories once you've set up Instagram Shopping. To do this, create your story, but before posting,
Tap the sticker icon to select the "Product" sticker option
You'll see a list of your product catalog. Choose the product you want to tag
Adjust the placement and size of the sticker by dragging and tapping
Finally, share your shoppable story
Best Practices for Leveraging Instagram Stories
To make the most of your Instagram Stories, it's crucial to follow some best practices. Let's explore some key strategies for leveraging Instagram Stories effectively in 2023.
Creating Engaging Content for Instagram Stories
According to Instagram, IG Stories are designed to be engaging, fun, and sometimes even spontaneous. Remember to incorporate these qualities in creating content for your business for Instagram Stories posts. The success of your stories, to a large extent, depends on how relevant and engaging the posts are for your audience.
Maximize the necessary features to encourage your audience to engage with the posts you share. They help your audience feel like their input is valuable for your business and build a sense of participation.
One key technique that can help is the art of creative storytelling. Using storytelling makes your posts compelling and invites the viewer to click to the next story until they achieve your desired action.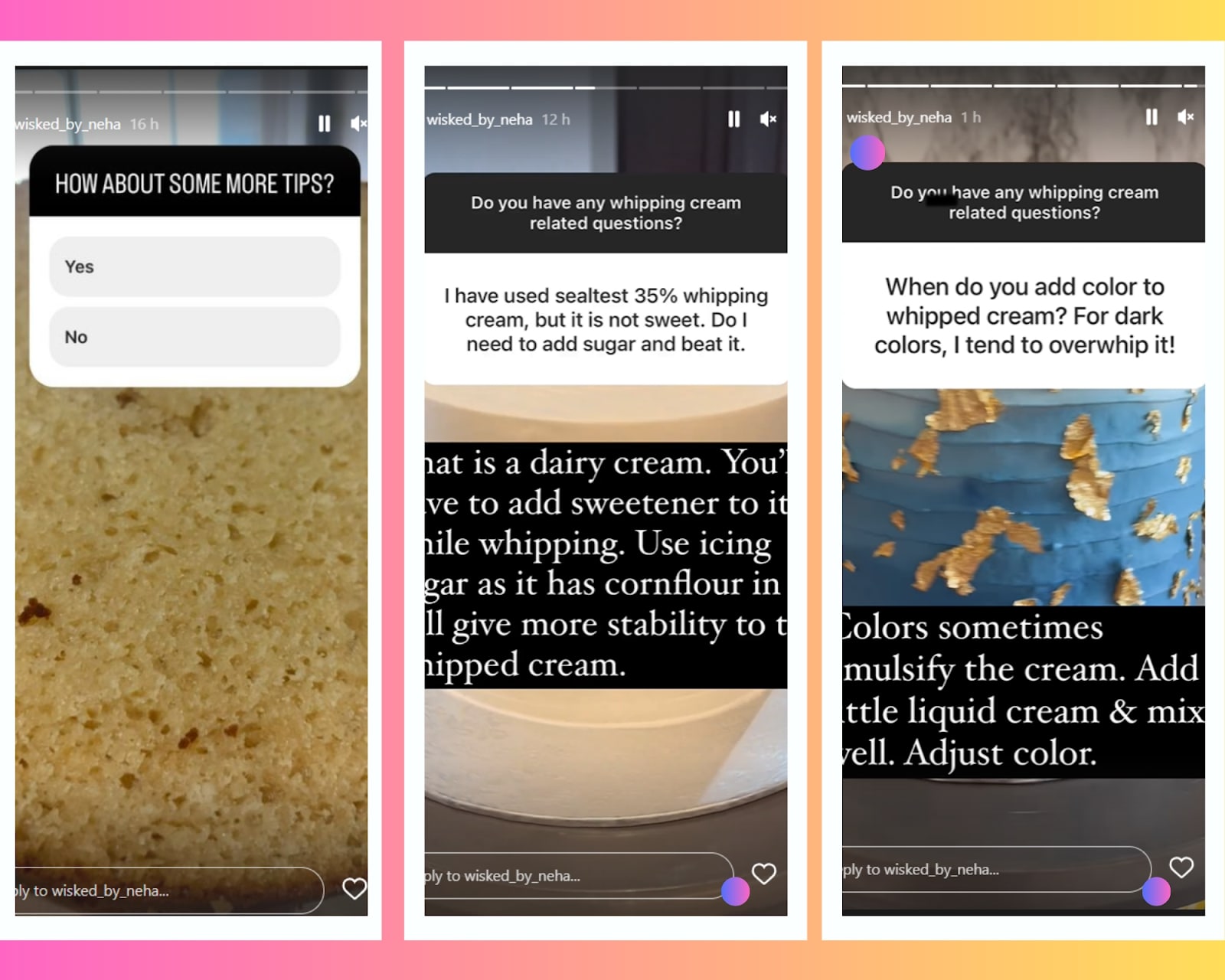 For instance, if you're sharing behind-the-scene photos of your baking process on your Stories, you can post pictures that show the start of the baking process until the finished cake. If a funny mishap occurred while baking, for example, you can include that in a voice-over video explaining what happened and how you could make the best of the situation despite the challenge.
The Importance of Authenticity and Consistency
Authenticity is an integral aspect when leveraging Instagram Stories for social commerce. Here, your followers and potential customers want to see the real you—the face behind the brand, whom they're doing business with.
Through your Instagram Stories, strive to portray your authentic self and the real-life experiences that your brand goes through daily. It's a vital way to build trust and confidence in your products and create a connection between your customers and you.
Be transparent; it helps customers see you as human and builds a bond that creates loyal customers. Some e-commerce brands go as far as sharing the challenges they face with dispatch services, shipping companies, suppliers, and other aspects of the business. Some share a "picture of the day" where they're doing something random outside of regular business activities
Be comfortable enough with what you choose to share so that you can be entirely honest about it.
In all you do, also remember to stay consistent with your posts, as it's key to maintaining engagement. Once your followers know that they can find the latest updates, behind-the-scenes, product tests, and sneak peeks of what to expect from your brand on your Stories, it keeps them interested in your offering.
Utilizing User-Generated Content (UGC)
User-generated content is like free reviews that satisfied customers post about your business; use it to your advantage on Instagram Stories.
When customers are in the decision-making stage before purchasing, UGC about the product or service can convince them to close the deal. It portrays you as credible and original, boosting your marketing efforts and significantly impacting your sales chances.
Reposting content about your products or service on your stories will help you showcase your brand's abilities and build social proof. You can also encourage customers to tag you in their posts when they use your products so that you can give them a shout-out.
Using Instagram Stories Ads for Increased Reach
Every solid social commerce strategy must have room for paid advertising. It's guaranteed to reach a wider audience outside your immediate followers. Thankfully, Instagram incorporates its ad feature into Instagram Stories as well.
Instagram ads are powerfully targeted to relevant audiences, and you can tailor your ads to reach specific demographics, user behaviors, and interests related to your business. Create a compelling ad photo or video with attractive visuals that will cause users to stop and take action.
Include strong calls to action so that the viewers can take your desired action as needed, whether it's to make a purchase, follow you for more, or make more inquiries. Instagram Story ads are just like the Stories format, helping you reach potential customers without affecting their viewing experience.
Tailoring Strategies to Different Industries
Different industries can use Instagram Stories in unique ways that best suit their target audiences and products or services. For instance:
Fashion brands can leverage Instagram Stories for behind-the-scenes footage from fashion shows, interviews with designers, or sneak peeks into upcoming collections.
Restaurants can use Stories to showcase their menu, and preparation processes or feature customer testimonials and reviews.
Travel agencies can share Stories featuring stunning locations, customer experiences, or special package deals.
Tech companies can utilize Stories to share short tutorials, product updates, or user-generated content showing their products in use.
Remember to consider your industry's specific characteristics and your audience's preferences when creating your Instagram Story strategy.
Examples of Successful Social Commerce via Instagram Stories
Many businesses have successfully leveraged Instagram Stories to improve their social selling strategies and boost their customers' experiences. Learn a thing or two from these brands and how they maximize this phenomenal Instagram tool:
REI — Solve Customer Problems
This brand is a fitness and lifestyle brand that sells running shoes. REI is well known for using their Instagram Story to position their products as perfect for their customers' needs. In this Instagram Story, REI's trail-running shoes are depicted as a solution for runners that struggle to get a good grip on wet terrain.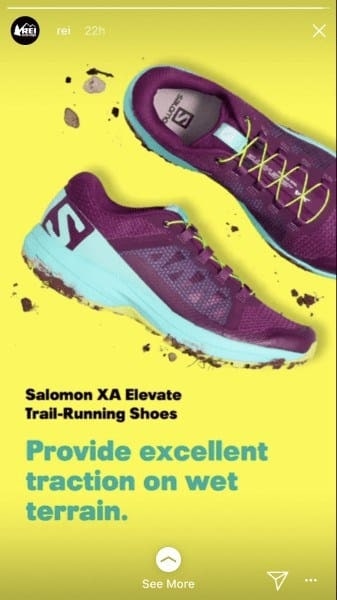 Taking a cue from REI, you can work with appealing visuals and text on your Instagram Story when showcasing your product's benefits. Ensure the product appears boldly in the InstaStory image, and use a simple copy that converts.
In REI's image above, you can see the Swipe Up Link feature tagged as "See More," a call to action encouraging followers to find out more details about the product. If your account has this feature, remember to add it to your product posts to direct customers to a website or e-commerce store where they can buy the product.
Target — Make Customers Feel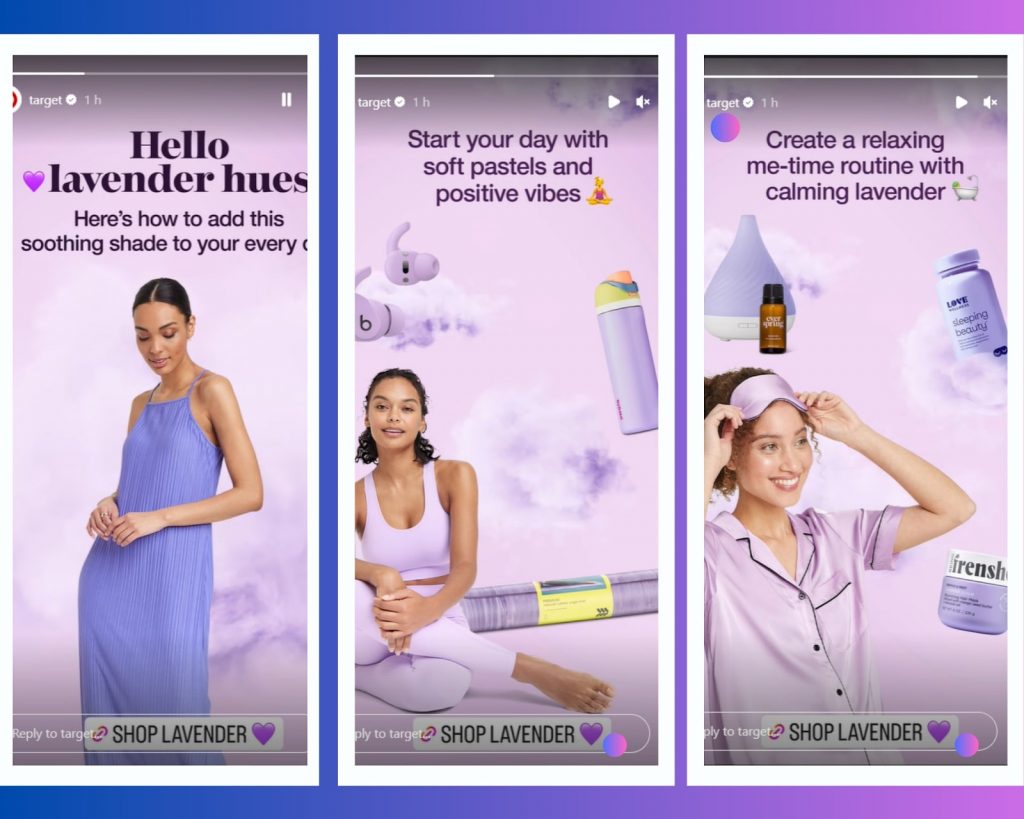 Target is a popular retail corporation with both physical and web-based outlets. Despite being the 8th largest retailer in the US, still, they leverage Instagram Stories as a key way to promote their products.
In their Instagram Story above, they created a video with the sole focus on promoting products in the shade of lavender — from dresses to skin care products, yoga mats, and other fitness gear. They used this video to show customers how to incorporate their products into their everyday lives while anchoring the theme on an appealing feminine color. Finally, they added a sticker link tagged with a call-to-action inviting viewers to shop for the product.
This strategy works well because the Insta Story posts update customers about products that are in stock and then direct them on how to find and purchase them. The pictures are also captivating and bold and trigger emotional responses. Incorporate these elements in your Stories for better results.
Before we wrap up, it's crucial to remember that the power of Instagram Stories lies in your hands. You can make a significant difference in your social commerce efforts by leveraging the platform's dynamic features and creativity. It's time to bring your brand to life using Instagram Stories, transforming casual viewers into dedicated customers.
Conclusion
Instagram Stories offer a unique way to engage with your audience, build relationships, and drive sales. You can enhance your brand presence and visibility by leveraging features like polls, quizzes, countdown stickers, swipe-up links, and hashtags.
Sharing tutorials, making announcements, teasing upcoming products, and showcasing user-generated content are effective strategies to boost engagement and sales. Additionally, Instagram Shopping and product tagging in Stories enable seamless shopping experiences.
To make the most of Instagram Stories, create engaging content, prioritize authenticity and consistency, and leverage user-generated content. With these best practices, you can maximize your social commerce efforts on Instagram and connect with your audience well enough to yield amazing results.
FAQ
1. What is social commerce on Instagram?
Social commerce on Instagram refers to the practice of selling products directly through the Instagram platform. It utilizes features such as shoppable posts, product tagging in Instagram Stories, and shopping tabs to provide a seamless shopping experience.
2. How can Instagram Stories be used for social commerce?
Instagram Stories can be used for social commerce by showcasing products, sharing user-generated content, promoting special offers, providing product information and tutorials, and linking directly to product pages through features like swipe-up links.
3. What features of Instagram Stories can enhance social commerce?
Features like polls, quizzes, countdown stickers, swipe-up links, and hashtags can enhance engagement and drive sales. Instagram Shopping and product tagging can enable seamless shopping experiences.
4. What are the best practices for using Instagram Stories for social commerce?
The best practices include creating engaging content, prioritizing authenticity and consistency, leveraging user-generated content, and using Instagram Shopping and product tagging. It's also crucial to learn from successful brands and tailor strategies to your industry.
Create Your
Social Inbox Now
Manage all social media customer support inquiries in a unified inbox.
Related Article – The Potential of Instagram Shopping Tags for Social Selling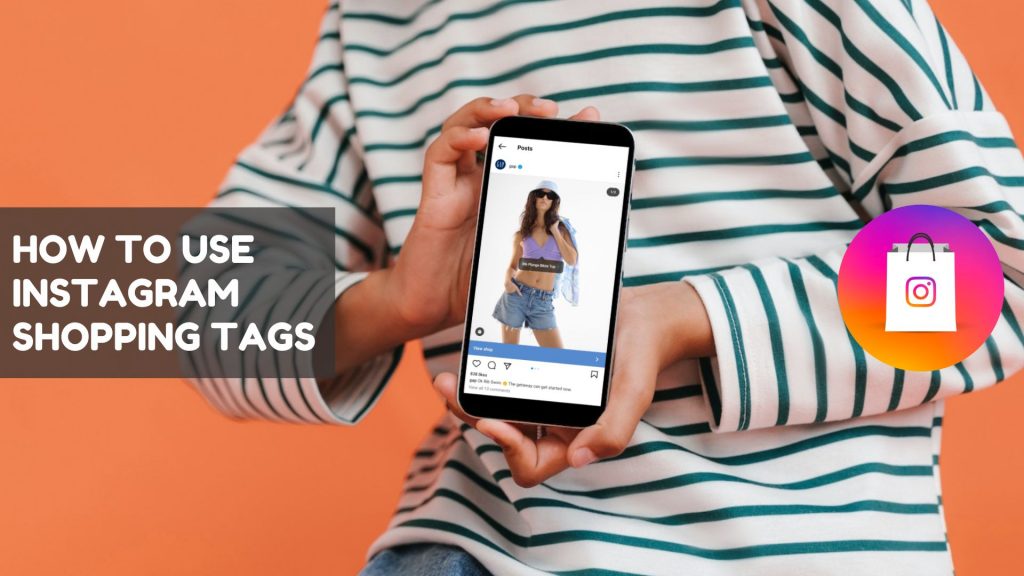 Learn the best practices to use Instagram Shopping Tags for your online business and grow your sales significantly. Read more now!