Instagram has evolved into a giant virtual shopping mall, boasting an impressive user base of over a billion active users, with 90% following at least one brand's account. In the past, brands were limited to promoting their products on Instagram, but a paradigm shift occurred with the emergence of Instagram Shopping. This groundbreaking feature has empowered brands to provide customers with a seamless shopping experience directly on the platform. Now Instagram Shopping Tags stand as a powerful tool for social commerce, making life easier for users and presenting significant opportunities for brands.
Create Your
Social Inbox Now
Manage all social media customer support inquiries in a unified inbox.
What Are Instagram Shopping Tags?
You have probably seen a small shopping bag icon on the lower left corner of some Instagram posts. That small icon indicates that the content incorporates some shopping tags.
Instagram Shopping Tags is a social selling feature that turns your Instagram content into shoppable product catalogs. It allows customers to click on a tagged product and access comprehensive information, including pricing details. Instead of scrolling through endless product descriptions or searching for items separately, users can simply tap on the tagged products to view details and make purchases, streamlining the entire shopping experience. The product details include:
The name of the product
Product images
Product specifications
A product description
The price of the product
Product link of your website
Related products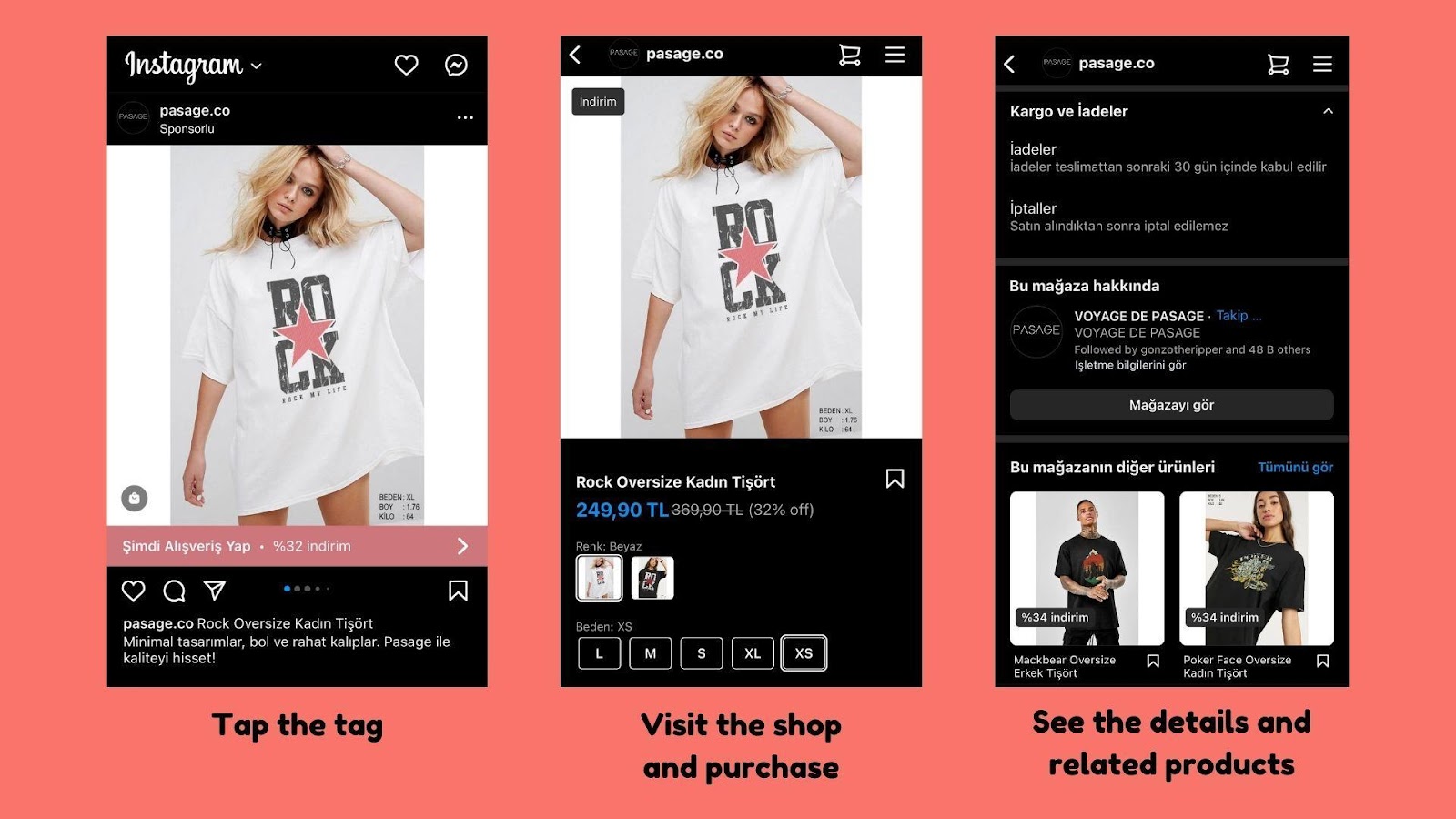 There is also a recent expansion of Instagram Shopping Tags, allowing everyone from the US, UK, Canada, Italy, Spain, France, Germany, Japan, and Australia to add product tags to feed posts. While until now, only brands and their collaborating creators could use this feature, now, people who want to support the brands they love or help others discover new products they may like can add product tags to their content.
The Power of Instagram Shopping Tags
Instagram's social selling features revolutionized everything from customer connections to sales practices. Its power lies in its simplicity. For the customers, getting informed, making comparisons, and purchasing is much more convenient than ever – basically all it takes is a tap. For the brands, the distance between discovery and conversion has never been shorter. Beyond this simplicity, Instagram Shopping Tags provide benefits in three areas:
Discovery and Reach: Connecting Brands and Customers
Instagram Shopping Tags have empowered businesses of all sizes to reach a broader audience and increase sales. With its substantial active user base and business features, the platform provides immense marketing potential, as 87% admit that influencers have inspired them to purchase products on Instagram. In comparison, 60% of people claim they discovered new products on the platform.
Moreover, Instagram's shopping tags transcend geographical boundaries, allowing users to shop from brands worldwide without any limitations. This global accessibility is especially beneficial for small businesses that can reach a more extensive customer base beyond their local area.
Building Trust and Authenticity
To open a shop on Instagram and use shopping tags, you need to have a legitimate business. Even if your brand is not popular enough to get a blue checkmark badge that verifies authenticity, you still build customer trust because the platform requires transparency.
Although it resembles a shopping mall, Instagram is still a social media platform that is basically home to user-generated content, including photos, videos, and reviews. The content may come from real people who have experienced the product (User-generated content) or influencers who collaborate with brands. By leveraging influencer marketing along with shopping tags, brands can tap into the trust and authenticity associated with these influencers, further building credibility for their products.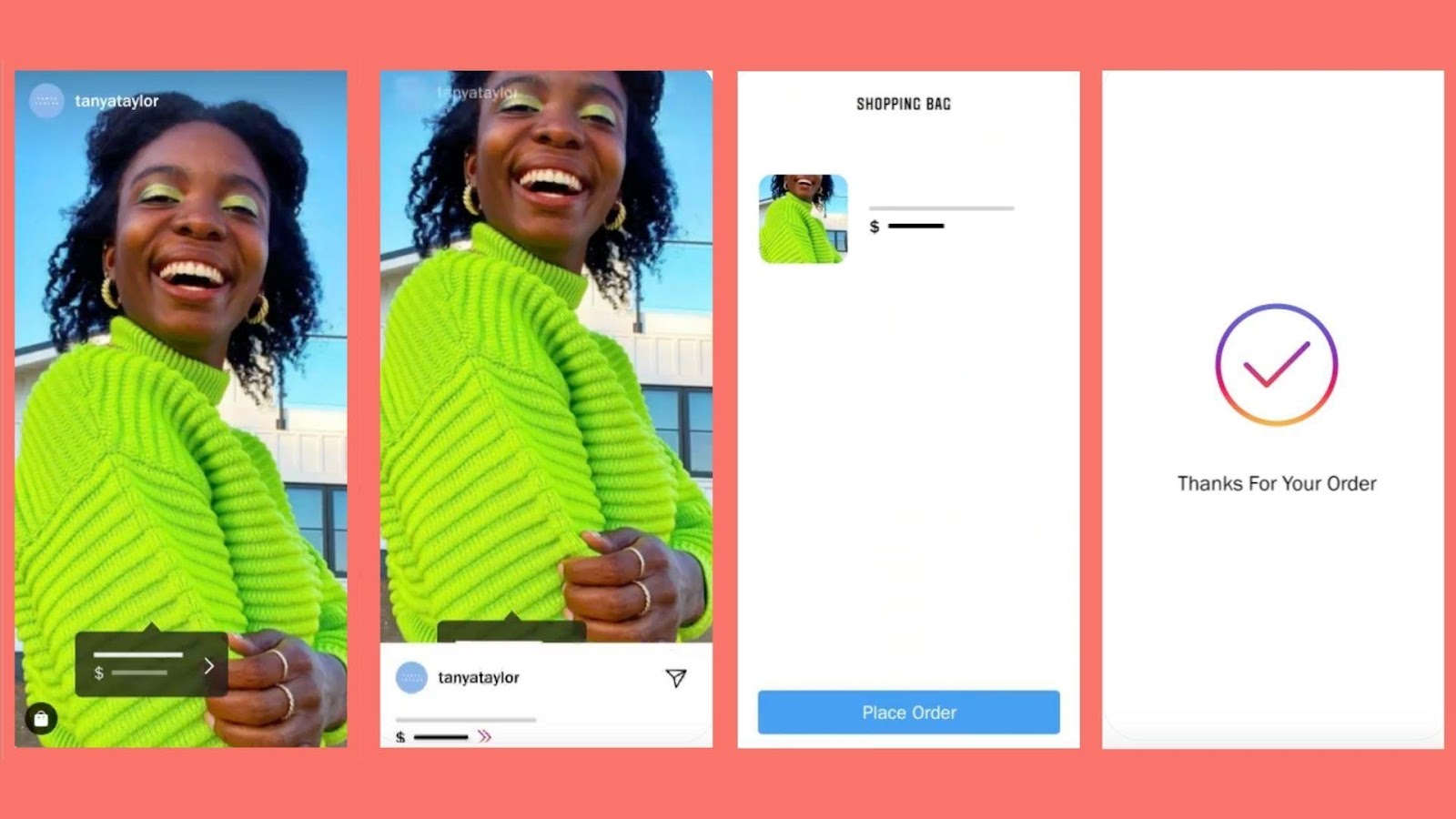 Encouraging Impulse Buying and Easing the Shopping Experience
Even when you're not thinking of buying anything, products you may like appear before you as you scroll down, and it is hard to ignore checking them out. While writing this piece, I almost bought a wooden Baby Yoda puzzle and entered the world of impulse shopping.
In terms of convenience, Instagram's shopping tags excel by easing the shopping experience. Users can save tagged products for later, create wishlists, and revisit them whenever they want. This functionality eliminates the need to remember specific stores or products, as everything is readily accessible within the user's saved posts.
How Instagram Shopping Tags Work in 2023
As mentioned above, everybody can add shopping tags to their Instagram posts in 2023 free of charge. But in order to keep the platform trustworthy, Instagram requires all products to be reviewed and approved in accordance with Facebook's Commerce Policies.
Another thing to keep in mind is that you can only add shopping tags for physical products on Instagram content. If you only provide services, you won't be able to sell them with these tags. If you have a legitimate business selling physical products, let's continue setting up Instagram Shopping.
Setup and Eligibility for Instagram Shopping
Meeting the following criteria makes your brand eligible for Instagram Shopping:

Your business offers physical products that are reviewed and approved by Facebook.
Your company has an e-commerce website, such as Shopify or BigCommerce.
Your business is in one of the supported markets.
Your business complies with the Merchant Agreement and Commerce Policies.
And last of all, you should have a Facebook page that is connected to your Instagram shop because it will be managed through Facebook Business Manager.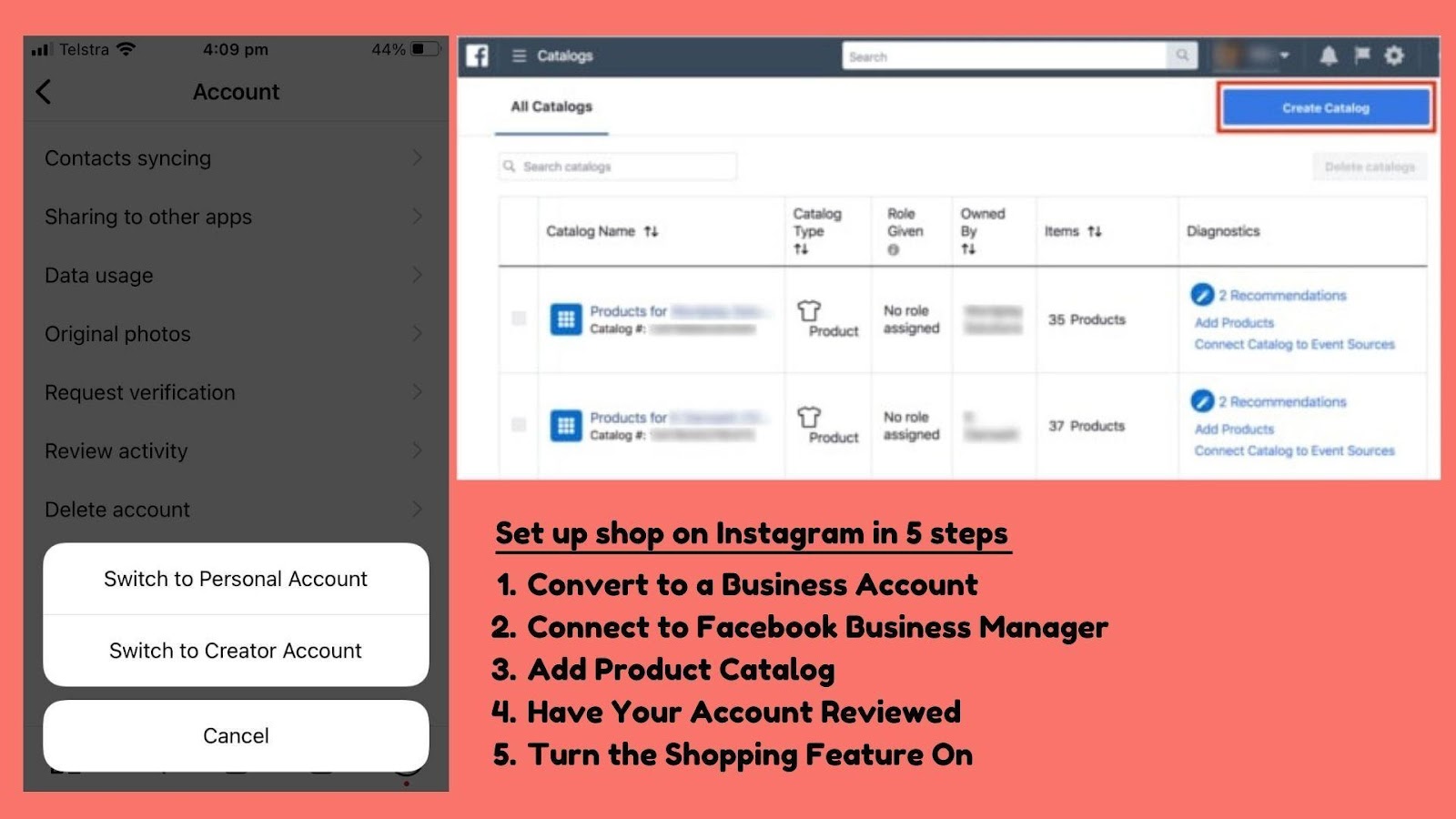 After making sure of your eligibility, follow these steps to set up shop:

Convert to a Business Account: If you haven't already, switch your Instagram account to a business account. Go to your profile settings and tap "Switch to Professional Account." Follow the prompts and connect your account to a Facebook Page associated with your business.

Connect to Facebook Business Manager: Create a commerce account through Facebook Business Manager or connect an existing one. You may need to wait a while to get your commerce account approved.

Add Product Catalog: Set up a product catalog through Facebook Business Manager or use an e-commerce platform that integrates with Instagram. The catalog should include your products with relevant details like images, descriptions, and pricing.

Have Your Account Reviewed: Once your catalog is ready, go to your Instagram business profile settings and tap "Business", then select "Shopping" and follow the prompts to connect your catalog to your Instagram account. At this stage, Instagram will review your account to ensure compliance with their policies. Seeing the shopping feature enabled in your account might take a few days.

Turn the Shopping Feature On: After getting the approval, turn the shopping feature on and tag products in your content using a product catalog. To do this, go to Settings, click on Business, then tap Shopping, select Product Catalog, and confirm by tapping Done.
Tagging Products in Your Posts
Your account must be active for the past 30 days and have no more than two policy violations to tag products.
You can add up to five shopping tags to a single photo or video, and if it's a carousel post, you can tag 20 products in total.
Tap the Post button
Select a photo or video and add annotation, effects, and filters. Tap Next.
Tap Tag products. Tap the products you want to tag in the photo or video. You can search for the products you want to tag and select them when they appear in the search box.
Finally, tap Done and Share.
Remember that when you share a product-tagged post on Instagram, you can also share it on Facebook simultaneously. Just turn the Facebook button on before posting.
Managing Product Tag Preferences and Notifications
It's great that people create content using your products and add shopping tags to them, but they may not always provide content that matches your brand image. Don't worry; removing the tags and even controlling who you allow to tag your products is easy.
To do this, go to your profile and tap View Shop. Then tap Settings > Business > Shopping > Product tags. When you turn off, Allow all product tags; people except your shopping partners or affiliate creators won't be able to add product tags belonging to your brand. But the existing tags won't be affected, and you'll need to remove them manually by tapping the three dots on the post, selecting Post options, and removing yourself or all tags from the post. Removing product stickers from Instagram stories is basically the same. After tapping on the three dots, tap Remove products if multiple shops' products are tagged or Remove product sticker if only your products are tagged.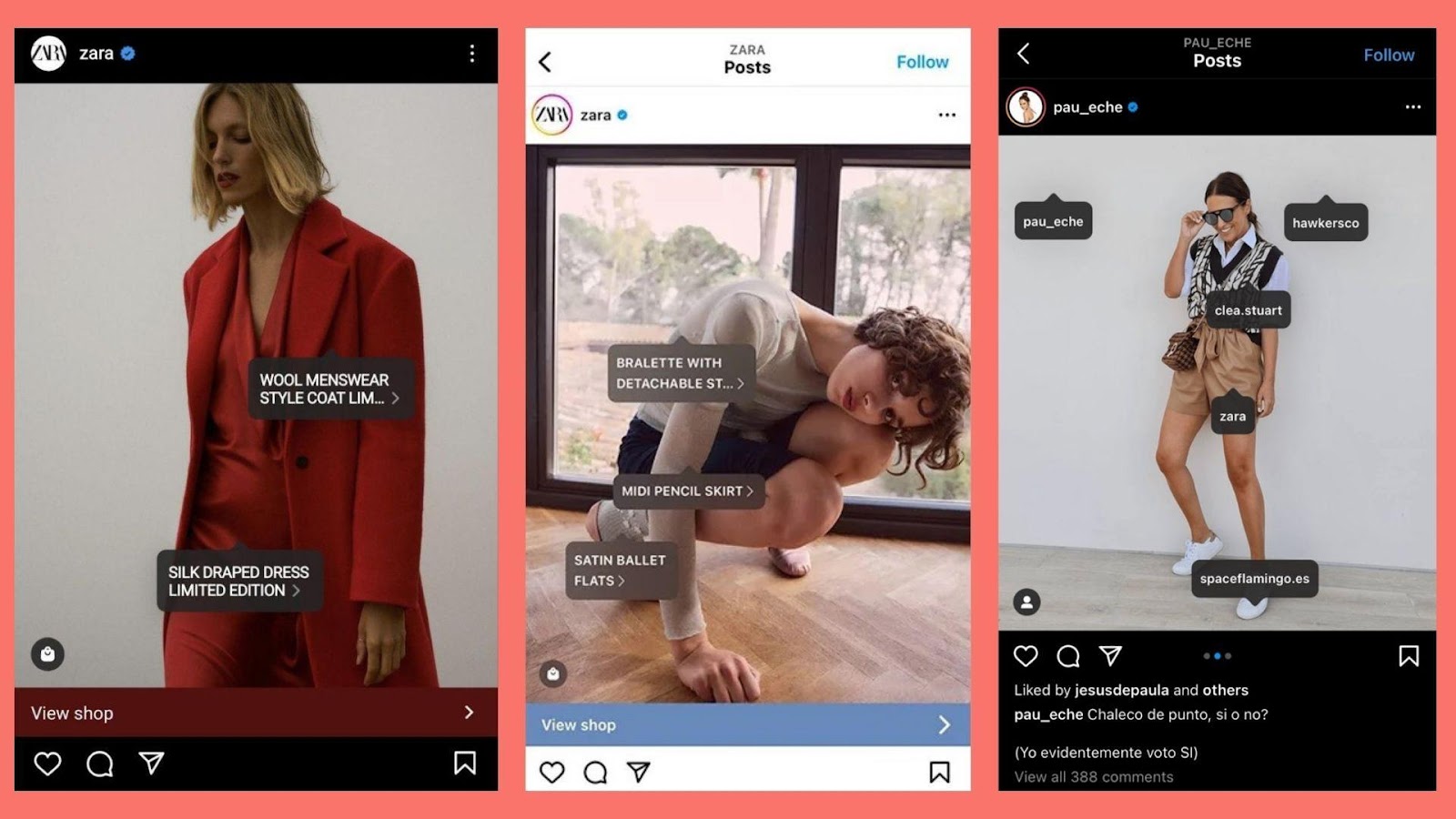 5 Best Practices for Using Instagram Shopping Tags
Adding shopping tags to posts and stories is easy, but there are some best practices to consider for better efficiency.
Use high-quality visuals: Since we are on a platform that was built for sharing photos, high-quality visuals should be a given. Your account stands as your store window, after all. The more visually striking it is, the better.


Pay special attention to product descriptions: Provide accurate and detailed descriptions for your products. Include essential information such as product dimensions, materials, colors, and other relevant details to help users make informed purchasing decisions.


Beware of overcrowding: You should tag several products on a single content, but if it looks like a street market stall upon tapping, it may appear cluttered and confuse users.


Leverage user-generated content: Collaborating with influencers or reposting tagged content from ordinary users encourages engagement, builds a sense of community, and enhances authenticity.


Curate lookbooks in Highlights: If you utilize Instagram Stories to showcase your products with shopping tags, you can create collections in the Highlights section, making it easy for users to browse and shop from your previous stories.
And last of all, if it is supported in your country, don't forget to enable the checkout feature to simplify the purchasing process.
Successful Examples of Instagram Shopping Tags in Action
Nike, Zara, Sephora, Victoria's Secret, Burberry, Warby Parker… Think of any world-renowned brand; you'll see it has a shop on Instagram. They all use shopping tags effectively, provide detailed information about their products, collaborate with influencers regularly, and all their content is visually appealing. Some brands like Glossier take it a step further, encouraging user-generated content by reposting customer photos and tagging the featured products. They also offer checkout without leaving the app for a seamless experience wherever it is available. But they have all been successful brands long before opening shops on Instagram.
You actually don't need to be a huge, global brand to find success on Instagram. Istanbul-based clothing and accessory company Hoghheim is one of the smaller brands with a single store that maintains its existence with its marketing and sales activities on Instagram. While they claim to ship across the galaxy, many of their 90,7K followers would be unaware of the brand if it weren't for their Instagram existence. They might not have the budget for influencer marketing, but they attract attention with their carousel posts with shopping tags.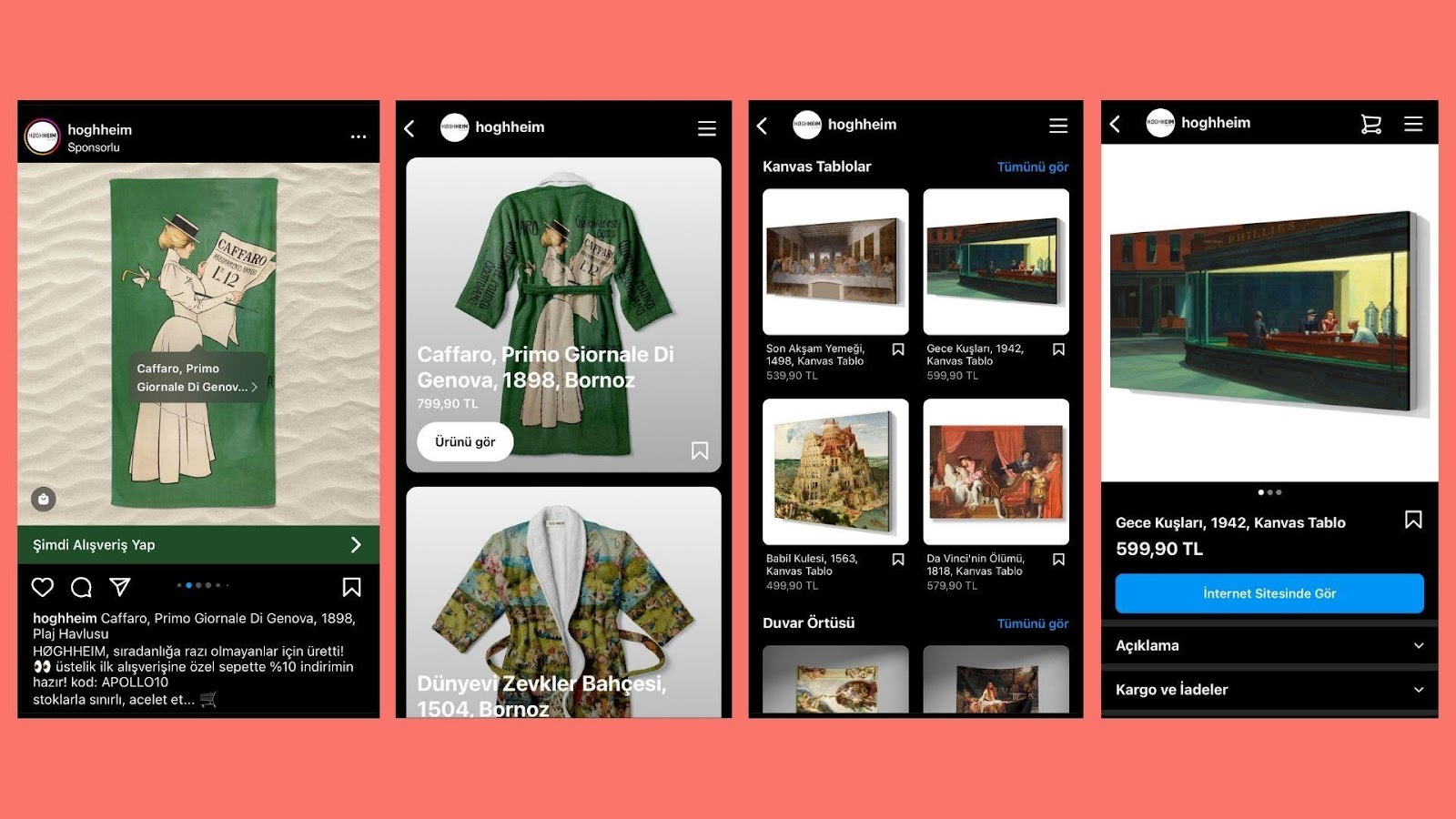 While owning a virtual shop provides you with global coverage for social selling, managing your store and community might require a bit more attention and timeliness. Luckily, you won't miss any important messages if you conduct social commerce with Juphy.
Instagram Shopping Tags and Juphy: A Powerful Combination
A seamless social shopping experience requires more than attractive visuals and a "visit shop" button. It's a world of likes, comments, mentions, suggestions, information requests, and from time to time, complaints, spam, and trolls. Also, this process takes place on all social media platforms, not only on Instagram. It looks pretty hard to keep up, isn't it?
Thanks to Juphy, it actually isn't. Juphy's advanced social and conversational commerce features empower you to effortlessly handle customer inquiries in real-time and play a pivotal role in lead generation, customer segmentation, order follow-ups, and performance tracking.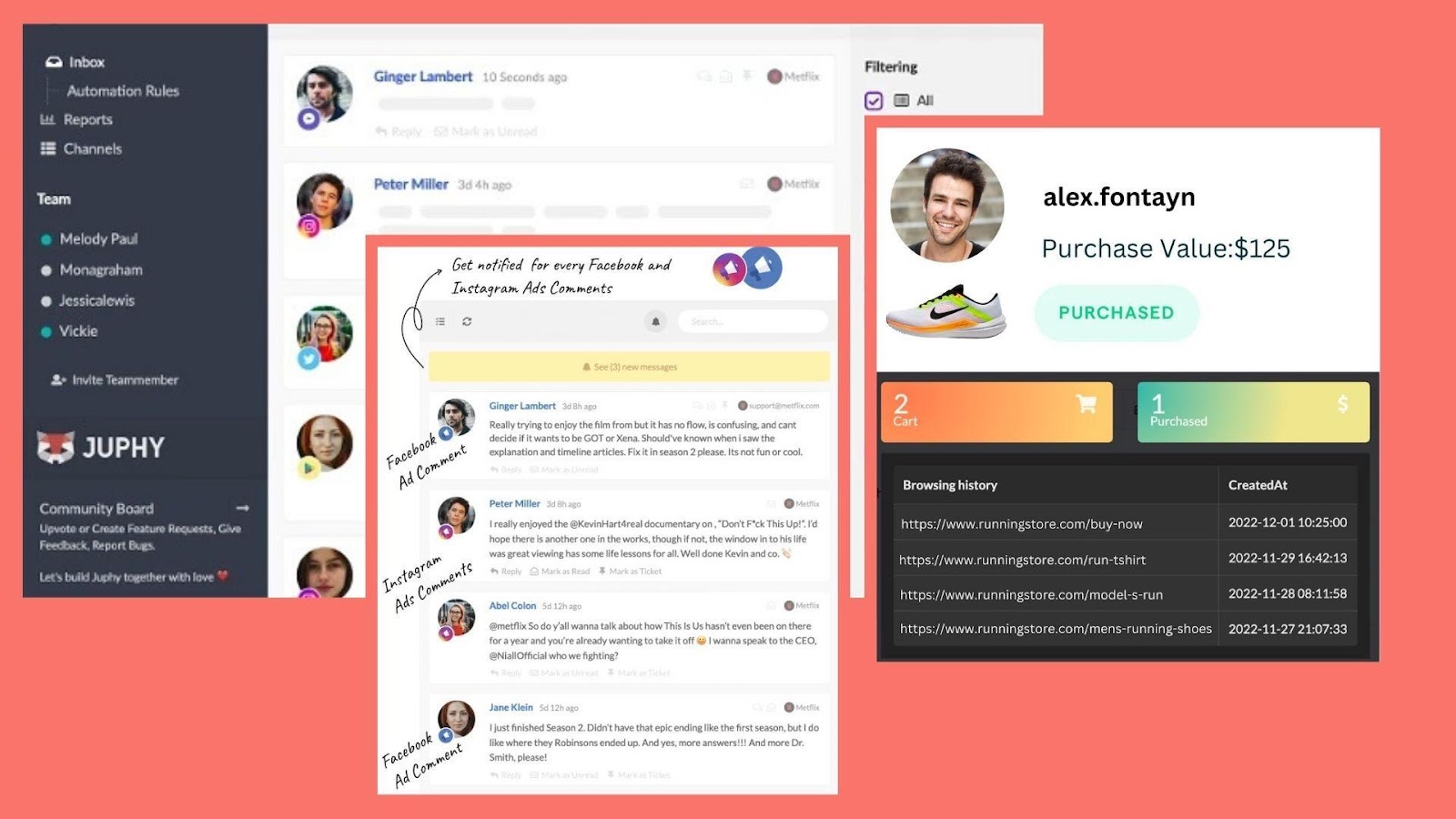 Managing Instagram Comments on Juphy
Managing Instagram comments with Juphy streamlines the process with automation rules, canned responses, and team collaboration features. With its intuitive interface, you can view and respond to comments from multiple Instagram accounts on a single dashboard, while easily filtering the important ones based on specific keywords. It also works in moderating ad comments (which can be overwhelming at times). It helps you maintain your brand image by allowing you to remove inappropriate or spam comments or steer the conversation to a private space for better communication.
Track Your Instagram Shopping Performance with Juphy
Juphy offers exciting features for tracking Instagram shopping performance, providing valuable insights into your sales and engagement metrics. While tracking campaign performance on the Reports section, you can also monitor your customers' browsing and purchase histories and analyze the behavior patterns of your social audience. These valuable insights can help you assess the effectiveness of your product tagging strategy, identify top-performing products, and make data-driven decisions to optimize your Instagram shopping efforts.
Customer Support for Instagram Shopping on Juphy
Juphy's automation rules help you easily filter and classify messages based on content, urgency, and tone. With this ability, you can prioritize urgent queries, such as delivery issues or negative feedback. When community management gets hectic in high season or during ad campaigns, you can easily share the burden by assigning conversations to the available team members. Addressing concerns promptly and appropriately can enhance customer satisfaction and build stronger relationships with your Instagram Shopping audience.
Conclusion
Offering instant and more convenient purchasing opportunities to social media users is the latest trend in the e-commerce landscape, and Instagram does a great job with its shoppable content features. As the shopping tags make purchasing more accessible than ever, soaring sales can mean overtime for brand teams. Juphy empowers businesses to capitalize on the power of Instagram shopping tags while effectively managing the resulting increase in sales and customer engagement.
If you plan to transform your Instagram account to your virtual storefront, start your 7-Day Free Trial today to handle the influx of orders efficiently, streamline customer interactions, and ensure a smooth and satisfactory shopping experience for your customers.
Create Your
Social Inbox Now
Manage all social media customer support inquiries in a unified inbox.