With more than 3 billion active users who use the platform to explore brands, check out products, share and post reviews, and discuss their interests, brands can no longer afford to use social media in isolation.
Thanks to the fast adoption of social media, social CRM is becoming more popular as a tool for businesses to understand their consumers' preferences and needs better.
The valuable insights and customer data from social interactions must be available to all departments. And this can be done with a Social CRM in place.
Every business, from SMBs to large enterprises, requires a CRM to raise brand exposure through awareness, expand its reach, bring in more prospects, communicate with customers, quickly respond to inquiries and concerns, and boost sales on social media.
But what is social CRM?
If you're unfamiliar with the concept of social CRM, you've come to the right place. In this article, we'll cover social CRM, its benefits, and some powerful examples of how big players use it to stay at the top of the game.
So, without any further ado, let's jump right in!
Create Your
Social Inbox Now
Manage all social media customer support inquiries in a unified inbox.
What Is Social CRM?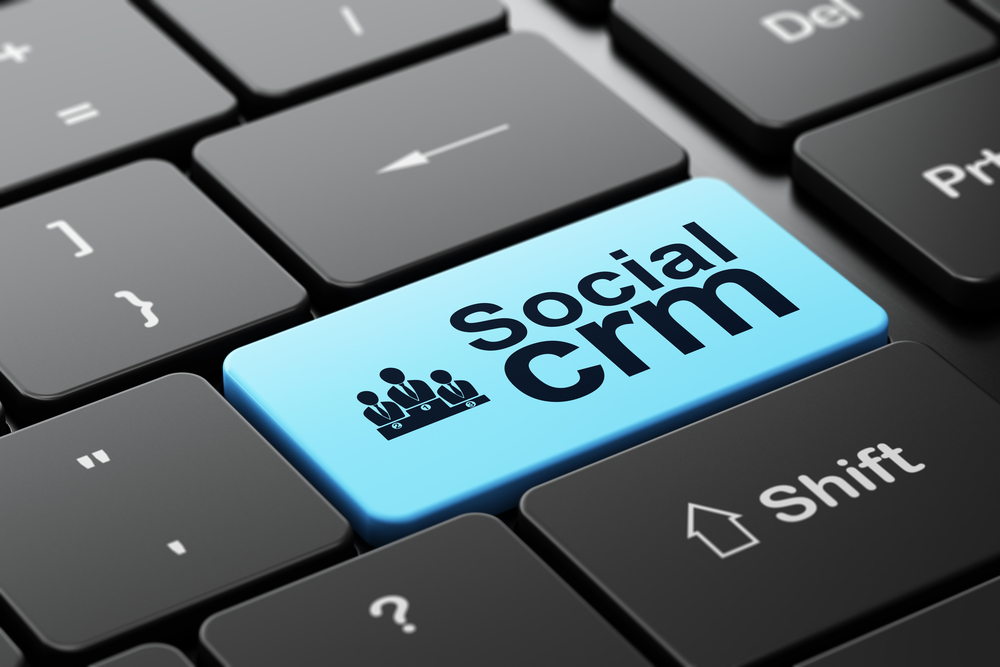 Social CRM integrates social media channels and customer relationship management (CRM) software that transforms customer data into strategies, identifies essential information, and keeps your team updated about new trends.
It allows businesses to analyze and leverage social media data to boost customer engagement, generate new leads, and improve customer service.
Social CRM doesn't deal with data and information but with conversations and relationships as well. It allows you to centralize all forms of communication.
The social media CRM also lets you assign responsibilities and regulate who has access to what. It directs you to track how your brand is perceived by analyzing social media interactions such as comments, posts, likes, tweets, retweets, messages, and mentions.
The following aspects can easily justify the need for CRM social media integration:
Engagement: Companies can use CRM to communicate directly with customers and prospects on social media.


Social Selling: Professionals can use social media data and behaviors to evaluate new leads.


Customer Service: CRM allows businesses to recognize and respond to queries and customer complaints in real-time.


Understand True Value: CRM comprehends the importance of a social lead over time with a clear understanding of social interactions, thereby assisting you in budgeting for social media and advertisements.


Create Custom Audiences: CRM helps you identify who your customers are. Hence a lookalike audience focused on customers who have already purchased from you is more likely to result in conversions.


Timely Response: The real-time data updates in the CRM enables your support team to respond quickly to all your customer interactions, hence creating an impressive customer experience
Further Reading – The Complete Social CRM Guide
How Does Social CRM Differ from Traditional CRM?
Social CRM is more than just standard CRM with some extra data fields. It is more of a tool that enables you to participate in customer-initiated conversations with interesting, relevant content.
A traditional CRM is ideally restricted to the interactions between a sales rep and their leads. In comparison, Social CRM takes full advantage of the information shared on social media to collect all details of your leads, prospects, and customers.
Traditional CRM is managed via conventional channels, usually from the company's perspective. But in Social CRM, the customer is in control. The customer decides when and on which channel to initiate and end the conversation and the interaction process.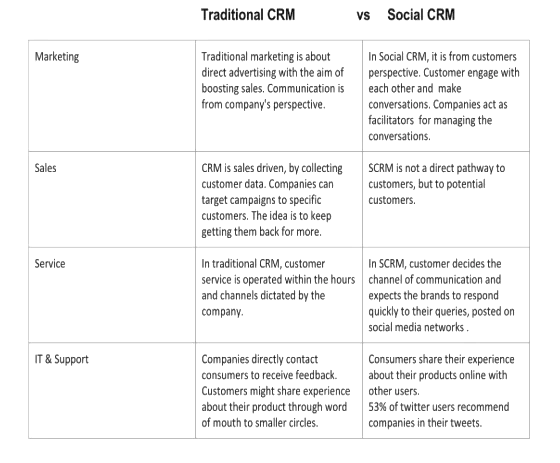 That's not all. Social CRM also helps companies co-develop new products and services, generate brand awareness, assist in selling, and enable after-sales support.
So basically, the customer advocates the whole CRM process, and all the company has to do is manage the dialogue, not the customer.
Key Benefits of Social CRM in Sales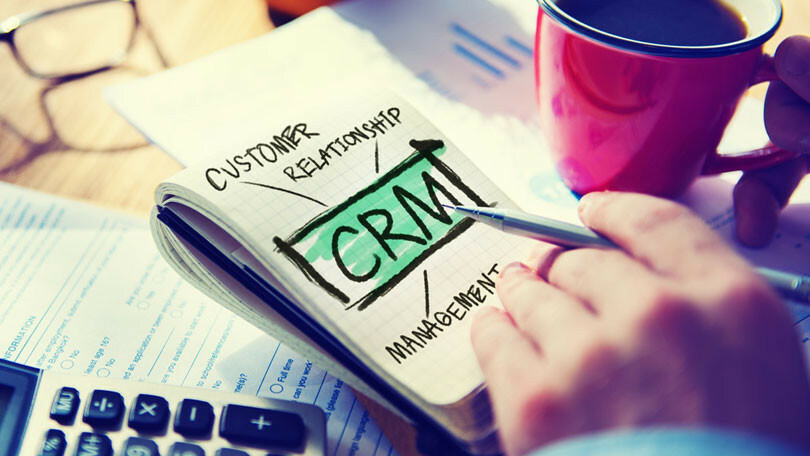 Meeting the Demands of the Modern Consumer
The customer is the king. Businesses should function to meet the consumer's needs as it is essential for the brand's survival.
Social CRM facilitates analysis of customer needs and helps businesses to monitor what people write on social media about the brand, its products, or the industry, giving a clear picture of what customers expect by revealing their most significant pain points and unmet needs.
CRM helps brands understand the audience's needs to optimize sales processes, customer service, tech support, and marketing campaigns to address the root source of their biggest frustrations and meet the demands of the consumers.
Leveraging Social Media Insights for Improved Sales Prospecting
According to LinkedIn Sales Solutions' internal data, companies prioritizing their social selling are 51% more likely to reach their sales target. Incorporating advanced prospecting on LinkedIn through social CRM not only boosts sales teams' efficiency but also empowers them to tap into a vast pool of potential leads, significantly increasing their chances of meeting and exceeding their sales targets.
Social CRM gives sales teams the tools to identify leads and engage with potential customers on social media channels. Social CRM tracks social media interactions and helps sales reps recognize new sales opportunities and better identify where exactly leads are within the sales funnel. 
This helps the sales teams reach out to prospects with more relevant and valuable offers, create a personalized experience for specialized users, and nurture customer relationships.
Strengthening Customer Relationships through Social Engagement
Strengthening Customer Relationships through Social Engagement
Consumers want to return to a brand that understands them, listens to them, and connects personally. Be that brand by employing Social CRM.
It empowers you with the information and visibility your brand needs to deliver an elevated customer experience that strengthens your relationship with prospects and consumers.
Social CRM helps social media customer support teams to hold meaningful conversations through the context gained from the insights showing that you listen to your customers.
Social CRM also lets you humanize your brand and strengthen customer relationships through personalized social engagement and bonding with them. To simplify, you do not just jump in on conversations out of the blue or respond with irrelevant copy-pasted messages.
Harnessing the Power of Brand Advocates
A brand's best marketers are often its satisfied customers. When consumers have positive experiences with a company, they are likely to share those experiences with their social networks. This word-of-mouth marketing can be an invaluable tool for attracting new customers.
Social CRM not only helps you identify these brand advocates but also allows you to nurture and leverage their enthusiasm. By monitoring social media interactions, Social CRM can help identify customers who are actively promoting your brand. These customers can then be rewarded and encouraged to continue their advocacy, helping your business to expand its reach and influence.
Driving Sales Through Data-Driven Decision Making
In the era of big data, businesses that leverage data to drive their decision-making processes often have an edge over their competitors. Social CRM provides a wealth of data from social media interactions, helping businesses to better understand their customers' needs, preferences, and behaviors.
With Social CRM, sales teams can use this data to identify trends and patterns in customer behavior, enabling them to tailor their sales strategies accordingly. For instance, if data shows that a particular product is receiving positive feedback on social media, sales teams can focus their efforts on promoting that product to boost sales.
Similarly, if data reveals that customers are facing issues with a specific aspect of a product, businesses can take immediate corrective action, thereby improving the product and enhancing customer satisfaction. This data-driven approach can lead to more effective sales strategies, improved customer satisfaction, and, ultimately, higher sales revenues.
Examples of Successful Social CRM from Big Brands
Taco Bell
Taco Bell always gets it right, not just with its fun posts and witty comebacks but also with its problem-solving skills. They handle customer complaints and problems on social like a pro. Why? Because they have an excellent Social media strategy backed by Social CRM.
They know customers can be as rewarding on social media as they can be critical. Here's just one shoutout that Taco Bell received on social this year.
.@TacoBellTeam thanks for making it up to me. Take note – This is what customer service looks like. #ILikeTacos #LiveMas pic.twitter.com/Z9Rup1orhs

— Jen Bowen (@JuniperUponHill) July 30, 2018
KLM
KLM Airlines is the most recognized social CRM expert in all B2C marketing as it understands that customers do not want to be directed to some different channel but want brands to reach the channel they are using.
KLM innovations include Messenger integration. They are the first airline to launch real-time flight information on Twitter and WeChat.
KLM has also embraced longer-form content on YouTube and Instagram Stories. One of its most popular series is 'What the FAQ,' where the brand answers technical questions about air travel, generating the highest levels of engagement for the airline on Instagram, with a recent example receiving over 46,500 likes.
Well-produced and quality social content sets KLM apart from competitor airlines, which can be guilty of churning out shallow or overly sentimental content.
Amplifying Social CRM and Social Selling with Juphy!
Juphy is an award-winning, all-in-one social management tool that seamlessly synchronizes all your social media accounts, manages all your social media conversations in real-time, and helps you boost sales with its powerful features.
Streamline Communication with Juphy's Unified Inbox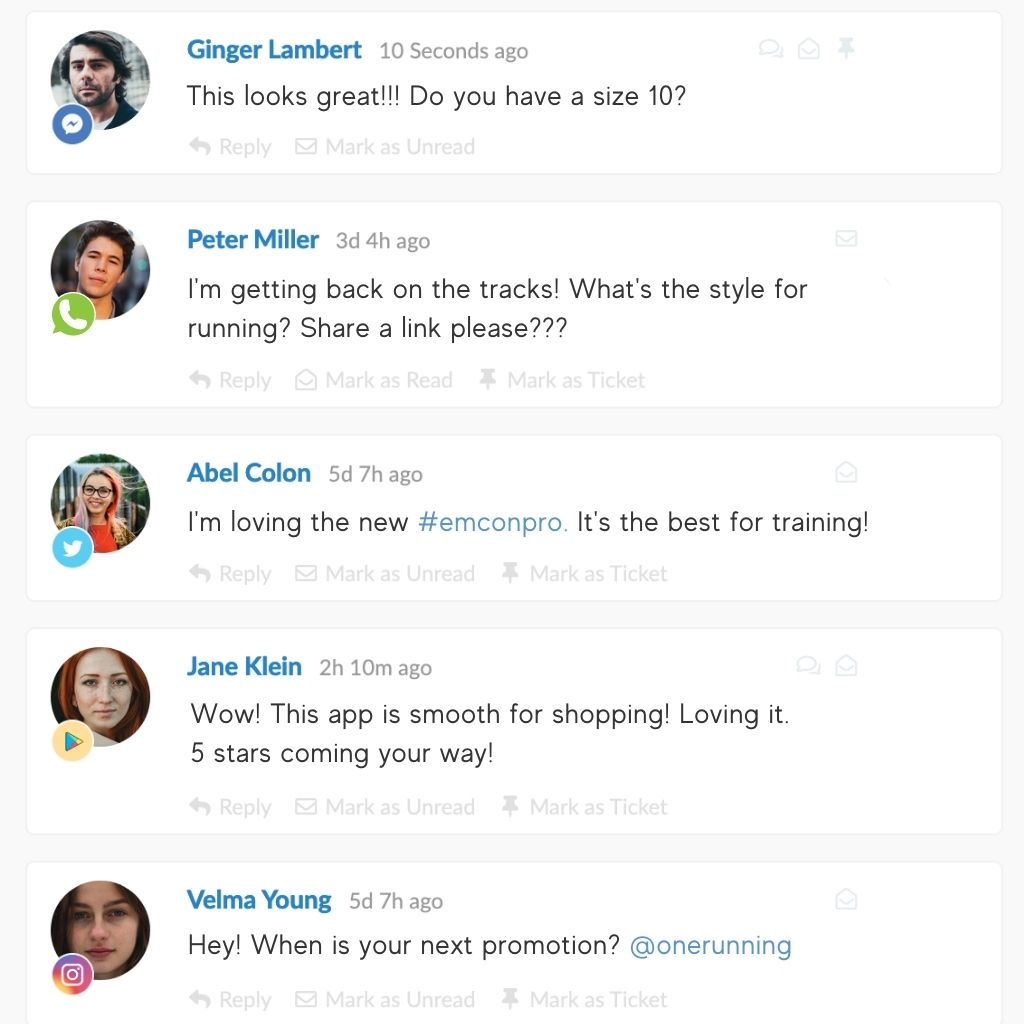 Social selling is a lead generation strategy that helps salespeople to interact with prospects directly through social platforms. That said, replying to all the incoming comments and messages is challenging when managing multiple social media accounts.
It becomes difficult to monitor every conversation and ensure that everything is noticed. But we got your back.
Juphy's Social inbox manages all your social conversations from one unified dashboard so you can keep on top of your comments, DMs, mentions, and reputation by monitoring all the incoming messages, providing quick support, and never missing a conversation again.
It collects all the comments, mentions, and direct and private messages from social business accounts to reply from a single, easy-to-use interface.
Juphy's social inbox will help you to manage communications on all major social media platforms effortlessly and save you time from manually monitoring each platform.
Juphy's Social Inbox supports the following types of incoming messages:
Facebook: comments, mentions, and private messages with the ability to reply
Instagram: comments, mentions, and direct messages with the ability to reply
LinkedIn: comments with the ability to reply
Twitter: mentions, replies to posts, and direct messages with the ability to reply
Juphy's automation rules also allow you to label, categorize and prioritize incoming communication.
Plus, you can now store all contact information in Juphy's Social CRM, segment contacts based on purchase history and interests, and create contact lists to re-target all contacts personally via messaging.
Personalize Outreach with Juphy's Customer Data Management
According to the Harvard Business Review, 90% of business leaders believe data literacy is essential for success.
Data management is a functional approach to collecting, storing, protecting, delivering, and processing data. When organizations effectively manage data, they gain insights that drive business decisions.
Anticipate your customers' needs, solve complex problems faster, and gain more actionable insights by integrating customer data from CRMs and agent interactions in a single dashboard with Juphy's data management.
With customer data collected and stored in your CRM, you can use that data to create personalized outreach campaigns that effectively target your customer segments.
Moreover, monitoring consumer behavior data at every touchpoint helps business leaders to make informed decisions that boost sales performance.
Juphy helps to track data about your interactions with leads. You can segment customers into groups and see all your interactions with given leads in one place.
Juphy data management can give your business better data for decision-making and make your company more effective and responsive to customers and help your team reduce errors and build trust.
Conclusion
Social CRM will continue to evolve as the market grows, ushering in a new generation of monitoring tools to hear concerns, solve problems, generate reviews, and interact with and guide customers.
The social media CRM integration will offer a comprehensive overview of your customer's habits and choices, enabling you to perform exceptionally well and grow your sales.
Go social with Juphy's social CRM to integrate social media with your sales strategy to boost brand awareness, create stronger customer relationships, and close deals faster.
Get started with your 7-day free trial, or book a demo with us today!
FAQ
1. What is Social CRM?
Social CRM is a system that combines social media channels with CRM software to enhance customer engagement, lead generation, and customer service by leveraging social media data and managing customer interactions.
2. How does Social CRM differ from Traditional CRM?
Unlike traditional CRM that focuses on sales rep-lead interactions, Social CRM utilizes social media information for comprehensive customer insights and allows customers to control the conversation. It assists in product development, brand awareness, sales, and after-sales support.
3. What are the key benefits of Social CRM in Sales?
Social CRM enables businesses to analyze customer needs, optimize sales processes, and improve customer service. It identifies potential customers on social media and strengthens customer relationships through personalized engagement.
4. How can I amplify my Social CRM and Social Selling?
Tools like Juphy provide a unified platform for managing social media conversations, tracking interactions with leads, and personalizing outreach through customer data management.
Create Your
Social Inbox Now
Manage all social media customer support inquiries in a unified inbox.
Related Article – Social Media Lead Generation Guide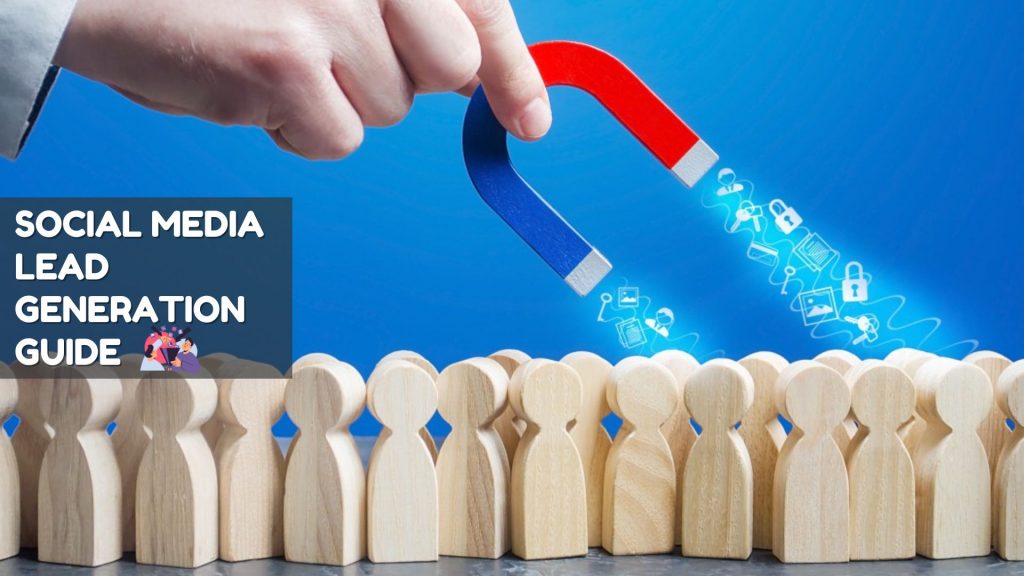 Ramp up your marketing strategy and improve your social media marketing with Juphy's social media lead generation guide. Learn more now!