The power of social media can influence and improve many areas of your marketing efforts. Social media continues evolving as the cornerstone of every brand's marketing strategy and lead generation.
Social media lead generation is an integral part of every marketer's social commerce strategy who wants to move beyond brand awareness and engagement.
With over 3.6 billion people users worldwide, social media is the perfect lead-generation channel for businesses to reach and attract customers as it presents countless lead-generation opportunities to marketers.
That's why 79.3% of marketers believe it is essential to their overall digital marketing plan.
Collecting leads on social media helps to find people interested in your company and engage with potential customers, whether to make a special offer or share an update.
Do you know that according to 68% of marketers, lead generation is one of the toughest challenges they face?
You're way behind the curve if you haven't used social media for lead generation. You may have already lost high-quality leads to your social-savvy competitors.
If you're one of many brands that hit a dead end and struggle to generate high-quality leads, luckily, you've come to the right place.
This blog offers several up-to-date tactics on how to earn more quality leads.
Or, if you are new to lead generation, treat this article as a primer to explore the labyrinth of social media lead generation.
So, are you in?
Let's get started.
Create Your
Social Inbox Now
Manage all social media customer support inquiries in a unified inbox.
What Is Social Media Lead Generation?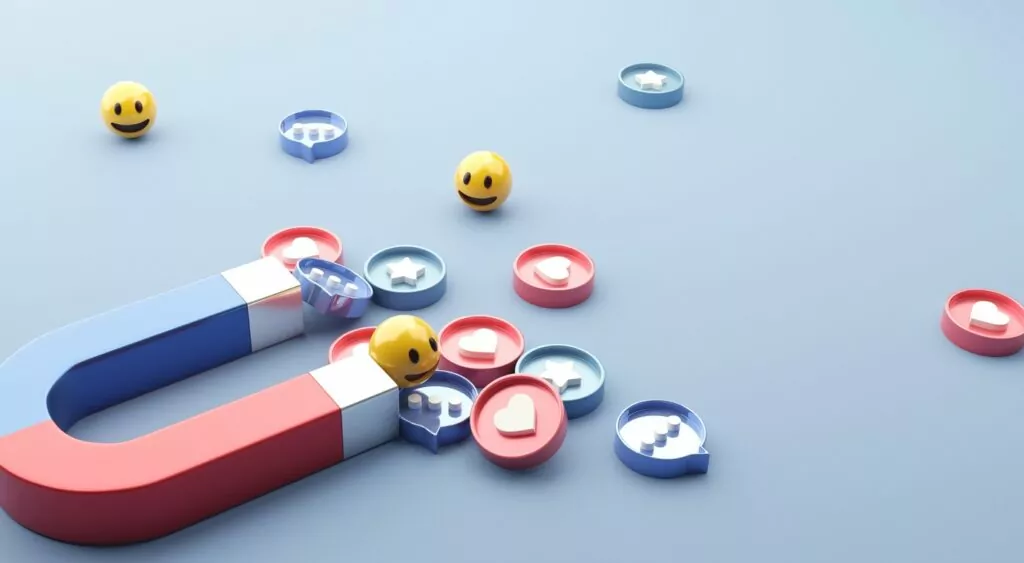 Social media lead generation can be described as a strategic marketing process to capture qualified leads from social media channels into your sales funnel to be converted into customers.
There are numerous social media channels, but not all of them are right for your business. The social media channels for lead generation should align with your target market and business goals.
Listed below are some of the popular social media platforms for lead generation:
Facebook
Instagram
Twitter
YouTube
LinkedIn
Simply put, social media marketing for lead generation involves using social media platforms to attract, engage, and nurture potential customers.
The approach ideally involves sharing valuable content that resonates with the target audience, building relationships with followers, and encouraging them to take relevant action, such as filling out a contact form, completing a purchase, or simply visiting a website.
Social media for lead generation can help in many ways, like:
Access to a broader audience
Increased brand visibility and awareness
Engagement with potential customers in real-time
Increased website traffic and conversions
Social media platforms generally have higher engagement rates than email, your website, and landing pages. It also has built-in targeting and contact information from social media leads.
Now, what are social media leads?
A social media lead is any information shared by any social media user that can be used for business purposes, such as name, email address, occupation, or other information.
Rather than waiting for customers to come to you through organic marketing, you can also search and find leads through social media who are already engaged with your brand or industry.
Social media amplifies your lead-generation efforts by boosting brand awareness, driving website traffic, and improving community engagement.
According to the recent statistics published by HubSpot, lead generation is one of the top priorities for marketers.
Social media lead generation can benefit B2B and B2C marketers in identifying the social media audiences interested in your business, giving you the necessary leverage to target them with relevant content.
You can convert them into customers with engagement and an effective social media strategy.
Why Is Social Media Lead Generation Important?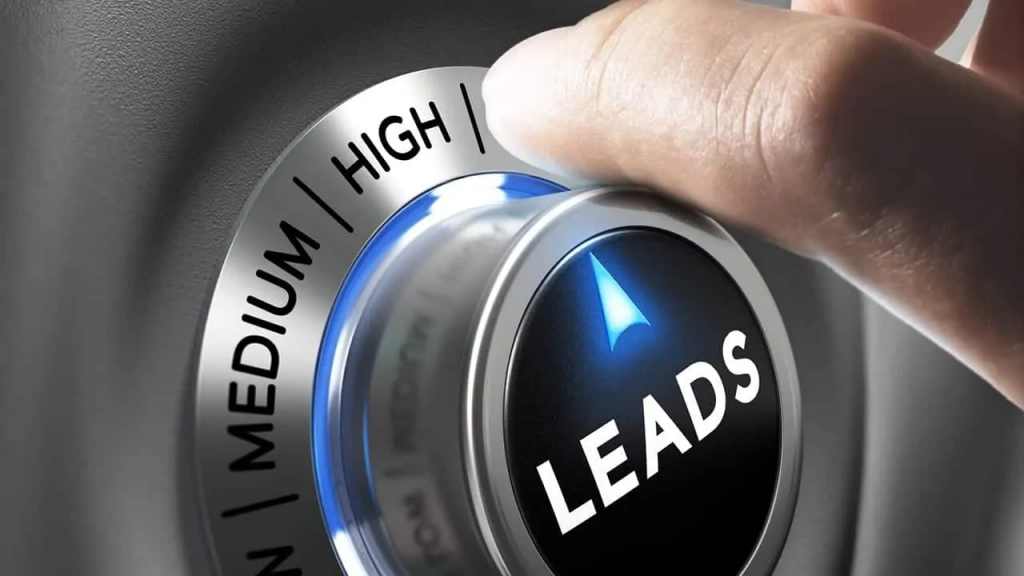 Social media has become an integral part of our daily lives and is now one of the primary sources of information for consumers and an effective marketing channel for brands.
Businesses that do not engage with their target audience on social media could miss out on a huge opportunity to generate leads and drive sales.
Listed below are some reasons why social media lead generation is essential:
Increased Reach: Social media platforms have billions of active users, which means businesses can reach a considerably larger audience than conventional marketing channels.
Cost-Effective: Compared with traditional advertising methods, social media is cheaper, making it a cost-effective way to market, generate leads, and drive sales.
Improved Targeting: Social media platforms have sophisticated targeting options, helping businesses to reach their target audience based on demographics, interests, and behaviors.
Enhanced Engagement: Social media allows businesses to engage with their audience in real-time, which helps build trust and credibility.
Measurable Results: Social media platforms provide businesses with detailed analytics that enable them to track their performance and optimize their campaigns for better results.
Effective Social Media Lead Generation Strategies
Define Your Target Market
Before creating social media content and marketing strategy, you need to understand your target audience and the type of content they are likely to engage with, such as blog posts, infographics, videos, or social media posts that offer valuable information, solve problems, or entertain.
The first step would be to define your best prospects using demographic data: age, gender, family status, education, location, job titles, income, etc. Then flesh out your description by adding interests, hobbies, and social media behaviors.
For example, your target market might be:
25 to 34-year-old women.
Live in urban areas.
College educated, income between $50-100K.
They're interested in fashion, beauty, and pop culture.
They use social media to connect with friends, explore beauty products and learn about the latest beauty trends.
Create Engaging and Gated Content
Social media is an excellent megaphone to get your content out worldwide. Once you identify your target audience, create relevant and engaging social media content.
Ensure your content is visually appealing, easy to read or watch, and adds value.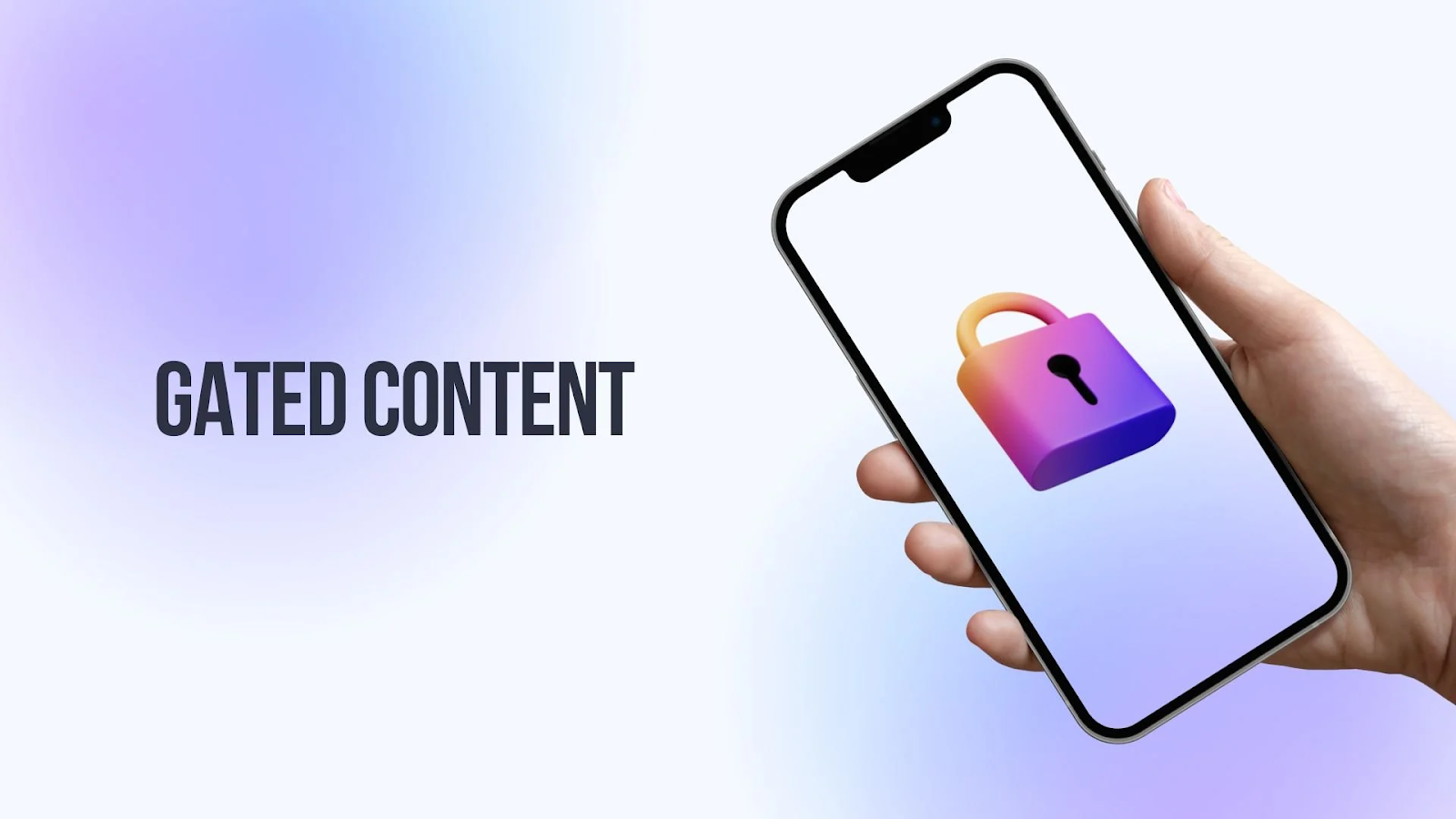 Promote gated content to generate leads – The content viewers can access in exchange for their information. According to HubSpot, over 80% of B2B content marketing assets are gated. Examples of gated content are:
• Ebooks
• Guides
• Live demos
• Newsletters
• Reports and studies
• Templates
• Virtual events
• Webinars
• Whitepapers
Develop posts that take users to the landing page, inviting them to fill out a form. This can generate social media leads and nurture existing ones.
One of the most vital segments of this method is to ensure your social posts provide content that captures the interest of your followers. Use images, GIFs, or stats that visually tell the story of your content.
Below is an example of gated content from Marketing Profs. The post directs to their virtual conference. The visual is captivating and relevant to the content and is evident in what users should expect after clicking through.
Social Media Advertising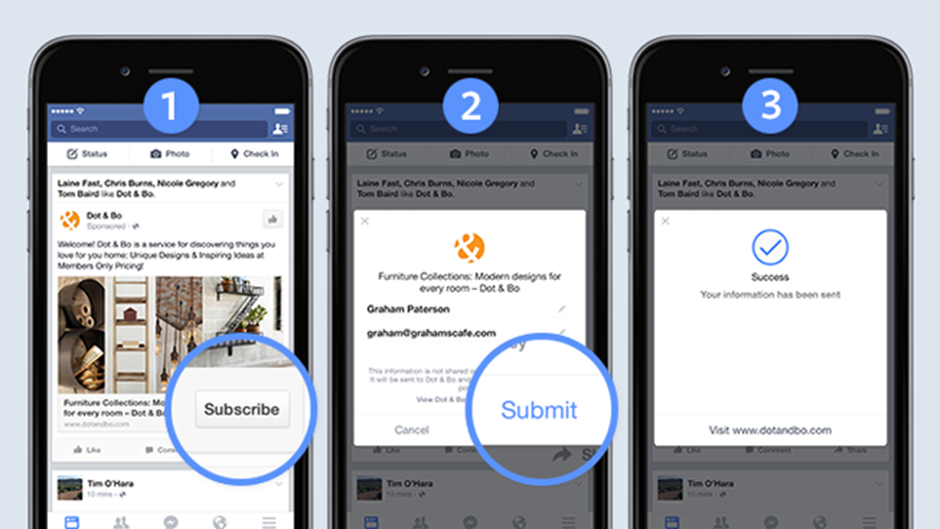 Social media ads are one of the best ways of generating leads from social media. According to Statista, 79.7% of customers make purchases influenced by social media advertisements.
Social media ads are loaded with sophisticated targeting features, allowing brands to reach relevant audiences with precision.
Facebook, Instagram, Twitter, and LinkedIn offer 'Lead Generation' Ads that allow marketers to collect direct leads with targeted marketing to social media users right on the platform.
Users don't have to click the ads to move to the landing page and fill out a form. Instead, the process is simple. Users need to click the form and fill it out to access the gated content for free.
To make your social media ads more impactful, tailor your ad copy to match your target audience's interests and needs. You can also use the custom advertising features offered by different social media platforms to launch your advertising campaigns.
Running social ads is an effective strategy to generate leads when on a budget. You can also perform a split test on your ads to see which gets the best results for developing social media leads.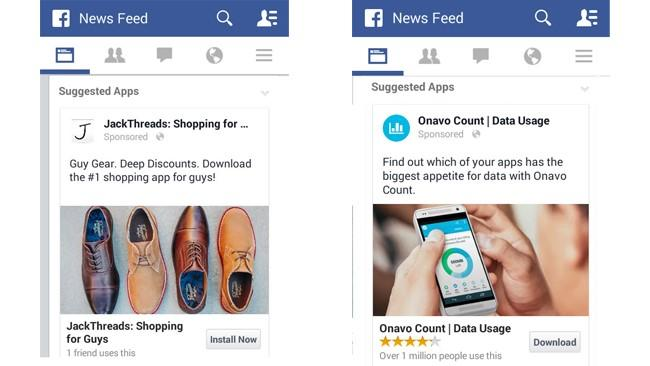 Use Social Proof in Your Posts
With 85% of consumers trusting online reviews, your brand must be on the social proof bandwagon.
Social proof, customer stories, and testimonials can influence a vaster selection of leads and potential customers. It exhibits that existing customers trust and value your products or services, which helps to overcome objections and doubts of potential customers and creates credibility.
Social proof demonstrates your brand's value and helps get people deeper into your sales funnel, as everyone loves to buy from a brand they can trust.
You can use different types of social proof, such as customer reviews, media mentions, or influence marketing.
Online clothing retailer Revolve has been using influencer marketing as a crucial part of growing its brand. From micro-level influencers to celebrity influencers like Kendall Jenner, Revolve has over 3,500 influencers promoting their clothing.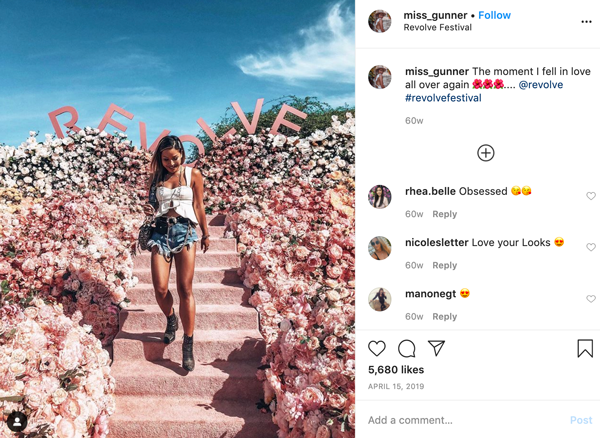 Personalization
Personalization is the art of tailoring the marketing and sales experience for each lead based on their specific characteristics, behaviors, and preferences.
It is seen as a critical method of improving lead quality for marketers. 90% insist that personalization is a significant factor in keeping their businesses profitable, and over 60% of those surveyed prefer it as a key element.
In fact, 72% of consumers will engage with personalized marketing messages, which makes personalization a vital aspect.
Personalization offers tailored content to users' interests and actions, making it an ideal method for guiding them down the customer funnel. It also optimizes the marketing process in several ways:
Helps in targeting high-intent potential customers
Assists in creating ultra-valuable marketing messages
Allows to communicate with customers in real-time
Utilizing personalization ensures that your products or services are suitable for an individual, address any pain points, and help them to convert.
SnackNation is an excellent example of using personalized questions with yes/no forms to identify the leads and send them to a page/form based on their needs.
They also get visitors to click and personalize their sales journey themselves and offer limited options for easier completion.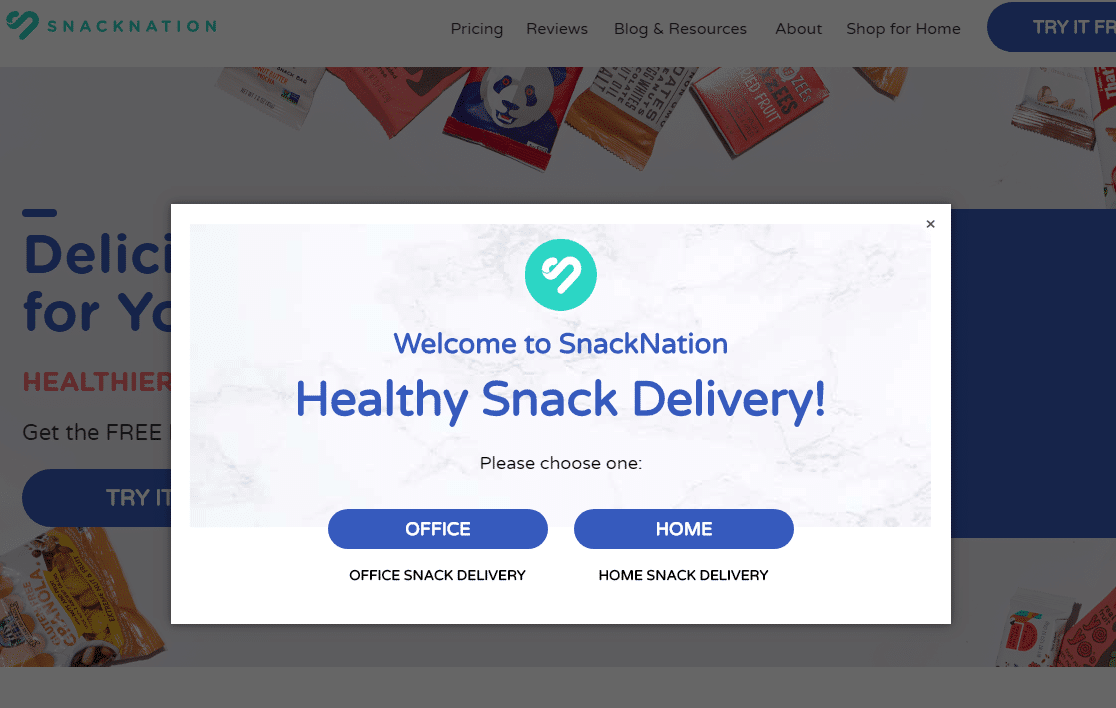 Employ Re-targeting Ads
Re-targeting can amplify your lead generation and social media marketing strategy, as re-targeted advertisements have a 10X higher click-through rate than conventional display ads.
Re-targeting ads reengage lost prospects who previously visited your website but did not fill out a form.
For example, someone clicked on your first ad and scrolled through the landing page but never submitted a form. You can re-target them with ads or re-market with emails and encourage them to finish the signup process.
Set up your re-targeting advertising in a sequence to get better results. An 'awareness-stage ad,' for example, focuses on familiar pain points and common objections.
A 'consideration-stage ad' uses testimonials and provides social proof to win people's confidence.
Serve up the most relevant ads based on the prior behavior of your target audience.
Take Air BNB, for instance. It creates familiarity with their re-targeting ads, as you can see in the visual of their FB ad campaign below: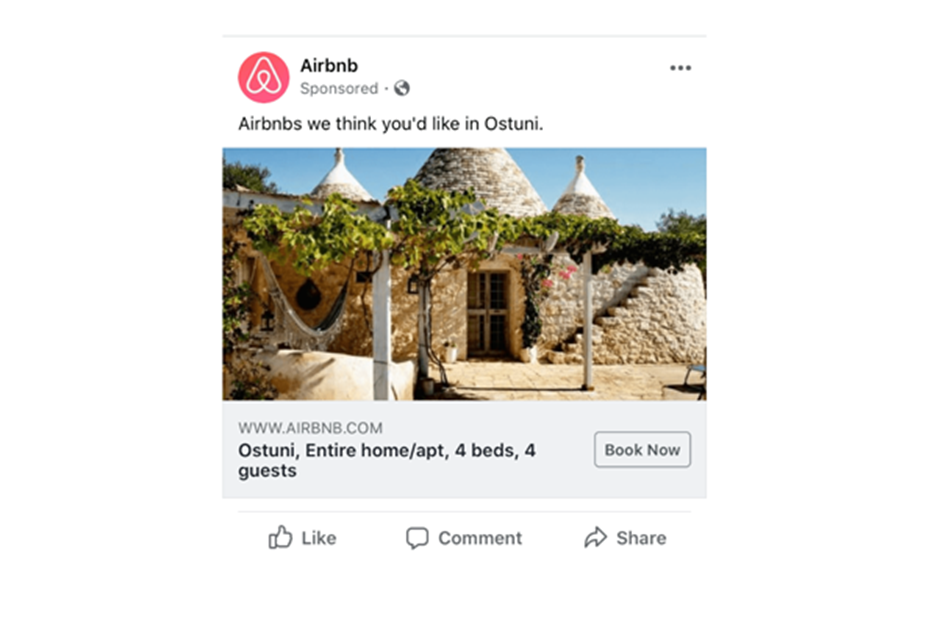 Launch Lead Magnet Offers
A lead magnet is a special deal or a free asset presented to customers for their contact details.
An exciting incentive often compels people to share their information with you, which can be done by crafting appealing lead magnet offers for the audience.
You can offer anything in exchange for customers' information – a free webinar, a research report, a trial offer, discount codes, case studies, whitepapers, and more.
Research indicates that lead magnets are highly effective lead-generation tools. Over 50 percent of marketers experience a boost in conversion rates when they employ lead magnets.
A strong lead magnet delivers value for sales leads. It captures the attention of social media users and motivates them to engage with your business. The more the audience engages, the more data you gather.
The below post from LinkedIn Marketing Solutions promoting a free LinkedIn Insight Tag tool is an excellent example attractive lead magnet offer.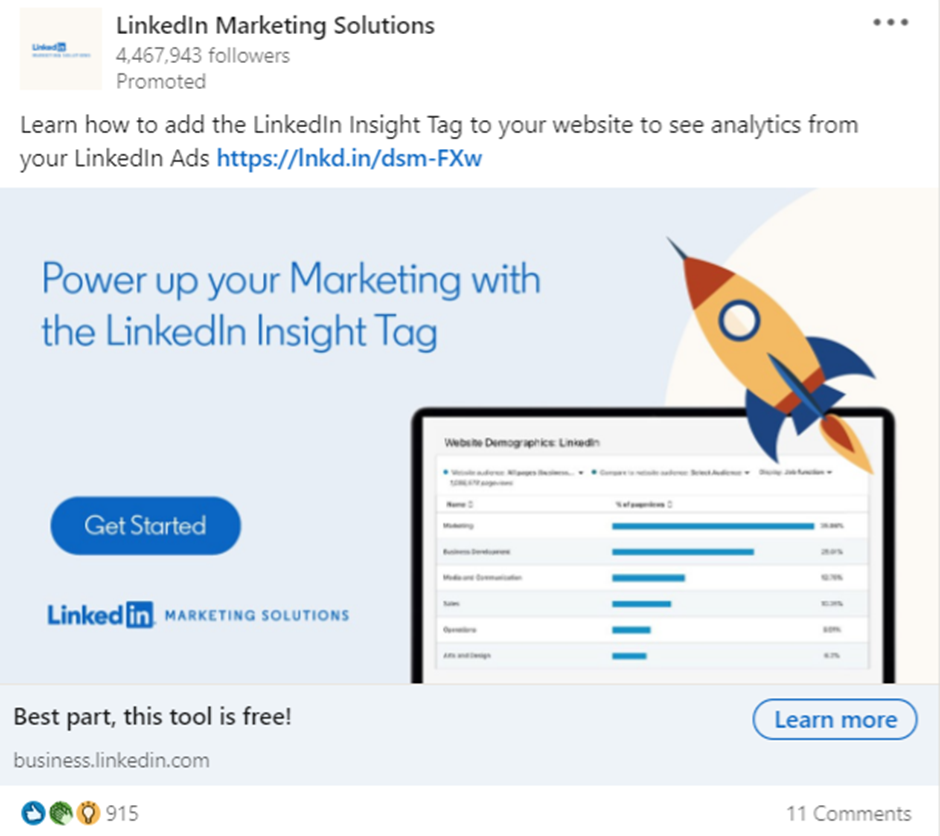 Use Chatbots and Messaging Apps
Lead generation through chatbots and messaging apps is a relatively new concept in digital marketing -also referred to as "conversational commerce"- but is quickly gaining traction.
Chatbots and messaging apps give businesses a unique opportunity to interact with potential customers in real-time, build relationships, and generate leads. Through personalized messaging or automated chat flows, these tools allow companies to reach out to customers more conversationally and engagingly.
Chatbots and messaging apps help businesses to save time and resources, improve their customer experience, and increase their chances of converting prospects into paying customers.
H&M, the clothing retailer, employs chatbots on their website and Facebook Messenger to give personalized recommendations to customers and help with their purchases. Their chatbot has successfully generated quality leads and increased conversions for the company.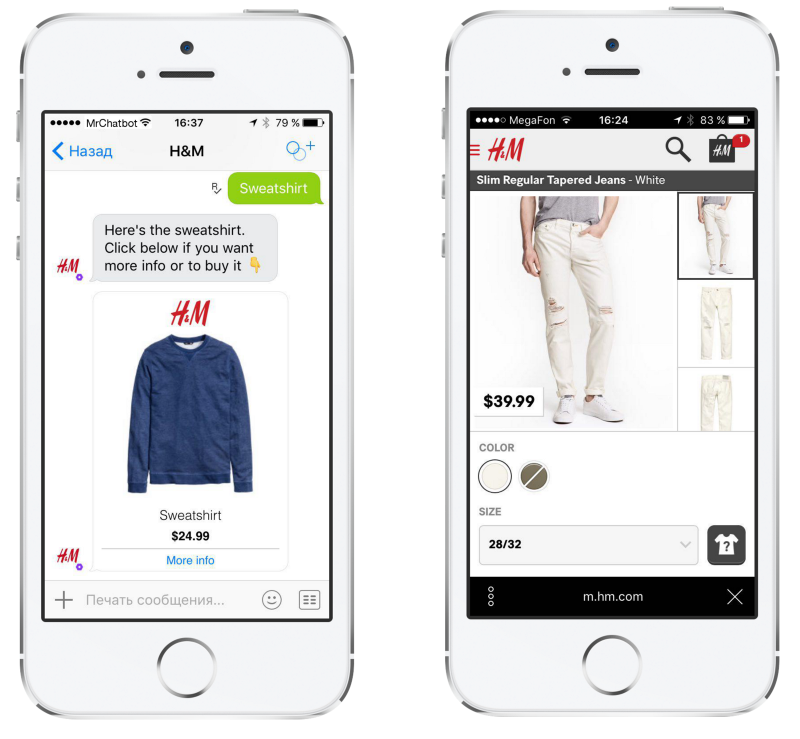 User-Generated Content
Leverage the influence of user-generated content (UGC) to boost your lead generation efforts and harness the power of social proof. UGC, such as customer reviews, testimonials, or social media posts featuring your products, adds credibility to your brand and encourages potential leads to trust you.
✅ Encourage customers to share their experiences by offering incentives or hosting contests.
✅ Repurpose UGC across various channels to maximize visibility and engagement.
✅ Use social listening tools to monitor and curate high-quality UGC relevant to your brand.
By showcasing authentic, real-life experiences with your products or services, you can tap into potential customers' desires to be part of a community that enjoys and appreciates your offerings. UGC is a vital component of successful social media lead generation, so make sure to include it in your strategy.
Mastering Social Media Lead Generation with Juphy!
Crush your lead generation goals on social media with the award-winning, all-in-one social media tool, Juphy.
✅ 1-Click Setup
✅ Fully Featured Social Media Inbox
✅ Designed for Teams
✅ Real-Time Notifications
Juphy provides social media management functionalities and lead-gen tools to get you more leads with less effort. Juphy integrates with Linkedin, YouTube, Google My Business, App Store, and Apple Store, making it easier to manage and generate leads from multiple social media platforms.
Juphy's Social Inbox merges all the incoming messages from potential leads from all your social channels in one place.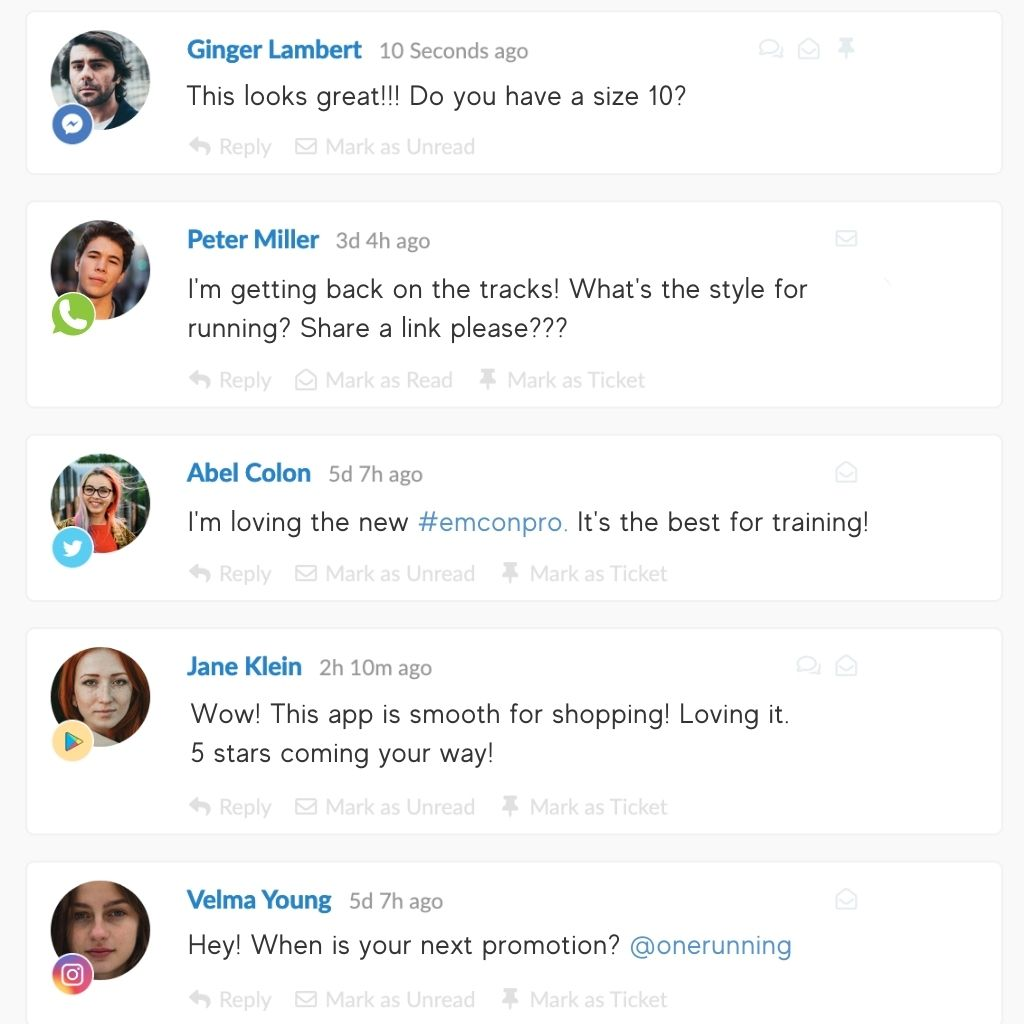 You can engage with leads, respond to their messages efficiently, and strengthen your relationships with potential customers.
You can set up automation rules and categorize incoming messages as "Potential Leads" to optimize your lead generation strategies. Additionally, Juphy's Reports Dashboard provides metrics that can help you monitor and optimize your lead generation efforts on social media.
You can also monitor the number of different tags based on products/services like "white sandals" or "blue patterns" to gain valuable insights into which specific products, services, or features gain the most attention. Juphy's Social CRM allows you to build and manage relationships with leads and customers, improving lead generation and conversions.
Social selling will help you to easily manage all social conversations, identify potential buyers and increase sales on your customers' favorite platforms like Facebook, Whatsapp, and Instagram. Don't forget Juphy's Whatsapp Bulk Messaging feature, which enables you to re-engage with your contacts on Whatsapp, create contact lists, and send targeted bulk messages for updates, promotions, and new sales opportunities.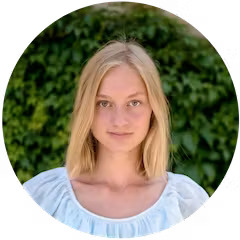 Nika Kotláriková
Content Creator & Social Media Marketer
"It is crucial to collect data to be better informed about (potential) customers' intentions. You nailed it because you provide people with valuable information. Many companies can benefit from that as they can increase the number of sold products."
✓ Product Hunt Verified Review
Juphy's OpenAI-powered canned responses can help you quickly respond to inquiries and direct messages, save business time and effort by streamlining the lead generation process, and provide quick and efficient responses to potential customers.
Final Words
Social media is a powerful platform for generating leads. It presents businesses with comprehensive options for engaging with potential customers.
As you plan for your next lead-generation campaign, refer back to these strategies and employ Juphy for your best chances of generating high-quality leads in their swathes!
Start a 7-Day Free Trial today.
FAQ
1. What is a social media lead?
A social media lead is any information shared by any social media user that can be used for business purposes, such as name, email address, occupation, or other information.
Rather than waiting for customers to reach you, you can also search and find leads through social media who are already engaged with your brand or industry. 
2. What are the most effective social media platforms for lead generation?
The most effective social media platforms for lead generation are Facebook, Instagram, LinkedIn, Twitter, and WhatsApp. These platforms offer a variety of lead generation tools and advertising options, making it easier to reach and engage with potential customers.
3. What is conversational commerce, and how can it contribute to lead generation?
Conversational commerce refers to engaging with customers and potential leads through real-time messaging and chat platforms. By integrating conversational commerce into your social media lead generation strategy, you can provide personalized experiences, streamline customer inquiries, and build stronger relationships, ultimately increasing sales and lead conversion rates.
Create Your
Social Inbox Now
Manage all social media customer support inquiries in a unified inbox.
Related Article – 5 Inspiring Social Commerce Examples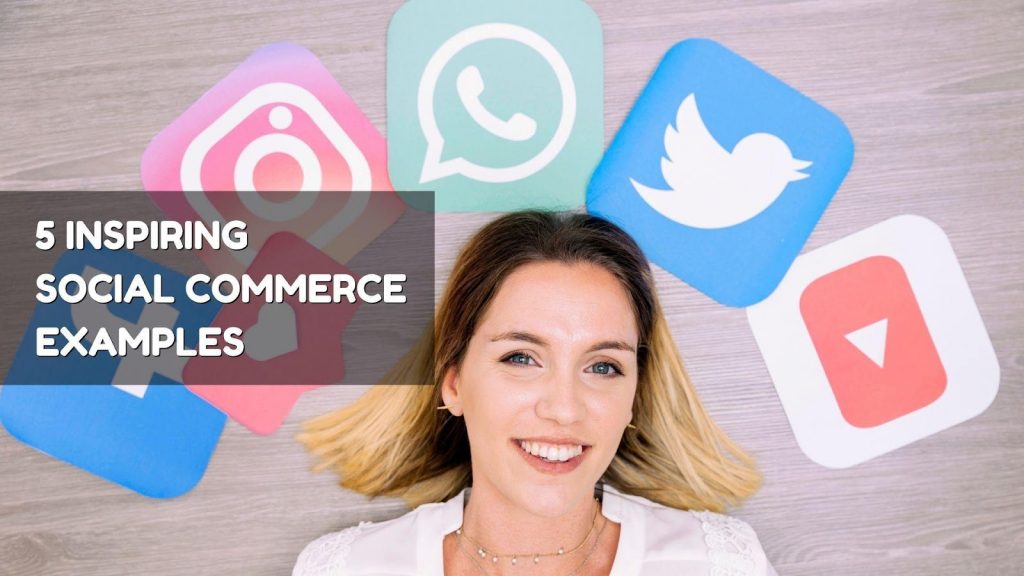 Explore 5 top social commerce examples & boost brand success with innovative strategies & platforms for effective campaigns. Read more now!