So many terms rule the social media space, and if you're not quick to keep up, you may soon find yourself, your business, and your social customer support team left behind. One of these very many terms is Direct Message, popularly known as DM.
DMs are a convenient way to interact privately with any social media platform user. But this feature can be so much more than an instant messaging tool, especially for businesses that thrive on social commerce.
If you're a social media marketer or support rep looking to learn more about social marketing tools or a small business owner juggling social marketing strategies like a superhero, don't fret.
This Direct Message guide will help you determine how DMs are useful for your brand, how to use them effectively in social media marketing, and the best strategies for DMs for business. Slide in, and let's begin.
Create Your
Social Inbox Now
Manage all social media customer support inquiries in a unified inbox.
What Is Direct Messaging (DM)?
Direct Messaging is a popular feature for many social media platforms. It's a feature that allows users to send private messages in their Direct Message inbox, allowing them to have a private conversation in the space.

While this may be a regular chat feature for everyday social media platform users, it often serves as a support channel for many businesses. Chances are that a business on Instagram or Twitter has asked you to send them a DM before to help you solve a problem with their product or services privately.
Like the image above, DMs are also a great way for businesses to share more information about their features and services with interested customers. It's vital for following up on leads from the comment sections or other points of social interaction.
To send a DM on most social platforms, users simply look out for an envelope, speech bubble, or inbox symbol on the home screen of the selected app. Then, search for the follower's contact, handle, or name, type in the message, and click send. Easy peasy.
It's important to note here that DMs are different from text messages. Texting requires sending a message through an SMS to your phone contacts. DMs on the other hand, are only possible via social media platforms that have the Direct Messaging service enabled, for instance, Twitter, Instagram, LinkedIn, and Facebook.
DMs are not just a communication channel; they are a powerful marketing tool. Businesses can use DMs to engage with customers on a personal level, address their concerns, share exclusive offers, and even gather feedback.
The Importance of Direct Messaging in Social Media Marketing
There are many reasons why Direct Messaging is essential for social media marketing. Here are some of them:
Yields a Traffic Boost
According to a survey by HubSpot, 56% of people prefer to message rather than call customer service. Direct Messages are a great way to capitalize on this preference and channel it to boost your traffic.
Direct Messages are highly essential to directing your followers to other useful resources or social platforms where your content may exist, such as your website. Sharing clickable links, pictures, and other forms of media may not be possible via the comment sections of some social apps.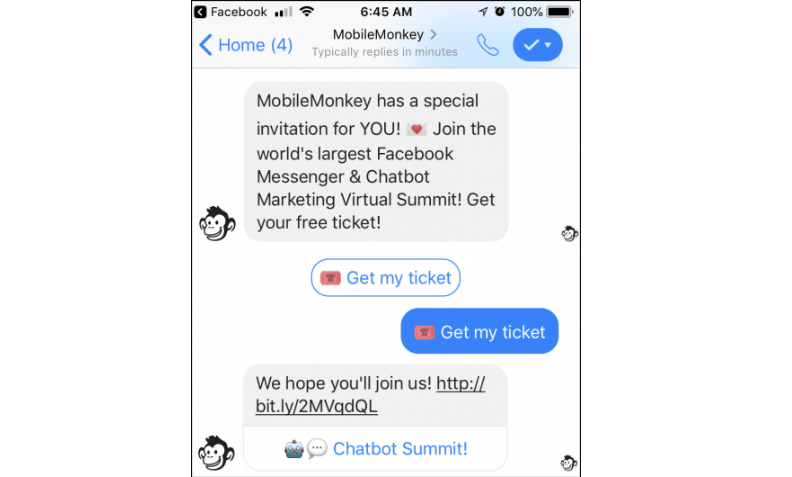 This is, however, possible via the DM. From here, you can direct traffic to your blog, website, or e-commerce platform, boosting visibility and traffic.
Encourages Better Personalization
Customers feel more comfortable sharing personal matters they need help with via DMs. Due to the prevalence of fraud and other cybercrimes that abound on social networks, it may be difficult for a customer to share personal details that may help the social customer service rep provide personalized help.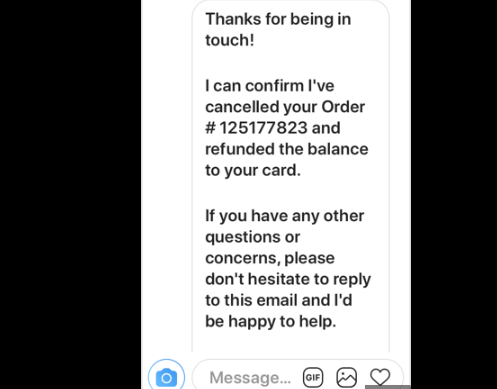 DMs solve this issue by helping you better connect with your customers and attend to their complaints and concerns in a personalized way.
Faster Customer Service Delivery
With chatbot integration and a social inbox tool like Juphy, you can increase your response time significantly via DMs. The social media chatbot serves as the first point of contact, responding to customer queries in real-time, 24/7, and redirecting more challenging queries to the team of humans waiting on standby.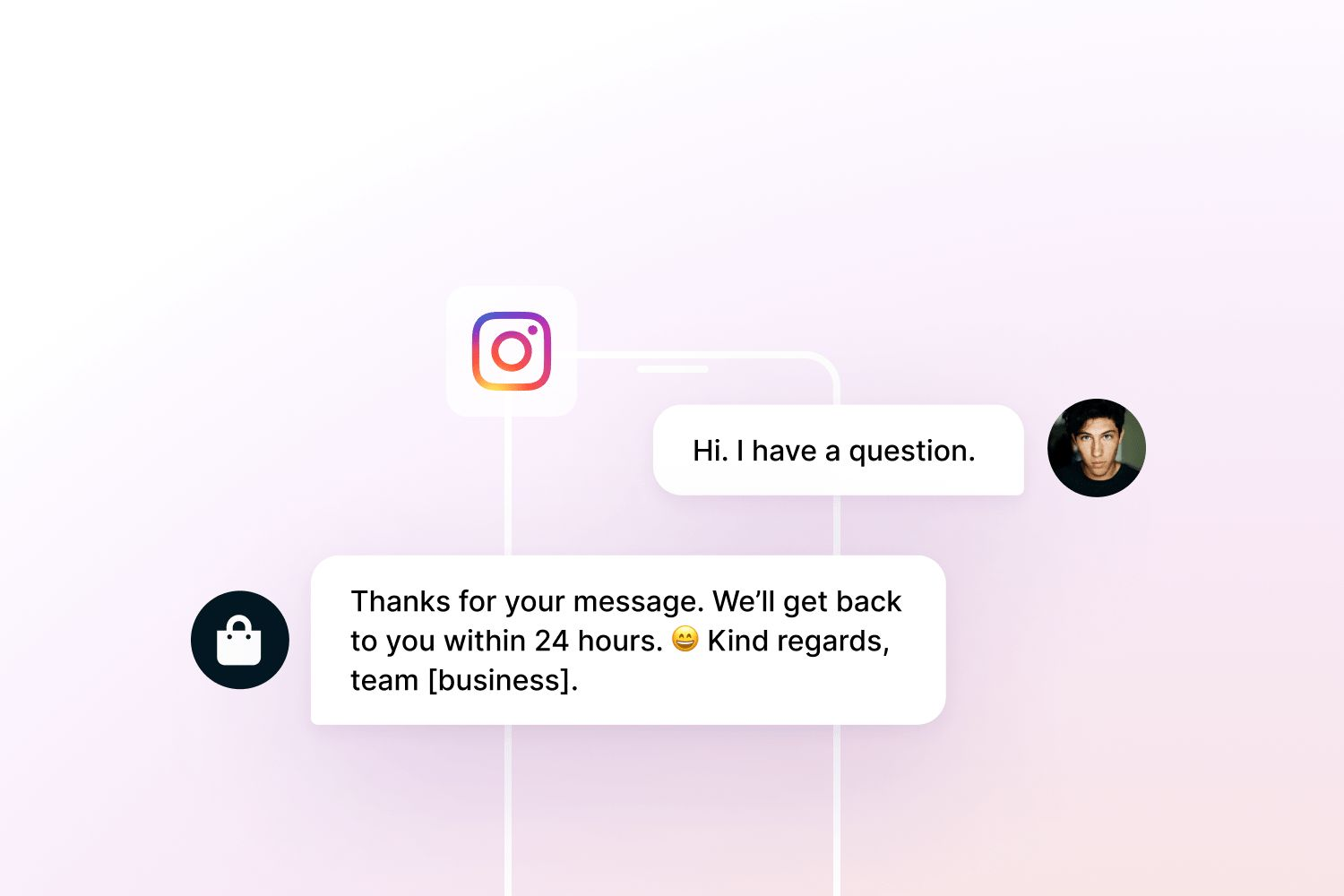 The social inbox tool instantly notifies the support team when any interaction via DM comes in from a customer. The result is speedy ticket resolutions and happy customers who are satisfied with your support and assistance.
Encourages Better Conversion Rates
Got a sales lead in the comment sections? You can engage the customer in the DM and move them further along the sales funnel, possibly turning the lead into a sale. The DM is a great place to promote your brand non-intrusively, especially if done creatively.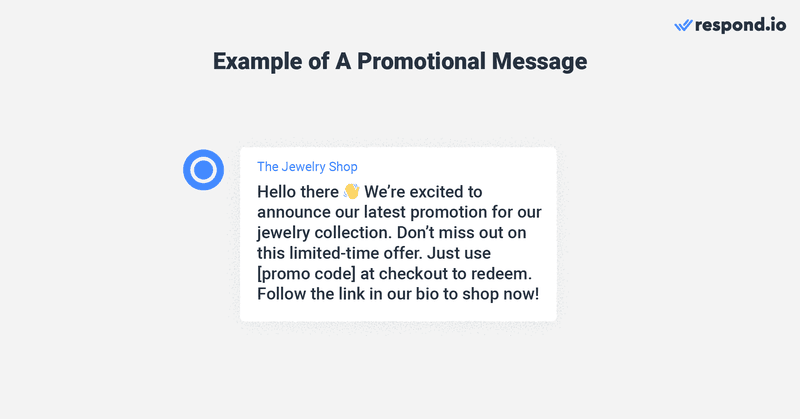 You can use the DM to share the latest updates on your product, its unique features and advantages, pricing, targeted promotions like discounts, sales, and other perks you may be offering.
Fosters Loyalty and Trust
You can improve your brand's image on social media platforms via DM. The tone and voice with which your customer support team interacts with customers can significantly impact how customers perceive the brand.
Using a friendly tone, like Cold Stone Creamery in the image below, presents the brand as approachable. This makes it easy for customers to reach out when they have challenges with your brand. It may also spur them to interact with your posts when it appears on their feed.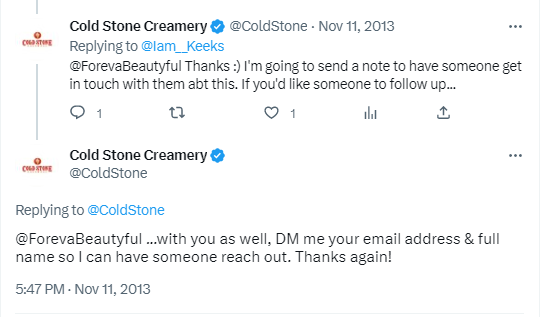 The interactions via DM also impact customer loyalty and grows their trust and confidence in your brand. You can quietly and privately settle any disputes you may have with the customer via DM without them escalating on the wider platform.
Different Social Media Platforms for Direct Messaging
Many social media platforms understand the need to allow users to communicate privately on the app. The DM feature may encourage more users to spend more time on the platform since they can chat with friends and businesses directly on the app.
Each platform has its unique features and audience demographics. Therefore, the kind of messages that work on one platform might not work on another. It's important to understand the specific features and user base of each platform to create a successful DM strategy.
This realization is what spurs a good amount of social media platforms to include an inbox or Direct Message feature where users can receive personal and private messages. Different social media platforms have different names for their DM feature, but many have similar usage.
The following are some social media platforms that allow Direct Messaging. Of course, the best choice(s) for your business will depend on various factors, including whether they help you meet your social marketing goals and if your target audience exists on the platform(s).
Facebook
On Facebook, DMs are known as private messages or chats. They're a bit more complex to use than other messaging features on other apps because they have different PC and mobile locations.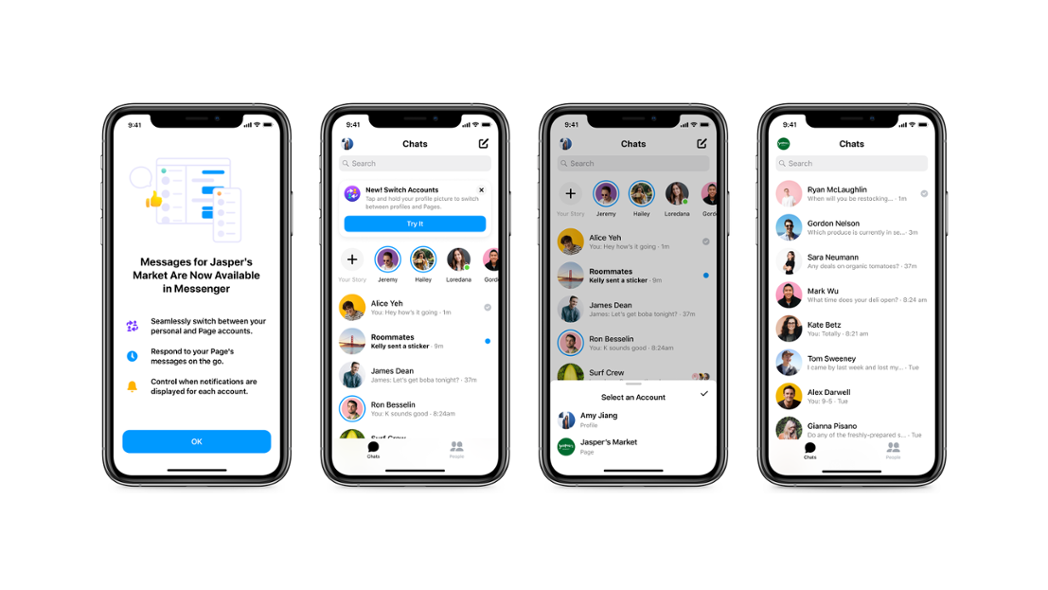 To use the DM feature on Facebook for mobile, you'll need to download a separate app called Messenger. It's available for iOS and Android.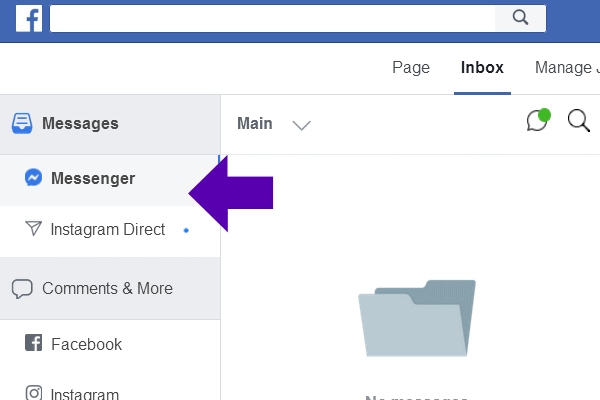 For PC, you can find the message feature "Messenger" in the messages folder on your Facebook page. As a business with a Facebook page, you can only send Direct Messages to users who follow your page or who recently interacted with you via the comment. Simply reply to them with the "Reply via message" feature, which is only available within seven days of receiving the Facebook user's comment.
It's worth mentioning that some messages from users that don't follow your page will be sent to your message request folder pending when you approve the conversation. So, be on the lookout for vital messages like these.
Messenger is not just for chatting; businesses can use it for marketing too. Messenger bots, for instance, can provide instant customer service, send promotional messages, and even drive conversions.
Instagram & Twitter
These platforms have one of the simplest methods of Direct Messaging. They each have dedicated Direct Message features that remain consistent across all devices. The messaging feature on Instagram is called Direct Messages, while Twitter's is known as Inbox.
Nevertheless, these platforms have their uniqueness.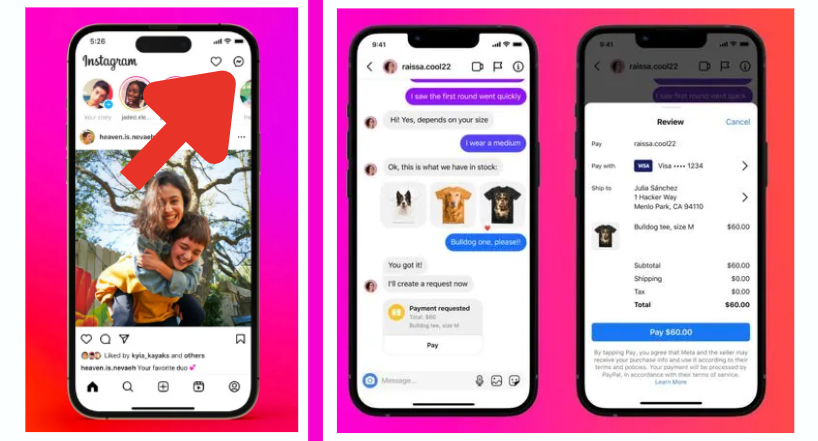 Instagram allows users to message anyone on the platform without following them. If you receive a message from a non-follower, these messages may go to your request folder unless you set your account to "receive direct messages from everyone."
You can send and reply to Instagram DMs from both PC and mobile, but the in-chat features available on the PC are limited.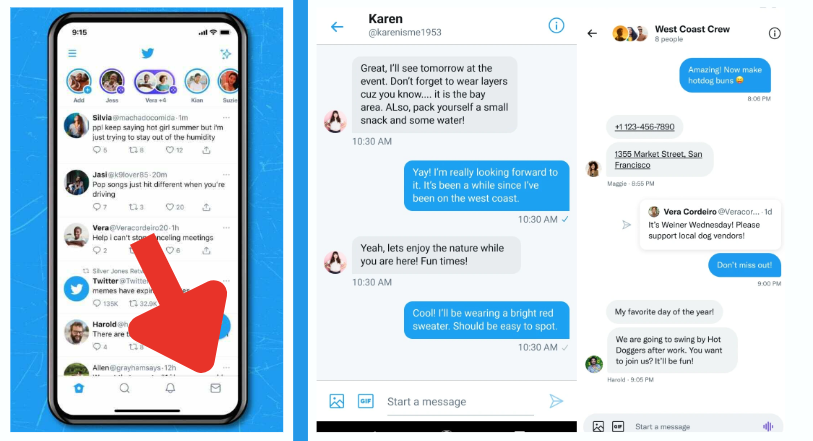 On Twitter, the envelope icon represents the DM feature. You can access this feature from the Twitter homepage or directly from a user's profile. Messages from non-followers may also appear in the message request folder. These processes are similar on a computer or web browser.
On Instagram, visuals are key. When sending DMs, include visually appealing content like images or short videos. On Twitter, keep your DMs concise and to the point. Also, due to the real-time nature of Twitter, quick responses are critical.
LinkedIn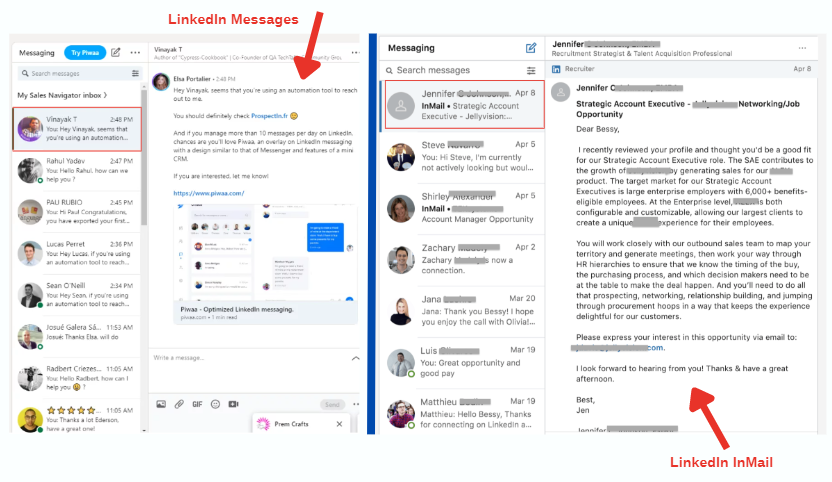 The LinkedIn messaging features are of two variants; the traditional private messages between two users of the same social network and InMail, a networking feature almost similar to emailing. It's only available to premium and business account holders. You can also use the InMail feature to DM users outside your contacts.
InMail can be a potent marketing tool if used correctly. Use it to reach out to potential leads with personalized messages. Highlight how your product or service can solve a problem they're facing. Remember, LinkedIn is a professional network, so keep your messages formal and respectful.
TikTok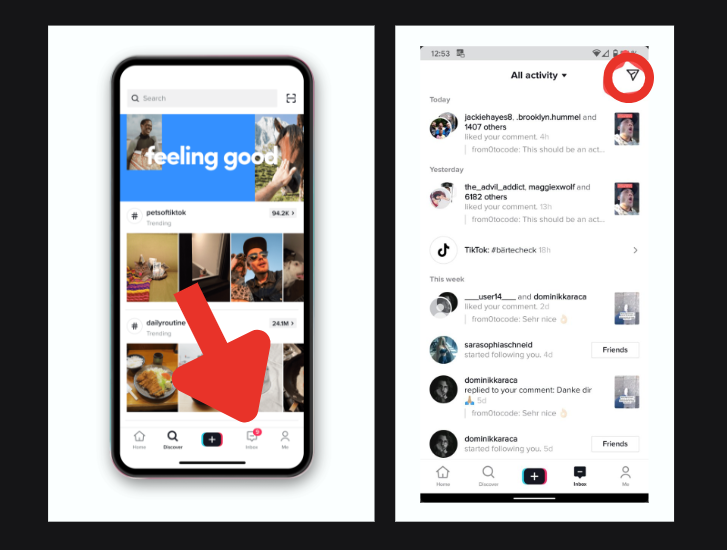 Although many people use TikTok mainly to watch videos and skits, you should learn about its messaging feature if you use it as a marketing tool. TikTok DMs (also known as private messages) are unique because they are only open to users over 16. The inbox symbol at the bottom of the screen is where you should go to share and reply to messages to your followers.
Businesses can use DMs on TikTok to engage with influencers for partnerships or sponsored content. You can also use DMs to run exclusive promotions. For instance, you can send a discount code to your followers via DM.
Pinterest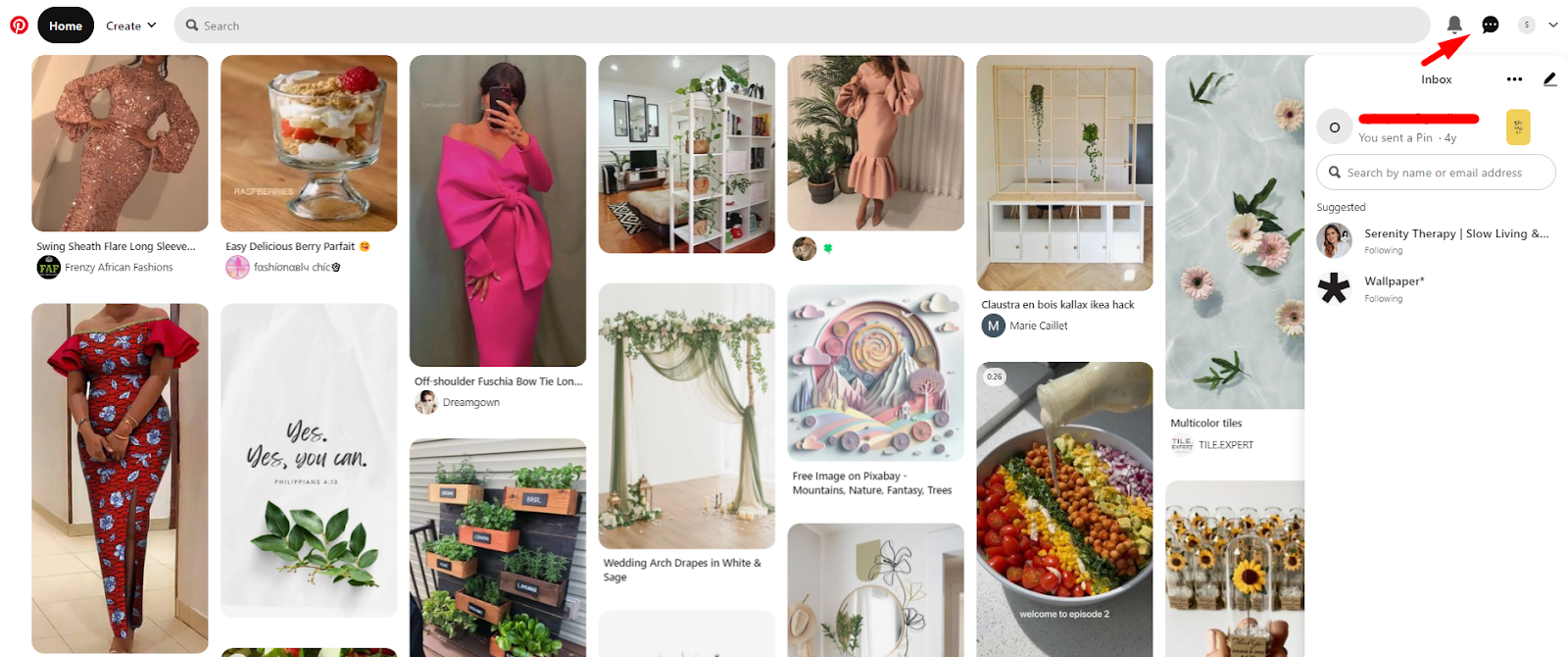 Pinterest is a social media platform that's been quite useful for brands in the beauty and lifestyle niche. This platform provides users with a private message inbox that allows them to chat privately with other users. When you log in, you can find the chat icon (a speech bubble) on the app or website.
On Pinterest, DMs can be used to share pins directly with other users. Businesses can use this feature to share their content with engaged customers or potential leads. Remember, Pinterest is a visual platform, so make sure the pins you share are high-quality and eye-catching.
Crafting an Effective Direct Message Strategy
Sending a DM on your preferred social media platform is more than just sending a message. It can be an active part of your overall social media marketing campaign, yielding great results if used correctly. Here's how to craft an effective DM strategy for your brand.
Identifying Your Target Audience for Direct Messaging
Knowing your target audience before sending a DM is essential to an effective DM campaign. Your different audience categories have distinct ways they prefer being communicated to, and communicating to the wrong audience category may yield negative results.
For instance, if the target audience for your DM campaign is teenage girls, using the chat lingo of older adults may not communicate your campaign message effectively. Good knowledge of your audience helps you target the DM recipients in a chat language they understand.
Setting Clear Objectives for Your Direct Messaging Campaigns
For every DM campaign you run, you must have clear goals you want to achieve. Setting the objectives for your campaigns helps you create messages that will give you the desired results. For instance, if your Direct Message campaign is to drive traffic to your website, the direct message you craft should contain a clickable link and a call-to-action that redirects recipients to your website.
Other Direct Messaging objectives may include:
Increased brand awareness
Product launch and introduction
Lead generation
Prospect acquisition
Increased sales and revenue
Improved brand image
Customer support, etc.
Creating a Personalized and Engaging Direct Message Content
Based on your DM campaign objective, you should craft a personalized and engaging direct message that encourages the recipient to take your desired action. Some action points that can help you create an effective direct message include:
Personalize your message. Users are tired of receiving a generic one-size-fits-all type of messages. Look for something that connects you and the recipient and work with that. Flattery or high praise goes a long way to grab their attention and give you the response you need. See the template below, for instance.

Keep it short and to the point. As much as you can, limit the length of your DM by keeping your message straightforward. Be polite, be professional, but don't dilly-dally in your pitch. The template below is a sample you can follow.

Proofread when done. There are many missable errors in the first draft of a direct message. You can eliminate these errors and deliver a professionally-drafted DM campaign by proofreading. Remember also to check your message tone to see how well you align with the intended audience and modify it if necessary.
Best Practices for Direct Messaging
Direct messaging effectively builds stronger customer relationships and provides a better customer experience. But to achieve these results, you need to bring your A-game to your DMing strategy, and here are five tips to help you out:
Don't Send Promotional Messages too Frequently
When DMing customers, keep promotional messages to a minimum. It's not always acceptable to users because, typically, customers prefer to be able to choose to "opt-in" to receive marketing messages, like when they sign up for newsletters freely.
Sending too many promotional messages can be considered spammy and invasive. So when you do send promotional messages, make sure they're not outrightly promotional. They need to be relevant, valuable, and timely.
Pay Attention to the Timing and Frequency of Your Direct Messages
One of the most important considerations in direct messaging is timing. Your customers expect a short response time. Responding quickly tells them that you value their time and are committed to providing the best service for them. As a result, you can gain their trust and ensure customer satisfaction.
In addition to responding quickly, you need to put a system in place for follow-up messages—reaching out to old customers or providing updates when needed.
Efficiently Automate Direct Messaging
Customers' queries are endless. Often, you may find yourself responding to the same questions over and over again, and this can be annoying and time-consuming. This necessitates automated messaging tools like chatbots. Using chatbots is an effective way to provide customer support 24/7. Automated chatbots also reduce response time and reward you with ample time to focus on other projects.
If you can't afford to set up automated chatbots in your DMing strategy, leverage the "Saved Replies" features on social media platforms to respond to frequently asked questions. Canned responses tools on social media management tools like Juphy also come in handy.
Leverage Personalization and Customization Techniques
Most people use DMs primarily to connect with friends and family or build connections with new people. So, when sending a DM, ensure you use a friendly tone. You may not get the attention you need if you sound stuffy or businesslike.
Add a personal touch to your direct messages, including your automated responses. Refer to the user by their name, or start with a friendly greeting like "hey". Take things a notch higher by checking out their social media page and referring to a common interest or cause in the DM.
Adopting personalization techniques will help you get users' attention and build solid connections with them faster.
Build Trust and Avoid Spamming
To build trust and rapport via DMs, ask questions that prompt users to reveal their interests, challenges, or experiences. This will help you learn their pain points and motivations so that you can act accordingly and provide value to each of them.
Keep in mind that spamming is one of the quickest ways to put people off. Therefore, avoid spamming at all costs. Additionally, don't send messages to people that have asked you not to, and avoid sending generic "copy and paste" messages to many people.
Measuring the Success of Your Direct Messaging Campaigns
As we have established, direct messaging is a powerful tool that is effective in building strong relationships with customers. This is why diving into DM analytics is important to guarantee you're in the right direction. It involves tracking and monitoring key metrics to measure success and make adjustments where necessary for optimal results.
If you want to gauge the success of your DM campaign, you need to start by laying out a solid campaign measurement framework. This keeps you going in the right direction and helps you get more value out of your measurement efforts.
The first layer involves defining your campaign's goal to understand better what you're measuring. Then, identify the key metrics that are important to the goal. When you decide on the key metrics ahead of time, you can avoid being sidetracked by irrelevant KPIs.
Lastly, give your direct message campaign objective a timeframe so that it's clear when to begin evaluating its effectiveness. Specifying a timeframe will generate a sense of urgency that will help you focus on achieving results within the specified period.
Key Metrics to Track for Direct Messaging
Some of the key metrics for measuring the success of direct messaging campaigns include:
Response Time
Response time is the time it takes for your team to reply to a direct message. You should only measure this metric after you send your first response.
Customer Satisfaction Score
A customer satisfaction survey usually follows a conversation. You can implement this to determine the level of satisfaction your customers get with the support response they receive from your team.
Conversion Rate
Conversion rate is the metric that captures the number of sales you make from your private conversations with users. You may also track conversions around other goals you set for your DM campaigns.
Missed Chats
This metric tracks the number of messages that no one from your team was available to reply to. However, there are other causes of missed chats.
Tags
Tags help you identify frequent customer issues in your DM so you can make necessary changes to combat the issues.
Completed Chats
This metric tracks the number of completed conversations your team has with customers. The metric only includes conversations where reported issues have been resolved, or DM goals have been achieved.
Total Volume
Total volume includes all the messages or conversations your team records within a particular period, including missed and completed messages.
Wait Time
The average amount of time between when a user initiates a message and when you respond to the user is the wait time.
Use of Saved Replies
You can track the use of saved replies in your DM campaign to learn how often your team uses them and the most commonly used ones.
Messages Per Chat
Messages per chat is the metric that tells the average number of messages within a completed conversation.
Chats Per Day
This metric tells you the volume of conversations you have per day to determine when users are most active and manage staff assignments.
Length of Wrap-up
Most times, your support team may need to do some tidying up after a conversation to make sure things are organized and settled. The length of the wrap-up is the time it takes to "wrap up" everything post-conversation.
Duration
Duration is a metric that tells you how long a conversation lasts. It measures the duration between the first contact from users and the end of the conversation, regardless of who initiates it.
Tools for Measuring the Effectiveness of Your Direct Messaging Campaigns
It's essential to measure the effectiveness of your DM campaigns to determine if your efforts successfully achieved your campaign objectives. It entails using metrics and key performance indicators, such as the ones we just covered, to provide an in-depth evaluation of your campaign's performance.
Juphy's Performance Reports feature is a crucial tool for this measurement. The reporting dashboard includes indicators like total volume/messages and initial response time to help you quickly pinpoint areas for improvement. It's also helpful for evaluating the effectiveness of your customer service in DMs.
AgoraPulse
Another effective tool is AgoraPulse. It helps you organize your inbox, and with its analytics and reporting features, you can effectively measure the effectiveness of your social media campaigns. AgoraPulse also has a feature that helps you measure your social media ROI, and this can help you shape your social media optimization strategy.
Zoho Social
This is an expansive CRM tool that offers similar benefits. You can monitor your DMs across all social media channels on Zoho and track your overall social media performance. The customizable reports and advanced analytics of Zoho Social also help you identify your brand's strengths and weaknesses to determine ways to improve your social media strategy.
Analyzing and Optimizing Your Direct Messaging Strategy
With Juphy's report tools, you can easily analyze your DM strategy and identify areas for improvement. Furthermore, you can track your overall performance in line with your bottom line and employ methods to optimize your strategy for better results.
In this section, we'll discuss some DM optimization techniques for different areas of your business.
DMs for Lead Generation
You can use and optimize your DM strategy for lead generation. To get started, put up an engaging post on your business accounts and make a list of the people that engage with your content. Then contact the people from your list via DMs.
Ensure you ask open-ended questions to foster rapport. For example, you can ask users what they liked about a particular post they showed interest in. You can get valuable information about your audience to help your marketing strategies.
Additionally, contacting people via DMs based on their engagement with your post gives off the vibe that you care about them, their interests, as well as their opinions.
DMs for Sales Execution
If you've already made the move to contact prospects, you may be able to close a sale. Still going by the engagement list, observe those that continue to engage with your posts to find your true audience. Then send a DM to thank them for their continuous engagement.
Don't come right up with a sales pitch.
Slowly prepare them for sale. Ask them what they like about your brand, find out if they've used your products before, and then encourage them to share their experience with your niche. Make sure you make it more about them to get a better response. From the replies, you can discern their struggles with your industry.
Show genuine interest and empathy to win the leads completely over, and highlight how your brand has taken different measures to reduce the struggles they might have had in your niche. The goal is to build stronger relationships with them so that they trust you to help them solve their problem. All of these can happen via direct messaging.
DMs for Effective Networking
Unfortunately, in business, getting "no" from prospects is very common. Not everyone you meet will buy from you, and that's okay. While the next step might be to move on to a new prospect, you can turn the sales failure into a networking opportunity.
It's good to build relationships with people and have them in your corner for business referrals. They may also buy from you in the future. To network with them, add them on social media and send them well-crafted DMs with a personal touch. To get the most out of DMs for networking, avoid spamming and observe all the best practices for direct messaging we discussed earlier.
Get Your Social Media DMs All in One Inbox
The effectiveness of direct messaging in social media marketing is closely linked to how well you can manage the flood of incoming messages. With numerous social media platforms, each with its own separate DM feature, keeping up can become time-consuming and burdensome. This is where Juphy comes in.
Juphy is a comprehensive tool designed to streamline your social media interactions. It combines all your social media conversations, direct messages, comments, and support requests into a single, shared inbox. This includes management of Facebook and Instagram Ad comments. And it's not just about aggregation – Juphy is equipped with powerful features that can help you optimize your direct messaging strategy:
Automation Rules: Automatically classify and tag incoming messages based on content, urgency, and tone. For instance, messages can be tagged as Pre-Sales, Potential Leads, Repeat Customers, or Support, helping you prioritize and respond efficiently.
Canned Responses: Save time by using pre-written answers to frequently asked questions. Respond faster and ensure consistency across your team.
Team Collaboration: Work on your unified inbox as a team, discuss customer queries behind the scenes, and avoid conflicts by seeing who is viewing which inquiries in real-time.
Reply Directly: When a customer asks a question in a comment, you can reply privately as a direct message, ensuring a personal and immediate response.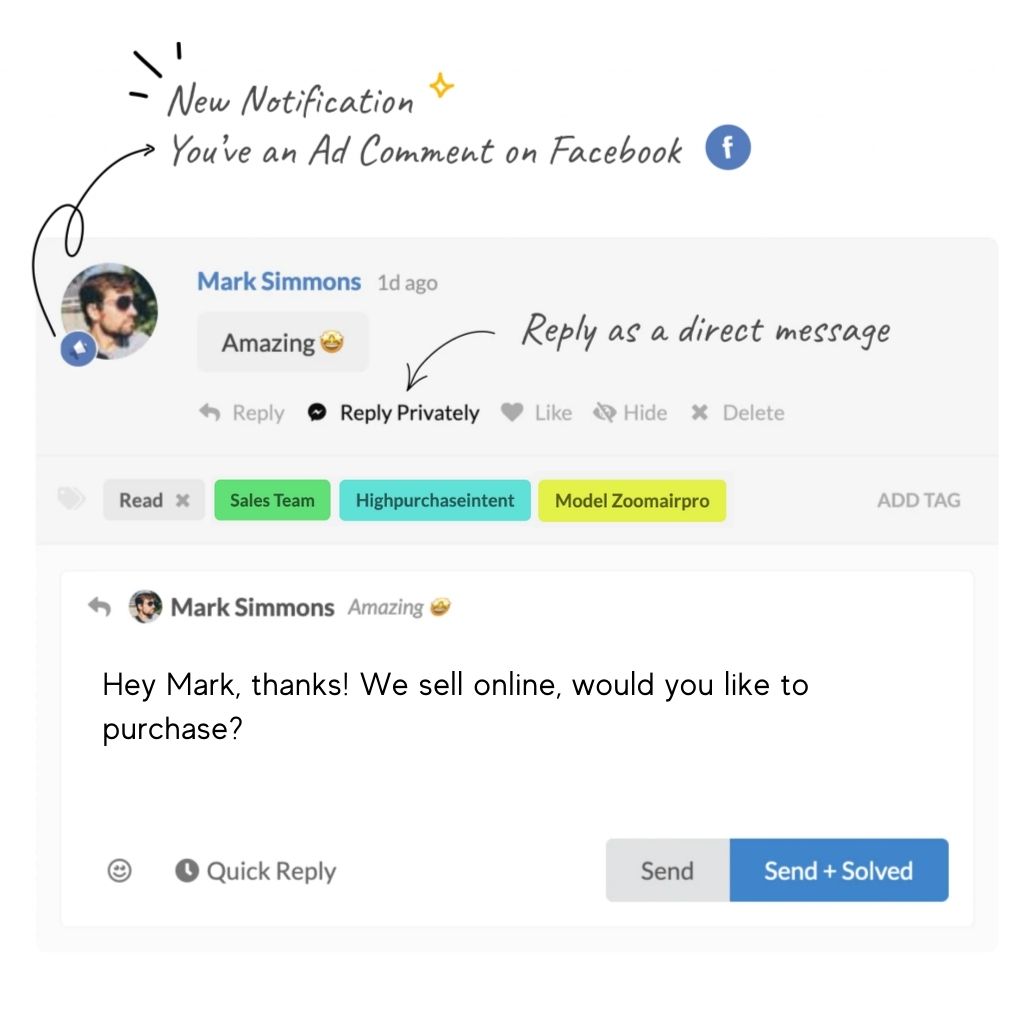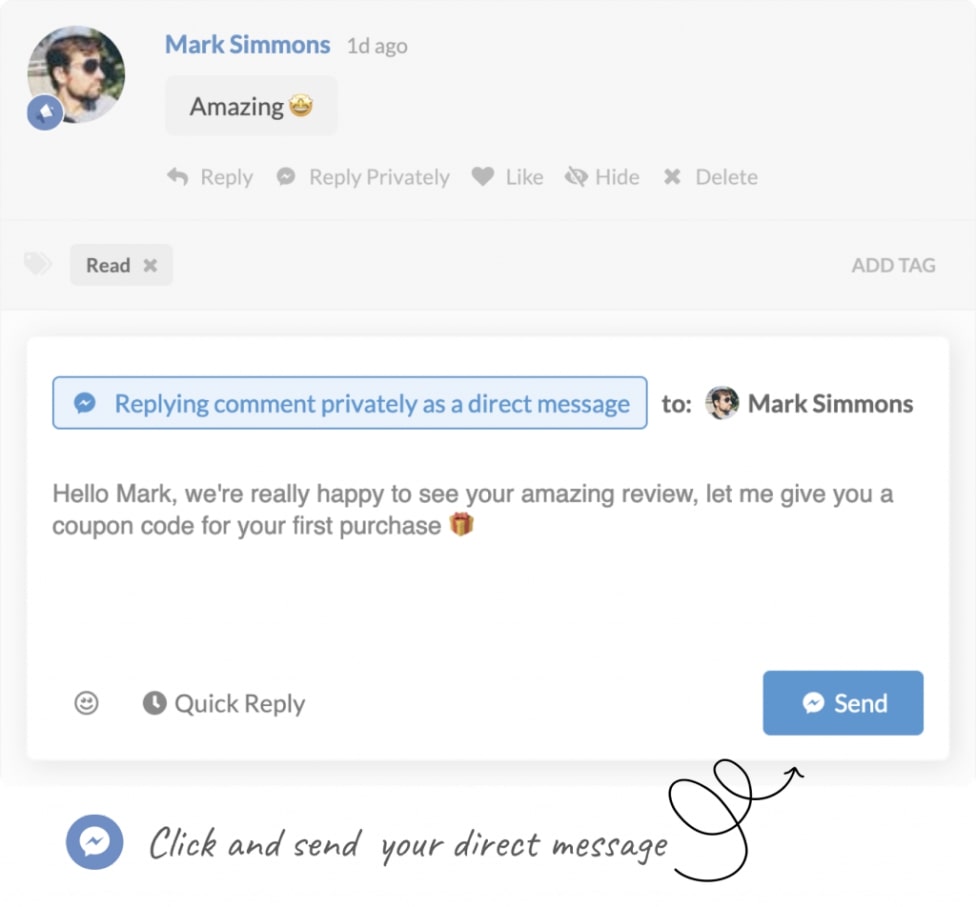 Reports Dashboard: Monitor your team's performance and understand your customer interactions better with metrics like Total Messages, Resolved Tickets, First Response Time, and more.
OpenAI Integration: Get reply suggestions for any interaction, enhancing the efficiency and effectiveness of your responses.
Social CRM: Create a database of your social media contacts and segment them based on purchase history and interests. This can help you customize your direct messages for different target groups.
Whatsapp Bulk Messaging: Send targeted bulk messages to your customers on Whatsapp, keeping them informed about updates, promotions, and new sales opportunities.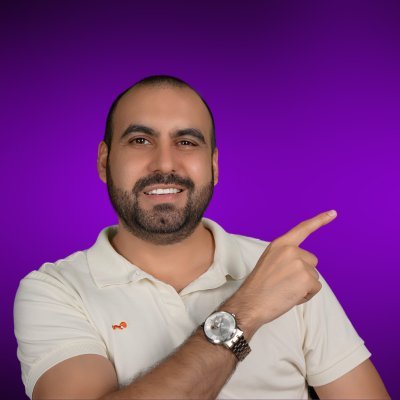 Jorge Aguilar
CEO / SaaS Master
"Having explored Juphy's offerings, I am highly impressed by its integrated approach to social media management. As a data-driven sales & support platform, it unifies social conversations across platforms, making it an excellent resource for providing customer service and boosting sales via personalized messaging​. One of the standout features is the unified inbox, which allows easy responses to all social media comments, messages, mentions, and reviews, across popular platforms like Facebook, Instagram, and Whatsapp. This saves time and boosts the efficiency of interactions"
✓ Product Hunt Verified Review
Juphy integrates with a wide range of platforms, including Whatsapp, Facebook, Instagram, Twitter, LinkedIn, YouTube, Google My Business, App Store, and Apple Store. In 2022, over half of Juphy's most active customers used the tool for both pre-sales and after-sales support on social media.
So if you want to make the most of direct messaging for your social media marketing, consider setting up Juphy. It's fast, effective, and easy to use, streamlining your messaging workflow and helping you keep your customers happy. Try it out with this free trial and get started in just 2 minutes.
FAQ
1. What Does DM Mean in Social Media?
DM stands for "direct message." It's a private conversation you have with another user on social media platforms like Instagram, TikTok, and Facebook.
2. How Do You Send a Direct Message to Someone?
This varies from one social media platform to another. On Facebook, you can DM someone by clicking on Messenger in the left menu and then searching for the name of the person you want to send a message to. On Instagram, the DM icon is the small paper airplane or messenger icon on the left.  
3. Is DM the Same as Texting?
No. Sending a DM on social media requires an internet connection, but you need a cellular network to text. Additionally, you can text anyone, regardless of their mobile device. However, you need both the recipient and sender of a DM to be on the same web application.
4. DM vs. PM: What is the difference?
DM is shorthand for "direct message," while PM stands for "private message." We often use both terms interchangeably to define a one-on-one conversation people have privately with other users on social media. 
Related Article – Instagram Shopping: Best Practices and Case Studies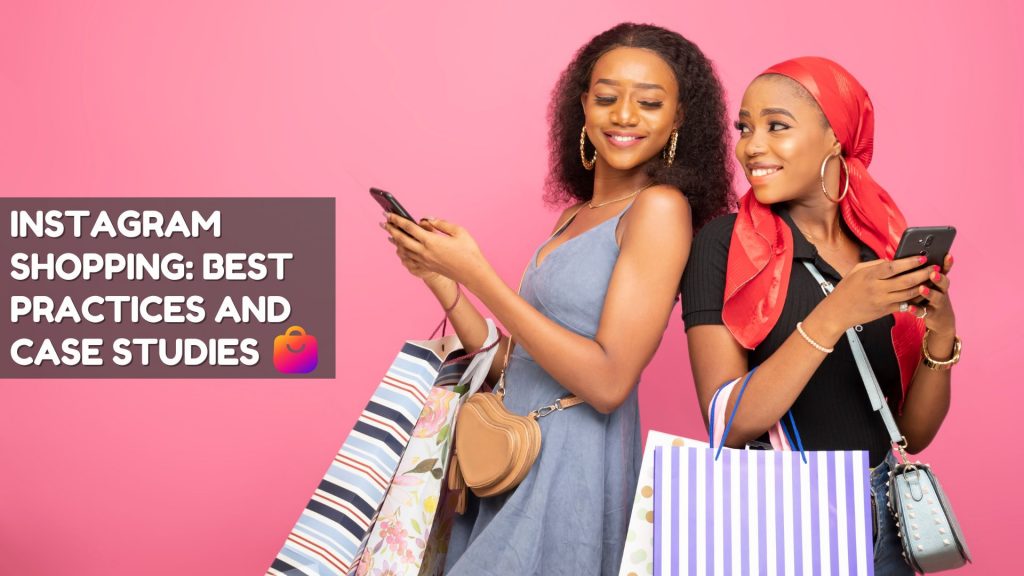 Craft an effective social media strategy and convert your followers into customers with the best practices of Instagram Shopping with Juphy. Read more now!