If you've been using Instagram for your company for any time, you've probably already learned how important your comments are on your posts.

After all, a piece of content is worth a thousand words… and not all of them are nice.

The comments you receive on your posts can either make or break your success on this platform. In other words, Instagram comments might be the best way to build a brand presence and connect with your audience. Or, they might become a way of bringing discredit to your brand.

If you're not yet taking full advantage of those little speech bubbles, read on to find out how you can get even more out of the comments people give you on Instagram.

It will take some upfront effort, but once set up correctly; it will pay off in spades later when it comes to keeping track of your likes and maintaining spammy comments at bay.
Create Your
Social Inbox Now
Manage all social media customer support inquiries in a unified inbox.
Why Are Instagram Comments Important?
Instagram comments are simply short (suggested) written messages under your posts. They are channels that your audience uses to express their thoughts and feelings.

Since Instagram is a visual platform, it's unsurprising that posts are users' primary communication option. Photos and videos are used to tell stories, share events, and announce new products or services. These can be original images or royalty-free photos from sites like Freepik. They can also be used to conduct market research, drive sales, and boost brand awareness. The ability to post comments on photos is a key part of the Instagram experience.

Therefore, comments on Instagram photos, videos, and Reels are a great way to gather your users' thoughts and interact with them. Moreover, Instagram comments enable you to;
1. Build a Community for Your Brand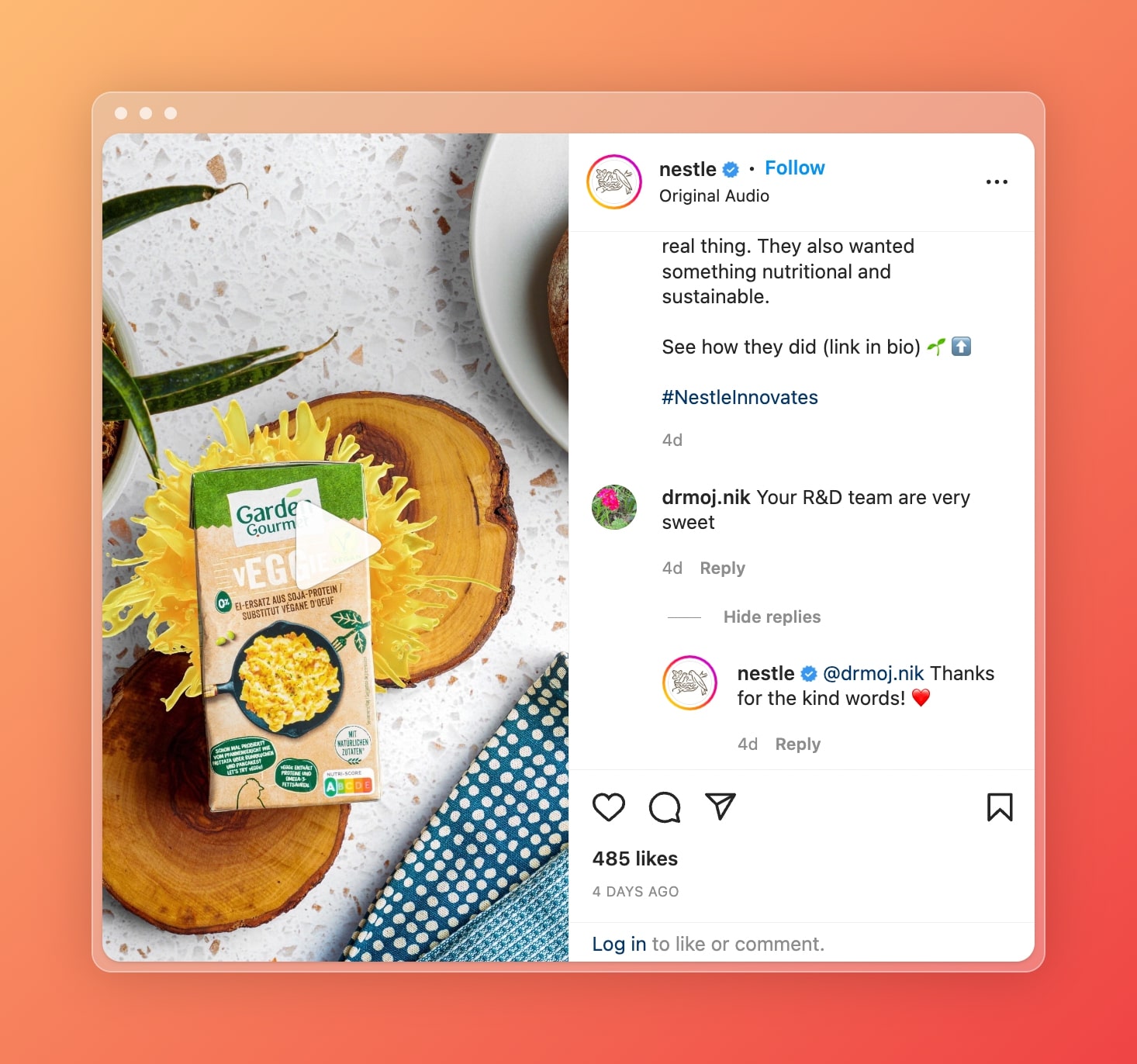 2. Provide Customer Service to Your Users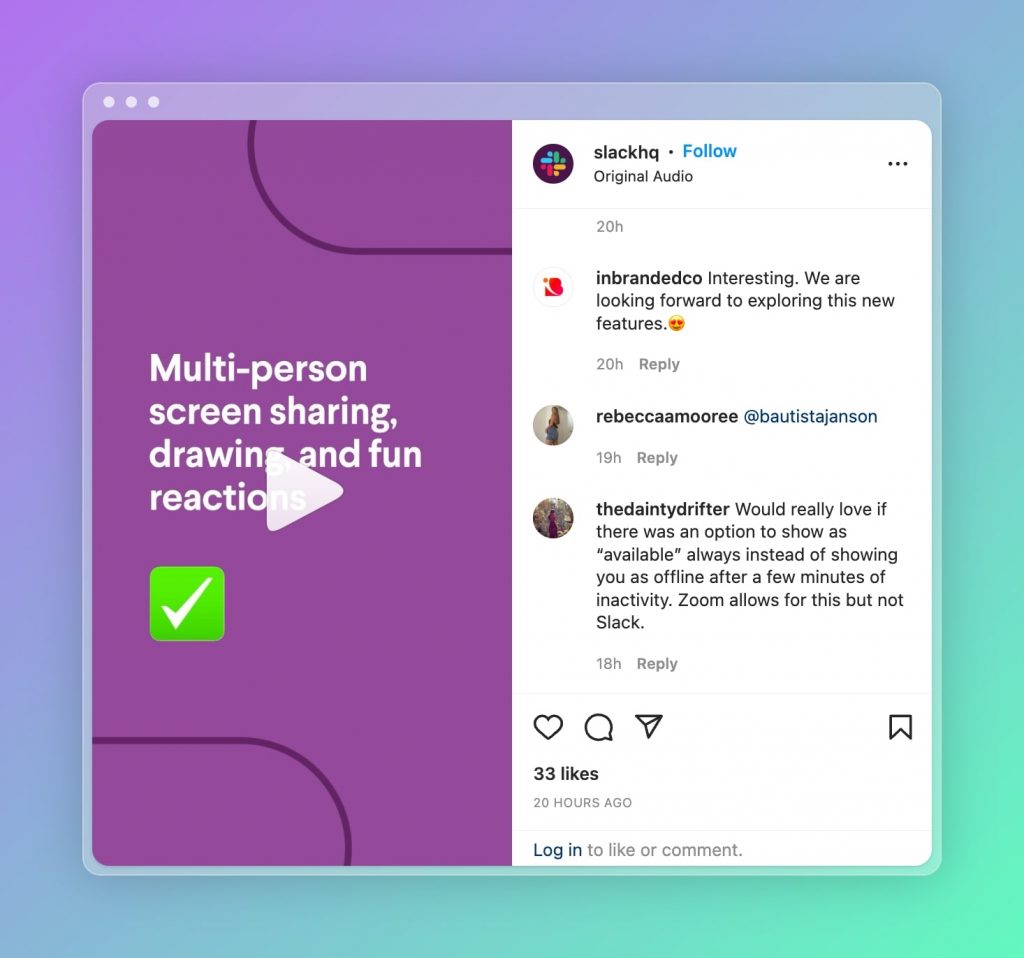 3. Show Potential Users That You Are a Credible Brand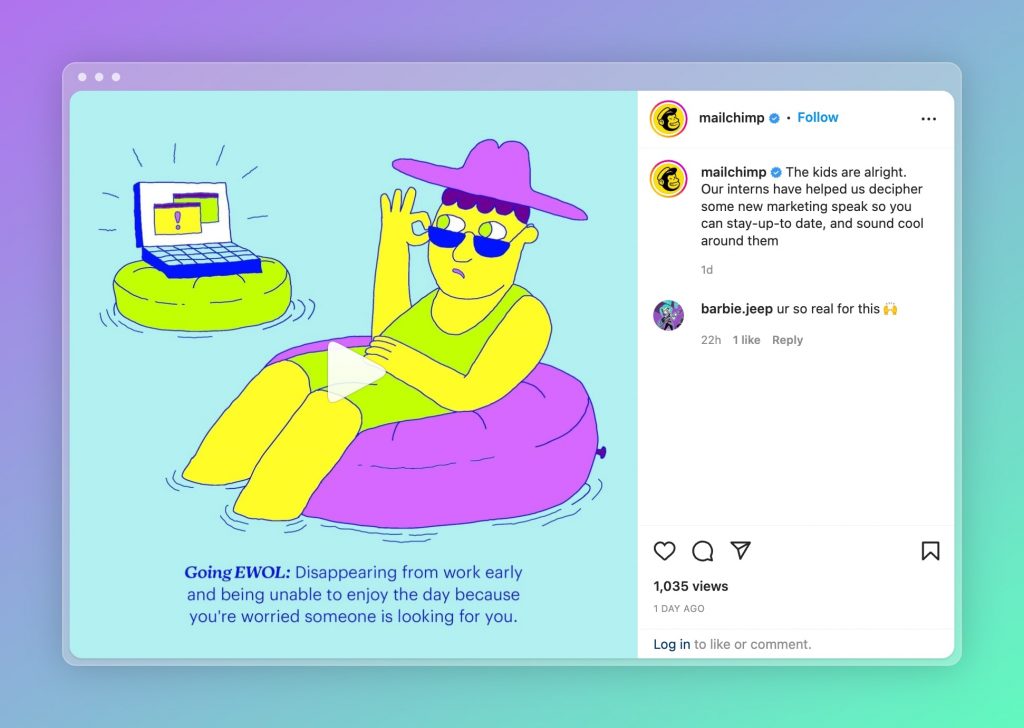 4. Better Your Instagram Algorithm Ranking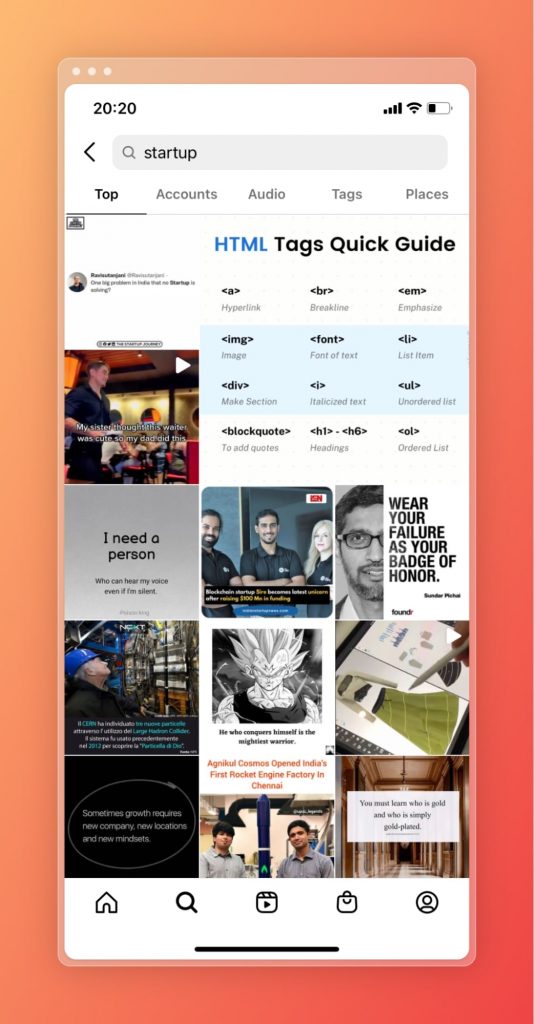 Someone can comment on a post by clicking the speech bubbles bottom of the posts or right sides of the Reels. You, as a profile owner, can reply to those comments, connect with your audience and use this piece of conversation as material for further engagements.
How to Manage Comments on Instagram
​​As a brand that uses Instagram to advertise its products and services, you want your followers to like your posts and comment on them. But not every comment is positive.

Followers can leave any type of comment on your Instagram post: a simple emoji, a sentence, or even several paragraphs. Whatever their opinion, you need to control what others see of your brand. Here are five tips that will help improve your brand on Instagram by managing the comments on your images:
1. Keep Track of Your Posts' Performance
As an Instagram advertiser, you need to keep track of your posts' performance. You should learn how many likes your posts get and pay attention to the number of comments they get. Knowing the number of comments your posts get will help you identify whether or not you need to do more to keep control over the comments on your images. If you notice that only a small number of your posts get comments, you need to find out why.

Are your posts not interesting and engaging enough? Are your followers not interested in what you have to say? Or are there other factors at play? You should also note the engagement rate of your posts. What percentage of followers clicked the "like" button on your posts? How many comments did your posts get?

These are all indicators of the performance of each of your posts. Take note of the posts that generate more comments than the others. These posts are the ones that you should pay even more attention to.
More on Social Media Engagement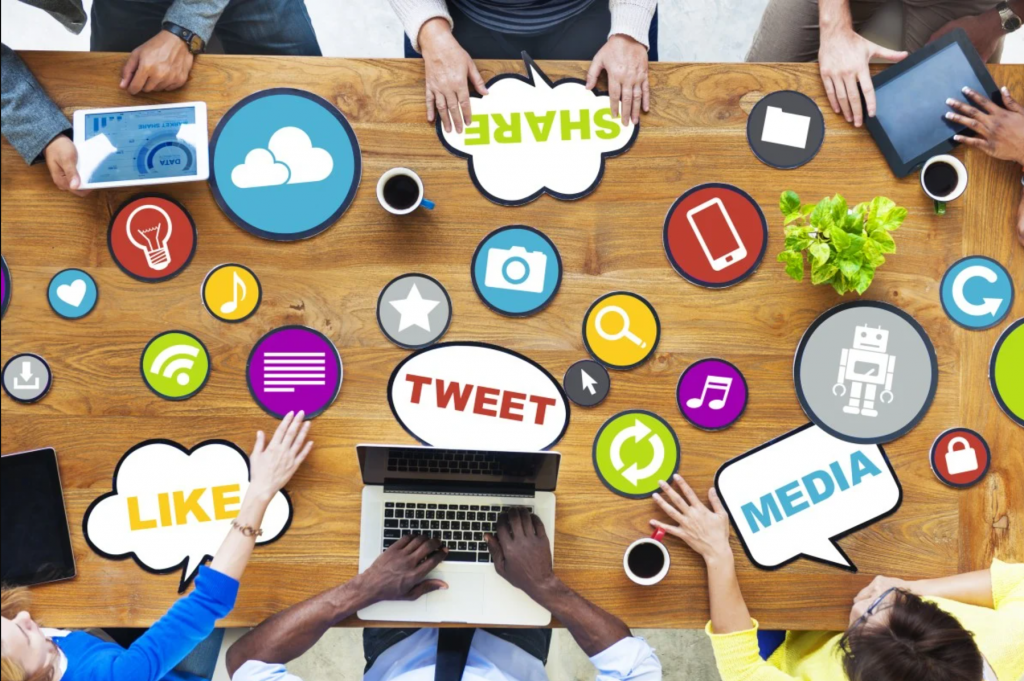 Your business needs a solid social media engagement strategy to succeed. This guide will provide you with all the tips & tricks you need. Read now
2. Block or Delete Suspicious Comments
If you're not careful, you may find yourself dealing with abusive people who have bad intentions on Instagram. This problem often occurs, especially if your brand is very well-known or you have a lot of followers. You can block suspicious users who have left bad comments on your posts or delete their comments.

Blocking is one of the easiest and most effective ways of dealing with bad comments on Instagram. It's a simple action requiring you to slide the comment left and either block the comment owner, restrict their activities or delete the comment.

With that user blocked, you won't see their comments on any of your posts, and they won't be able to see your posts, either.
3. Filter out Bad Comments
Some Instagram users decide to use tools to filter out bad comments on their images. This way, your followers can only see the positive things they want to see in relation to your brand.

For example, you can filter out comments that contain foul language or comments that are haters, filter out comments that use certain emojis, or you can also filter out comments that are spam-like or automated; or use tools that allow you to approve or reject certain comments.
4. Don't Hesitate to Delete Comments That Aren't Positive
Sometimes, you may find that the comment doesn't make sense or it's not positive. In that case, you may want to delete the comment from your posts. You can delete any comment you want from your posts by following the ways I'll explain in a sec below 👇
You can also use tools with an option to "hide" comments. With these tools, you can hide certain comments that you don't like or aren't positive.
5. Ask Your Followers to Leave Only Positive Comments
If you find out that you have many negative comments on your posts, you can ask your followers to leave only positive comments. You can do this by adding a "no hates" or "no negative comments" request in the caption of one of your posts.

You can encourage your followers to leave only positive comments. You can also tell them that you won't delete any comments so that they know that they have complete freedom to express themselves.
How to Handle Negative Instagram Comments
With the potential for hostile comments to be posted on your image, the benefits you'll get from user comments could backfire.

Fortunately, there are several ways you can control the comments on your Instagram account. Whether you want to strengthen your brand reputation or reduce spam account followers, these will help you achieve your desired outcome.

What happens when you want to turn off comments, hide some of them, or limit some specific comments?
How to Pin Comments
You can pin up to three of your comments to the top of the comment feed on your Instagram account. This way, they will be the first comments people will see when they view your post.
To pin an Instagram comment, swipe left on it, then tap the gray pushpin icon.
The person whose comment you pinned will receive a notification.
How to Hide/Turn off Instagram Comments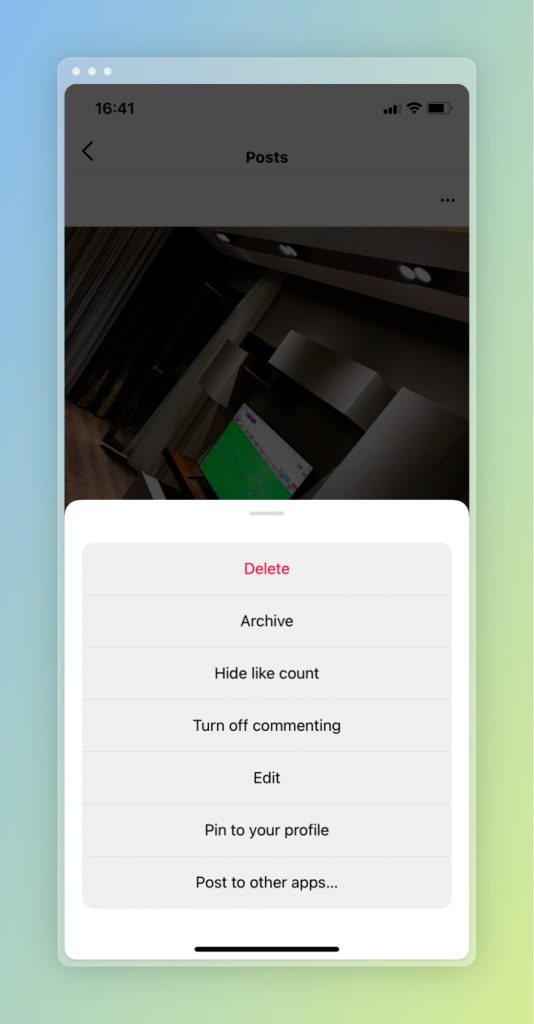 The first way of turning off comments for posts is to go to the necessary post and change its comments settings specifically.
You can choose the post you want to turn off the comments
Click on the three-dot menu, and turn off commenting.
This way, no one can leave a comment on your posts.

How to Manage Certain Comments on Instagram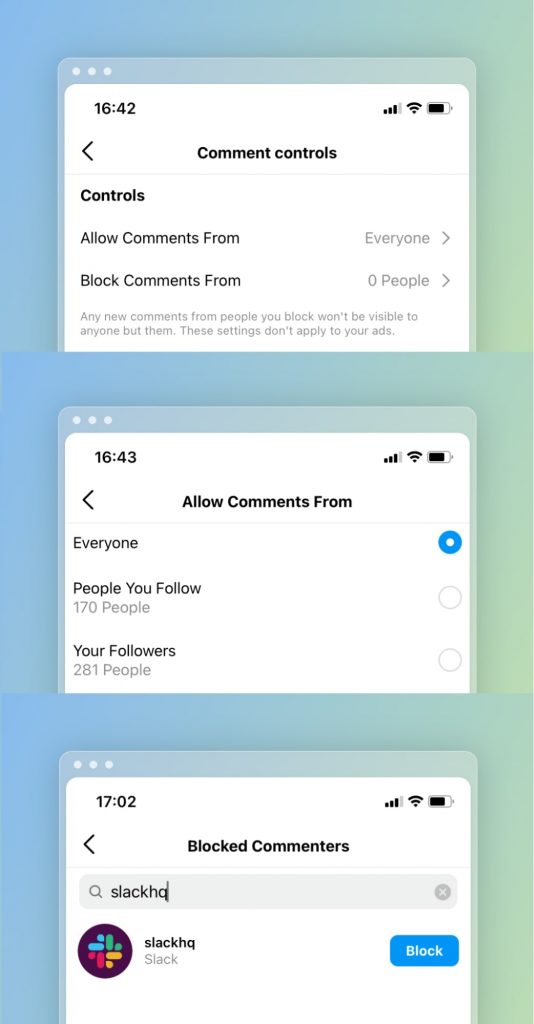 Instagram lets users limit certain comments or manage who can comment on their posts. All you need to do is to;
Go to Settings, Privacy
Choose Comments
In Comment Controls, choose whether Allow Comments From or Block Comments From, and set your comments settings.
This way, you can block specific users (Slack is just an example 🤭) or allow specific user groups to comment.
How to Limit Instagram Comments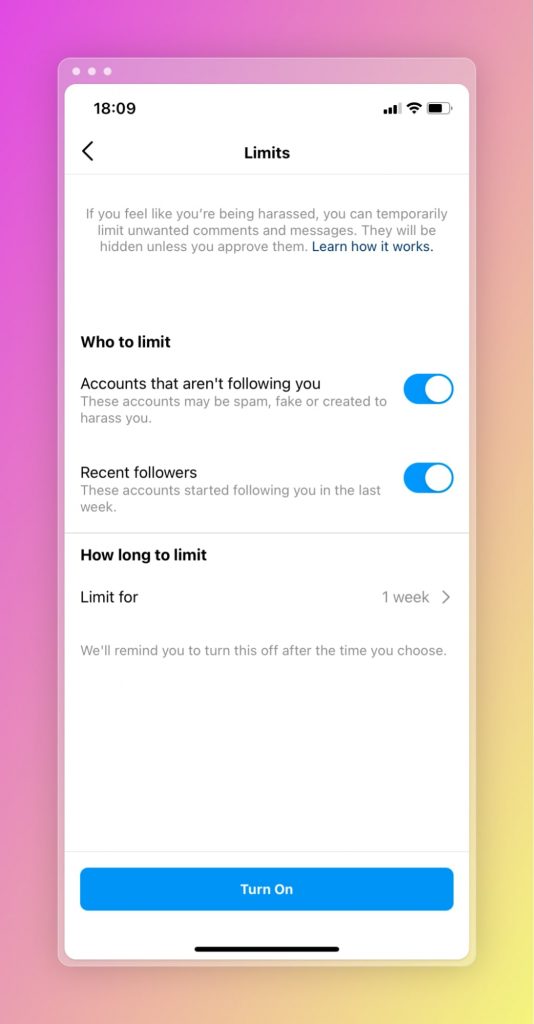 Instagram lets you temporarily limit some activities to prevent unwanted or repeating activities within a specific period. You can;

Go to Privacy, and select Limits, Continue
Set your rules for limiting; choose who to limit and how long to limit
How to Delete Instagram Comments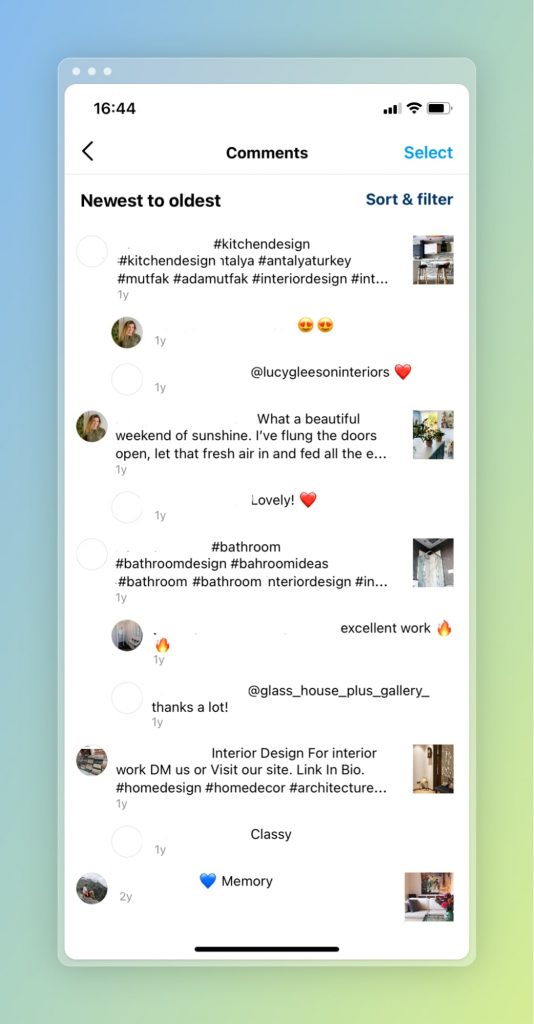 It can be frustrating when you start getting many comments on your Instagram posts. Some people may not know how to leave a comment, or they may just be trolls that are trying to stir up drama. Luckily, there are some things you can do to stop these types of comments from showing up on your feed. If you want to detect and delete these comments on your Instagram posts easily, you can go to;
You can go to Your Activity
Choose Interactions and then Comments
Bulk-delete your comments
How to Manage Instagram Ad Comments Specifically
Advertising on social media such as Instagram and Facebook is critical. What is even more critical? Creation and management of these advertising campaigns.
Advertising on Instagram has the following advantages;
Instagram is a massive, ever-expanding community.
Because Instagram and Facebook are linked, you can easily target your audience using Facebook data.
Instagram has the highest engagement rate of any social media network, particularly for purchases. You can increase purchases that are good for your return on investment (ROI) as long as your product is visually appealing.
Instagram advertisements are not bothersome. In other words, although sponsored material on LinkedIn changes based on ad categories, Instagram ads seem the same as regular postings.
Here are the steps to manage Instagram ad comments;

Go to your Ads Manager.
Click on Edit Campaign and click the Ad.
Select Manage Instagram Comments. You'll see your Instagram ad with a comments section.
To add a comment, you should type your comment in the Add a comment field.
To delete a comment, click on the dropdown menu and delete the comment.
To hide or unhide a comment, click on the dropdown menu, and hide or unhide the comment.
And here are a few things you need to keep in mind when managing ad comments;
Make sure you have a clear set of rules for how the comment function works. You can't just leave it open to anyone to post whatever they want – you need to screen out spam and inappropriate content.

Remember that most people use the comments feature to share their thoughts on an ad or product. They're not looking for an opportunity to sell you something. If you feel someone is attempting to sell something in the comments, flag it as spam and delete it.

It's also important to pay attention to the words and phrases people use when commenting on your ads.
Managing Instagram ad comments becomes easier with tools like Juphy!
Juphy's Instagram Comment Management Features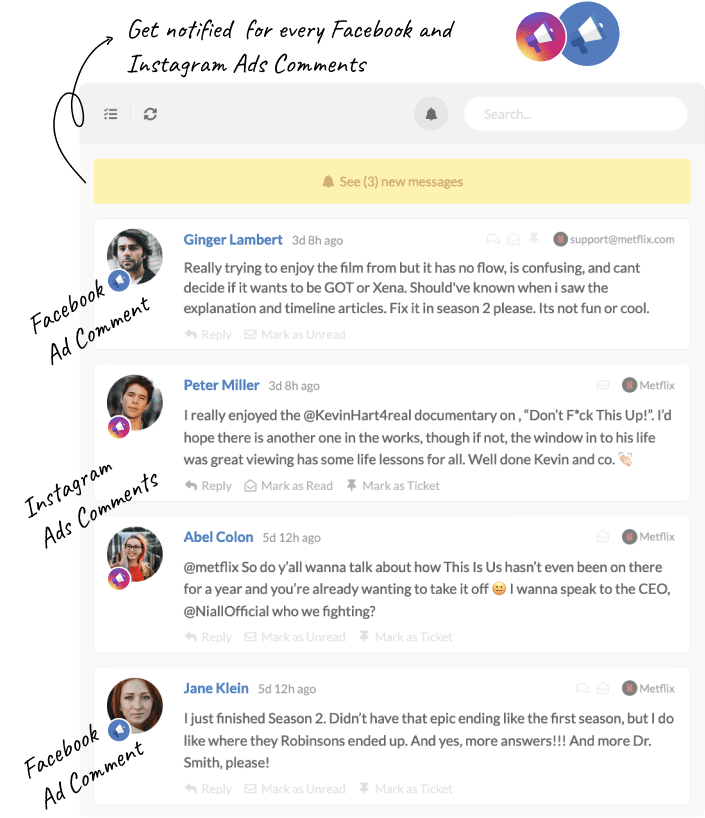 How can I connect my Instagram account to Juphy?
With its easy interface, Juphy provides social media management, allowing you to manage many sites from one location. You may use Juphy to combine several Instagram Business accounts and take control of your social media administration.

Juphy aggregates all your Instagram notifications, comments, and direct messages into a single dashboard, allowing you to track every transaction. Juphy's features enable quick and efficient use and assist you in easily managing ad comments by preventing you from wasting time.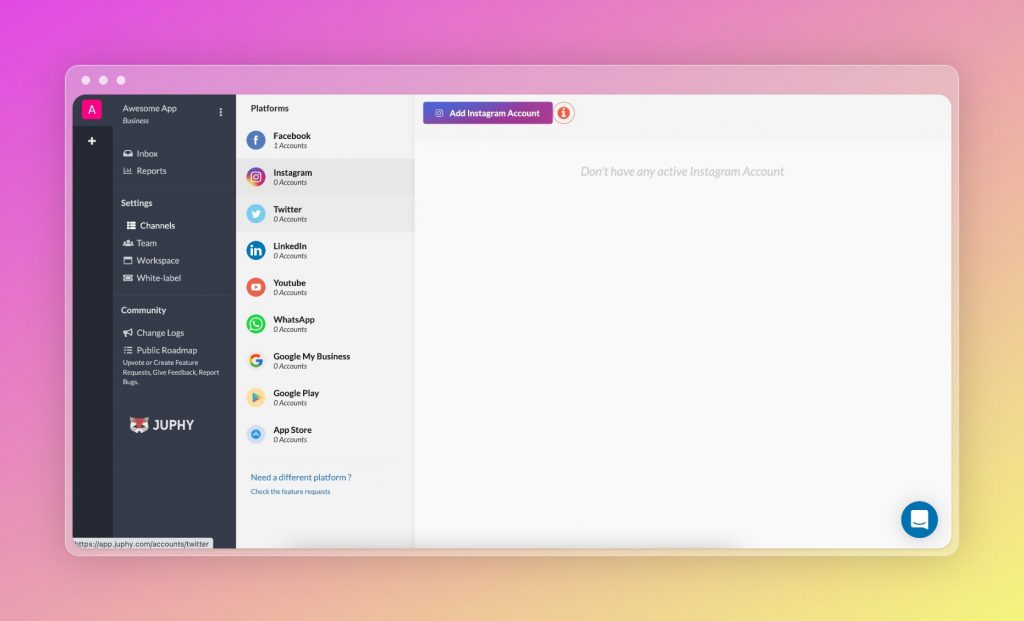 All you need to do is add your Instagram account (or you can add several) to Juphy channels. Then, your Instagram and Instagram Ad Comments became manageable from a single platform. What can you do more with Juphy's Instagram features?
Answer Instagram Comments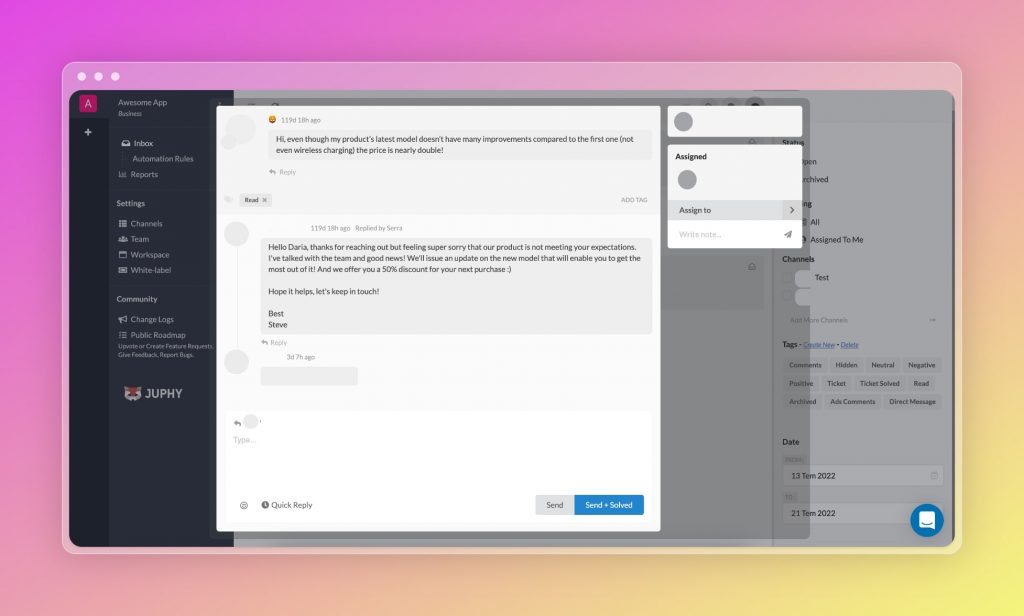 You can answer, assign, and send quick replies to your Instagram comments in Juphy's dashboard.

Juphy has a unified inbox for managing all your comments and ads comments in a single dashboard.

You can create quick replies (macros) to use whenever there is a repeated comment.

And with the help of the team collaboration feature, you can assign the most suitable team member to a chat to answer your comments.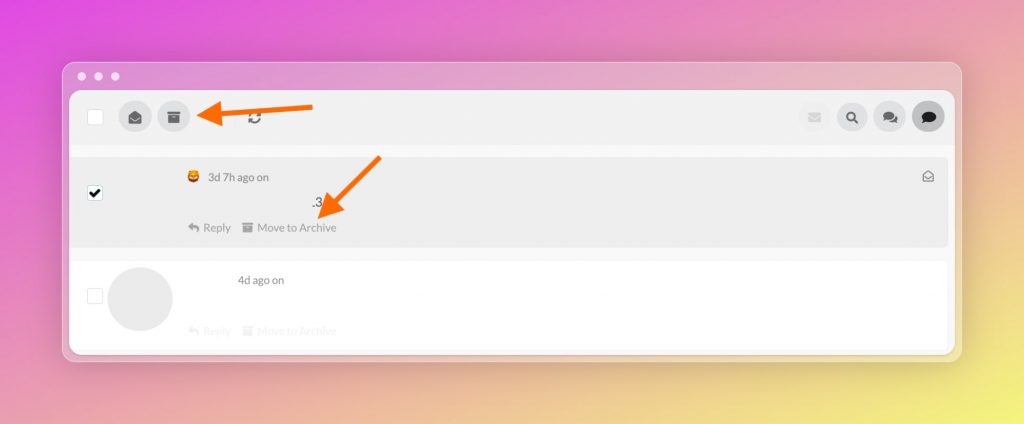 Moreover, you can better manage your interactions and keep track of your open issues by archiving some comments. Or, you can simply folder the unwanted comments.
Filter by Comments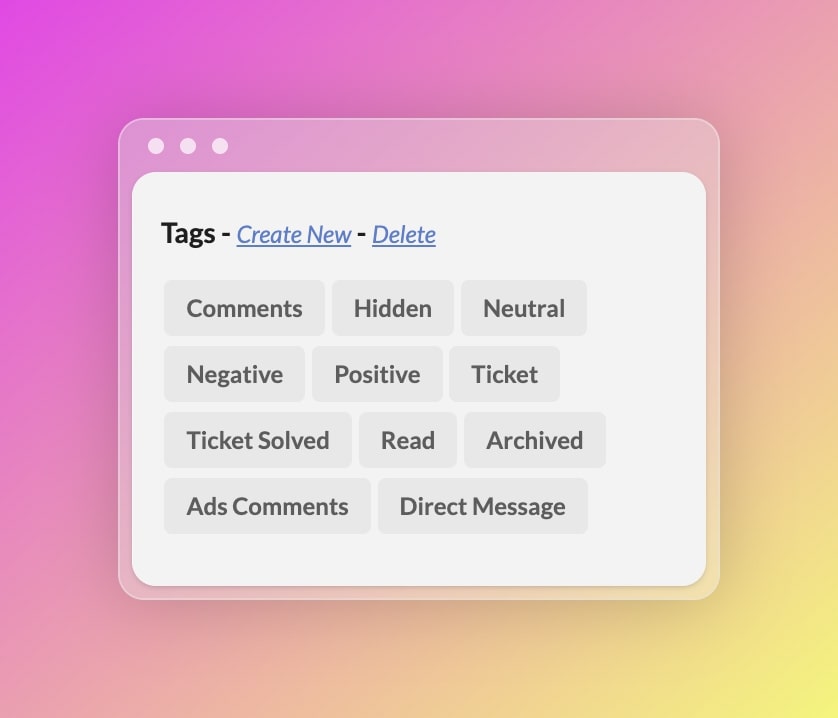 Juphy has Comments and Ads Comments tags in the tags section as a default. So you can filter your Instagram engagements by only Comments, Ads Comments, or only Direct Messages.
Get Insights About Your Instagram Interactions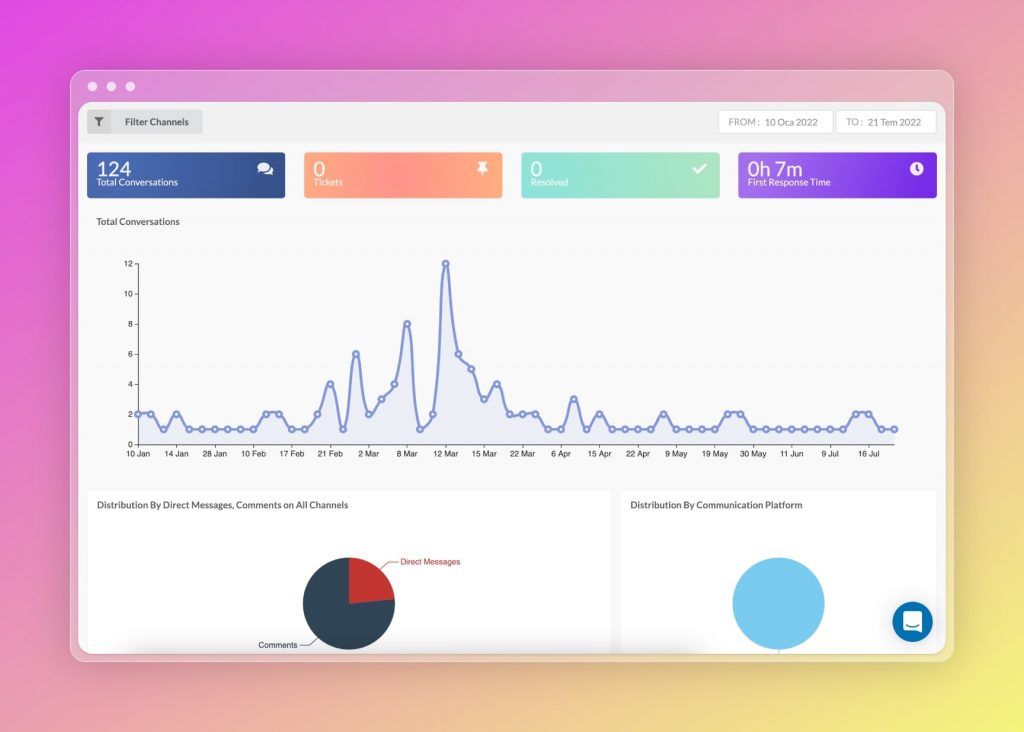 Juphy also provides its users with Reports concerning Instagram interactions. You can see the total Instagram conversations, total comment tags, tickets, answered/resolved tickets, and your team's average response time.
Conclusion
Any company that runs an Instagram profile has to take control over the interactions on its posts. And comments are one of the most powerful interaction forms you can get.
You can't leave things up to chance and hope that everything will be positive and smooth sailing. Instead, you need to be proactive and keep control over the comments on your Instagram posts.
You can do this by keeping track of your posts' performance, blocking suspicious comments, not hesitating to delete comments that aren't positive, asking your followers to leave only positive comments, and using tools like Juphy for Instagram management.
With these tips and Juphy, you can improve your brand credibility on Instagram by keeping control over the comments on your posts. Start your 7-day free trial today!
Create Your
Social Inbox Now
Manage all social media customer support inquiries in a unified inbox.
Related Article – Instagram Guides: Everything You Need to Know