Are Instagram Reels the next big thing? Probably not. Are they much different from Instagram Stories or TikTok? Not really. Are they a "must-have" in your social media marketing plan? It really depends on your industry and target audience. On the other hand, knowing how to use Reels is good information and it can power up your social media content plan. Also, Instagram Reels have some cool editing tools and visual effects that can highlight your brand's visual identity. But we'll come to that later. First of all…
Create Your
Social Inbox Now
Manage all social media customer support inquiries in a unified inbox.
What Are Instagram Reels?
Reels are Instagram's answer to its rapidly growing competitor TikTok. They are basically 15, 30, or 60 seconds long, vertical videos. You can
shoot them live,
put together a series of clips,
remix them with other people's videos or
upload previously shot footage from your video gallery.
They can be shared both on the feed with captions and on Stories. As usual, Reels disappear from Stories in 24 hours but they stay on your "Reels" tab unless you delete them. You understand the essence of this format when you start fiddling with the visual effects, editing options, and collaboration possibilities.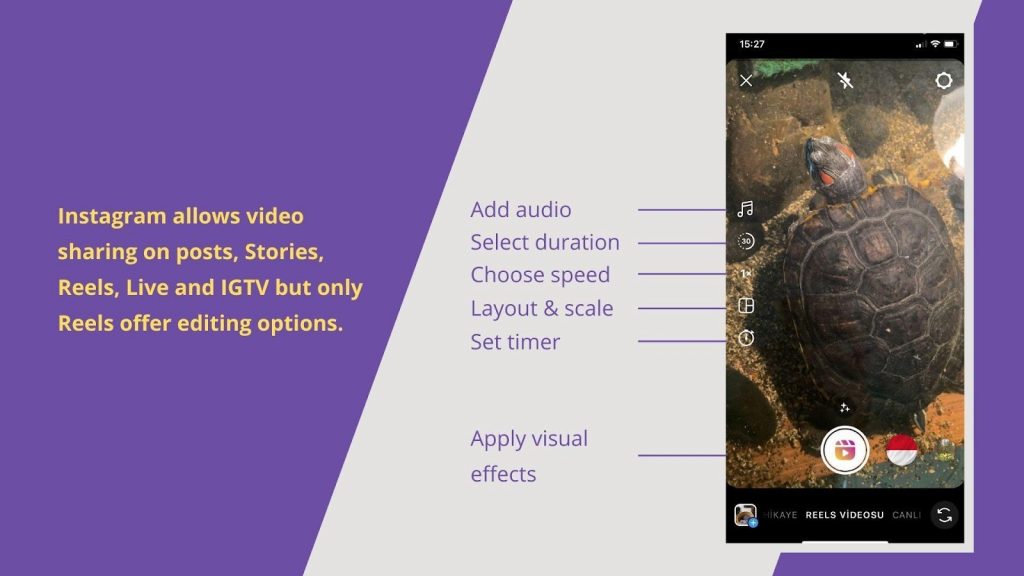 What started as a photo-sharing app now allows video sharing on the feed, Stories, Reels, IGTV, and Live. Reels stand as the in-app video editing tool. But considering it only as a video editor would be an understatement.
Why Are Instagram Reels Important for Marketing?
Before TikTok's emergence, Instagram's content was mainly focused on the follower network. The Gen-Z oriented TikTok changed this approach with its focus on interests instead of friends. Whether you follow the creator or not, you'd see engaging content in the areas of your interest. The "Explore" tab on Instagram wasn't sufficient enough to compete with TikTok's features. So Instagram adopted this approach with Reels and placed them right in the middle of the menu.
Now Instagram offers content from friends and followers networks to tribal millennials while feeding the interest-oriented short video hunger of Gen-Z. You can use both platforms together and add a little more to your workload or utilize Instagram Reels as a TikTok alternative depending on your marketing strategy.
An established user base and diversity of content themes make Instagram Reels a valuable tool for marketing communications. They also provide more visibility than the other sharing options of the platform. The concept might not be original or interesting but it is constantly being evolved with new features and surely it has its advantages. Besides, it's easy to track and respond to all your user interactions on Instagram with a social media customer service tool like Juphy.
A Quick Beginners Guide to Instagram Reels
There are three ways to create a Reel:
On the home screen, click on the "+" icon at the top right and select "Reel" from the drop-down menu.
While watching another Reel, you can start creating your own by clicking on the camera icon in the top right-hand corner.
While on Stories camera, find Reels in the menu at the bottom.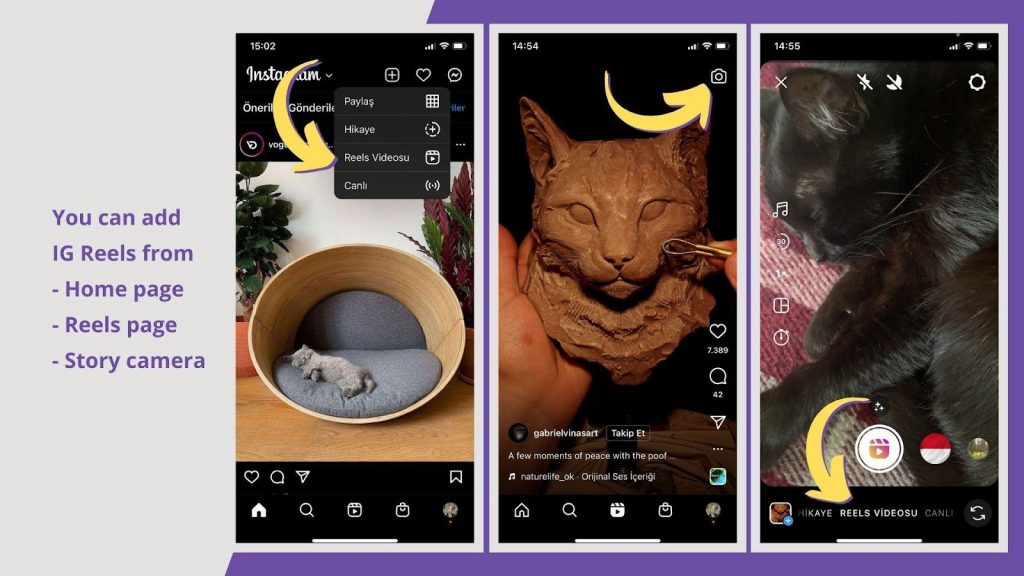 On Reels camera, you'll see some adjustment buttons on the left. With these buttons, you can:
Adjust the duration of the video,
Add music from Instagram's library or original sound from another Reel,
Select the video's speed,
Change the grid layout,
Set the timer to get ready before the recording starts.
You can select a wide range of visual or audio effects from the menu at the bottom. Some effects come with further alternatives in smaller circles over them. You can only use one effect at a time.
If you want to shoot a live Reel, just press the "Record" button. To stop recording, press it again. You can fit as much separate footage as you want into your selected time frame. The "Align" tool you'll see after each of your separate recordings will help you create a seamless transition when you start recording again. And you don't need to finish your video in one go. Click > icon to save it to drafts and continue recording and editing later. If you want to upload previously shot footage from your media library, make sure the aspect ratio is 9:16 or the size is 1080 pixels x 1920 pixels.
Before sharing your work, you can add captions and hashtags, just like you do with the posts on your feed. You can also add text, stickers, and filters, just like you do with Stories. But there's a small difference: You can determine the time frame where the text appears and disappears.
Creating and publishing Instagram Reels is quite easy when you know what you want to create. How to get your Reels noticed on Instagram on the other hand, is a totally different story.
How to Get Your Reels Noticed on Instagram
Before asking "How do you make a Reel go viral?", you should ask "How can I create interesting content that has the potential to go viral?" There's no one size fits all solution when it comes to creativity but virality definitely depends on the content and media budget.
Creating interesting, surprising, or relatable content regularly may look like the recipe to going viral but in fact, even the most brilliant videos might need a little push to gain the favors of Instagram Reels algorithm. So the real question should be "How can I increase the reach and engagement rates of my Reels?"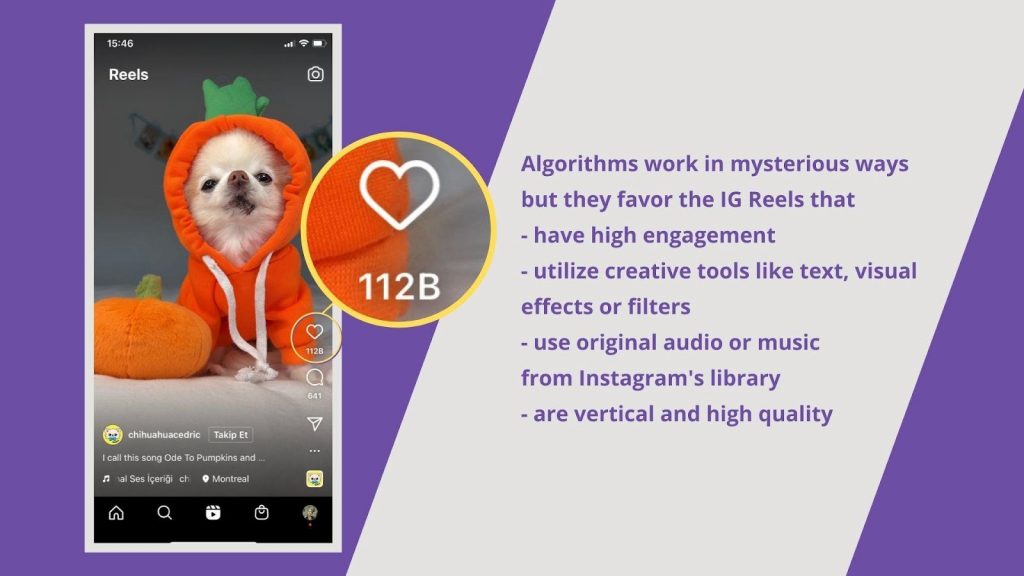 Even though algorithms work in mysterious ways, there are a couple of tips that can be beneficial for increasing reach:
Create content that offers some kind of value (tips, how-tos, behind-the-scenes footage, etc.) to your target audience.


Create vertical, high-resolution videos. Blurry or watermarked videos never get the attention or engagement they deserve, even if they have a great idea behind them.


Nobody gets famous with a single piece of content. Post regularly and consistently.


Make use of creative tools and audio. Popular or original soundtracks work best. The original sounds (music, voiceover, effects) will be added to the Instagram library and attributed to you.
 
Write an engaging caption, make it a call to action if relevant, and use hashtags. Hashtags help the algorithm classify your video according to interests and make it easier to be found on search results.


Share your Reel both on IG Stories and feed and create a custom thumbnail. Before you hit the "share" button, make sure you select "Add share to Feed" and crop the image that will show on your profile grid.


Use text and captions because many people watch videos in silent mode. Pay attention to the balance though. Text-heavy videos don't work well with the algorithm's choices.


Follow the trends and use them for inspiration. Try to act fast, social media trends never last long.


Higher engagement in the form of likes, comments, and shares means a higher chance to be picked up by the algorithm.


Get a little help from friends. Collaborations and remixes can increase your reach as well as boost your creativity. Find a Reel that's related to your industry or niche and simply respond to it by adding your own spin. You can remix videos with your own contributions by tapping the three dots at the bottom right and selecting "Remix This Reel" from the menu. You can turn this feature on or off if you don't want your original Reel remixed with other people's contributions.
In Summary
When you examine any kind of content that receives high engagement rates, you'll see that they serve a purpose. IG Reels are no different. They can be entertaining, informative, or inspirational. The idea doesn't need to be 100% original but in order to differentiate from the crowd, it needs to have your unique twist.
If your content is not incredibly share-worthy (which can be considered a phenomenon that happens about once every 10 years), you probably won't be able to get the organic reach you aim for. Even the largest brands can achieve virality out of nowhere. But don't let it get you down and keep posting brilliant, authentic, engaging content. A little boost from time to time will help you reach broader audiences and increase the engagement rate of your videos.
And last of all, try to experiment. Surprising ideas are the products of experimentation and the risky content in your feed can be the one that goes viral.
Create Your
Social Inbox Now
Manage all social media customer support inquiries in a unified inbox.
Related Article – Instagram Hashtags Guide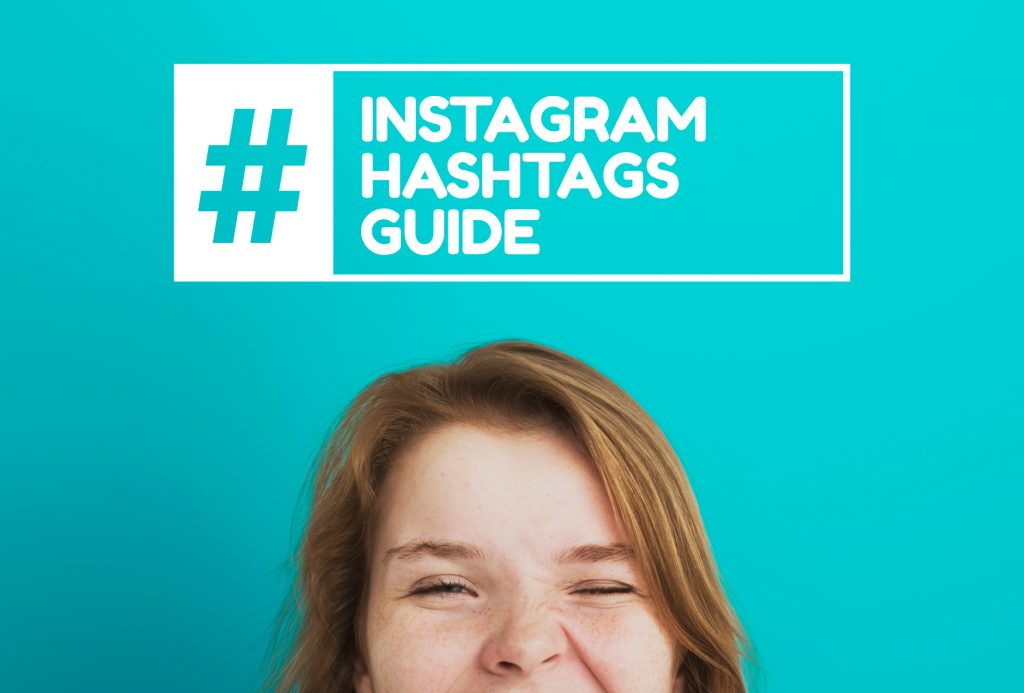 Are Instagram hashtags really that important? Find out how you should be using them strategically to get the most successful results! Read more.