Over the next four years, e-commerce sales are projected to grow twice the current figure to hit $8.1 trillion in 2026. With 12 to 24 million online stores in the world currently, there's no sign of online sales dwindling anytime soon.
For businesses to survive in this highly competitive e-commerce world, they need to employ effective strategies that can drive sales. To succeed as an e-commerce business owner, you'd need to build strategies to keep your existing customers and attract new customers while adapting to new industry developments.
In this article, you'll learn about the essential elements of a successful e-commerce sales strategy and how to create one for your business.
Create Your
Social Inbox Now
Manage all social media customer support inquiries in a unified inbox.
Understanding E-commerce Sales Strategy
An e-commerce sales strategy is a general term that covers various aspects such as marketing, user experience, customer support, user engagement, and more. To create an effective e-commerce strategy, you must know the basics first.
What's An E-commerce Sales Strategy and Why's It Important?
An e-commerce sales strategy is an overall plan that determines how a business will generate sales, including the tactics that will be employed to achieve this goal. An e-commerce sales strategy covers aspects such as the target audience, marketing, promotional activities, and customer service.
This dynamic strategy can be modified to suit changes in the e-commerce industry. An e-commerce sales strategy is important for various reasons. First, an e-commerce sales strategy gives a clear roadmap for achieving your business goals.
Instead of trying out different methods that may fail, a sales strategy helps you stay organized and focused. Also, an e-commerce sales strategy is vital to increasing your efficiency and conversion rate and boosting long-term growth.
Understanding Your Target Audience
Your sales strategy will be ineffective if you haven't identified your target market. Your target audience refers to the exact customers you want to reach based on factors like age, location, and online preferences.
Your target audience is the set of individuals who need your products the most or are more likely to patronize you. Learn more about your target audience by analyzing your current customer base, conducting surveys, and competitor analysis.
Based on the above, you can then optimize your sales strategy. A key step in understanding your target audience is creating a customer persona. We'll explain this below.
1. Defining Your Customer Persona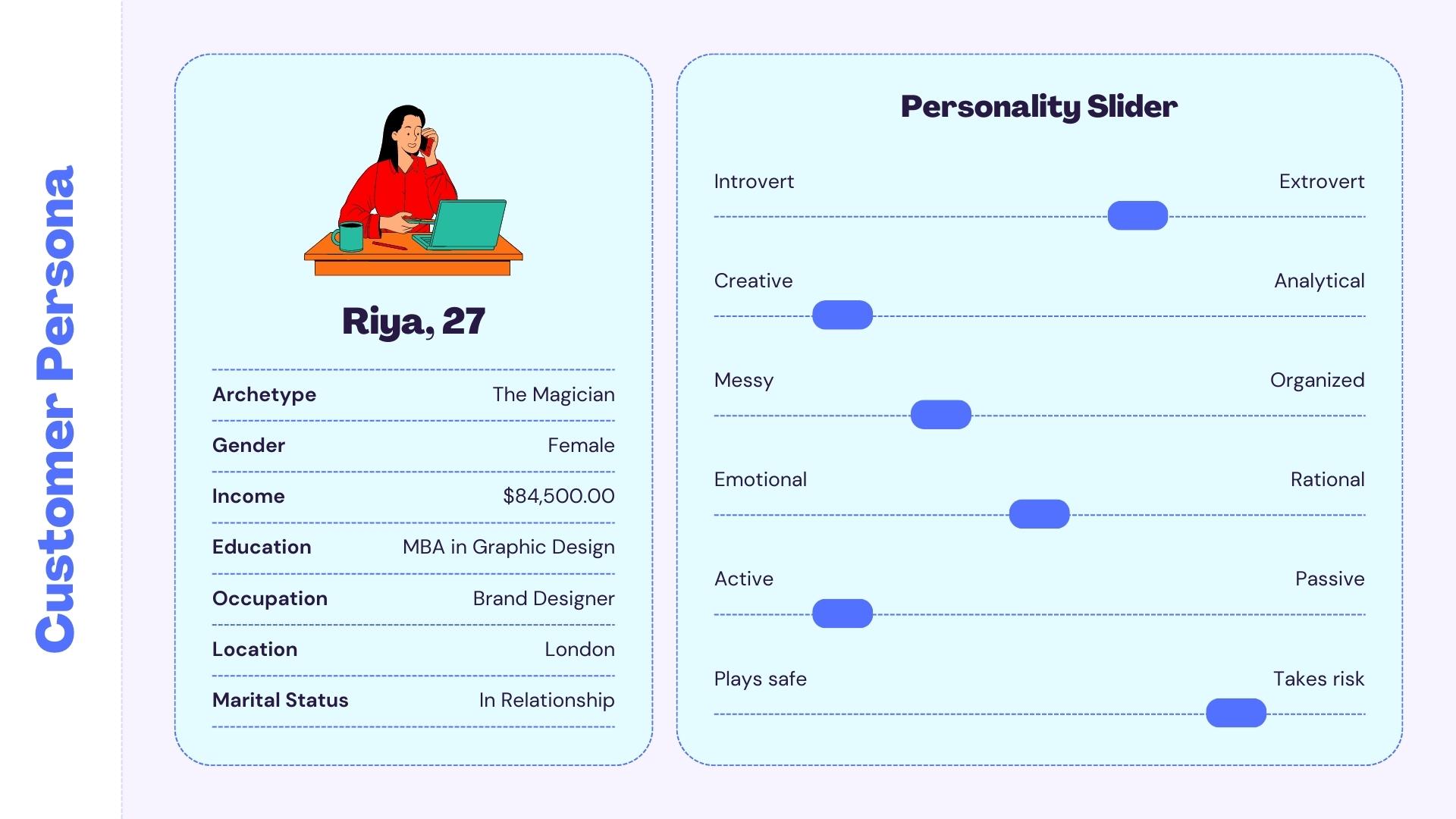 A customer persona is a fictitious representation of a customer's profile created based on market research, user behavior, and quantitative data.
Creating a customer persona provides a model through which you can refine your sales strategy. Also, defining a customer persona helps you understand your target audience better and how you can connect with them.
To define this, you'd need to gather demographic information through sources such as Google Analytics or forms on your website. Also, you'd need to identify the common trends or traits in the information you've gathered.
Based on these, you can create a user persona containing information such as name and photo, description, customer needs, demographic and psychographic information, and online behavior.
2. Understanding Customer Buying Behavior
Customer buying behavior refers to your customers' buying habits and the background factors that affect their purchase decisions. Understanding the thought processes, actions, and decisions experienced by customers through the entire customer journey is crucial to an effective sales strategy.
The factors that influence customer buying behavior include personal motivations and desires, social influence, age, income, as well as social proof. You can understand buying behavior through strategies such as data analytics, customer surveys, competitor analysis, social listening, and audience segmentation.
With these, you can optimize the customer experience and improve your sales strategy.
Website Design and User Experience
One of the major ways to optimize your sales strategy is to enhance your website performance. Your website's design plays a huge role in user experience. Slow-loading websites, bad navigation, and poorly built product pages lead to a poor user experience, ultimately affecting your conversion rate.
Below are practical steps for improving your website design and user experience.
1. Minimizing Website Clutter
First, you need to remove any unnecessary information on your website. When potential customers visit your website, they should only come across the information they need to see to prevent confusion.
Your homepage can either increase or reduce your bounce rate. Since your aim is to increase sales, you should present your products and captivating offers on the landing page. Any other information, such as blogs or case studies, can be linked to another page.
2. Building Trust Through Transparency and Security
Elevating your website's trust level also helps to enhance user experience. Usually, potential customers might be skeptical about visiting new e-commerce sites. To allay their fears, ensure your website's security is top-notch. For example, an "https://" website offers more security than an "http://" website. Shopify uses an "https://" connection to guarantee more security, for instance.

Apart from this, you can display trust badges, customer reviews, testimonials, and a contact address on your website to show transparency.
3. Using High-Quality and Appealing Images
When visiting an e-commerce site, customers expect to see high-quality images of the described products. You should include pictures from multiple angles to help potential customers get a better view of the products. Best Buy offers high-quality images of products taken from multiple angles.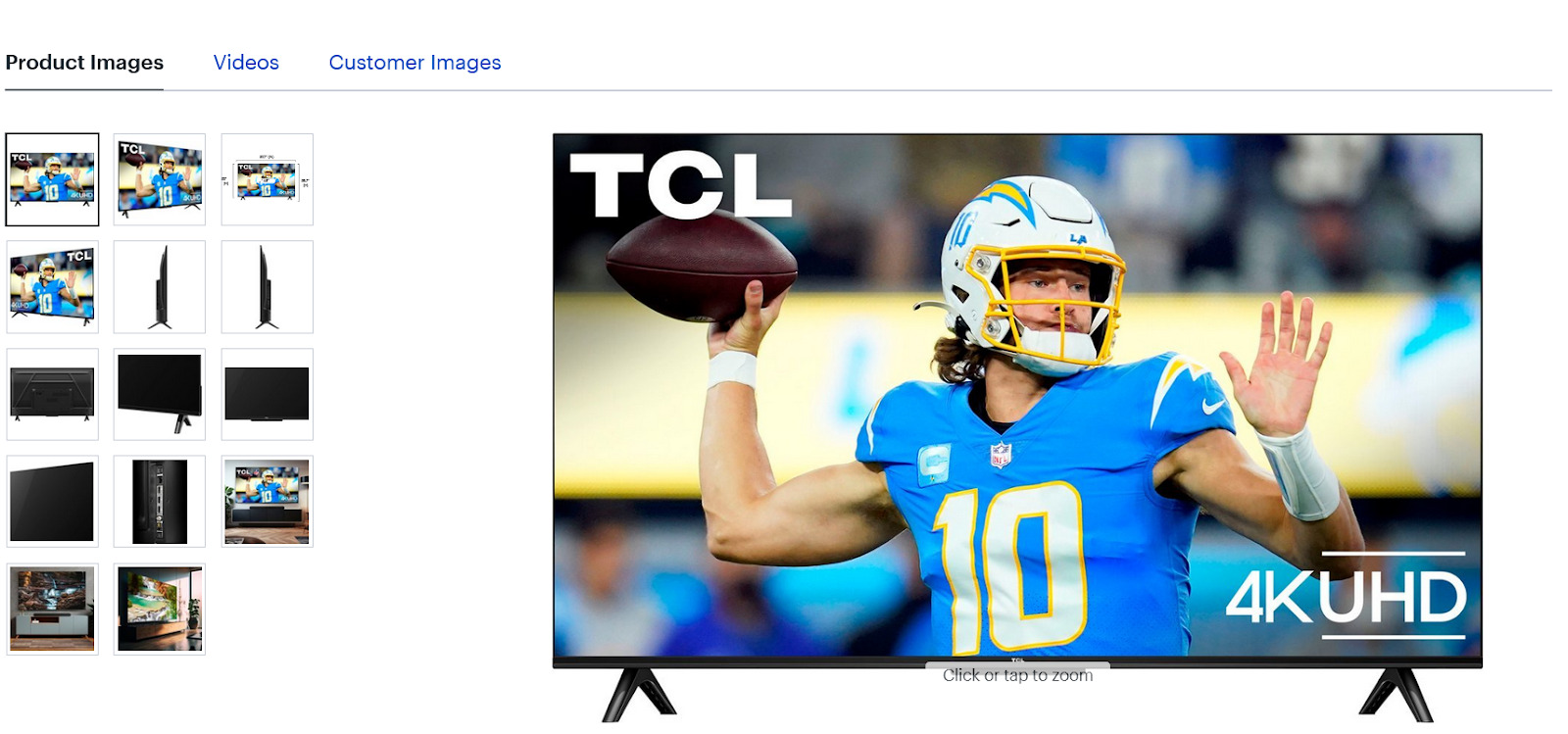 Low-quality and unappealing images can indicate unprofessionalism or untrustworthiness. It's advisable to create your own product images when possible to have the best picture quality. Creating your own pictures can also be useful for SEO once you attach meta tags containing relevant keywords.
4. Creating a Streamlined User Interface (UI) and User Experience (UX)
A streamlined user interface and user experience can affect your retention and bounce rates. You should ensure it's easy for customers to read through your store. For example, the design should be clean and consistent, and visitors should be able to perform basic actions easily.
A streamlined UI and UX can increase the time visitors spend on your website, increasing the likelihood that they'll make a purchase.
Rather than using complex navigation designs, you should keep your website navigation as simple as possible. Ensure the navigation and overall website structure are user-friendly. For example, the menus, categories, and search functionality should be easily accessible, as on Etsy's website below.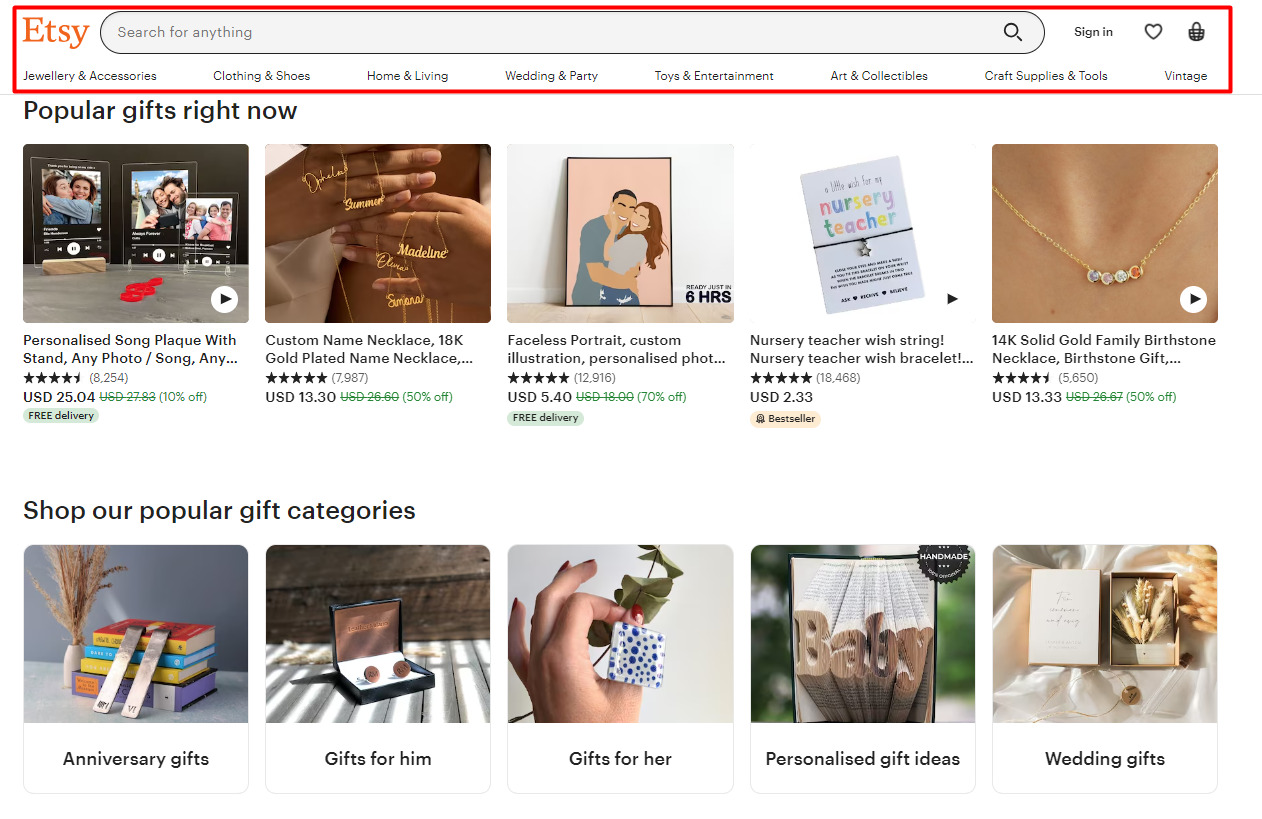 Also, your product pages should be well arranged so that it's easy for customers to look around.
6. Optimizing for Mobile First Approach
It's likely that many of the visits to your e-commerce store will be through mobile devices. A valuable sales strategy is ensuring mobile device usability. There's usually a vast difference between desktop and mobile website versions.
A mobile-first approach promotes accessibility and can reduce the bounce rate. Ensure pop-ups such as ads are minimized and your web pages load quickly. Check your website speed to know where it ranks on Google Analytics.
Product Presentation
How you showcase your products is instrumental to customer engagement. Product presentation involves the visual elements, design, and interactive features that can attract and compel potential customers to make a purchase decision.
With engaging product presentations, you can keep your customers' interest and create an immersive online experience that will contribute to increased sales.
Here's how to improve your product presentation.
1. Engaging Product Demonstrations
Since visitors to your website aren't engaging your products physically, there's a need to create engaging product demos to replicate the feel of a physical store. Creating engaging product videos is a means to enhance user experience. Here's an example of a product video posted on Amazon.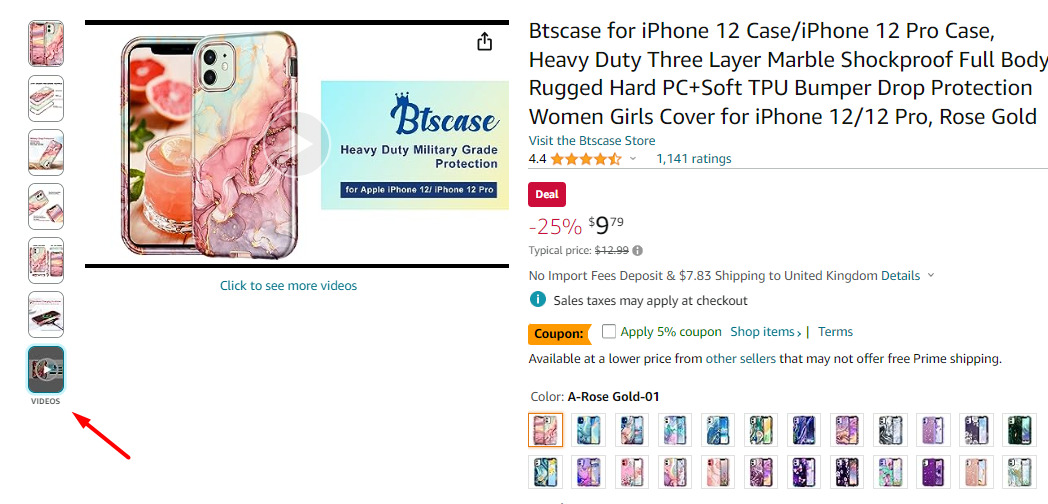 Product videos engage customers better than images alone. You can include product feature videos and how the products can be used in real time. Creating engaging product demonstrations can also help to increase customer trust as it portrays reliability and authenticity.
2. Comprehensive Product Descriptions
Besides product videos, comprehensive product videos are a key part of product presentation. Instead of copy-pasting technical descriptions from the product manufacturers, create simple product descriptions that are rich in information.
Highlight key features of the products to help customers get a good idea of what they're interested in. Also, you can include relevant keywords in product descriptions to help boost your SEO rankings.
3. High-quality Product Photography
Lastly, in this section, the need to include high-quality product photography cannot be overemphasized. Alongside product descriptions, high-quality images offer more engagement. Apart from catching the attention of visitors, using high-resolution images portrays professionalism. Also, using unique, high-resolution images can help with SEO.
Shopping Experience
When it comes to building a successful sales strategy, the shopping experience is critical. The shopping experience starts from the first interaction with your business to product page navigation and post-purchase actions by customers.
The shopping experience directly impacts conversions and repeat purchases. For first-time customers to stay loyal to your business, they need to have an enjoyable experience shopping at your e-commerce store.
Here's how you can enhance the shopping experience through your e-commerce sales strategy.
1. Offering a Range of Product Filters
While some customers will visit your e-commerce website with a specific product in mind, others are interested in viewing different products with nothing specific in mind. This makes providing a range of product filters essential.
Product filters enable customers to scroll through different products based on certain criteria easily. Filters such as price, size, color, etc., help customers easily find relevant products. When customers can access a range of product filters, it drives efficiency and increases the chances they'll make a purchase.
2. Prioritizing Easy Product Discovery
To enhance the shopping experience, ensure you simplify the product discovery process. Your website's navigation design should include relevant product categories and suggestions. The search functionality is a crucial part of product discovery on an e-commerce website. For example, Amazon has a responsive search function that displays related results.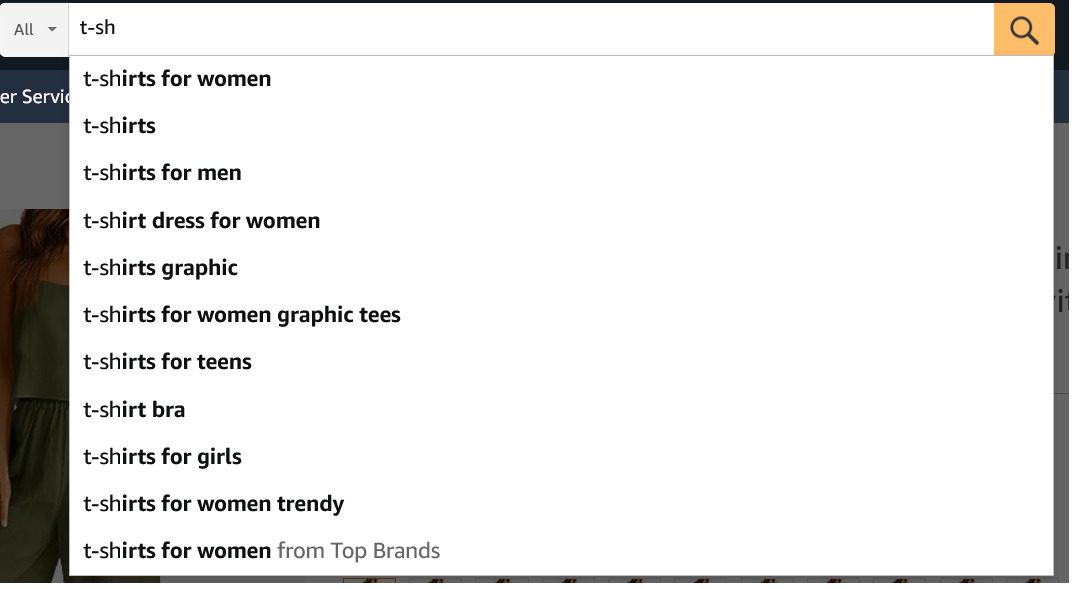 Relevant products should appear in the search results when visitors input related keywords. When bundles or discount offers exist, ensure they occupy a prominent position on your e-commerce website.
3. Ensuring Hassle-free Returns
After customers make purchases, it should be easy for them to make returns if needed. You should clearly state your returns/refund policy on your website and display them at different stages of the purchase journey.
Also, it's advisable to give customers as much time as possible to make returns. An easy returns process can help customers trust your brand more.
Customer Engagement and Conversion Strategies
Customer engagement is strongly connected to customer loyalty and increased conversion rates. Customer engagement refers to the continuous interaction that happens between brands and customers.
These meaningful interactions eventually build a relationship, resulting in customer loyalty. Conversion strategies work to turn curious visitors into repeat buyers. Below are some customer engagement and conversion strategies that can help you boost sales.
1. Opting for Guest Checkouts to Reduce Cart Abandonment
Customers can abandon their carts for various reasons.
One of these is if they're forced to create an account before checkout. According to research, 24% of online shoppers abandon their cart because the site wanted them to create an account. To prevent this, ensure that guests can shop around and complete their purchases without creating an account.
Also, ensure the checkout process is simple with few steps required. To follow up on the purchase, you can request an email address so you can add the guests to your mailing list.
2. Sending Email Follow-ups to Visitors with Abandoned Carts
Visitors who have abandoned their carts might complete their purchase eventually if you follow them up. You can schedule cart abandonment emails to interact and remain on shoppers' minds with abandoned carts.
Customers who are unsure about your products or brand might need a little push or reminder to complete the sales process. Send emails to request feedback about why they didn't checkout.
Also, you can offer discounts or time-limited offers to encourage them to complete the process. Including social proof in cart abandonment emails also helps to drive customer trust and ultimately convert.
3 Engaging Shoppers with Personalized Offers and Recommendations
Personalization is crucial to customer engagement and conversion. You can create personalized offers and product recommendations based on customer data such as browsing behavior, demographic information, and preferences.
For example, suggest new or related products based on their purchase history or viewed items to keep customers engaged. Also, offering discounts or special offers based on the customer's interaction with your business will keep the customer engaged with your brand.
4. Upselling and Cross-selling with Strategic Bundling
Upselling and cross-selling are proven conversion strategies for e-commerce businesses. When customers shop for products, you can offer upgrades or extra features to the product they're interested in (Upselling).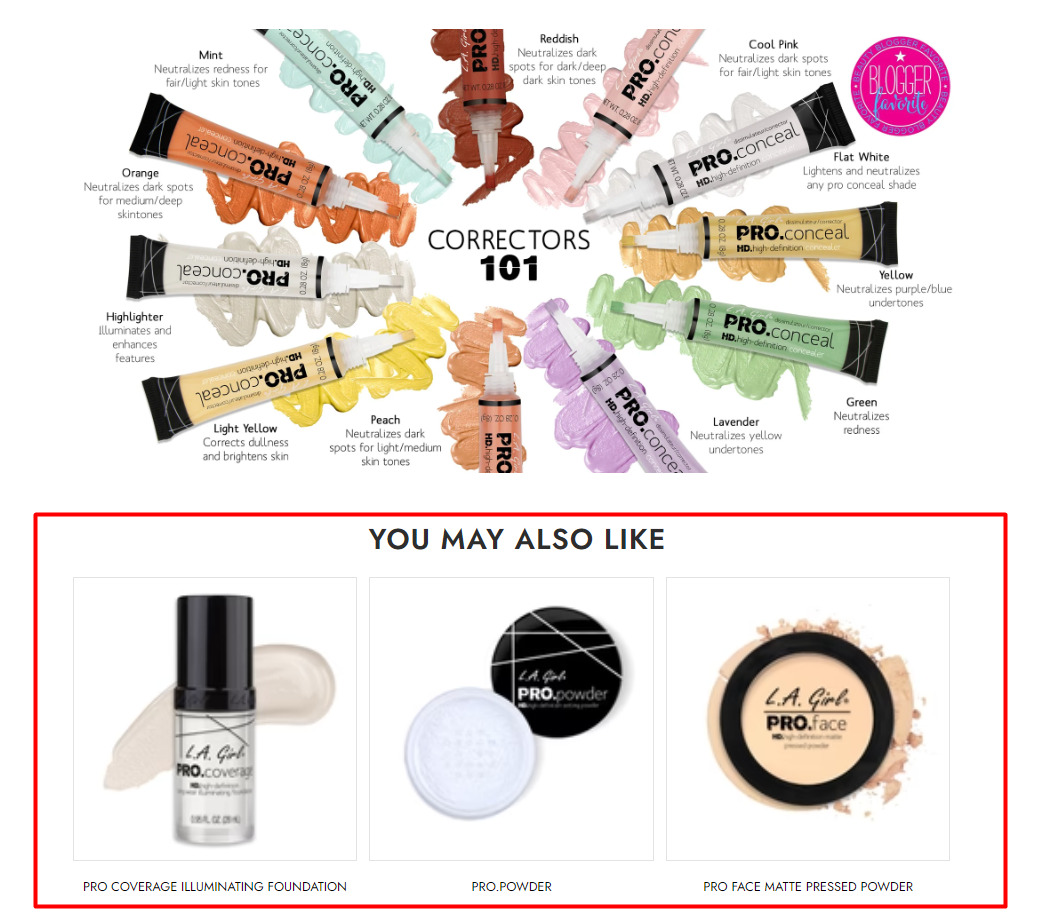 Cross-selling involves offering related or complementary products based on the customer's product selection to make them purchase more. Also, personalized product bundles that come with discounts or limited-time offers work to increase conversions easily.
5. Offering Free Shipping and Other Incentives
Offering free shipping might be the difference between a conversion and an abandoned cart. It can be the deciding factor when customers shop around from different brands in search of the best offer.
You can include free shipping offers and other incentives, such as promos and loyalty discounts, to drive conversion. To motivate shoppers to act fast, including free shipping as a limited-time offer can help. If you offer free shipping or other incentives, clearly display them to attract the customer's attention.
Customer Support and Trust Building
Customer support is a key part of any business. An excellent customer support service contributes to trust between brands and their customers. According to a survey, 94% of respondents stated that a positive customer service experience made them more likely to purchase again.
For e-commerce businesses especially, there's a need to maintain an efficient support service to handle inquiries, complaints, and feedback.
1. Providing Clear and Comprehensive FAQs
There are common questions or inquiries shoppers often have. Rather than waiting to answer them through a live chat at every instance, you can include clear FAQs on your website.
These FAQs should be comprehensive and cover aspects such as shipping, return policies, payment options, discounts, terms, and conditions, etc. A FAQ section serves as a valuable self-help resource that can quickly address customer inquiries.
2. Avoiding Customer Support Delays
A slow customer support service is a turn-off for many potential customers. Having a good average response time is a critical attribute of a good customer support experience for many people.
As a result, you should ensure your customer service is fast and efficient. To drive efficiency, offering various customer support platforms such as phone, email, or live chat is advisable. Also, there are artificial live chat agents that can help reduce the workload on your customer service representatives. 
While these strategies offer a foundation for customer engagement, leveraging specialized tools like Juphy can supercharge these efforts.
Boosting Your E-commerce Sales Strategy with Juphy
An e-commerce sales strategy is incomplete without an efficient side-kick tool that makes your processes more effective and productive. Juphy is the go-to tool for e-commerce brands. Here's how it enhances your e-commerce sales strategy:
Automation Rules: Streamlining and Classifying Social Interactions
Better categorize incoming messages based on your set rules and functions. With the automation rules feature, you can streamline your messages into different classes according to their content, tone, urgency, and much more to ease your customer support process.
You can create a tag for sales or product-related messages to identify potential leads and attend to them easily.
Team Collaboration and Social Inbox: Unified Approach to Customer Conversations
Juphy's social inbox collates all your messages, reviews, ad comments, mentions, and more from social media channels into one unified dashboard for easy accessibility. This makes it easy for team members to collaborate and manage sales-related conversations.
In the event that one team member needs to follow up on a conversation, every member has easy access to previous customer data that they may find useful to close the deal.
Reply Directly: Personalize Responses and Build Relationships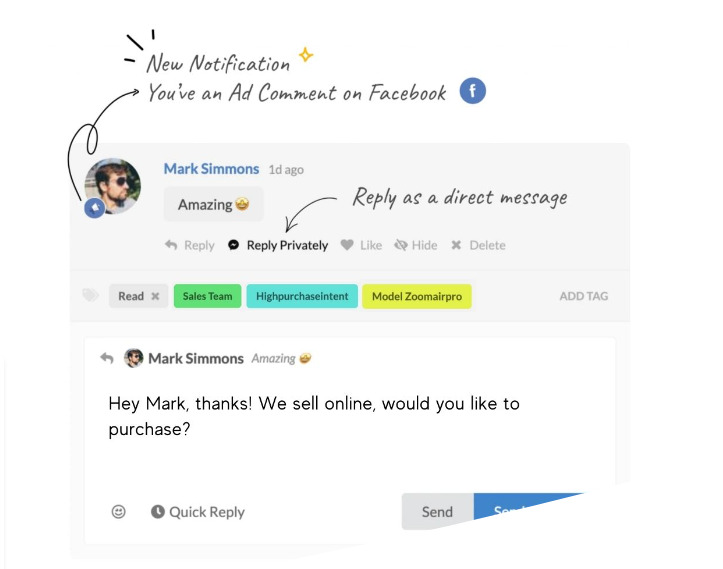 Respond directly to customers' inquiries and comments wherever they drop them. For instance, if a customer leaves a comment on a social ad, you can choose to reply to them privately as a personalized direct message instead of leaving a generic reply on the ad.
This will help you build a relationship with the customer, identify their specific challenges, and proffer a favorable solution for both parties.
Reports Dashboard and Conversion Tracking: Uncover Insights for Strategic Decisions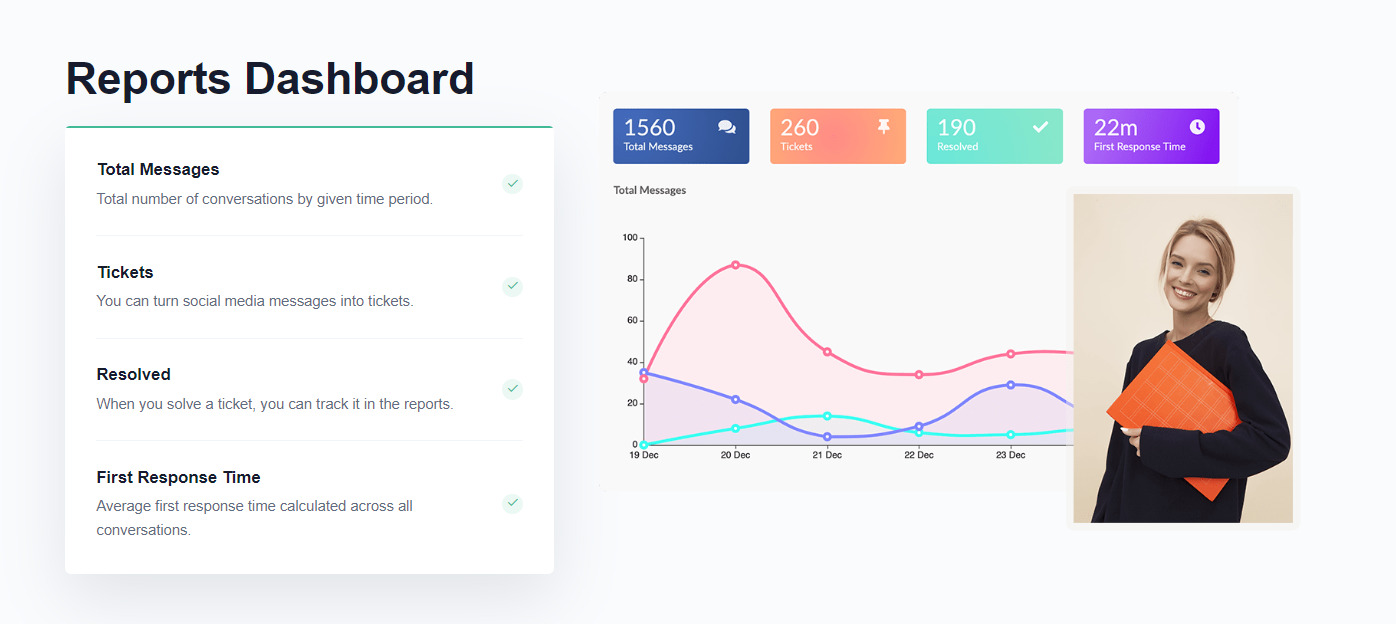 Spend less time on guesswork and more time making informed decisions that will boost company growth. Juphy's reports dashboard gives you actionable insight into what strategies are currently working for your brand and what can be improved or scrapped.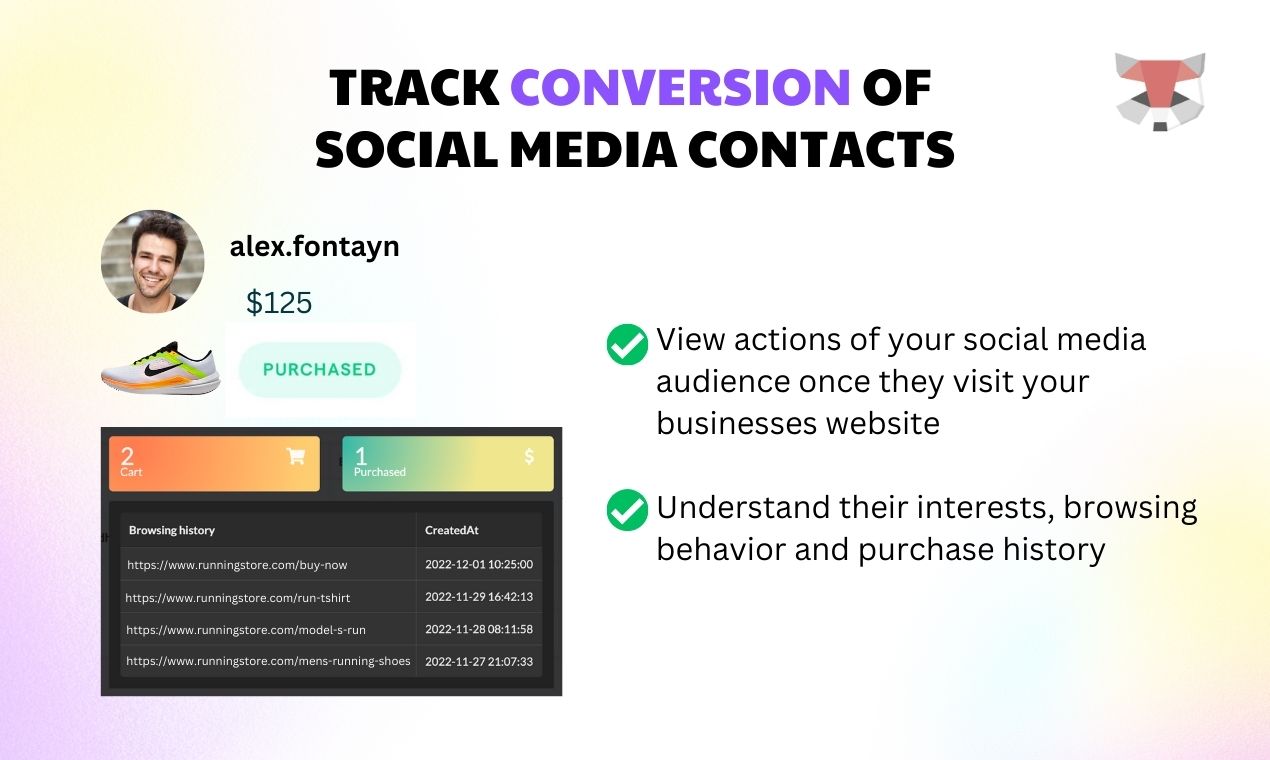 Get real and accurate information regarding specifics like your average response time, the number of messages you responded to, your first response time, and more.
Social CRM and WhatsApp Bulk Messaging: Targeted and Personalized Communication
Need a more concise way to store your customer data? Juphy's social CRM helps you segment your contacts based on their purchase history and interests.
In addition, through the WhatsApp bulk messaging feature, you can create contact lists and push out targeted campaigns to customers at specific stages of their journey, successfully retargeting them to make more purchases.
Social Chat Widget: Seamless and Efficient Customer Communication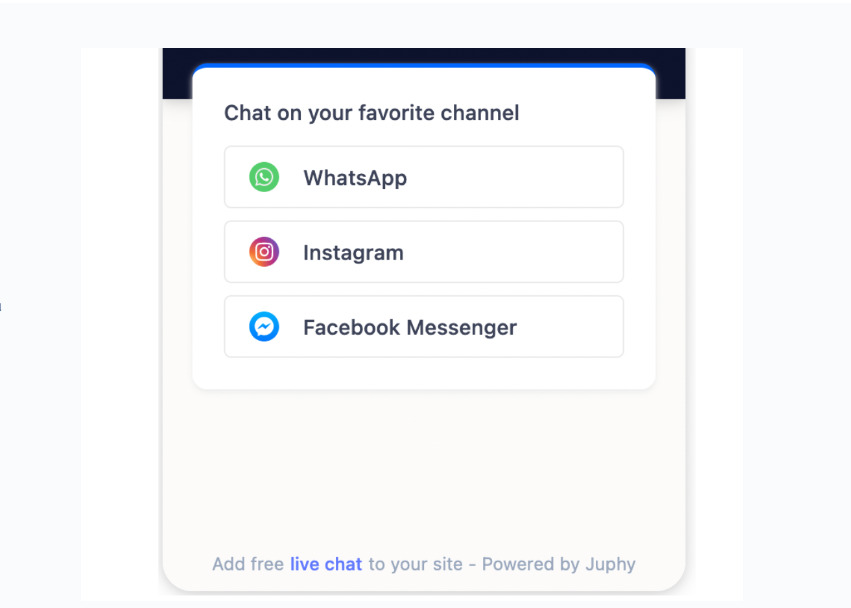 Your customers no longer have to drop off during their sales journey because Juphy's live chat feature allows them to contact you directly from your website when needed. Juphy allows you to integrate any social messaging widget of your choice, including Facebook, WhatsApp, or Instagram.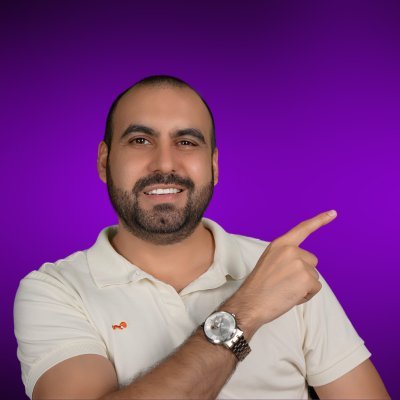 Jorge Aguilar
CEO / SaaS Master
"Having explored Juphy's offerings, I am highly impressed by its integrated approach to social media management. As a data-driven sales & support platform, it unifies social conversations across platforms, making it an excellent resource for providing customer service and boosting sales via personalized messaging​. One of the standout features is the unified inbox, which allows easy responses to all social media comments, messages, mentions, and reviews, across popular platforms like Facebook, Instagram, and Whatsapp. This saves time and boosts the efficiency of interactions"
✓ Product Hunt Verified Review
Conclusion — Scale Up Sales With Juphy
An effective sales strategy is a necessity in the e-commerce industry. By implementing the strategies explained in this article, you can improve customer engagement, drive customer satisfaction and loyalty, improve your conversion rates, and ultimately boost sales.
While the e-commerce industry continues to evolve, it's important to adapt these strategies to suit the changes in the industry. Also, you should look for new industry trends and sales strategies. Work with Juphy to help enhance and streamline your sales strategy. Juphy's sales-focused features will enable you to close more deals, especially for e-commerce brands that leverage social selling platforms. Sign up now for a 7-day trial that will transform your sales processes.
Create Your
Social Inbox Now
Manage all social media customer support inquiries in a unified inbox.