If you own an e-commerce business or manage one as a marketer, hopefully, you're getting thousands of visitors to your website every day. It is inevitable for some of them to leave your page almost instantly and some to have a look around, even add some items to their carts and take off without completing the purchase. And some of them will go step by step into the sales funnel and take the actions you want them to. But how many of them will do that, and will that be enough to satisfy you? In other words, what is a good conversion rate for your specific e-commerce business? Before going deeper into explanations, let's give a small hint: It is probably higher than you think, and there are definitely some tricks that you can make use of in order to improve your conversion rates. But first things first…
Create Your
Social Inbox Now
Manage all social media customer support inquiries in a unified inbox.
What Is a Conversion Rate?
We are probably always on the lookout for ways to boost our brand's or business' performance, right? That's where the conversion rate comes in. Simply put, it's the percentage of users who take the actions you want – like buying your products and becoming paying customers or subscribers. But here's the thing: Conversions can mean different things depending on your Key Performance Indicators (KPIs) and business goals. For instance, getting someone to download your app or sign up for your newsletter also counts as a conversion.
This means a website's overall conversion rate can be different from the e-commerce conversion rate. The overall conversion rate includes orders as well as subscriptions, pre-sale signups, add-to-carts, etc. E-commerce conversion rate, on the other hand, is basically all about purchases.
To calculate your e-commerce conversion rate, divide the orders you take by the number of visits to your website and multiply it by 100. For example, if 5000 prospects visit your store and 50 of them make a purchase, your conversion rate is 1% (which is not a great rate for any kind of business, by the way).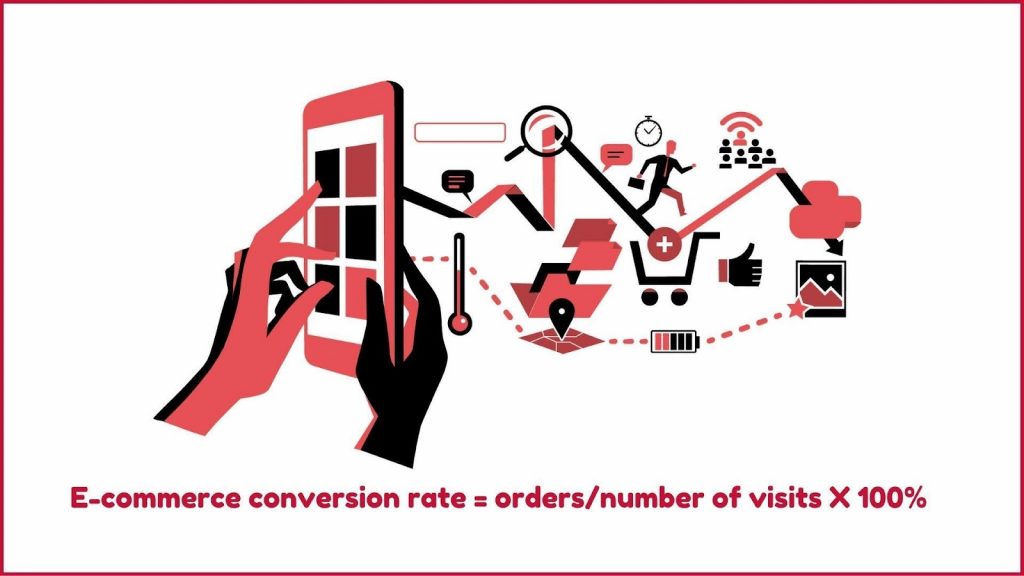 The conversion rate calculation looks like this, but most of the time, you don't need to make it yourself. Your analytics tool will provide the data for you.
Why Is Conversion Rate Important for E-commerce?
Higher conversion rates are not only important but also crucial for e-commerce. It would be safe to say that getting higher conversion rates is the reason why you do business and engage in marketing activities in the first place.
Keeping track of conversion rates helps businesses measure their return on investments (ROI), make the necessary optimizations, improve the shopping experience, and strategize for future success. The conversion rates can also provide insights for your next marketing campaign and help you make a greater impact than your previous endeavors.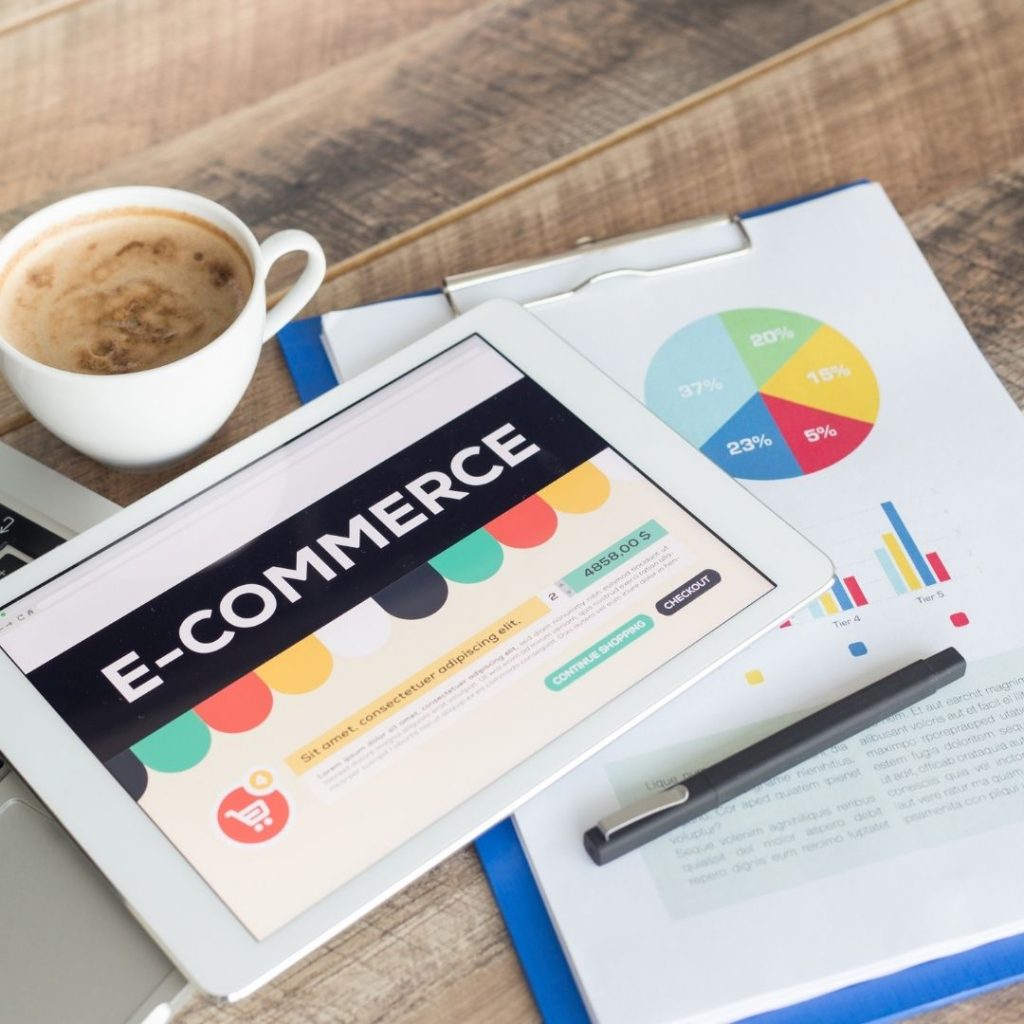 What Are the Factors Affecting E-commerce Conversion Rates?
Several factors affect e-commerce conversion rates, and the quality of the user experience is only one of them. When determining a benchmark, you should also consider your industry, market, and your target audience's preferred device.
For example, if you're trying to sell high-end electronic devices that cost a fortune, your e-commerce conversion rates can probably never be as high as a shop selling 5$ trinkets. Likewise, if your products are sold on a subscription basis and require a long-term commitment, impulse shopping rules will not apply, and the conversion rates will likely be lower.
Another factor that affects e-commerce conversion rates is traffic sources. Suppose you are introducing a large number of prospects to your brand for the first time through ads. In that case, your conversion rates may not be able to compete with a similar brand that has obtained loyal customers and utilizes referrals to drive sales.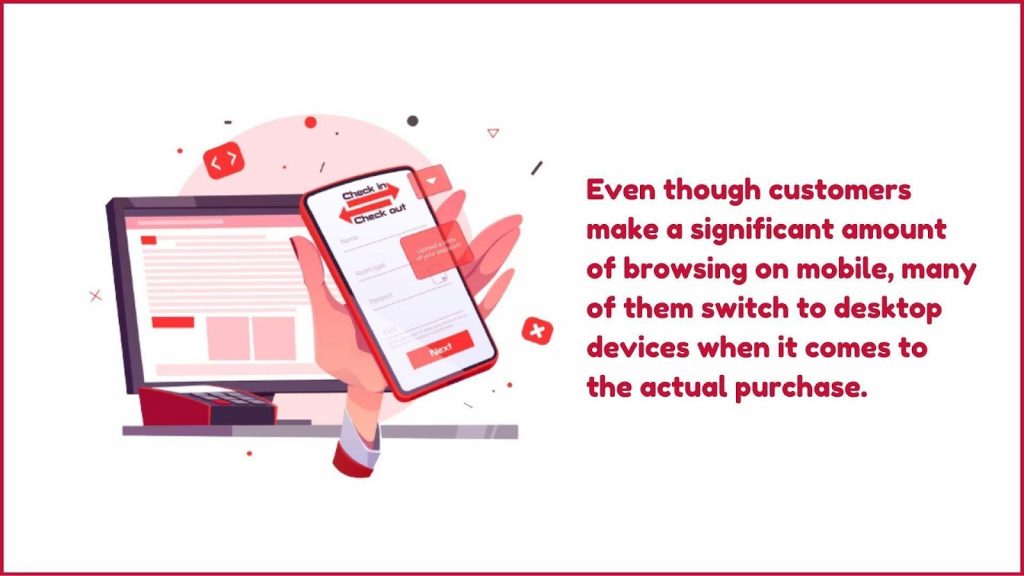 Lastly, the devices that your target audience use affect your conversion rates. Although we rely on our mobile devices, which have become an extension of our bodies now, for so much, it appears that we ultimately make purchases predominantly via desktop. More than 50% of all traffic may come from smartphones, and desktop converts twice as many users, according to Contentsquare's 2022 Digital Experience Benchmark Report.
What Are the Average E-commerce Conversion Rates by Industry?
We all know that pandemic restrictions boosted e-commerce, and many of us permanently switched to online shopping in some areas instead of making physical store visits. Therefore the general knowledge that dictates the average e-commerce conversion rates around 2.5-3% may not be valid today.
According to Dynamic Yield's data aggregated across its customer base, which includes 200M monthly unique users collected over 300M total sessions, EMEA has witnessed the strongest conversion rates overall (4.35%), followed by Americas (3.59%) in January 2023. The global average e-commerce conversion rate is 3.74% throughout all industries. They have also listed the average e-commerce conversion rates by different industries for January 2023: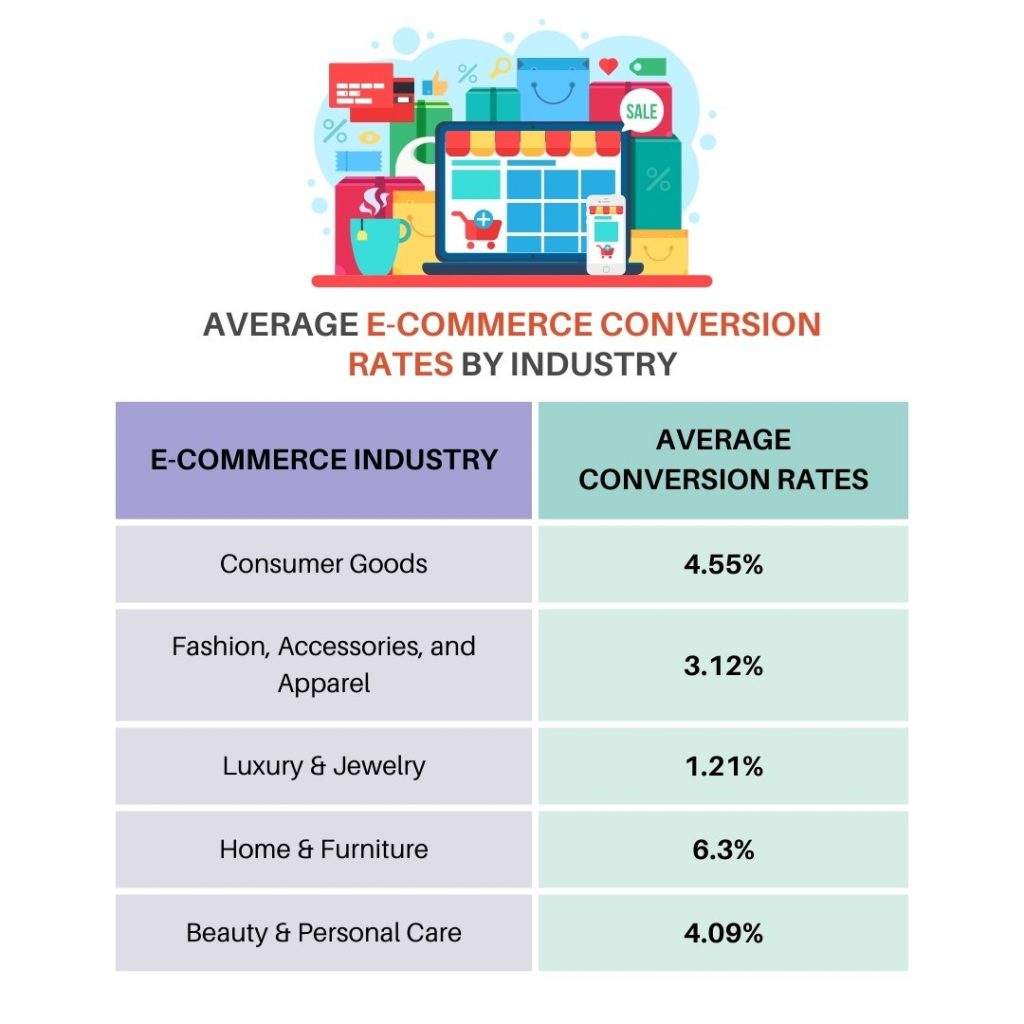 As we mentioned earlier, determining a good conversion rate for your e-commerce business depends on different variables, but the table shown above can help you set a benchmark for your specific industry. After setting a benchmark, you can proceed with several conversion rate optimizations (CRO) to improve your landing page and overall customer experience because there's no reason to be content with the average.
To set a more realistic benchmark, take these key metrics for measuring and tracking your e-commerce conversion rate into consideration:

Total sessions
Sessions with product page view
Sessions with add-to-cart
Sessions with transaction
As for optimization, obviously, the starting point should be your landing page. Cosmetic changes like button colors, images, messaging, and call to actions can improve your website's performance, but to see long-term effects, you should consider working on the user experience as a whole. And, of course, the users will provide you with the most realistic information with their various types of feedback. After A/B testing your initial improvements, you can ask for further opinions with customer surveys or conduct short online tests that can help you better understand your customers' needs and behavior patterns. Also, social proof messages on-site drive conversions effectively, and gentle nudges like personalized product recommendations or reminders about items left in the cart can potentially reinitiate the transaction process.
Conclusion
Good conversion rates are crucial for e-commerce success but can be challenging to improve. Finding functional and creative ways to optimize your website and marketing efforts efficiently can significantly raise your ROI. Thus, boosting your e-commerce conversion rates should be your top priority, and reliable data should be your guide.
FAQ
1. What is a conversion rate?
Conversion rate is the percentage of users who take the actions you want in your business platform.
2. What are the factors affecting e-commerce conversion rates?
Along with quality user experience, industry, market, pricing, traffic sources, and your target audience's preferred device affect e-commerce conversion rates.
3. How do you calculate the conversion rate?
To calculate your e-commerce conversion rate, divide the number of orders by the number of website visits and multiply by 100.
4. What are the key metrics for measuring and tracking e-commerce conversion rates?
To set a benchmark and track your development, you should track the figures in total sessions on your website, sessions with product page view, sessions with add-to-cart, and sessions with the transaction.
Create Your
Social Inbox Now
Manage all social media customer support inquiries in a unified inbox.
Related Article – How to Boost Sales on Social Media