As the fintech industry becomes more saturated, platforms like Wise must leverage sophisticated customer service techniques, especially on platforms like social media, where real-time interactions are pivotal.
Enter Wise. Wise operates primarily in the realm of international money transfers and offers an alternative to age-old banking methods for sending money across borders.

But, like any service, it occasionally prompts questions or issues among its users. Guess where most people look for a solution first? Yeah! Social media!
Wise leverages the peer-to-peer (P2P) model, a transformative approach in the fintech sector, effectively matching individuals and businesses seeking cross-currency transfers.
Money issues are sensitive; timely and clear company responses can ensure customer retention and satisfaction.
In this very – very competitive market, your customer service performance is one of the most important things, and that's why today, we will analyze and review Wise's social media customer service performance!
Create Your
Social Inbox Now
Manage all social media customer support inquiries in a unified inbox.
Wise on Social Media
We should remember Wise is an international service provider, and there are people worldwide getting service from them. This means they appeal to a wide range of demographics, and their content should suit many different users.
Wise has Facebook, Twitter, and Instagram profiles, which they use very actively. Their content meets with their internationality since they don't hang behind the latest popular things in the world.
Wise on Facebook
Wise doesn't shy away from flexing its global muscles on Facebook. Their posts often reflect global trends, ensuring they remain current and relevant.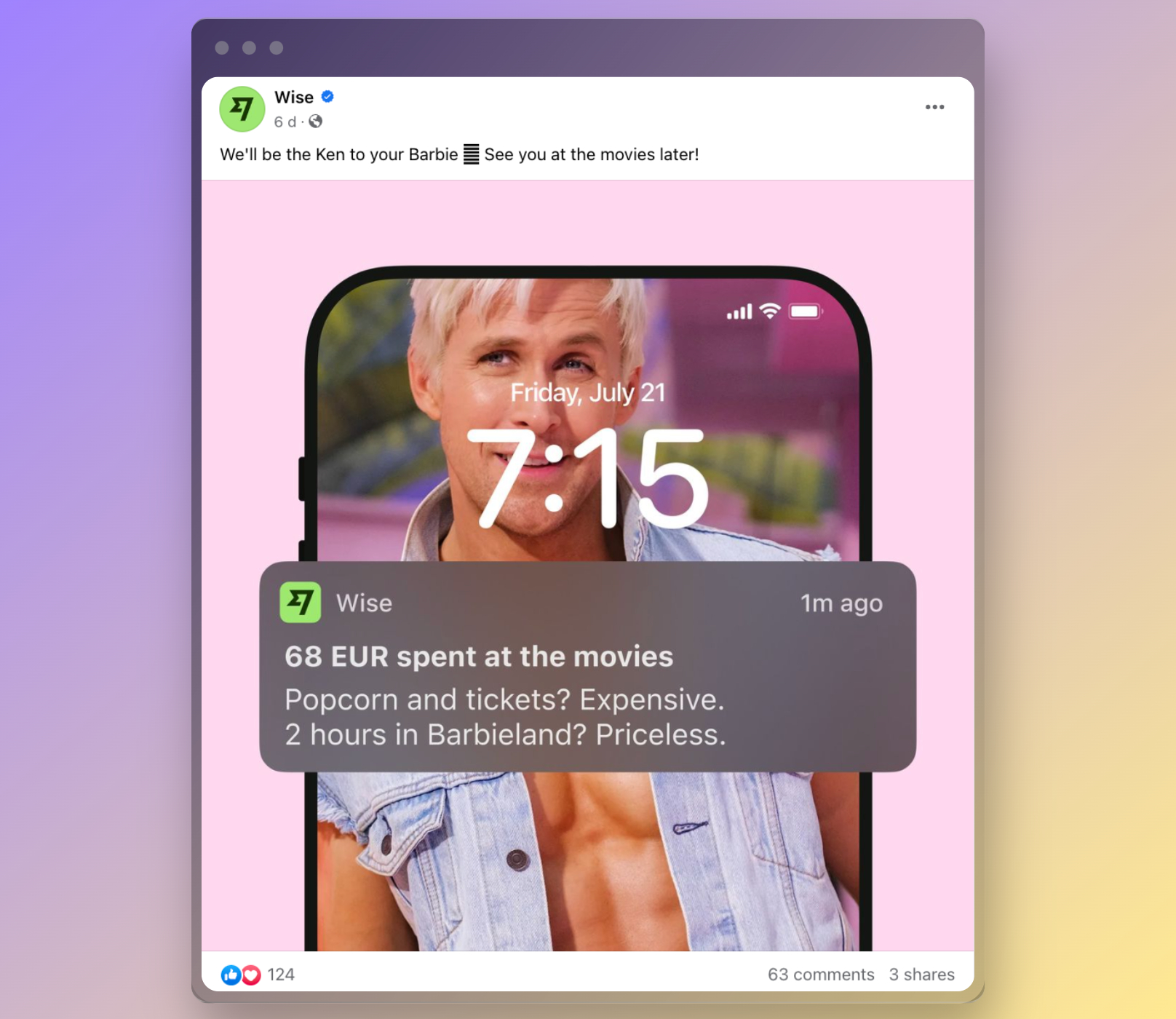 We can say that they use Facebook in two different styles. They use it to inform people about their services and the latest news, but never forget to create engaging posts!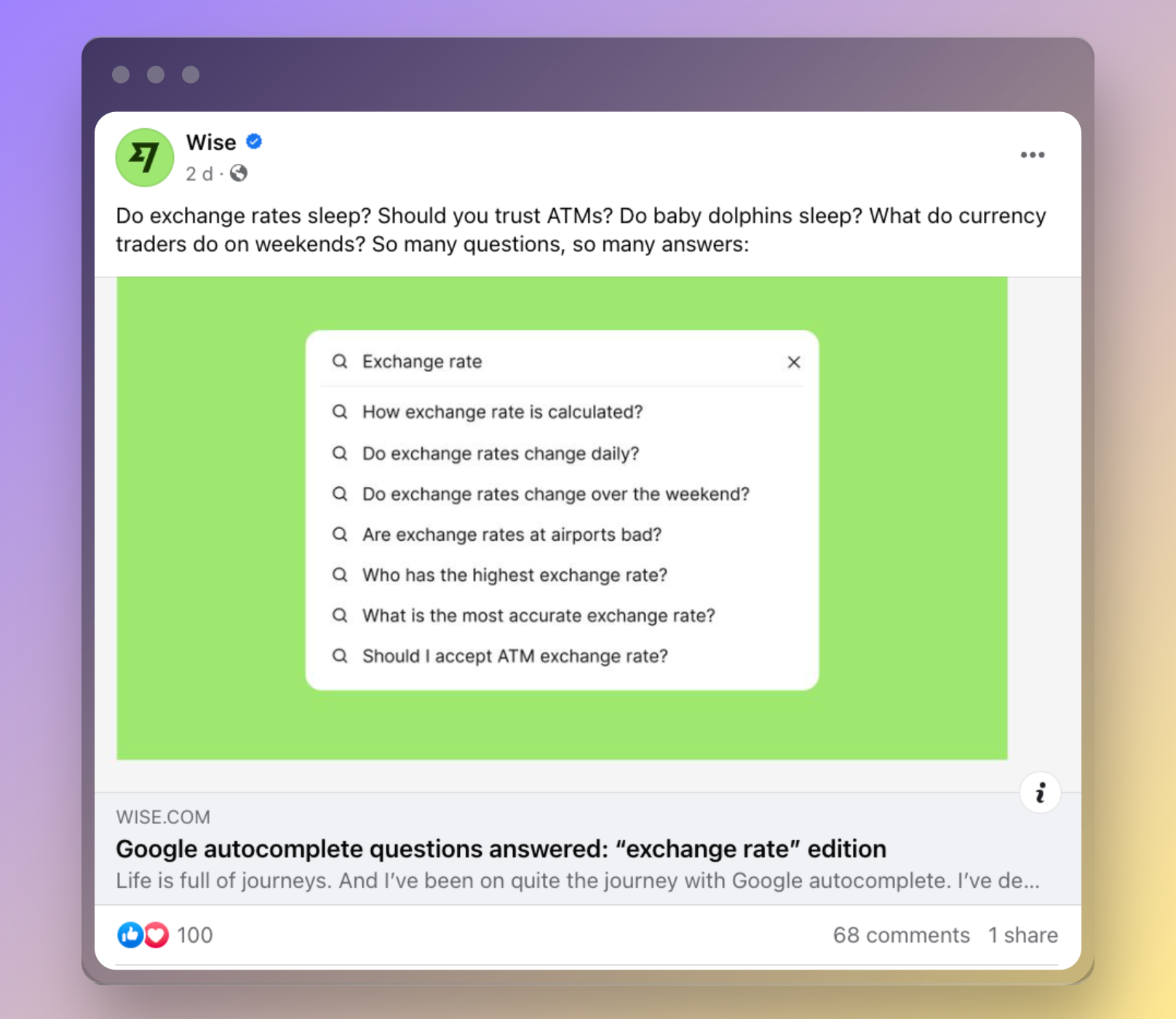 Sometimes, they publish posts that will enhance interaction and answer some frequently thought questions, and this example is one of the recent ones.
Posting content is not the only part that they use social media successfully. We will mention this in detail shortly, but let's admit that their social media usage is satisfying in terms of customer service!
Wise on Twitter
Twitter, recognized in the fintech arena for its instantaneous feedback and real-time interactions, serves as a formidable channel where Wise exhibits its prowess in customer service. Their prompt responses, combined with genuine care, elevate the customer experience.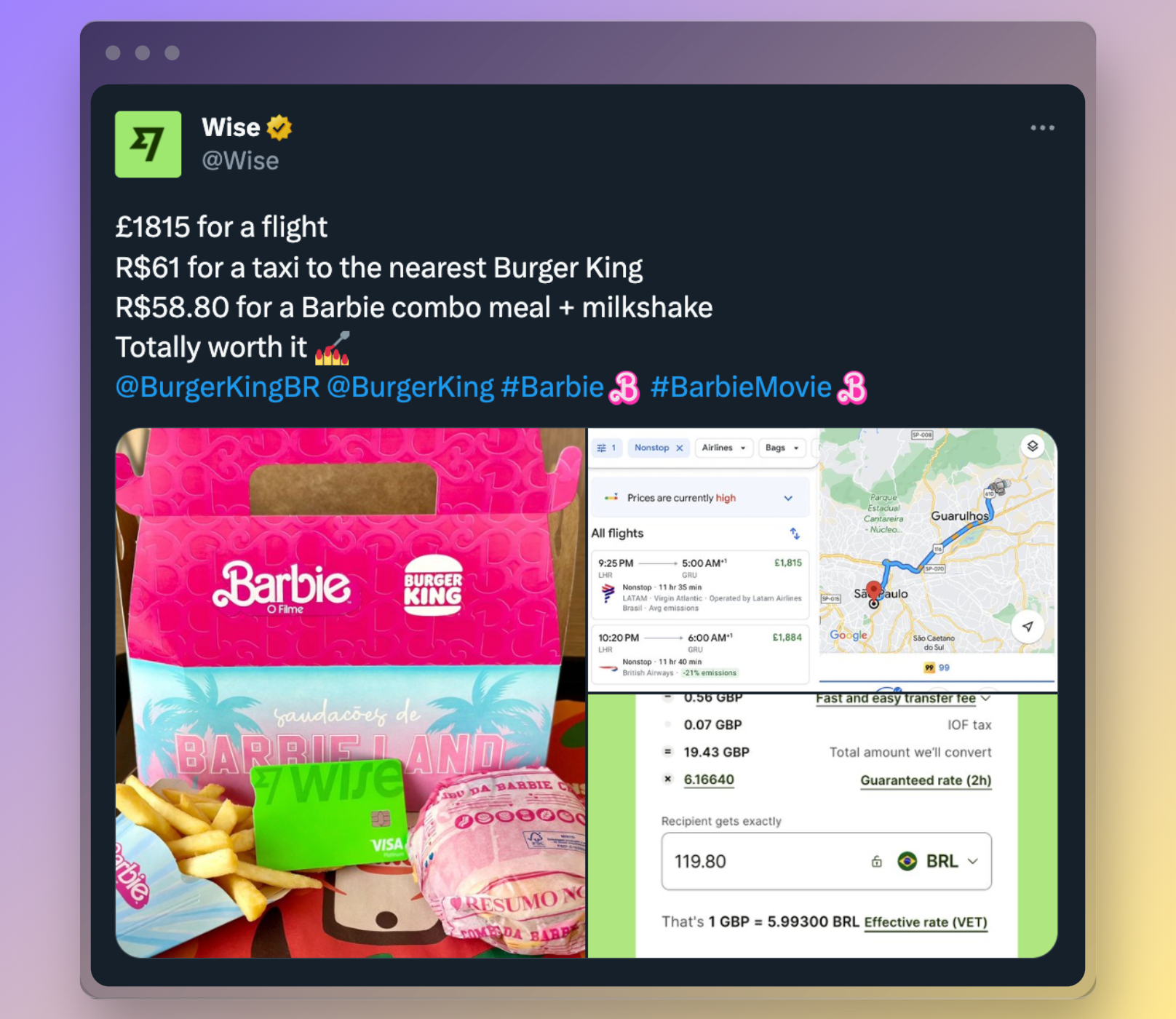 Wise also uses Twitter to connect with customers through engaging posts, making creative content, and informing people, sometimes about their services/news and sometimes about relevant topics.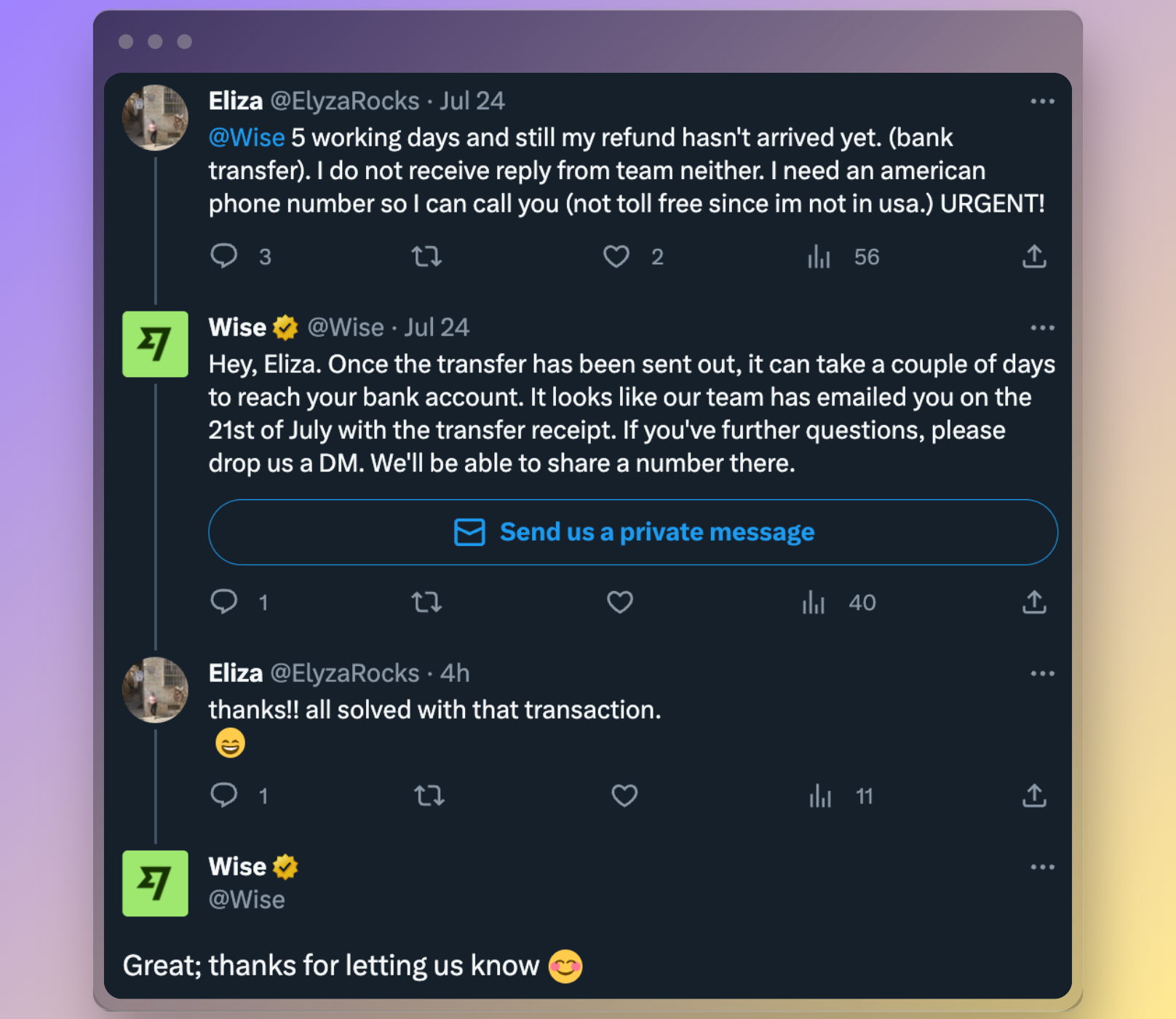 Notice how they reply even after the problem is solved? That's how you make sincere communication and connection with your customers!
Wise on Instagram
While Instagram is predominantly seen as a visual-centric platform, Wise adeptly harnesses its potential, merging information dissemination with user engagement in line with contemporary fintech outreach strategies. They strike a balance between showcasing their services and sharing relevant global, daily topics.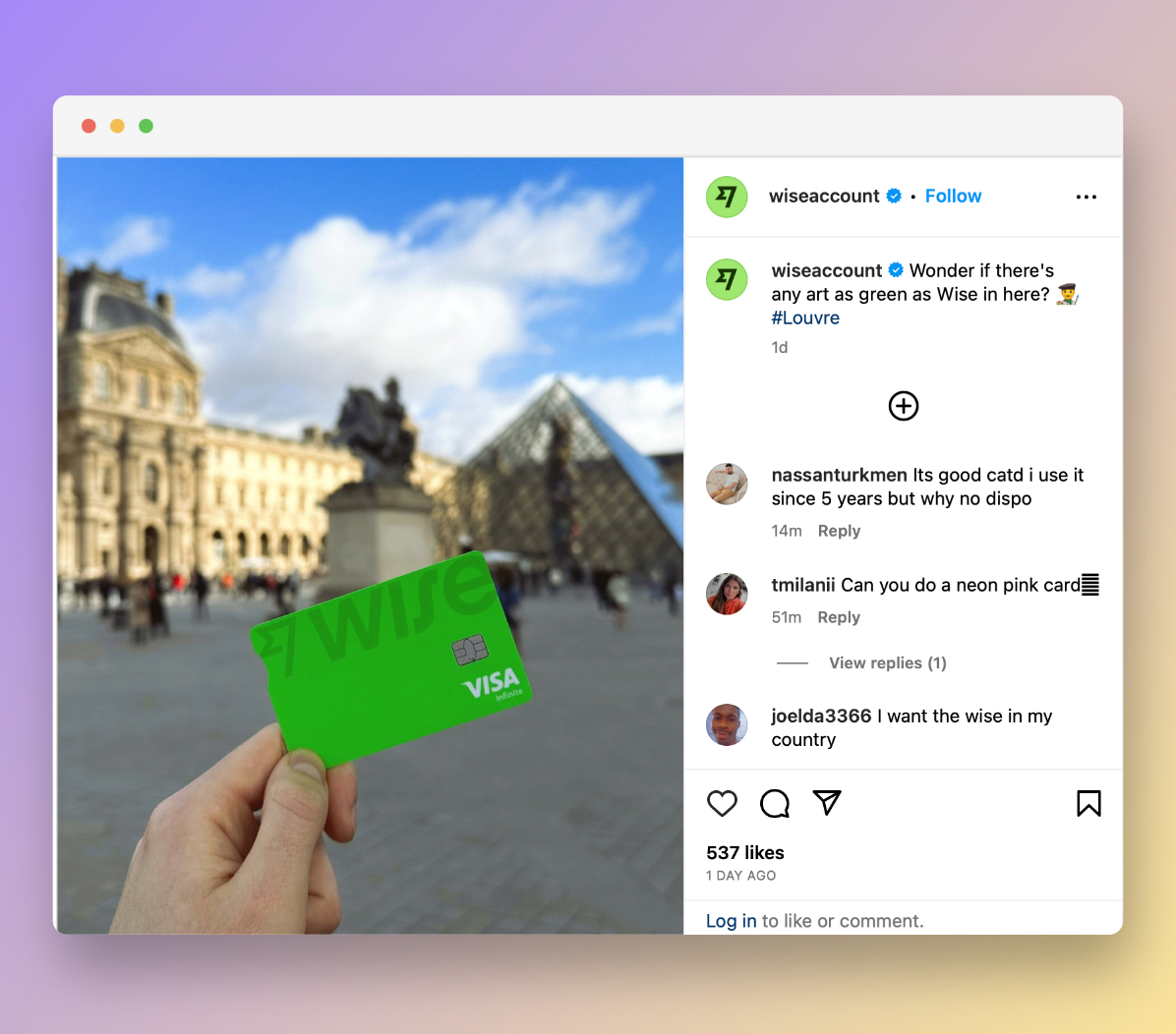 In this example, they've shared a photo from Louvre, but with only a green-in-the-pic Wise card!
Overall, their social media presence is very interactive and engaging. Keeping a positive profile and image on social media is crucial for a fintech company since people might hesitate to trust companies about their money.
Wise's Accessibility on Social Media
When it comes to social media engagement, Wise truly stands out. They have approximately 270K followers on Instagram, 148K followers on Twitter, and 698K likes on Facebook.

But it's not the numbers that impress the most; it's the level of interaction.

We see that most of the comments are replied to by Wise, whether they are negative or just asking for help!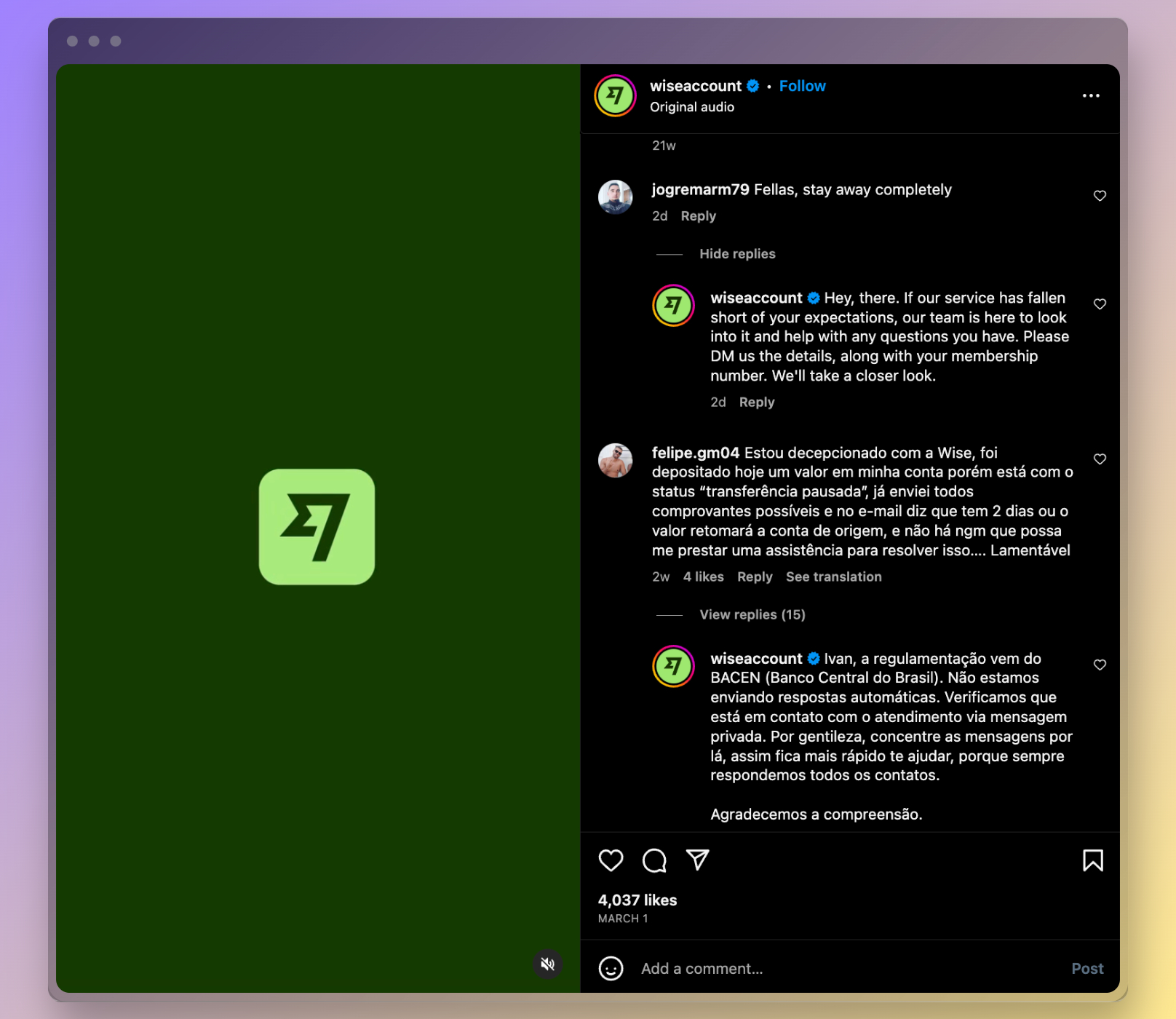 This is the same on Facebook and Twitter, and it seems that Wise has a quick and effective social media team since most replies come within an hour.
In fact, looking through their posts, one would be hard-pressed to find an unanswered customer question.

Whether it's an unhappy comment, a simple question, or just a fan showing appreciation, Wise ensures they acknowledge their audience. This responsiveness is a testament to their commitment to customer service.
It's not just about responding; it's about how you respond. And Wise excels here, too.

Their response isn't just a generic reply. It's tailored, often adopting a friendly, sometimes cheeky tone, making customers feel heard and valued.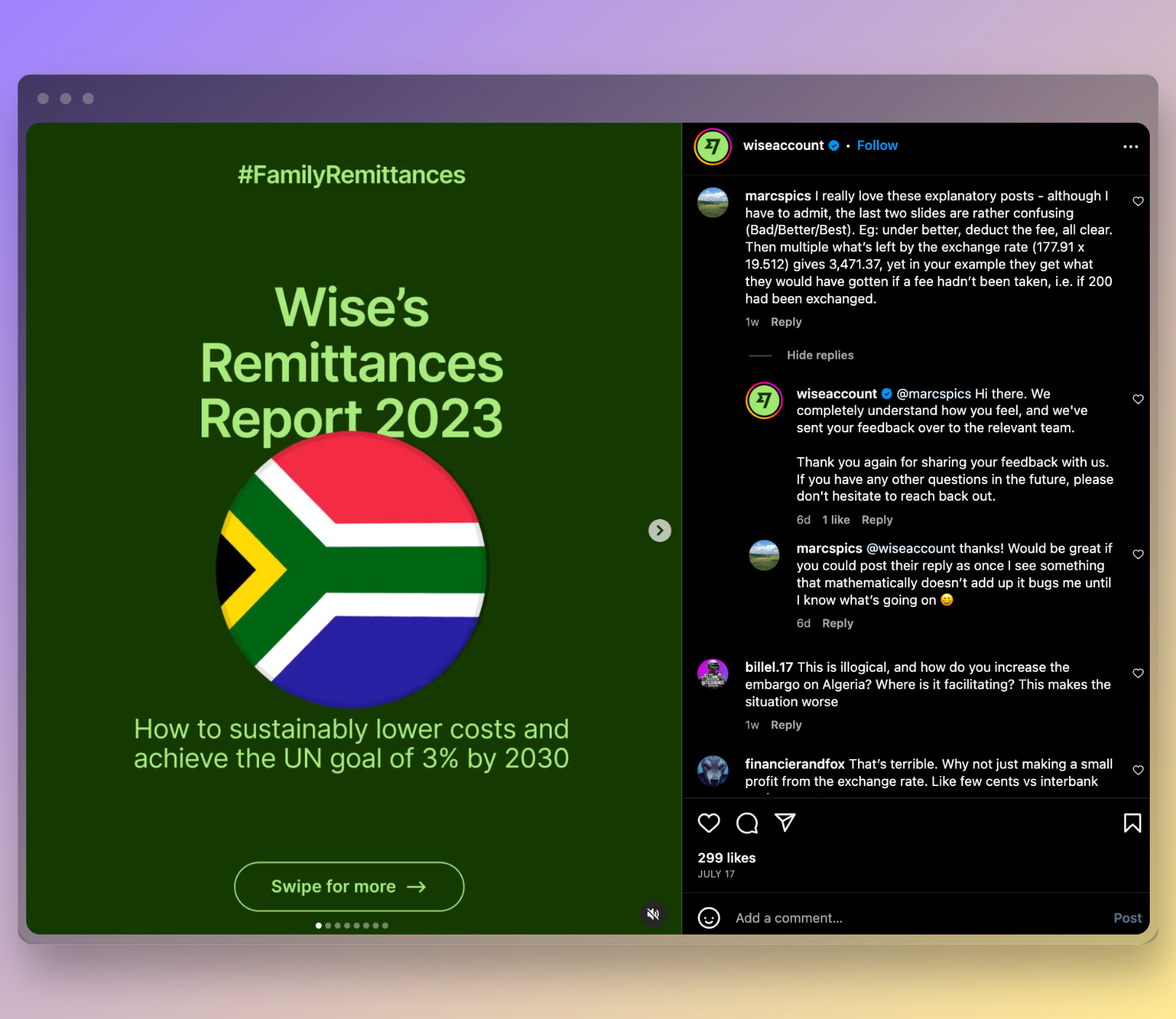 Even when the question is about a post, they don't ignore it and answer in a helping, cute way. It's really hard to see an ignored comment –believe me, we tried!
Overall, Wise is an accessible company, and you can reach them through their social media channels.
While many companies use social media as a one-way communication tool, Wise transforms it into a two-way conversation.
Their accessibility is not just about being available but being present, attentive, and genuinely caring. In the competitive fintech industry, this kind of dedication sets Wise apart, making them both a service provider and a trustworthy partner.
Wise's Response Time on Social Media
In the fast-paced world of fintech, where real-time transactional accuracy is key, obtaining a swift response from a service provider becomes paramount.
Wise seems to be aware of this since they mostly reply within an hour. In a broader sense, their average response time is six hours or less, which is impressive, given how many interactions they probably have.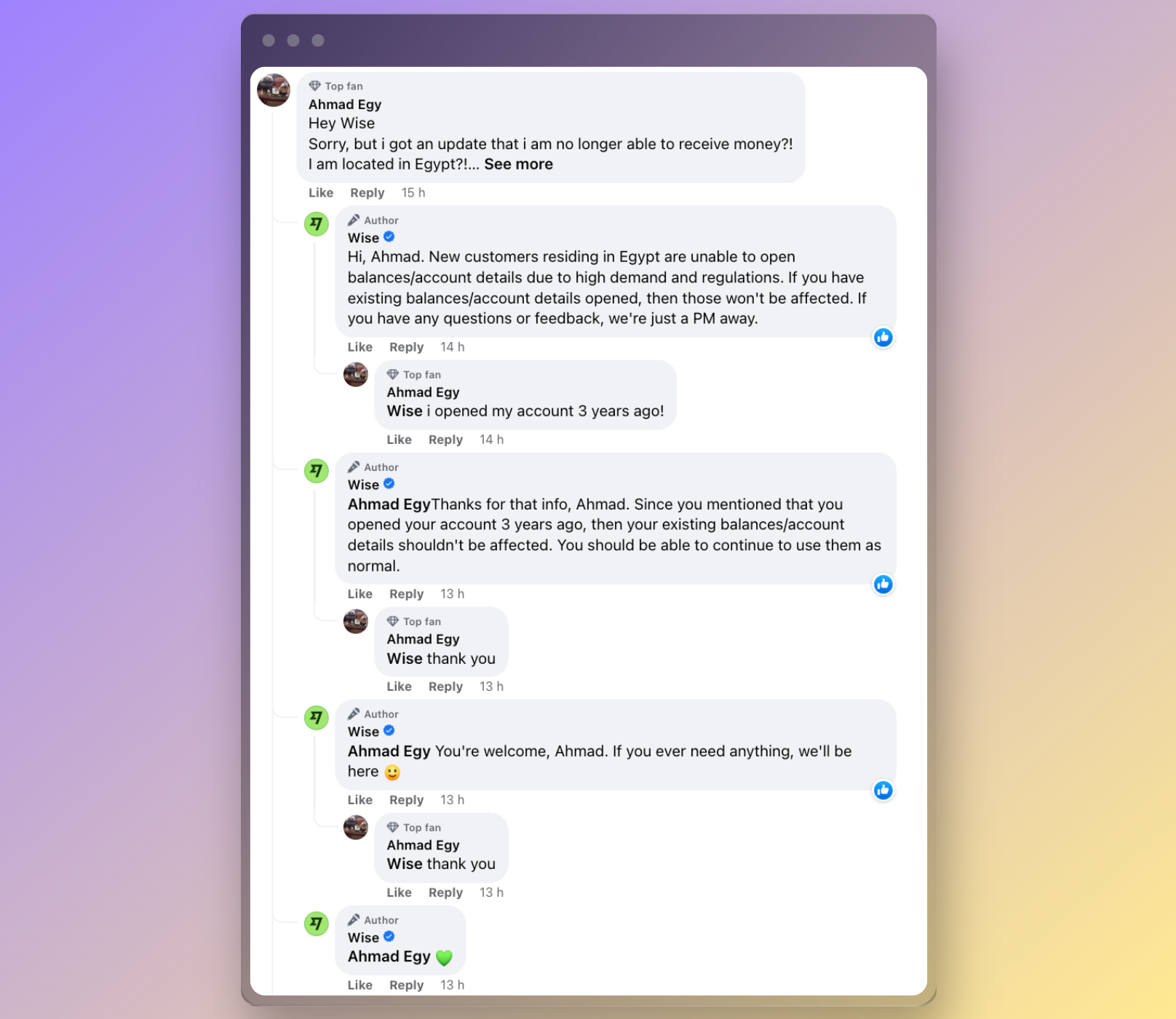 Though this comment was made under an engaging question post, Wise replied quickly, and it seems that Ahmad's problem was solved.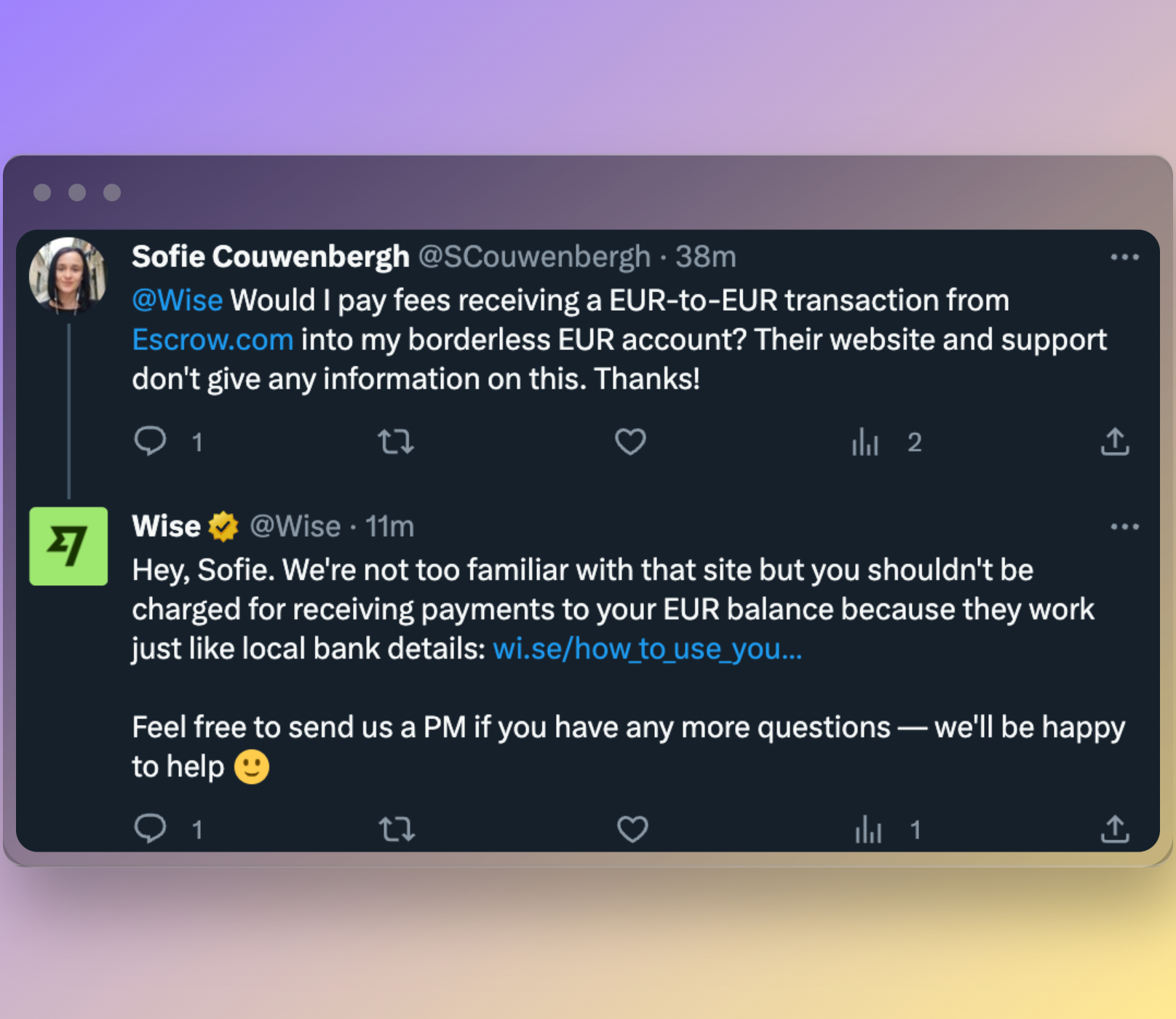 Similarly, this tweet shows how Wise replies within minutes, and the response is not canned.
They help without writing any unnecessary messages; this way, other people can also see the solution/advice they are giving.
The quicker a business responds, the more it will stir the feeling of trust.
Having good responsiveness on social media can work wonders for a business! When a company promptly engages with customers' comments, questions, and concerns, it shows they care about their audience.
This builds trust and loyalty, leading to happy customers who are more likely to spread positive word-of-mouth.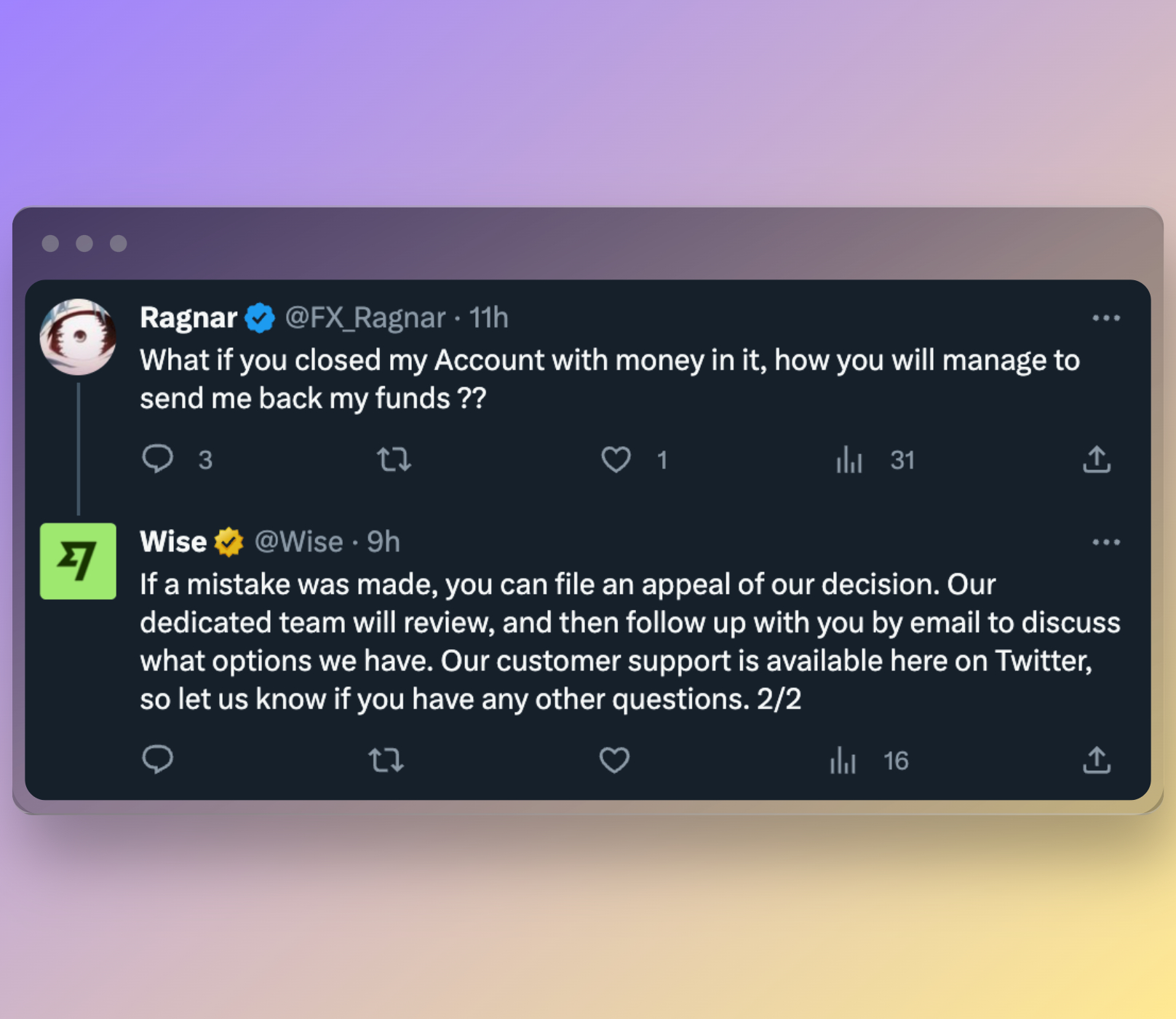 Quick responses mean professionalism and dedication; when you maintain this, attracting new customers and retaining existing ones becomes highly possible. In short, being responsive on social media boosts a business' reputation, increases customer satisfaction, and drives growth and success for the business.
So, staying active and responsive as Wise does on their social media platforms is essential!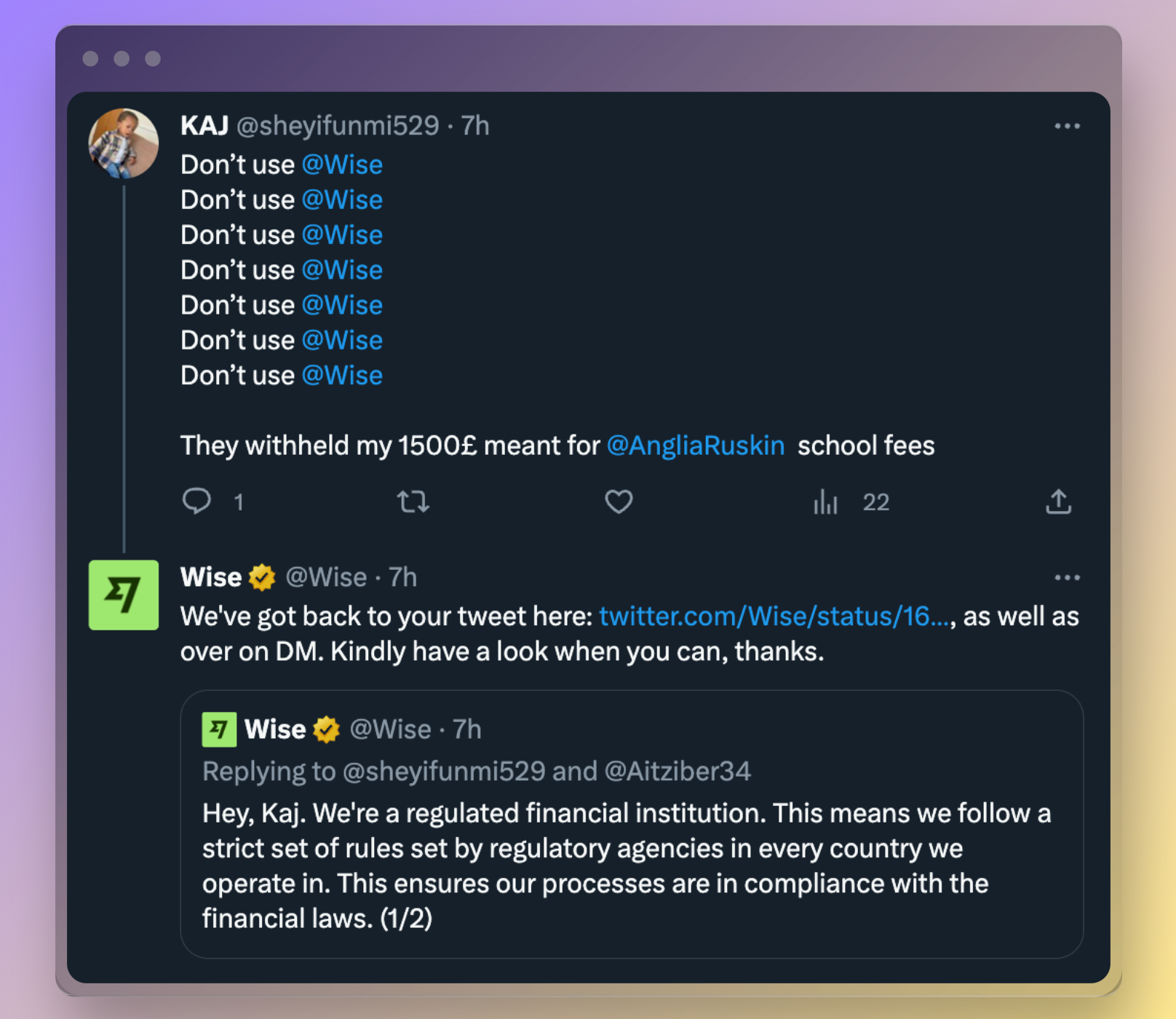 Overall, we can say that they are most responsive on Twitter.
Not having canned responses is good, but putting your former reply forward is perfect!
Wise remains professional and responsive even when faced with negative or offensive comments. They rather reply with their former replies to the message.
This man in the example replied with the tweet above and similar ones more than 50 times, and Wise patiently answered many of the mentions like this. 
This proves how much they care about their image on social media and that they don't miss anything. So, their replies are not only fast but also relevant.
Wise's Style and Tone
The nuances of communication, especially in customer service, are evolving.
Gone are the days of robotic, monotonous replies. Today's consumers seek relatability, empathy, and authenticity.

Wise, staying true to its name, does not fall behind the current communication style of people on social media.
Wise's style and tone in most replies are very familiar and friendly. They are mostly assuring and caring when replying to people having problems.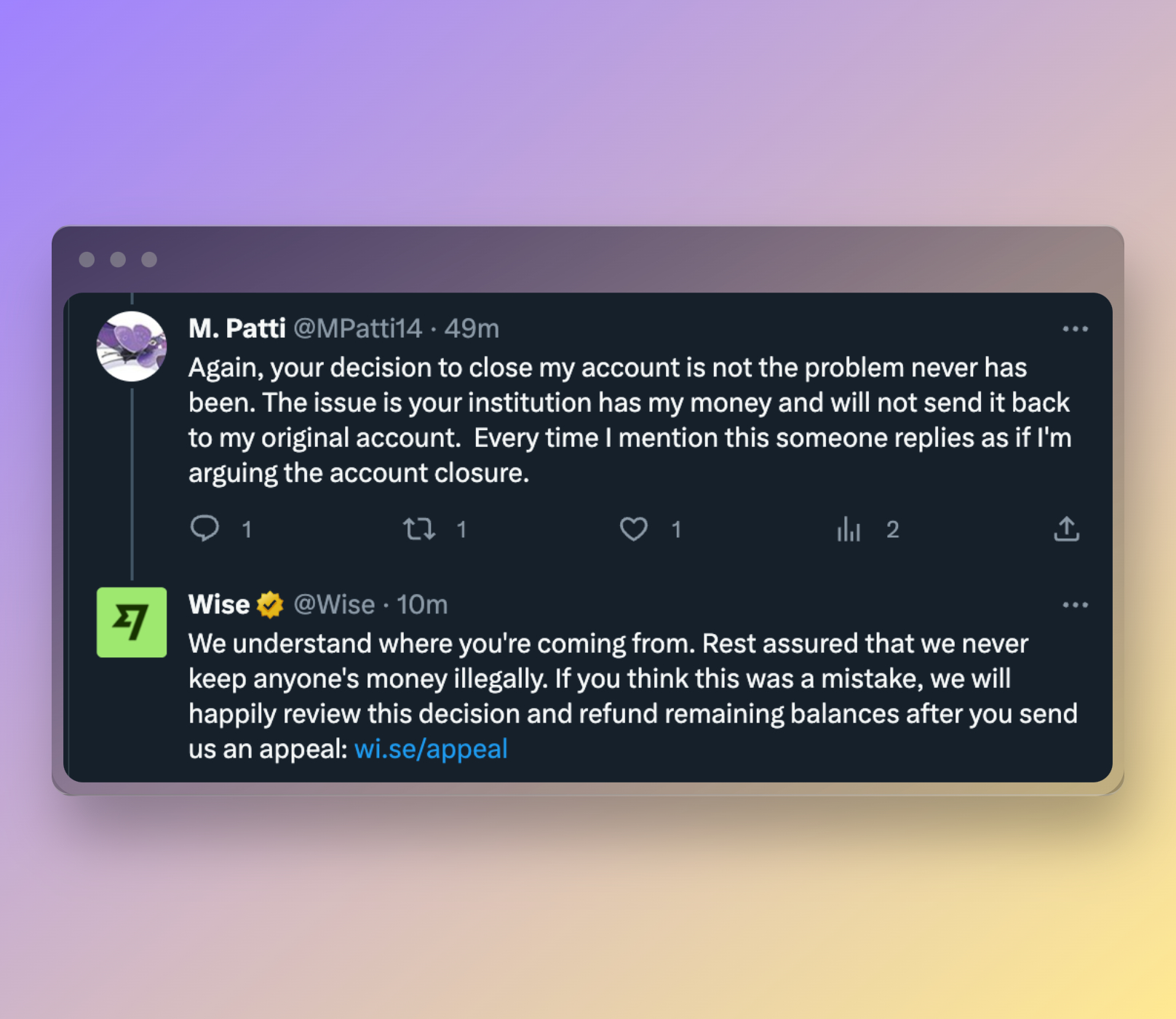 When issues arise and customers reach out, Wise's responses aren't just about addressing the problem.
They're about understanding the emotional undertone of the customer's message. Their replies are assuring and caring, often making users feel like they're conversing with a trusted friend rather than a faceless company.
This quality is invaluable, especially in financial services, where trust and reassurance are essential.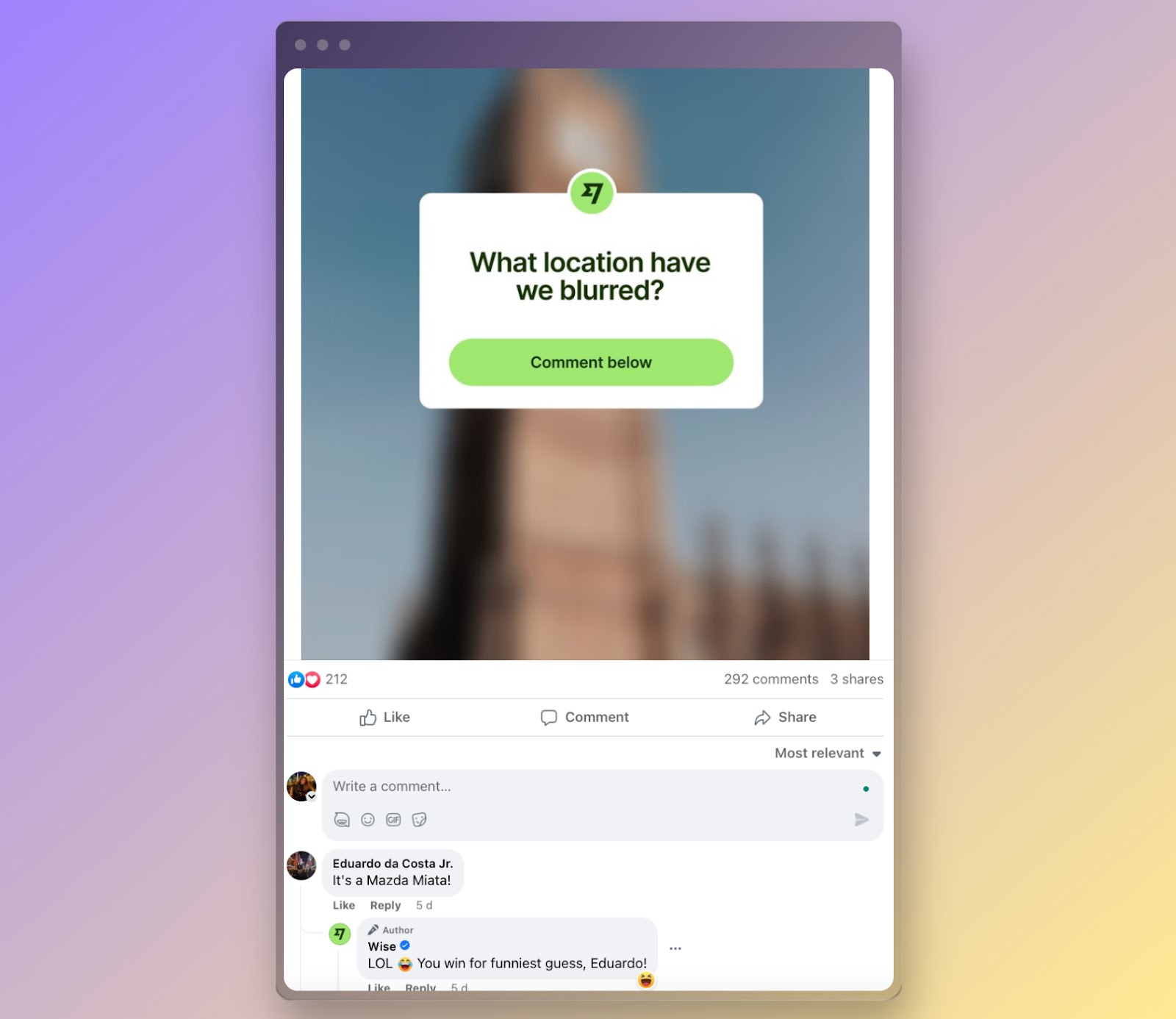 Wise doesn't answer only to problems. They interact with their customers when they can, even if it's about anything but their service.

They often interact with customers spontaneously – sharing their joys. They use a casual, conversational tone when doing so.
Wise makes sure to speak the language of their audience, whether that means using popular slang, relevant emojis, or just writing messages in a casual way.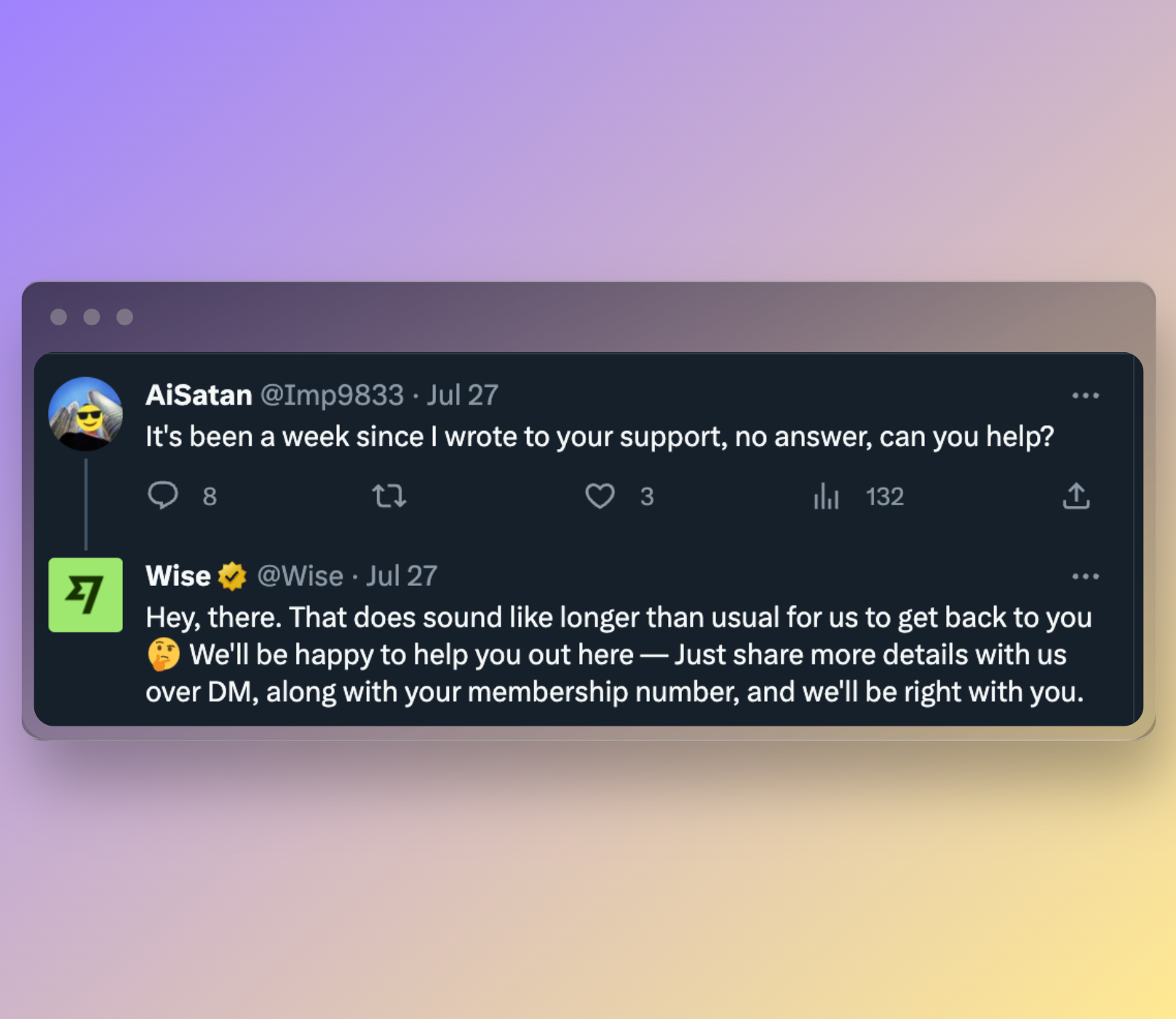 In a world full of automated responses, seeing such replies becomes more important from a customer's point of view.
Wise's style and tone on social media symbolize a brand that understands the importance of human connection in the digital age. 
They seamlessly blend modern communication trends with genuine empathy, creating an environment where customers feel heard, valued, and appreciated.
Final Verdict: Wise's Social Media Customer Service Performance
Before we delve into the verdict, it's crucial to understand the broader landscape. The fintech industry is rapidly evolving, and social media customer service has become a cornerstone of user satisfaction. An effective social media strategy, like the one Wise employs, not only resolves issues but also builds long-term trust and customer loyalty.
Based on our comprehensive review of Wise's social media customer service performance across different social media platforms, here's the final breakdown of our ratings:
***These ratings are based on our research and reflect only our own opinions.
Accessibility – 9/10
Wise's accessibility score is admirable! With their impressive presence across major social media channels and a keen focus on interacting with their audience, they excel in being available and accessible.
Response Time – 10/10
Swift and efficient responses are the hallmark of Wise's social media customer service. With an average response time of 6 hours or less, Wise proves its commitment to addressing customer concerns promptly. Such speedy responses, especially in the financial sector, are invaluable.

Personalization – 9/10
One of the standout qualities of Wise's customer service on social media is its approach to personalization. It's evident that their responses are not mere boilerplate replies. Instead, each message is carefully crafted to suit the context of the query, demonstrating a keen understanding of each customer's individual needs. Wise seems to grasp a fundamental truth: Customer interactions are often fleeting and impersonal, and a tailored response can make all the difference.
Tone of Voice – 10/10
Their approach is friendly and empathetic, often resembling chatting with a close friend. Their dedication to understanding and addressing the emotional undertones of customers' concerns is outstanding.
Engagement – 9/10
Engagement isn't just about replying; it's about creating meaningful interactions. Wise doesn't limit their engagement to problem-solving. Their spontaneous interactions, celebratory posts, and usage of a casual, relatable tone enrich their customer relationships.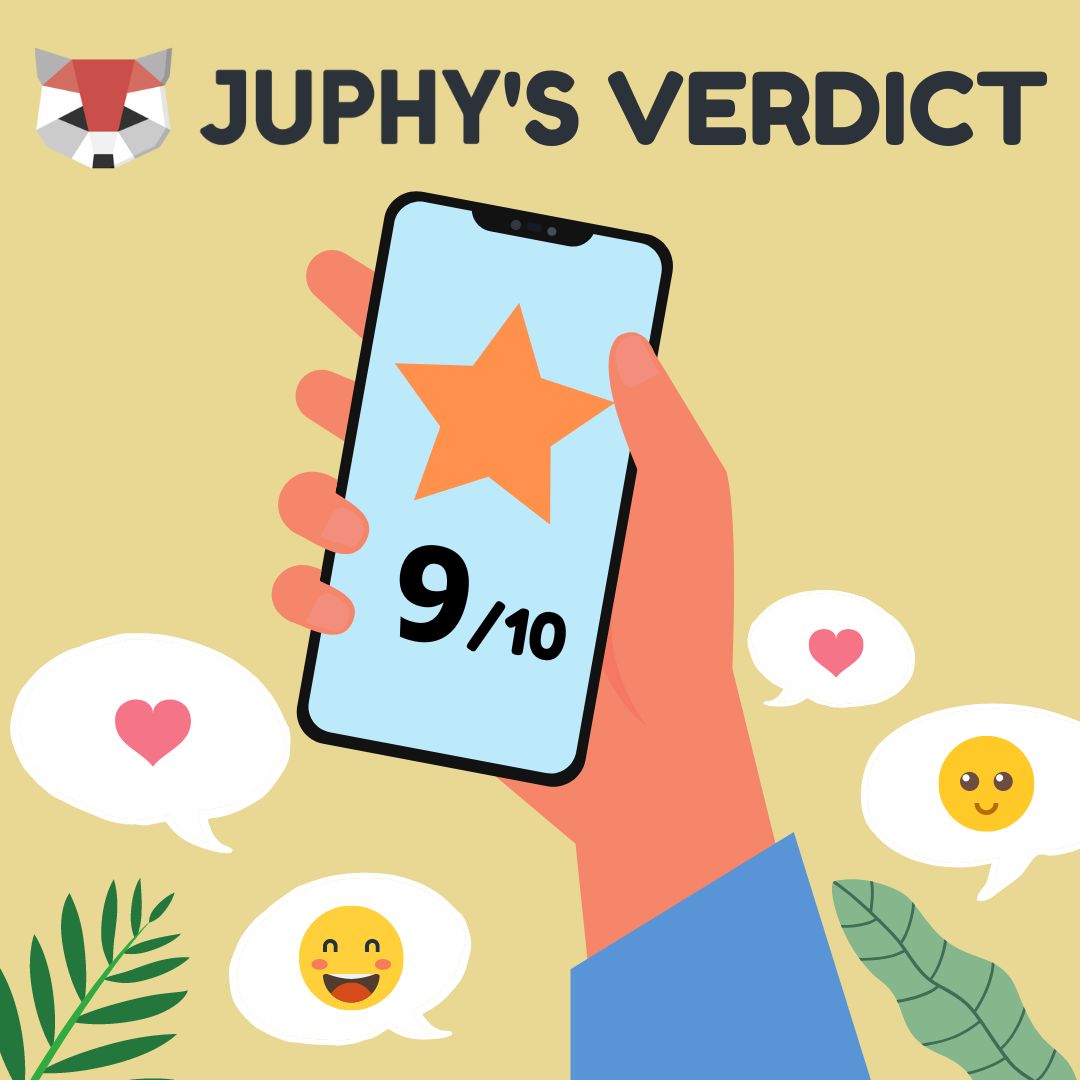 Effective social media customer service is not just a preference; it's a necessity. Customers expect swift and effective resolutions, especially in the fintech industry, where transactions are instant and stakes are high. Wise's performance in this area is a testament to the importance of timely, efficient, and empathetic customer service. It's crucial to understand that in fintech, trust is built not just by a secure system but by genuine human interactions, and Wise appears to be leading by example.
Final Thoughts
While there's always room for improvement, Wise's commitment to its customers is noticeable. Not only do they offer financial services, but they also stand out as a trusted partner in the digital age. Because of this, it would be wrong to give them a score of less than 9.
Create Your
Social Inbox Now
Manage all social media customer support inquiries in a unified inbox.