Lead generation is key to attracting potential customers to your business. But to unleash its potential, take advantage of today's new and innovative technologies. That's where automation comes into play.
But what exactly is automation? More importantly, how can automation boost your lead generation campaign?
Fret not—This page shares what you need to know about using marketing automation for lead generation. Keep reading to learn some effective strategies for using this technology for your campaign.
Create Your
Social Inbox Now
Manage all social media customer support inquiries in a unified inbox.
The Power of Marketing Automation for Lead Generation
Let's start with understanding what lead generation is—the practice of attracting prospects for your business. To expound, this marketing strategy involves:
Attracting;
Identifying; and,
Engaging with typical consumers who can be your potential customers.
Leads are these prospects who have shown interest in your brand as well as your products or services. In this campaign, your goal is to convert these prospective consumers into actual customers.
From traditional methods like cold calling to modern digital strategies, lead generation has seen a remarkable evolution. Now, let's dive into some of the most popular modern strategies utilized today:
Search Engine Optimization (SEO): SEO involves optimizing websites, producing content, and promoting on other digital platforms to boost online visibility and website traffic.
Pay-per-click (PPC) Advertising: PPC entails running online ads on search engines, social media, and other platforms, where you pay for every successful click.
Email Marketing: This strategy requires ending targeted emails to prospects who have shown interest in your company or regular customers who have been doing business with you.
Content Marketing: This strategy involves producing and publishing valuable and relevant content to entice and engage with potential customers. A few examples are blog posts, product photos, and promotional videos. While content marketing focuses on delivering valuable information, transitioning to platforms where audiences spend their leisure time, like social media, can boost engagement. The synergy between content and social media channels is undeniable.
Social Media Management: This strategy involves using social media channels, such as Facebook, Instagram, and TikTok, to reach a wider audience, engage with prospects, and drive traffic to lead capture pages.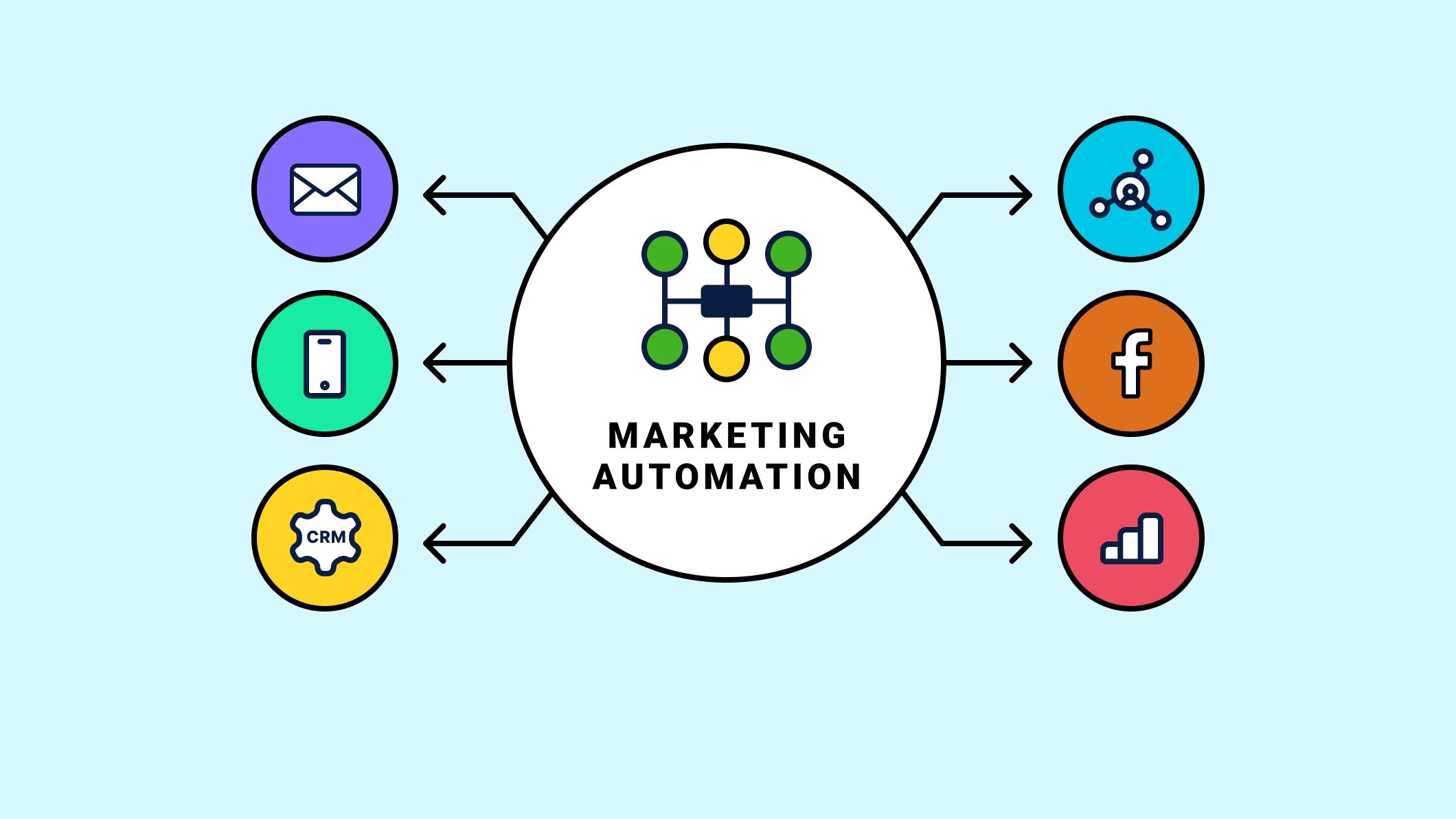 According to Zippia, about half of marketers view lead generation as a top priority. In fact, 53% of them allocate half of their budget to this particular campaign. Unfortunately, over 37% find acquiring high-quality leads the biggest challenge, and 80% never even convert leads to sales.
So, with the importance of lead generation firmly established, one might ask, 'How can we further enhance its effectiveness?' This is where the magic of marketing automation enters the scene.
Enter marketing automation.
Automation is a type of technology capable of performing tasks, often with minimal human intervention. What's great about it is that this technology:
Automates processes,
Eliminates manual work,
Improves task efficiency,
And reduces margins of error.
Businesses can take advantage of automation for various marketing campaigns, on top of which is lead generation. More and more companies have begun utilizing this technology to improve their lead-generation processes and improve their overall businesses.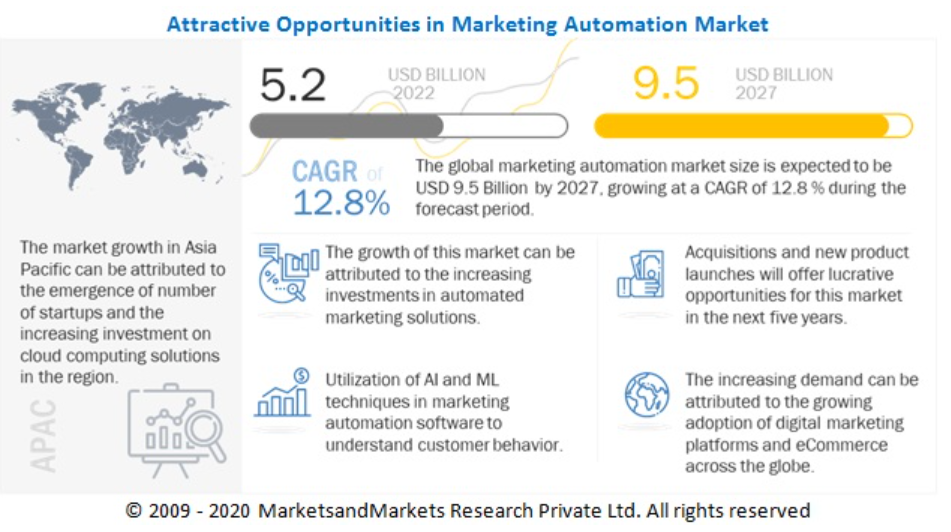 The numbers don't lie: The global marketing automation market could grow from $5.2 billion in 2022 to $9.5 billion by 2027. It's projected to achieve a compound annual growth rate (CAGR) of 12.8%. Indeed, the use of automation shows no signs of stopping or even slowing down.
The dynamic interplay between data analytics, machine learning, and marketing automation has revolutionized how we perceive and approach lead generation in the digital age.
With a clearer understanding of lead generation and the power of automation, it's crucial to combine these two for optimal results. Below, we delve deeper into practical strategies that effectively blend both domains.
8 Marketing Automation Strategies To Elevate Your Lead Generation Campaign
At this point, you now know what lead generation and marketing automation are. But how do you successfully integrate both aspects for an effective marketing campaign?
Don't worry; here's how to elevate your lead generation campaign using automation.
1. Use Automation for Lead Segmentation
To begin, lead segmentation entails organizing potential customers into categories. You can sort these leads based on their demographics, customer behaviors, and personal preferences. Unfortunately, segmenting leads can be manually tedious and cumbersome, so marketing automation can help.
Ben Knegendorf, Co-Founder of Dropship Breakthru, leverages automation to help e-commerce businesses. "Marketing automation lets you sort your prospects according to demographics, behaviors, interests, and engagement. Then, you can send them personalized content to generate more and more leads."
With the advent of predictive analytics and behavioral tracking, automation platforms can not only segment but also predict future customer behaviors with remarkable accuracy.
2. Personalize Your Email Marketing
It's no secret how emails have long been used for business and marketing. In fact, the vast majority of marketers leverage them as part of their marketing strategies. HubSpot Blog Research even cites email automation as one of the most effective email marketing strategies (71% of the respondents believed so).
What's good about marketing automation is that it allows you to customize email messages. With automated software, you can target personalized messages to both prospects and customers. Remember, consumers are more likely to respond to personalized emails than generic ones.
3. Capitalize on Social Media Automation
There's no denying the power of social media since these channels are where people live and breathe. Through these channels, you can send target consumers direct messages and engage with them in various ways. But to optimize these activities, social media automation is the key.
Tom Golubovich, Head of Marketing & Media Relations at Ninja Transfers, harnesses the power of marketing automation. "Automated tools allow you to schedule and publish social media posts regularly. They help establish your social media prominence and boost customer engagement for a successful lead generation campaign."
AI-driven chatbots integrated with marketing automation tools are proving to be game-changers, offering real-time engagement and lead capture capabilities 24/7.
4. Optimize the Landing Pages Using Automation
Landing pages are standalone web pages for your business. Targeted users usually get directed to these web pages, where you hope these visitors fill out your forms. Landing pages are indeed best for your SEO and PPC strategies in conjunction with your lead generation campaign.
Here's an example of a landing page from the popular online platform, Zoom:
That said, you can use marketing automation to audit your landing pages. For one, this technology lets you conduct A/B testing for various page elements. Advanced marketing automation platforms now offer multi-variate testing capabilities, allowing marketers to test multiple landing page elements simultaneously and derive comprehensive insights into user behavior and preferences. It also helps you monitor the activities on your landing pages, like tracking site visitors. From there, you can further improve your customer engagement until you turn these leads into successful sales.
5. Drive Lead Magnets using Automation
Lead magnets are exactly what they sound like—valuable resources for attracting potential customers. Templates, infographics, e-books, and whitepapers are a few examples of these resources. Here's the trick of the trade: offer these resources to prospects in exchange for their contact information.
Jonathan Elster, CEO at EcomHalo, taps into marketing automation for lead magnets. "This tool helps deliver content pieces to prospects automatically. It improves the process of capturing leads while ensuring prospects receive their requested content—a win-win for both parties!"
6. Leverage Automated Lead Nurturing
Lead nurturing involves building relationships with potential customers in the long run. This marketing strategy usually starts by examining your buyer's journey and employing proper segmentation. Then, it involves sending appropriate content and engaging with prospects regularly. That's exactly how the lead nurturing process works.
Marketing automation can significantly help in the entire process. It helps create automated workflows to keep customers interested until they finally buy your products or hire your services. Therefore, employ content marketing using automation as part of your lead nurturing campaign.
7. Set Up Lead Qualification Workflows
Lead qualification workflows include various steps. They allow you to assess the readiness of your leads to move in the sales funnel, helping you filter those prospects. Given this, use automation to streamline your workflows and track your customer lifecycle.
Fernando Lopez, Marketing Director at Circuit, leverages automation for their lead generation campaign. "What's good is that these automated tools can work wonders on your business and do the job for you. They help in various workflows, from lead capturing to lead segmentation to customer engagement."
8. Utilize Lead Analytics and Reporting
Lead generation, as with any marketing campaign, requires regular analysis and reporting. As a marketer, monitor your campaign by analyzing your performance and generating reports. From there, you can make sound business decisions.
Volodymyr Shchegel, VP of Engineering at Clario, recommends marketing automation for lead generation. "It's safe to say that automated tools are efficient, effective, and secure, as they can help with data capturing, reporting, and analysis. Through these, you can measure your lead generation campaign and make the necessary improvements."
As automation technologies evolve, so do the strategies and tactics; staying updated with the latest in automation tech ensures your lead generation processes remain state-of-the-art and effective.
Before wrapping up, it's essential to understand that integrating automation with lead generation isn't just about ease and efficiency. It's about creating a cohesive marketing journey that aligns with modern consumers' expectations
Final Words
Lead generation plays a crucial part in any marketing campaign to earn more and more prospects for business. However, capitalizing on today's new and innovative technologies is best. The use of automation can help automate tasks, improve efficiency, ensure data accuracy, streamline processes, and more.
That said, consider the effective strategies above for using marketing automation for your campaign. Successful lead generation is not just about capturing potential customers. In the end, it's about building relationships throughout the journey until prospects become your much-valued customers.
Embrace marketing automation and see your business flourish! Juphy provides a data-driven sales support platform for social channels. If you plan to boost your lead generation campaign, contact us today!
Create Your
Social Inbox Now
Manage all social media customer support inquiries in a unified inbox.