We've entered an intriguing era where social media is a massive tool available at everyone's disposal and standing up against traditional media. The global acceptance of social media platforms has primarily influenced the online reach of companies.
Statistics show that around 42% of the world's population uses social media. And according to Datareportal's July 2022 global overview, 59% of the world's population uses social media and spends an average of two and a half hours daily.
These staggering numbers indicate that having an appealing social media presence is the prerequisite for success.
But leveraging this is a challenging task for marketers. Social media automation plays an integral role in building social media marketing strategies and performing different activities while running multiple marketing campaigns.
In this article, we'll take an in-depth look at the benefits and importance of social media automation and the best tools on the market.
Ready? So without any further ado, let's jump into it!
Create Your
Social Inbox Now
Manage all social media customer support inquiries in a unified inbox.
What Is Social Media Automation?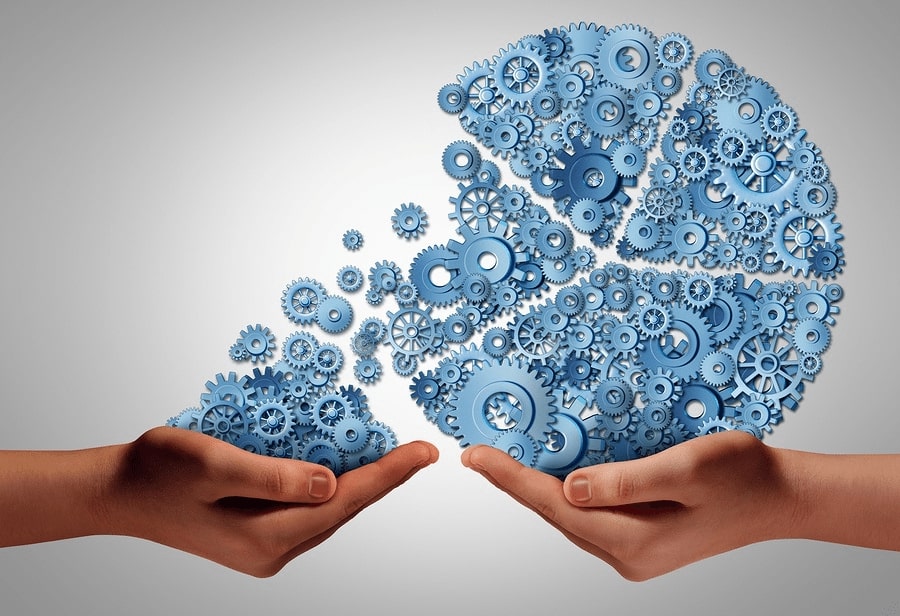 Social media automation helps businesses plan and schedule social media content to publish it at the correct times.
It also automates tasks like publishing and re-publishing popular content, scheduling future posts, curating trending content, and tracking engagement.
A brand must be consistent, always available, and relevant on social media. It is also essential to track recent trends, measure performance, and constantly engage with prospects on social channels.
Social media automation saves marketers time and effort in managing social platforms, engaging with prospects, and enhancing brand awareness.
Research shows companies can save more than 6 hours a week by automating the publishing of social media content and ads.
That's not all.
According to the calculations of NapoleonCat, if you publish 11-50 posts in a month, social media automation can help your team save over 63 hours in total.
By leveraging social media automation, you can allocate the saved hours & resources to meet the strategic goals and focus on your core marketing efforts.
Social media automation helps to automate the following processes:
Posting content on social media
Scheduling of social media reports
Hiding spam/bots comments under your social posts and ads
Responding to customers using chatbots
Let's dig deeper into the benefits!
What Are the Benefits of Using Social Media Automation?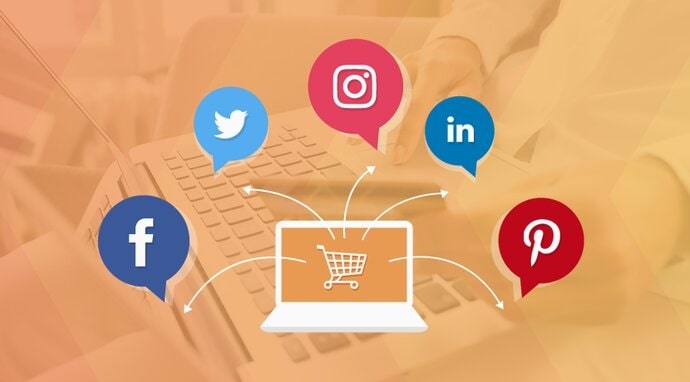 The five significant benefits that social media automation offers are:
Save a Lot of Time
With social media automation tools, you can schedule your future posts & even automate responses to engagements founded on specific conditions and save time. You can use the saved time to engage with your customers, & concentrate on your business growth.
Keep Your Audience Engaged
You can utilize the saved time to be interactive & productive. With the time in hand, you can create content that will establish yourself as a thought leader in your industry.
It will boost your brand value and gain audience trust. You can also post quizzes & surveys to assess your customers' needs and increase engagement with your customers.
Maintain an Online Presence
Today's online presence is critical for brands' success. Social media automation tools solve the challenge of scheduling posts across all social platforms for specific times and make it easy to carry out this task more effectively.
Keep up with Consistency with Minimal Efforts
Social media automation tools help brands to be consistent across all social media platforms. The only way to make your customers follow your brand online is by posting content regularly.
Manage Different Marketing Campaigns Easily
Social media marketing automation is the best way to manage various marketing campaigns. Once this area is organized, you can work on other aspects, like finding new opportunities to increase your reach & connect with your audience.
You might only work for part of the day, but an automation tool will work for you 24x7x365.
In addition to these benefits, there are some more advantages of social media automation:
Allows you to re-publish content without extra effort: Schedule a single post for as long as it doesn't become outdated.

Presents you the wiggle room to engage on social media: With your posts going out regularly, you can spend time engaging on social media, which is the key to success.

Helps to elevate your customer experience: 85% of the customers expect replies within six hours. Set automated responses to customer messages with social media schedulers. By turning your notifications on, you can respond at your earliest.
How to Ensure Your Brand's Voice Is Consistent with Social Media Automation?
By only automating your social posts, you are wobbling out of balance on your social media unicycle. To maintain consistency and balance, invest some time in engaging with your audience. In short, here's the two-ingredient recipe to craft and retain the right brand voice:
Automate your posts for content marketing
Spend time engaging on social media
To elaborate, scheduling posts via automation saves a lot of time, but more is needed to guarantee a consistent brand voice.
So, listed below are some tips for using social media automation and posting content without losing your brand voice.
Reply to Comments and Messages
Never leave any messages or comments unmoderated on your posts. It's a surefire indication of botting while automating. Respond promptly, and you shall reap the results. For instance, research confirms that customers who get responses on Twitter are 21% more likely to engage.
Here's an example of Zappos not leaving any chance to interact with its audience: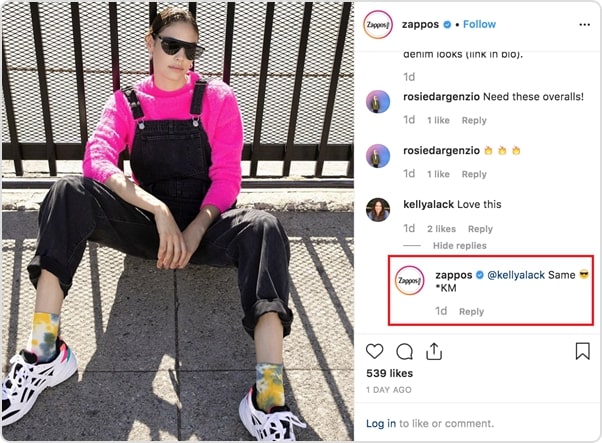 And with providing assistance as well: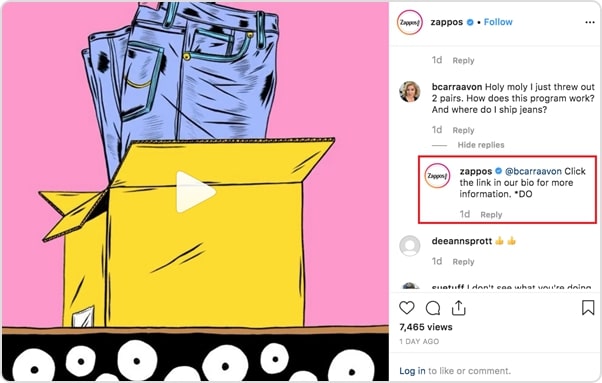 Comment on Posts
Commenting on other people's posts shows you're genuinely interested and engaged in other's content. This is why it ranks highly on the engagement scale. You can also re-share or retweet something that you strongly agree with.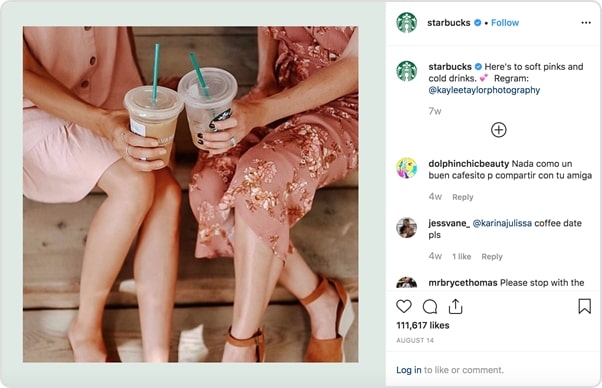 Think of Making Your Post Easy to Read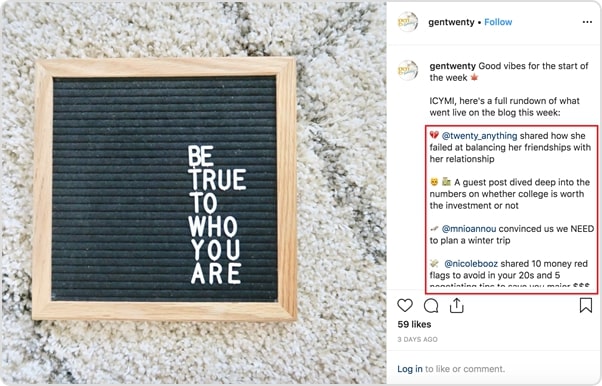 Please eliminate robotic vibes when automating by giving readability the respect it deserves. Make your content easy to read and relatable.
You can add emojis to your content, space it out, and insert a high-quality image to accompany the caption. You can also try memes and GIFs to make your content readable and engaging.
Repurpose Your Content According to the Platform
You need to be diligent and mindful of this fact every time you post content. Every. Single. Time. Don't post the same captions on every channel on social media. Each network demands different captions, so you need to keep those in mind before hitting publish.
For instance, Twitter wants you to write a precis of the content you are sharing. On the other side, it's alright to get into the details on Facebook and Instagram.
See an example of how Shoelace tackles this on two different networks:
A post on Facebook: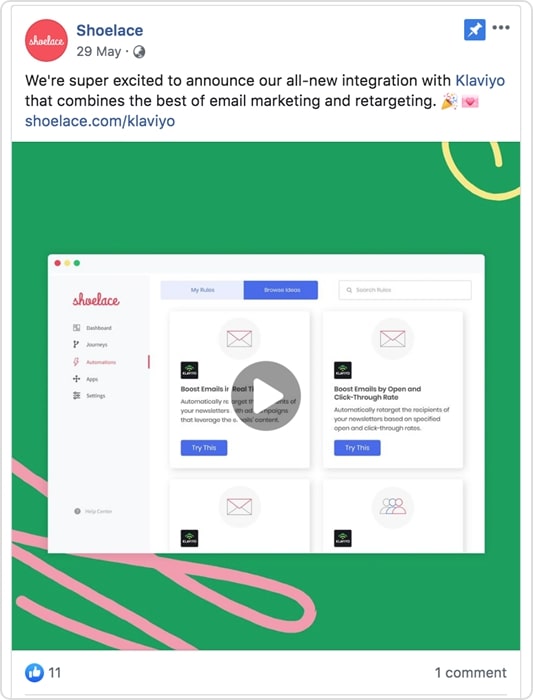 But note the details added with an image for the same post on Instagram.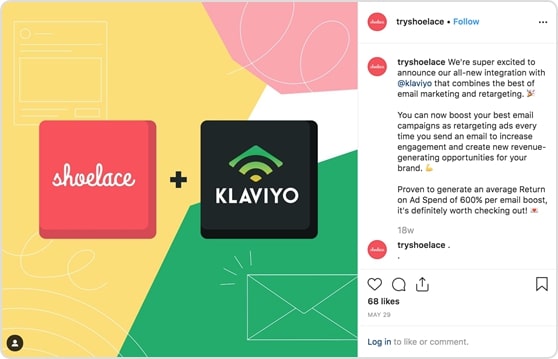 5 Top Tools for Social Media Automation

Price: Paid plans start at USD 99/month.
Focuses on: Automating social media management
Agorapulse is one of the leading social media management platforms offering features that allows you to automate significant parts of your social media management activities. It is excellent for businesses that are starting to grow their online presence.
With any of the paid plans, Agorapulse lets you schedule an unlimited number of social media posts in a unified calendar to schedule posts at a predetermined time.
Key features:
Social Inbox to manage all your messages using the Inbox Assistant that organizes and labels your items.
Canned responses to address the common questions asked multiple times.
Social Publishing schedules and approves content with your team and clients. Agorapulse also offers a mobile app that publishes content on the go.
Social Listening and Reporting use parameters to focus on conversations about your competitors and brand. Get custom reports about the gained or lost followers and social media interactions.
Pros
Simple platform
Easy social media management
It makes it easy not to double reply etc
Cons
Lack of post-editing features
Limited third-party integrations
Engagement platforms can be challenging to use
Best for: Mid-sized businesses, mid-sized agencies, and some enterprise brands.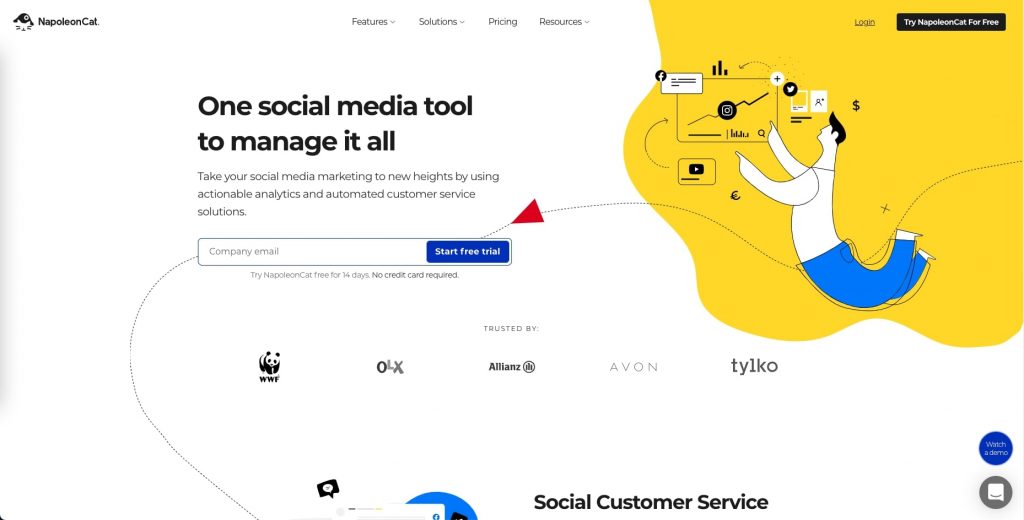 Price: Starts at USD 31/month.
Focuses on: Automating social media moderation
NapoleonCat is a comprehensive social media management platform with robust automation features to help you save time on scheduling and publishing, analytics, ad moderation, social sales, collaboration, and social customer service.
You can use automated moderation to set up replies for generic and common customer queries and apply them to your paid and organic posts.
Although there is a 14-day free trial to test all the features, you can enjoy customizable pricing plans.
Key features:
Social Inbox has a single dashboard to handle all customer interactions on all your social accounts, along with team workflows for quicker communication.
Auto-moderation to let you automatically respond to comments and messages and delete or hide comments based on selected keywords.
Social media publisher is a shared content calendar that lets you schedule content on all your social media profiles and automate content approval workflows across all teams.
Social media analytics empowers you to track your content engagement across social media channels, compare your stats with competitors, and automatically create periodic reports.
Pros
Publishing and scheduling to social media
In-depth analytics on social profiles
Social inbox that consolidates messages
Multi-hashtag searches
Cons
Confusing billing options
Glitchy interface
Difficult-to-use interface
Best for: Small businesses, agencies, e-commerce, marketers, digital influencers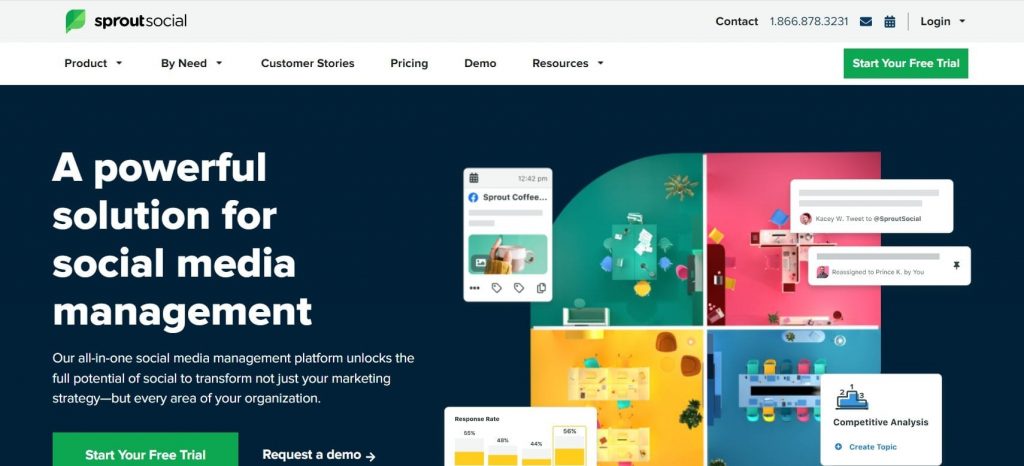 Price: Starts at USD 99/month.
Focuses on: Overall social media automation
Sprout Social is one of the market's most comprehensive social media management platforms. It comes with powerful features for publishing, engagement, analytics, and social listening. 
It covers every aspect of social media management that can scale your engagement using automation. It integrates with the leading social media networks and gives users an easily navigable set of tools to make sense of their data.
The interface is intuitive, offers practical collaboration tools, and even a free one-month trial.
Key features:
Sprout Queue automatically publishes your posts at preset times or when your audience is most active.
ViralPost optimizes publishing times automatically by analyzing your audience and their engagement patterns over time.
Smart Inbox concatenates all messages across a company's social networks into one manageable feed, which can also be divided into different feeds based on each business' priorities.
Collision Detection feature that instantly shows if a teammate is responding to a particular message to ensure that there are no duplicated efforts.
Pros
Easy-to-navigate interface
User-friendly publishing calendar
Robust reporting
Competitive analysis features
Cons
Expensive price tag
Support can be slow
Lack of native support for some social networks
Best for: Brands and organizations of all sizes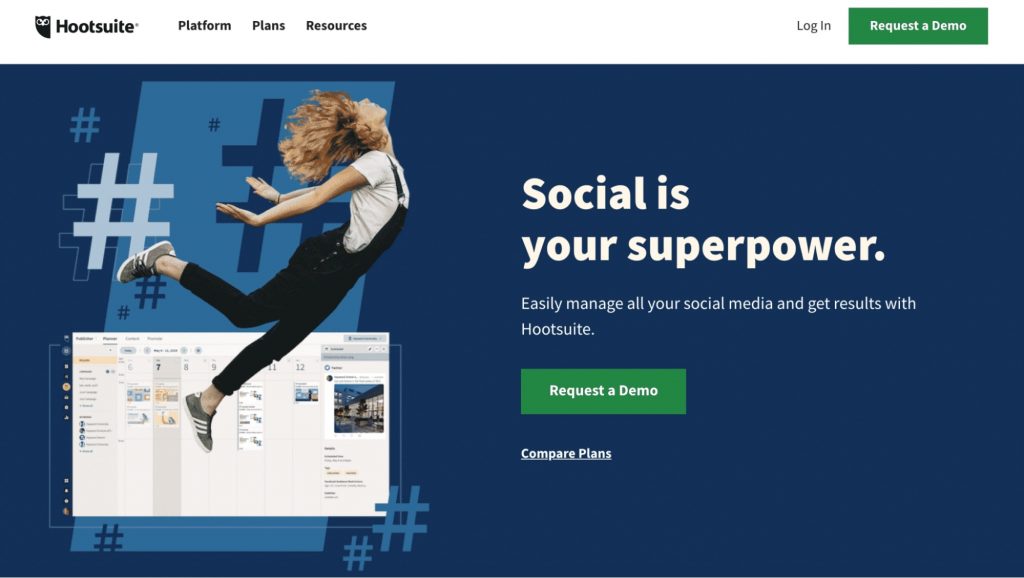 Price: Starts at USD 49/month.
Focuses on: Automating social media marketing
Hootsuite is a leading and popular social media automation tool for businesses, as it is loaded with robust features for publishing, monitoring, engagement, analysis, and even advertising. It is also compatible with a variety of social media platforms.
In addition to content scheduling, the platform recommends the best time to publish posts across all major social networks. You can get real-time updates to keep an eye on all your brand activities.
Hootsuite even lets you create chatbots to save time by automating some aspects of your customer interactions.
Key features:
Post Scheduling allows for creating, managing, and scheduling content that needs to be shared across social media channels. It also lets you decide an optimum time based on its algorithms.
The "Streams" feature lets you monitor your different and active social media channels effortlessly. It will also show you a constant feed of relevant social media activity.
Hootsuite's Analytics lets you view and monitor your performance via a "mixed" dashboard with all connected networks or by individual social profile. You can also schedule reports for automatic distribution via email weekly or monthly.
Assignments allow users to allocate items to other team members, which will help your social media team work on different tasks from inside the platform.
Pros
Customizable feeds that display all the social posts you want to see—no filler
Highly flexible post-composer and scheduler that comes with a bulk option to simplify the most challenging part of the job.
Inbox consolidated every message, comment, and mention.
Cons
No demo- or psychographic data for the audience.
The interface isn't very user-friendly and comes with a learning curve.
Pricey for small businesses and agencies.
Best for: Medium, and large businesses and enterprises
Price: Starts at USD 20/month.
Focuses on: Automating social media inbox and engagement moderation.
Juphy is an all-in-one cloud-based platform and customer service automation tool that provides simple and affordable customer support solutions. It empowers businesses to provide seamless social media customer service.
The award-winning collaborative tool helps e-commerce businesses of all sizes (including solopreneurs!) schedule and publish posts, engage with the audience, and track success across platforms from a single, easy-to-use, interactive dashboard.
It integrates with all major social communication channels — Facebook, Instagram, Twitter, YouTube, Whatsapp, Linkedin, Google Play Store, Google My Business, and IOS App Store — in one place.
Businesses of all sizes can use Juphy and accelerate customer satisfaction with its comprehensive tool by signing up for a 7-day free trial here.
Key features:
Social Inbox brings all the real-time social messages into a unified dashboard.
Unified inbox that aggregates all social mentions, direct messages, and comments in one place.
Canned response answers frequently asked questions that save your time and speed up the customer satisfaction management process.
Automation Rules that classify all the incoming messages. Creating these rules will help to filter and organize messages based on specific keywords quickly.
Team Collaboration helps the brand to stay consistent across all channels and improve customer support performance and productivity on all communication platforms.
Performance reports gather and monitor your data, identify areas of improvement, strategize your content, and improve your social media game.
Juphys ticketing helps to easily assign tickets to team members so that the job is done swiftly and lets the customers skip the long queues and wait times.
Pros
One-stop destination for social media management
Quick setup and ease of use
Consolidated Inbox for messages
One-screen dashboard to manage social media
Cons
Only for business accounts and pages
Content management or publishing features are not included
Best for: Brands and organizations of all sizes
Ankit Singla
Founder of MasterBlogging
"I am in love with Juphy. I started using it when it first launched. I manage multiple social media accounts and managing all of them was a pain. Thanks to Juphy, now I handle them with ease and never miss a single message/comment. I love it so much that I have pinned Juphy's tab in my browser so that I can quickly access it and reply to all the pending messages. Thanks, Juphy team for such a time-saving product. Keep crushing!!"
✓ Product Hunt Verified Review
Final Words
The top five social media automation tools listed above will save you tons of time. Social media automation allows you to automate mundane and repetitive social media tasks.
Automating social media helps businesses to publish posts at the right time, moderate comments, and monitor conversations about the brand. It saves time and streamlines your social media marketing efforts.
If you want a whole experience of managing your social media accounts effortlessly, sign-up for Juphy's 7-day free trial. Juphy will automate social media, enhance customer care, scale up your strategic decisions, and see your brand grow.
FAQ
1. What is social media automation?
Social media automation is the process of automating social media activities, offloading time-consuming tasks, enriching team productivity & boosts the business's ability to work with fewer resources. 
It helps businesses optimize the social interaction process & automate content publishing & manage engagement time efficiently.

2. What are the benefits of social media automation?
Allows you to re-publish content without extra effort: Schedule a single post for as long as it doesn't become outdated.
Presents you the wiggle room to engage on social media: With your posts going out regularly, you can spend time engaging on social media, which is the key to success. 
Helps to elevate your customer experience: 85% of the customers expect replies within six hours. Set automated responses to customer messages with social media schedulers. By turning your notifications on, you can respond at your earliest.
3. What are the top 5 social media automation tools?
NapoleonCat
Sprout Socia
Agorapulse 
Hootsuite
Juphy
Create Your
Social Inbox Now
Manage all social media customer support inquiries in a unified inbox.
Related Article – Top 6 Social Media Analytics Tools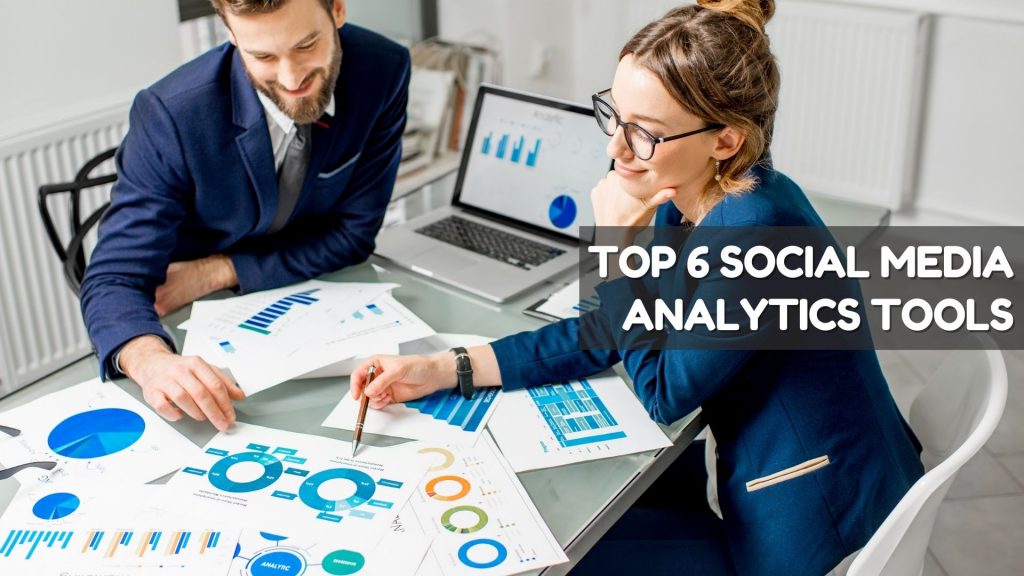 Looking for the most suitable software for your business? Here are the top 6 social media analytics tools you can choose from! Read more now!