Payoneer is one of the top payment platforms that go beyond borders, countries, and currencies and is trusted by thousands of companies. As companies like Google trust Payoneer, many individuals, and professionals also rely on Payoneer to facilitate international payments.

When it comes to money, all processes should be seamless – and, of course, customer support, too.
When we look at the volume of their users and the different user profiles, it is inevitable to think that their customer support and social media customer services should be well-rounded and high performing to provide the best customer experience.

Is it, really? Let's evaluate Payoneer's social media customer services and their overall performance.
Create Your
Social Inbox Now
Manage all social media customer support inquiries in a unified inbox.
What Is Payoneer?
Payoneer is an American-based digital financial service that provides a payment platform that enables users to facilitate international money transfer cross-borders.
Founded in 2005, the company has grown successfully and become one of the largest digital payment services in the world, with over 2 million users in over 200 countries.
The company's online payment platform allows its users, from big companies to individuals, to facilitate money transfers. At the same time, it provides new technologies like compliance, operational solutions, risk management, business capital, and tax arrangements.
Payoneer's Social Media Presence
Payoneer's social media presence is strong and growing. As of January 2023, the company has more than 80K followers on Instagram, over 20K followers on Twitter, and 1M followers on Facebook.
These numbers are expected to grow as Payoneer expands its social media presence. A quick scroll through the company's social media accounts reveals a visually engaging feed that provides a detailed glimpse into Payoneer's core values, such as "empowerment," "experience," and "freedom." Images and videos of Payoneer employees and partners accompany this.
They also use their social media account to provide customer support, highlighting the company's upcoming events, partnerships, and the latest updates to its online payment platform.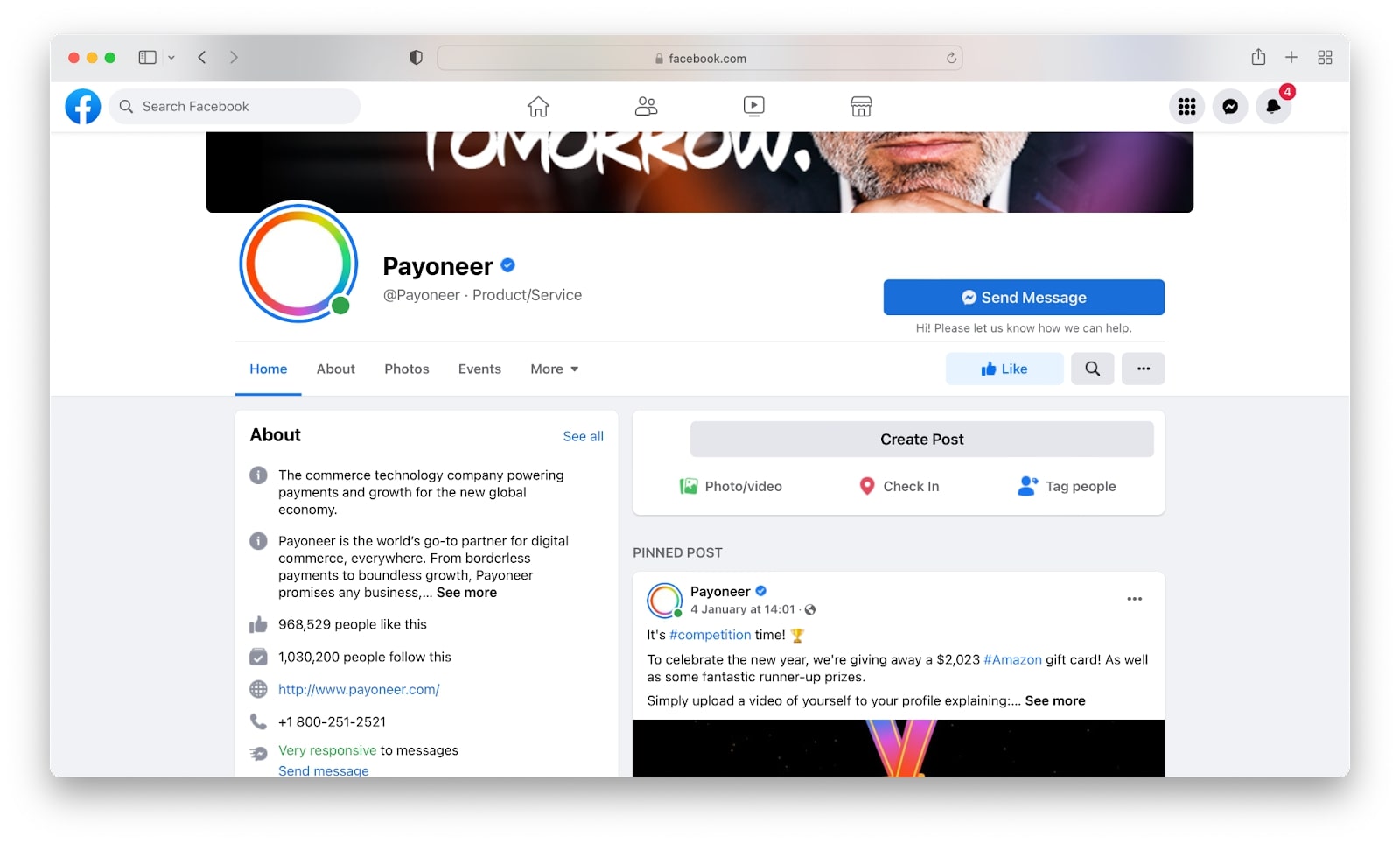 Payoneer has a Facebook with over 1M followers, and it is a great resource for anyone who needs assistance with their account. It allows customers to ask questions and get support. With the Payoneer Facebook page, customers can connect with the company and get the necessary answers. It is also a great way to learn more about the company and its services. On the page, customers can read the latest news and updates, as well as post their comments and experiences.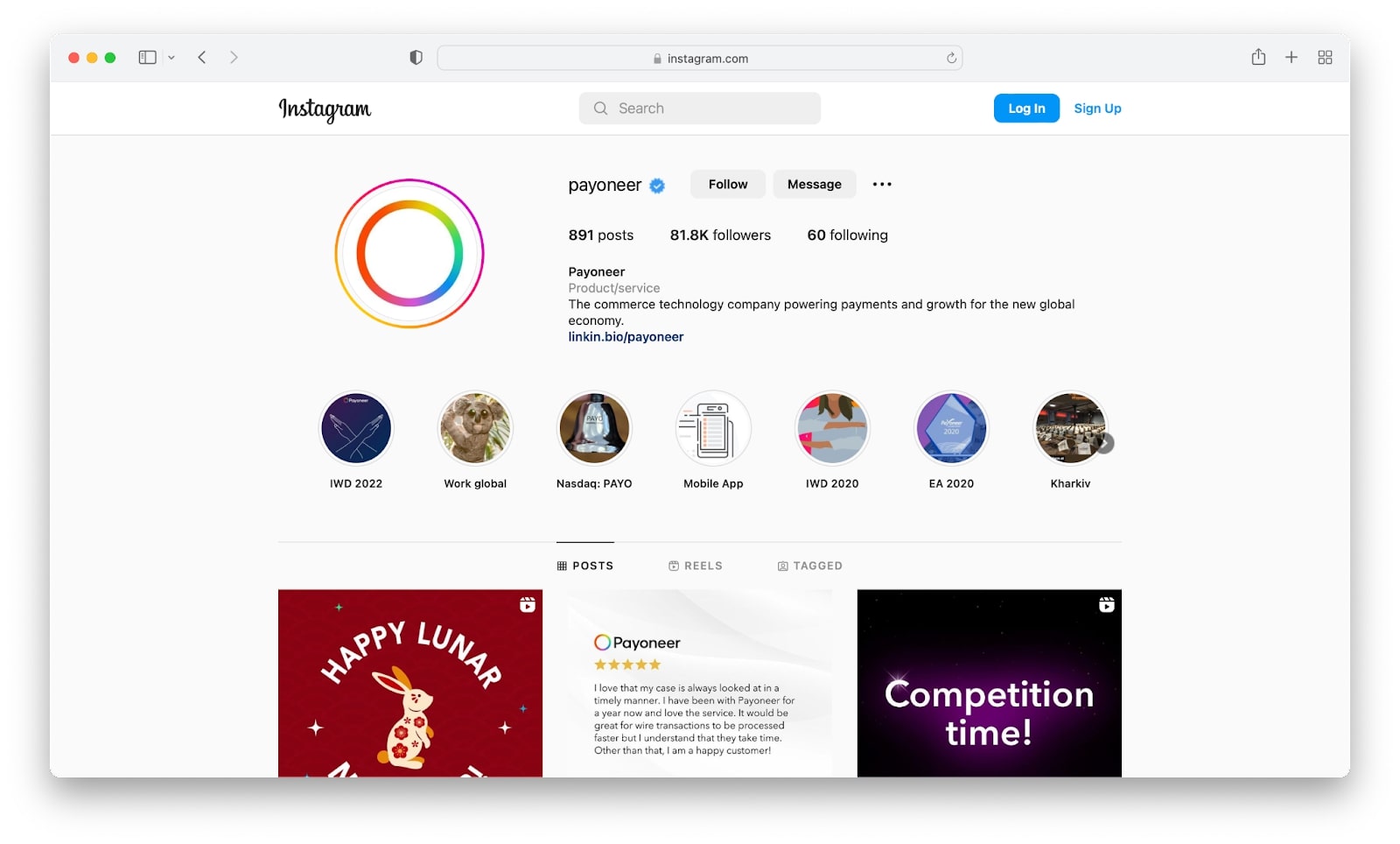 Payoneer mainly uses its Instagram account to share updates and useful information about its services to its clients and to promote the brand through pictures and videos. Yet, they also provide customer support for their clients by answering comments and direct messages.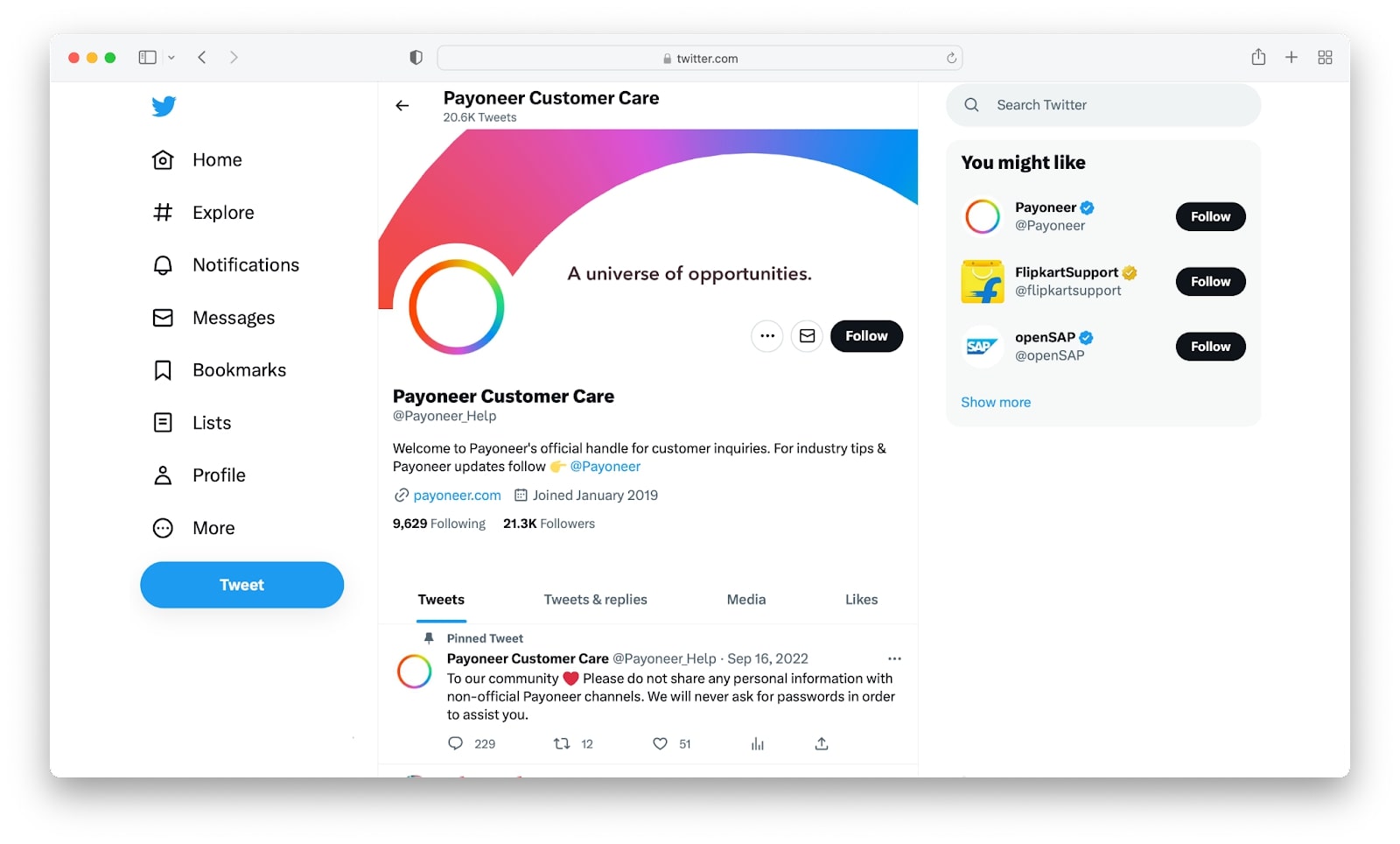 Payoneer has more than 20K followers on their Twitter page, @Payoneer_Help, and provides customer support for their clients. They use this platform to assist clients with any issues or questions they may have regarding Payoneer's services. Customers can reach out to them by sending a direct message or mentioning them in a tweet. Additionally, they also use the page to share updates and helpful information about their services with their clients.
Payoneer's Accessibility on Social Media
Payoneer's social media platforms are accessible to all users. This is a good move by Payoneer, as it allows anyone to ask questions or seek advice from a Payoneer representative. This approach enables Payoneer to better engage with its user base and build trust and loyalty from customers. Furthermore, the company's social media feeds are active and engaging, which makes them a great place for customers to interact with Payoneer representatives and each other.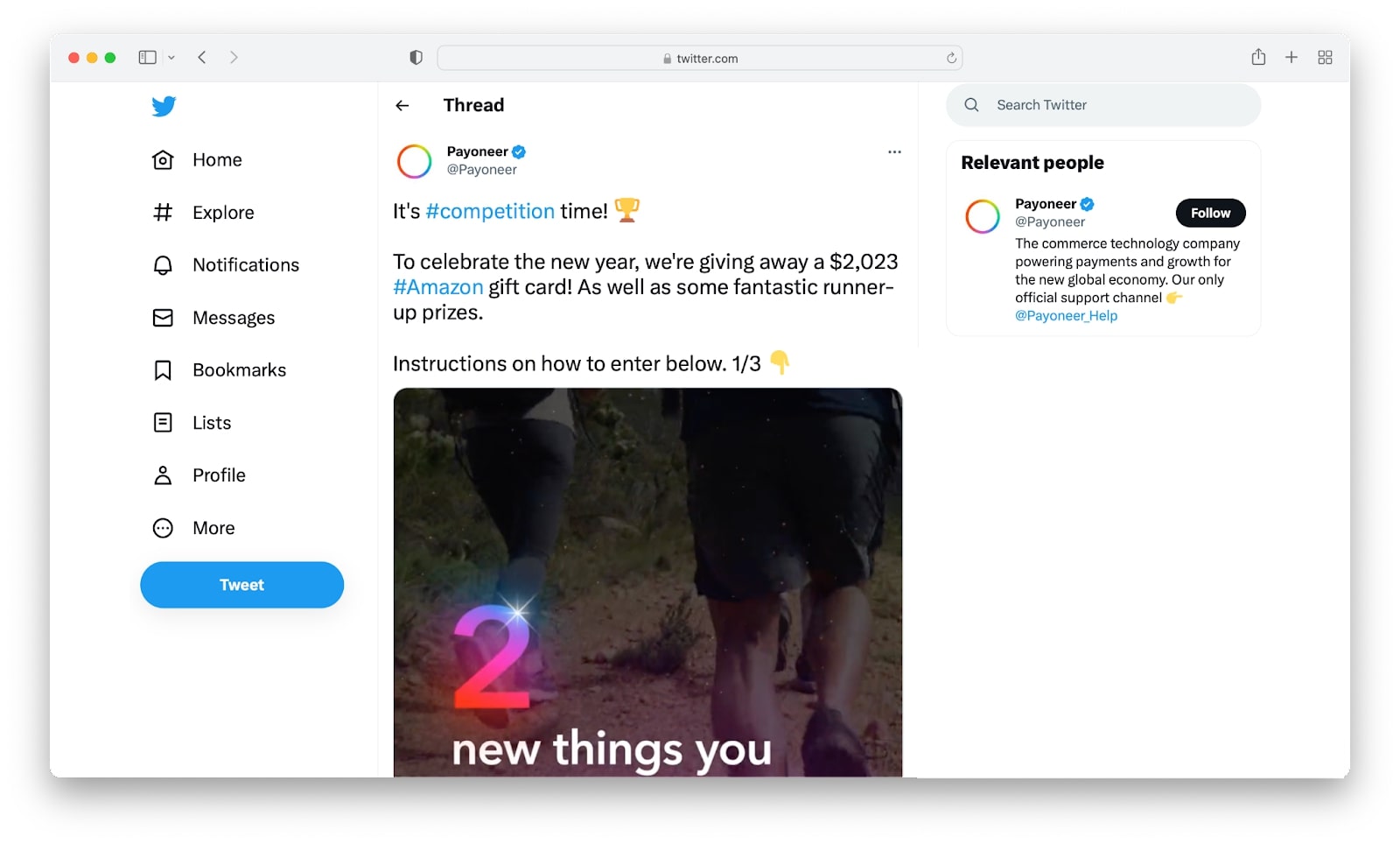 The company's general Twitter account is an excellent example of this. For example, Payoneer recently hosted a contest where participants can upload a video of themselves with goals they're setting for the new year, new things they want to try, and things they'll never compromise on. This was an entertaining way to engage followers and generate excitement around the Payoneer brand.
On the other hand, when we look at their accessibility for customer support on social media, we see that they are also killing it. The fact that they have a Support page on Twitter proves that their customers can easily reach them, even in different languages.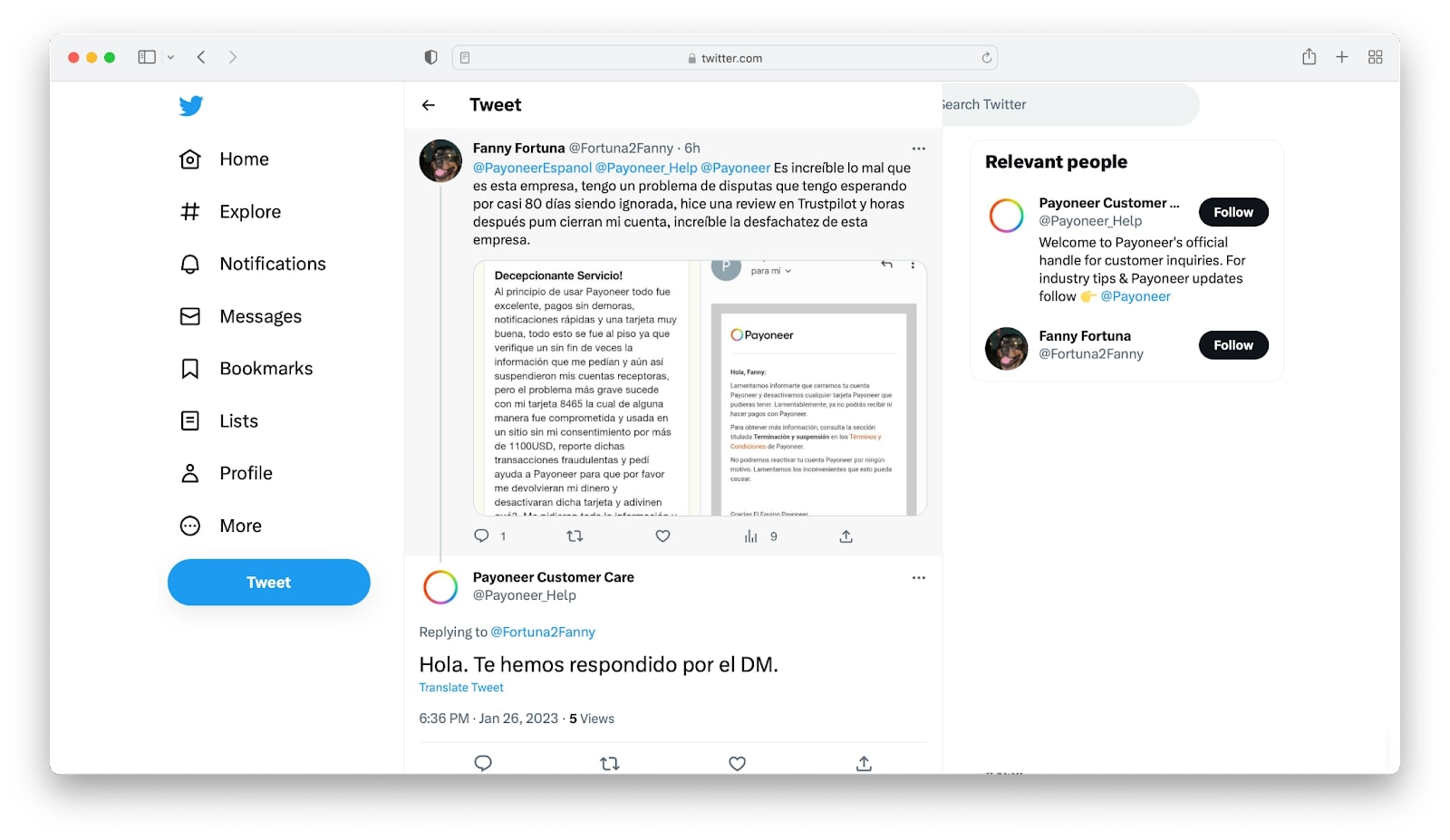 For example, Payoneer's customer support representatives provide multi-language customer support when a foreign user mentions their Twitter page and asks for help.
Payoneer's Social Media Customer Service Response Time
Payoneer's social media customer service response time is nothing short of remarkable. With a fast response time on Twitter and a relatively slow response time on Facebook, Payoneer can maintain a high level of customer satisfaction. Customers can get a response almost immediately on Twitter, and as soon as they tweet Payoneer with their query, they can expect to receive a response in minutes.
They also enable a direct messaging service on Facebook for customers to contact them easily. However, even if this is the case, the company does not actively answer comments given by frustrated customers that are sharing their bad experiences on Facebook, which shows that their social media customer service is weaker on Facebook when compared to Twitter and Instagram.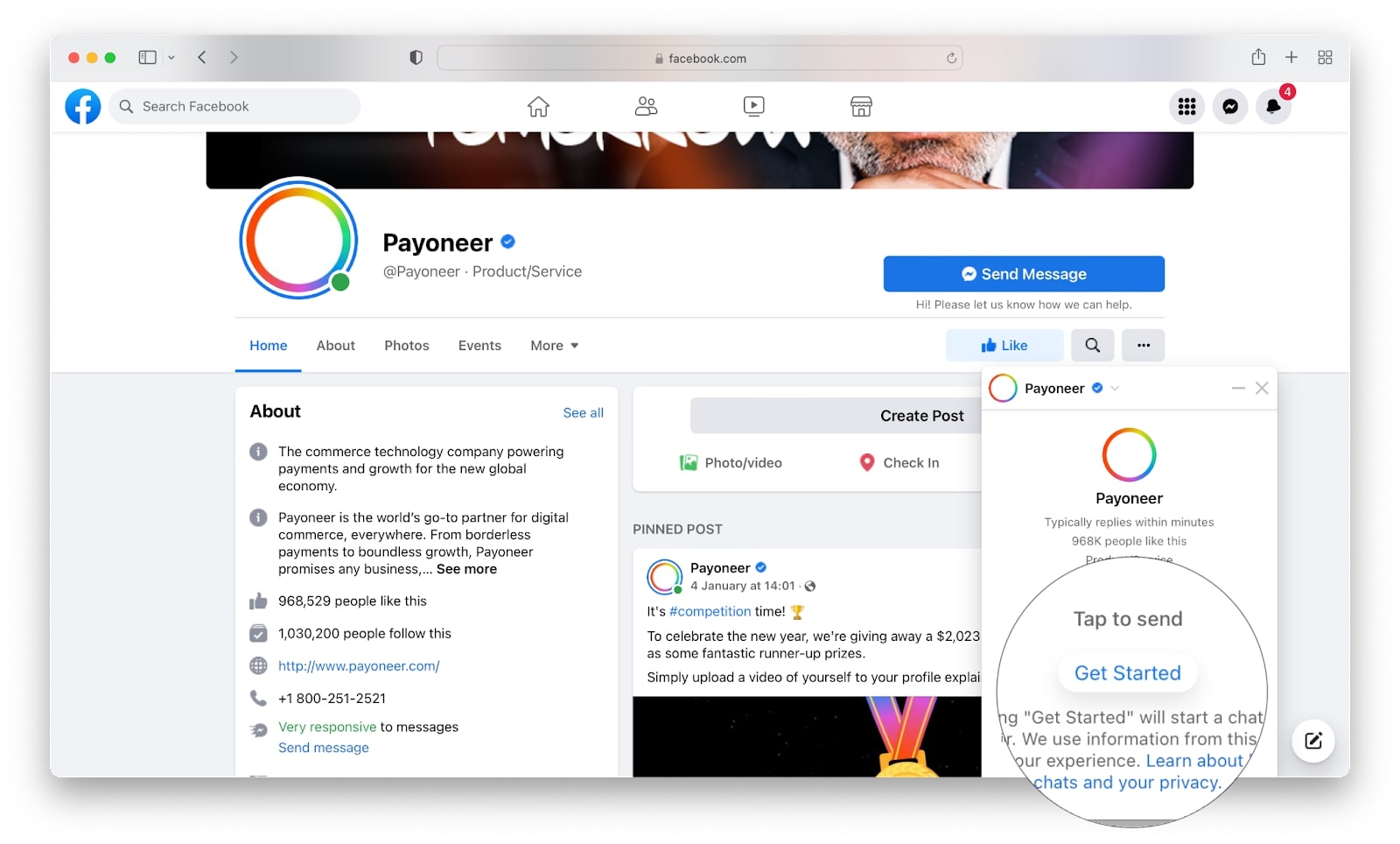 When customers get into Payoneer's Facebook page, a direct message option appears immediately where customers can ask their questions without hassle.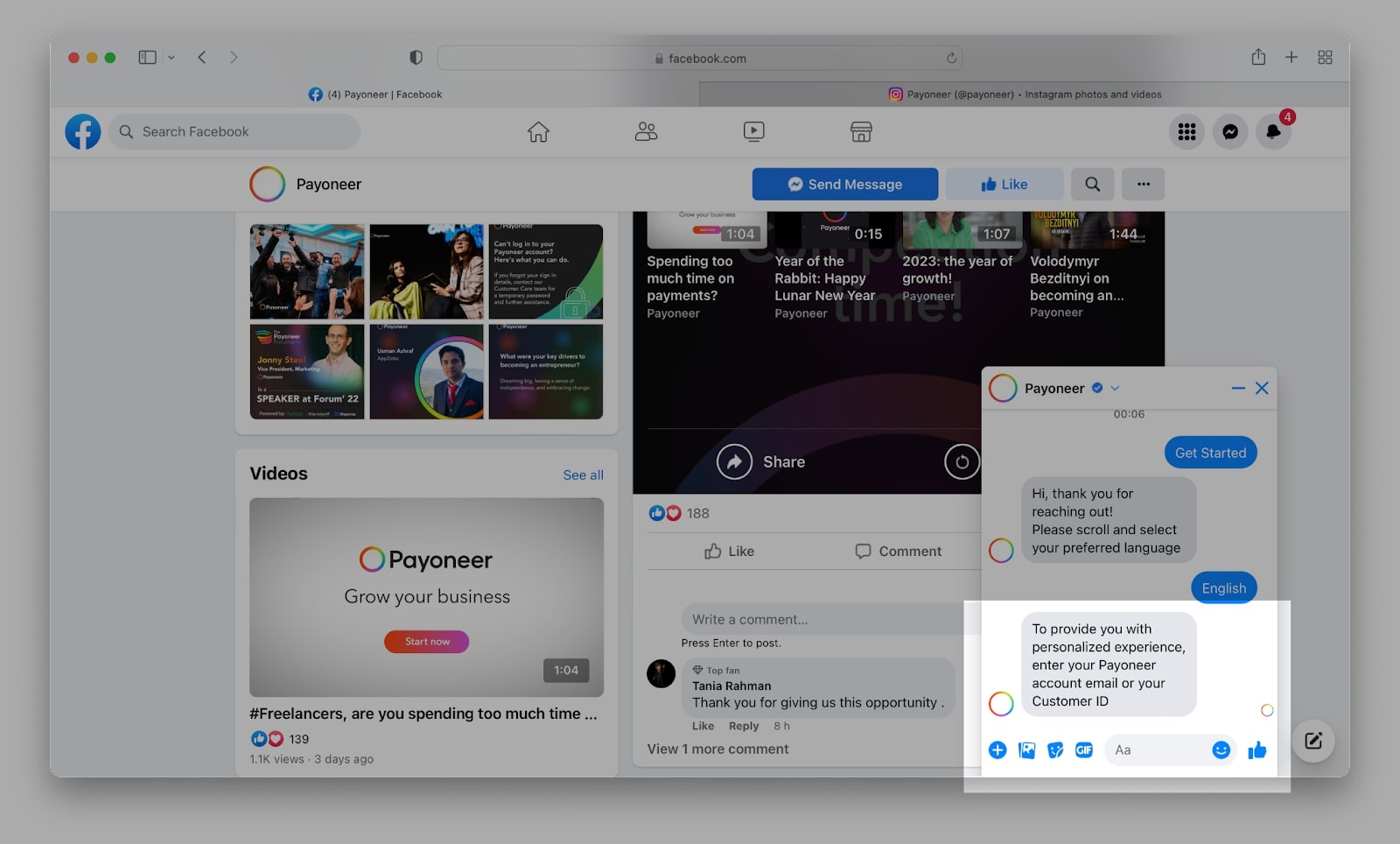 They also personalize the customer support experience while starting a support session.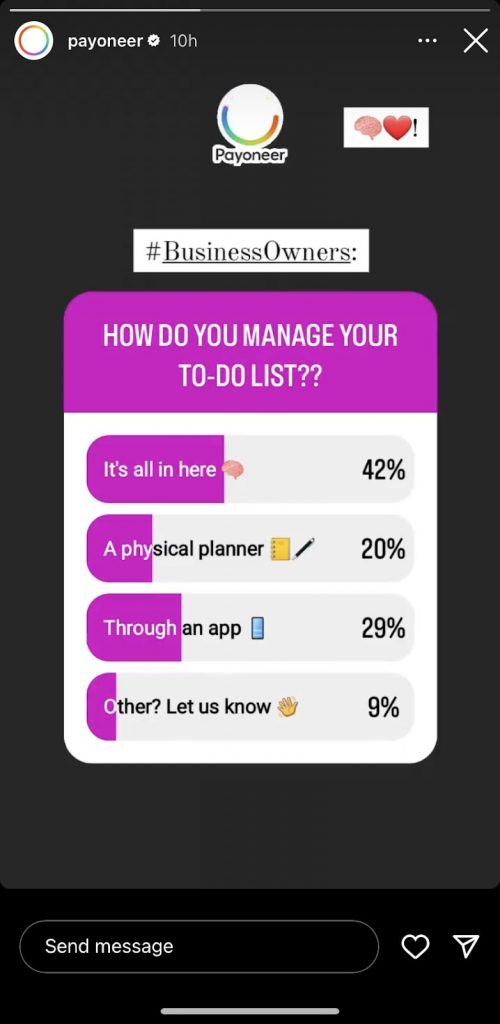 This quick response time is also evident in the company's Instagram feed, where stories are accompanied by a "poll" that allows followers to ask questions and participate in discussions. This is a great way to interact with followers and provide them with the information they need.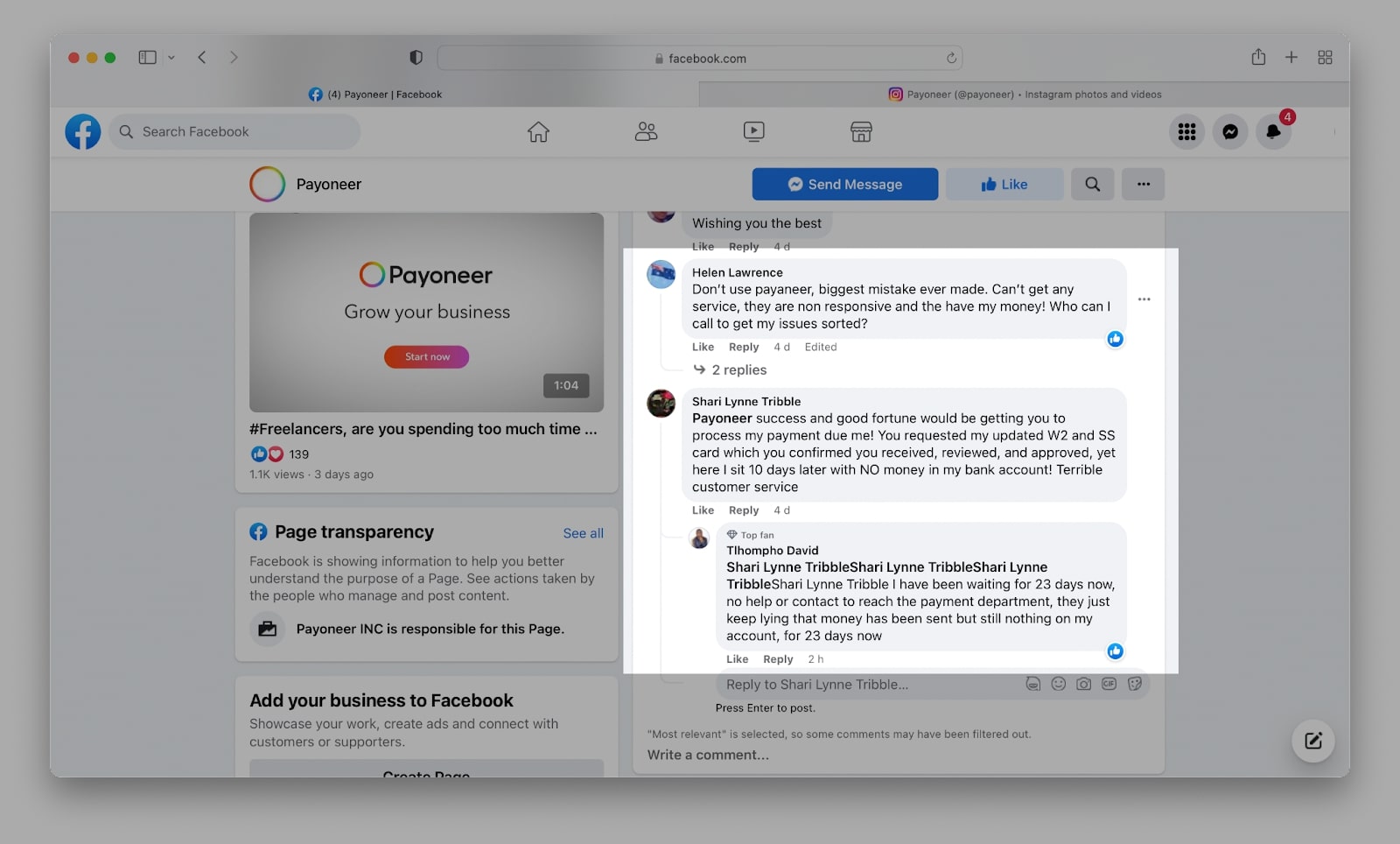 However, under some Facebook posts, we still see unanswered comments from their customers to explain bad experiences and ask for help.
So, when we evaluate their customer support response time overall, we see an inconsistency between some platforms and some approaches. Even if they are fastly engaging with their customers on Instagram and Twitter, their Facebook page seems to lack fastness.
Style and Tone of Payoneer's Social Media Customer Service
Payoneer's social media customer service is straightforward rather than friendly. This style of communication has been adopted in order to ensure that customers get the most accurate and reliable information promptly. Payoneer's customers can expect a no-nonsense approach from their customer service, with clear instructions and no sugar-coating. This may not be the most friendly approach, but it enables a healthy and open manner.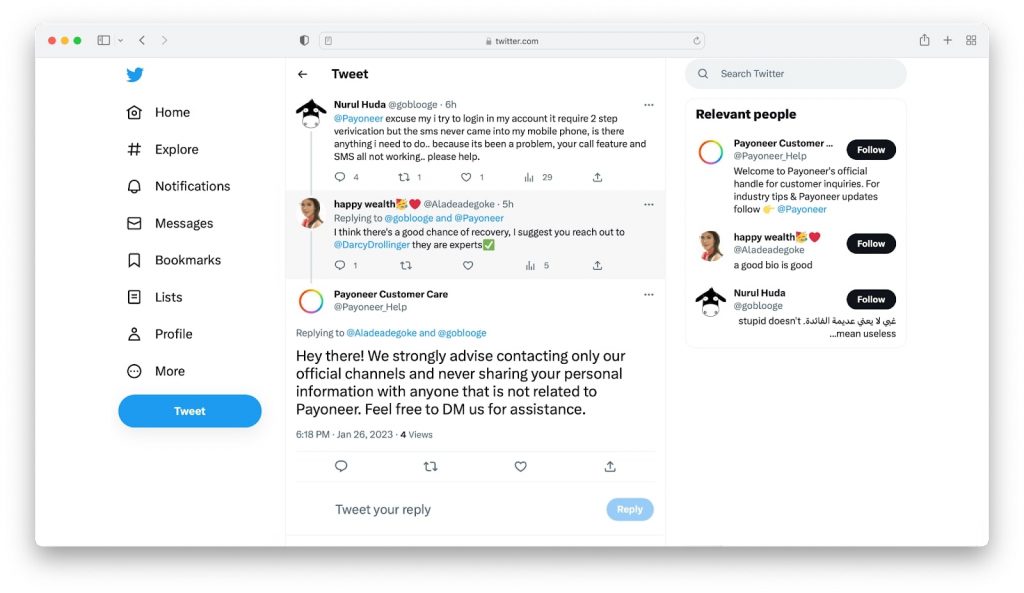 In this example, we see that Payoneer replies to some customers directly and clearly to defend their privacy rights and to guide them in the right direction.
Quality of Payoneer's Social Media Customer Service
Payoneer's social media customer service has been a subject of debate after the points that we've evaluated. Many people also have praised the company for its good customer support, while others have criticized them for the bad quality of its customer service. The truth is that Payoneer's social media customer service is somewhere in between.
Payoneer's social media customer service is quite good. They have a large team of customer service representatives who are knowledgeable and experienced in helping customers with any kind of problem. They are also very prompt and responsive and always ensure that their customers are satisfied with their services.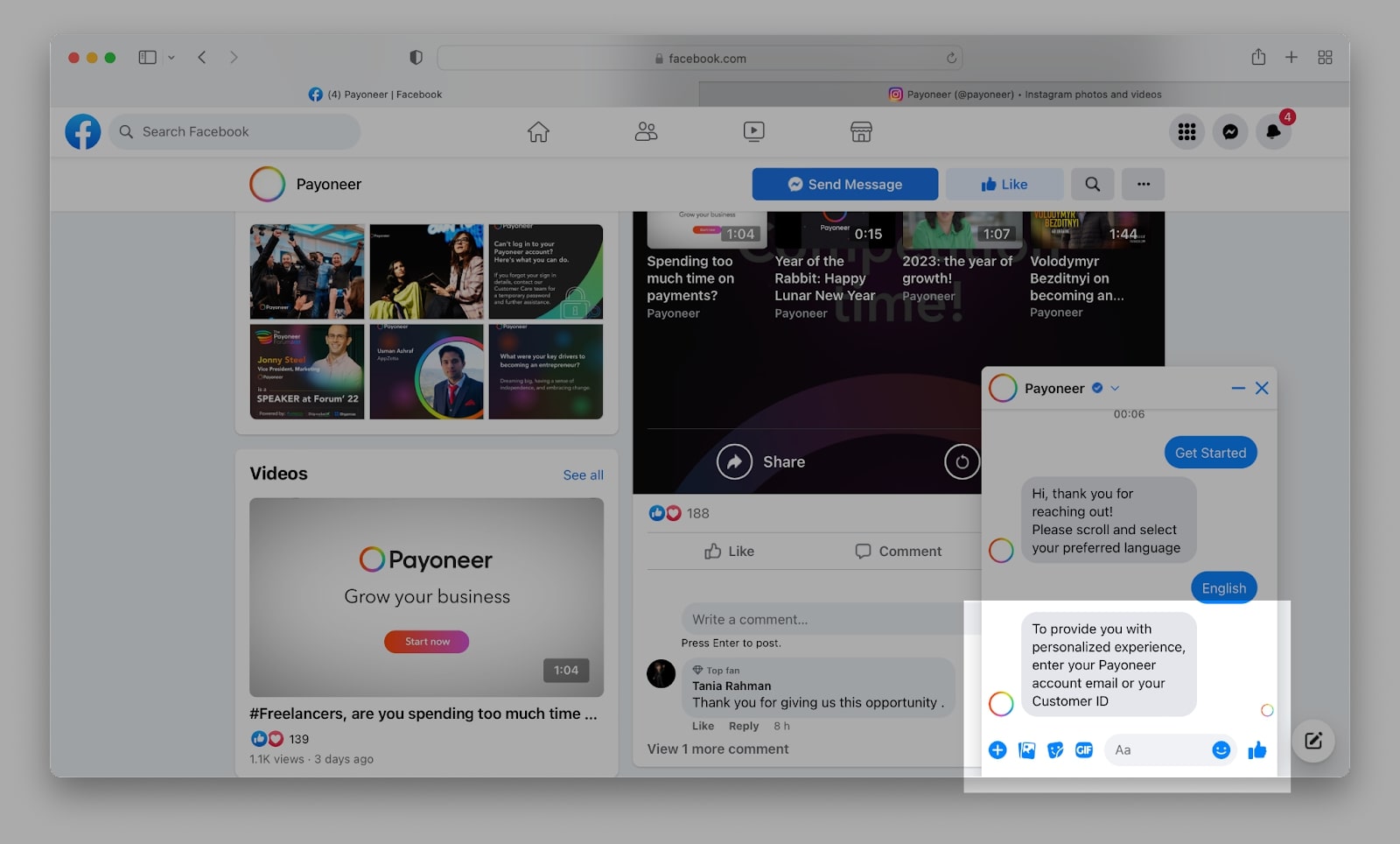 Specifically, how they provide multi-language support is exceptional when compared to other companies' customer services. This increases the quality of their social media customer support, as well.
On the other hand, Payoneer's social media customer service has challenges. The quality of the customer service is not always up to par, and some customers have complained about their slow response times and lack of helpfulness. Additionally, the company often fails to address customer complaints in a timely manner, leaving many customers feeling frustrated and dissatisfied.
Overall, Payoneer's social media customer service is average in quality. They have some good features, such as their knowledgeable and experienced customer service representatives, but they still have room for improvement. They need to ensure that their customer service is up to par and that they are able to address customer complaints on time. If they can do this, they will be able to provide their customers with better customer service.
Final Verdict
Payooner is good, and we can say that they also picture a good online presence (despite several problems in their response time and tone of voice) with relatively good customer service quality.
Let's now explore how they will perform on our ratings with their social media customer service.
***These ratings are based on our research and reflect only our own opinions.
Accessibility – 8/10
All their social media accounts actively provide customer support and are accessible but with some flaws.
Response Time – 7/10
Wherever you look, you will see a Payoneer support representative has answered a customer– except Facebook :/
Tone of Voice – 7/10
We want excitement, we want friendly approaches, we want emojis– but Payoneer seems to be remaining more professional with its customer support service on social media.
Personalization – 10/10
Payoneer has a personalization system while answering customer comments, but what is even better is that they ask for customer credentials for further support on direct messages.
Engagement – 8/10
While they achieve high-quality customer engagement, they rarely experience a lack of engagement.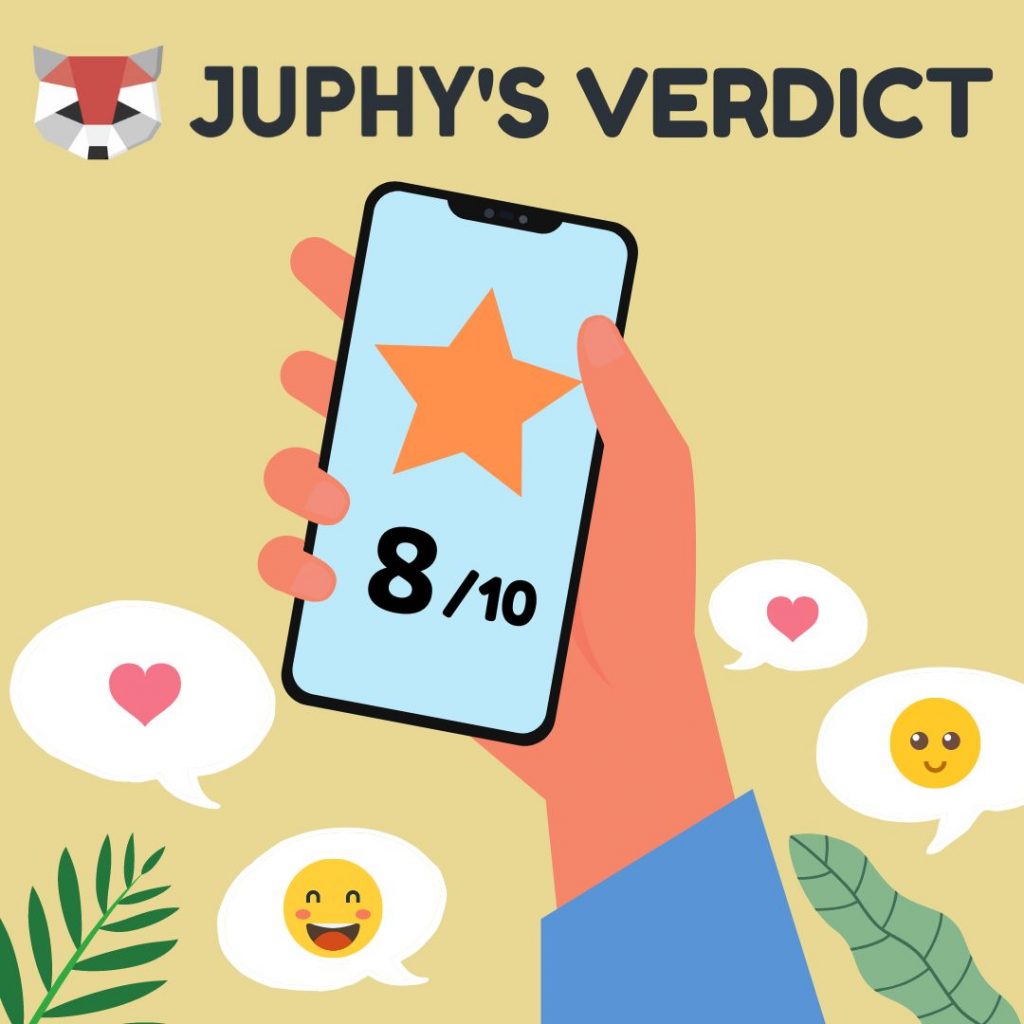 Create Your
Social Inbox Now
Manage all social media customer support inquiries in a unified inbox.
Related Article – Bank of America's Social Media Customer Service Performance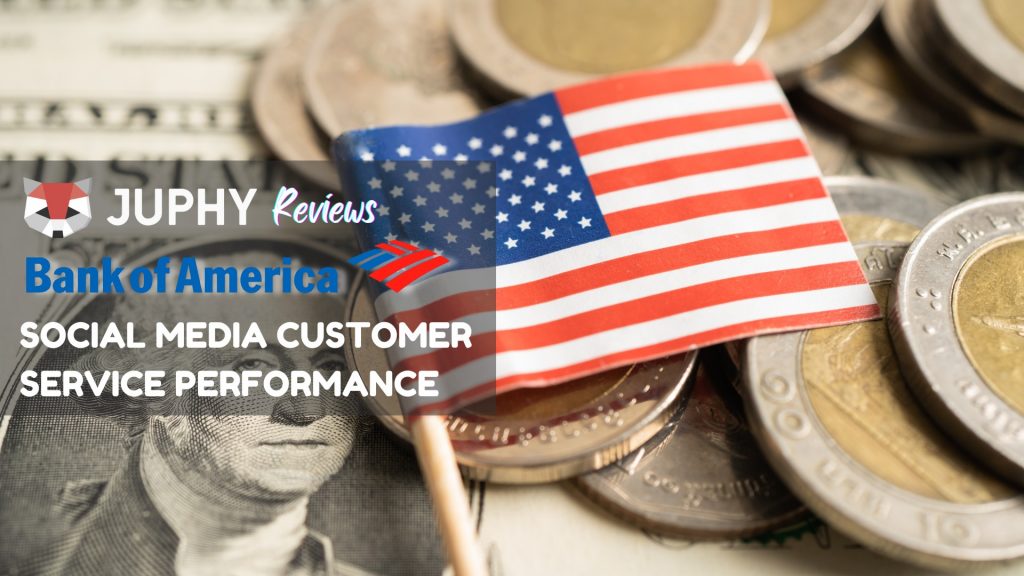 In detail, we evaluated Bank of America's social media customer service and general online presence. Read more now!