Bank of America is a financial institution that has offices all over the USA. The bank has many social media platforms, but its Facebook page is very popular, boasts more than 9 million likes, and regularly features posts about current events, relevant news articles, and advertisements. It also has an Instagram and a Twitter account, where the bank posts several times a week and allows its followers to interact. 
We are here to evaluate Bank of America's social media customer service and general online presence. Let's see this big Bank's situation on social media!
Create Your
Social Inbox Now
Manage all social media customer support inquiries in a unified inbox.
Bank of America's Social Media Accounts
Bank of America is a major player in the social media world, and that's no surprise – they're one of the most well-known and successful banks in the US. In fact, they're so popular on social media that they've been named one of the world's most social brands by Forbes. That's thanks in large part to their impressive Instagram and Twitter accounts.
On Instagram, Bank of America is known for its stylish images and creative content, which is sure to appeal to fashion-conscious millennials. They also post many interesting and informative videos about banking and finance. Their Twitter account is just as active – they're constantly sharing news and updates about the bank and providing valuable advice for financial planning. If you're looking for information about banking or finance, or you just want to see some really cool images, Bank of America is definitely worth a follow on social media.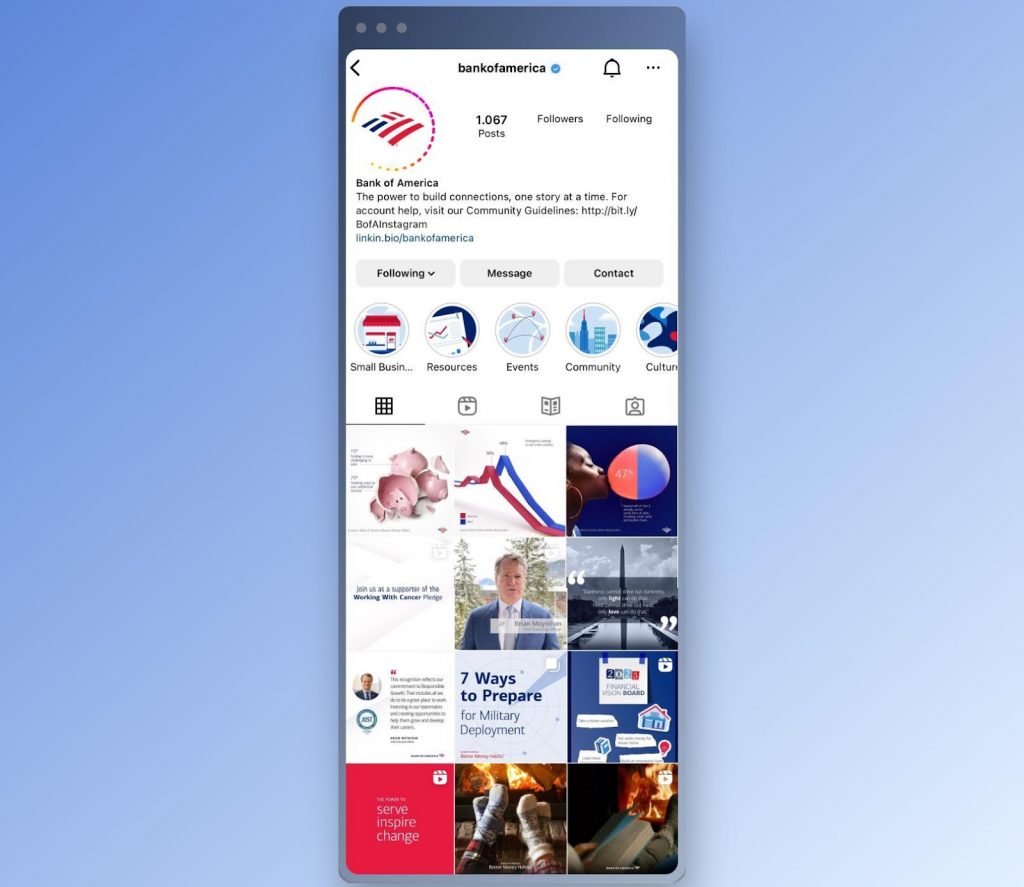 However, we can't really make positive comments when it comes to customer service.
We've talked about how banks are turning to social media to improve their customer service, but what happened to make it necessary for banks to take this step in the first place? If we take a look back at the story so far, one particular trend has caused banks to reevaluate their approach to customer service: The growing number of "do-it-yourself" (DIY) and online banking customers. Customers who conduct online banking tend to be younger, more tech-savvy individuals with a higher affinity for online banking than the average person.
These DIY services get people used to get fast and accurate replies. So, customers looking for help in the comments section and through tweets are expected and common. Managing these platforms and providing good customer service is very critical for businesses, especially since most companies are aware of this situation. This detail makes a significant difference in the free-market competition.
Bank of America's Accessibility and Response Time
Before other platforms, we should analyze one of their accounts. Bank of America has another Twitter account, Bank of America Help, through which they reply to users asking for any kind of support. They use this account to Tweet about their customer service working hours and communicate with customers needing help.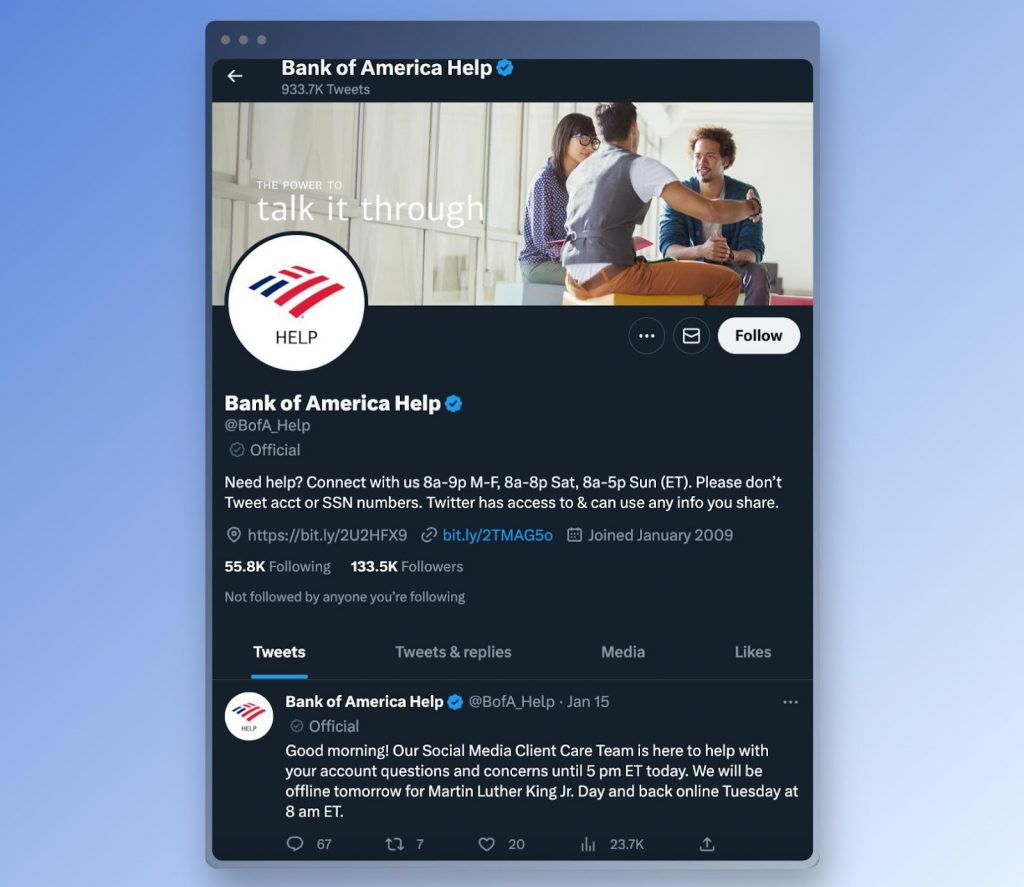 They reply to Tweets very quickly from this account. Plus, they even reply with solutions, which is something they hardly do in their messages on other social media platforms.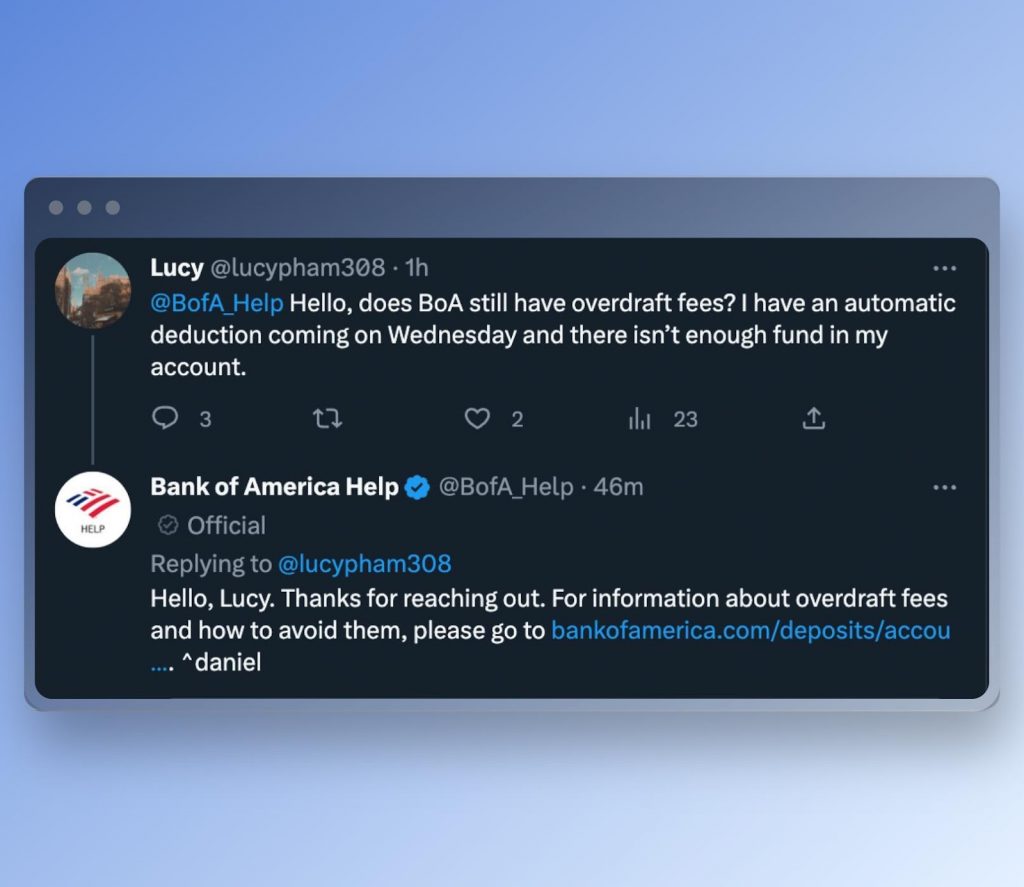 This reply above came within 15 minutes and included the informative blog page link, which is helpful for anyone with questions about the same situation.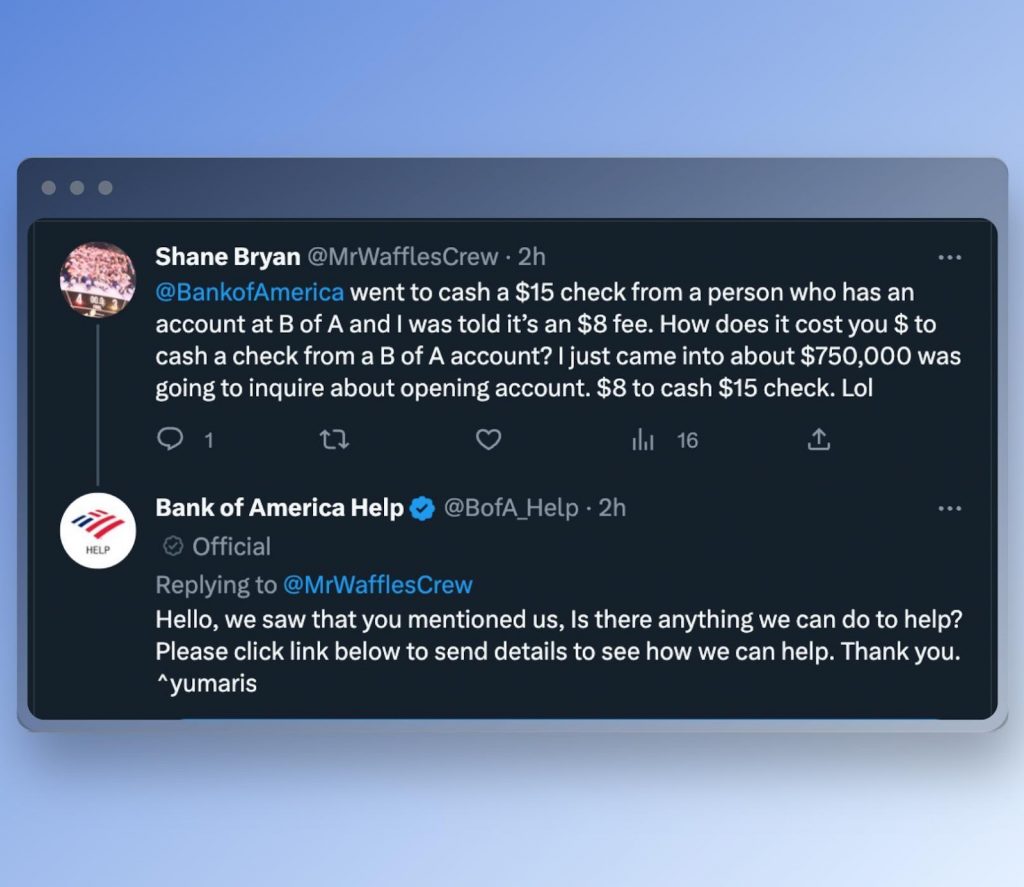 90% of the replies are canned responses. Also, they reply to Tweets that don't include a question but include some complaints.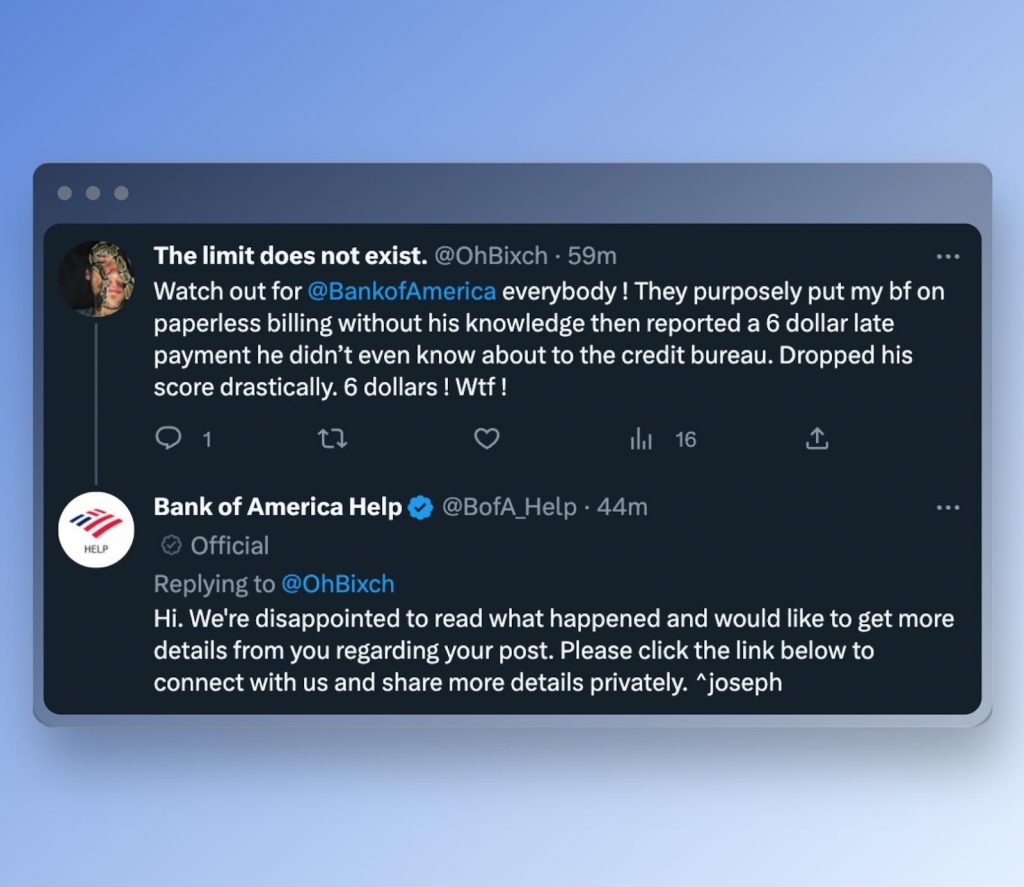 There are many Tweets like this one above, and Bank of America replies to many Tweets that include a mention of them. On Facebook, most replies come within 24 hours, even a couple of hours.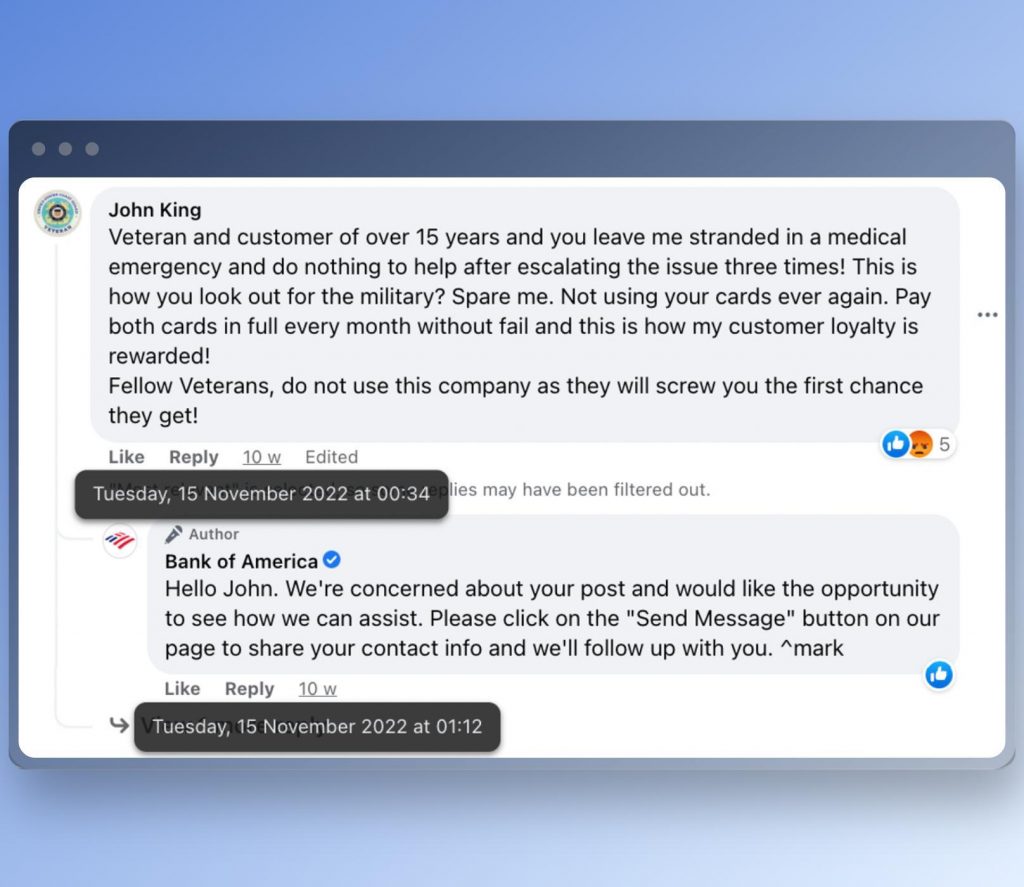 When it comes to Instagram, the number of replies decreases, and when I say decrease, I mean zero.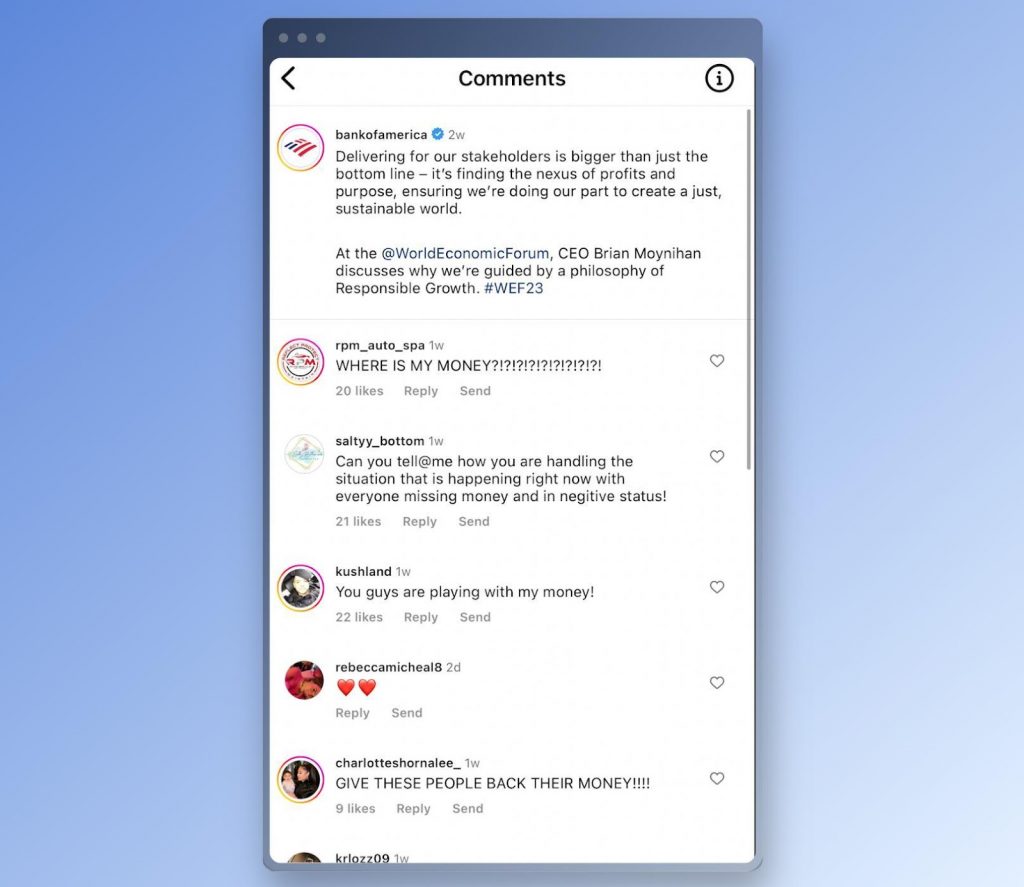 There aren't many people commenting on their problems, but when they do, or %95 of the time, they don't get a reply. It seems that calling their customer service line or visiting the bank in person would be a better way to look for solutions.
We will comment on the replies in the style and tone section in detail. Still, for response time and accessibility, it seems that Bank of America has no problems with replying fast, but you can't access them through all their social media accounts.
Bank of America's Style and Tone
Bank of America uses Facebook mostly for interaction but unfortunately, their customer service is not very effective on Facebook. When we check the comments, all we see are canned responses with little personalization – which is addressing the user personally – and these responses are… Let's first see some examples;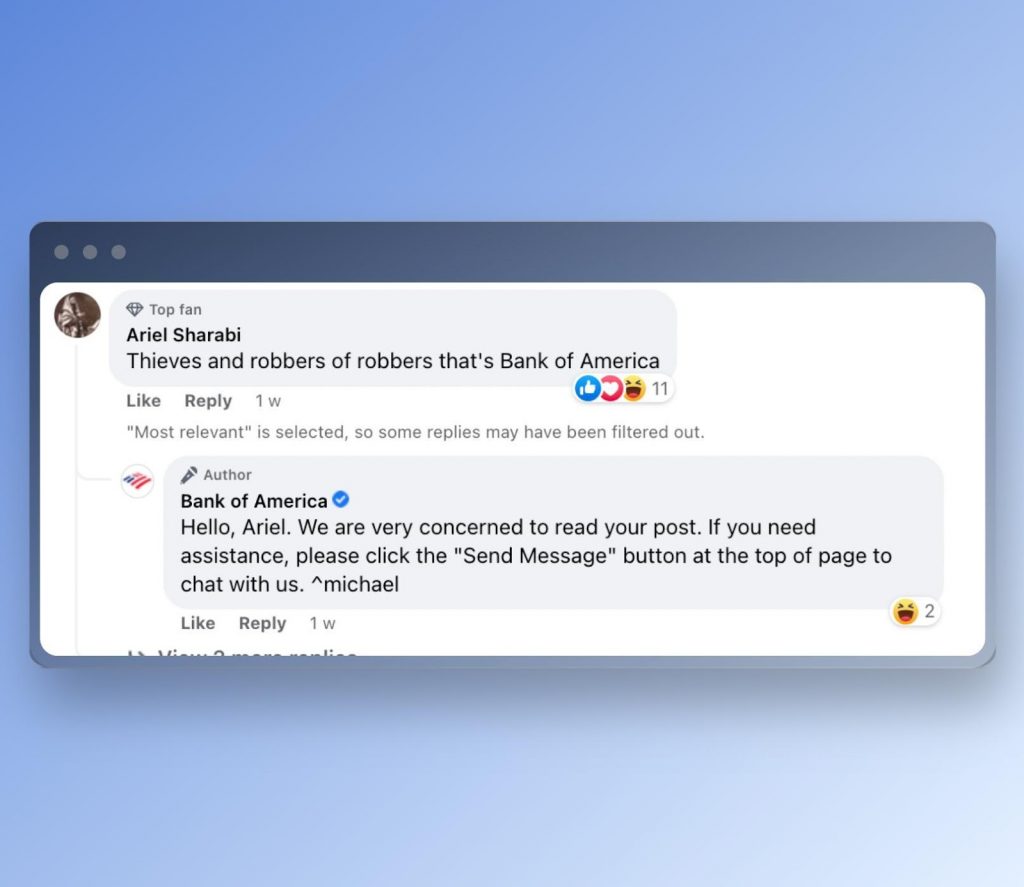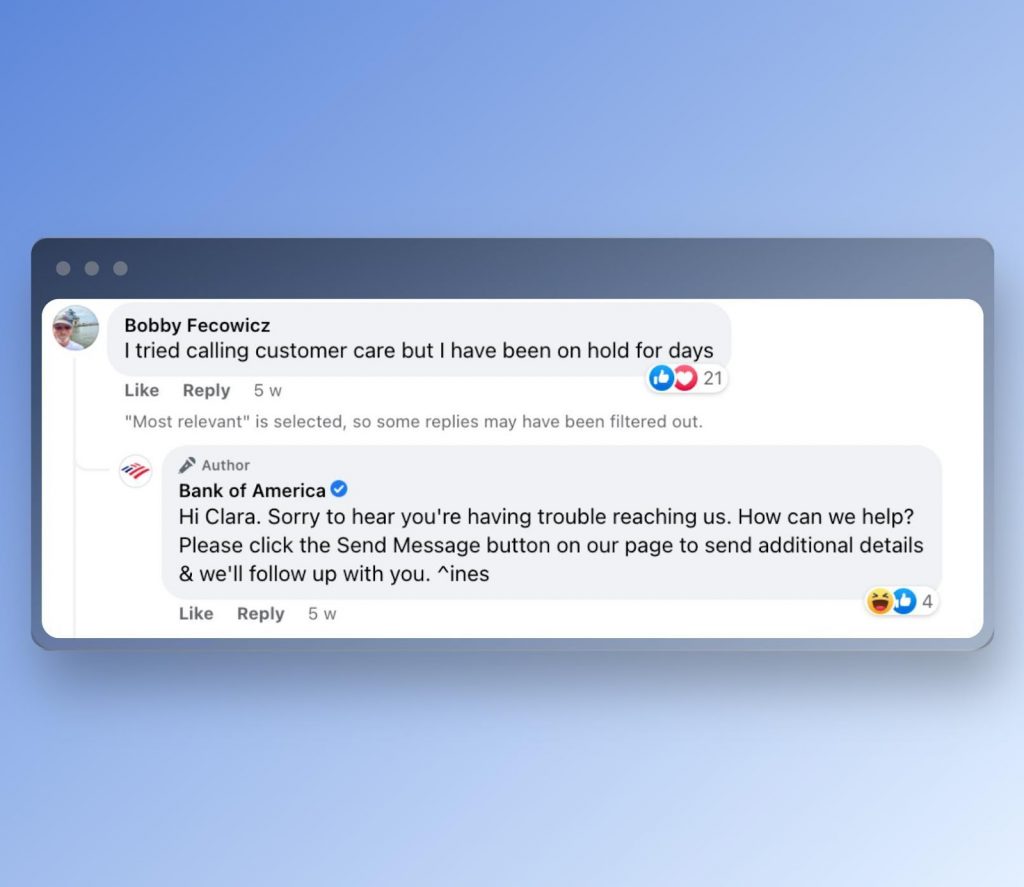 As you can see, all the replies include very easy solutions. Someone who can comment on social media is likely able to send a message, too. This may be better than getting no reply, but you can't really make your customers feel cared for with these types of automatic, cold, and insulting advices.
The case is similar on Facebook and Twitter. Most comments are replied to but with canned, unhelpful messages. It would be better if their style were more sincere and willing to help, customers would feel safer, and they would have a nice image on social platforms.
In terms of customer service, they seem to lack information since nearly all replies asking for a DM instead of giving any solution suggestions.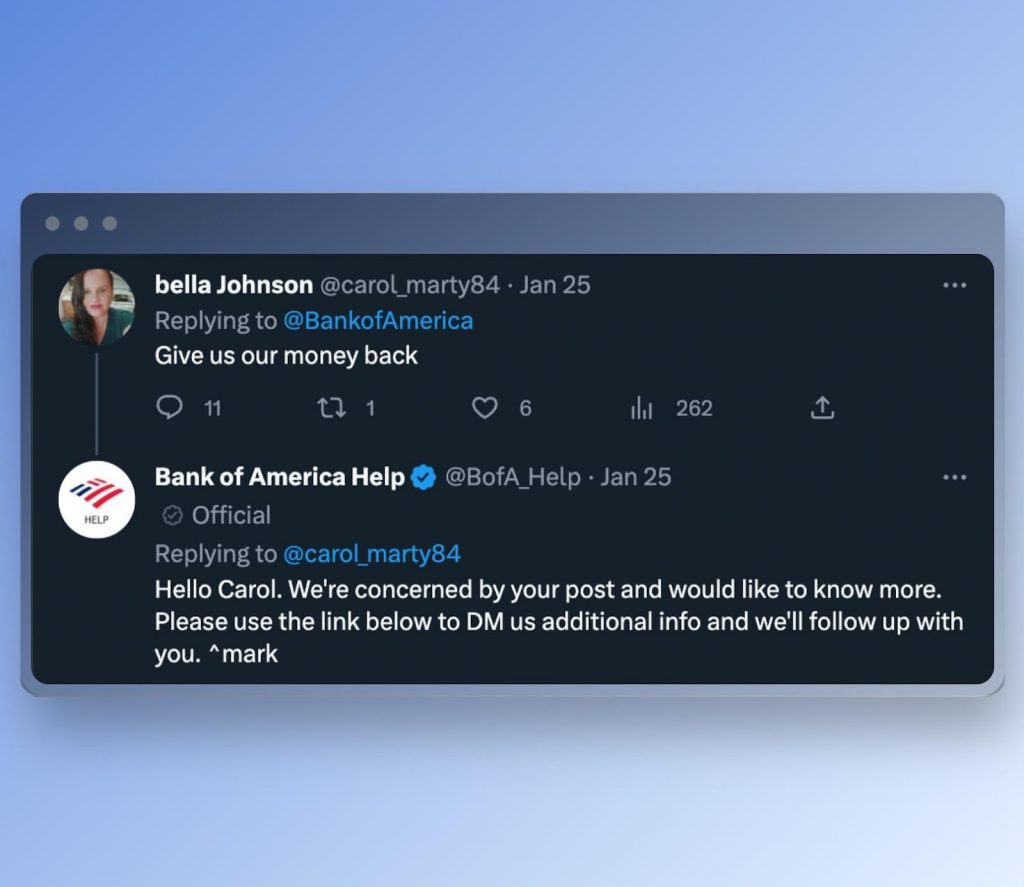 When Bank of America replies through Twitter, they use canned responses as they do on Facebook. Even though users' are addressed personally, these canned replies create a feeling of them being insincere.
Final Verdict
When it comes to social media, Bank of America is a big player. They have over 2 million followers on their main account and over 5 million followers on their business account. So when something goes wrong, their customers are sure to notice.
Here are some of Bank of America's most improvement-needing social media customer service details:
Addressing complaints. When a customer has a problem with their bank, it's vital that the customer feels like their issue has been addressed. Unfortunately, many times customers feel like their issue wasn't addressed properly – even if the issue was actually resolved. This can lead to frustration and an overall negative impression of Bank of America.
Responding. If a customer reaches out to Bank of America via social media, they should expect a response within 24 hours – ideally less. However, sometimes customers don't receive a response at all, or the response is slow and unhelpful. This can lead to further frustration and negative sentiment towards Bank of America.
Apologizing or making amends. Even if a customer's issue is resolved, they should always feel like Bank of America is sorry for the inconvenience. If a customer doesn't feel like their issue was properly addressed or that the response was slow or unhelpful, they should reach out again for an apology. In some cases, this might mean reaching out multiple times before getting a satisfactory response.
Let's see their performance in short,
***These comments and ratings are based on our research and reflect only our own opinions.
Accessibility – 6/10
It seems that you can access them through some of their social media platforms.
Response Time – 10/10
The reply comes within 24 hours.
Tone of Voice – 2/10
99% of the messages are canned and unhelpful.
Personalization – 6/10
Though they use automated messages, they address the user personally and add the customer service team member's name.
Engagement – 7/10
They gain user engagement through sharing informative posts, news, and other engaging content, but most posts don't have high interaction.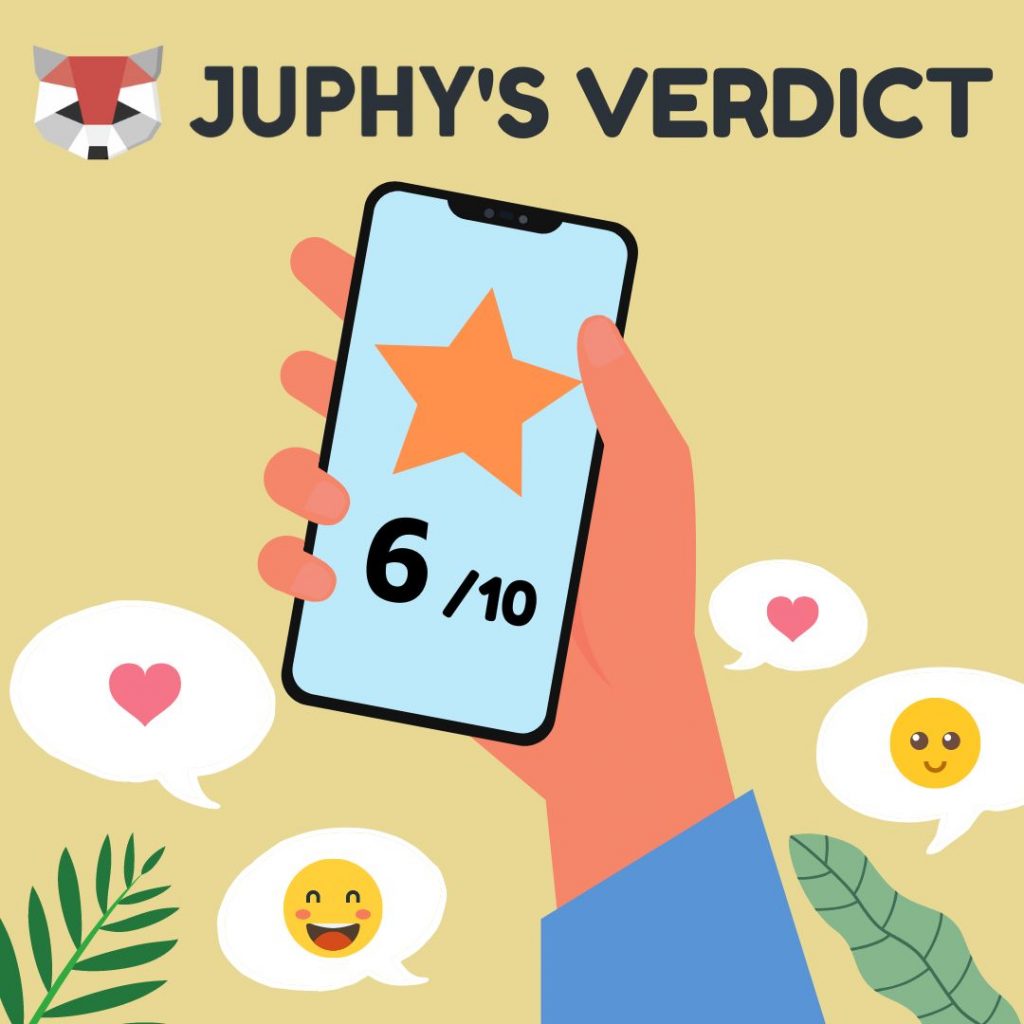 Overall, Bank of America's social media customer service mistakes can lead to negative sentiment and lost business. We can say that Bank of America should use the opportunity of being able to create a successful social media strategy to avoid these unanswered comments, unhappy customers, and a negative social media image. There are always new things to improve the social media management of your company; all you need is a qualified team using the necessary tools!
Create Your
Social Inbox Now
Manage all social media customer support inquiries in a unified inbox.
Related Article – PayPal's Social Media Customer Service Performance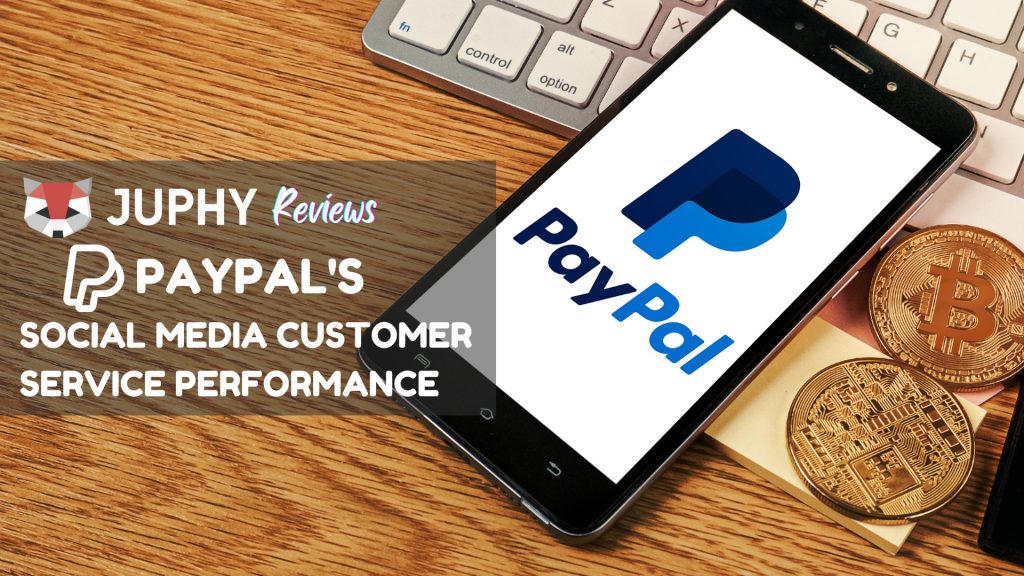 Learn how PayPal's social media customer service performance has helped increase customer satisfaction dramatically. Read more now!