In today's digital age, the importance of providing efficient and effective customer service is paramount for Fintech companies looking to increase their customer base and maintain customer loyalty. PayPal, a global leader in digital payments, is no exception.
Having millions of customers, they must provide top-notch customer service to ensure customer satisfaction. As such, PayPal has invested heavily in its social media customer service performance, utilizing various platforms to provide users with quick and responsive customer service. 
In this article, we will evaluate PayPal's social media customer service performance by looking at the company's use of different social media platforms, customer service response times, and overall customer satisfaction ratings.
Create Your
Social Inbox Now
Manage all social media customer support inquiries in a unified inbox.
PayPal's Customer Service
PayPal is a digital payment platform trusted by millions of customers around the world. It provides a safe, easy, and secure way for customers to send and receive money and shop online. PayPal has always been committed to providing exceptional customer service and support. They understand that customers have different needs and preferences, so they have deployed a wide range of customer support services. 
PayPal's customer service team is available 24/7 to help customers with their queries and concerns. They offer phone and chat support, as well as online support. They are also very active on social media, providing customers with updates and answering their questions. Customers can also view Frequently Asked Questions on the PayPal website and find detailed information about how to use the service and troubleshoot any issues they may have. 
PayPal's Social Media Presence
It's no surprise that the company has good customer service and social media presence. PayPal offers customers a wide range of customer service options, including a dedicated customer service Twitter handle, Instagram account, LinkedIn profile, Facebook page, and even a PayPal community platform.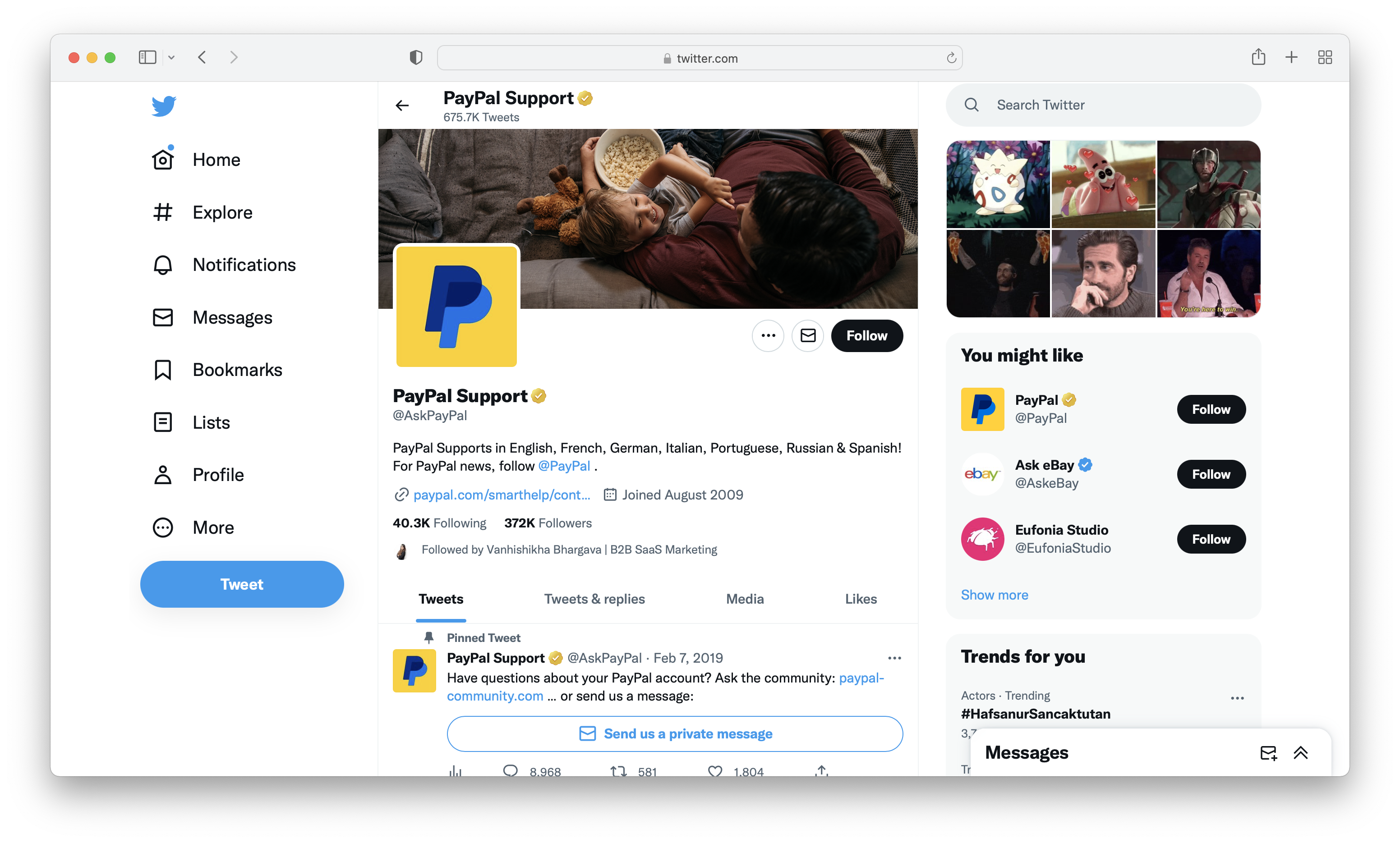 The @AskPayPal Twitter account has more than 370K followers, and their Twitter handle allows customers to ask questions and get help. This is a dedicated way for customers to get assistance in a timely manner.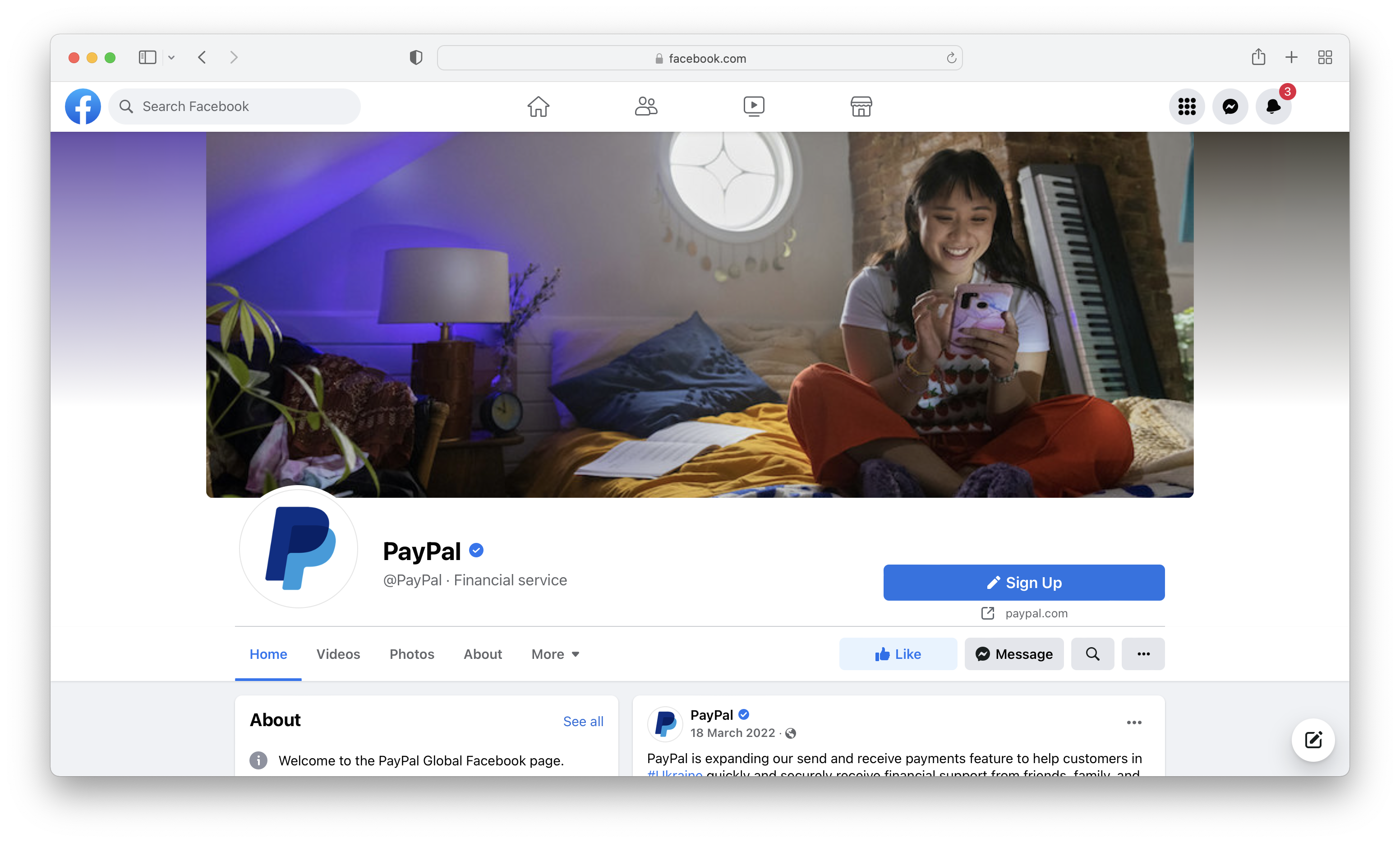 Un-similarly, PayPal has a Facebook page (with 6M followers) that has been inactive since March 2022. They were used to publishing helpful advice and information about the company's services and answering customer questions. However, now, there's not a soul around their Facebook page. It can also be seen from the brand logo that hasn't been updated as it is done for Twitter and other social media accounts.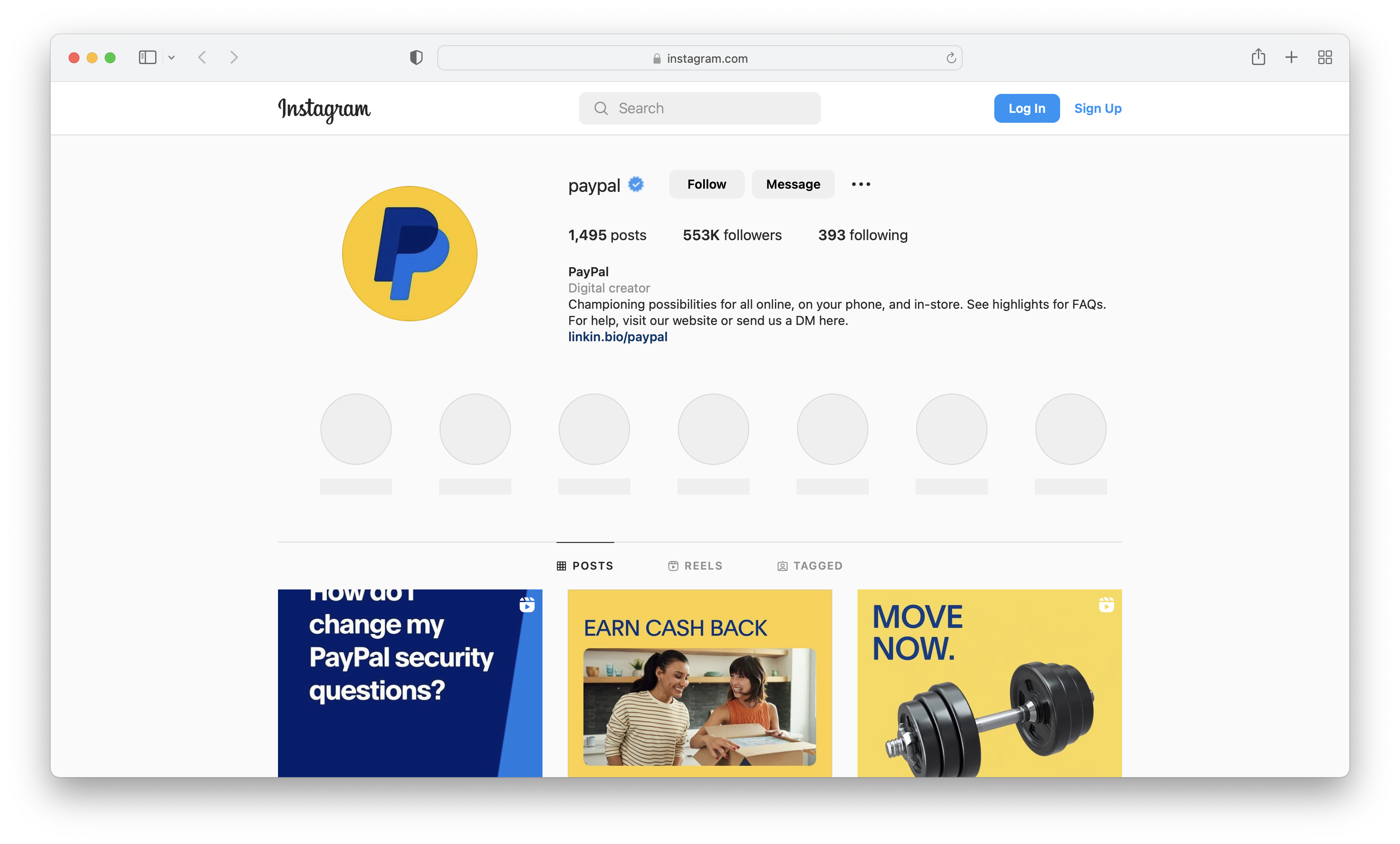 PayPal also has an Instagram account with more than 55K followers, which is used actively for providing helpful resources for customers, such as tips for managing their accounts and troubleshooting tips. Plus, customers can use PayPal's Instagram account to send direct messages to customer service or comment on posts and get a response from PayPal. PayPal also responds to posts that mention the company and provides helpful support and information.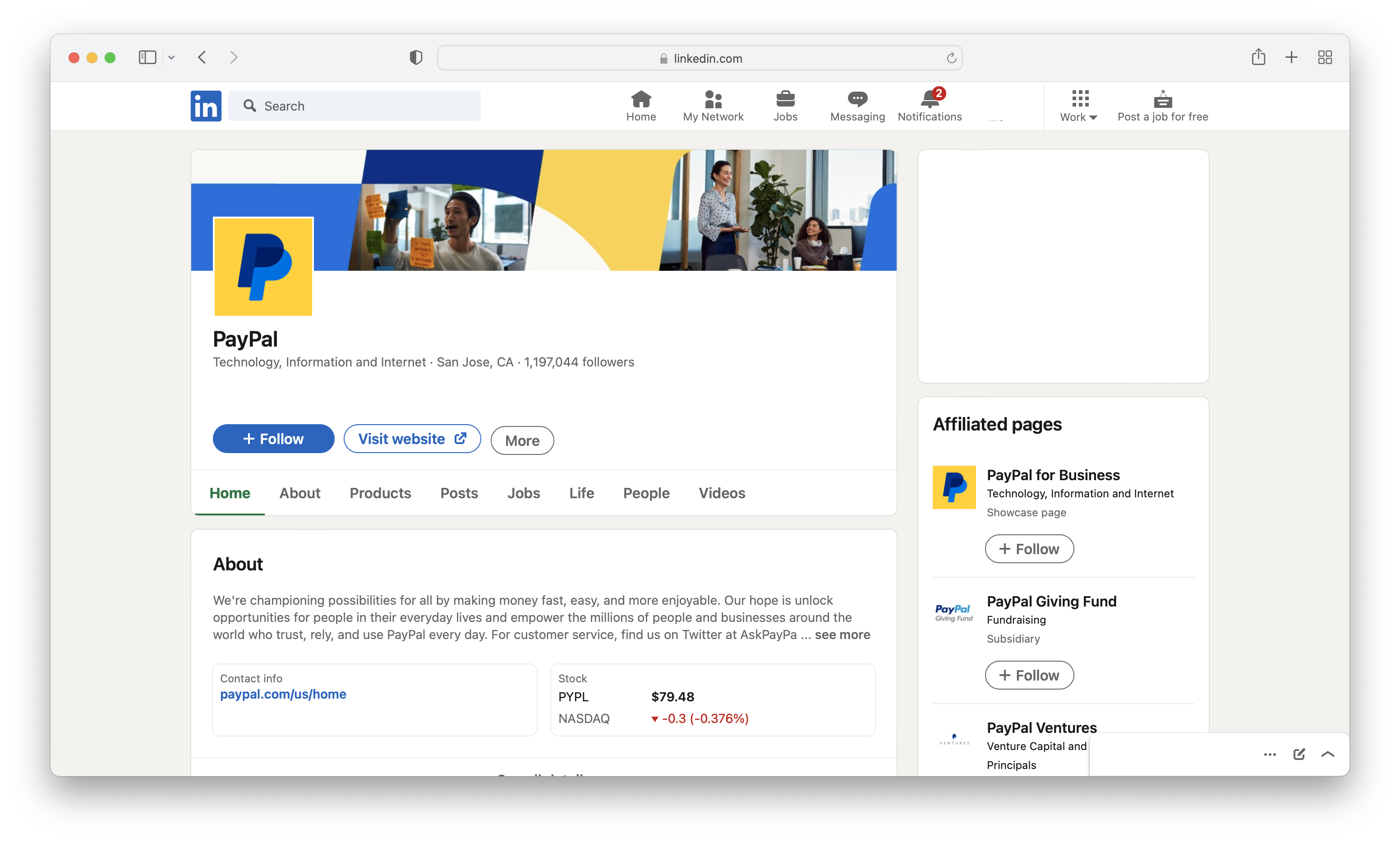 The company also provides helpful resources on its LinkedIn profile so that customers can stay updated with the latest news and updates about the company. Apart from that, if customers reach out to them in comments, they also proactively provide support on LinkedIn.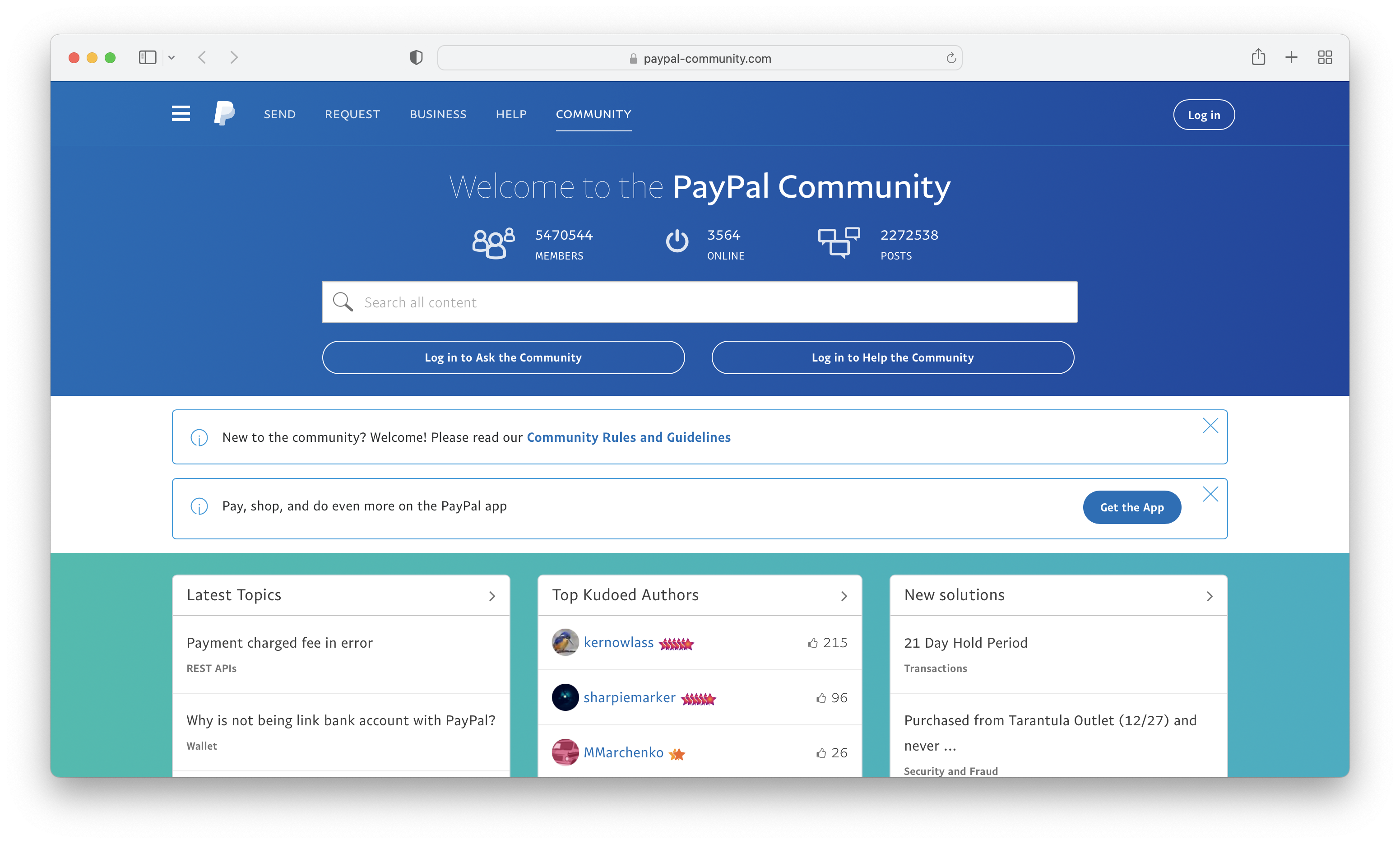 What is even better is the PayPal community forum! PayPal Community is an invaluable resource for all PayPal users with 54M members. It is an online platform that allows PayPal users to connect with one another and seek help from PayPal customer service. It is a place where you can ask questions, get answers, share your experiences, and find solutions to your PayPal-related problems.
Overview of PayPal's Social Media Customer Service Performance
The first step in evaluating PayPal's social media customer service performance is determining how the company is performing overall when it comes to social media. As we remarked above, PayPal currently uses social media platforms such as Twitter, Instagram, LinkedIn, and the PayPal Community Forum. To evaluate their use of different social media platforms, we need to take a closer look at different aspects of how they leverage each social media platform to its fullest potential.
PayPal's Accessibility on Social Media
PayPal customer service is available 24/7, and customers can get help through various methods, by sending messages, commenting on their posts, or mentioning their social media accounts.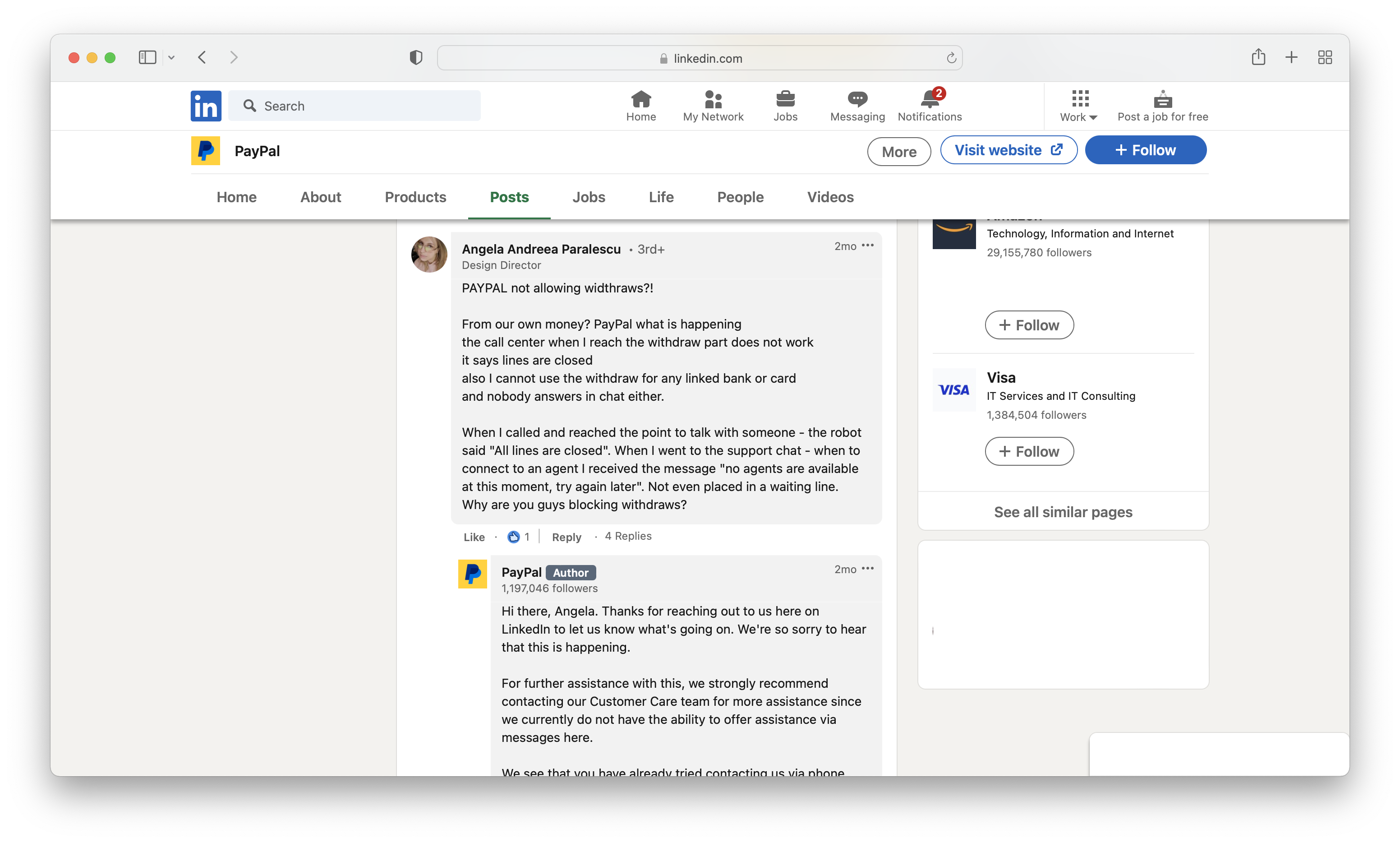 Looking at the example above, we see some comments under one of their LinkedIn posts. The post is about an announcement, yet, it is clearly seen that PayPal's social media customer service is accessible even under unrelated posts. They replied to a user experiencing a bad situation immediately.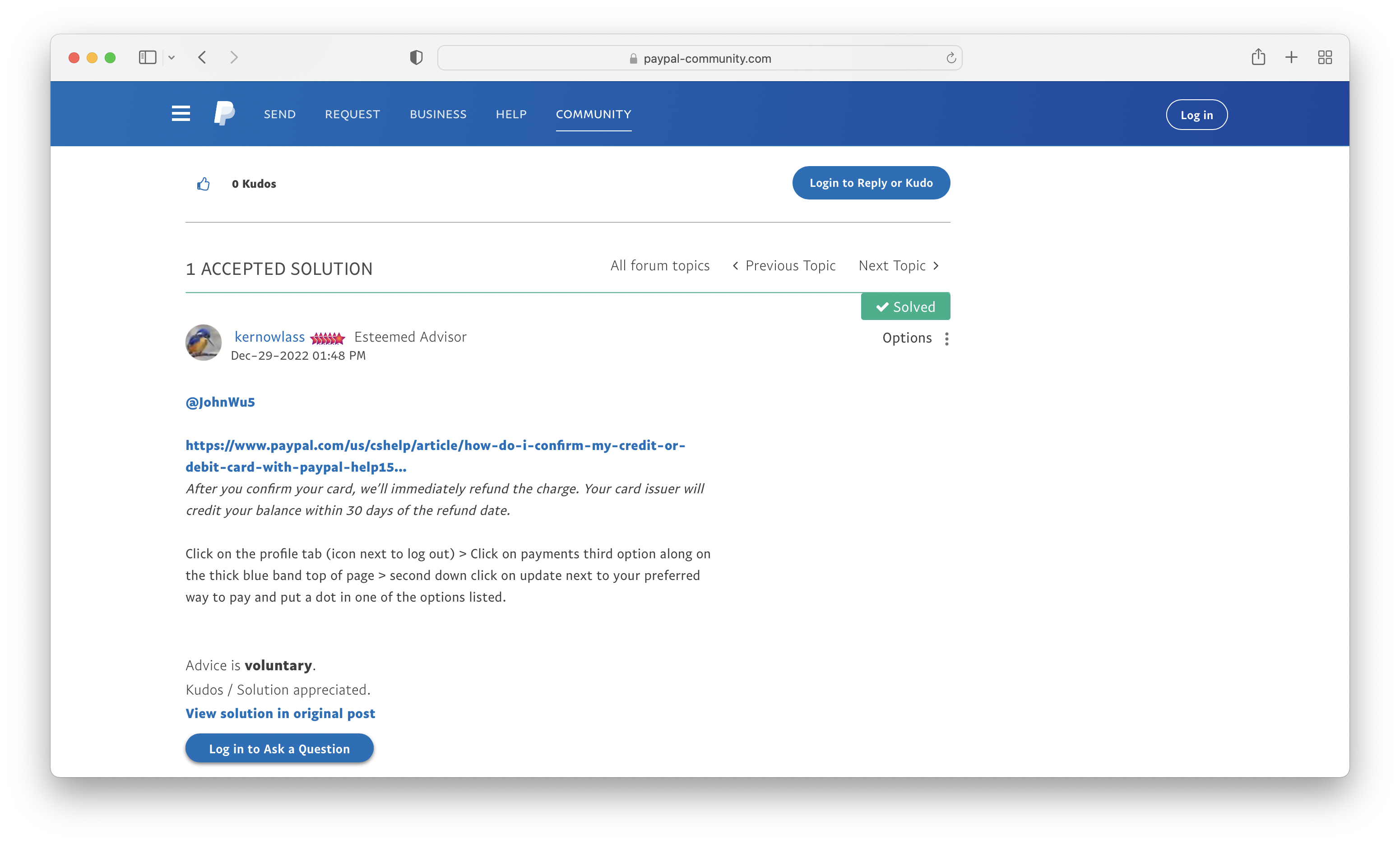 Similarly, in this example, we see a problem that is confirmed to be solved on their community forum. The experts at PayPal provide prompt and professional customer service and are always available to answer questions and provide guidance. It is a place that is always accessible to support, find answers, and connect with other PayPal customers.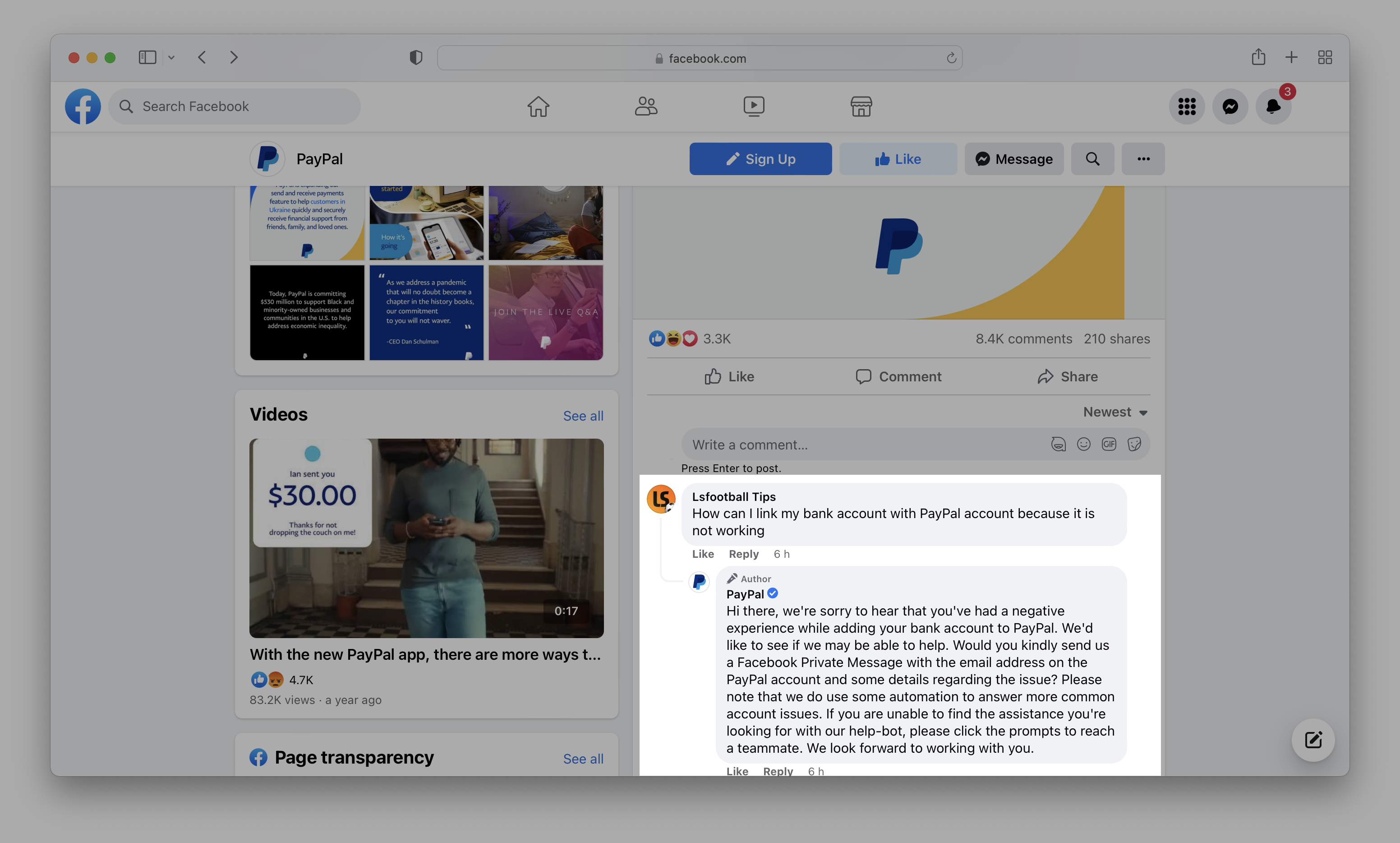 As we discussed, PayPal is not actively using Facebook to publish posts and news. However, they seem to be answering the questions and trying to provide support to customers with problems by directing them to Facebook Private Messages. We can say that they are still providing an accessible social media support experience even on their inactive Facebook page.
PayPal's Response Time on Social Media
The next step in evaluating PayPal's social media customer service performance is determining how quickly PayPal responds to different customer service requests across the different social media platforms.
We researched the response times for each platform's five most common customer service requests to determine if PayPal responds quickly to customer inquiries across all platforms. As per our research, customer service requests, "viewing account/transactions," "payment issues," "general questions," "product or service issues," and "fraud or security concerns" are the top five issues encountered on each social media platform. Thus, we wanted to focus on these five customer service requests when analyzing PayPal's response times for customer service.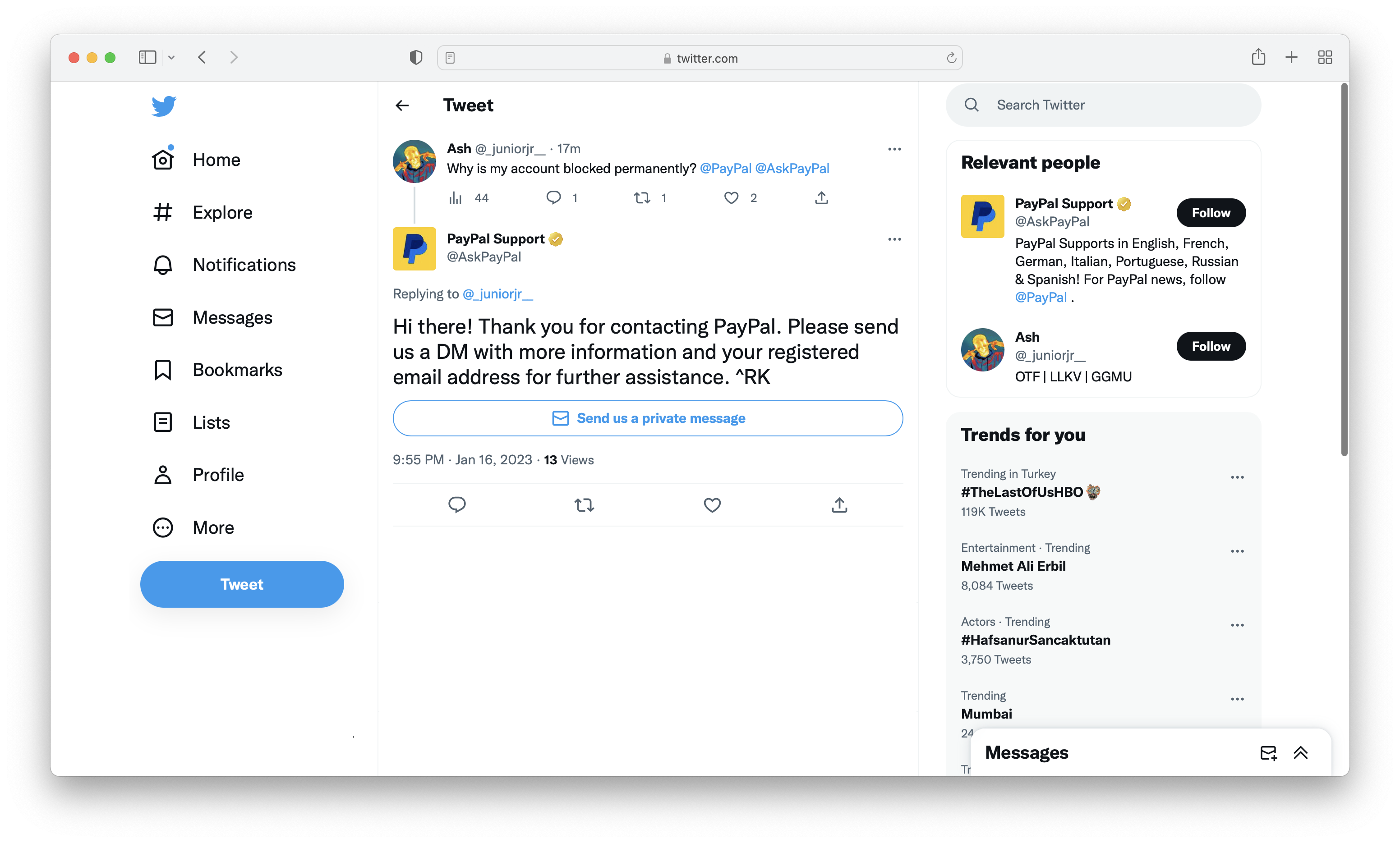 In the example above, you can see that the PayPal answer is an automated message that is sent immediately upon the customer's inquiry. We can say that the response time is fast here to move forward with the inquiry or problem.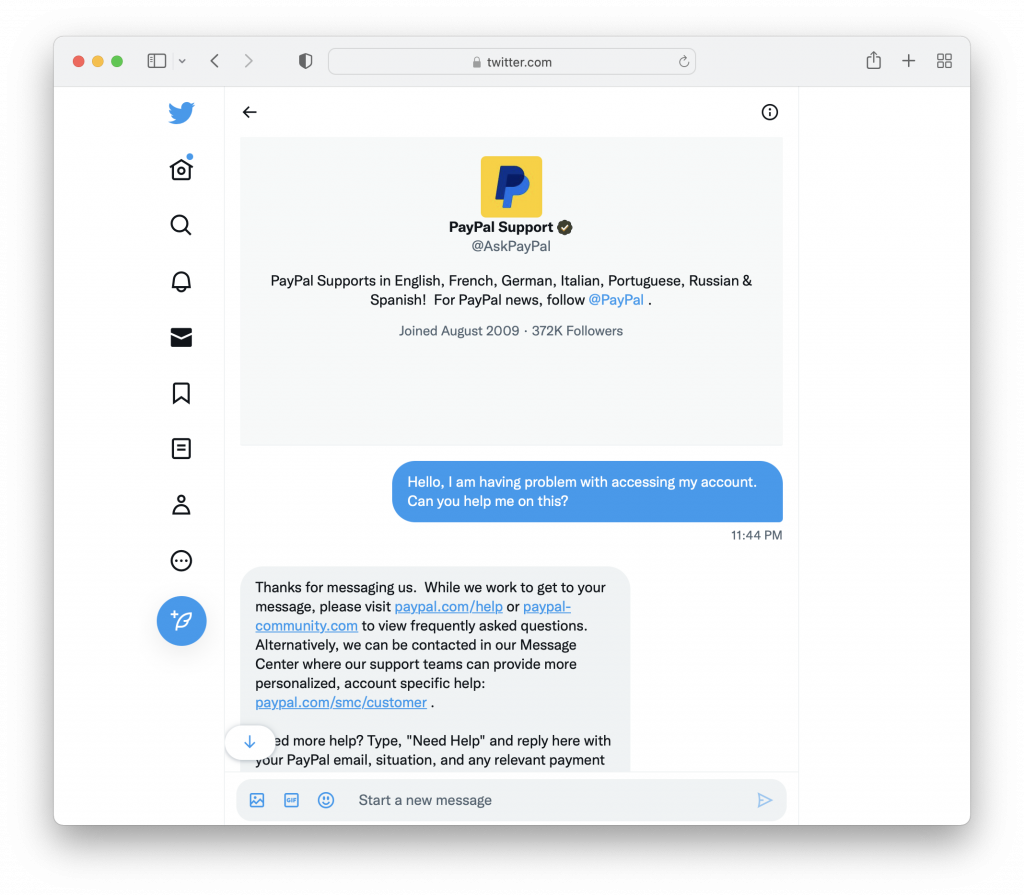 After the first step and sending a direct message, the customers again get an automated message about finding helpful information while the team evaluates the options. This step still does not provide a direct answer, but it is fast.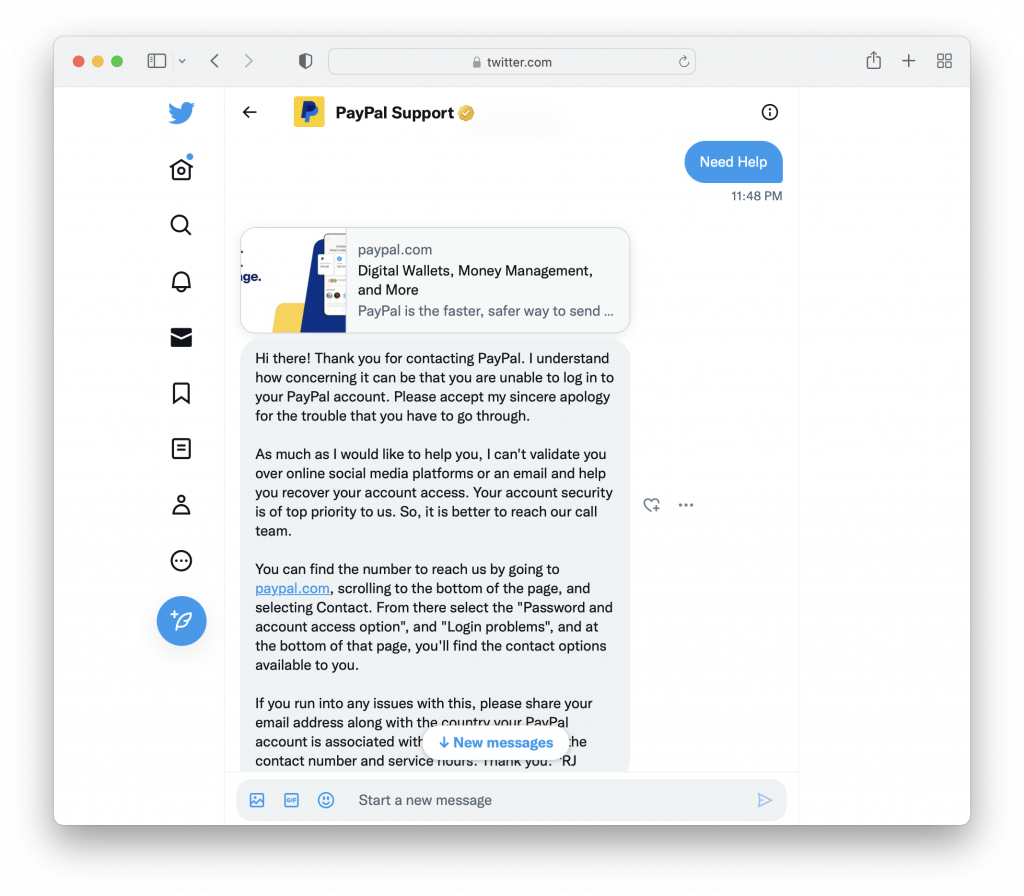 Finally, after typing "Need Help," we see there is a relevant answer given by a specific social media customer support specialist. These all were completed in almost three minutes, which is fast enough for a company of this scale!
PayPal's Style and Tone on Social Media
PayPal's tone and style are standard and fixed for all cases, which can result from their result-oriented approach. They understand that customers may be frustrated, confused, or upset when they reach out, and they strive to provide an empathetic and helpful response.
However, as all their replies are automated when looked at from the outside, even if it is friendly and conversational, it also feels robotic in some cases.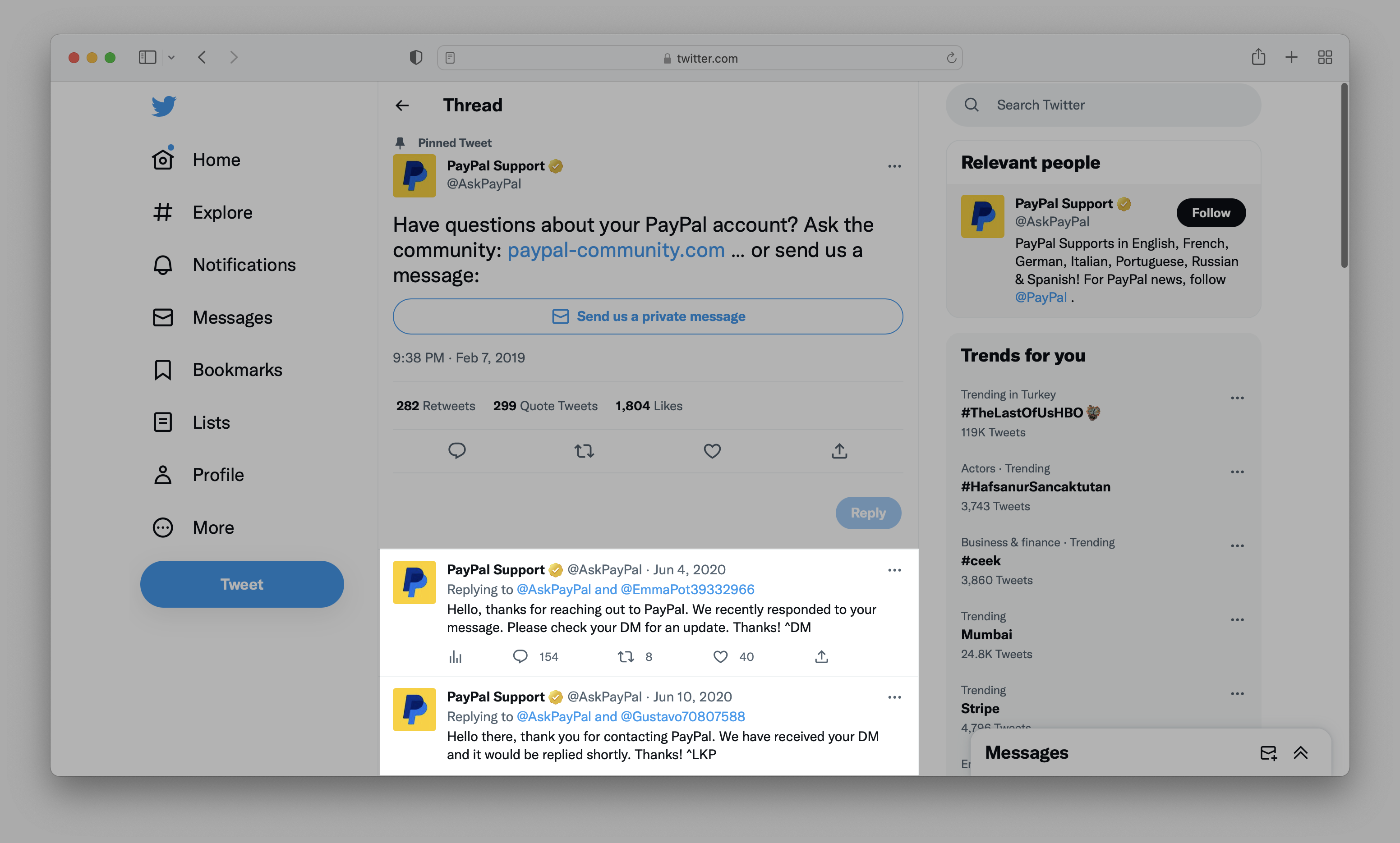 As you can see in the example, they have a fixed, friendly tone and style that is applied as an automated system on Twitter.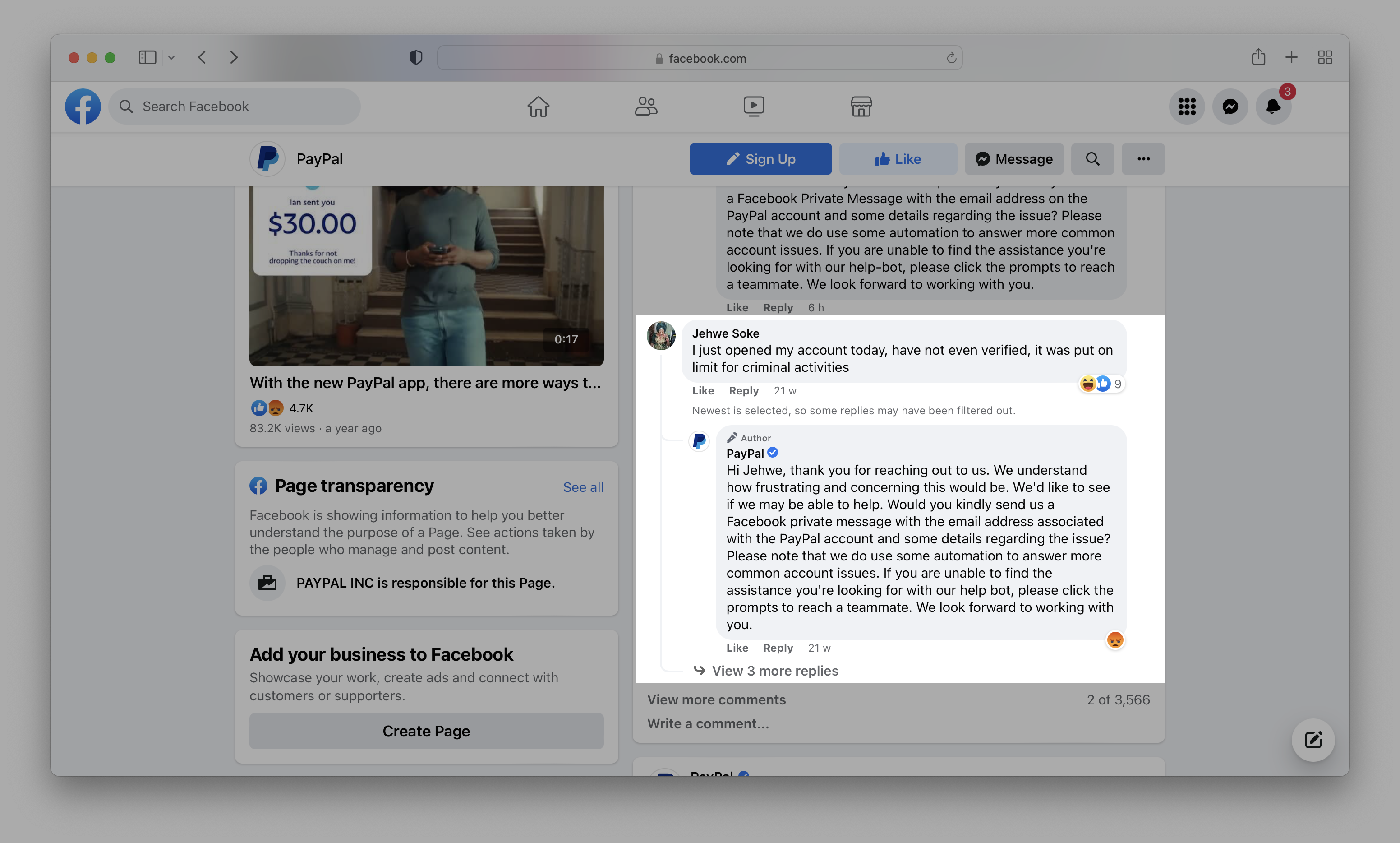 In another example, we can also sense that PayPal's customer service is very result-oriented. Hence their tone also transmits this feeling.
Final Verdict
Regarding social media customer service performance, PayPal excels. The company leverages each social media platform to its fullest potential, responding quickly to customer concerns with high customer satisfaction across all platforms.
Let's now explore how they will perform on our ratings with their social media customer service.
***These ratings are based on our research and reflect only our own opinions.

Accessibility – 9/10
We are not rejecting their overall accessibility, especially on their PayPal Community Forum, yet, we are breaking one point from their Facebook page.
Response Time – 9/10
PayPal lets its users go over some automated messages but replies with relevant answers very quickly!
Tone of Voice – 8/10
PayPal's tone is friendly, and its style is results-oriented, but sometimes it doesn't feel genuine because they use a lot of automated messages.
Personalization – 8/10
In public spaces, PayPal always redirects customers to private messages. This shows that they mostly use automated messages, yet, we cannot say that all messages are pre-defined.
Engagement – 10/10
Due to their active stance, we can say that their interaction levels are high on all social media platforms.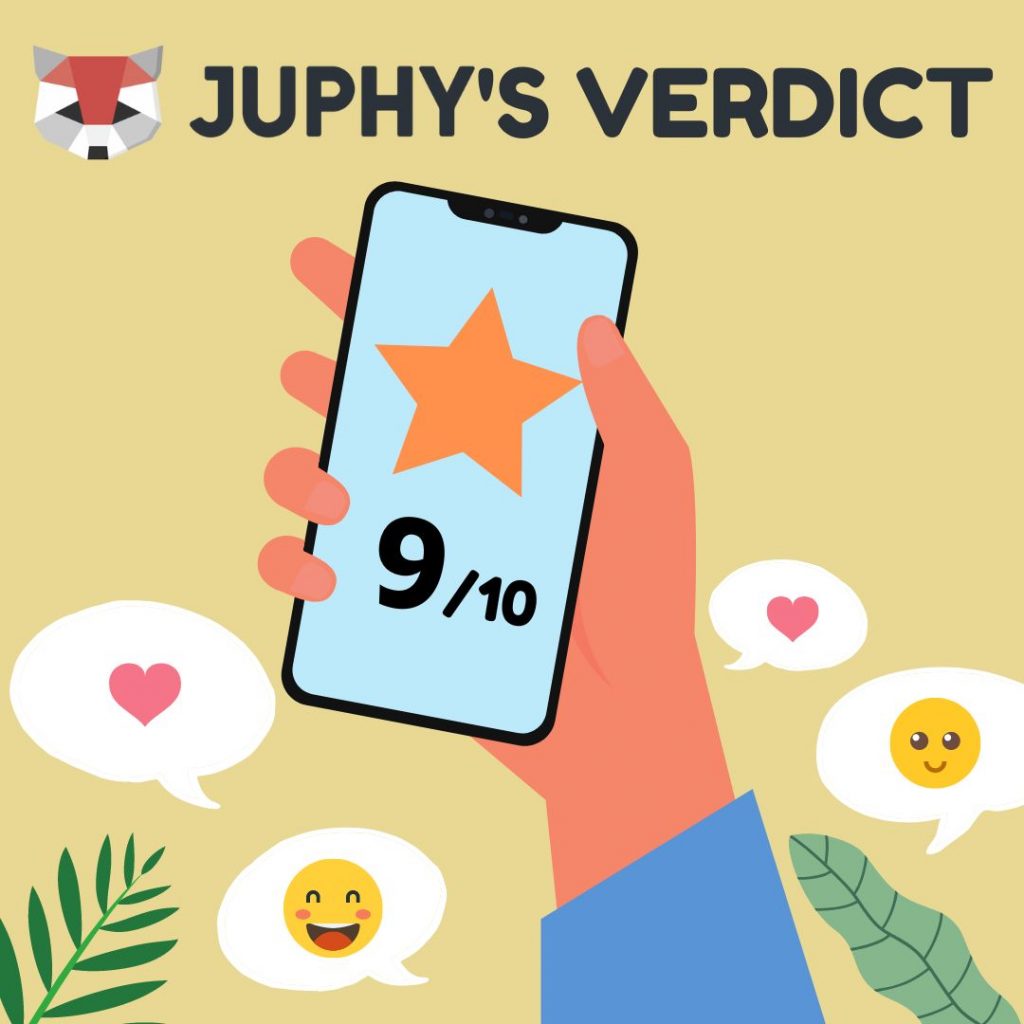 Create Your
Social Inbox Now
Manage all social media customer support inquiries in a unified inbox.
Related Article – ZAPPOS' Social Media Customer Service Performance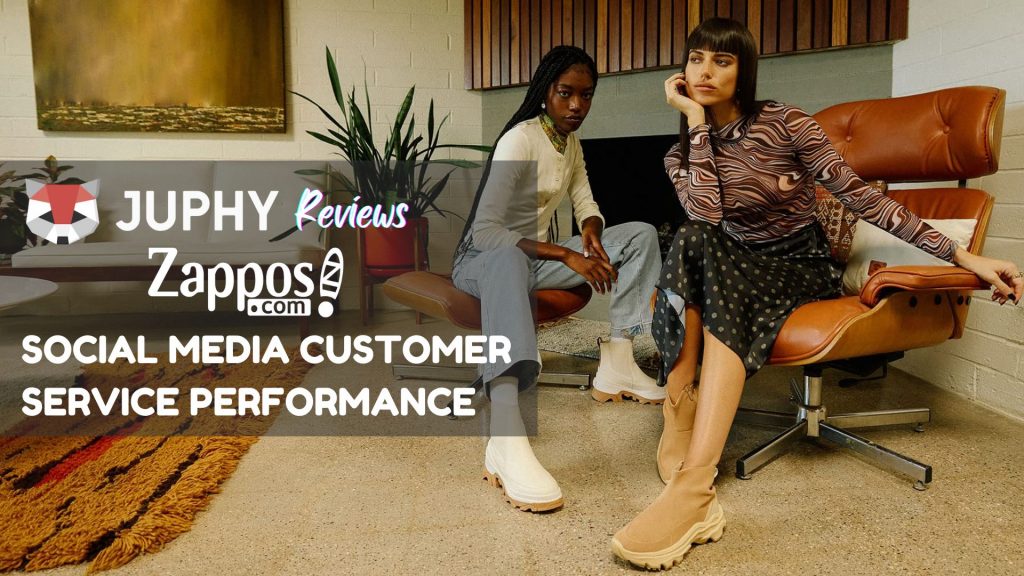 Zappos' social media customer service might be one of the best examples of this decade. We have identified the elements of their strategy. Read more now!