Whether you're an active user or a lurker, it is difficult to ignore the buzz that Twitter has generated in the past few years. Once, it was reserved for people who had nothing to say; now, anyone can create an account and reach millions of people at once.
You should use Twitter as a customer service platform for many reasons. With the growing popularity of social media, it's important to be present and engage with your current and potential customers.

Using Twitter for customer service allows you to build a rapport with your customers and gives them a convenient way to get in touch with you if they have any questions or concerns.
Create Your
Social Inbox Now
Manage all social media customer support inquiries in a unified inbox.
Why Is Twitter a Great Customer Service Platform?
Twitter is an excellent customer service tool for several reasons. First, it's an open platform that allows businesses to reach a massive audience of potential customers. Second, it's accessible 24/7, so customers can communicate with businesses anytime. And finally, it's easy to use: all you need is a smartphone and the Twitter app.
Companies that run a Twitter account have been able to provide customer support through the app since 2015. Using Twitter for providing customer service has revolutionized how brands interact with their customers and ultimately become more human.
But the most critical reason your brand should take Twitter customer service seriously is that your audience is already talking about your brand on Twitter, and you need to be able to find them and respond to them at every opportunity to improve the quality of your user communications.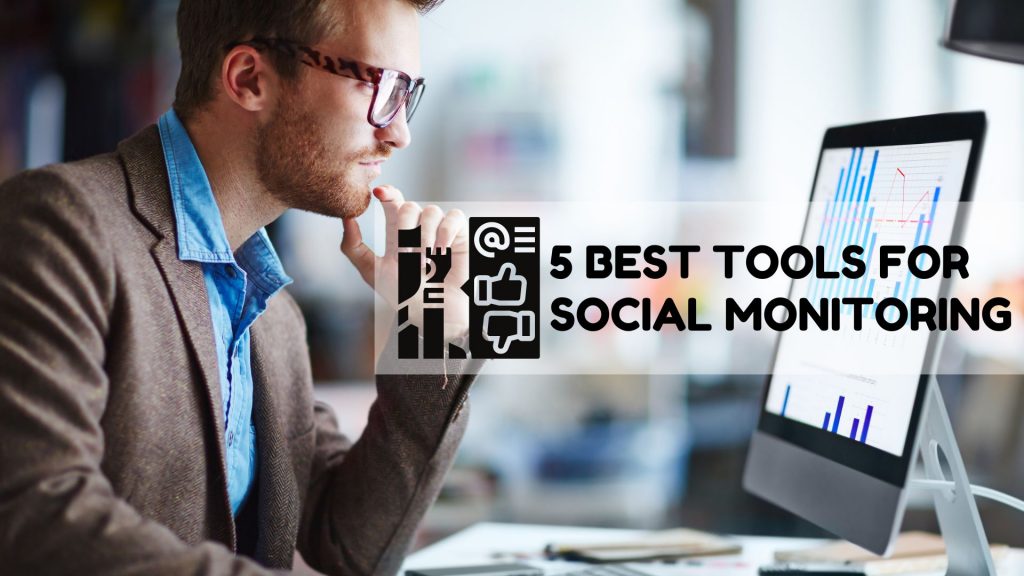 We have compiled some of the major brands' best examples of Twitter customer service. These examples show the possibilities you can encounter when you take advantage of your brand's social media presence. Responding to customer feedback proactively instead of waiting for complaints to roll in like usual is another benefit of using Twitter for customer service.
6 Great Examples of Twitter Customer Service
1. Amazon
Amazon's customer service on Twitter is a great example of how it should be done. Before anything, Amazon offers multilingual customer support on its Twitter account.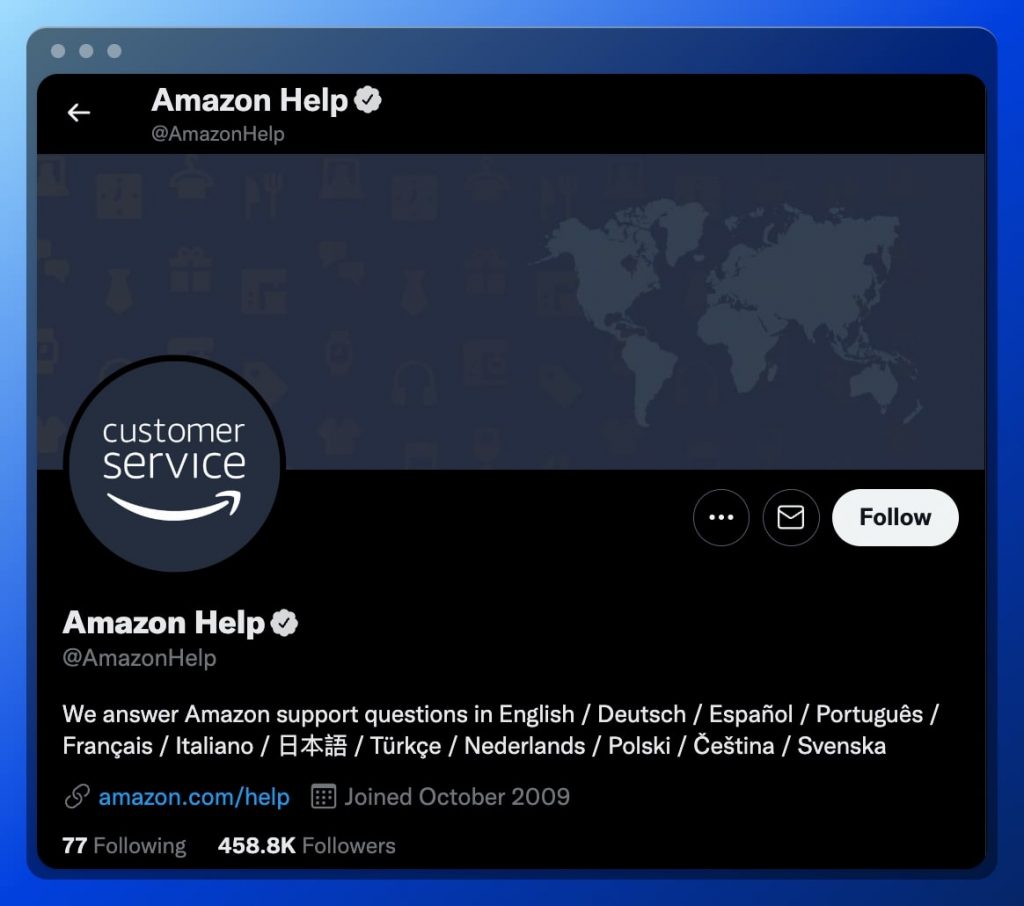 Multilingual customer service requires Amazon to categorize tweets into buckets by using customer service software that provides custom filters such as urgency, language, and more. Accordingly, they achieve a quick response time and benefit both the user and the company.

When you check their Twitter account, you can see different replies, one after another, in multiple languages.

2. Coca-Cola
Coca-Cola is one of the brands that are very active on social media. On Twitter, Coca-Cola engages with customers in many ways, including answering their questions and replying to any tweets that mention Coca-Cola.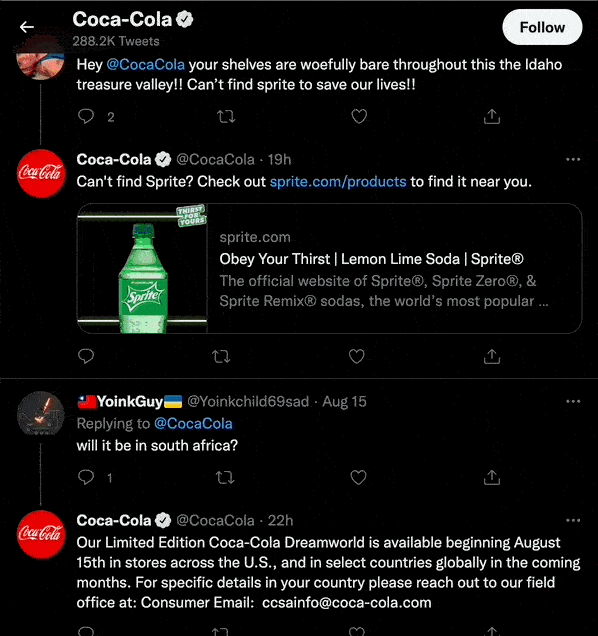 Customer's curious questions like these;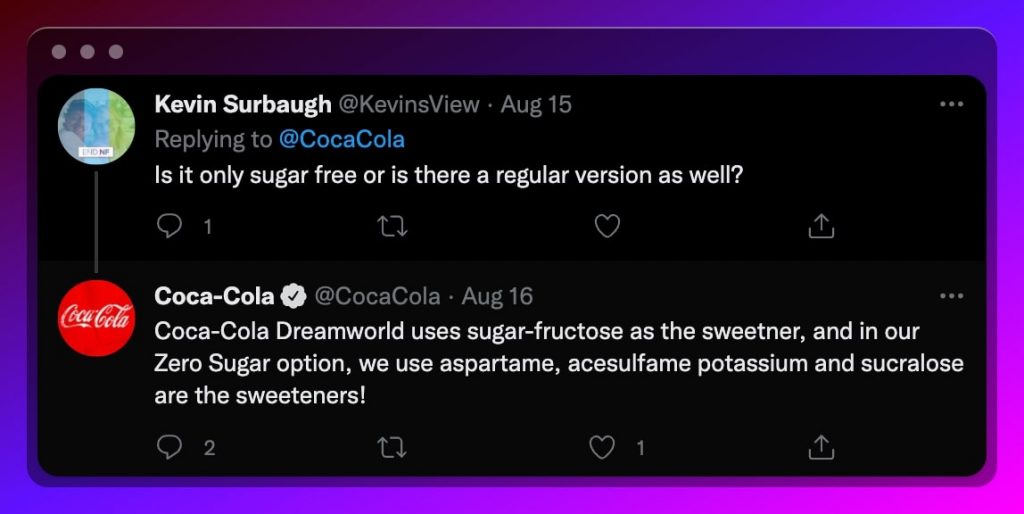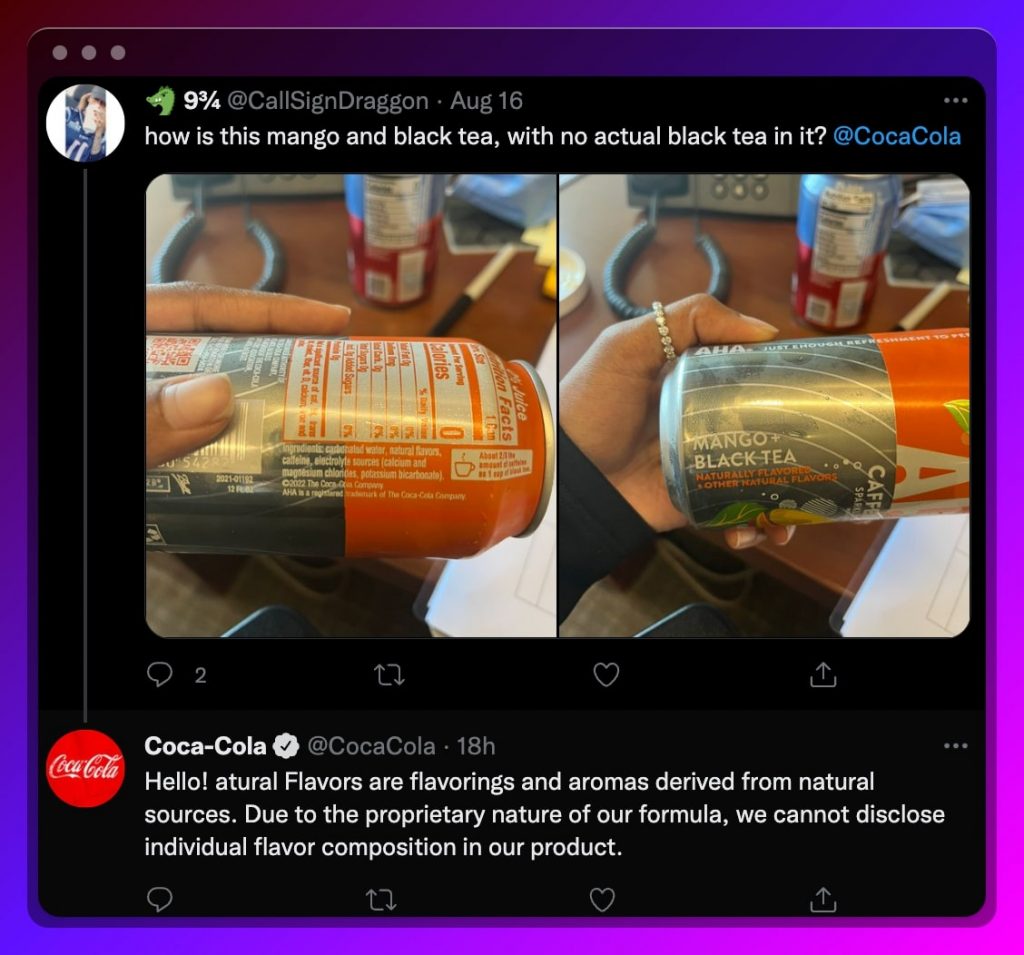 As well as problems that customers experience like this;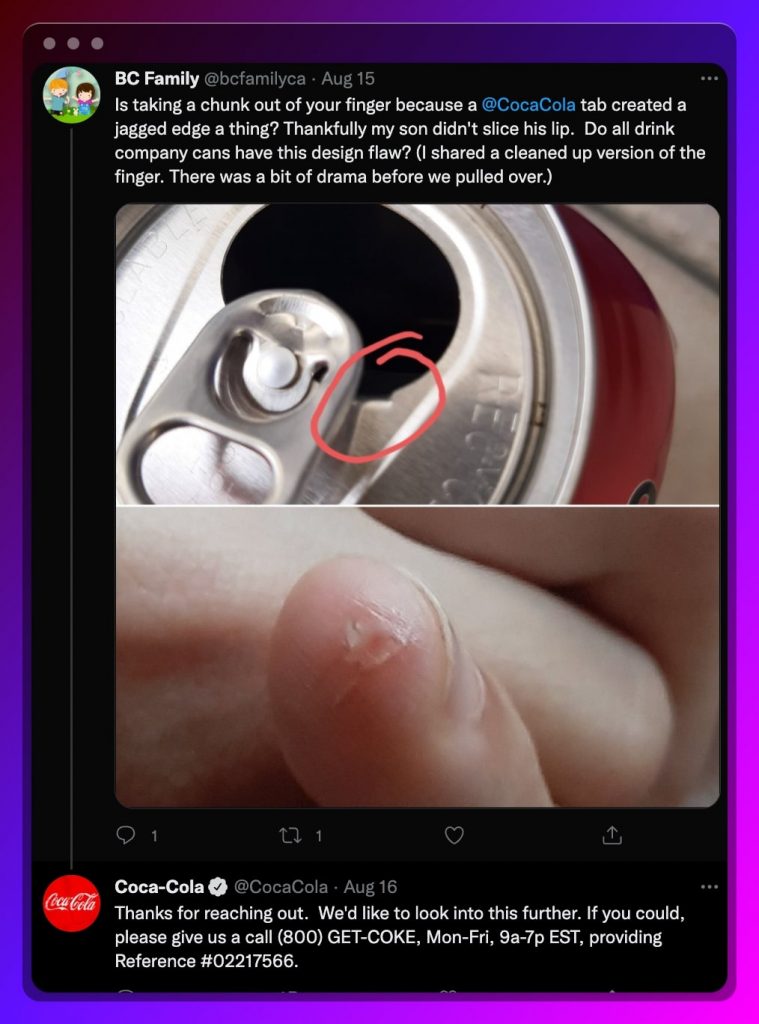 It seems that Coca-Cola's Twitter support team tries hard not to miss any mention from their customers! This kind of care builds trust and sympathy for the customers, and Coca-Cola is seen to be one of the brands that deserve those!
3. Xbox
Microsoft Xbox's Twitter support account, called Xbox Support, is one of the most interactive support accounts on Twitter. Though they get tons of mentions daily, Xbox's support team is ready to respond to those mentions quickly.
Plus, there is concrete evidence of their success;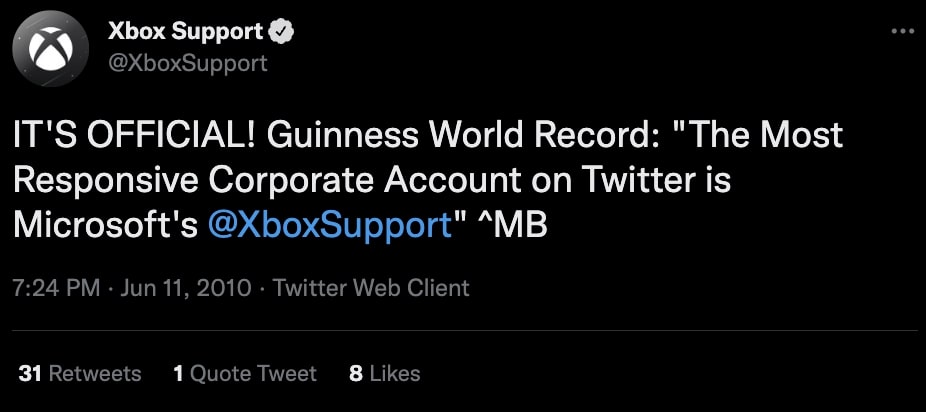 In 2010, they got the Guinness World Record of "The most responsive corporate account on Twitter"!
Xbox Support has established itself as a key pillar of Xbox help and consistently receives the top customer satisfaction ratings across all support channels within a year of starting!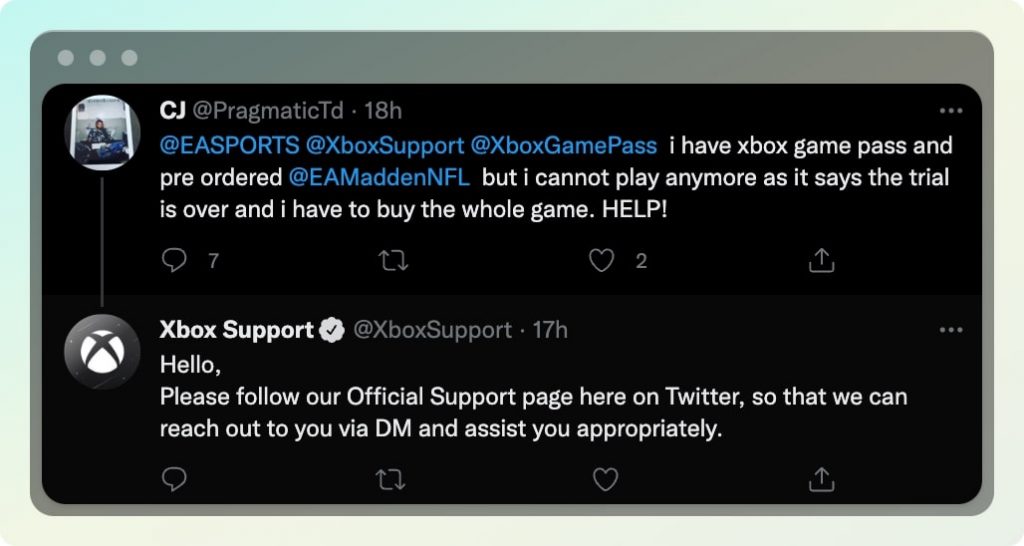 They assist their customers' problems via DM by personally contacting the user. This meticulousness results in customers' trust, especially in customer service. They offer help through DMs to avoid privacy issues by asking their customer to follow the Xbox Support account.
4. JetBlue
JetBlue is one company that comes to mind when discussing customer service on Twitter. One of the most frequent reasons why customers become irate is airline delays. Delays occur frequently, and passengers tend to express their feelings when a flight is delayed.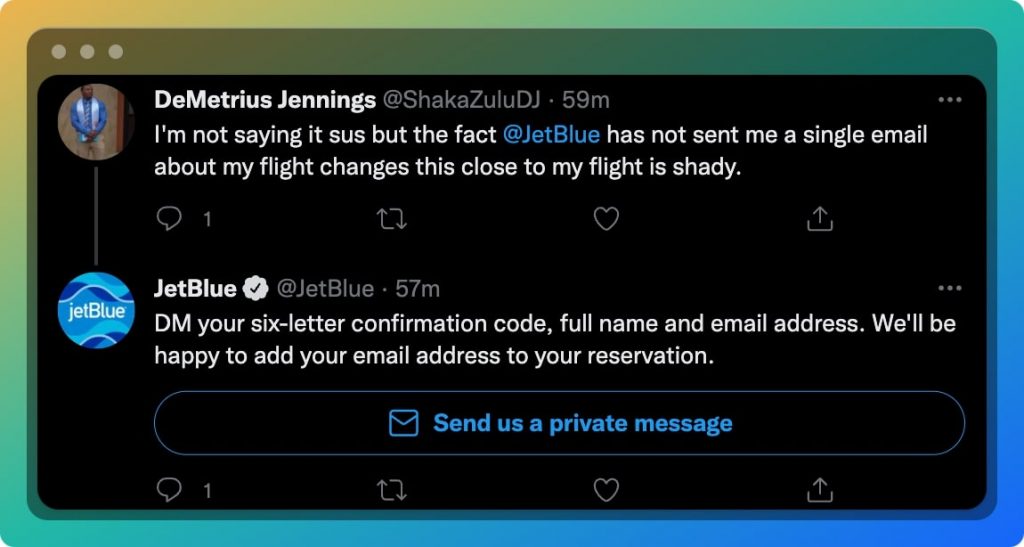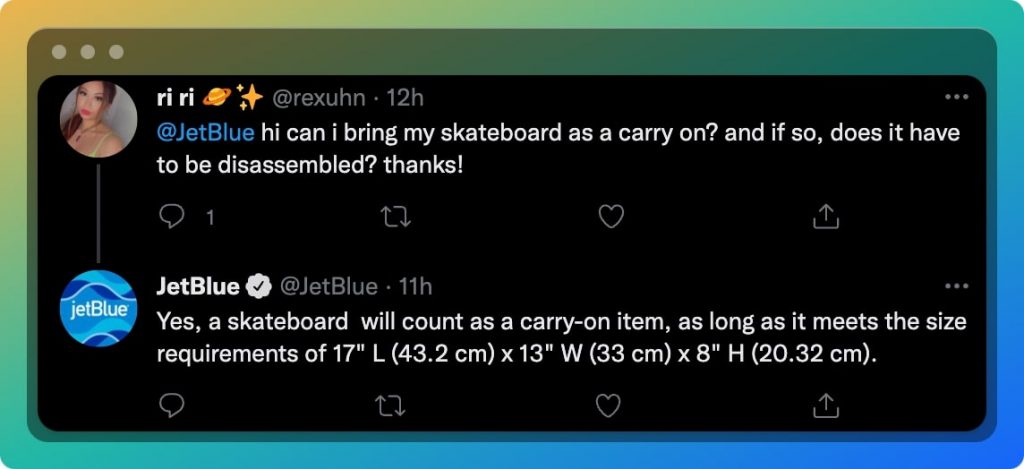 As can be seen from the mentioned time, they have a fast-responsive customer support team. This fast response time is the source of their success in customer service. Imagine you are having problems in the airport, and you need fast solutions; they are here to help!
5. Spotify
With their support account called Spotify Cares, Spotify is in the top "10 Social Media Customer Service Providers" list. Their average response time is known to be less than an hour on Twitter! Medium claims that their response time is 11 mins on average!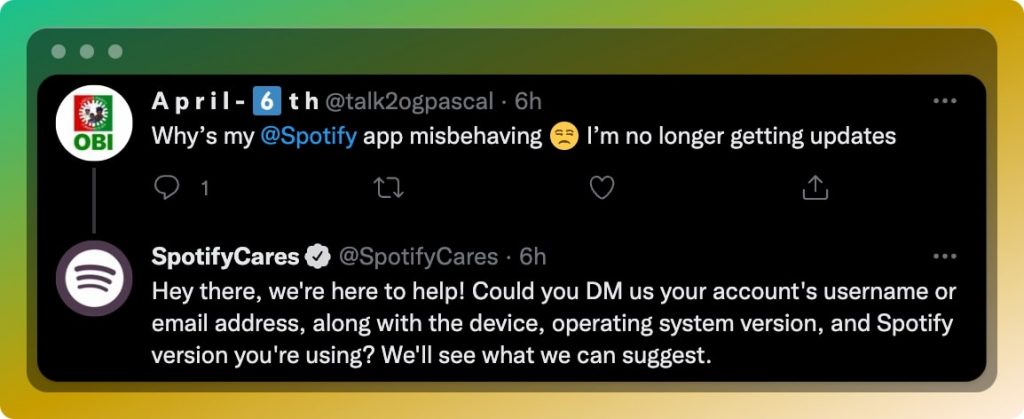 Plus, just like Amazon, Spotify responds in multiple languages.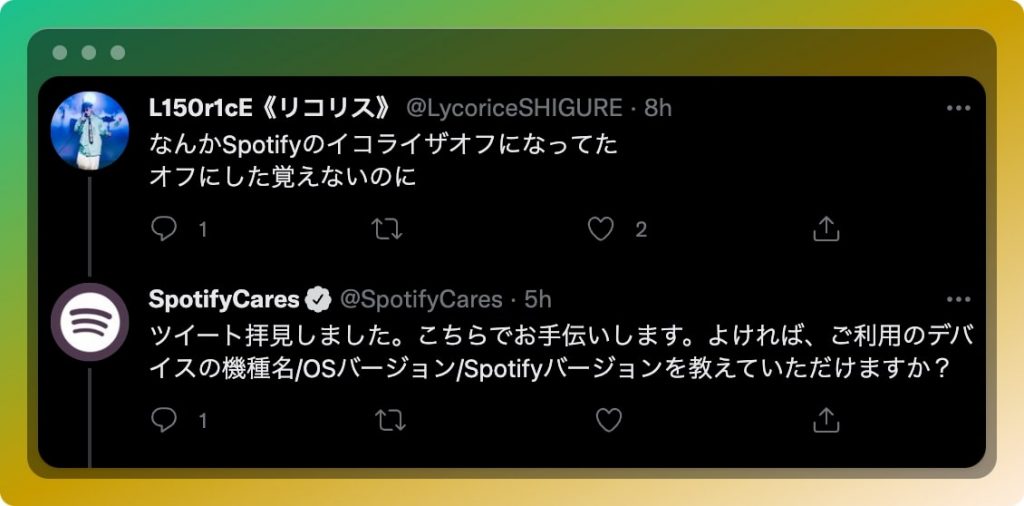 Also, their mentions are not auto-generated. Their personalized mentions create the feeling of being cared for personally.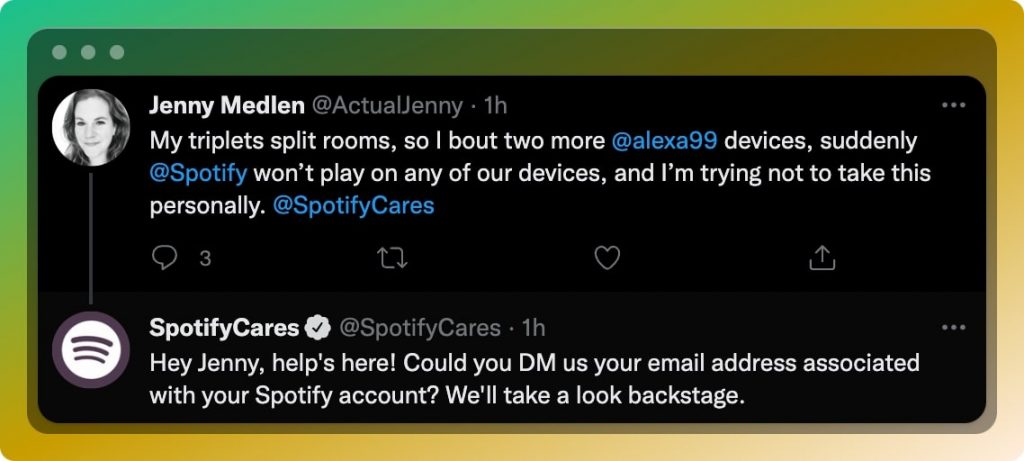 6. Domino's Pizza
Although it is a pizza company, Domino's offers fast replying on Twitter. Their customer service team advises users to send their personal information via a DM if they contact them on Twitter. The customer service representative in charge of each question can then locate the data they require to give a helpful and accurate response.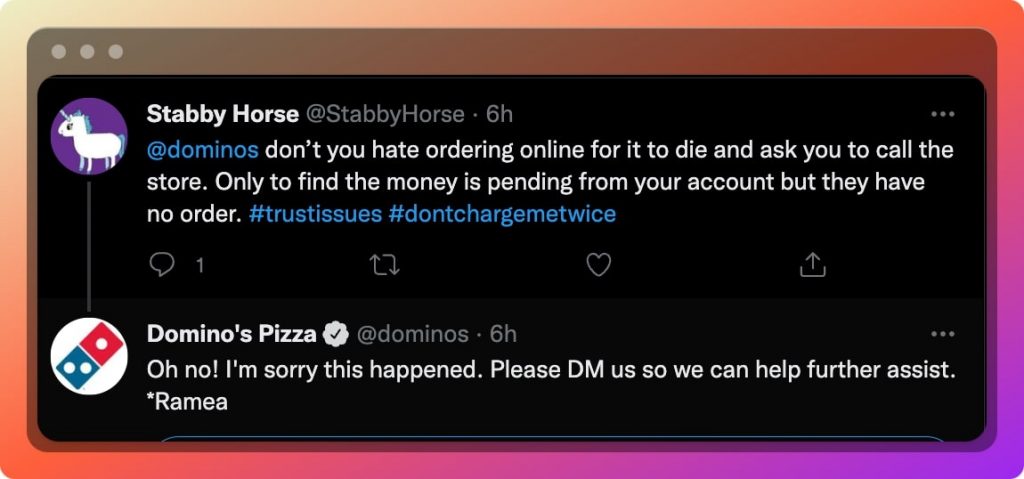 Also, though they reply quickly, they include the proper link according to the user's location!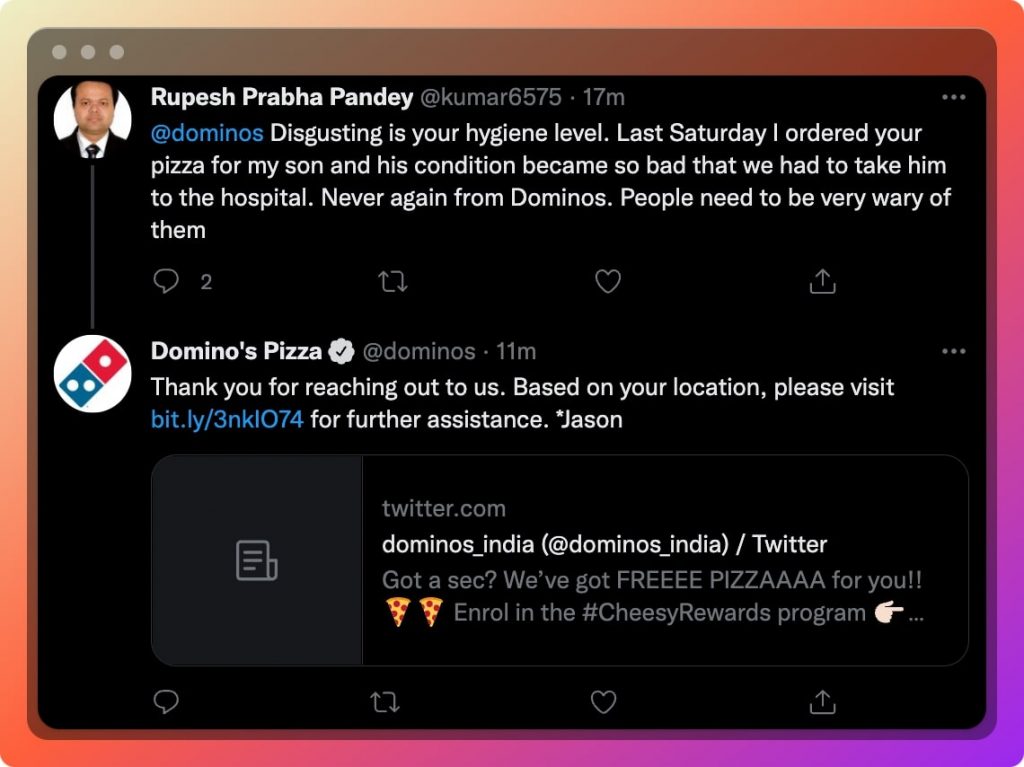 In the example above, they replied in six minutes but still did not use auto-generated messages and included the location-based help link.

Since they deliver pizzas, Domino's should reply in a short time – sometimes short enough to keep the pizza hot – about the problems customers face, and they seem to be achieving this successfully. Their personalized customer service makes their customers feel cared for.
Juphy: Best Tool for Managing Social Media Channels
Juphy is a social inbox that enables you to collect and address all client inquiries from email, social media, and review websites. All questions, whether ad comments, mentions, or direct messages, are neatly grouped in your inbox.
The "Reports" feature provides information about your team's performance. With Juphy, you may see conversations, response times, tickets, and issues that have been resolved. It is possible to filter by date, allowing you to focus your results if you just need exact data from a specific timeframe.
Juphy is the best social media marketing solution for assisting companies in providing outstanding customer service to clients on social media. Juphy enables you to centralize all of your social media conversations and support requests in a single, shared inbox.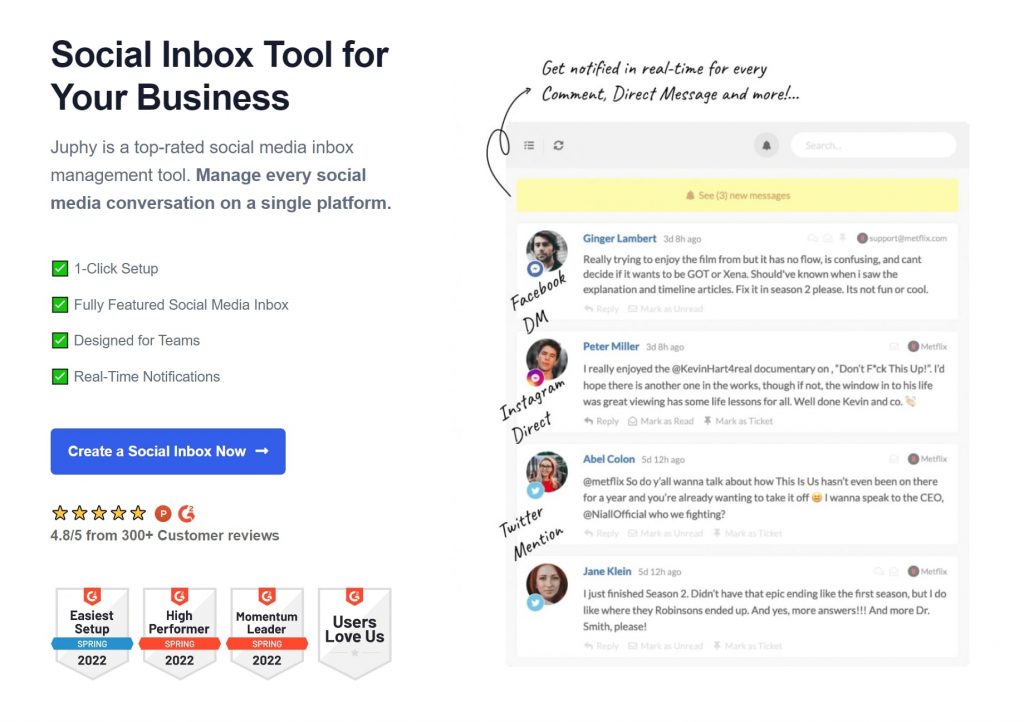 How Juphy helps you manage Twitter Customer Service
Twitter is one of the many social media platforms that can be managed via Juphy. Juphy's Twitter integration and features make it the #1 social media customer service tool.
Some of Juphy's features are;
Setting up Keyword Alerts: You can add your Twitter account(s) under the "Channels" section and add all keywords you want to monitor. Juphy notifies you of tweets that contain your preferred words.  
Detailed reports: Juphy's detailed report feature makes it easier to stay informed about what's happening. You can track your team's performance by monitoring replies, response times, assigned tickets, and more.
Ticketing feature: Assign tasks to your team members and monitor their progress in your shared inbox.
Real-time notifications: When you receive a Twitter mention or direct message, you receive real-time notifications alerting you that you have a customer to attend to, and you can respond right from Juphy. That's how you achieve the ideal response time!
Real-time collaboration: You can always get a second opinion from your team or third parties. Groups and instant messaging enable you to collaborate with your team and provide the best possible responses in tricky situations.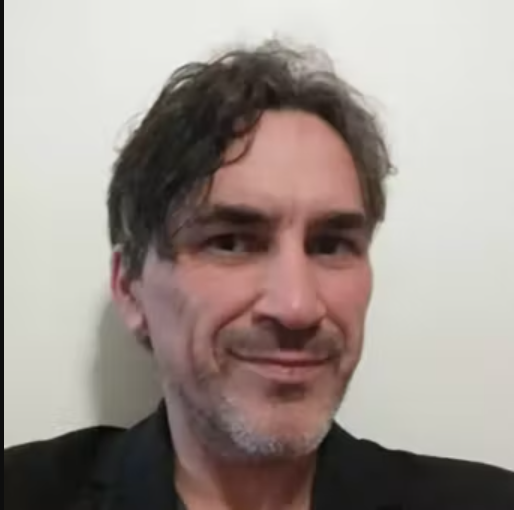 Miguel P
CEO Multimedia and Digital Strategy
"I am thrilled with the amount of time I am saving each day getting back to comments, questions and requests on my social media channels, and i manage quite a lot of them. No more jumping from one channel to another, login in, login out… it used to really be painful to manage all my social media but Juphy has been a game changer. Thumbs up, great tool. What´s not to love?! Recommended."
✓ Product Hunt Verified Review
Start your free trial now and enjoy Juphy's ease in managing your social media platforms.
Conclusion
With these advantages in mind, it's no wonder that Twitter has become the go-to customer service platform for many businesses worldwide. And this trend is likely to continue as more and more people join the social network and start using them as their main source of customer communication.

Managing your Twitter account, besides all others, becomes easy with Juphy, your #1 helper in managing social media platforms in one place. Juphy's unique features let you use and manage Twitter like a pro, meet your social media goals, and apply your strategies.
Create Your
Social Inbox Now
Manage all social media customer support inquiries in a unified inbox.
Related Article – Best 5 Ways to Provide Customer Service on Twitter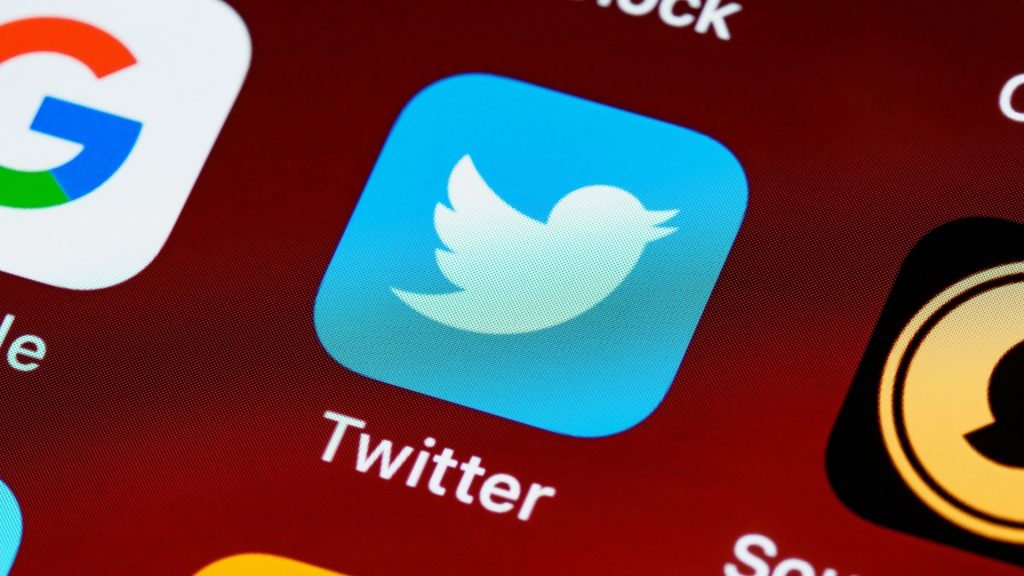 Providing great customer service on Twitter can be very fruitful for your business. Have you tried any of these practices? Read more now!