Have you ever found a bad review about your brand weeks after it was posted online? Chances are that because you let it sit online for so long without doing damage control, many other prospective customers have seen it too. This is not a good first impression to leave on prospects. Does this mean you have to spend hours scouring the web to find out what people are saying about you? Well, yes and no. Yes, you have to find out what people say about your brand on social media, but you don't have to spend hours doing it yourself when you can employ social media monitoring tools.
If you're clueless about social media monitoring and the perfect tools to work with, this article shares a few of the best social media tracking tools for 2022.
Let's check them out!
Create Your
Social Inbox Now
Manage all social media customer support inquiries in a unified inbox.
What Is Social Media Monitoring?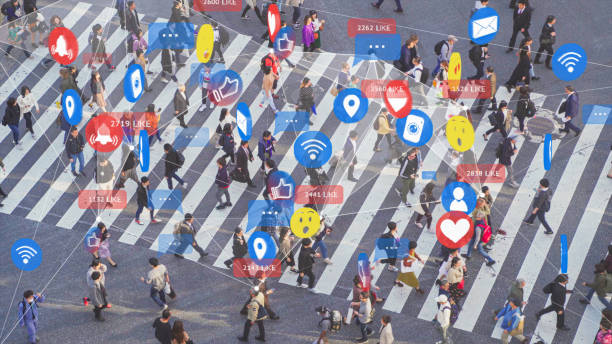 Social media monitoring means keeping track of specific words, phrases, hashtags, mentions, and keywords relevant to your brand or industry so that you're informed whenever they pop up on social media.
To ensure you don't miss out on any vital detail, you can also monitor what your competitors are saying on these platforms about specific topics in your industry or the market in general.
So, what happens when you have all of this information gathered? What do you do with them? That's where the next step, social media listening, comes to play.
Social media listening uses the data, insights, and information you've gathered to explore vital trends about your brand (and competition) to help you make critical marketing decisions and modify your marketing strategy as needed.
Social media listening gives you an idea of the bigger picture because, with all the data you've gathered, you know what your customers and competitors are saying and doing as it relates to your business.
There are many benefits you can derive from the social media monitoring process.
It helps you take a proactive approach to your marketing strategy, making you a step ahead of customers. You can pre-empt their challenges before they occur and deescalate social crises before they blow up.
It gives you actionable data that can serve as an inspiration for new products, new content, or product and content updates.
It helps you decipher how much of the customers in your industry are talking about your brand over your competition (or vice versa).
It tells you how the audience feels about your brand by analyzing the mood of the discussions.
It gives you inspiration on the types of keywords and hashtags to amplify your brand's voice and reach the correct category of people.
What Are Social Media Monitoring Tools?
Just because you don't exist on a social media platform doesn't mean your customers don't. For instance, a customer buys a product from you on Instagram. This means that both you and the customer exist on Instagram.
Now, imagine that customer does a product review of your product on Reddit for other users to see, but you don't have a social presence on Reddit. There's no way you could ever learn that there is a conversation around your brand on Reddit if you're not on the platform, right?
Well, this is where social media monitoring tools swoop in to save the day. What are media monitoring tools?
Social media monitoring and social listening tools help you in your goals to measure and track social discussions by customers, competitors, and the general public about your brand, employees, customer service, products, etc., on social media.
With this data, you can conduct adequate brand positioning so that the public always perceives your brand the way you want them to. Failure to react or respond to conversations around your brand can create a negative perception of your brand by the public.
The tools also help you provide timely feedback for people who interact with your brand on social media so that you can generate leads, close sales, and meet your marketing goals.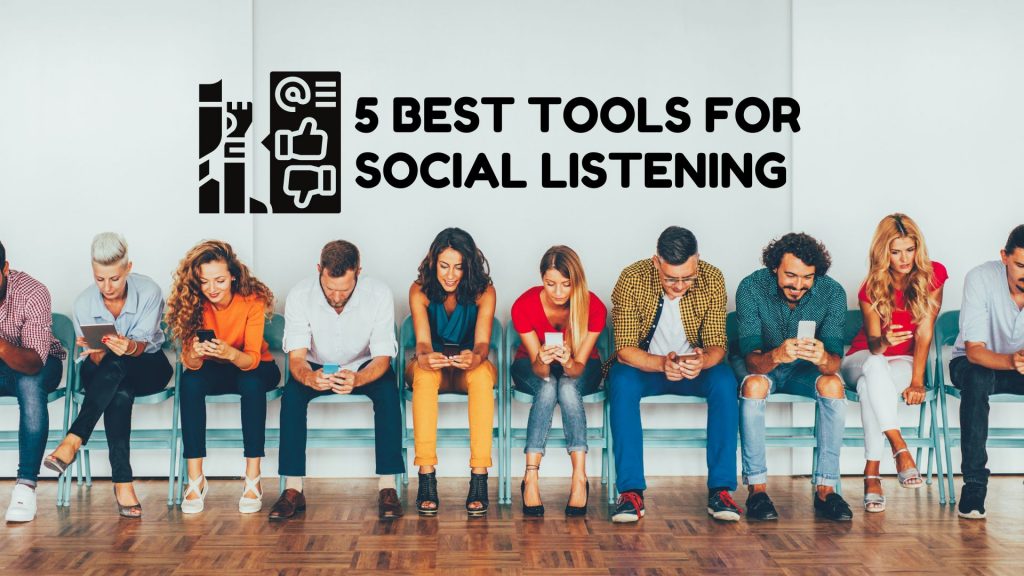 Social Media Monitoring goes in hand with Social Media Listening when optimizing your strategy. You can check out the features of the best Social Media Listening Tools here.
How to Choose a Social Media Monitoring Tool
To choose the most suitable platform to perform your social media monitoring, you must compare social listening tools based on your monitoring and listening goals.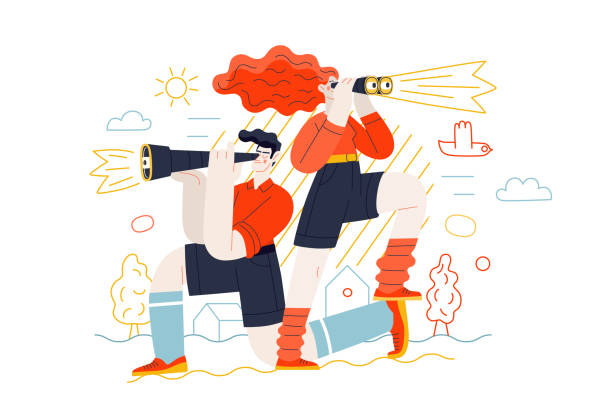 Here's a quick guide to choosing the right tools:
Decide what your objectives and goals are. What is the aim of getting a social media monitoring tool? What do you hope to achieve with it? Why is it necessary at this time?
Determine how much you're willing to spend on acquiring the tool and other necessary features needed to achieve your goals.
Highlight the most important features for your marketing team and see if the tool offers these. Also, look out for ease of use of these features and if they provide for easy onboarding of your support team.
Find out the length of service each tool provides and if it is ideal for your budget. For instance, do the pricing plans renew annually or monthly? Does the price per month or year work for you? Are there any lengthy contract deals to be wary of?
See if they offer demos or free trials so that you can test and compare each tool to find the most suitable one for your marketing team.
5 Best Tools for Social Media Monitoring
Here, we've made a list of the top free social media monitoring tools of 2022, so you can get your ears to the ground and eyes wide open wherever your audience is on social media.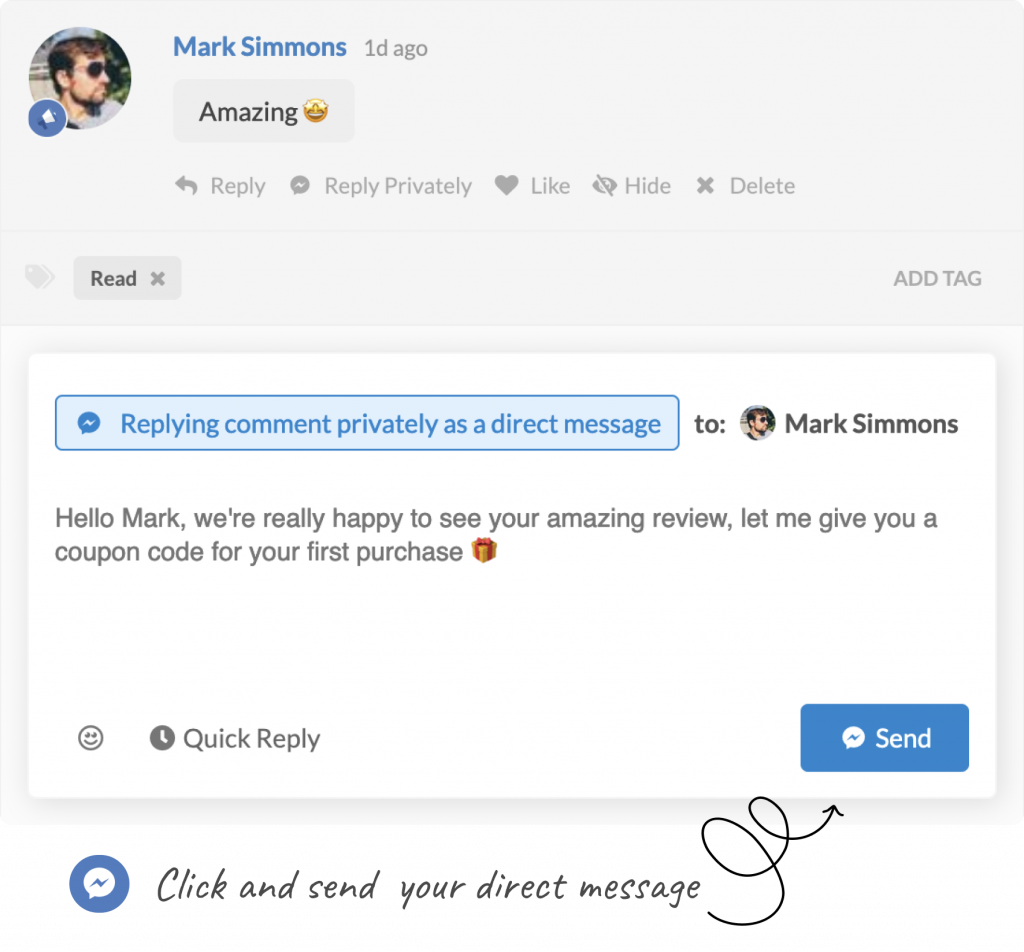 Have you ever wondered if you could have all your social media accounts accessible from one place?
Juphy does that for you. It has a unified social inbox that helps you access all your social media accounts with a single login. How's this great for social media monitoring?
You never have to miss a single mention again! Juphy notifies you in real-time every time you get a comment, mention, tweet, tag, reply, DM, and other similar actions, all from a single dashboard.
You can keep track of what your customers say with real-time monitoring features and reply to them privately if necessary. It also helps you track keywords, ad comments, reviews, and others on all supported platforms.
Don't like a comment on your page? You can hide or delete the comment from your Juphy dashboard, and it'll disappear from your social media pages in real-time.
Juphy makes your support team even more efficient because they can track customer complaints and requests quicker, leaving customers satisfied and happier.
Juphy also comes with other features that can improve your marketing and support team's strategies, such as separate workspaces for different businesses, canned responses for quicker replies, reports, and analysis, and so much more.
Not sure Juphy's what you need? There's no need to keep guessing when you can try it out for yourself—sign-up for a 7-day free trial here to get started.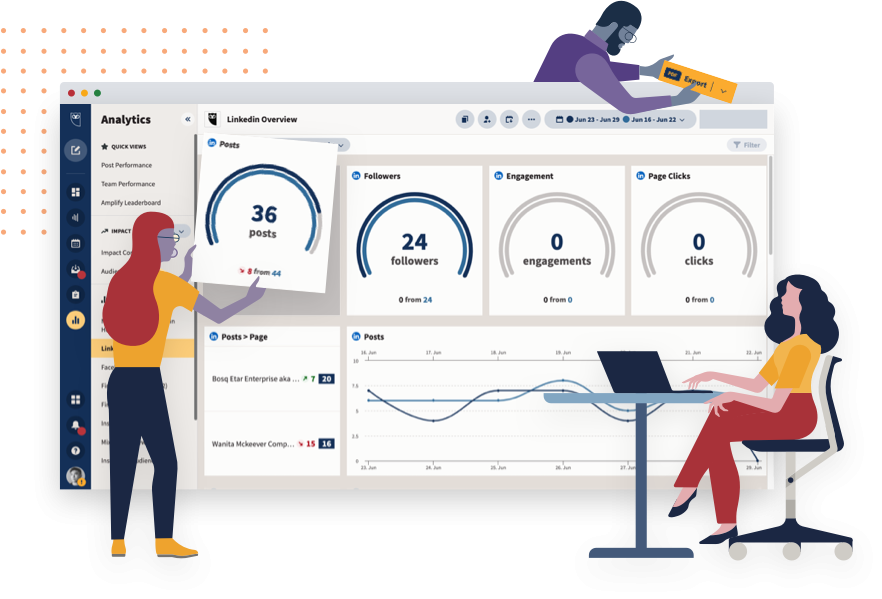 Hootsuite is another top-rated social media monitoring tool that accommodates some of the most popular social media channels, including TikTok and Pinterest.
Hootsuite also has social media management features, which makes it a good fit for social media marketers. But that's not the main feature Hootsuite provides; its social listening tool makes it unique.
Hootsuite allows you to customize search terms relevant to your brand, giving you real-time results on what's trending for you. Although it has a free forever plan, the paid version gives you a deeper insight into what's buzzing for your brand.
On its Hootsuite Insights feature, you can also search by topic or keywords with various filters to help narrow your search.
This tool tells you how your audience feels about your brand and alerts you for every fluctuation in your mentions, whether good or bad.
Although Hootsuite offers some great features on its free version, some users would prefer the paid version was more cost-effective to make room for more businesses to enjoy its premium features.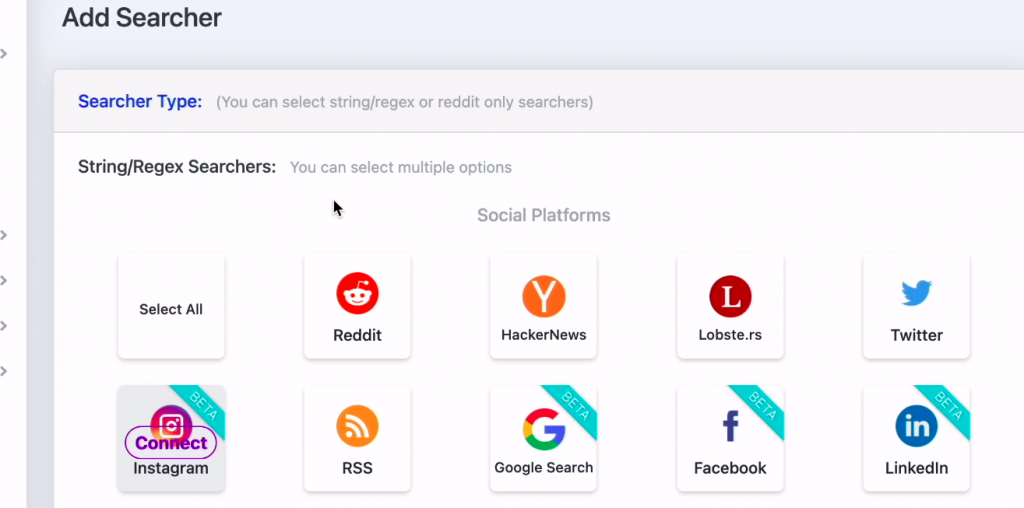 Notifier is a social media monitoring and listening tool that helps you filter out the noise and focus on what matters. You can narrow your search to the tiniest detail using the features available on the platform, and you'll get valuable data that you can leverage for your brand.
One pro of Notifier is that it monitors social media platforms with huge communities that other monitoring tools forget about, including Reddit and Quora.
Here's how it works:
You set up the specific keywords or competitors you want to be alerted for using a feature called "Searchers." These little robots scour the various supported platforms to find the latest conversations, mentions, and topics about your brand; then they'll notify you of these updates via email.
Once these search results come in (you can schedule the alerts), you can review them and attend to them as needed. Notifier does not have a free forever version, but you can try it for free and cancel at any time.
With its great features and services, it's no surprise that the tool's pricing structure may be expensive for teams looking for an affordable monitoring tool.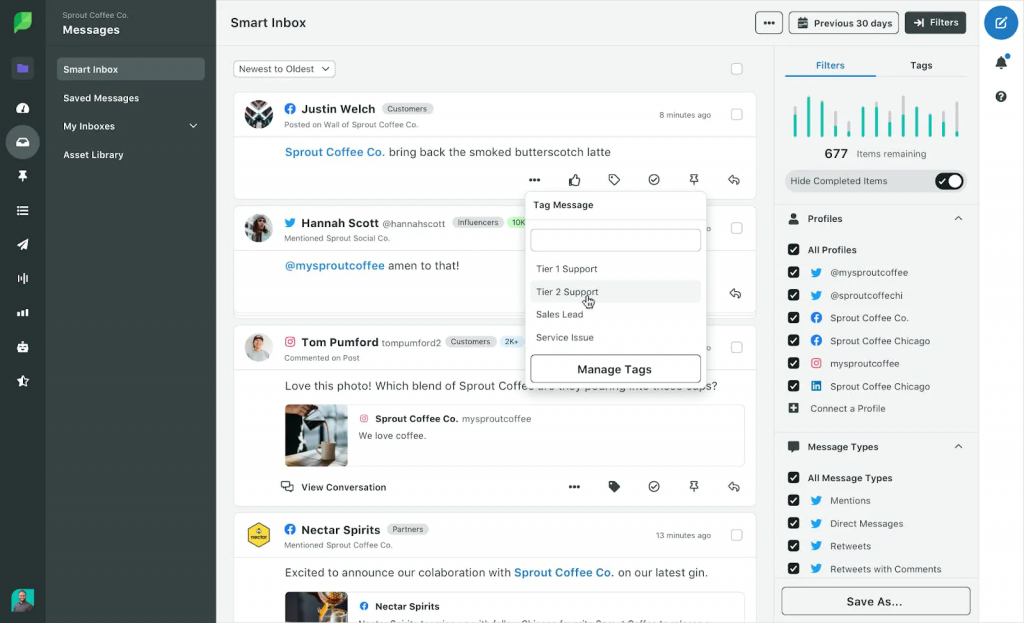 Many people know Sprout as a social media management tool that helps with content publishing. However, it also functions as a social media monitoring tool as well.
It has a Smart Inbox feature that brings all your social media inboxes together in a central dashboard, ensuring you stay on top of any mention of your brand. Its inbox filtering feature keeps all your essential notifications and conversations visible so that you don't miss out on what's vital.
Sprout Social also has keyword monitoring tools, so every mention or discussion around your brand is always on your radar. The Trend Reports feature gives you actionable insight into your performance on major social media platforms. This feature will help your marketing team discover how they can improve or modify strategies for better results.
The main disadvantage most users found in using Sprout Social is its pricing. The platform offers a 30-day free trial, no credit card required, after which you must pay to continue using it.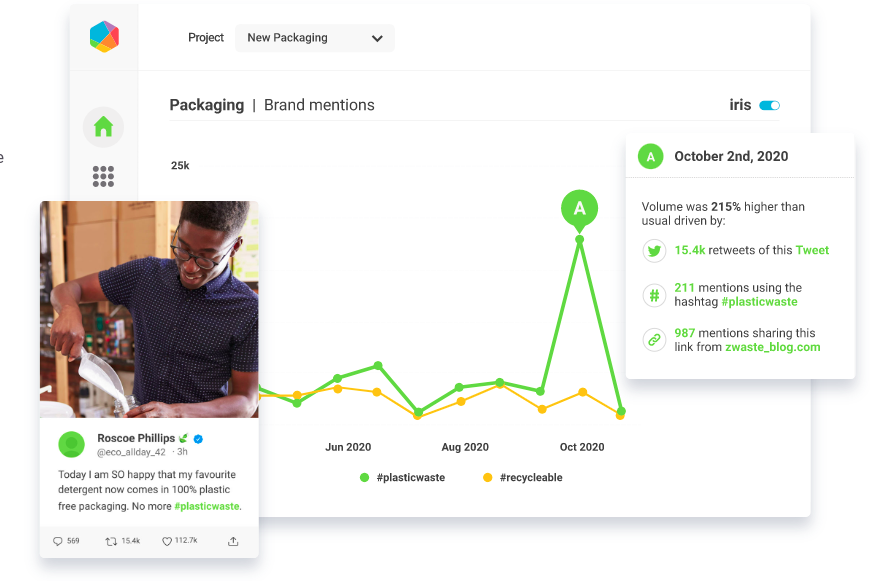 This tool is the all-in-one social media marketing tool for SMBs. Previously called Falcon.io, Brandwatch helps you monitor social media interactions about your brand with a feature known as "Listen."
This tool uses AI to track trends about your brand based on the keywords and parameters you've set. If there are any unusual activities detected, you quickly get alerted so you can analyze and take immediate action.
In 2017, Brandwatch released another feature known as "Image Insights"—a game changer in social media monitoring. This tool aims to detect and analyze images containing your brand's logo, so you can discover more insights about your brand even where there are no words in the content.
One con many users found with the tool, despite its quality social media listening features, is that the trend reports are not as detailed as they would like. Also, it does not provide sentiment analysis for keyword alerts.
Brandwatch provides a free 14-day trial for small businesses.
Final Thoughts
Customers are more vocal about brands and products with so many social media platforms to amplify their voices. You must take proactive measures to positively steer the conversations around your brand, boost your online reputation, and give you an edge over your competition.
Take charge of your brand's reputation with highly resourceful and innovative social media monitoring tools.
Create Your
Social Inbox Now
Manage all social media customer support inquiries in a unified inbox.
Related Article – Twitter Marketing Strategy: Best Practices in 2022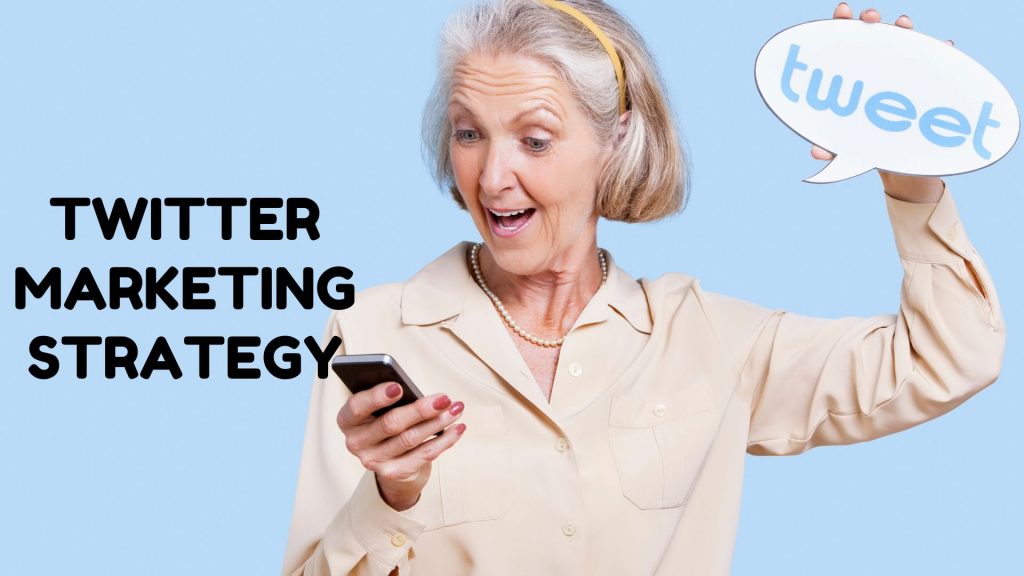 Twitter marketing strategy is a part of your overall social media marketing strategy, and you should follow up with new trends and updates. Read more to learn now!