Providing good social media customer service has always been tricky, I can tell. But I can't tell you how hard to provide customer services to a business-to-consumer (B2C) company compared to a business-to-business (B2B) business model.

Especially when Amazon buys you…

Zappos is an online shoe and clothing retailing company that began operating in the late 1990s. In January 2009, Amazon bought Zappos for $1.2 billion. With over $1 billion in revenue in 2011, Zappos has become one of the world's largest online retailers. In 2012, Zappos was named second on Fortune Magazine's "World's Most Admired Companies" list.

When your name is mentioned with Amazon in Fortune Magazine, and as of the largest companies in your market, you have raised expectations.
In this article, we will go on a journey with Zappos' social media customer service performance and company motivation to see if they can meet expectations.
Create Your
Social Inbox Now
Manage all social media customer support inquiries in a unified inbox.
Zappos' Customer Service
As the CEO of Zappos, Tony Hsieh's motivation for starting the business was to create a trustworthy online shopping experience for customers. He believed there is a lack of trust between consumers and businesses due to people having low expectations from companies. He also felt that small businesses could do better than large corporations because they can provide a better customer experience by being more personalized and attentive to the needs of each client.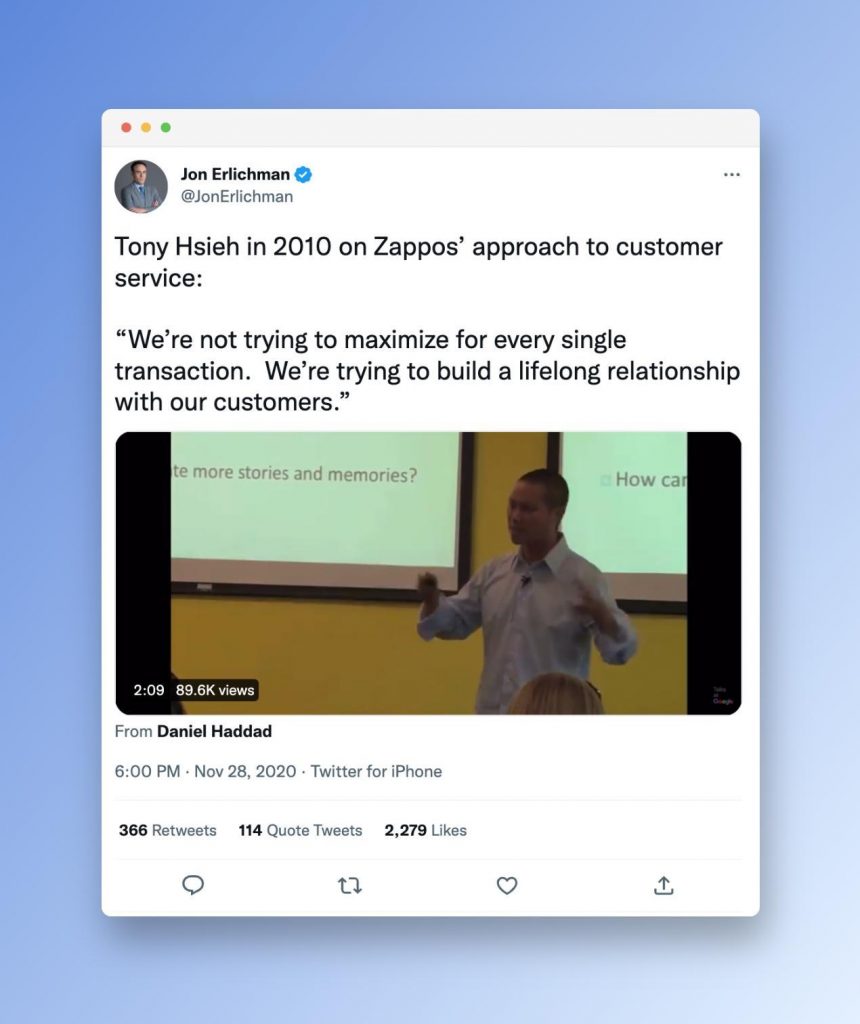 Starting from his motivation, Zappos had to become a company known for its customer service and accomplished it. When you place an order with Zappos, you are guaranteed to have an excellent customer experience.
You might not believe me because even I couldn't believe what I saw during my research. But, it is demonstrated by many customers that if you have a problem with your order, Zappos' customer service always takes care of the issue ASAP!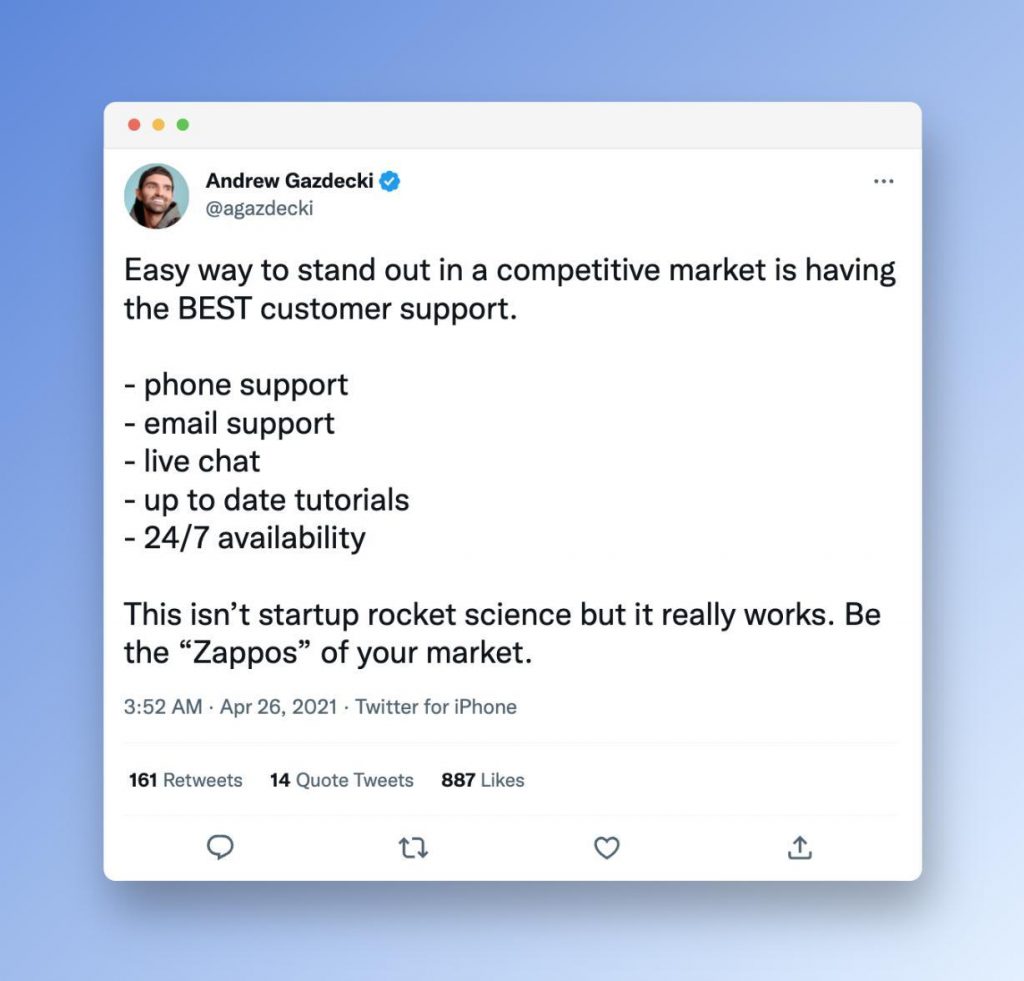 They deserve to be the first thing that comes to mind when considering customer service.
Zappos' Social Media Presence
Zappos is undoubtedly the most well-known company in the online retail world; its social media presence has been the key component in helping the company to grow its online reputation.

They strive to deliver exceptional customer service in every aspect, including shipping, returns and exchanges, order confirmation, and more. The company also makes it simple for customers to contact customer services on social media, as much as by providing a contact number and a live chat feature on its website.

They have built an extensive social media presence that includes Facebook, Twitter, LinkedIn, and Instagram – with almost 3 million followers and millions more on other platforms.
By engaging with a large-scale audience on social media, Zappos is one step ahead in learning about its customers' needs closely, providing exceptional social media customer service, and improving the quality of its products.
Zappos appears on Facebook with a page that almost 3M people follow. They assure their followers that they are here 24/7, encouraging them to post a comment, share their experiences, post pictures, interact with their apps, and let them know if there is anything they can do.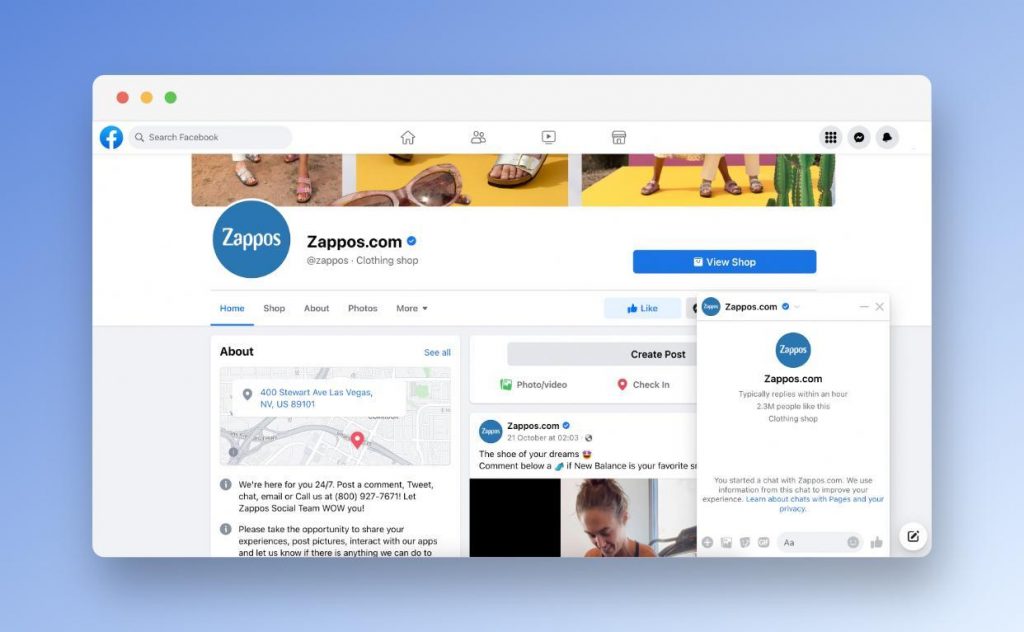 @Zappos has almost 2.3M followers also on Twitter. "Zappos is our name, and service is our game!" is the first thing you see when you get into their profile, and if you spend five more minutes, you'll see how successfully they play this game.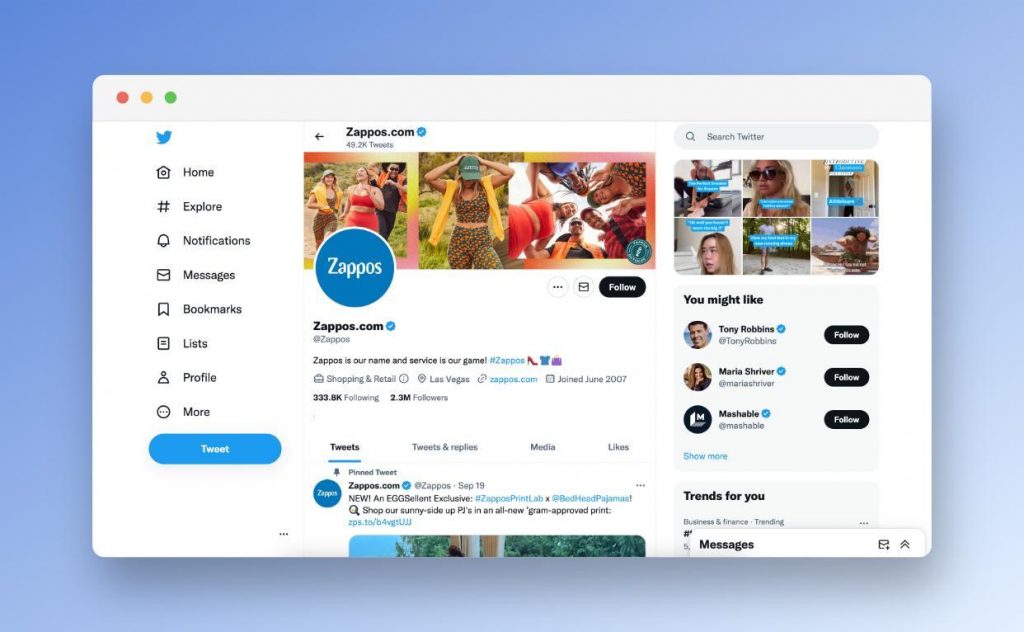 @Zappos appears on Instagram with a considerably high audience and shares customer stories, engaging posts, and reels.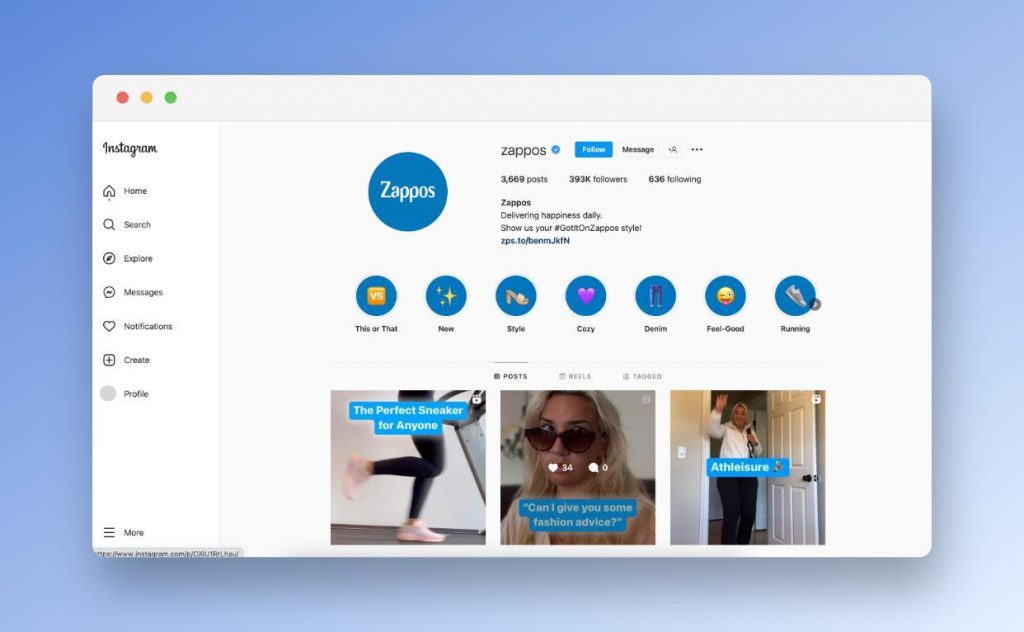 Zappos also has a LinkedIn profile with 100K followers, where they share updates and engage with their audience via comments and direct messages.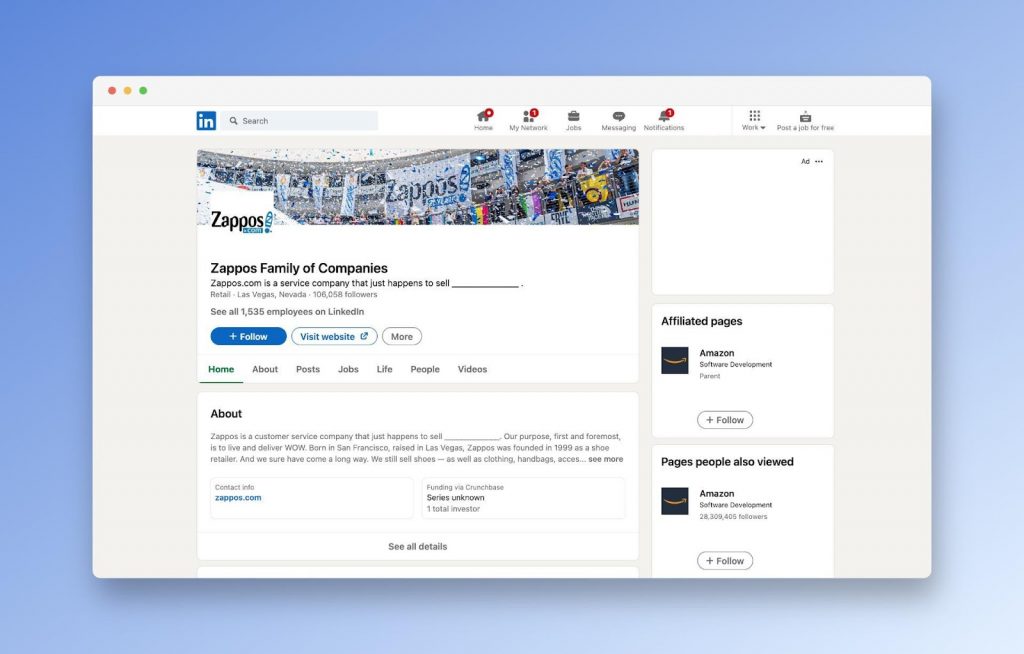 Zappos' Accessibility on Social Media
Social media is a great way to connect with your customers and show that you care about them. But, it can also be a minefield for accessibility.

Especially a company that has proved the quality of its customer service has to be accessible.

When evaluating Zappos' social media customer service strategy from this view, you may have noticed that it has a lot of visibility on social media.

For example, when people mention @Zappos on Twitter, they immediately go for it and solve the problem.

In the example below, we see a user reports an issue with Zappos and updates her tweet only one day later.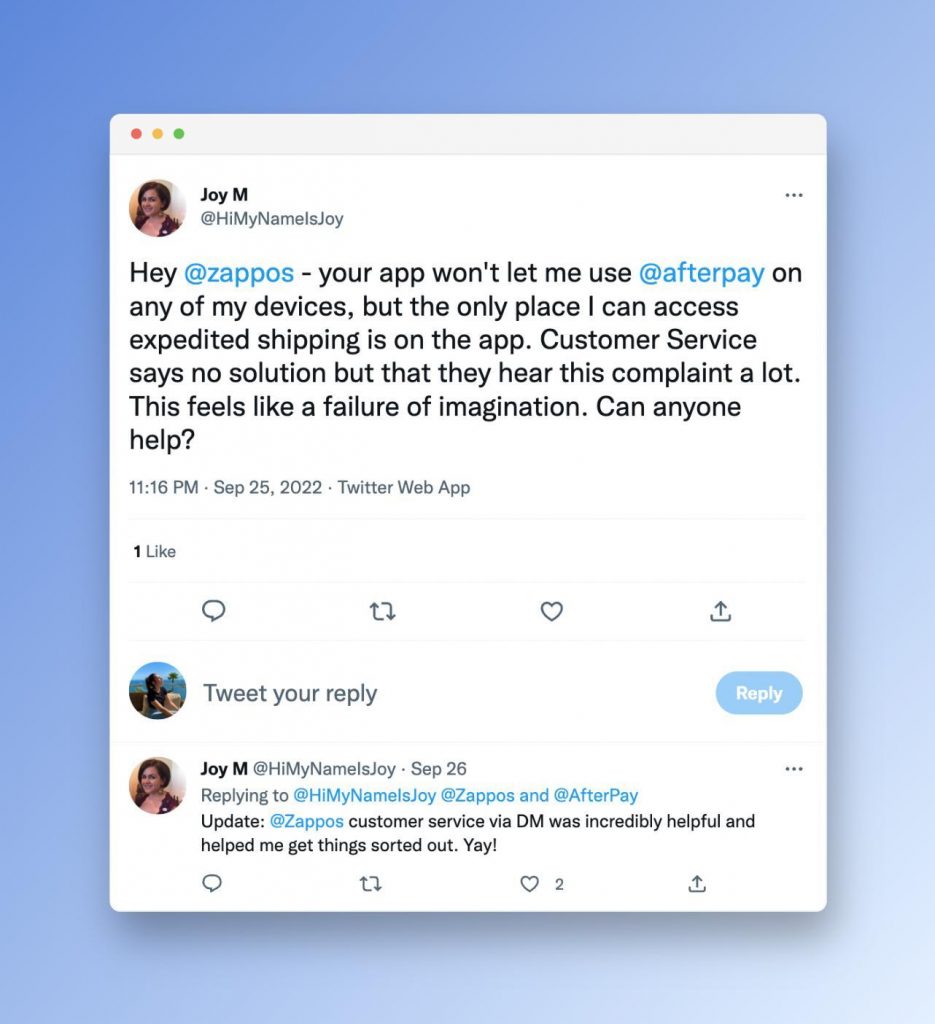 Even Tony Hsieh, the CEO of the company, was directly contacting people about their complaints personally. This example shows how his and his company's reputation has come to these days. Rest in peace, Tony Hsieh.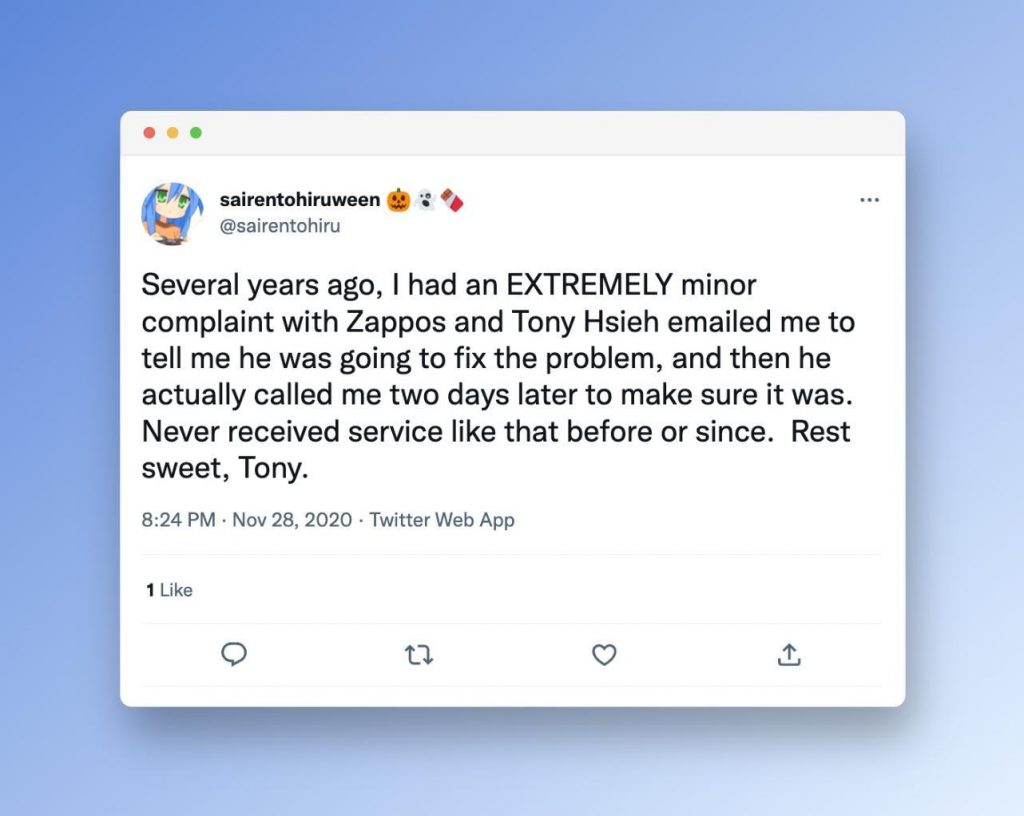 Zappos' Response Time on Social Media
Three minutes… No, I'm not joking. Three minutes is the average response time of Zappos' to customer messages on social media. It can be higher sometimes, like 13 minutes, but still?
In the example below, A new customer who made his first order shared his bad experience on Twitter. Only three minutes later, Zappos answers the customer and immediately offers to fix the situation.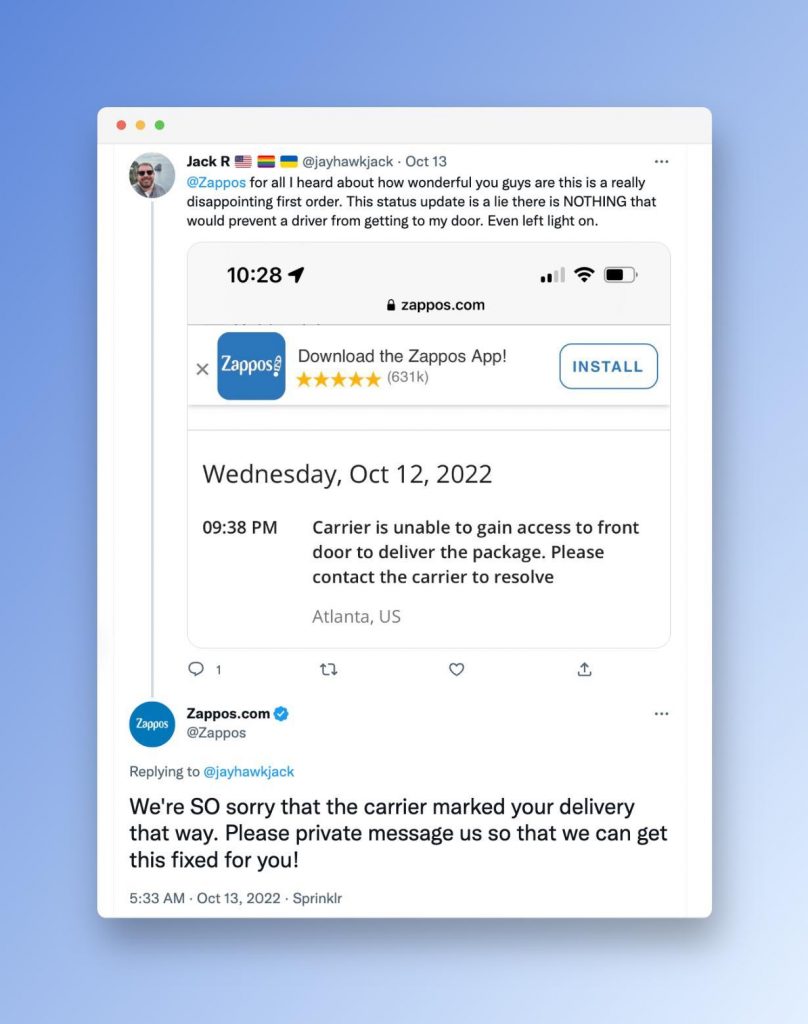 In another example, Zappos answers a report about an order in 15 minutes.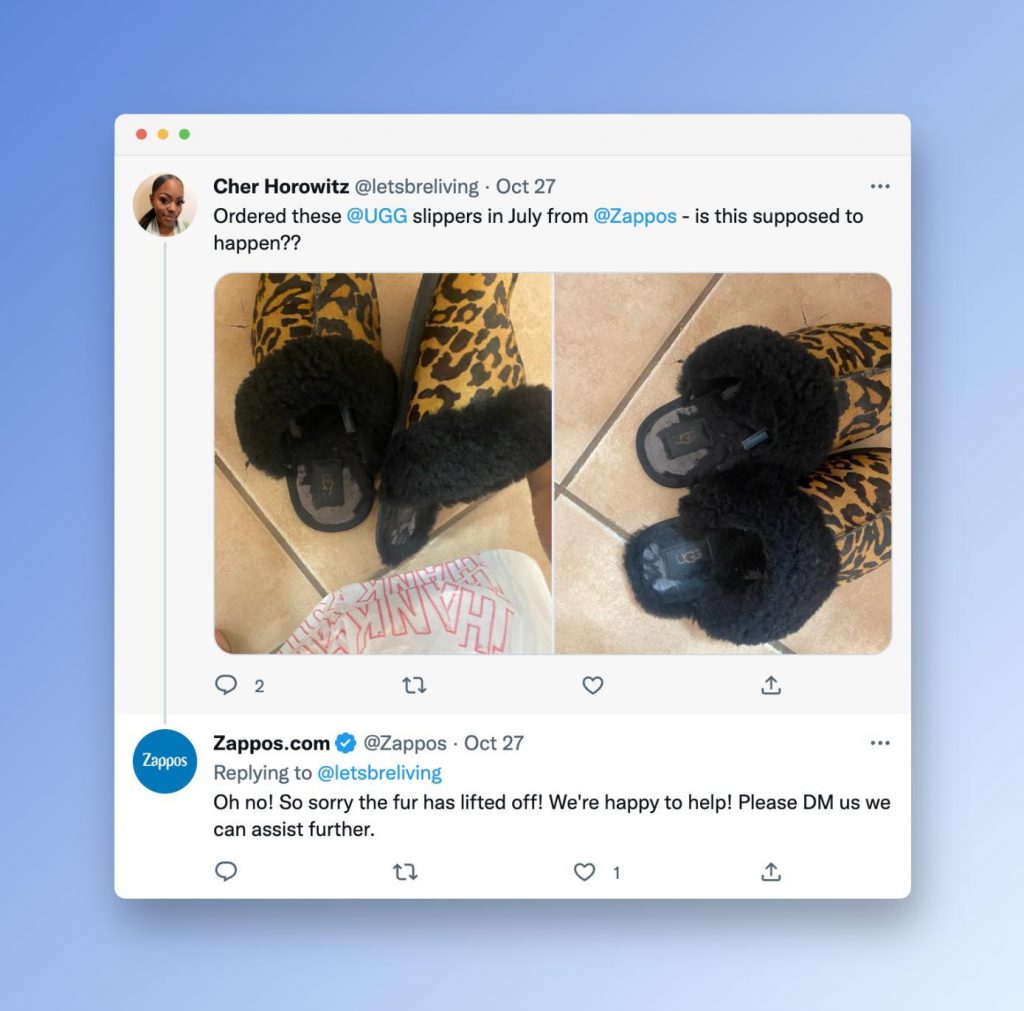 Zappos' Social Media Content
Zappos' social media content is designed to drive engagement and build trust.
Throughout its history, Zappos has built a reputation for being open, honest, and helpful while also being fun and approachable.
This combination of qualities has helped the company get to where it is now. So, we cannot deny that Zappos takes advantage of a good content strategy while constructing its social media presence and social media customer service.
Over the years, Zappos has used multiple tactics to increase its social media presence. These include creating original content, posting regular updates about new products and services, and engaging with its audience on a personal level.
By doing so, Zappos hopes to maintain its reputation as an expert in the industry while also building trust by connecting with customers.
In the example below, Zappos created content material from the appreciation they gathered from their customers.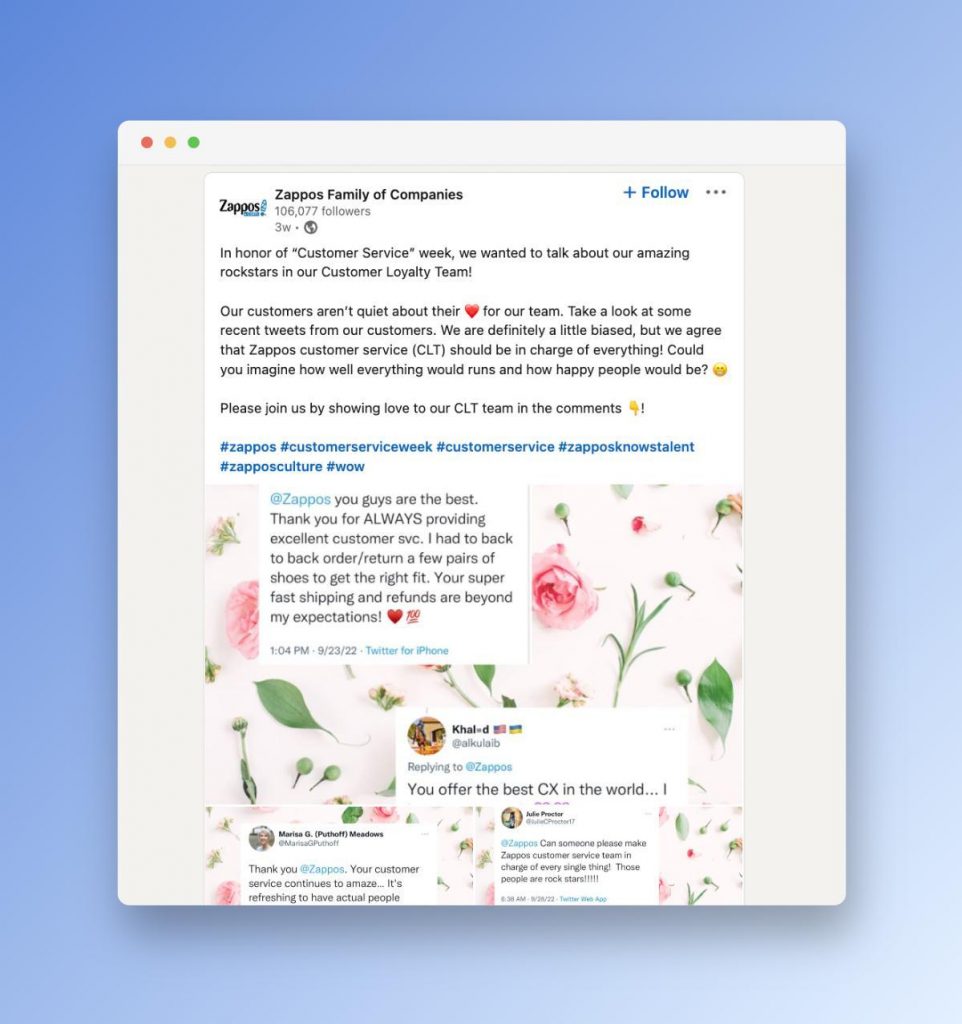 Their customer service strategy also becomes content as a matter of social proof.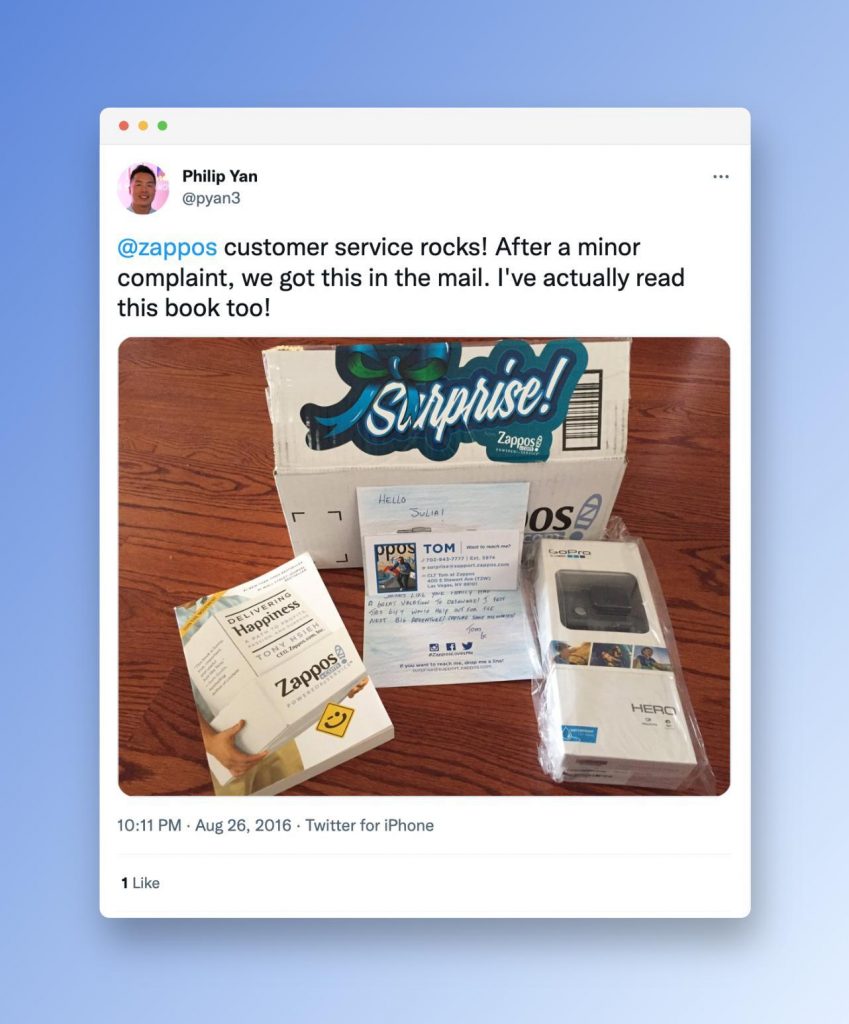 Zappos' Style & Tone on Social Media
To get the tone right on social media, just remember that there's a difference between "real talk" and "fake chat." While it is important to express your authentic feelings, it is also important to keep things upbeat. You don't want people to be turned off by negative language or negativity in general. Tone is key!
By any measure, Zappos is a social media powerhouse. But they still have a modest and friendly style and tone on social media. They make their audience feel that they have a "real talk".
Zappos replies to customer comments warmheartedly.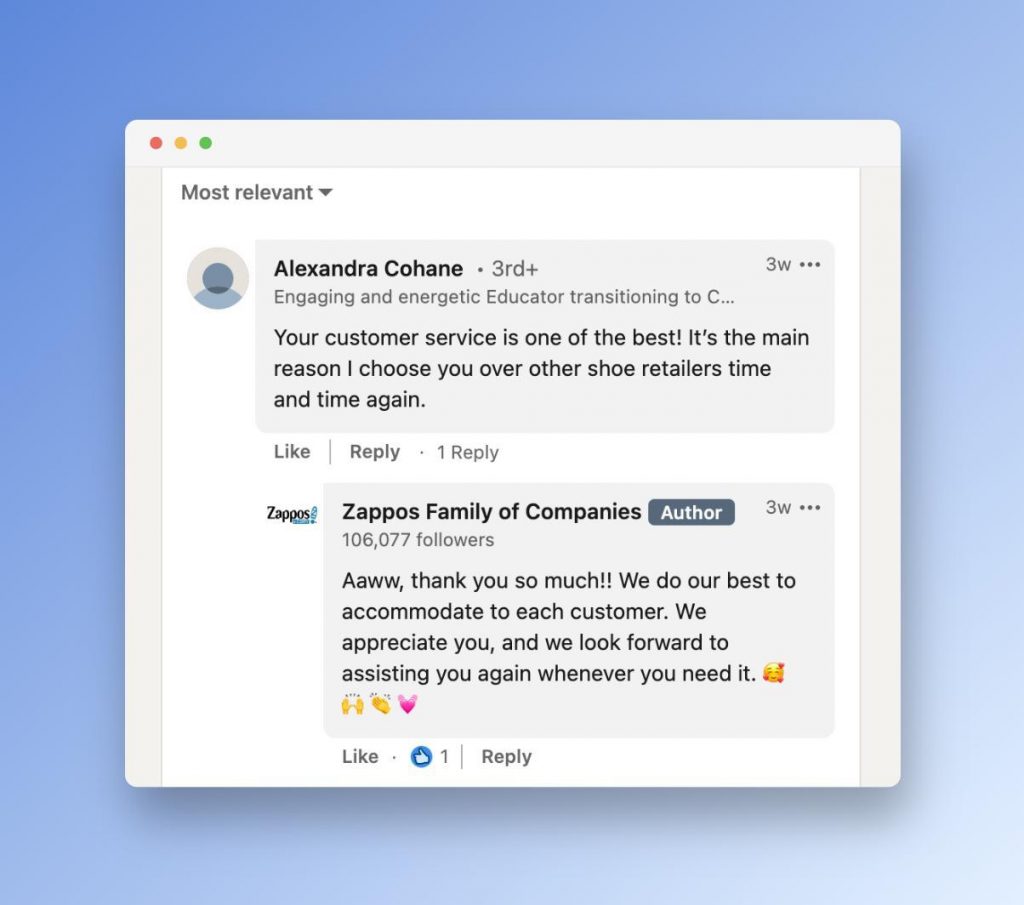 And they also stay positive no matter the context of the customer message.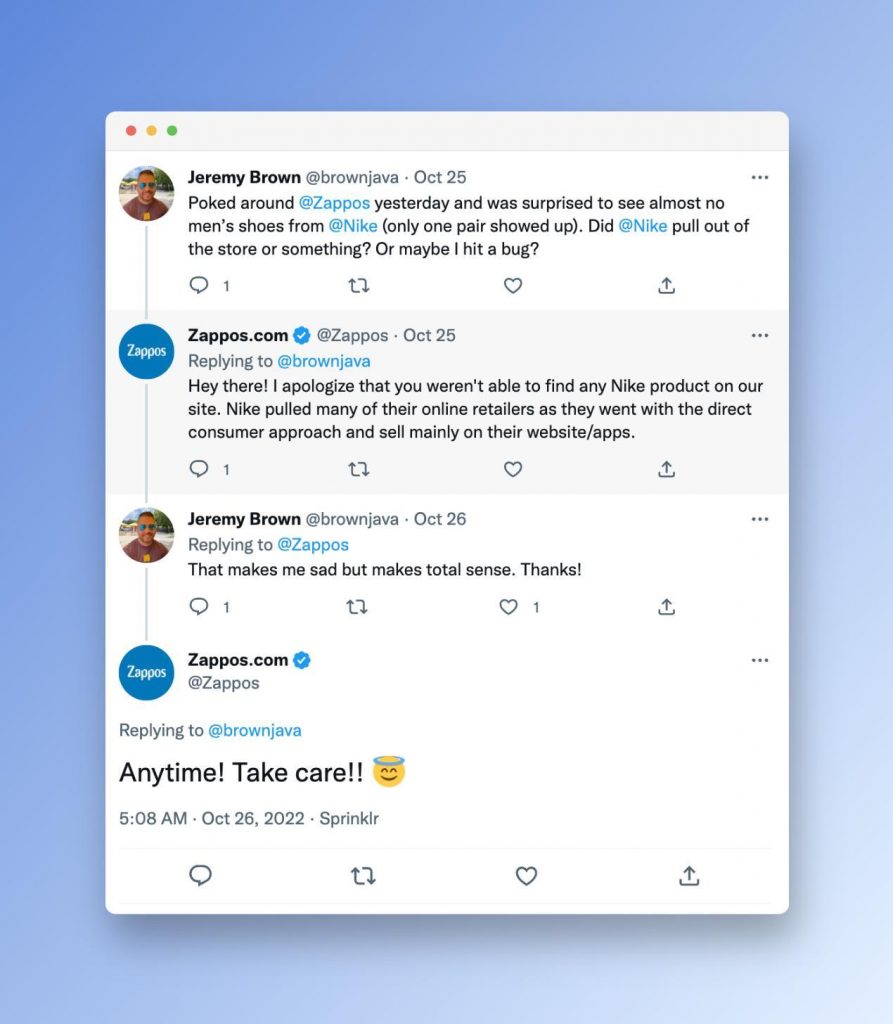 In addition to their positivity, the social media customer service team shows that they are ready even for personal requests.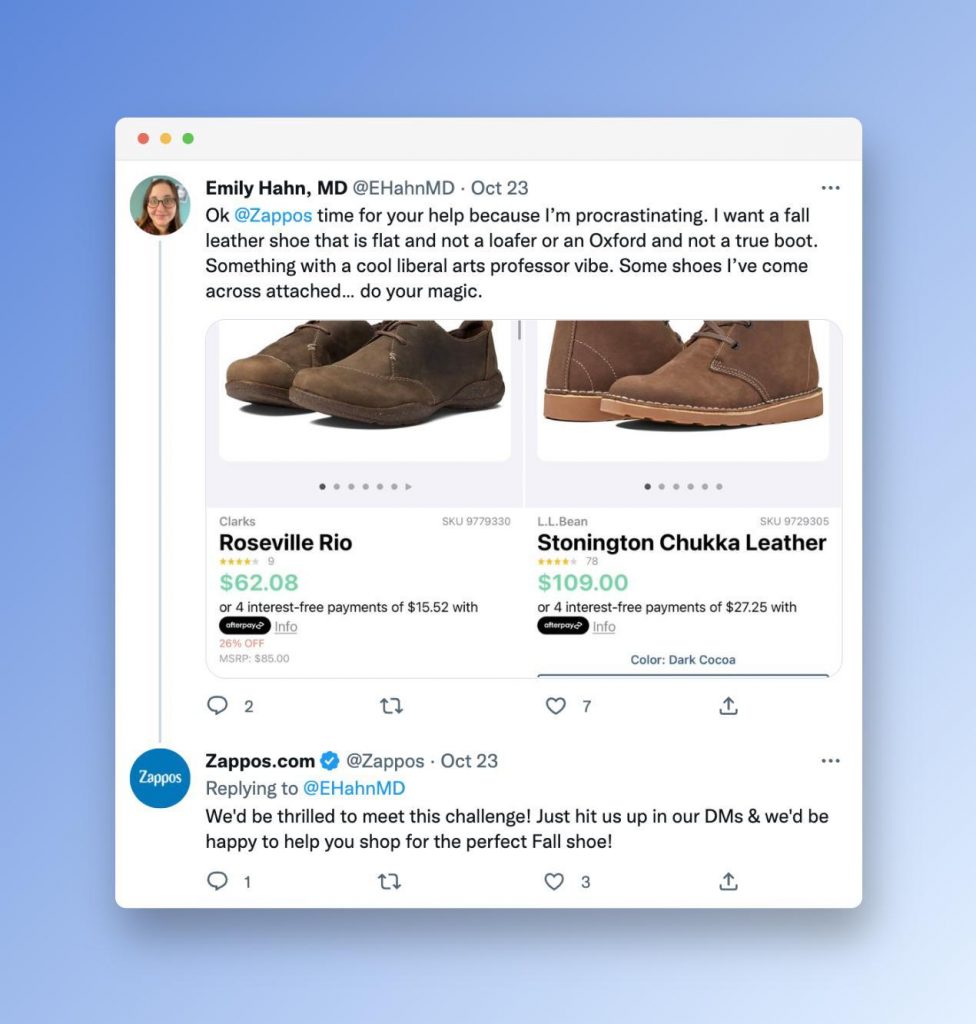 Final Verdict
Zappos has become famous for its unique customer service model, which includes a "No Complaints" guarantee and 24/7 support. By embracing these principles, the company has been able to attract loyal customers and employees who have stuck with the brand through thick and thin.
One example is the fact that it uses all social media channels to communicate with customers. It has official Twitter, Instagram, LinkedIn, and Facebook accounts with huge audiences.
Among all reviews we have made so far, I can frankly admit that I have never seen something like Zappos' social media customer service.
***These ratings are based on our research and tests.
Accessibility – 10/10
Zappos' all social media accounts are like a real human being that never sleeps. Their social media customer service team has come in a Trojan Horse to destroy all other social media customer services!
Response Time – 10/10
Whether it is a question about an order or a bad review about a service, the team is always waiting on a red alert. Even the company's CEO once directly contacted a customer about a support request!
Tone of Voice – 10/10
Zappos' tone is always welcoming, sincere, and friendly while replying to questions or requests on social media. They always give their customers warm feelings; what can I say more?
Personalization – 10/10
When looking at all the examples I reviewed, I haven't encountered any automated response. Each answer has a part that makes reference to a specific point in the message. That's why I can tell that their customer support messages are 100% personalized.
Engagement – 10/10
Zappos leverages its digital platform to engage with its customers. They can engage with their customers and make them feel valued in return. This has led to a loyal following of Zappos's audience, who are willing to share their experiences with the company across social media platforms.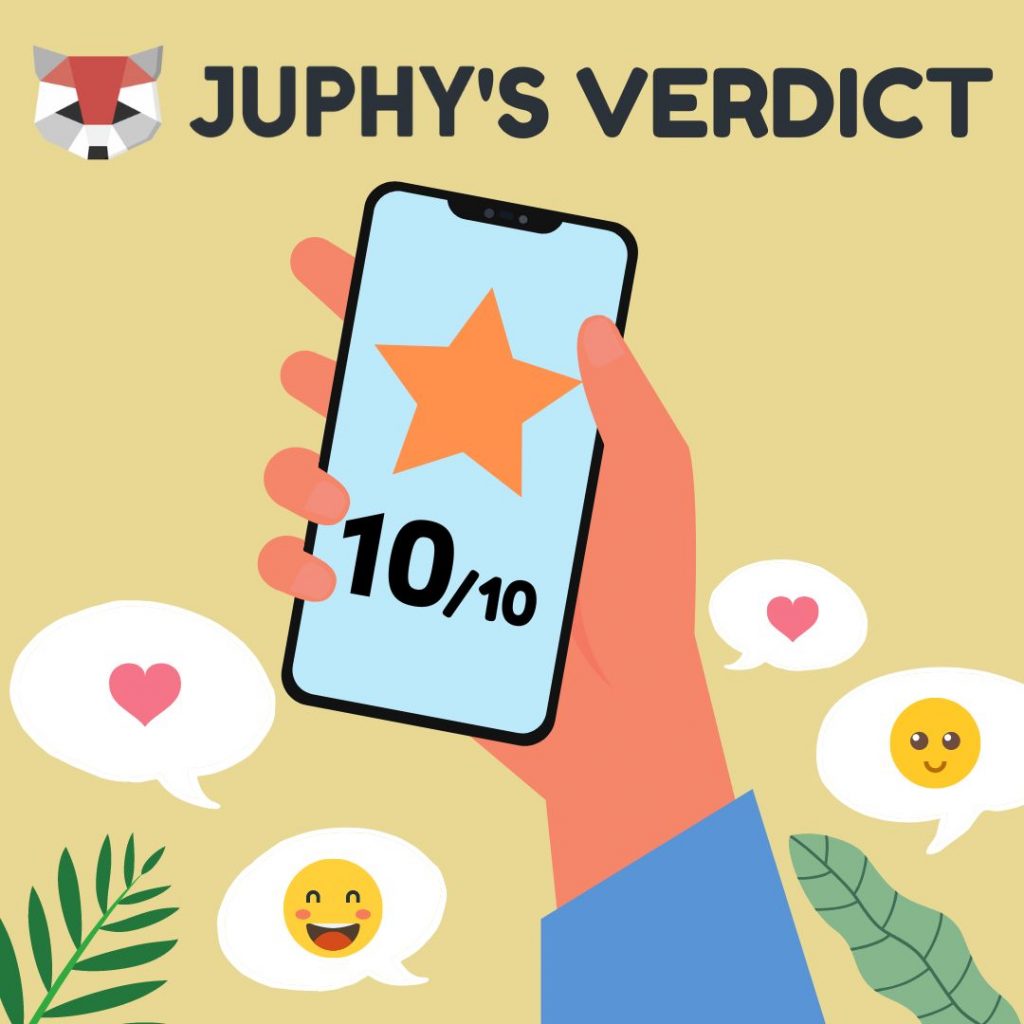 Create Your
Social Inbox Now
Manage all social media customer support inquiries in a unified inbox.
Related Article – UNITED AIRLINES' Social Media Customer Service Performance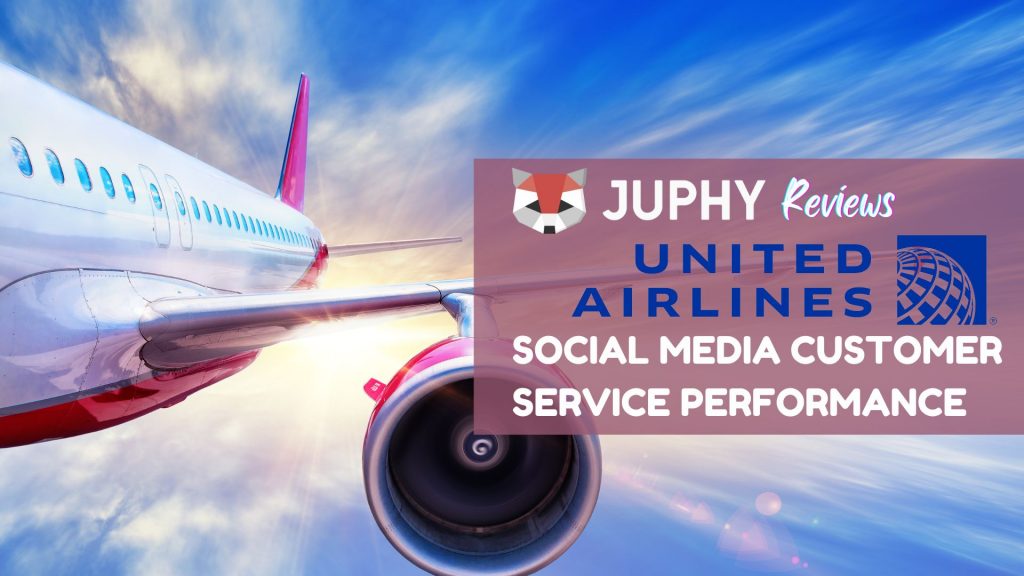 Curious about how United Airlines manages its customer service on social media? We have analyzed the company's social media customer service. Read more now!