We've seen Twitter and Facebook become increasingly popular platforms for businesses to interact with customers. Even for an airline, customer service on social media is very important since Twitter or Instagram has become one of the first things that come to our minds when we want to talk about our problems. United Airlines is one of the well-known airline companies in the USA. That's why we wanted to see how they deal with customer service on social media, especially after the fiasco that went down in 2017. 😖
The main advantage of having a social media presence is that it allows the company to maintain communication channels open between customers, and the company, thus facilitating a better understanding of what people's United Airlines experiences have been like. However, we noticed that some of their users weren't pleased. Let's dig into the details of United Airlines' social media customer service performance!
Create Your
Social Inbox Now
Manage all social media customer support inquiries in a unified inbox.
United Airlines' Social Media Customer Service
In 2017, a scandalous incident happened due to a common seating problem on a United Airlines flight, and it got some attention on social media. Their social media customer service team remained under pressure about this issue, and the incident's effect lasted for some time. Now, it seems that the company has seen the importance of social media at some point.
Their social media accounts actively post different content, and their social media team replies to customer questions and problems.
United Airlines uses Twitter, Facebook, Instagram, Tiktok, and Linkedin to interact with its customers.
On Facebook, United Airlines has +1 million followers and mostly shares engaging content about news, company events, happy stories, and more.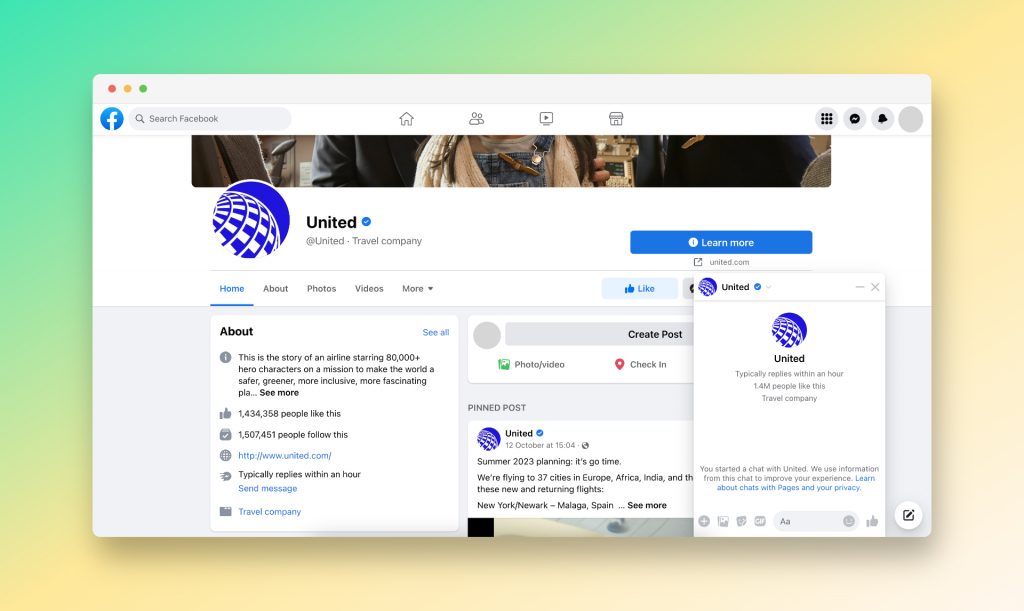 United Airlines remembers to make events about what is going on. For example, they have a giveaway right now, which you can join throughout Halloween.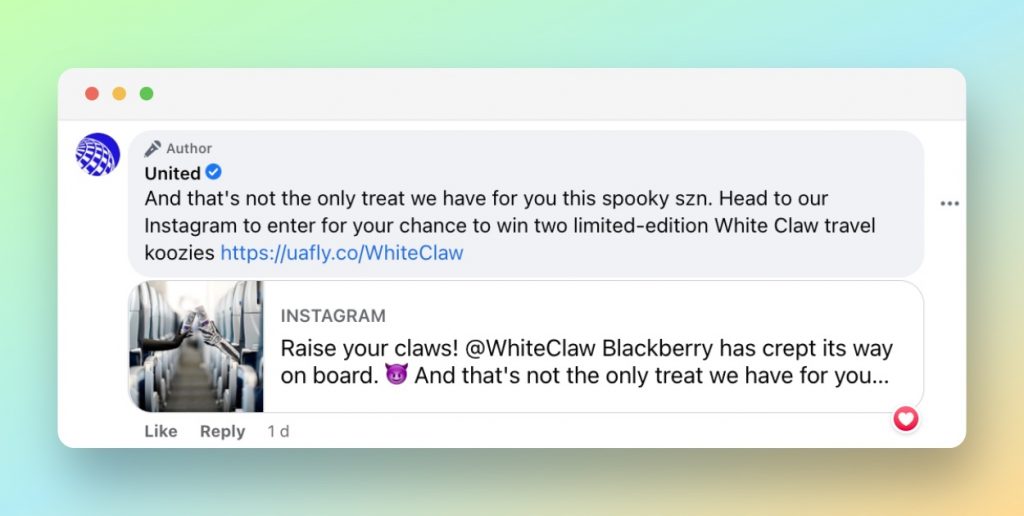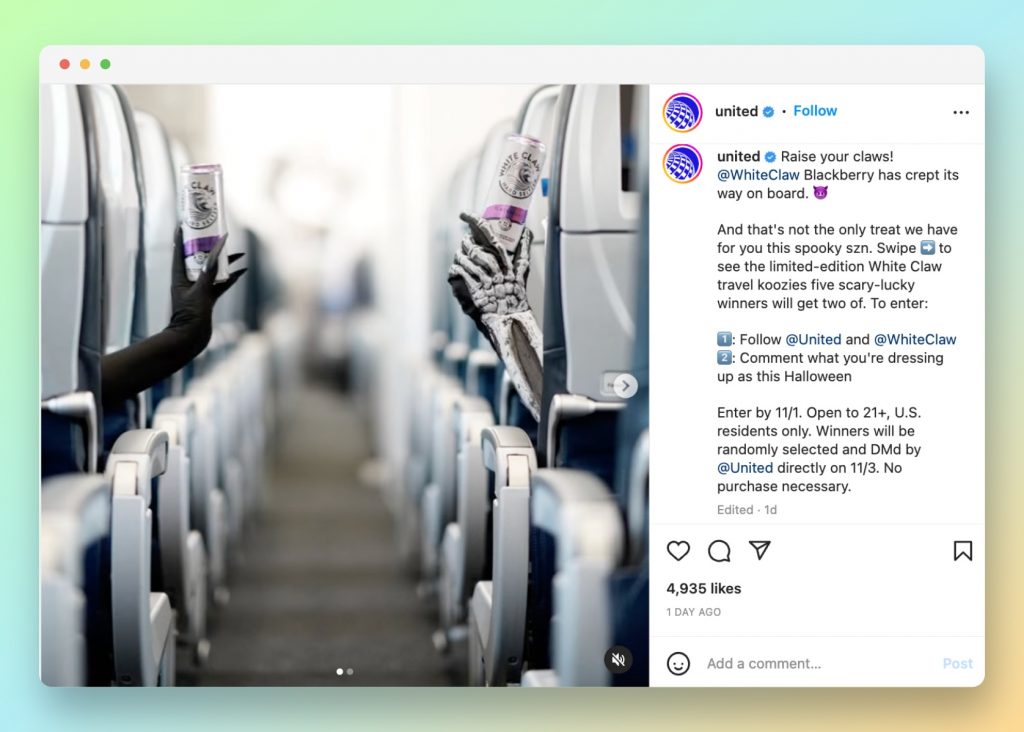 These giveaways are a great way to make people engage with the company and raise engagement rates on Instagram. On average, their posts get around 70 comments, but this post has 200 comments on its second day. We can see the difference a giveaway can make!
On Instagram, they have 936K followers, and more engaging posts are there. They announce their new destinations with nice videos.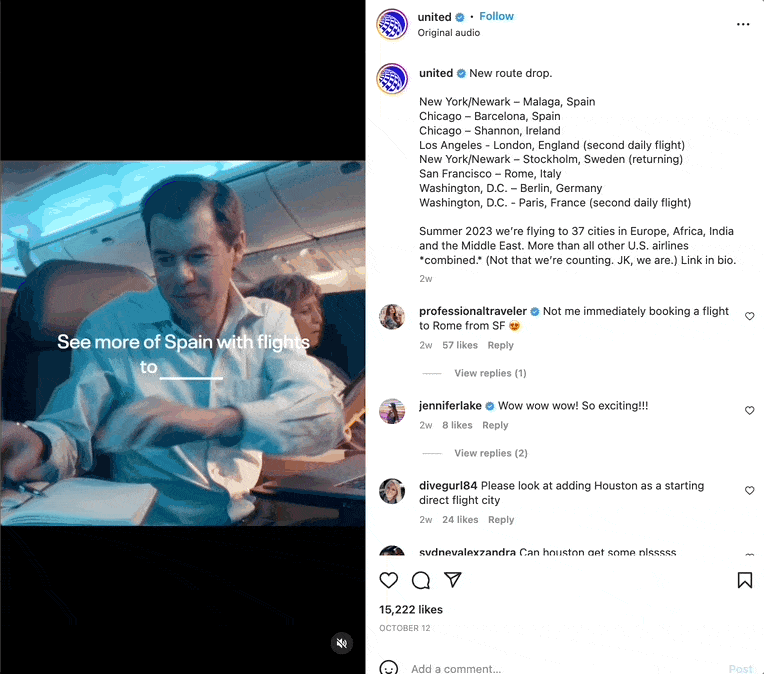 Similarly, on TikTok, they have more than 4 million likes, and many videos have more than a million views.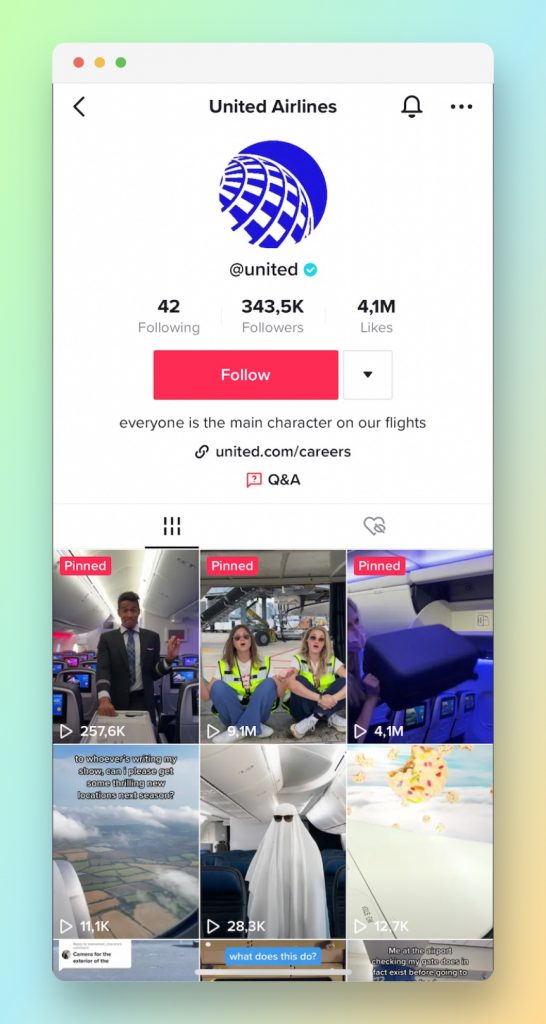 They keep up with the latest trends and post accordingly. This way, their social media presence becomes better in terms of interaction.
Finally, they have a Twitter account with 1.1M followers, and this channel has become the main communication channel for customers to interact with the company.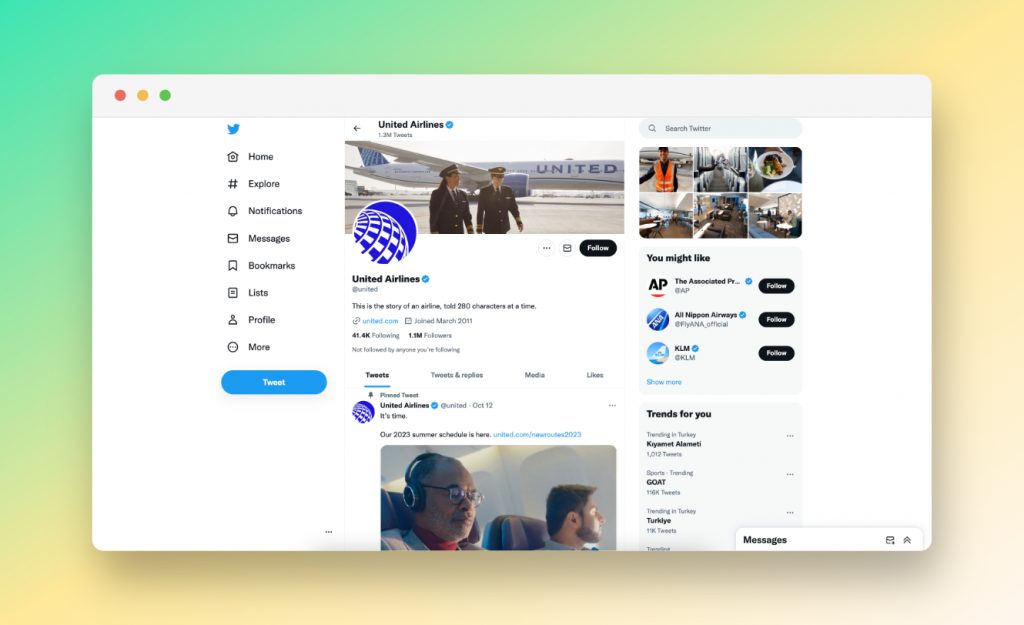 Customers mostly shared their complaints or question by mentioning @united and #unitedairlines.
Let's keep this part short by saying they engage with the customers through every possible social media platform by sharing engaging videos and photos. How about their customer service quality there?
Analysis of United Airlines' Social Media Customer Service
United Airlines' Accessibility on Social Media
United Airlines does not have a dedicated customer care social media account. They reply to customers through their official Twitter, Instagram, and Facebook accounts- mainly on Twitter.
It's sad to see most of the responses are canned messages though.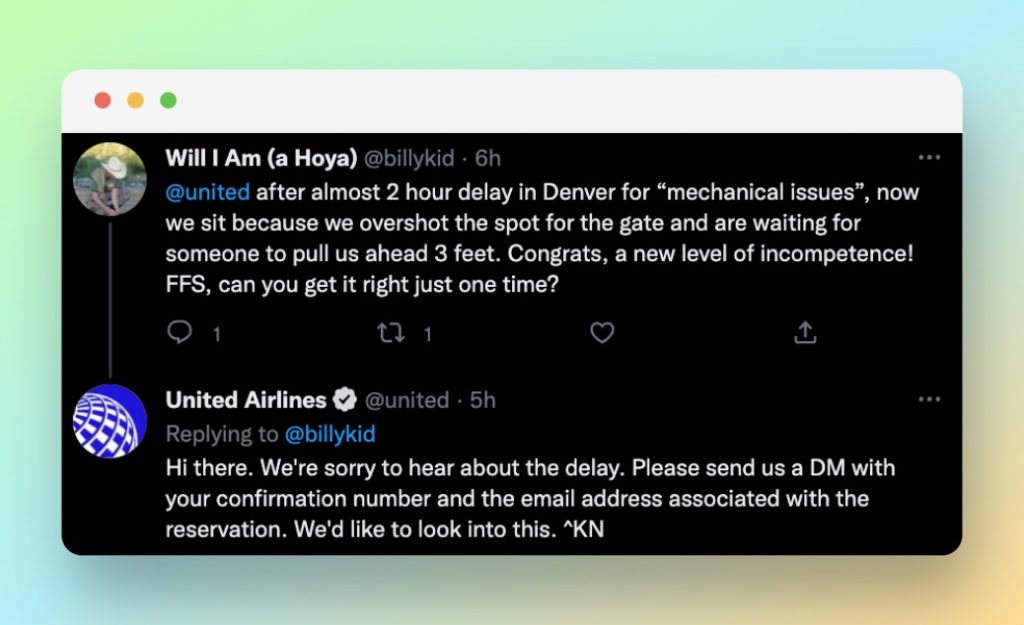 We have the good old "Please send us a DM" message. Most of the responses are like this one here. The person replying to the message adds initials to the response though, making the customers feel that a real person is replying to them.
A little more guidance would be nice to see in the answers.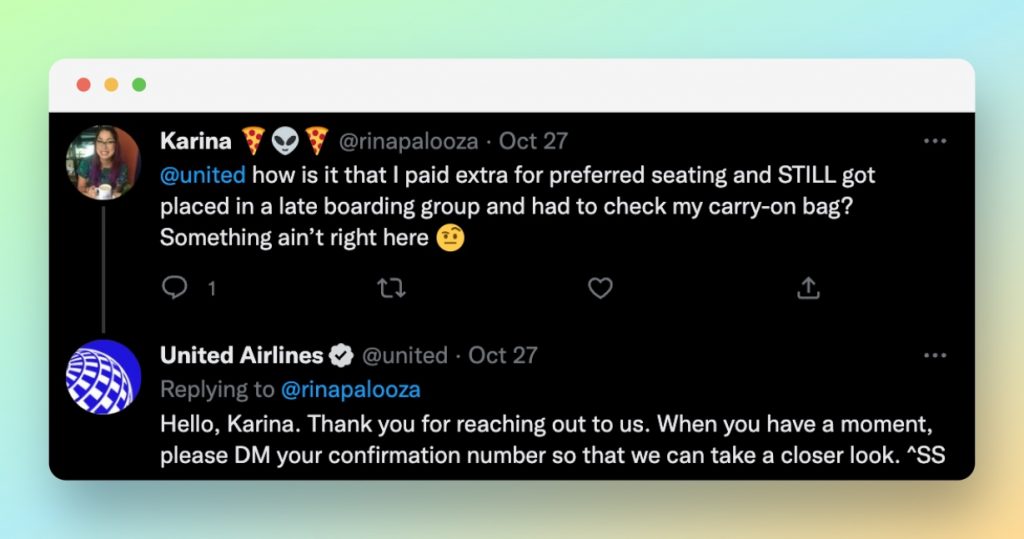 Other than that, it's nice to see that they address the customers personally and add their initials, but this does not give the feeling of being cared for. Who would want to see similar messages as customer care replies?
When it comes to Instagram, reply rates are lower.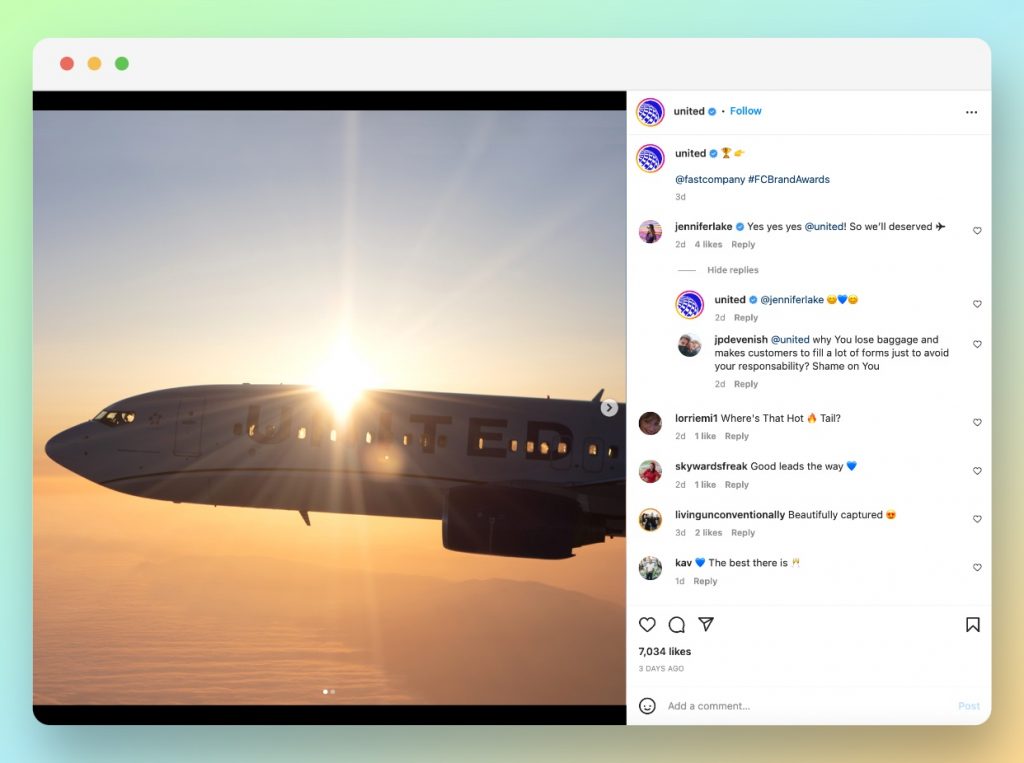 There are some unnoticed negative comments between the nice ones, and it seems they don't usually respond from Instagram.
In another example below, we see a customer who complained about their customer service during the lockdown due to Covid. But the social media team hasn't replied to the tweet.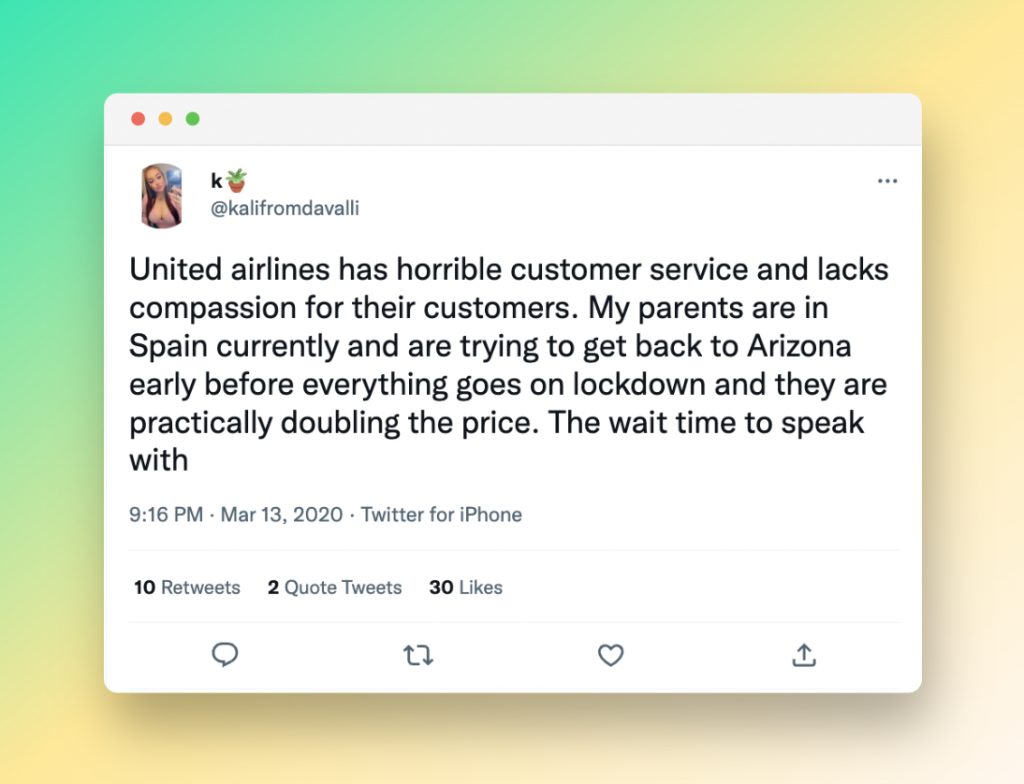 We know how hard these days were, but still, the company should have expressed its sadness about the experience customers had in delivering a good social media presence.
United Airlines' Response Time on Social Media
Most airlines have fairly strict guidelines for how quickly they can respond to customer issues on social media. They prefer this approach because social media use is still relatively new, and many people are still getting used to how best to communicate with their audience via these channels. As a result, many airlines have rigid limits on how long they can take to respond to particular issues that are posted on social media.
For example, some airlines always respond to customer comments in less than 12 hours. Others may only allow a single response within 24 hours, regardless of the type of issue or comment.
While these limits may seem excessive, they're actually designed to protect both the airline and the customer. By keeping in touch with customers via social media, airlines can see the most important issues and correct them as soon as possible. However, by not responding at all, airlines could miss out on valuable information that could help them improve their service overall.
When we look at United Airlines' strategy, their response time is less than 24 hours most of the time.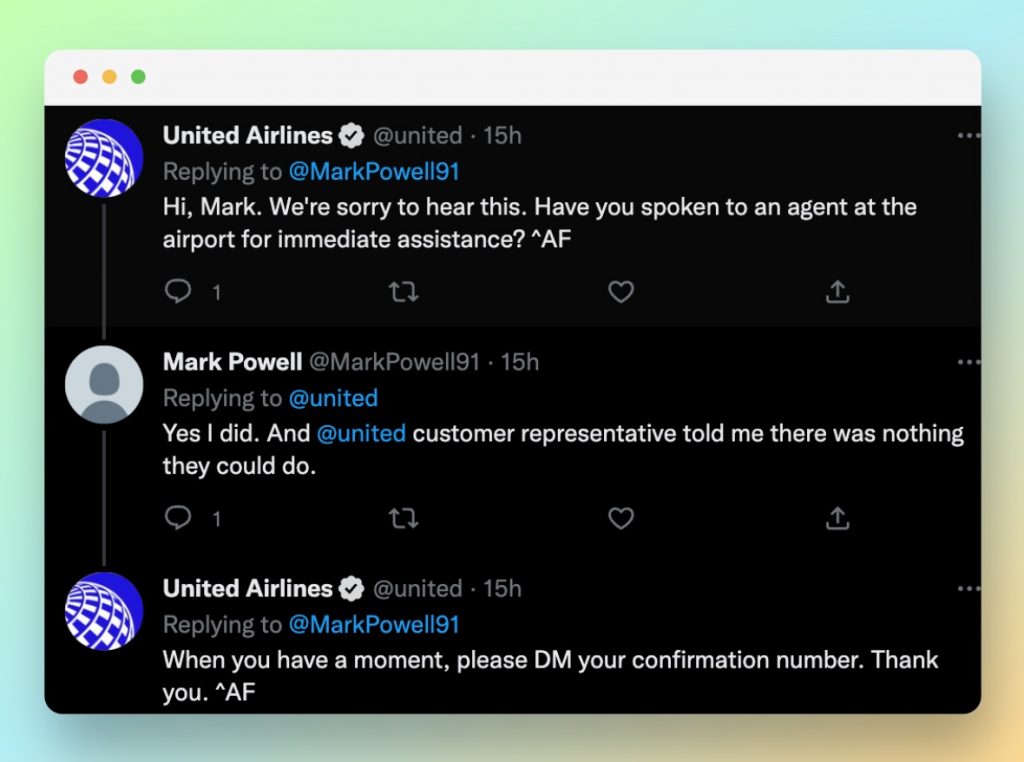 Even on Facebook, where they don't reply to comments as much as they do on Twitter, replies come within hours.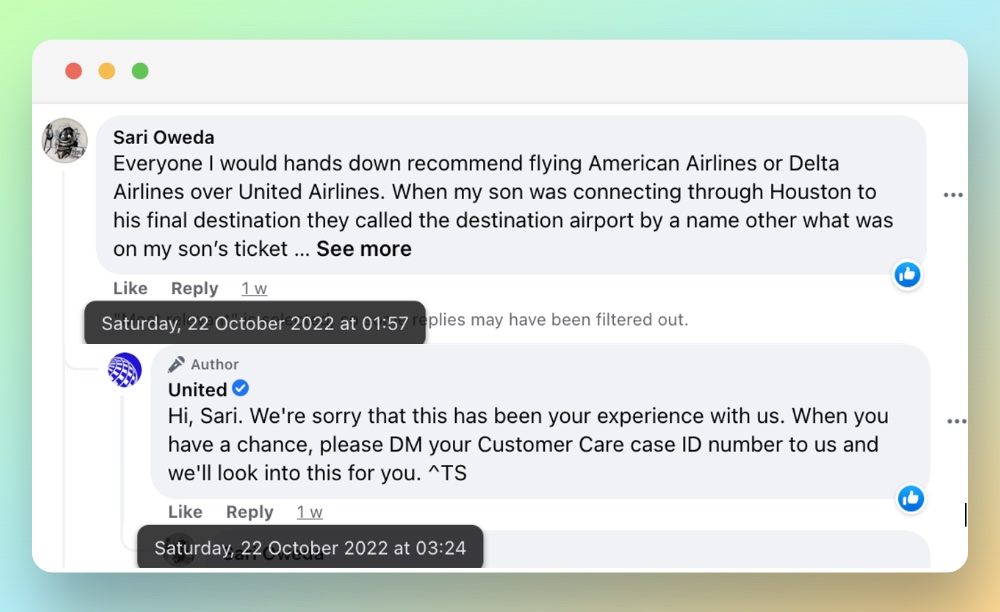 United Airlines' Style & Tone on Social Media
Almost the majority of the responses are rephrased variations of one another. Ninety-nine percent of the time, United Airlines does not immediately address the issue but instead asks for a DM that includes more details. But the problem is not always resolved in this way.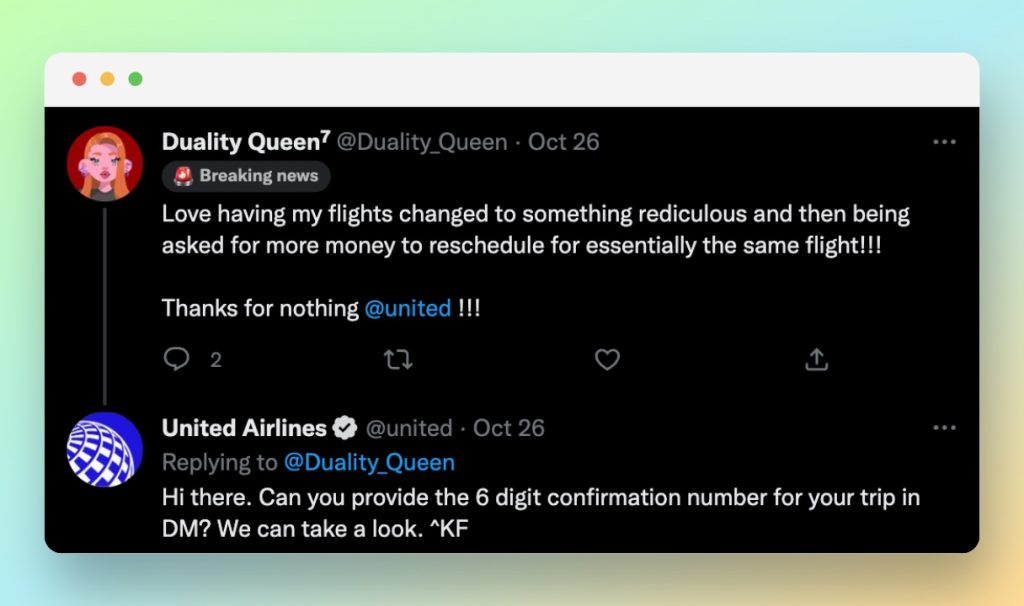 If I were going to be their customer, I wouldn't feel very comfortable about possible problems I might have while flying with them. There are even people mentioning how they do not reply to DMs. 👀This is why personalized responses and adequate replies are important in creating a feeling of safety.
However, there are some good examples too. For example, when this little boy forgot his suitcase on a plane, their response was sincere and helpful. So, it would be unfair to say they don't pay attention.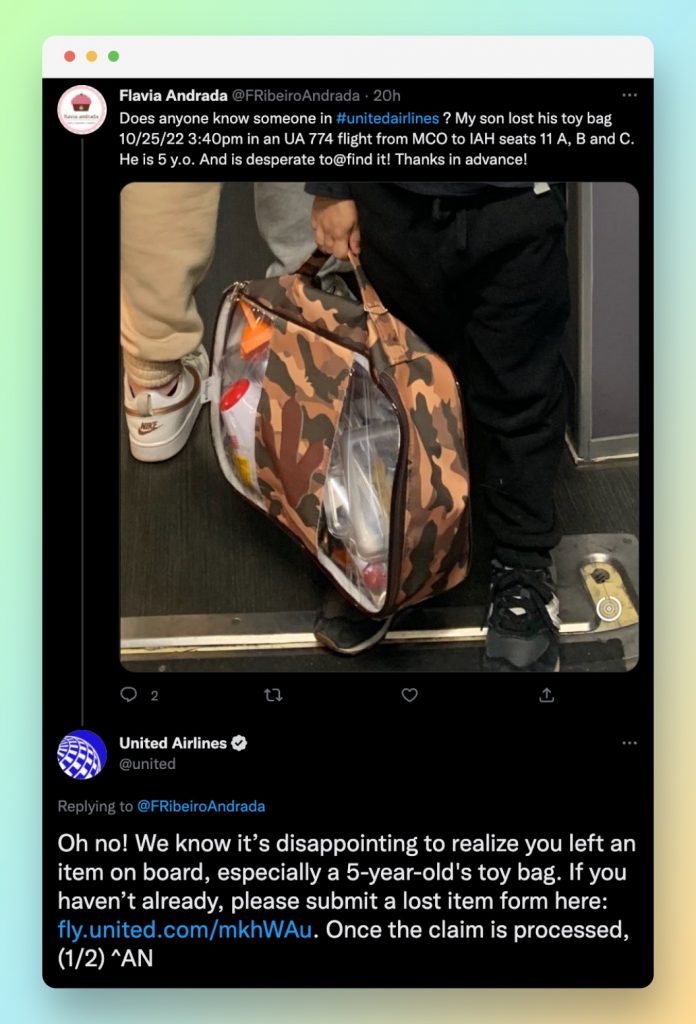 They also reply to users' answers to their engaging questions. Their tone is friendly in these conversations.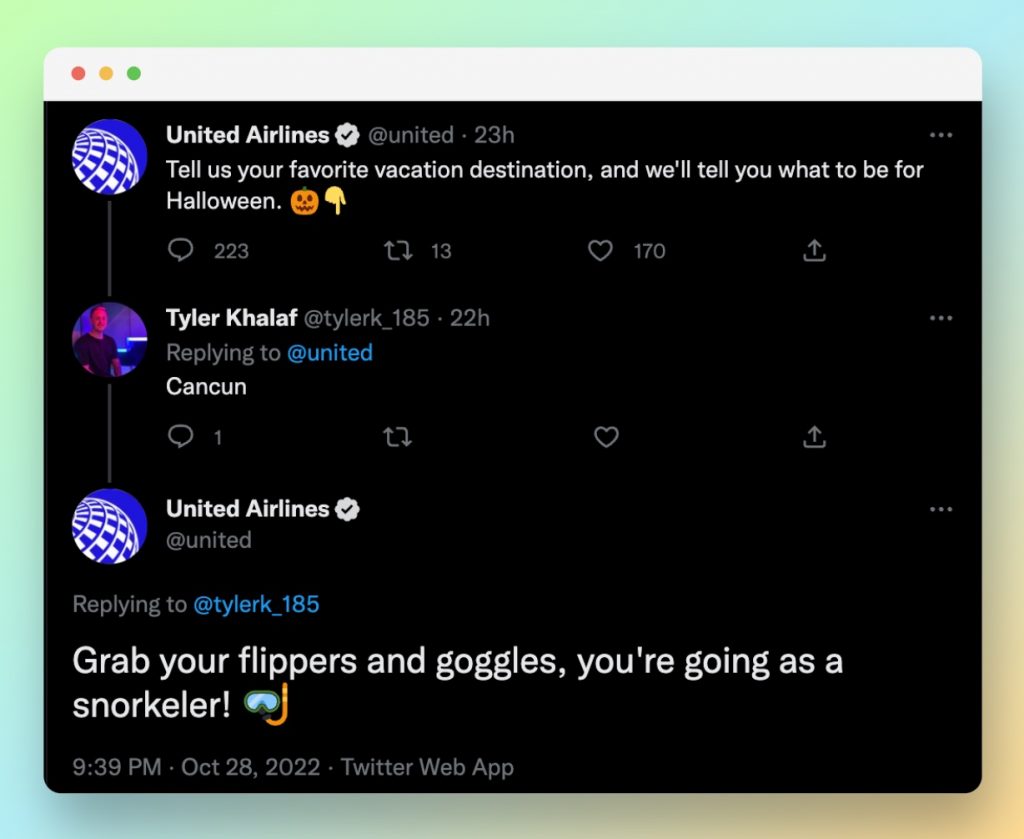 Customers can have a familiar conversation with the company with its engaging content.
Final Verdict
It's hard to have an overall rating since their social media customer service has some weak and strong points.
***These ratings are based on our research and tests.
Accessibility – 7/10
Most of the questions or problems get a reply, and they also reply to comments, whether it is good or bad. However, we also encounter many examples where they do not even provide an answer.
Response Time – 9/10
Ok, they don't respond to everything, but when they do, 90% of the time, United Airlines responds within 24 hours.
Tone of Voice – 8/10
United Airlines has a consistent tone that sounds familiar. This familiarity also made us realize that most of these answers are automated.
Personalization – 4/10
Only 30% of the comments are personalized, and others are canned responses. There are only a few personalized replies.
Engagement – 10/10
United Airlines does everything it can for engagement. Their Instagram posts and TikToks are the most engaging platforms since their posts receive high engagement rates.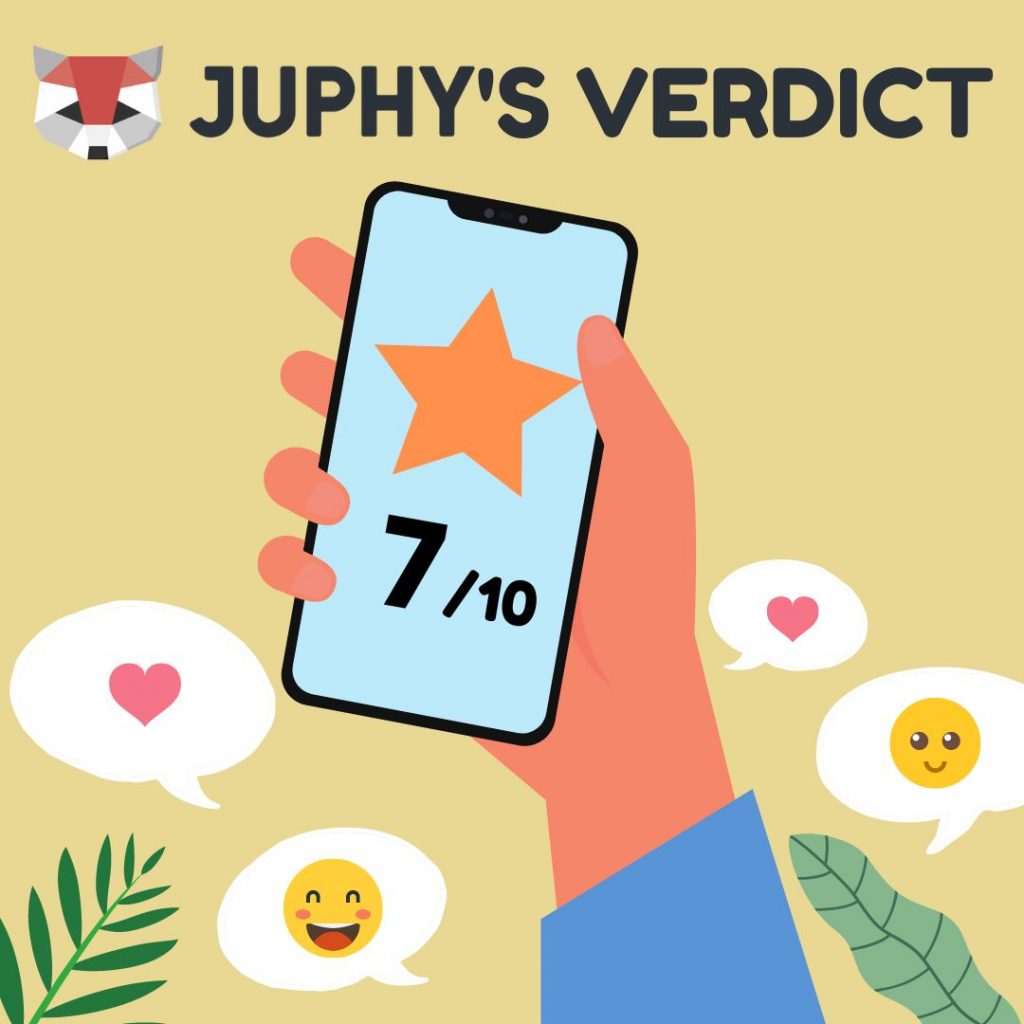 Create Your
Social Inbox Now
Manage all social media customer support inquiries in a unified inbox.
Related Article – ADOBE's Social Media Customer Service Performance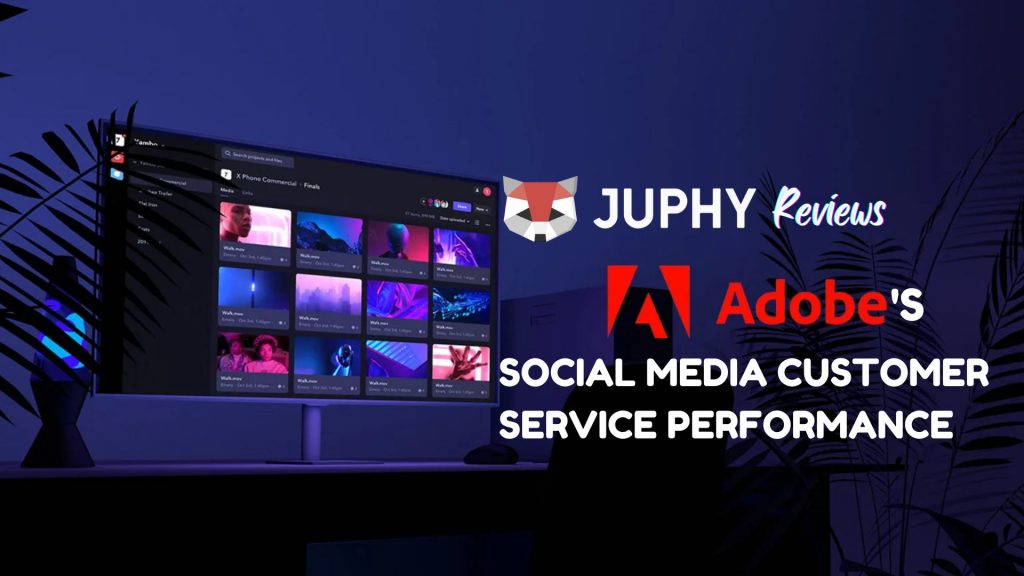 Visual world's leader app provider, Adobe, is trying its best to provide high-quality of social media customer service. Read more now!