If YouTube is one of the communication channels you utilize for your brand, comments are an excellent way to have a dialogue with your audience. You can not only understand their needs and opinions better, but also provide customer support and collect leads by answering their questions. Creating conversation around your content and building a community is also beneficial for better reach because the algorithms favor popularity and engagement. YouTube comment management is an important business task and needs to be taken care of accordingly.
Create Your
Social Inbox Now
Manage all social media customer support inquiries in a unified inbox.
Why Do You Need to Manage YouTube Comments?
YouTube can be a place of pleasant dialogue and it can also be the jittery wire where your brand reputation hangs in the balance. With about 2 billion monthly active users, it's only natural to expect some difficult customers, born opposers, harsh critics, and hostile trolls. If most of the comments come from these kinds of people, it might be wise to go through your YouTube or even business strategy but otherwise, they are inevitable and quite easily manageable.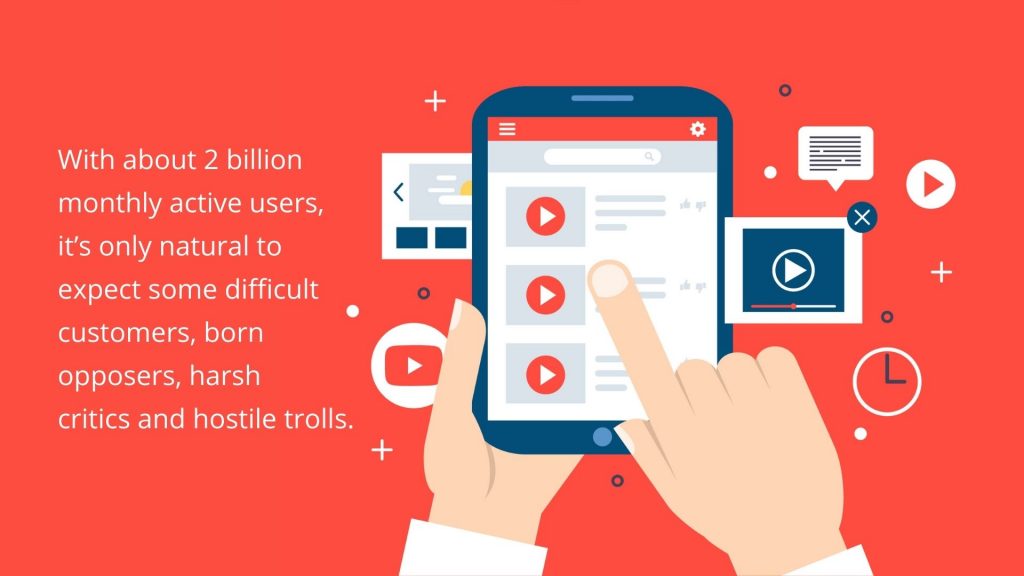 YouTube comment management includes
Appreciating positive comments
Answering customer questions
Clarifying misunderstandings
Controlling misinformation
Dealing with spam and inappropriate language
Deleting, blocking, and reporting hostility
YouTube's comment section can be confusing and hard to keep up with at first but you'll get the knack of it with a little bit of practice. Depending on how many social media platforms you manage and the scale of your active follower base, it can become hectic though. You can find several YouTube comment management tools on the internet so you won't miss anything important. But let's say that you have a new YouTube account and are not receiving a crazy amount of comments. Here's how you navigate through and manage the comments you receive on YouTube.
How to Moderate YouTube Comments?
There are several features on YouTube that help you moderate interactions. Some of these features allow you to address negative comments while others help you encourage conversation in the direction of your desired outcome.
If you want to set a precedent for the type of comments you would like to see and also express your appreciation to the commenter, you can highlight a comment (either your own or a fan's). This will pin the comment to the top for everyone to see before the other opinions. With the highlighted comment you can clarify a debated subject, answer a common question or ask your followers for their opinions, which may lead to further interactions. To do this, click on the three dots on the right side of the comment and select "pin".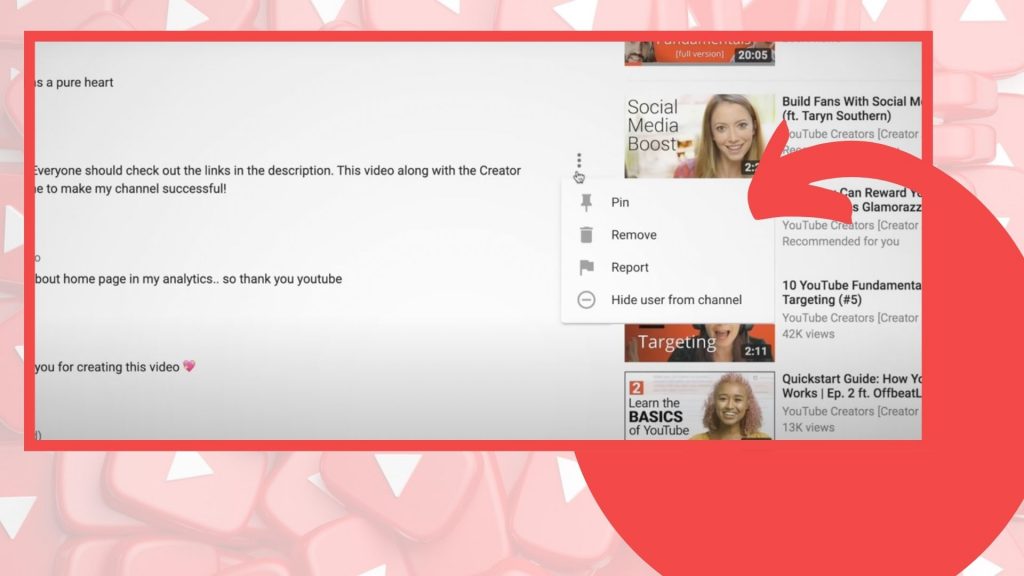 Another way to acknowledge and appreciate a comment is simply clicking on the heart icon at the bottom of the comment. And of course, you can reply with an emoji or write some clever stuff for a little entertainment. The commenter will receive a notification of your response.
But What About Moderating Undesirable Comments?
Can YouTube channel owners delete comments? Sure. The three dots beside the comment works for removing, reporting, and hiding all of that specific user's interactions on your channel as well. Is deleting YouTube comments bad? It depends. If the user is just expressing a negative opinion about your product, service, or commercial, deleting the comment can cause a backlash. To avoid this, you can check out this piece which explains how to respond to negative feedback.
On the other hand, if the angry commenter doesn't offer any kind of constructive criticism and uses inappropriate language, trying to explain anything would be a waste of time. Of course, this only applies to dialogues that start well and progress with an extreme turn of events. Instead of deleting bothersome comments after they are published, it is also possible to restrict their visibility from the beginning.
How to Hold Comments for Review on YouTube Studio?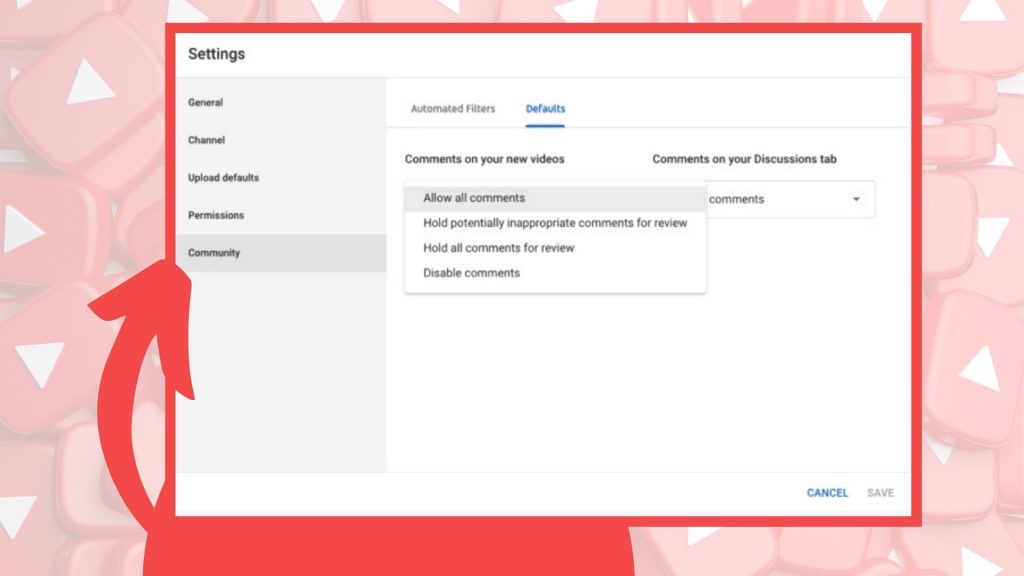 YouTube uses a combination of people and algorithms to remove tons of comments that violate their community guidelines and they are actually pretty serious about it. But even they can't catch every single inappropriate remark or they might deem it irrelevant. For example, you wouldn't want to see your biggest competitor being praised under your video vigorously but it would be just another interaction from an active user according to YouTube.
There are comment settings and filters in YouTube Studio that will allow you to moderate user comments effectively. YouTube holds the comments that violate their guidelines and are likely spam for review before deleting them in 60 days. Also, viewers can report inappropriate comments and spam as well. But you can also go through settings and community sections to
Hold all comments or just the potentially inappropriate ones for review
Disable comments altogether and block dialogue
Apply filters to determine the approved users who can comment on your content
Create a blocked word list and the comments that contain those words will be hidden automatically
Block specific users whose comments and interactions will be hidden from the public
And block links that are not posted by owners, moderators, or allowed users.
While comments from hidden (a.k.a blocked) users won't be shown on YouTube Studio, you can review comments with blocked words or links under the "Held for review" tab in the comments section.
How to Filter Comments on YouTube?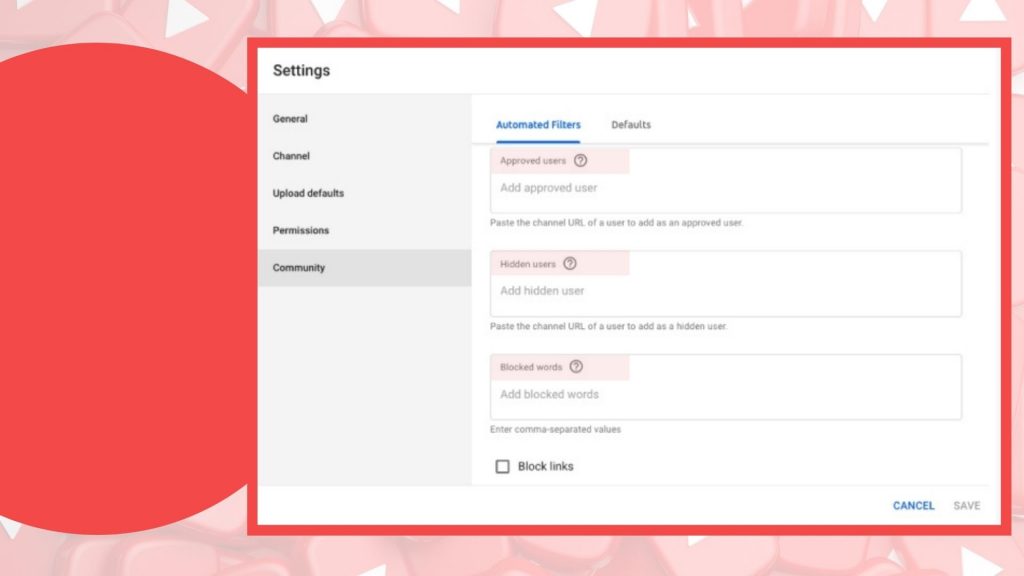 If you have a huge audience and a lot of comments to sift through, you can use the filter on top of the comments section to help you prioritize. The filter works for viewing the messages according to subscriber status, channel member status, subscriber count, and response status. Filtering by response status allows you to go through your YouTube comments history or you can just view the ones you haven't responded to yet. You can also search with keywords or filter the comments that contain questions.

YouTube offers a lot of useful features but managing your YouTube comments can be messy if you also need to deal with other social media platforms, for example for your brand's customer support purposes. Juphy, the advanced shared inbox for social media-focused teams, helps you moderate your YouTube comments along with other user queries on social media, emails, and review sites without leaving its single dashboard. With Juphy, you can monitor, tag, classify, delete and reply to the comments on YouTube, and also collaborate on your responses with your team, right from your inbox.
How to Integrate Your YouTube Channel with Juphy?
Juphy is extremely easy to set up, integrate and work with. The clean, simplistic design allows you to view all activity in a single inbox and you can add new channels with a few simple clicks. Just click on the "Channels" tab on the left and choose YouTube among the listed platforms. Click "Add YouTube channel. Enter your account details and you're ready to receive and respond to YouTube comments. Remember that you can add multiple accounts and work with each of them in their separate workspaces. You can try it for yourself now and enjoy your 7-day free trial without giving out your credit card information or downloading any software whatsoever.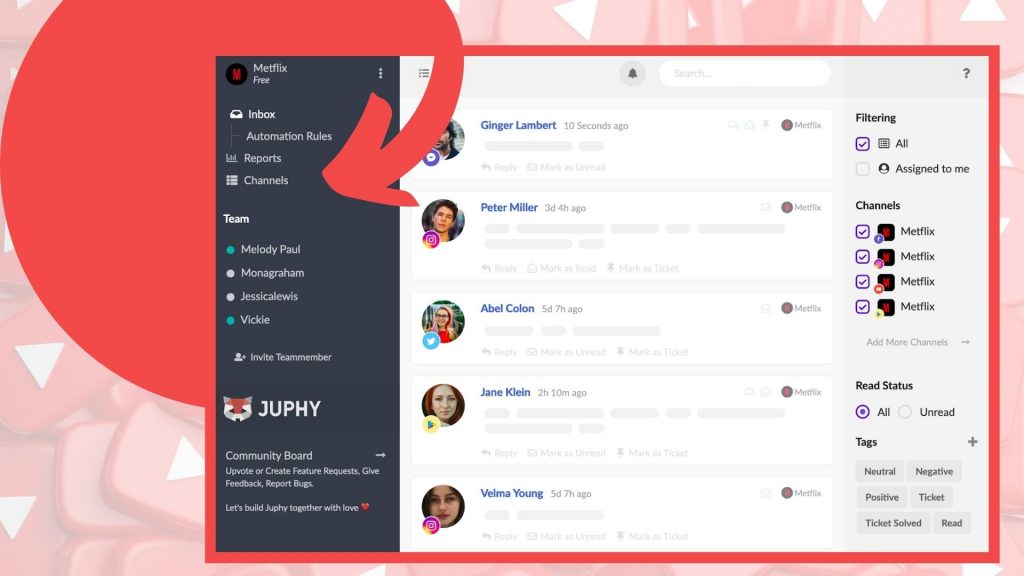 How Do You Manage Your Comments on YouTube via Juphy?
After connecting your YouTube account, you'll see all the comments listed in an organized fashion and you can navigate through different channels and accounts by simply clicking on the account name on the right. You'll receive messages in real-time and when you click on them, you can see which video it is related to along with your messaging history.
Then you can either send a standard quick reply with the canned responses feature or you can collaborate with your teammates. If you want to reply yourself but need backup for the perfect response, you can send instant messages to your team members and discuss the issue in the background. You can also assign the task to somebody else and monitor the process in your shared inbox.
Benefits of Using Juphy for Managing Your YouTube Account
There are two main benefits of using Juphy for managing your YouTube account:
Juphy helps you respond to comments in record time. You can set automation rules so the comments will be automatically tagged and organized according to keywords or sentiments. Then you can make better decisions when prioritizing your actions.
You can also track the growth rate of your YouTube interactions and make data-driven improvements toward productivity.
Create Your
Social Inbox Now
Manage all social media customer support inquiries in a unified inbox.
Related Article