Businesses are always offering services or solutions to a customer target, whether it is Business to Customer (B2C) or Business to Business (B2B). As they always offer a product, they always have clients interested in them. Businesses should upgrade their products or services according to their customers' experiences to have a healthy and stable growth process. Customer service departments are the most dynamic teams to get this data from the customers as they always stay connected with current and potential customers.
If something is wrong with the product, or even if the product works smoothly, customers can reach out to customer services 24/7 for many different reasons. The significance and criticality of customer service increase how challenging the job is.
Create Your
Social Inbox Now
Manage all social media customer support inquiries in a unified inbox.
What is Customer Service Productivity?
The main definition of customer service isn't as simple as answering calls, solving customer problems, and closing tickets. Customer service is also proactive and quick support to customers 24/7 within their channel selection. There are various channels that they are using both online and offline. Most-known ones are email, text, chat, phone, and many more, definitely including social platforms. Customer service tasks are quite important within businesses as they are now considered one of the key functions for business advocates.
It is clear that the more happy customers a company has, the more likely the company is growing. Customer satisfaction is the key point of a company's mission. Attracting new customers and closing fresh deals would be much easier if there are more satisfied customers in the market. Customer service is also considered a differentiator between you and your competitors. Customer service teams have a wide range of duties, including answering and solving customers' questions and issues, accepting feedback, engaging, and creating a positive experience for every customer. According to research made by Salesforce, 80% of customers claim that the experience a company provides is equally important as their products or services.
As the customer service team has quite an essential role in the business growth, it is fundamental to maintain productivity. This productivity is the outcome of your customer support team applies in a given period of time. The productivity shows the answer of how efficiently your customer service team is working/resolving customer issues and creating a pleasant customer experience.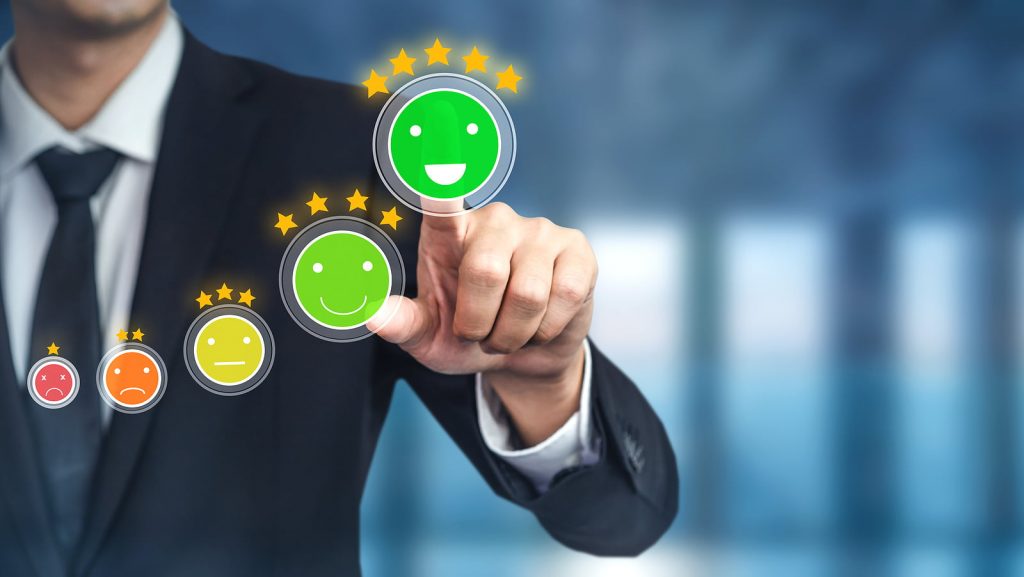 How Do You Measure Productivity in Customer Service?
There are many ways to improve your customer services' productivity. But first, you need to measure this productivity in order to maintain a stable and effective business plan in a regular period of time.
For starters, there are five ways to measure your customer service's productivity:
First Contact Resolution
Ticket Resolution Time
Total Tickets Resolved in a Period
Customer Satisfaction Score
There are some important key points in customer service and they are considered as 3 P's. These P's are professionalism, patience, and a "people-first" attitude. Also, you can click here to read more about measuring customer service performance.
Tips & Tricks to Improve Customer Service Team's Productivity
We get the part that the customer service team plays a huge role in your business strategy and growth. This means that to be a successful company, you need to make sure to look for ways to improve your customer service team's productivity.
Here are some tips for you to consider before creating your regular business growth plan:
Setting clear roles and responsibilities
This point is the most important part of your growth plan. Defining clear roles and
complementing them with accurate responsibilities will help you to
create a successful plan.
Building a dedicated self-service portal
Building a team dedicated to self-service would be another point that you might want to consider while building your business growth plan.
Automating manual work using a customer support software
Setting up automations would give you some more time to focus on other things
you need to do.
Multitasking may cause unnoticed errors and small crises as people would do much more than they have to do in a short time, it also would decrease productivity.
Embracing healthy competitions
An adequate frequency of competition between coworkers might help your team to stay focused and it might increase their productivity.
Developing skillful experts
Allowing your employees to focus on a few skills rather than expecting to know all the skills would provide you with a much more productive working space.
Minimizing unnecessary distractions
While some unwanted distractions can lower your employee's stress and help them to
refresh their mind, too much time away from work can harm their productivity.
Tracking customer service productivity metrics
Tracking metrics on a regular basis would draw you a roadmap where you can update your strategy and upgrade your customer service team's productivity.
Working full-time for hours is exhausting. Sometimes it is better to have some breaks and events to create a space where your employees can socialize with each other to improve productivity.
Rewarding your staff for being productive
As productivity is the key to success, it is important to make sure your staff knows its worth. Setting up some rewards might motivate them.
Did you know that according to Forbes, almost everyone, around 98% of people doesn't get along well with multitasking? This fact might be an obstacle to your customer service's productivity, reducing productivity by up to 80%.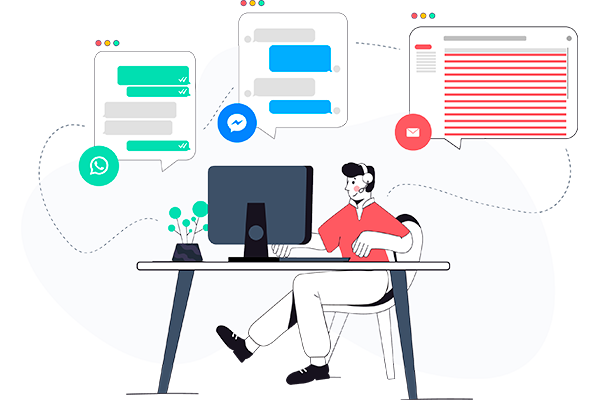 How Juphy Supports Your Team For More Productivity?
Juphy is a unified inbox solution that offers many features, especially for social media managers and customer service teams. Juphy includes unified inbox, team collaboration, reports, workspace, automation rules, canned responses, and many other solutions. These features would significantly support your customer service team's productivity.
As a customer support representative, you can work on your unified inbox as a team to improve your customer support and service performance and productivity in all communications channels. You can assign conversations, label tickets, discuss customer queries and record your solving time with Juphy.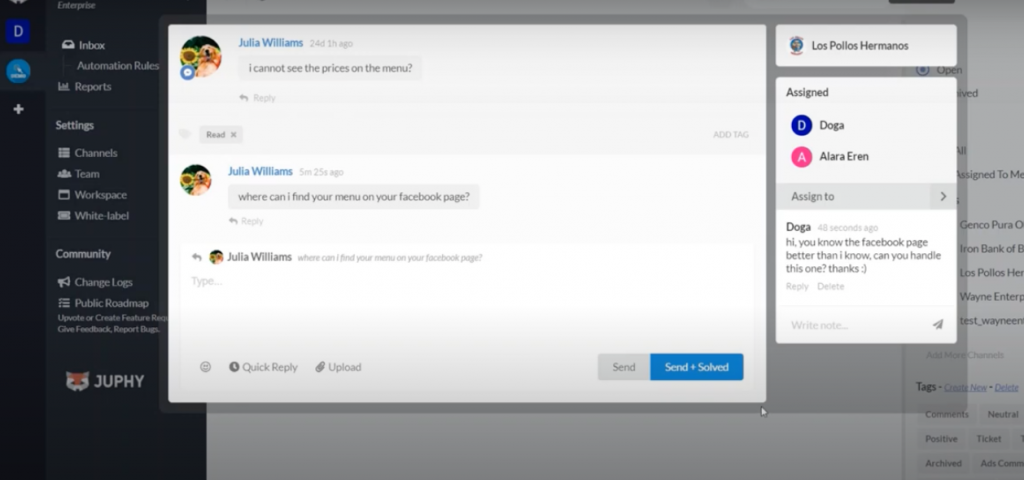 As the dashboard is quite simple, you can easily track your and your team's performance, assignments, and comments without getting lost or without things getting complicated. You can book a demo or request 7 days free trial if you would like to learn more about Juphy's features in detail.
Juphy's in Team Features and Their Benefits for More Productivity
Juphy offers many solutions to make your team's job easier. Its unified inbox helps you receive and respond to customer queries, including email, reviews, and interactions from every social media tool you currently use within a single dashboard while allowing team collaboration in real-time. Combining task management with customer support makes Juphy one of the top customer service tools.
Instead of navigating through many social platforms and emails tabs, you can set up Juphy as the only all-time open tab. It includes many popular platforms in it and as you can create notes, assign tasks, and tag people on only one dashboard, it consumes much less of your time than other solutions. And this means it will affect your productivity as a customer service representative.
Conclusion
To work efficiently as a customer service team, you need to forget about working on multiple tasks at once. It is also crucial to set a proper customer service approach and regularly measure the team's productivity to prevent any problems that your customer service team might face. You can start exploring Juphy and its brilliant features to make your customer service team's duties easier and increase productivity.
Create Your
Social Inbox Now
Manage all social media customer support inquiries in a unified inbox.
Related Article