Customer services can be seen as the heart of a business since a body does not function without a heart. As the main way for a company to interact with its customers in real-time, customer service has a powerful impact on everything from satisfaction and loyalty to brand reputation and profitability.
There are different types of customer service, and we can gather them under three main categories:
Self-serving automated support (FAQ pages, chatbots, related files, and directions)
Direct support (Problem-solving through instant chat, e-mail, phone)
Technical support (For complex problems and technical solutions)

Ways of support change according to the businesses' preferences and abilities. The common aim of these different customer service methods is to help the customer solve their problem, but how the customer gets the support should be the main focus of businesses who want to stand out in customer relations.
Online interactions are becoming more and more widespread, which means more and more people are buying products or having services through online platforms. That's why businesses that provide online services for their customers should deal with their customer services as professionally as possible.
Create Your
Social Inbox Now
Manage all social media customer support inquiries in a unified inbox.
Why Are Customer Service Trends Important?
Customer service can be seen as a positive and helpful service provided to customers before, during, or after purchasing a product or getting a service. Preferably, every employee should be able to offer assistance, and no client should feel unable to solve their problem, no matter what their issue is.
With the increase in online experiences, new customer service trends show up. Keeping up with these trends is the best way for your business to keep in touch with your customers, especially through the best practices and the ways your customers prefer. After all, meeting their expectations will help you build the best relationship with your customers.
With the ongoing change in our social life, social media platforms, interaction styles, and environments, people's expectations and preferences about customer services change accordingly. Let's take a look at current trends in customer service.
What Are 2022's Customer Services Trends?
Instant Support
A trend of all time -which gained more importance lately: Speed. Most people prefer getting the help they need as quickly as possible, especially as we get used to instant interactions. Offering customers instant chat, video calls, or phone calls with your customer service team is the best way to provide instant support to your customers.
Real-time assistance encourages customers not to give up on your business because of a simple problem. Plus, this type of support saves time for both the customer and the agent. Customer engagement and satisfaction will rise since customers will be happy about getting the help they need directly and quickly from someone capable of answering their questions and guiding them correctly.
Omnichannel Businesses
Different interaction options are the best thing a business can have in this digitalized world. Allowing customers to choose their way of getting help will increase customer interaction and make getting support easier for the customers.
The latest customer service trends include omnichannel businesses. Streamlining customer information and messages across multiple channels is essential for providing exceptional service to your customers. The team can easily manage conversations across various customer support channels with the help of the right tool, such as Juphy, through which you can see and manage different platforms in one place.
Customer Service Teams and Problem Detection
Having sub-teams in your customer service department is another trend that enhances customer support. If dedicated people deal with specific problems, solving the problems will be quicker and easier since each person or group will focus on a particular part of customer service.
After knowing their problems, connecting people to customer service agents will make the problem-solving process smooth. For example, mini-polls are used in instant chats. This way, the customer service team is able to assign the right agent to help the customer.
Mobile Customer Service
Mobile phones have been an irreplaceable member of our everyday lives for a long time now, and being used for instant interactions is only one of the results. Just like we expect a quick reply from a friend on WhatsApp, clients expect quick and 7/24 responses to their questions and mobile customer services are the best way to fulfill this expectation.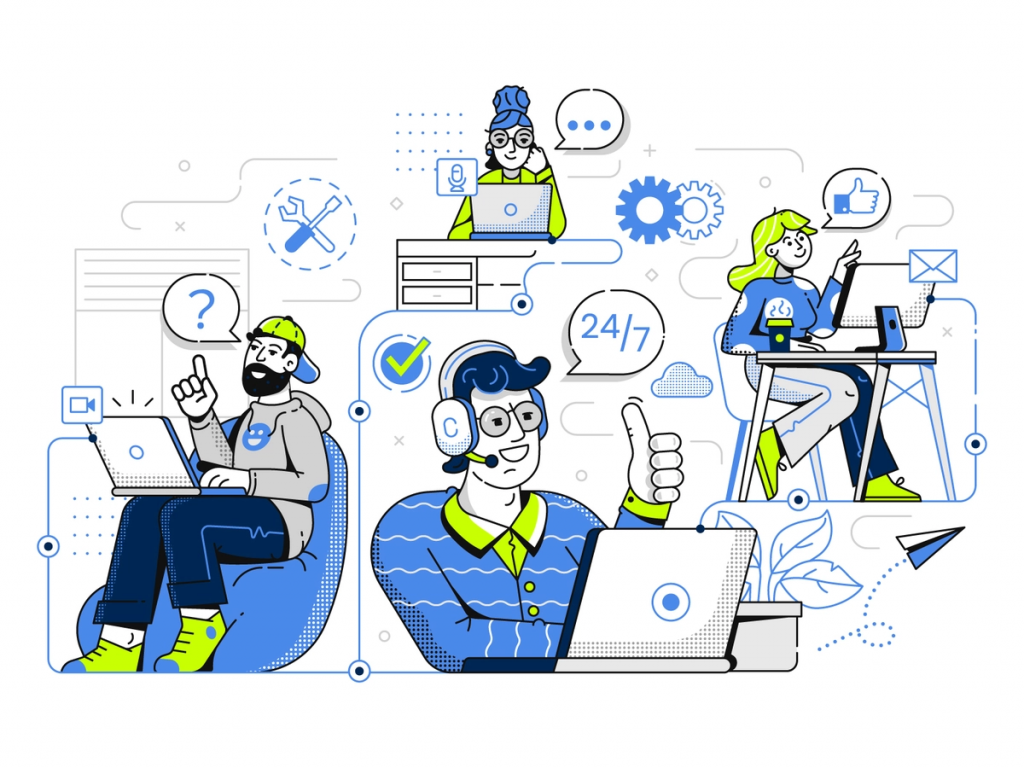 A customer might need assistance during your off-hours; for example, imagine someone wanting to place an order a night before their prom night and trying to change their payment method. If the customer can get the help they need in 15 minutes, this fast service will increase the probability of conversion. If not, one of your competitors who offer 7/24 customer service will have a new order at that moment.
Plus, when customer service agents have the freedom to answer the tickets from their environment, their performance will be beyond your imagination. Mobile customer service means your agents must interact online and from mobile apps, which gives you the chance to create your own remote team of professionals! In short, offering mobile customer service has become a new customer service trend and beneficial both for your agents and your customers.
Chatbots or AI-based Mini Polls
Chatbots can be helpful for frequent and easy problems, such as changing passwords, details, shipping addresses, etc. This way, you can save time for the customer, and the team can focus on more complex problems that need assistance.
How-to Videos and Contents
People are getting used to reaching information as quickly and easily as possible. If I can't do something, the first thing that comes to my mind is typing "How to …" to Google and seeing if I can handle the situation on my own.
If there is a "how-to" video or content that shows best practices to solve problems, many people benefit from it rather than asking for help from an agent.
Social Media Customer Services as a New Trend
Using social media for customer services is becoming more and more popular as now people are using social media platforms to interact with others. When Twitter first came out, people used it as a diary but now, people mention businesses to get help or request new services or products. Similarly, Instagram used to be the place for sharing your food, trips, memories, and more, but now, it has become one of the biggest marketing platforms for businesses.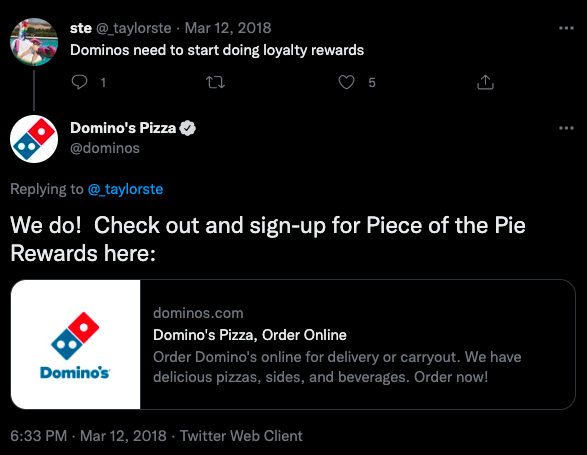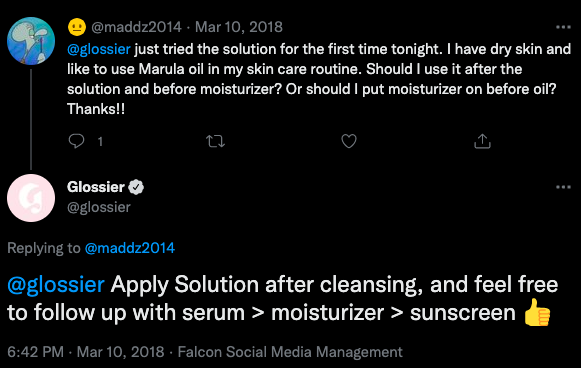 These tweets are only two of the millions of examples of how social media can be used as a successful customer service platform.
Keeping the pace of rapidly-changing social media dynamics will help you interact with more customers, leaving them happy and satisfied by showing how much your business cares and makes an effort to be there for its customers. Replying to DMs, comments, tweets, and mentions will let you reach out to more people other than your customer, as these interactions can be seen by all users of the internet or the app, at least.
Juphy is a Part of the New Social Media Customer Service Trend!
Juphy's shared inbox for multichannel customer service gives you all the tools you need to provide a consistent and efficient customer experience. You can see and keep track of all your customer engagements from Facebook, Whatsapp, Twitter, Google My Business, Youtube, LinkedIn Business, Google Play Store, and AppStore through Juphy's practical interface and useful features.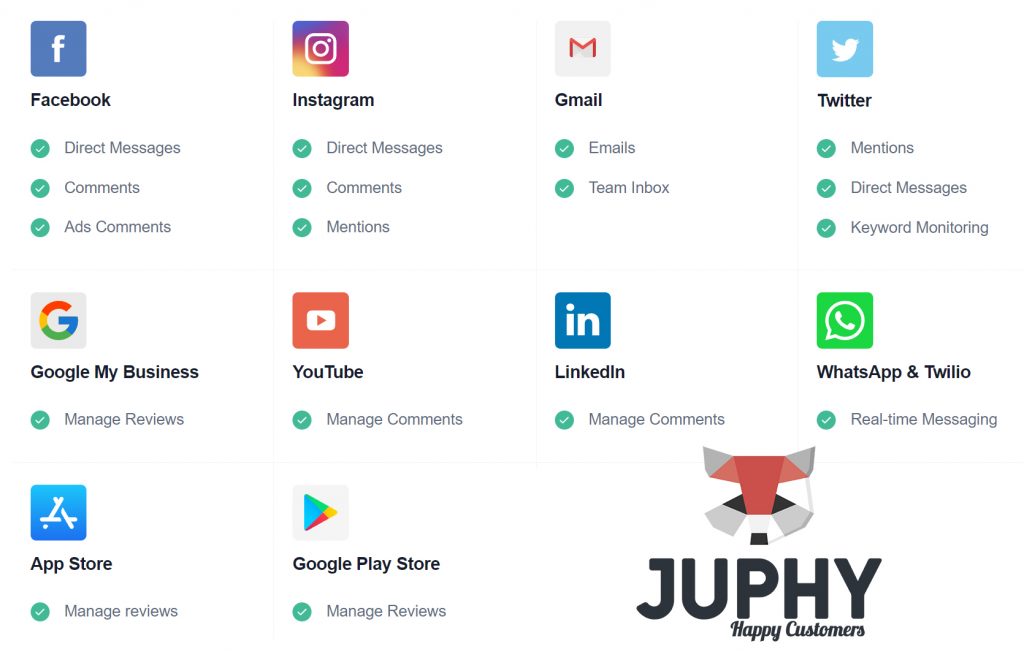 With Juphy, you can
Respond to customer queries and a single mention from different social media channels through a single dashboard.
Handle frequent problems with canned responses.
Ensure an effective real-time collaboration on social media
Keep customer engagements under control by not missing any interaction
Analyze your customer service performance and improve your strategies
Create tickets and assign your team members to solve processes
Integrate your social media accounts and manage them all from one place and utilize many more features of Juphy to improve your customer services.
Conclusion
Overall, we can say that customer service success depends on speed and reliability. Your teams should be aware of the latest trends to keep up with customers' expectations and offer the best communication methods.
If you don't miss the latest trends and use the right tool to have an all-in-one customer service platform, your customer relations success rates will increase daily. Investing in a scalable all-in-one customer service platform, keeping an eye on the current trends, and adapting your customer services accordingly will pay off in the long term and help you succeed at customer service.
Just look for what's going on in the world and get Juphy to make everything easier for your team!
Create Your
Social Inbox Now
Manage all social media customer support inquiries in a unified inbox.
Related Article