This is the era of all-in-one solutions.

People do not want to waste even their one second with pointless actions that prevent them from operating their businesses properly.

What is it to do with emails? That's what I'm getting at.
There are too many mail addresses or customer communication channels that businesses use for making their customers feel comfortable while reaching out.

Even if you have a small business or a big company, you use these different channels to reach out to people; and never forget that they use them to reach out to you, as well.

They are on Twitter? Boom! We are, too. Gmail? Checked. Another email? Checked. Anothe…  Facebook? Even our grandparents use it. WhatsApp, LinkedIn, Instagram, and many more.

So, at the end of the day, managing all these channels separately might be too hard to handle for your support or customer success team.

Even using a shared mailbox for different requests incoming from different email addresses, *uh… I am already exhausted…* is very likely to get disorganized and confusing.

We know about a better and easier way, and you will know about it too because you are here.

We, therefore, will share what we know (and do) about shared email inbox to provide a better communication experience and great customer service.
What is a Shared Email Inbox?
Shared email inbox, as you can understand from the term, is an inbox space that gathers all of your communication channels together and besides, that provides multiuser access.

It is the single source of truth for all of your support tickets, customer comments, users queries, and even collaboration requests.

Simply an inbox in which you get all of your emails and chats, and manage them all with every member of your team. 
How does it exactly differ from a shared mailbox? So, let's take it from the beginning.

What is the difference between a shared mailbox and a user mailbox?

A user mailbox is dedicated to a single user (as you already know) However, the shared mailbox type is meant to allow access for multiple users.
Differently from a shared mailbox, a shared inbox can include several different channels, based on the tool you use.

But there are more…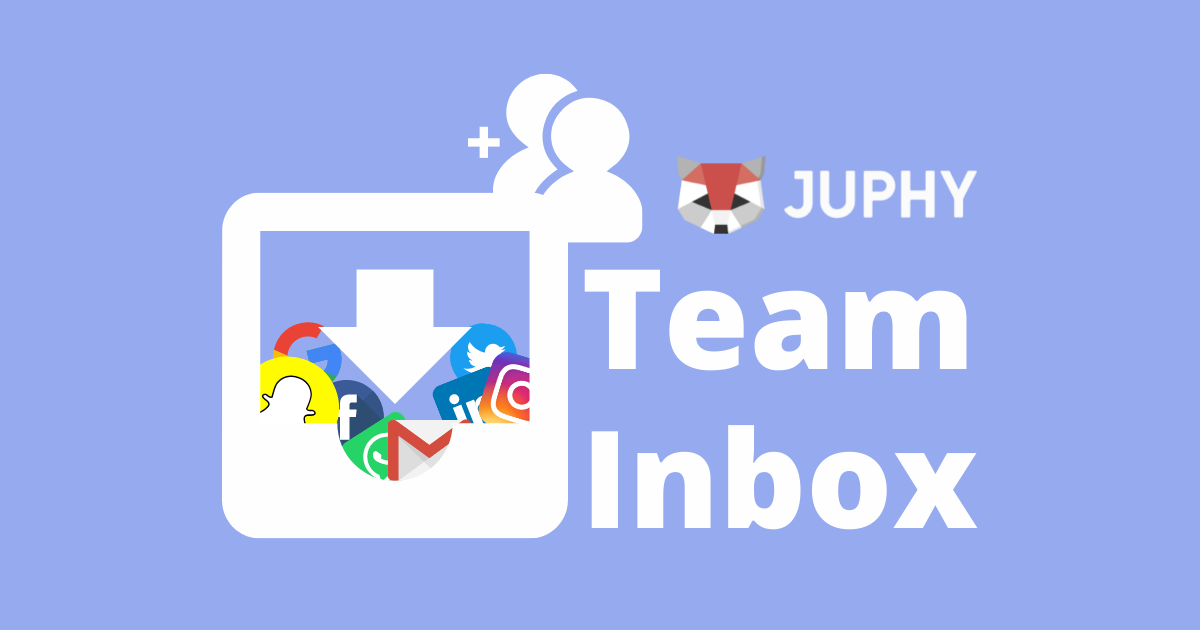 Team Inbox
Why You Need a Shared Team Inbox? Its essential for businesses to be in-sync through the customer service process. Its even more important when it comes to social customer support.
Read the article
What are the Benefits of Shared Email Inbox?
Shared email inboxes ease our workflow undeniably. In a world of simple solutions, it feels like a fridge full of food and drink products.

There are several more benefits that shared email inbox provides:
Managing incoming emails from your official email addresses like

support@mycompany.com

or official accounts like

instagram.com/mycompany





Managing the shared email addresses or accounts as a whole team might be hard. Yes, when there are fewer incoming requests, it might be easier. But, imagine that your official channels deal with 200+ emails a day. Now it gets complicated.





With a shared email inbox, all of your team can see if a mail is assigned to an individual member, if it is already in progress, or if it comes to a solution.





This way, it prevents forgotten emails, sending replies to the wrong people group, or incorrectly archived emails.

 

Adding internal notes to communicate with the team before closing a request



You have a team of 10 and all you have your own solution to a query. What would you do? Finding the best solution will cost you a 30 min call (which is too long for our fast word) or communication through another chat platform.





But with a well-designed shared email inbox, you can add internal notes to a chat and find the best answer in minutes.

 

Accessing all the emails that are received or sent



Do you think that a mail is missed? Or want to check for a mail you've been waiting for a long time? Or need an answer that is already responded to? Do not bother the other party with more emails.





Shared inboxes give you the opportunity to view past chats, and find out what you've been looking for easily.

 

Preventing misunderstandings among the team and duplicate chats



This opportunity to access the emails, and view each chat also brings another benefit. Preventing all the things that might end up not well.





If someone already answered a query, you'll see that this case is closed. When the other party asks anything related to that later, you won't need to take it from the beginning.

 

Keeping customer data and history

Knowing your customer comes first and it can be hard when you have many. Someone reaches out to you about a specific query and you had a well-rounded conversation with them. 5 months later… you will probably remember nothing.

But, with a shared inbox, you can keep the data and history of a specific customer and their queries, which will be useful for future engagements.


Assigning related team members to a conversation


Your support team members might be expertise in specific product areas. For example, while one of them can help people with account success, the other one may be better at the technical side.

Not all, but most of the share inboxes enable you to assign the team member that can be more effective in that case. It prevents wasting time and improves the quality of the conversation between the support team and users over time.

Monitoring the performance of the support team with reports

Oh, yes, performance. What we like the most and hate the most at the same time. Even if not all shared inboxes provide performance monitoring, it's an effective component and worth including in this list.

Tracking individual support team members' response times and overall performance is beneficial for reaching your goals in the end. It also helps you to detect the point that needs to be improved and find more about customer happiness.

Shared email inbox management is something always pushed into the background, but it actually covers a great part of a business. I mean, how cannot? It is the most important part of success, the communication.

At the early stages, or within a small business, okay, it is easier to handle. But, as your business makes progress, it poses a risk.

Poor inbox management causes several problems when multiple users work on it. The risk of misunderstandings, confusion, and disorganization, eventually results in chaos within the customer service.

On second thought with the given benefits, managing shared email inbox is indeed a good solution to prevent that possible chaos. It enables support teams to work together, work effectively and, work in apple-pie order.

Unified Inbox Solution
One place to take care of all customer queries, including email, social media and reviews.
Start your 7-day free trial!
How to Manage a Shared Email Inbox?
Simple, with a good shared email inbox software. In consideration of the benefits we have talked about above, the software you use is very important.

At the root of every shared email inbox tool, there lies the goal of providing a solution that creates effective customer services.

These inboxes aren't held by a single user – total opposite, they're managed by multiple people. In order to reach that goal, there must be a mechanism that makes those people work like puzzle pieces to complete the whole picture.

So, a software's got to do what a software's got to do.
Shared Email Inbox Tool with Proven Success: Juphy
What we have observed over time? Communicating to customers on many different platforms is the biggest pain point of a business.

Switching platforms, checking inboxes separately, trying not to miss anything…

Your business is you. Your team is you. The way you communicate to customers demonstrates you. So, when YOU start from bettering communication experiences, it affects your team, your customers, and your overall business.

This is where it all comes from.
Are you looking for a real unification? It is the right answer. Juphy is one of the CRM tools that enable you to manage multiple accounts and collaborate with your team without switching platforms.
It provides the power of joining your official email addresses to a shared inbox. And also, 
gathering support team members, a customer success team, or agencies in one to collaborate on customer inquiries in real-time.
So we have all we need in one place now. Remember from the beginning? The all-in-one solutions. Part of offering excellent support is having all at your elbow.
Juphy also delivers other quick solutions for giving fast responses to FAQs, like message templates, and canned responses.
Let's list the other remarkable benefits of Juphy for a clear vision:
Juphy's shared inbox stops you from switching between thousands of platforms to communicate with your customer.



With Juphy,

unifying all your communication channels is an easy peasy.


Juphy assembles your support or customer success team members under the same roof.


With Juphy's note feature, you can drop a note to your team on tickets if you have something important to say before answering or need help.


Juphy prevents you from missing important queries like upgrading the current plan.


Canned responses

can be saved quickly and used to

increase the speed of responses


With performance reports, the performance of the support team can be measured and improved over time.



Relatedly,

it saves you a great deal of time

to improve your business and

boosts your productivity.
Oh, wow, just realized that some time has passed… but I have a good result at my hand. So, never realize that it is getting dark and you haven't even answered a single customer query.

Managing a shared email inbox will make sure that you and your team are collaborating like champions on customer communications, and always improving for a better support service.

With a good shared email inbox tool like Juphy, your work will even go to another level.

When it gets dark, you'll take a deep breath and lean back in your chair with peace.