In today's fast-paced digital landscape, e-commerce stores are where the action is, serving as the main stage for online retail. Though creating an e-commerce website is now straightforward thanks to handy templates, the real magic lies in designing a storefront that offers a top-notch shopping experience to your customers.
Think of an e-commerce storefront as the digital face of your brand, akin to a physical storefront. The more inviting it is, the more customers are drawn to explore and shop.
In this guide, we'll dive into the core elements defining successful e-commerce stores in 2023, followed by closely examining four standout e-commerce storefronts leading the pack. Through these examples, you'll uncover actionable insights to elevate your own storefront and stay ahead in the game.
Create Your
Social Inbox Now
Manage all social media customer support inquiries in a unified inbox.
Essential Elements of Successful E-commerce Storefronts in 2023
The top e-commerce storefronts have certain features that make them stand out. These key elements make these storefronts more engaging and user-friendly, creating an exciting customer experience.
Here are the top elements you should note when creating your e-commerce storefronts or when looking to improve your current one.
AI-Driven Personalization and Predictive Analytics
Personalization is crucial to the success of e-commerce stores. With the rapid advancement in technology, e-commerce store owners have adopted more effective ways to provide personalized experiences.
A key element of successful e-commerce stores is the use of artificial intelligence for personalization and predictive analytics. Using AI, online stores can easily offer personalized recommendations and interactions based on past customer behavior. It then becomes easy to offer products that consumers will be interested in correctly.
Also, successful storefronts use AI to gather customer data and then predict future trends based on customer behavior. With AI-driven personalization and predictive analysis, e-commerce storefronts can identify customer needs and preferences and provide a seamless customer experience.
AI-Generated Content Marketing
In e-commerce, content is king, and the realm is expanding with AI-generated content marketing. As AI-produced articles and imagery fast-track into the mainstream, the arena of content marketing is poised for a seismic shift. While the effectiveness of AI-generated content may see a dip, the potential for 'that's me' messaging, resonating deeply with the target audience, holds the promise of keeping the engagement needle ticking upward.
Pricing Strategy
Pricing has become more transparent than ever in the competitive e-commerce world. Customers can easily compare prices, which has led to commoditization, particularly on large platforms like Amazon. A strong pricing strategy that sets your products apart could be the key to success in the face of price wars. An effective value pricing strategy can beat market pricing, ensuring that consumers highly value your products and add them to their shopping carts.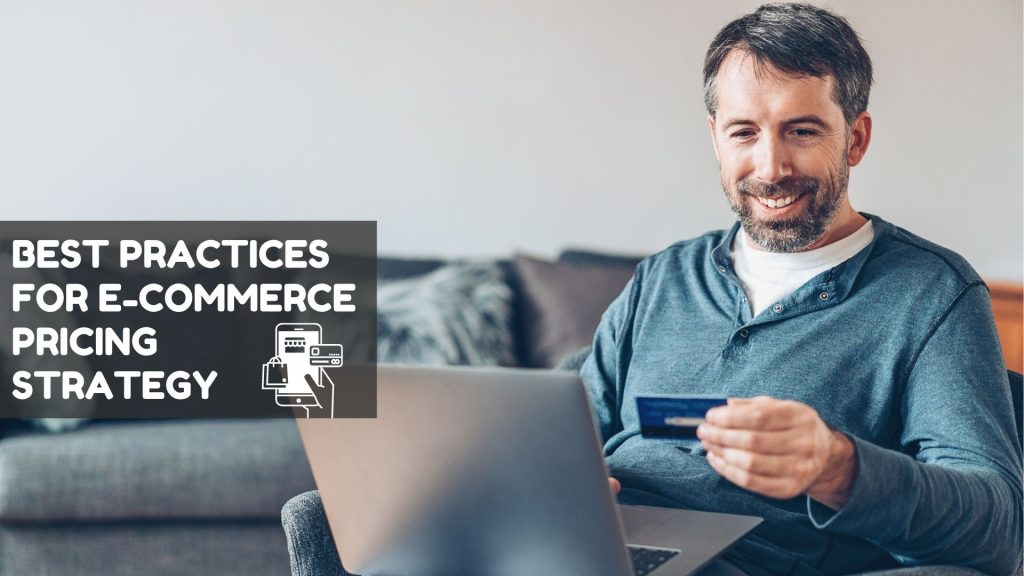 80/20 Customer Segmentation
It's important to understand your customer base well to avoid being seen as a commodity. Identify your top 20% customers and learn more about their behavior and preferences. By doing this, you can not only keep their loyalty but also find ways to expand your customer base. When you align new customer acquisitions with the preferences of this top 20% segment, you're not just making sales; you're building a community.
Personalized Customer Dashboards and Name Recognition
Successful e-commerce stores make their customers feel seen. The personalization extends to customer dashboards and customer names. These top brands show that they value their customers by taking note of their customers' names and addressing them by their names each time they interact with the brand.
Also, personalized customer dashboards function like physical store workers by remembering the shopper's preferences and details. Providing a personalized customer dashboard shows that you understand your customers' needs well.
Highlighting Bestsellers and Popular Products
Usually, when you visit top e-commerce stores, you'd notice a section highlighting the bestselling products. While this may seem redundant since the bestselling products are already popular, highlighting best-selling products serves as a form of social proof.
A product's popularity indicates that people find it helpful. This can portray authenticity and value when it's highlighted on your e-commerce homepage. Also, people are usually attracted to what's popular. Here's an example of how Etsy shows popular products on its homepage.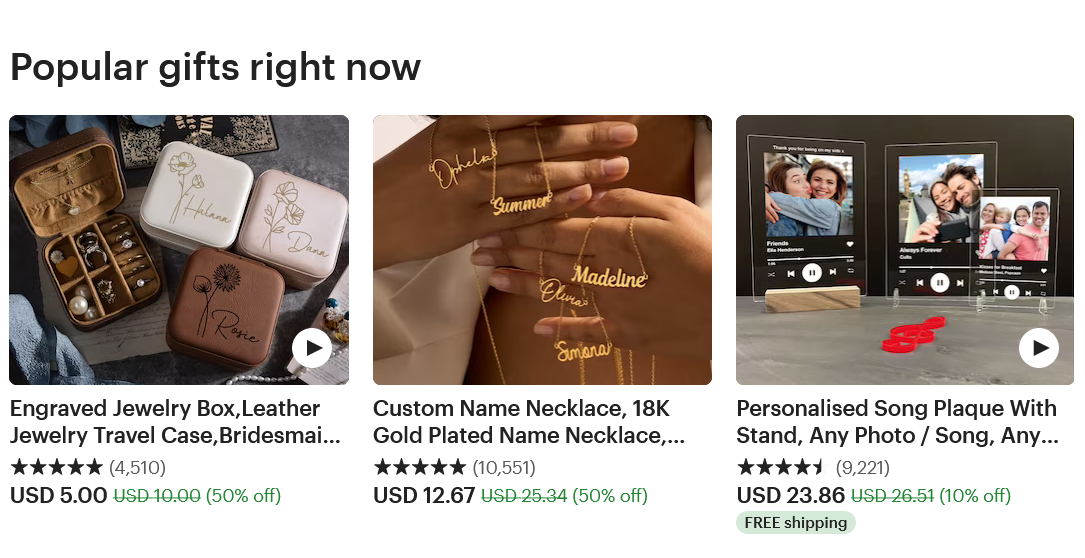 When you display popular products on your homepage, it increases the chances of making more sales. Lastly, displaying your bestseller products can help reduce the time customers spend searching for those products on your online store.
Curated Product Collections and Recommendations
One of the things you'll find in successful e-commerce stores is a curated collection of products. A product collection is simply a bundle of products arranged together based on various factors. For example, you can find a collection of kitchen items or office wear in an online store.
Sometimes, when people search for a product in an online store, they might also be interested in similar products. A product collection helps to keep the interest of new and existing customers. Products can be grouped based on their use, sales discounts, new arrivals, season of the year, etc.
See how Everlane curates their products below: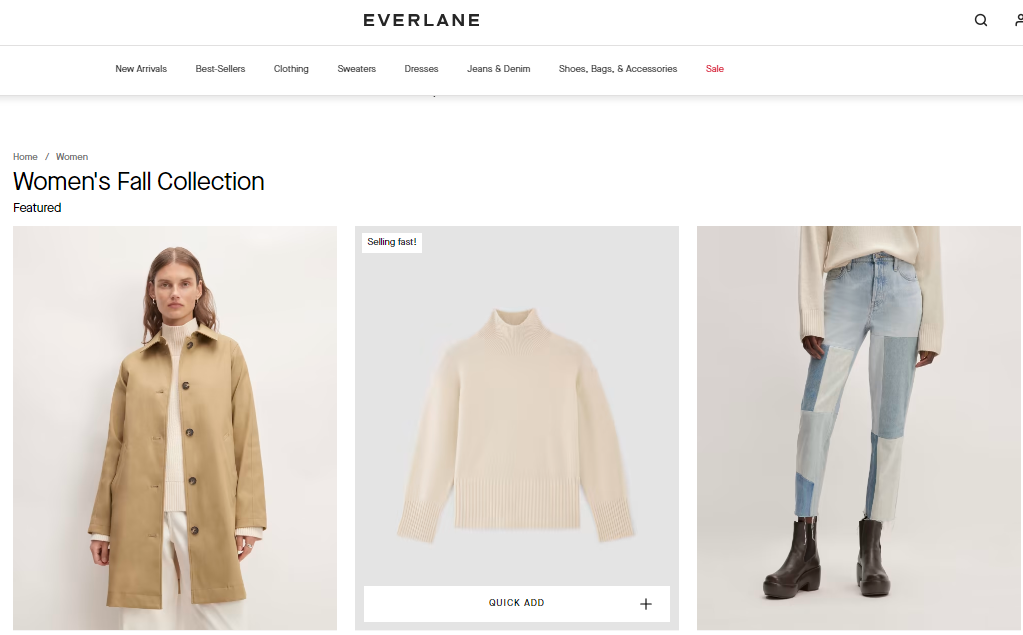 Also, product recommendations are an essential aspect of e-commerce storefronts. A curated product recommendation appeals to customers as it shows the brand pays attention to consumer needs.
Social Commerce
The borders between social media and e-commerce are blurring, paving the way for social commerce. Platforms like Facebook and Instagram are morphing into shopping arenas with their integrated shopping features. The seamless transition from scrolling to shopping is not just a trend; it's a retail revolution that's here to stay. Social commerce is not just driving traffic but creating a marketplace within a social landscape.
Seamless Mobile Shopping Experiences
Research shows there are 7.1 billion mobile users across the globe. This means more people now perform various transactions on mobile devices. The top e-commerce stores provide a seamless mobile shopping experience for their customers.
The storefronts are optimized for mobile devices, with their website content arranged in a way that's easy for mobile users to scroll through. A complex website design will affect the user experience negatively.
When people visit online stores, they want to find what they need easily. This makes easy navigation unnegotiable when it comes to e-commerce storefronts.
Transparent Shipping Details and Cost
Shipping is one of the major factors that affect conversion rates. Shoppers will abandon their carts if there are hidden costs, extra charges, or unclear shipping details. The top e-commerce stores in 2023 display the shipping details on their product pages.
This helps shoppers know what to expect and how much to pay at checkout. If there are additional shipping details such as location, delivery timeframe, and taxes, they should be easily accessible.
If you offer free shipping, you should display it clearly on your homepage and the terms and conditions attached. Here's an example of how Best Buy does this.

Also, having a shipping FAQ page can be helpful. Customers who need additional information or who have specific questions can access more information through the FAQ section.
Immersive Shopping with AR/VR and 3D Visualization
With new AR/VR technology advancements, it's important to get on the trend as an e-commerce store owner. Major e-commerce stores have long adopted augmented reality and 3D technology to deliver better shopping experiences to consumers. 
This lingerie company, for instance, allows customers to do a virtual try-on of their bras from the comfort of their home. This technology helped more customers find the right bra fits than before.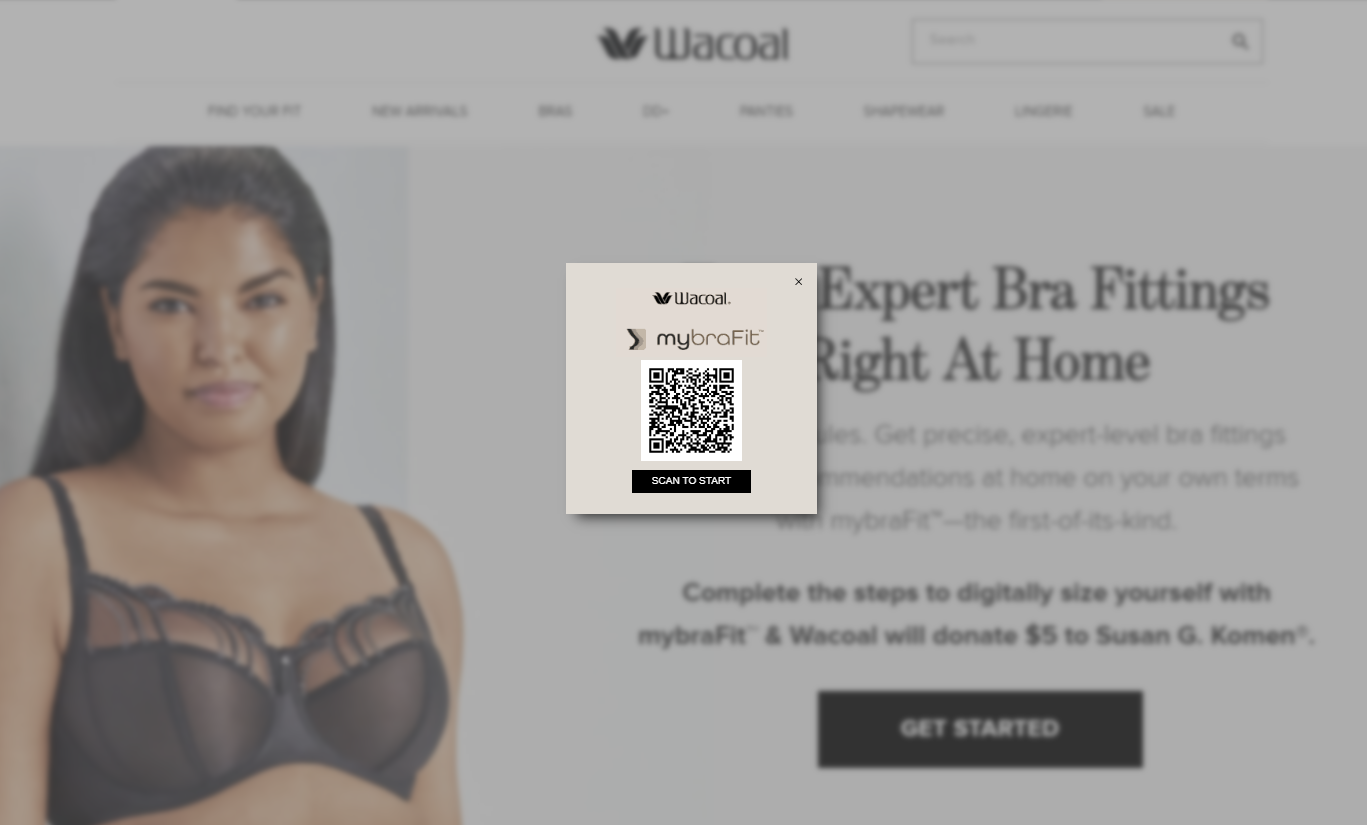 An immersive e-commerce experience is beneficial to both retailers and shoppers. Using AR/VR tech and 3D visualization, online store owners can display their product selections in detail with customizable options.
AR/VR technology helps retailers create a real-life feel for their product display. Consumers can also view products exactly as it is and how they work before placing an order.
4 Best Examples and Their Mini-Analysis
Let's analyze the top e-commerce storefronts and what makes them impressive. We have carefully picked four examples of the best e-commerce storefronts in 2023.
1.  Amazon
Amazon needs no introduction as it's one of the most popular e-commerce brands in the world. Amazon provides personalization, product recommendations, and deals on its homepage. The store has millions of products carefully spread into various categories that can be easily accessed.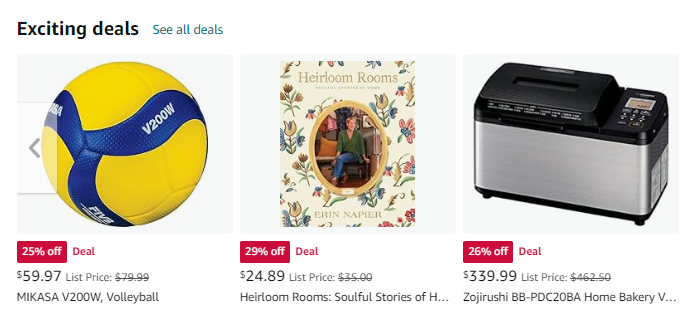 The homepage has a prominent search option, helping customers locate products easily. U.S-based shoppers who have Amazon Prime can receive a one-day or two-day free shipping offer.
The platform also excels in providing a plethora of products, neatly categorized for easy navigation. The seamless integration of voice and visual searches aligns with the 2023 trend of enhancing search functionality, making product discovery a breeze.
Moreover, Amazon's robust customer reviews and ratings system act as a form of social proof, instilling trust and aiding in informed purchase decisions.
2. Best Buy
Best Buy was popularly known as an e-commerce platform for consumer electronics. However, it now offers a wide variety of products. The store has a simple homepage with a prominent search bar. 

On the homepage, the latest product offers and recommendations are clearly visible. Scrolling down to the bottom of the page, Best Buy clearly states their free shipping offer. Shoppers looking for more information and customer support can easily access these at the bottom of the page.
Additionally, its price match guarantee is a solid strategy against the price commoditization challenge, ensuring value for money while fostering trust.
3.  Etsy
Etsy is an e-commerce marketplace for handmade products, vintage and craft supplies, and other product offerings. Just like Amazon and Best Buy, a search bar is clearly visible at the top of the page, while the popular product categories are also listed below.

The platform has a simple but engaging design. Also, the store offers product suggestions based on your browsing history, which many shoppers can find helpful. Shoppers can make inquiries easily via the help center.
Etsy leverages social commerce, integrating shopping features within its platform, allowing creators to easily share their products on social media, thereby amplifying reach and sales.
Its community-driven approach with forums and customer reviews builds a strong sense of trust and engagement, reflecting the 2023 trend of fostering a loyal customer community.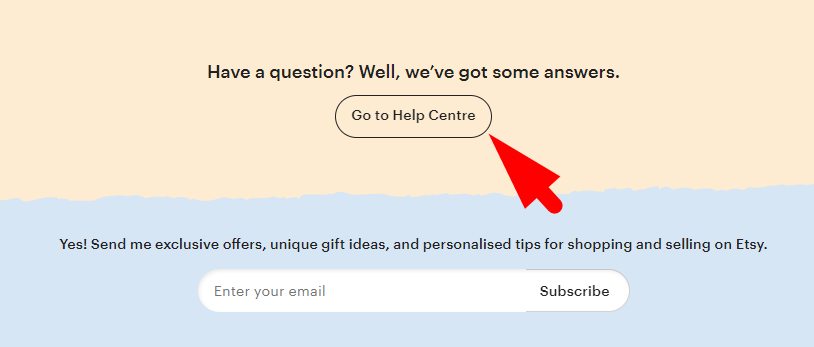 4.  Zenni
Zenni stands as one of the top brands in the eyewear industry.  An impressive feature of this e-commerce platform is the virtual try-on. This allows shoppers to view how the eyewear looks in real life using augmented reality.

The platform clearly lists its full product categories on its homepage, alongside a search button with autocomplete suggestions.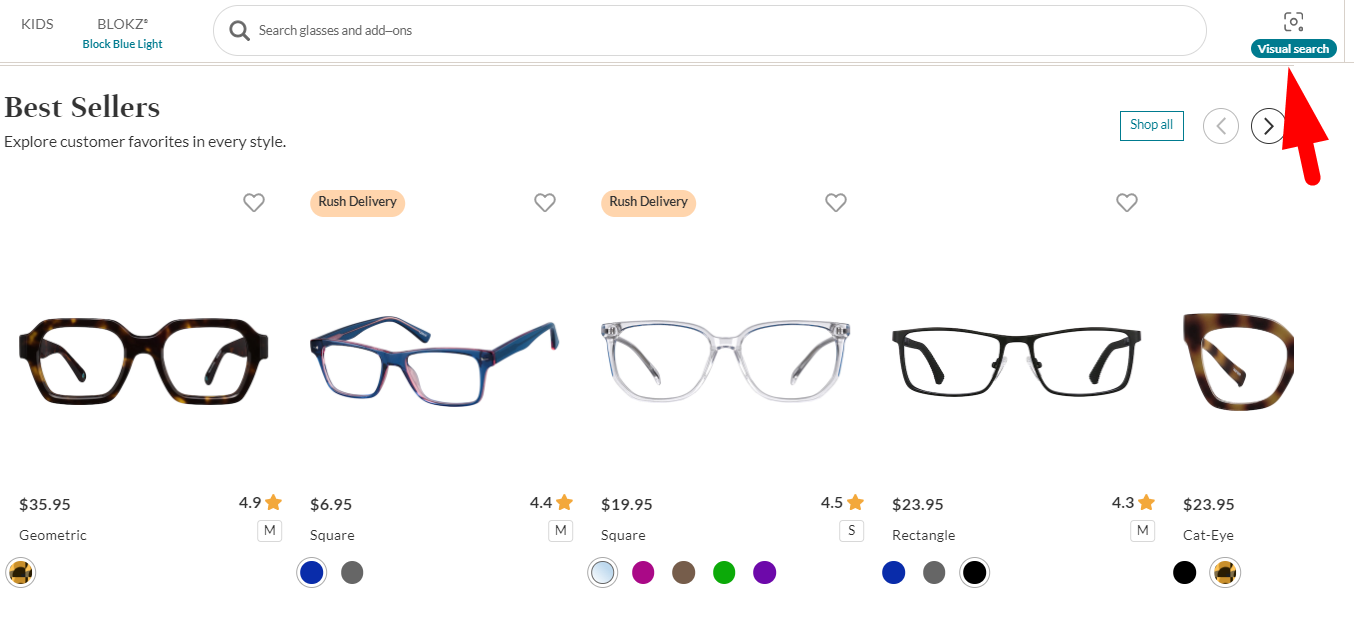 Conclusion
Your e-commerce storefront plays a key role in maintaining a positive customer experience and increasing conversion rates. When considering how to structure your platform, user friendliness and functionality should be at the forefront.
We have explained the essential elements of successful online storefronts that, when followed, can make it easy for shoppers to interact with your brand and have an exciting shopping experience. These will help you create an appealing and highly converting storefront for your brand.