Are you maximizing the potential of your e-commerce marketing strategy? As an e-commerce store owner, you invest a lot into all kinds of marketing — paid search ads, paid social media ads, email marketing, social media promoting, and promoting content on your e-commerce website. All these marketing forms are extremely important but require a lot of effort and spending from the store owner. While you will have to continue most of your marketing efforts, you can add one sales channel that combines the best traits of all — e-commerce affiliate marketing.
If you're interested in affiliate marketing for online businesses and how you can build affiliate partnerships, continue with this article to learn about it.
Create Your
Social Inbox Now
Manage all social media customer support inquiries in a unified inbox.
What Is an E-Commerce Affiliate Marketing Program?
An e-commerce affiliate marketing program is a partnership between an e-commerce seller who provides goods and an affiliate who provides traffic and sales. The affiliate profits by receiving a commission on their generated sales, and the e-commerce store profits by getting more sales, even though they share a part of the profits.
This partnership is beneficial for both parties. For the affiliate, there's no need to do all the logistics and customer support associated with e-commerce. All they do to generate profit is monetize their traffic by suggesting trustworthy products.
For the seller, an affiliate program provides a stream of new customers, which is always great. The store doesn't need to create content to generate traffic or pay anything before a sale. You only have to find the right affiliates and help users through the next stages of the customer lifecycle.
Generally, when an e-commerce store and an affiliate partner find each other and decide to partner up, the store shares an affiliate link with the partner. The affiliate partner recommends the store's product on the website or a social media page. Here's what a typical affiliate link looks like in a review article.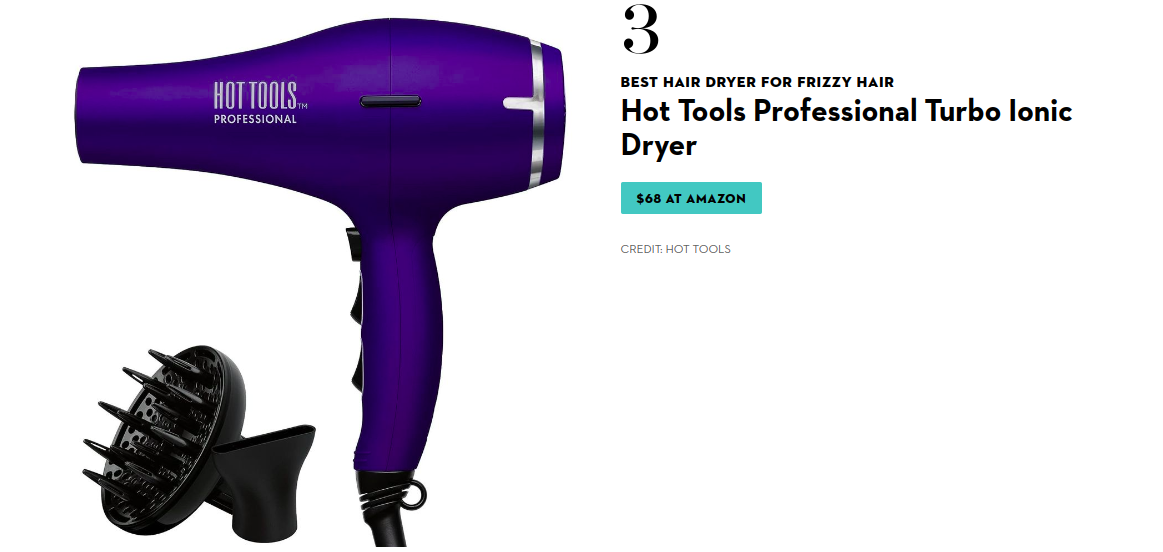 When a user clicks on the link and makes a purchase, the affiliate will receive a share of the sales, typically between 10% and 30%.
In most cases, users don't have to purchase right after visiting the e-commerce website. If the purchase has been made within 30-60 days, depending on your agreement type, a website cookie will confirm the connection between the purchase, and the affiliate will be paid for that sale.
Effective Tactics for Building a Successful E-Commerce Affiliate Marketing Program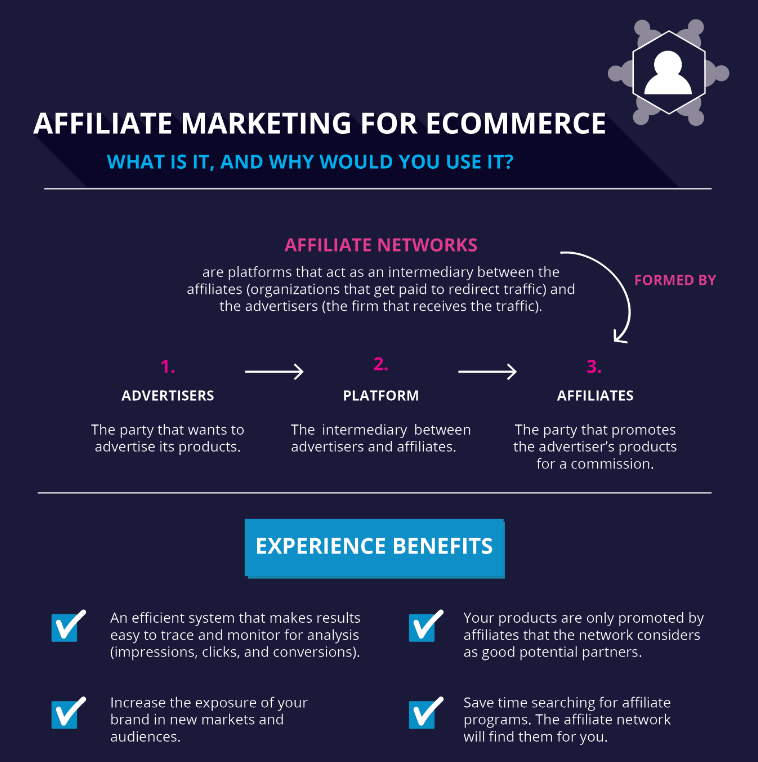 Selling your goods through affiliates can help you gain a stream of revenue that doesn't require upfront spending. But to make that revenue stream, you need to do a bit of work first. Here's how to build an affiliate marketing network of your own.
Attract Affiliates
The first step to establishing an affiliate program is finding a way to attract affiliates.
What you need at first is a landing page created for affiliates. Fill this page with the information on your online store affiliate program, such as how big of a percentage the affiliates will get for generating sales, how you intend to structure payouts, how long affiliate cookies are viable for, etc.
It's a common practice to leave a link in the footer of a website, and most affiliates will check there for a link. But if you're actively promoting your program, consider adding a small bar on the side or the top of your website. Don't do it in a pop-up window; it will likely distract regular shoppers.
Then, you want to get the message out that you're looking for affiliates. You could look for pages advertising the best affiliates in a specific e-commerce niche or for websites that specialize in connecting e-commerce businesses with affiliates.
You could also take a list of websites or influencers that already promote similar businesses and reach out to them yourself. Or you could promote your affiliate page with paid ads.

This strategy is only viable for new affiliate programs that few people know about or businesses that build most of their revenue on affiliate sales.
Check Affiliates Carefully
After the first two steps, your e-commerce affiliate marketing program is sure to attract new affiliates. Don't rush to accept everybody, though.
One of the only drawbacks of affiliate marketing is that showing your products on poor-quality websites might damage your brand image. So you'd want to do a quick check before accepting affiliates you didn't reach out to yourself.
You can check website traffic with a specialized tool like SE Ranking's Website Traffic Checker. This tool can show you a few things that are key in determining whether an affiliate site has good standing:
The amount of traffic a site receives
The traffic dynamic — whether it's going up or down
The country where that traffic is coming from
The keywords that bring in the most traffic.
Ideally, you're looking for affiliate websites with a positive traffic dynamic (huge sudden drops in website traffic might show the site has been penalized by Google and isn't trustworthy), with traffic from the countries you're delivering to, and keywords relevant to your niche.
You can search for specific keywords to ensure the affiliate website ranks for relevant and not spammy keywords.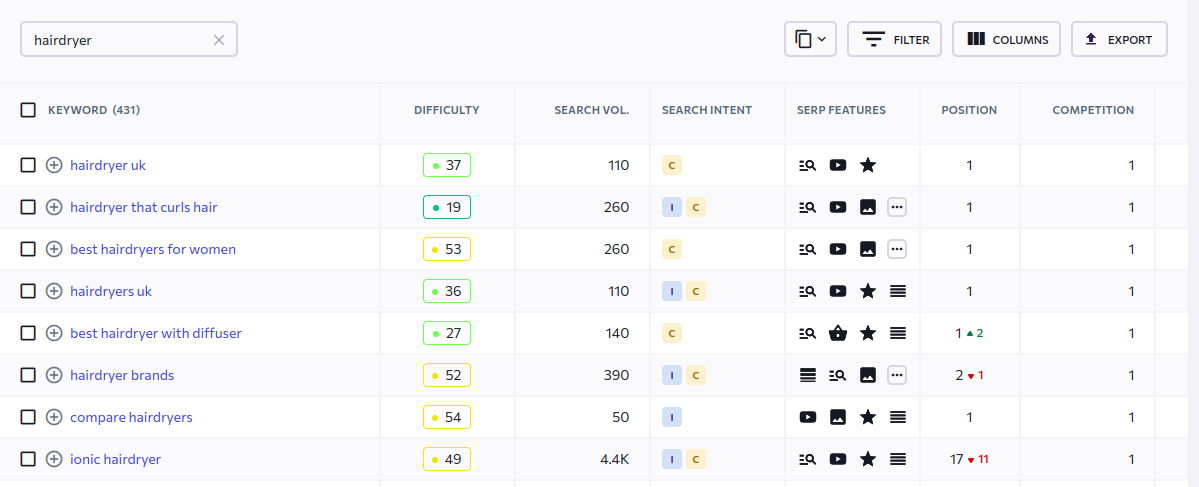 Do Research on Your Competitors
Take a look at how other businesses in your niche are handling similar projects. You can find multiple affiliate programs in your line of work by simply searching for your product or niche and adding the phrase "affiliate program."
Analyze what your competitors offer in terms of affiliate rates, how they position themselves, and what their affiliate landing page looks like. You'll use this information in the future to form the terms and conditions of a program to make it attractive to affiliates.
Also, look for websites that actively promote products from your niche. This would give you an idea of how your affiliate offers may look on these websites, and you might find more competitors who offer affiliate programs.
It's also best to research influencers on social media, but it might be tricky. The easiest way is to find a competitor that offers an affiliate program and search for their brand mentions on social media.
Monitor the Program's Performance
Once you find trustworthy affiliates and start the program, monitor your successes. Monitoring allows you to optimize the performance of the affiliate and your marketing strategies.
The first thing you want to monitor is the ROI of the program — the ratio of net sales to affiliate payouts. This metric will guide you in either expanding the program or limiting it. For instance, if you end up paying out more than you'd want to and can't afford to lose cash flow, you could focus on several products that produce the best ROI and can serve as the first purchase.
It's essential to look at how different types of affiliate marketing perform. Based on these findings, You might focus more on marketing your products on social media or affiliate websites.
Another important thing to analyze is how affiliates market your products and what type of advertising produces the best results. Based on these findings, you may, for instance, decide to invest in better photography or more video material to distribute to your affiliates.
Expand Your Affiliate Program with Brand Evangelists
Affiliate programs in e-commerce thrive on recommendations that are not directly from the e-commerce business. The most valuable recommendations are those from friends or small-scale influencers rather than websites that make a living from affiliate marketing. That's why customer acquisition with brand advocates is 50% cheaper than with other channels.
Many e-commerce brands expand their affiliate programs to loyal customers willing to promote their products and services, so-called brand evangelists. You probably have plenty of those people among your best customers, so you can introduce an incentive to promote your products.
Reach those people with an email marketing campaign and offer to participate in your affiliate marketing program. In this case, you might need to change the incentive from a payout in a percentage of the sales to a discount or in-store credit.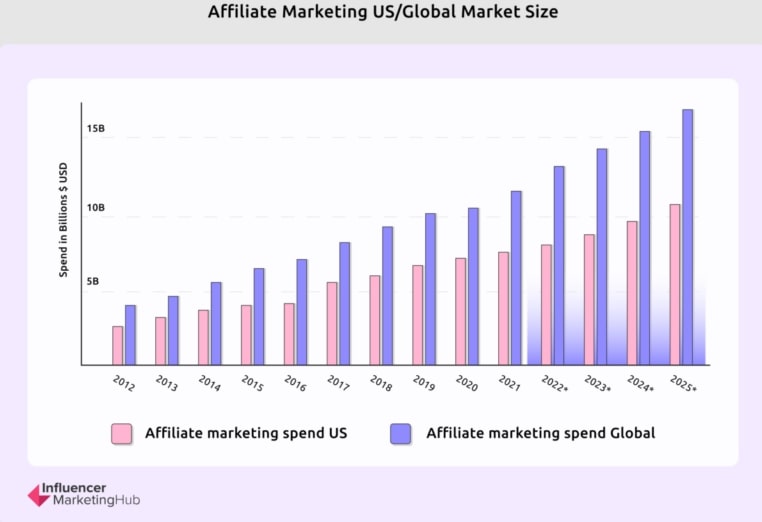 Use Different Affiliate Marketing Channels
After a long analysis of your affiliate marketing program's performance, you might decide to scale it down to the best-performing areas. But at first, you want to cast a wide net. To do this, you'll have to use different affiliate marketing channels.
To expand your reach, you can use e-commerce affiliate networks that connect affiliates and e-commerce businesses, get listed in articles about top affiliate programs, or look for affiliates on specialized directories or forums.
Support Your Affiliates, Communicate with Them, and Engage in Different Ways
The last component of a successful affiliate marketing program that lasts for years to come is supporting your affiliates and helping them grow with you. Offer great visual and text content, be open to sending products for trial and receiving a fair review, and be open to getting feedback from your affiliates.
It's also crucial to provide stellar support by answering their questions, providing additional information they might need, and being fast about payouts. Bad publicity spreads like fire, and affiliates tend to be a tight-knit community, so if you don't pay on time or take a long time answering support tickets, fewer people will be interested in working with you.
Communicating with your affiliates in a friendly and helpful way will ensure the word about your program spreads and you get more business from other affiliates.
Benefits of Affiliate Marketing Program for E-Commerce
What are the benefits of building an affiliate marketing program for e-commerce businesses? There are many, and they far outweigh the drawbacks.
The most immediate one is that your business will receive more sales. Affiliates are interested in earning their commissions, so they will work on promoting your products better and attracting the kind of audiences that may convert better. Their work results in your sales growing in proportion to the number of affiliates you have.
You also have much higher chances of attracting the right type of customers and having them stay with your business. Most e-commerce affiliate programs pay affiliates for the first purchase only. Suppose the customers have subscribed to your newsletter. In that case, you can promote your products to them and enjoy having a larger audience of repeat customers. Affiliate marketing will also passively improve brand awareness as your products will appear on multiple affiliate review sites across the web.
These factors give affiliate marketing for e-commerce one of the most lucrative returns on investments — affiliate ROI is reported to be 12:1. For reference, ROI for Google ads can be up to 8:1. Add to that, starting an affiliate program generally doesn't cost much. You have a solid solution for both new and established businesses.
And lastly, affiliate marketing simply carries a lower risk of failure. PPC ads come with the risk of spending thousands of dollars before being able to optimize your campaigns and achieve a decent ROI. On the other hand, content marketing may require you to work for months without seeing a single conversion. Affiliate marketing, however, differs in that you only pay after a sale, so no time is wasted.
On the flip side, affiliate marketing doesn't produce immediate results as paid ads do and doesn't provide the best ROI among all marketing channels — email marketing takes that place.
The biggest drawback of affiliate marketing is that there is virtually no way to reduce cost per acquisition. No matter how you run your program, if you agree to pay 20% of the first purchase to the affiliate, that's exactly what you have to pay.

A significant trend is the strategic use of nano and micro-influencers, especially relevant for e-commerce. Due to their niche-focused content and stronger audience connection, these influencers can offer more personalized and effective promotion of your products, often at a more cost-effective rate than larger influencers.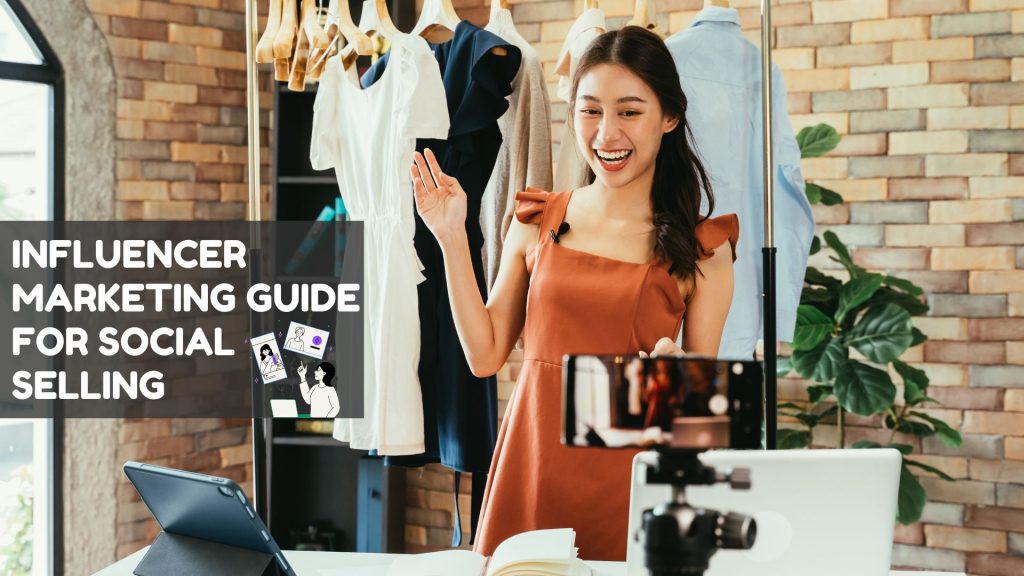 Lastly
By adopting affiliate marketing, you're not only boosting your sales but also enhancing your brand's reach and customer base. The return on investment it offers often outperforms traditional marketing avenues. As you consider integrating affiliate marketing into your overall strategy, remember it's more than just a sales tactic; it's about building long-term partnerships and expanding your digital footprint in the e-commerce landscape. What steps will you take today to leverage the power of affiliate marketing and elevate your business to new heights?
Create Your
Social Inbox Now
Manage all social media customer support inquiries in a unified inbox.