Why do some e-commerce sites have so much buzz around their products while others struggle to make a dozen sales a month? Understanding the dynamics of digital visibility is key to answering this. Among various tactics, link building stands out as a significant driver of organic traffic. Yet, some businesses consider it a method that has long outlived its usefulness. So, where's the truth?
Well, it is somewhere in the middle. E-commerce backlinks are effective for making more eyes see your product, but there is always a 'but.' This approach only works if you understand how to build a proper strategy and what methodologies to use. Want to learn some truly practical tips? Keep reading our e-commerce backlinks guide.
Create Your
Social Inbox Now
Manage all social media customer support inquiries in a unified inbox.
What Is E-Commerce Link Building and How Does It Benefit SEO?
What exactly is e-commerce link building? It is a quite broad term that, in its essence, means getting other websites in your niche to place links to your online store page in their content—for instance, a blog about fashion linking to your boutique's latest collection.
Why Do You Need Backlinks?
Naturally, the more sites you cooperate with, the higher visibility you may expect. You should know that your Google rating depends directly on the number of backlinks you have: the more of them, the higher your e-commerce site will rank in search results. Thus, if you want to sell more, don't ignore link building.
However, focusing solely on the quantity of backlinks can backfire, especially when considering long-term SEO health. Your main focus should always remain on the quality of the links you get. Why so? Because search engines have their Spam Policies that don't tolerate junky and manipulative techniques. And believe me, you don't want to mess with Google.
Can Link Building Be Budget-Friendly?
Right, we hear your question – if I should avoid low-quality, spammy links, won't it cost a fortune? Of course, SEO link building is generally expensive, and it may run into hundreds of dollars for one link. Still, there are several things you can do to save both time and money, such as:

Be strategic. Be strategic in your approach. Focus on acquiring backlinks that are most relevant to your niche and audience. Besides, getting a link from some exceptionally famous sites isn't always the best solution for everyone. For a new website, landing a backlink from a small and niche-relevant website will be much more productive.

Focus on content. Prioritize content quality. Exceptional content naturally attracts backlinks from other websites. So, focus on producing unique and experience-based pieces.

Explore your options. This could include collaborating with influencers or leveraging guest blogging opportunities. Sometimes, the best idea is to outsource link building and other SEO activities. This is especially true if you decide to get paid backlinks because any fully managed service that cares about its reputation will double-check the contractors. So, you will experience higher quality as a result. 
Now, let's check what you can expect when implementing your link building strategy.
Common Issues with Link Building for E-commerce WebsitesE-Commerce Link Building
Anyone who is going to deal with link building for e-commerce websites should know that it's not easy to find credible opportunities to get links to your product pages. So, get ready for:
High competition, especially if your page offers products in popular niches like beauty.
Creating the product page and description that can contain link bait content and boost conversion.
Convincing a quality resource to link to your website or product pages.
Deciding on the product that should benefit from backlinks the most.
Choosing proper domains for link building. This is a whole different topic, but you should definitely learn more about the crucial factors to consider when selecting.
Following Google's rules concerning paid links (you may be penalized for manipulating your ranking).

With these considerations in mind, let's delve into specific strategies that can make a real difference in your link building efforts.
Juphy Recommends: 5 Effective Link Building Strategies for E-Commerce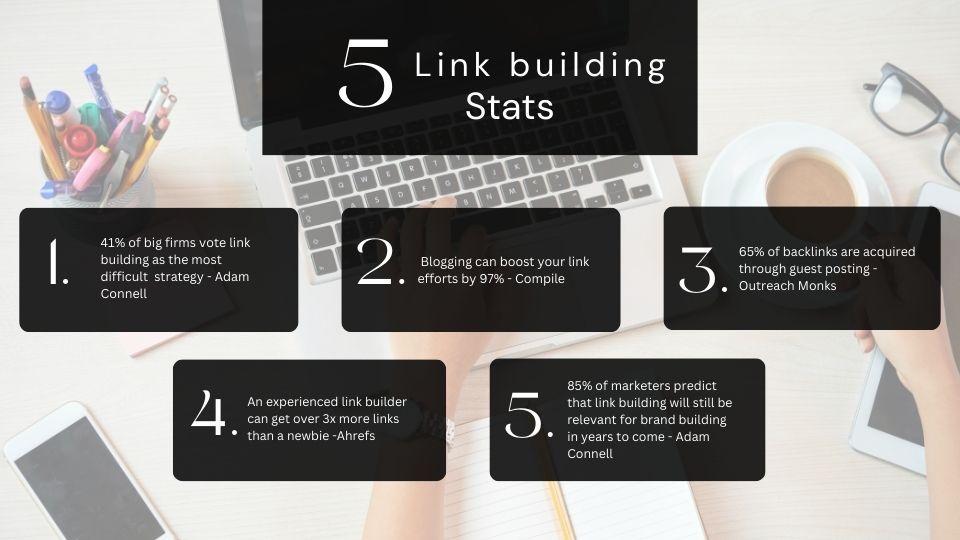 41% of big companies consider link building the most complicated part of SEO. We won't lie – it isn't easy, but you can definitely simplify most of the processes when equipped with knowledge. What are the most useful tips, then?
#1 Create Engaging Quality Blog Posts
Blogging can increase your chances of getting backlinks by up to 97%, which makes it one of the most effective strategies. Moreover, consistently high-quality blog content establishes your site as an authority, yielding sustained backlink growth over time. However, you should be ready to see tangible results in the long term, so don't expect it to be fast. To attract backlinks, your posts must be carefully crafted: be unique and written with the right keywords in mind.
The keywords should be relevant to your products or services so that anyone searching for those terms ends up landing on your web page. Not sure which content attracts more links? Try publishing fresh stats, case studies, fascinating infographics, how-to guides, etc. Be sure to add high-quality pictures to your content (don't forget to do the same on your product page). Thus, you have great chances of enhancing your conversion rates. If the content is thorough and valuable enough, you will soon have relevant resources willing to link to your site.
#2 Get Featured in the Relevant Best Product Listicles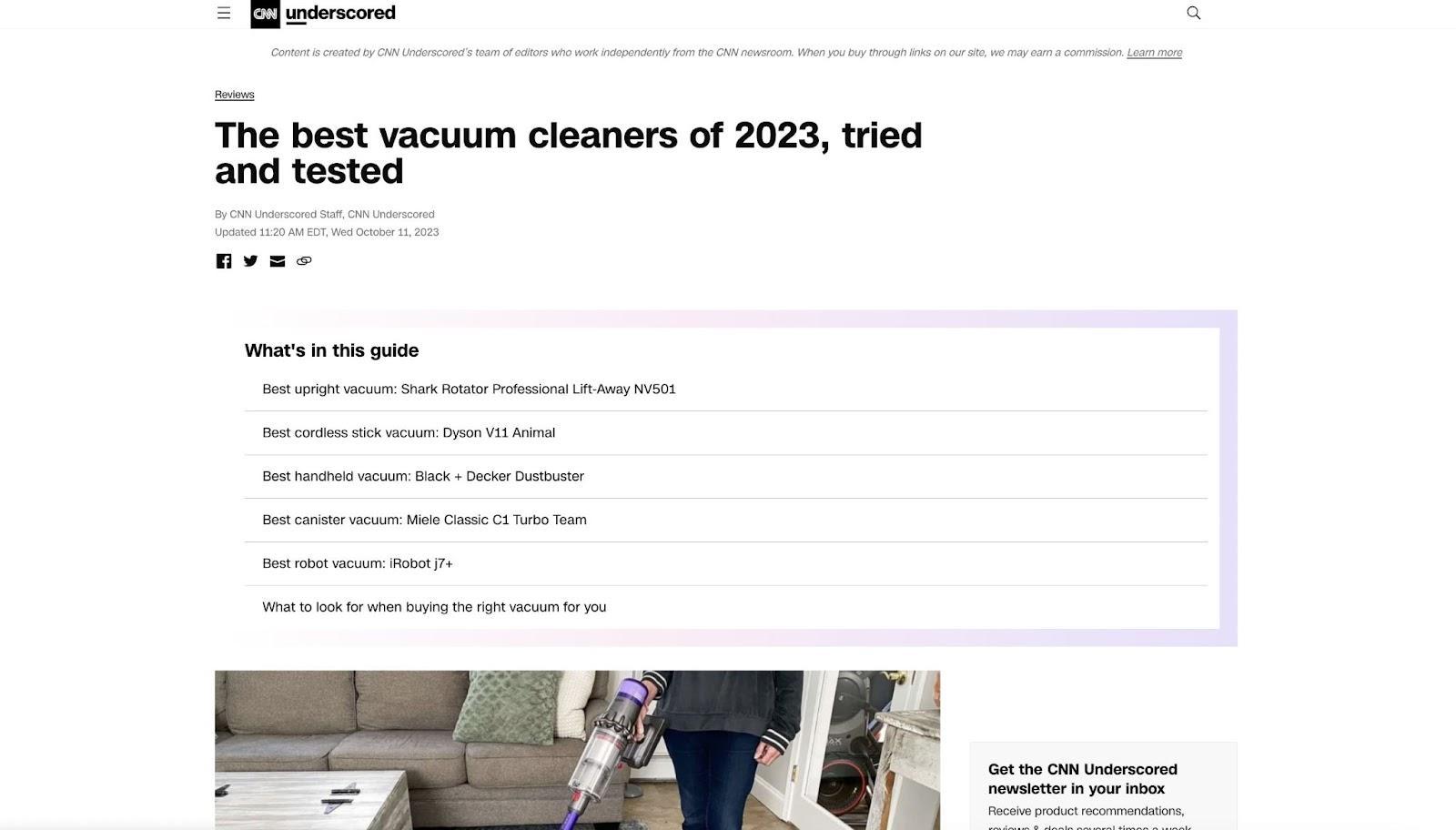 Also known as the product feedback tactic, this strategy requires searching for top-ranking content or posts listing the best products in your niche. When you find a good fit, reach out to them and pitch your products for review.
In case they like your offering and mention it in one of their articles, you will get a link that leads their audience back to your page. The most important rule you should follow here is telling the truth. If some of the information you provide is faulty, you can face all kinds of troubles, from cart abandonment to bad reviews and reputational risks. So, don't play with fire.
#3 Make Use of Guest Posting
Guest posting is one of the most effective link building strategies for e-commerce. 65% of backlinks are acquired this way. You can reach a broader target audience and make people learn more about your products using this time-tested strategy. Identify reputable sites within your niche for guest posting to ensure that your content reaches the right audience. How do you make your guest blogging campaigns successful? It is all about showing your expertise and providing value. So, remember to concentrate on what you can give instead of what benefits you can receive.
If you want to improve your natural backlink profile with quality links, try HARO as one of your options. Help a Reporter Out, or HARO for short, is a platform that connects you to journalists who need expert opinions or quotes for their reports. About 46% of link building specialists use this strategy regularly and see great results.
Answer questions and share insights or expertise about your niche, and you'll get the chance to be quoted and backlinked in their articles. If you don't know where to start, there are tons of free resources online to help you.
Still, as with any technique, you shouldn't rely solely on HARO, especially because it is pretty competitive. Instead, use this option in combination with other approaches.
#5 Sign Up to a Product Directory List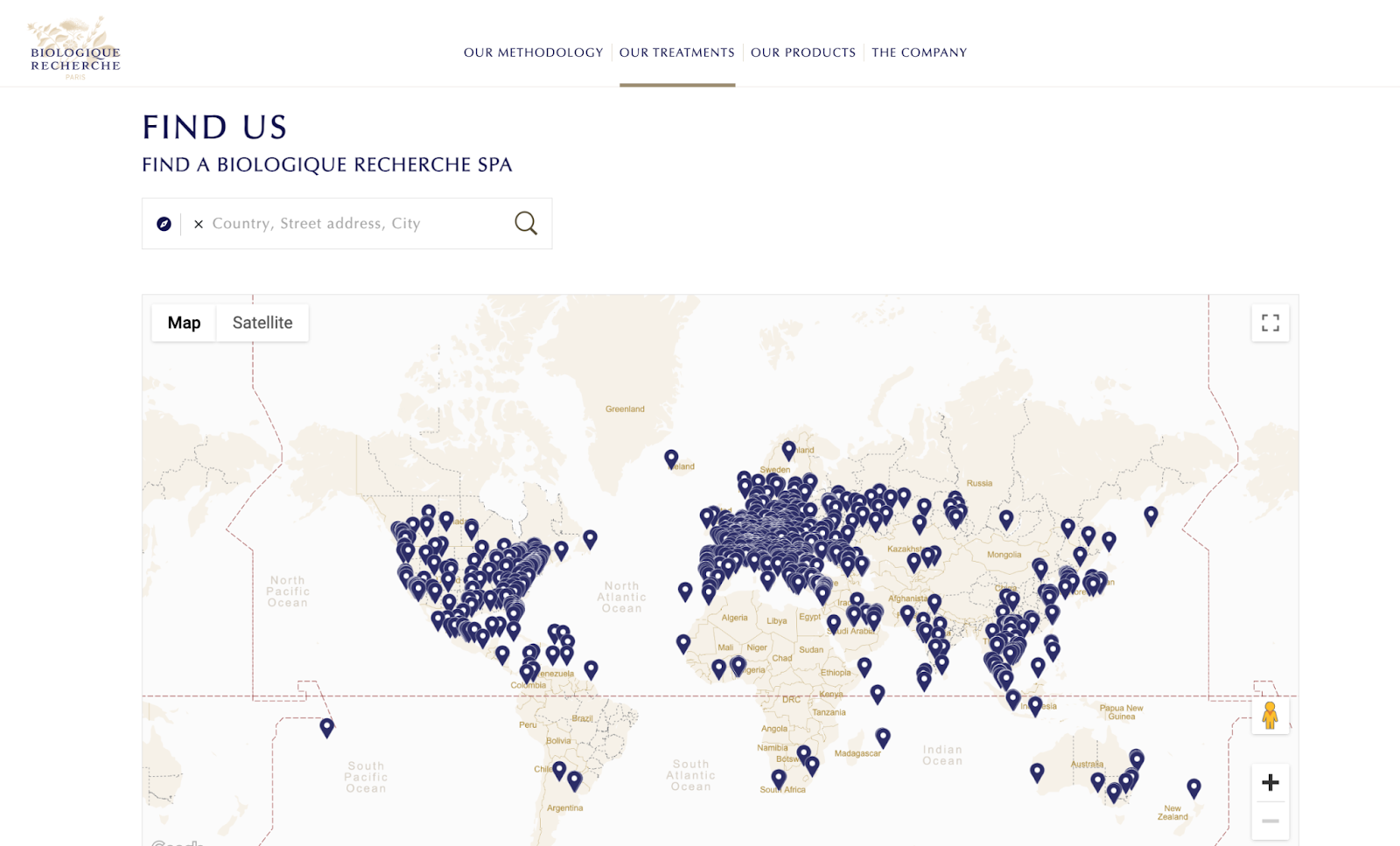 Product directories, known as "where to buy pages" or "stockists," show customers where to buy a specific item or access a service. You can request your product manufacturer to include you in their list. Thus, people will easily find you. Wonder if it's a good idea? Stats show that 81% of consumers are likely to search online before purchasing an item, so take your chance. In the end, you never know unless you try.
Conclusion
Getting quality e-commerce backlinks is no walk in the park, but it's not an impossible task either. Remember to focus on quality over quantity and ensure the links are effectively distributed throughout relevant pages. Stay open to learning and adapting, and actively apply these strategies to improve your e-commerce site's SEO performance significantly.
Create Your
Social Inbox Now
Manage all social media customer support inquiries in a unified inbox.