According to Statista, retail e-commerce sales amounted to approximately $5.2 trillion in 2021, and it is forecasted to reach about $8.1 trillion by 2026. Another research by PipeCandy estimates that there are 12 million e-commerce companies globally, excluding China. This means that the competition is growing stronger day by day, and getting organic traffic for brand awareness purposes is almost impossible. That's why e-commerce companies need to promote their products one way or another in order to be noticed via the best e-commerce marketing strategies. The good news is, in the long run, organic search traffic can be as effective on a business' sales potential as paid advertising, according to research done in 2022. And some marketing tactics can help your business to not only survive but also thrive in this competitive environment. 
Create Your
Social Inbox Now
Manage all social media customer support inquiries in a unified inbox.
Understanding E-Commerce Marketing
E-commerce marketing is the sum of all the activities a brand implements to promote its products and services. These practices enable users to find the brand and engage with it in terms of driving traffic to the e-commerce website, converting the prospects into paying customers and retaining them for further purchases.
Regardless of the method or circumstances, all marketing practices aim for one thing: Maximizing return on investment. From the awareness stage to post-purchase follow-ups, businesses need to define smart goals and deploy optimized strategies to make the most of their marketing efforts. 
Here is a step-by-step guide of the on-site and off-site practices that can help you maximize your marketing ROI, broken down into actionable tactics.
1. Establishing a Strong Online Presence
Establishing an online presence means more than having an e-commerce website in today's competitive digital environment. With hundreds of competitors racing for a place on the first page of SERPs (search engine result pages), having a strong online presence on a variety of digital channels along with your website can be a determining factor for success.
* Optimizing Your Website for Search Engines
The first page of Google search results is reserved for paid advertisers and master optimizers. Optimizing your e-commerce website for search engines is as important as building it with a customer-centric approach because in order to enjoy what you offer, people need to find it in the first place. According to Poll The People's 2023 findings, ranking on the first page instead of the second means a 143% jump in the site's traffic.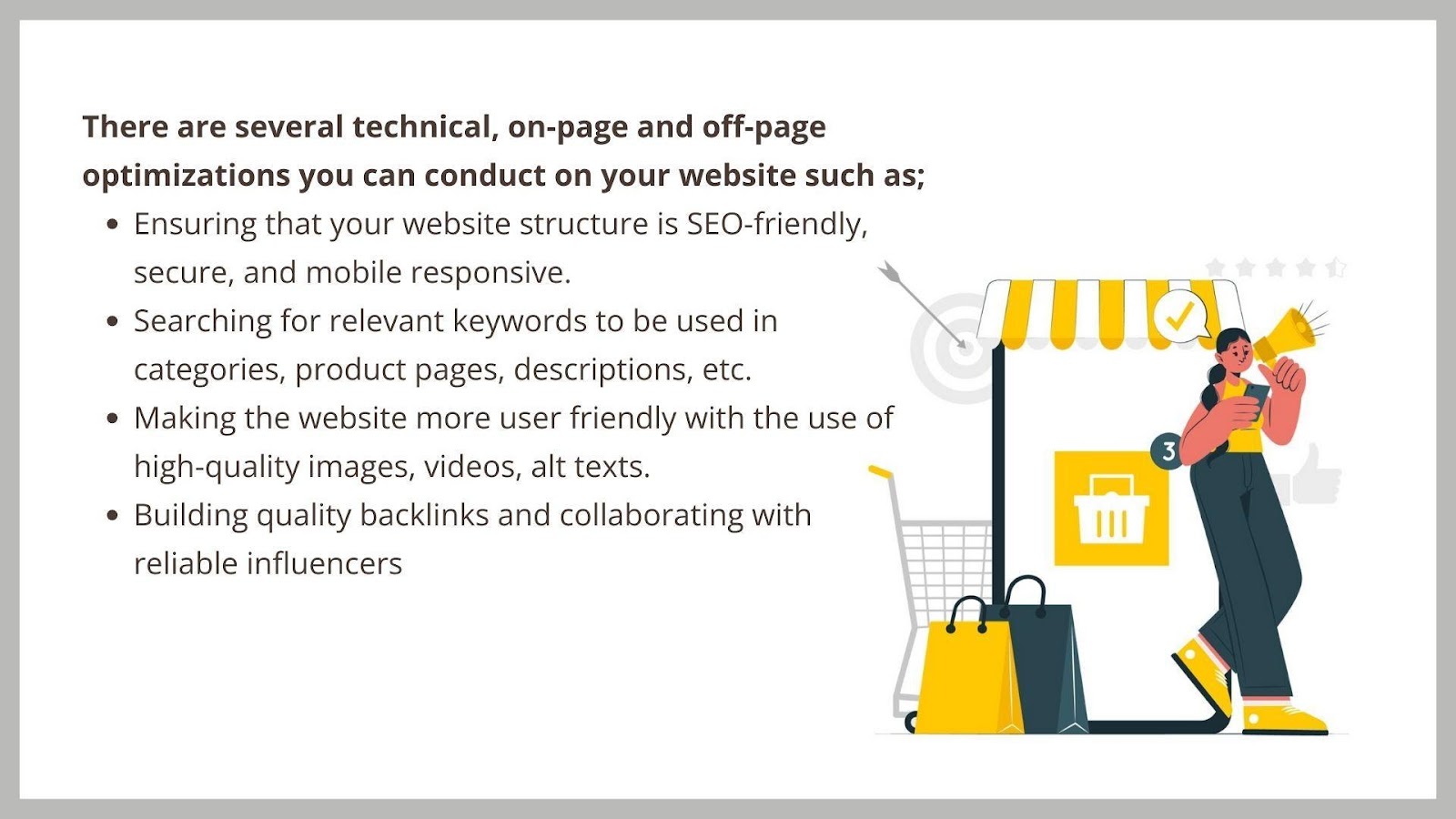 * Utilizing Social Media Platforms
Activity on social media platforms can impact sales profoundly. Relevant platforms can help you reach out to different audiences, gain valuable insights, and perhaps obtain user-generated content. While some social media platforms like Facebook and Instagram provide businesses with social commerce opportunities, TikTok is famous for GenZ-focused content and the #TikTokMadeMeBuyIt hashtag.
Today, brands utilize social media platforms for sharing branded content, engaging with customers and defining prospects, getting feedback and providing support, as well as social selling. An omnichannel approach creates more touchpoints and helps build a stronger online presence, which in turn benefits brand recognition and SEO.
For further reading on how to use social media for e-commerce effectively, click here.
2. Personalized Marketing Strategies
Unlike traditional commerce, e-commerce doesn't proceed with intuitions. Everything is either based on data or produces data. Brands use this aggregated data to provide personalized experiences, such as incentives aimed at a specific customer tier or upselling opportunities based on previous purchases. An example of this is how Amazon suggests products based on the user's browsing history.
* Email Marketing Personalization
In the past, brands could only use usernames to personalize emails and often had to limit their campaigns to birthday celebrations. A lot has changed since then. There are certainly a lot of limitations on data policies. Still, according to Insider Intelligence, quite a lot of customers actually want brands to use their data to meet their unique needs and expectations. 
With the collected data, new offers can be communicated to relevant audiences. Further personalization can be achieved with follow-ups, surveys, abandoned cart reminders, and special incentives. Moreover, the scope of personalization is widening with the advancements in Artificial Intelligence (AI). E-commerce platforms are leveraging data analytics and AI to provide personalized product recommendations, targeted advertising, and personalized email marketing. The rise of AI-generated content marketing is also noteworthy as it goes mainstream, albeit with a focus on creating more personalized messaging that resonates with the target audience on a deeper level. The utilization of AI not only enhances the personalization aspect but also enables brands to understand consumer behavior better, thereby aligning their marketing strategies for optimal engagement and conversion. As well as email marketing, you can obtain and utilize personalized data via messaging platforms like Messenger and WhatsApp.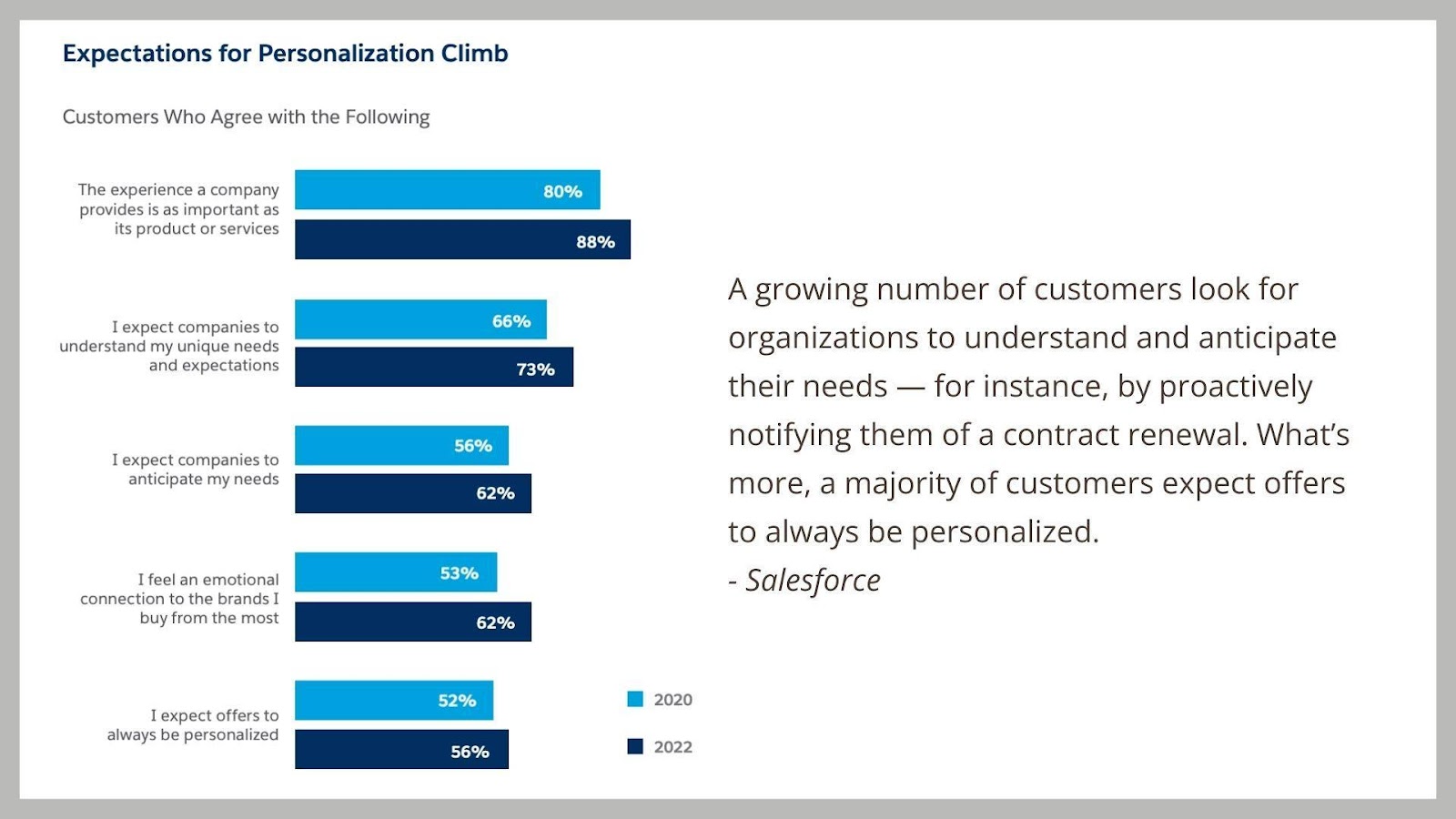 * Product Recommendations Based on User Behavior
Being able to track user behavior is like a milestone in personalized experiences. Imagine that your customer support agent answered a query on social media and, after learning about the features sought after, directed the customer to the website via a product link. If you make use of Juphy in your business, thanks to its social selling features, you can monitor the behavior of your customers when they visit your website. This enables you to recommend products based on their browsing patterns instantly. Apart from instant recommendations, you can customize your offerings for further purchases. For example, you can customize your email with the products that are previously browsed by the user or offer complementary products that are related to a recent purchase.
Additionally, the burgeoning trend of subscription services is reshaping the e-commerce landscape. Subscription-based e-commerce services have seen a steady rise, with consumers appreciating the convenience, value, and personalized product recommendations they offer. Retailers are responding to this trend by offering a diverse range of subscription services, ranging from personalized clothing subscriptions to meal kit deliveries and beauty product subscriptions. This model not only fosters customer loyalty but also provides a steady revenue stream for businesses, making it an attractive marketing tactic in 2023​.
3. Utilizing Content Marketing
You have probably heard that content is the king, but have you ever wondered the reason why? High-quality content has critical value both for marketing and online presence. For instance, a variety of high-quality product photos showcase the product from different angles and provide a better understanding. Written content can offer useful information about benefits in a blog piece, engage customers in entertaining dialogues on social media, or just provide unique details about the product in descriptions. Furthermore, highlighting user-generated content can work as social proof and increase your chances for sale. 
* Creating Valuable and Engaging Content
A well-crafted, engaging content grabs attention, provides value, and delivers a message. Content comes in all shapes and sizes, and its primary purpose is to make the customer take a desired action. Engaging content stops users from scrolling, makes the searchers click, and helps indecisive customers make a selection.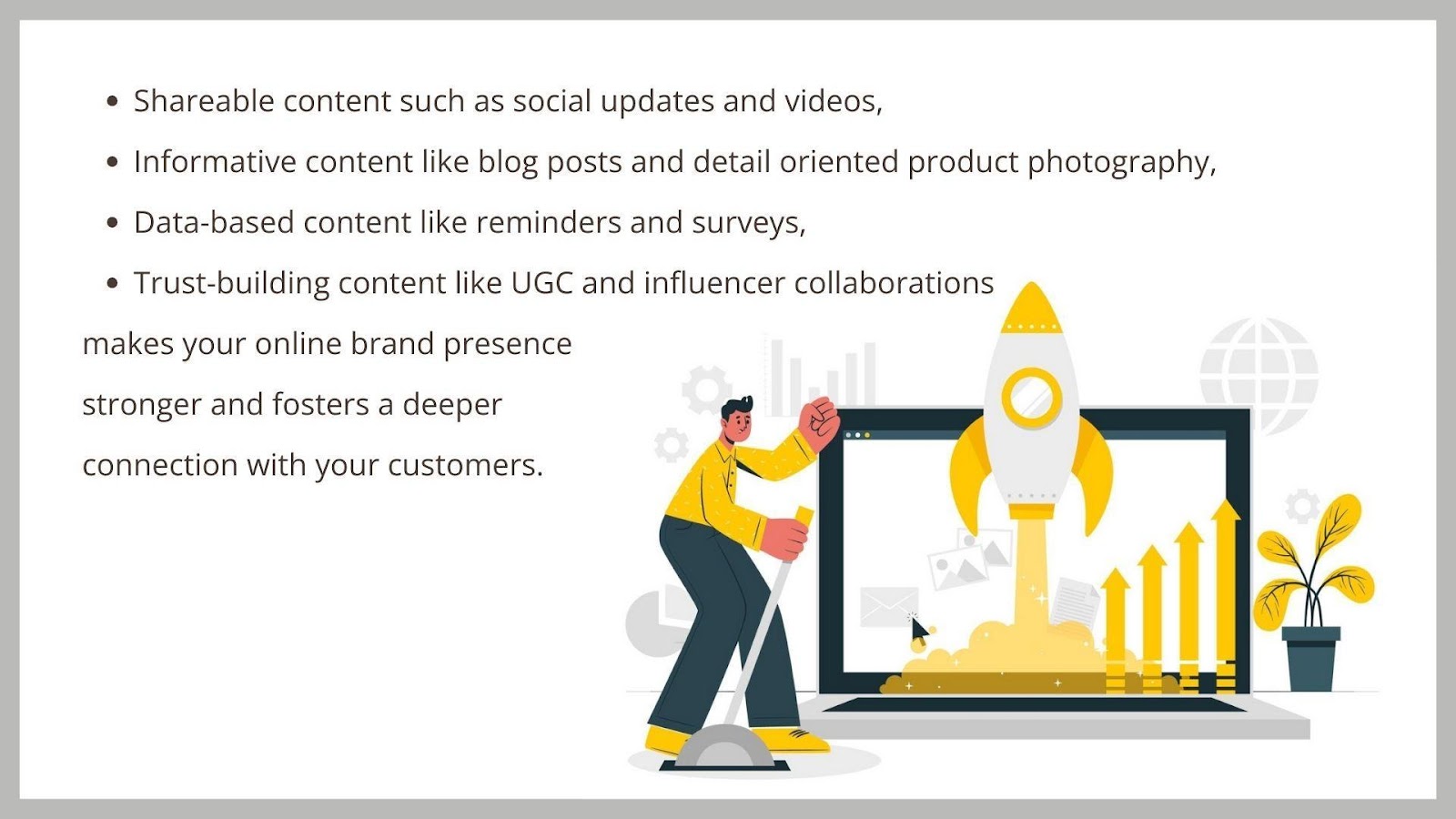 For further reading on valuable and engaging content, check out our guide for creating engaging content on social media.
* Video Marketing to Showcase Products
Thanks to the increasing availability of high-speed internet, video marketing plays an important role in today's e-commerce marketing practices. Now, the average viewer watches online videos 17 hours per week on YouTube, TikTok, Instagram, and many other platforms. 
In e-commerce websites, product photos are accompanied by videos, either highlighting different details or explaining features and use cases. On social media, videos ranging from bite-sized clips to extensive webinars help brands deliver messages to their target audiences. Some brands even utilize videos for live sales events, taking video marketing one step further than merely showcasing products.
For further reading, check out our video marketing guide for e-commerce.
4. Investing in Paid Advertising for E-Commerce Marketing
Despite all the brilliant products and engaging content, organic traffic is pretty hard to come by these days. Optimizations and improvements benefit the brand in the long run, but businesses may need to deploy quicker solutions to drive sales. This is where paid advertising comes into play. But how do you ensure your advertising dollars are being spent effectively? Sparing some budget for advertising helps make your brand more visible to audiences, thus increasing your chances of making a sale. There are two types of paid advertising you can invest in:
* Pay-Per-Click (PPC) Advertising
Brands that are new to the market need to raise awareness as fast as possible and drive traffic to their e-commerce websites. With PPC advertising, brands show on top of the search result pages, which makes them even more visible than those showing on organic results. According to 2022 PPC statistics, about 40% of all clicks on the first page of SERPs are for the three ads at the top. As well as raising brand awareness, PPC advertising can be used for generating high-quality leads and retargeting campaigns. While Google Display Network is the leading PPC player, Bing, Amazon, and YouTube also have their advertising models.
* Social Media Advertising
Today's social media landscape is so saturated that users can rarely see the content posted by all the people and brands they follow. Advertising on social media not only increases visibility and raises brand awareness but also opens a gateway for dialogue with customers. Comments and direct messages foster conversations, help brands generate leads, and even empower them to convert right on the spot through expert customer support. Expanding upon this, the emerging trend of social commerce is revolutionizing the way consumers shop online. Platforms such as Facebook, Instagram, and Pinterest have integrated shopping features, allowing users to purchase products without ever leaving the platform.
In 2023, it's predicted that more than half of the users in the US will purchase an item they saw on social media. This seamless integration of commerce into social media platforms is not only enhancing the shopping experience but also proving to be a lucrative channel for brands aiming to capitalize on the vast user base of these platforms. Social media platforms offer different advertising models that can diversify your reach among various audiences. Instagram is one of the popular choices both for advertisers and customers. You can find out more about the platform's advertising models and best practices here.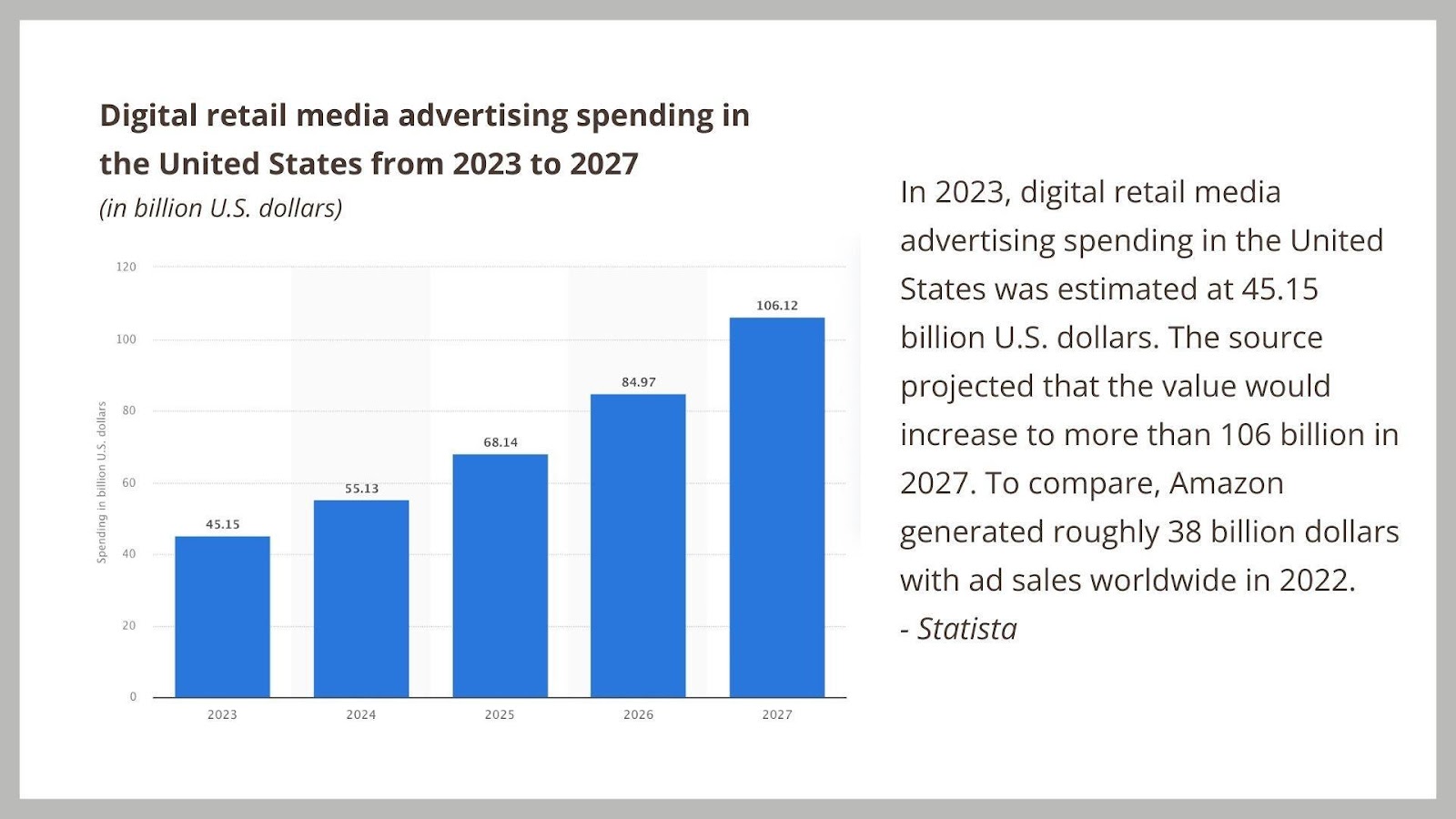 To make the most of your paid advertising campaigns and maximize your ROI;
Have a clear understanding of your audience and target accordingly,
Capture attention by focusing on visual elements,
Craft compelling ad copy that delivers the brand message and calls to action,
Re-engage with leads through retargeting,
Optimize your landing page in a way that encourages customers to take action,
Track the performance of your campaigns and make use of data-driven insights.
5. Analyzing and Adapting to Consumer Behavior for E-Commerce Marketing
E-commerce is a fast-paced domain, and it produces immense amounts of data. The digitalization of services gained the processes further speed, which in turn continues to have profound effects on consumer behavior. Yesterday's novelty has become today's demand. Businesses need to keep track of all these developments constantly, seek emerging opportunities, and find cost-effective ways to adapt to changing consumer behavior. In order to make informed decisions and forecast the future of your business, it is imperative to harness the power of data.
* Utilizing Analytics for Informed Decisions
If you look closely at the aggregated data, you see the entire user journey laid out before your eyes with all its interests, dilemmas, challenges, and mishaps. When a large number of visitors experience similar journeys, this gives you something to work on. Analytics provide you with information on customer interactions, website traffic, sales figures, and other KPIs. For example, if there's a surge in cart abandonment rates, you can find out what drives visitors to leave and deploy methods to retain them.
If you want to find out more about e-commerce marketing analytics, here is a detailed explanation.
* A/B Testing for Website Optimization
Different audiences require different styles of communication. An offer that sounds lovely to some may not resonate with others. A/B testing is a good method to determine what works or not. You can conduct it on your website, email campaigns, advertising material, special offers, and so on and so forth.
Juphy's Role in E-Commerce Marketing
Juphy is an award-winning platform for data-driven sales and support on social channels. It helps you unify all your social conversations in a single, easy-to-use dashboard, deliver excellent customer service, and sell via personalized messaging.
With all social media accounts at your fingertips and advanced AI support, you can interact with customers at top speed and drive them through the sales funnel seamlessly. With its social selling features, Juphy enables you to identify high-quality leads and track conversions on their preferred channels like Facebook and Instagram.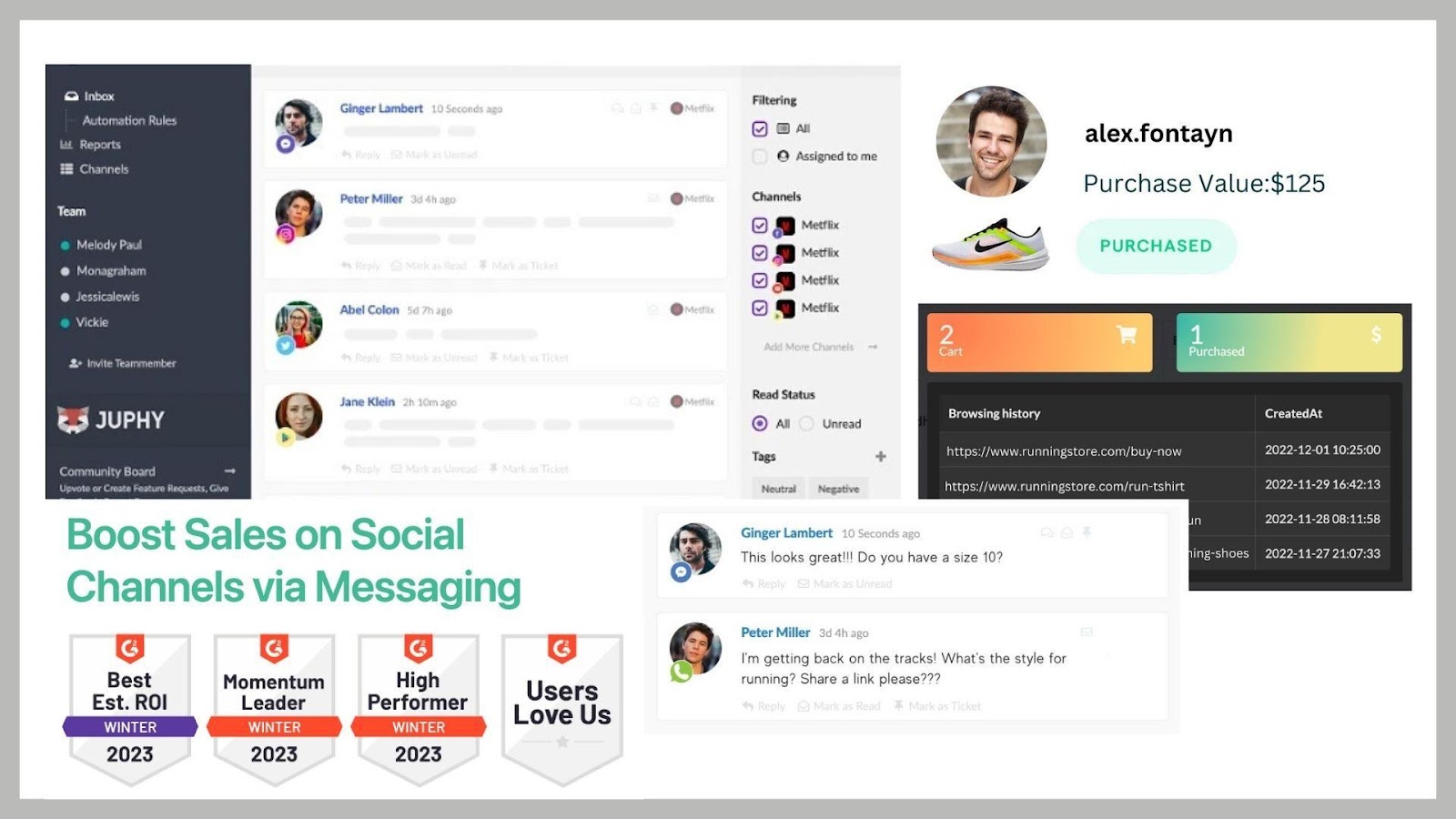 Juphy can help you;

Strengthen your online presence,
Deploy personalized marketing strategies,
Engage your customers with perfect support,
Make the most of your advertising efforts, and
Make informed decisions based on solid data.
Conclusion
Success in e-commerce marketing requires a dynamic approach and constant optimization. Implementing effective strategies and improving customer experience empowers you to elevate your brand, engage with customers, and drive sales. And by utilizing the right tools, you can stay informed and adaptable, maximizing not only your chances for sales but also maximizing your overall return on investment.
Key Takeaways
The e-commerce market is highly competitive, necessitating effective marketing strategies to stand out.
E-commerce marketing aims at promoting a brand's products and services, driving traffic, converting prospects, and retaining customers for maximized ROI.
Having a strong online presence across digital channels and optimizing your website for search engines are foundational for e-commerce success.
Utilizing social media platforms and personalized marketing strategies, powered by data analytics and AI, can significantly enhance customer engagement and sales.
High-quality, engaging content and video marketing are vital for building trust and fostering deeper connections with customers.
Paid advertising, such as Pay-Per-Click (PPC) and social media advertising, can enhance brand visibility and drive immediate traffic.
Analyzing consumer behavior, utilizing analytics, and conducting A/B testing are crucial for making informed decisions and optimizing marketing strategies.
Juphy can streamline e-commerce marketing efforts by unifying social conversations, aiding in personalized selling, and providing excellent customer service through its data-driven features and AI support.
Create Your
Social Inbox Now
Manage all social media customer support inquiries in a unified inbox.