The famous Seneca quote says, "If one does not know to which port one is sailing, no wind is favorable". Of course, knowing only the approximate direction of the port without a compass might mean leaving more than a lot to chance. This example shows the difference between dreams and goals. Dreaming big is nothing; taking small, calculated steps towards the desired outcome is everything. The same goes for every business, every department, every person, and surely every customer service effort. When you set smart goals for customer service, you're more likely to achieve them because they go along with a plan.
Create Your
Social Inbox Now
Manage all social media customer support inquiries in a unified inbox.
What Is a SMART Goal?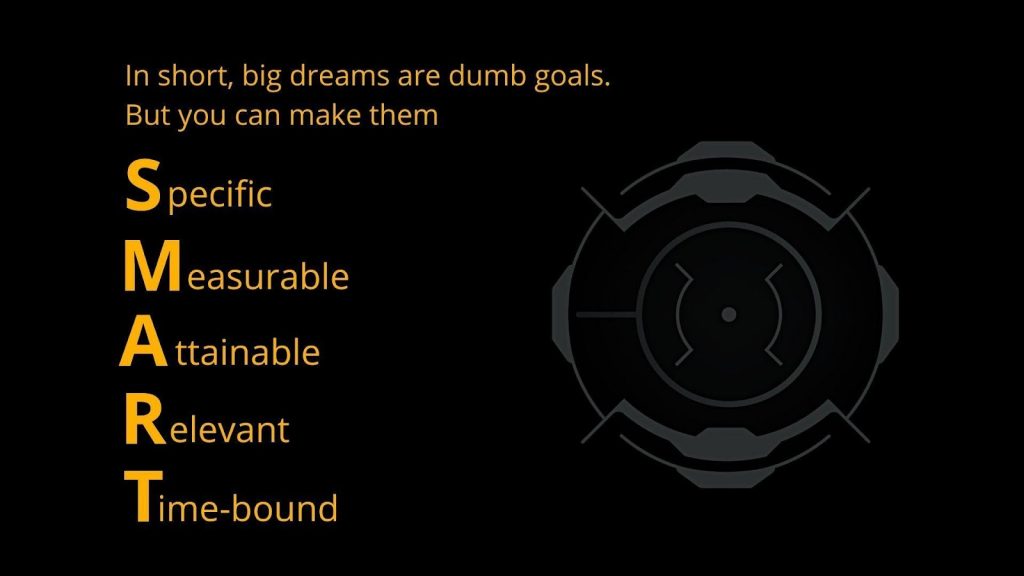 Every business needs a clear direction. If you don't know what to expect, how would you know if your investment is worth it or not? Smart goals help you set expectations and put things into motion.
SMART is an acronym for specific, measurable, attainable, relevant, and time-bound. A SMART goal clearly defines the requirement and steps to solution by covering five points:
Specific
"S" can also stand for "spectacular", depending on how high you aim for, but it needs to define what you want to achieve anyway. Try to make it a short, well-thought sentence that precisely conveys what you want in a way that even a five-year-old can understand.
Measurable
"I want to make my customers smile" may sound like a simple and specific goal, but unfortunately, there are no performance indicators that can show you if you could put a genuine smile on your customers' faces. Instead, you may want your customers to recommend your brand to others if it makes them smile. This way, you can get measurable results that will be reflected in your customer acquisition by referral numbers.
Attainable
"Sky is the limit" is a lovely catchphrase, although we all know that the bar tends to be much lower than that. A smart goal is achievable. For example, in terms of customer service, 100% customer retention is an unrealistic goal because the first customer you lose breaks your motivation apart. Since you can't always hit the bull's eye, the smart approach would be "reaching for as close as it gets" in measurable terms. On the other hand, attainable doesn't mean small. The goal needs to be challenging enough to provide a sense of achievement, or it would easily become mundane.
Relevant
Your goal needs to have a purpose that aligns with your brand values, business expectations, and capabilities. Your team should understand why it is worth pursuing so they can stay motivated and do their best to achieve a common goal. 
Time-bound
Every plan needs boundaries. Roadmaps and deadlines are crucial for helping people stay on track.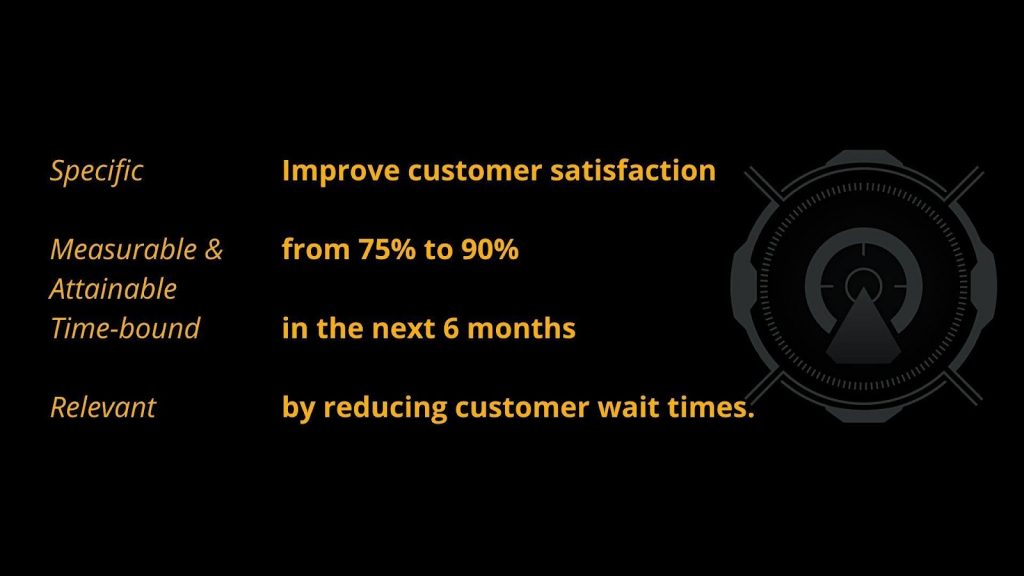 Smart Goals for Customer Service Examples
Every aspect of business has room for improvement, including customer services. After identifying the more urgent and vital areas of development, you can set goals and track KPIs (Key Performance Indicators) to measure your success. Here are five examples of customer service goals and their related metrics:
Improve Service Speed
There are several studies about customer expectations on service speed conducted by different platforms. The results vary according to industry, medium, etc., but there's one thing in common: the faster the customers receive a response, the happier they are. For this goal, you'll need to keep track of FRT (First Response Time) and average resolution time.
In order to provide a faster first response, you can prioritize queries according to urgency, platform, or sentiment with a tool that offers a ticketing system and use canned responses for common service requests. While self-service practices take some burden off your team and leave more time for tricky situations, utilizing live chat can boost your speed considerably if you do it right.
The SMART way to do it: Cut back on FRT by x% in a month by implementing a series of customizable canned responses.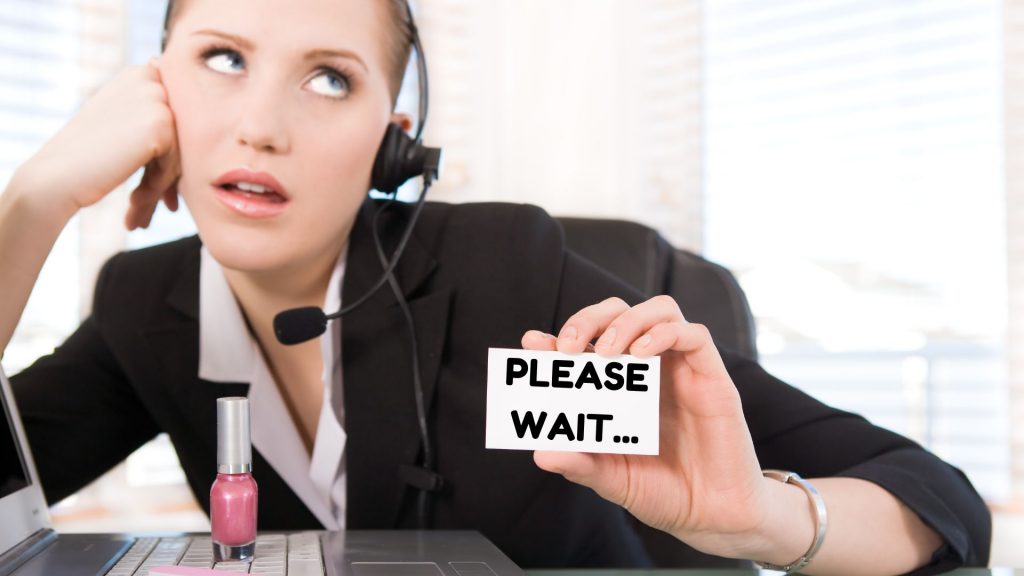 Do you have challenges in bettering your customer response times? Read our tips & tricks now to provide faster responses to your customers.
Improve Response Quality
Gaining speed should not cause sloppy responses. After all, while being greeted with sincerity affects CSAT levels positively, real satisfaction comes from a smooth resolution. The quicker you solve the problem with less correspondence, the happier your customer will be. Providing only the relevant details and personalizing your messages even when they are canned responses also increase quality. You'll need to keep track of FCR (First Contact Resolution Rate) and CSAT (Customer Satisfaction Score) metrics for measuring your success.
The SMART way to do it: Gamify the process and set monthly rewards for those who resolve the most tickets with the least correspondence.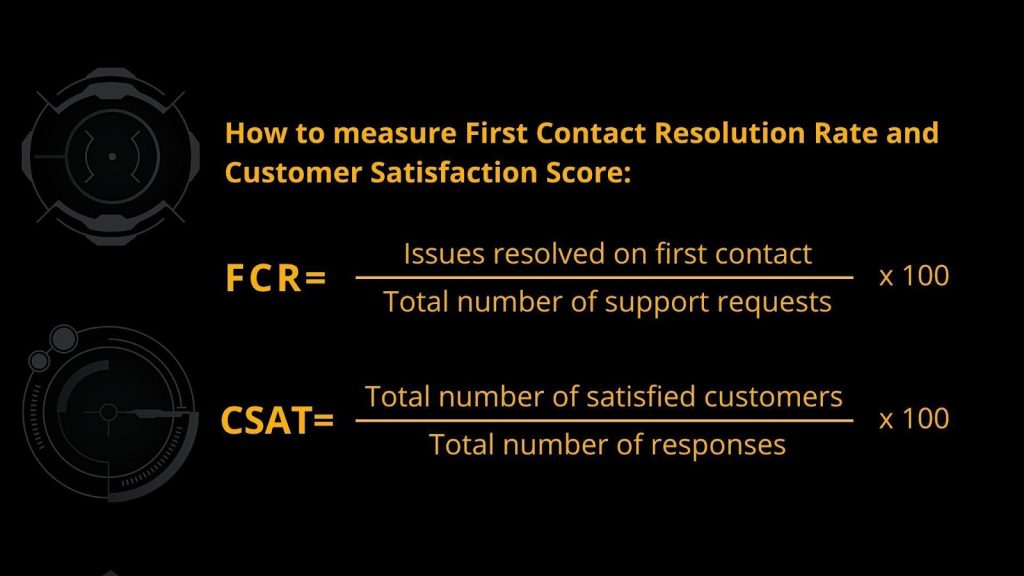 Increase Customer Loyalty
Building customer loyalty is a must for every business. Just compare your turnover with CRR (Customer Retention Rate) and NPS (Net Promoter Score), and you'll see what I mean. These two metrics help you the most when planning for the future and seeing if your efforts are worth it. While it is easier said than done, customer loyalty can be achieved through quality products, strategically planned benefits, and impeccable customer care. If you manage one community right, they tend to pay you more and also recommend your brand to others.
The SMART way to do it: Create a customer loyalty program by the end of the month with exclusive offers for brand evangelists.
Identify Pain Points
Understanding customer expectations can help you provide proactive customer service, while identifying pain points can help you turn a negative situation into a positive experience. You can collect information from your existing customer or follower base with polls, surveys, engaging questions, etc. But remember that not everyone will prefer contacting your customer services to depict their dissatisfaction. Social monitoring can help you tackle that problem and identify the pain points before they become a more serious issue.
The SMART way to do it: Track campaign-related keywords on social media during your new product launch and collect data on pain points.
Identify the Preferred Communication Channel
You might have heard that adopting an omnichannel customer service approach can improve your customer service quality, but it's not entirely accurate. Some companies implementing omnichannel customer service expect customers to use the telephone or live chat for immediate needs and prefer other channels like social media for less urgent situations. However, in reality, which channels you use for what purposes are unimportant to the customer; they act according to their habits.
Omnichannel customer service only works if you can handle all your channels effectively. If you don't have the appropriate tools, time, or team, you'll only run around the platforms like a headless chicken and might even impair the quality of your primary customer service platform. Scrutinize the monthly reports to find out which platforms the support requests come from the most, so you can position your team more effectively.
The SMART way to do it: Let's say, "Starting from today, responding to support requests and negative comments on our new Twitter support account will be prioritized over other platforms and interactions."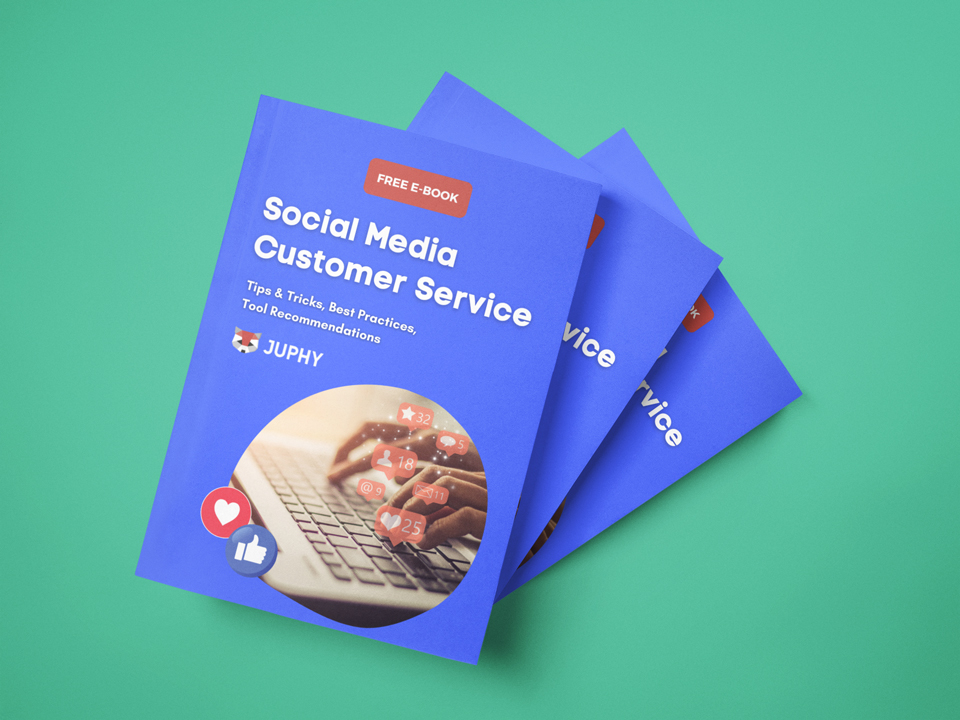 Social media customer service works through managing social media engagements and providing customer support on social networks. All you need about social customer service is in this free e-book. Download it for free now!
Juphy: The Tool for Achieving Smart Goals for Customer Service
Juphy is an advanced multichannel help desk for social media focused teams. With its features for social media engagement, ticketing, and community management, Juphy helps you achieve your SMART goals for customer service through a single dashboard.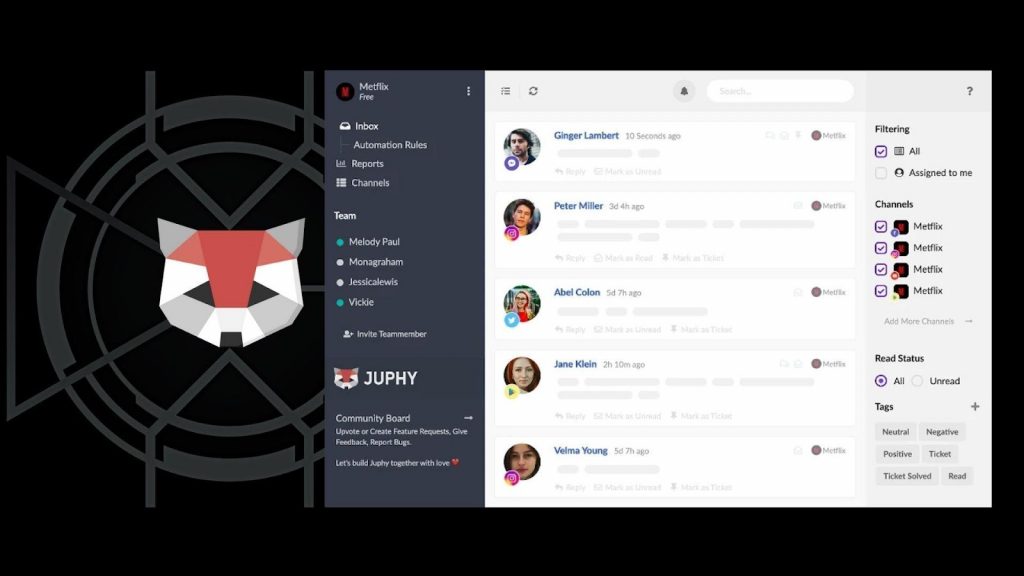 The social media inbox allows you to receive and respond to all customer queries from social platforms and review sites (including direct messages and ad comments). You can also engage in instant messaging with WhatsApp and Twilio and integrate live chat through Facebook. Three prominent features of Juphy make it the ideal tool for meeting customer service goals.
Social media monitoring: Juphy offers you social listening features such as real-time monitoring, keyword listening on Twitter, comment tracking, and monitoring Facebook ads comments. The collected messages are classified neatly based on content, sentiment, and urgency. Automation rules will help you prioritize and assign queries more efficiently while saving your team time.

Responses in record time: The minimalist design of Juphy's social inbox rules out the need to switch between accounts and platforms. It automatically shows all the interactions from the chosen channels, tagged and classified for you to observe and engage. Juphy also features canned responses, which can be personalized and used for answering common questions instantly.

Performance reports: The clean, insightful, and actionable reports will help you track the metrics and plan your next steps effectively. Along with individual performance data, you can see the message distribution by communication platforms and pay closer attention to some channels.

Just S.
Founder, Small Business
"The user interface is really clean and intuitive. It supports all of the important social platforms. The ticketing system is really well organized and it is easy to assign tasks and tickets. Good number of reports. Love the agency features which are well thought out and simple to use. The single omni-channel dashboard for everything is beginning to be very beneficial to our systems. Getting setup is a snap."

Start your 7-day free trial (no credit card information required) and plan your next SMART goal with a smart customer service tool.
Create Your
Social Inbox Now
Manage all social media customer support inquiries in a unified inbox.
Related Article – Social Media Customer Service: The Complete Guide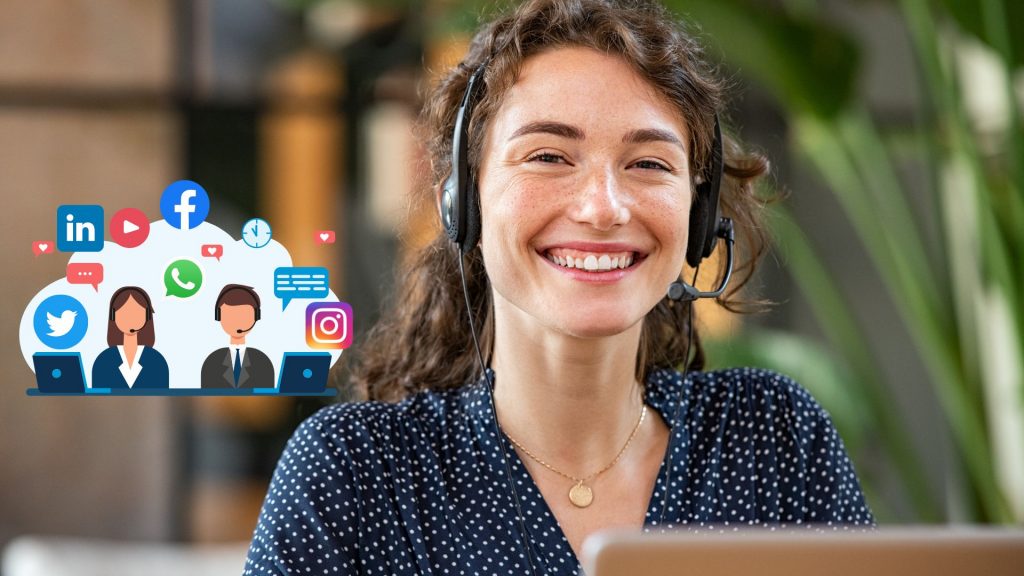 Social media customer service is providing customer support on social networks. All you need about social customer service is in this guide! Read more now!