Think back to the last time you sincerely enjoyed a conversation. What made it particularly enjoyable? Did someone actively listen to you? Did they ask you questions and then help to answer them? Did you feel you accomplished something of value? Now, imagine how successful your brand or company would be if it could transfer this feeling to customers every time they interact with you. Even when they have complaints. This is possible with the use of conversational messaging. It plays an important role.
Create Your
Social Inbox Now
Manage all social media customer support inquiries in a unified inbox.
What Is Conversational Messaging?
Conversational messaging is communication that can happen instantly. It can also occur spaced over minutes and hours, depending on response times from both sides. It can be a human interaction or a conversational bot. And it is using the social platform your customer prefers.
It differs from traditional chat because once a chat is closed, that is the end of the conversation and the chat history. Whereas conversational messaging allows for constant continuing connection without a solid ending. Plus, previous chat history is available for reference. This style of chat and conversation is relaxed, personal, and quick. Because you want to help your customers while making them feel at home.
Why Is Conversational Messaging So Important?
With the rise of social media, people expect to interact with brands and companies similar to what they do with friends. Informally. And brands and companies need to have an open door of communication with their customers. This communication is more successful when using conversational messaging. It can help to drive revenue and improve sales. In fact, 8 out of 10 say they experienced positive growth in sales when using this form of communication.
If potential leads can reach you easily, they are more likely to become customers. And they stay as customers. Conversational messaging also improves customer service and customer satisfaction. Conversational marketing helps over 50% of companies respond quicker. This improvement in response time reduces the cost of customer service through streamlining.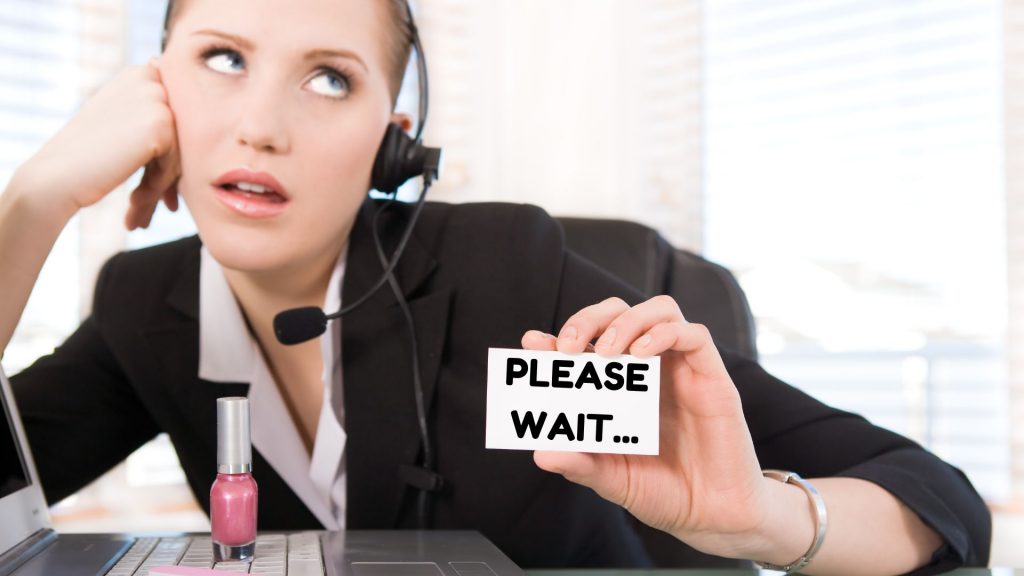 What is the customer response time? Why is response time necessary in a business? Why is it important to respond quickly to customers? Read more to learn now!
There are other value points too. Market share increases. More cross-selling opportunities arise. And a company can produce better data for future targeting. Conversational messaging shouldn't be underestimated.
Where Does CM Happen?
Customers don't really want to download any more apps. Especially if it is a company that they only interact with occasionally. But they do want to interact with a variety of companies they are buying and renting from or subscribing to. They want to do this via an app they already have. These apps include WhatsApp, Instagram, Facebook Messenger, and others.
People use a variety of social platforms, and it's impossible to know which one they will use to reach out to you. Having omnichannel channel messaging capabilities is key. According to a Microsoft report, 66% of customers will use at least three communication channels to contact a business. And you don't want to lose track of any of these communications.
So what is omnichannel messaging? Omnichannel messaging is the ability of a business to have all communications unified on one platform. This platform prevents messages from being overlooked and missed while providing consistent communication and fast responses.
How to Make a Success of Conversational Messaging
Your goal will always affect your strategy, but here are some general tips for conversational messaging.
Think of the customer experience. Do this by focusing on the Customer Lifetime Value (CLV). Make the experience friction-free and uncomplicated. Make it personal and know that unique customer's preferences. Studies show that personalized messages increase trust.
Use the Right Tone of Voice. Matching the right tone of voice to each particular issue is important. If the wrong intent and sentiments are expressed, customers may feel they are not being taken seriously. AI can have difficulties with this, so having the option to use real agents may be necessary. And don't only focus on selling.
Ask for feedback. Knowing how your customers respond to conversational messaging will help improve it. Plus, their feedback may help improve other areas of the business
Communicate honestly. Tell them the wait time if the customer wants to speak to a live agent. This information may also include displaying business hours.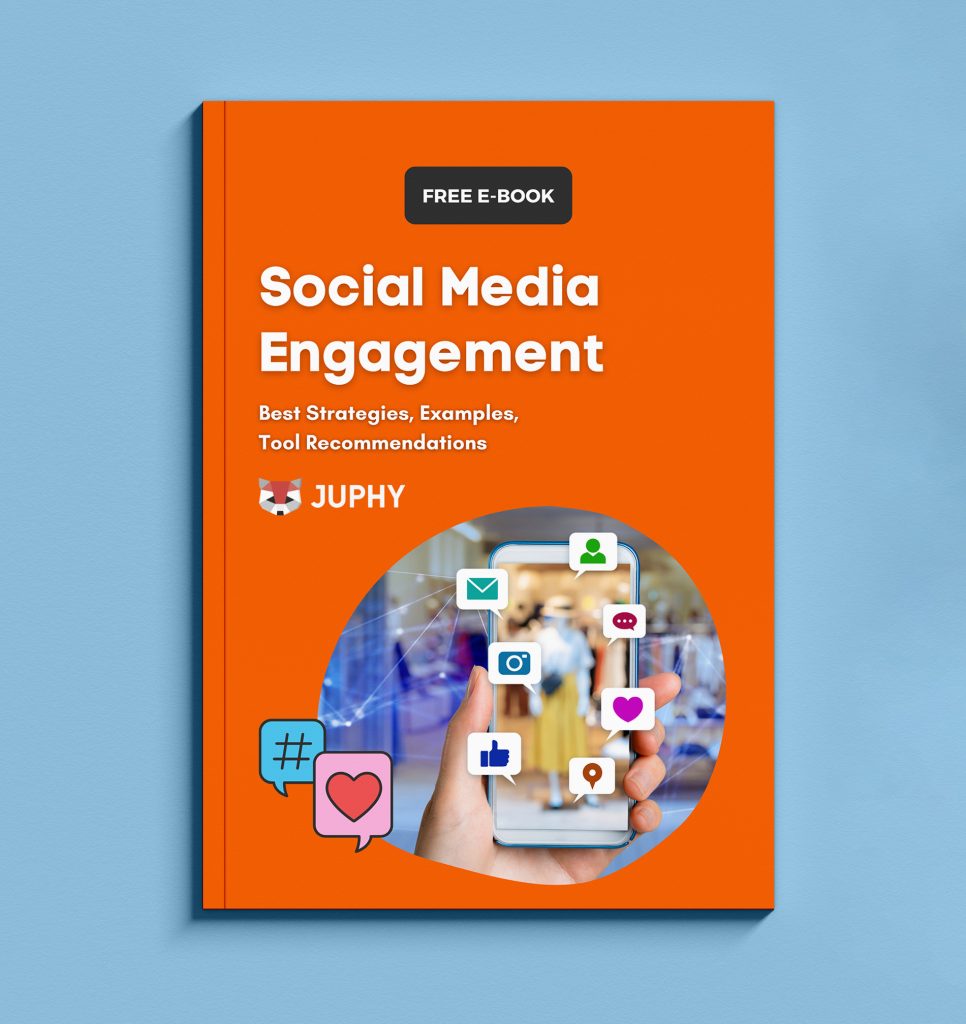 Social media management does not only consist of publishing content. You need to monitor and manage your content's engagement as a business. This guide will provide you with all the tips & tricks you need. Download it for free now!
Implementing Conversational Messaging
Forward-thinking companies see the value of omnichannel conversational messaging. And are implementing it. What if it is something you also want to put in place but don't know where to begin? Here is what you need to know!
What Is a Conversational Messaging Platform?
A conversational messaging platform is a central location where all communications from your customers' various apps and platforms come together. No matter what method of communication your customers use, they can all be found here.
A conversational messaging platform can handle millions of messages in multiple languages simultaneously, meaning that your company is reachable 24/7 from anywhere in the world.
If these platforms employ chatbots, they use AI to ensure that the messages are humanized and personalized. The AI can define what kind of conversation it is. The conversational bot will respond accordingly, whether it is commerce, marketing, or support the customer is looking for help with.
The platforms can also send images, documents, and audio. There is also the option to add interactive buttons, polls, and checkout reminders. These platforms work using API.
What is Conversation API?
API stands for "Application Programming Interface". And if you are still confused, don't worry. The title doesn't give much away. One way to look at it is by considering how online interactions occur. Every social media platform has its own API that communicates with another API and returns a response. If you are looking to use APIs in your projects, you can find a free list of APIs available on RapidAPI.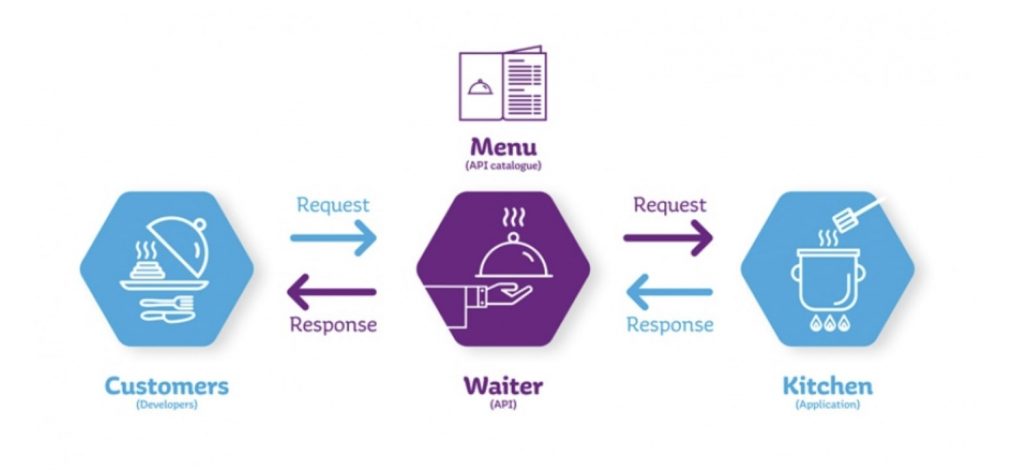 A conversational messaging platform can centralize all interactions into one single API even though they come from multiple platforms or APIs. Conversational APIs associated with conversational messaging platforms go one step further. They help collect data from the request, filter it, and help return a response. This means an API-first approach is flexible and allows for various integrations, including customer support tools and chatbots.
Which Platforms Support CM?
There are various platforms available that support conversational messaging. Deciding which one to choose from will depend on your needs.
Birdeye allows you to engage with customers by collecting reviews, getting referrals, and holding conversations.
Gupshup uses a single API to engage with customers using various communication channels. It helps to engage, acquire and retain customers.
MoinAI provides an AI chatbot that allows customer inquiries to be automated. It also features chat analysis.
Sinch allows customers to engage with brands via various communication channels. Other features like chatbots can be added if preferred.
Does Juphy's Social Inbox Support Conversational Messaging?
Yes, absolutely! Juphy's social inbox supports conversational messaging at all times. It brings all communication channels to one place. Bringing all the social media messages together will speed up response time and hold conversations that create satisfied customers.
Allowing your customers to communicate with you using apps they frequently use helps your business! Asia, Africa, Latin America, and Europe are comfortable using WhatsApp. WhatsApp has 2 billion monthly users and sees 60 billion messages sent every day. So, it is a must that your conversational messaging platform has it available. Juphy supports various social media (Facebook, Instagram, Twitter, LinkedIn, YouTube, Google My Business, App Store, Google Playstore) interactions, including WhatsApp Business. And most of Juphy's communication platforms work in real-time. Plus, Juphy is the easiest to use on the market.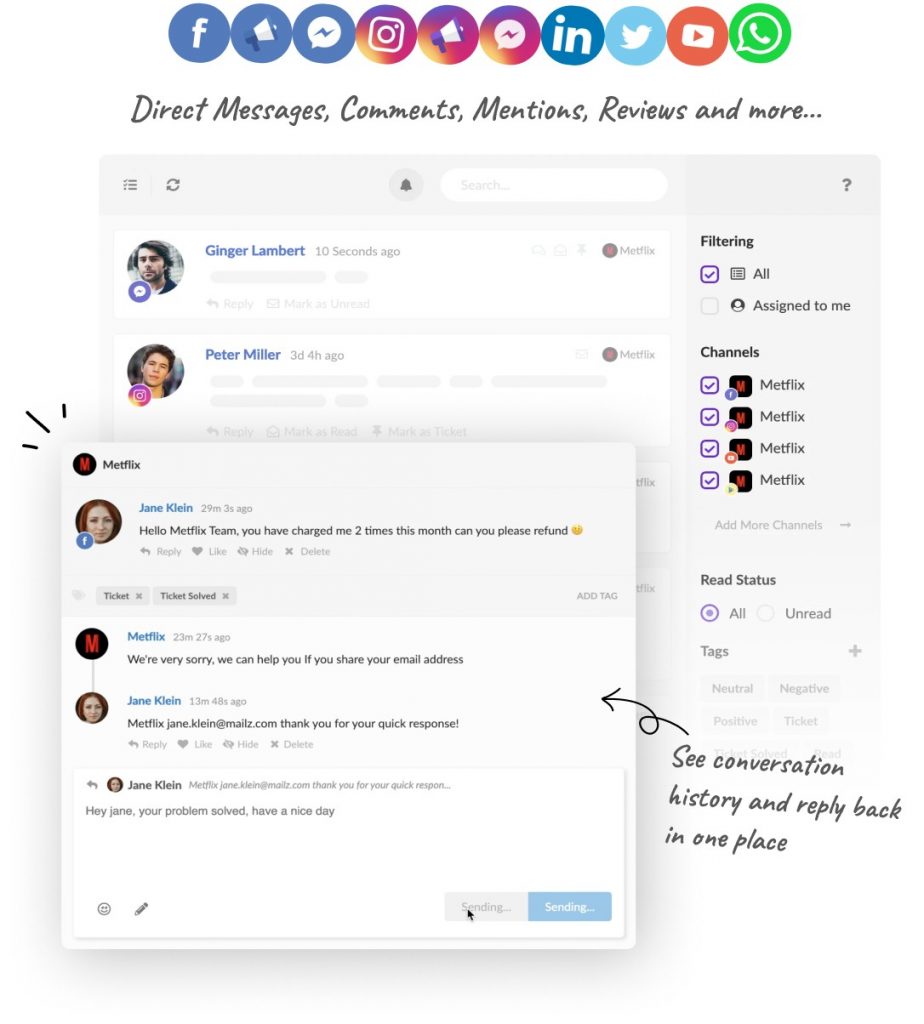 By taking full advantage of all the social network platforms Juphy supports, you can make a success of your conversational messaging strategy! Start responding to comments, questions, and messages now without switching accounts, and never lose track of a conversation again.

David Hooper
Production Expert
"Juphy has been great for my connection with customers and social media followers as it allows me to put everything in a single "inbox" and easily reply via multiple channels at the same time. Customer service and communication have been great and it's something that I use daily. I highly recommend it for anybody doing social media or in need of a good customer service option."
✓ Product Hunt Verified Review
Juphy offers a 7-day free trial, so you can see how easy it is to use for yourself. Or, if you want to see Juphy in action, book a live online demo with our customer success team and get a complete walkthrough! Conversational messaging is here to stay, so start having quality conversations using Juphy now!
Create Your
Social Inbox Now
Manage all social media customer support inquiries in a unified inbox.
Related Article – The Roles of a Social Media Customer Service Representative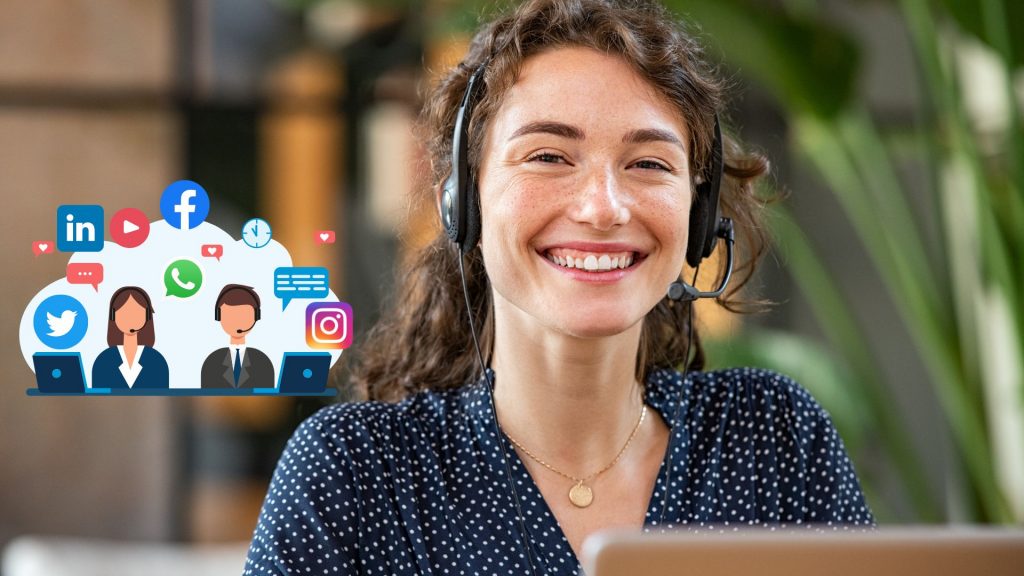 Excellent social customer care can be delivered with great representatives. So what are the roles of a social media customer service representative? Read more to learn now!