Are you searching for the best social media platforms for B2Bs? B2B focuses on doing business with companies and organizations. B2Bs deal with larger volumes and more significant transactions. As a result, the marketing techniques differ. The audiences and strategies differ as well.
A B2B marketings strategy prioritizes
Building long-term relationships
Finding issues in the company's business plan
Generating leads
Stimulating referrals
Create Your
Social Inbox Now
Manage all social media customer support inquiries in a unified inbox.
But Is Social Media Effective for B2B?
The simple answer is yes. But you can't be complacent. You need to know and understand the following:
Your Goals and Objectives
Regardless of the industry, these include brand awareness, engagement, and lead generation. It's also necessary to build trust.
Your Audience
Audiences differ according to industry, but a couple of things remain the same. B2B audiences make rational decisions, not emotional ones. And there are more checks and balances before a sale can be completed. But always differentiate yourself from the competitor.
How to Communicate
The content shared with your audience needs to be educational and informative. For B2B marketing to work, you need to establish yourself as a knowledgeable authority. Achieving this involves creating not only new intriguing content but to helping you stand out from competitors.
Other Tips
Focus on the right social media platforms, and don't try every single one available.
Use a combination of paid and organic efforts.
Strike a good balance between generating brand awareness, creating demand, and making sales.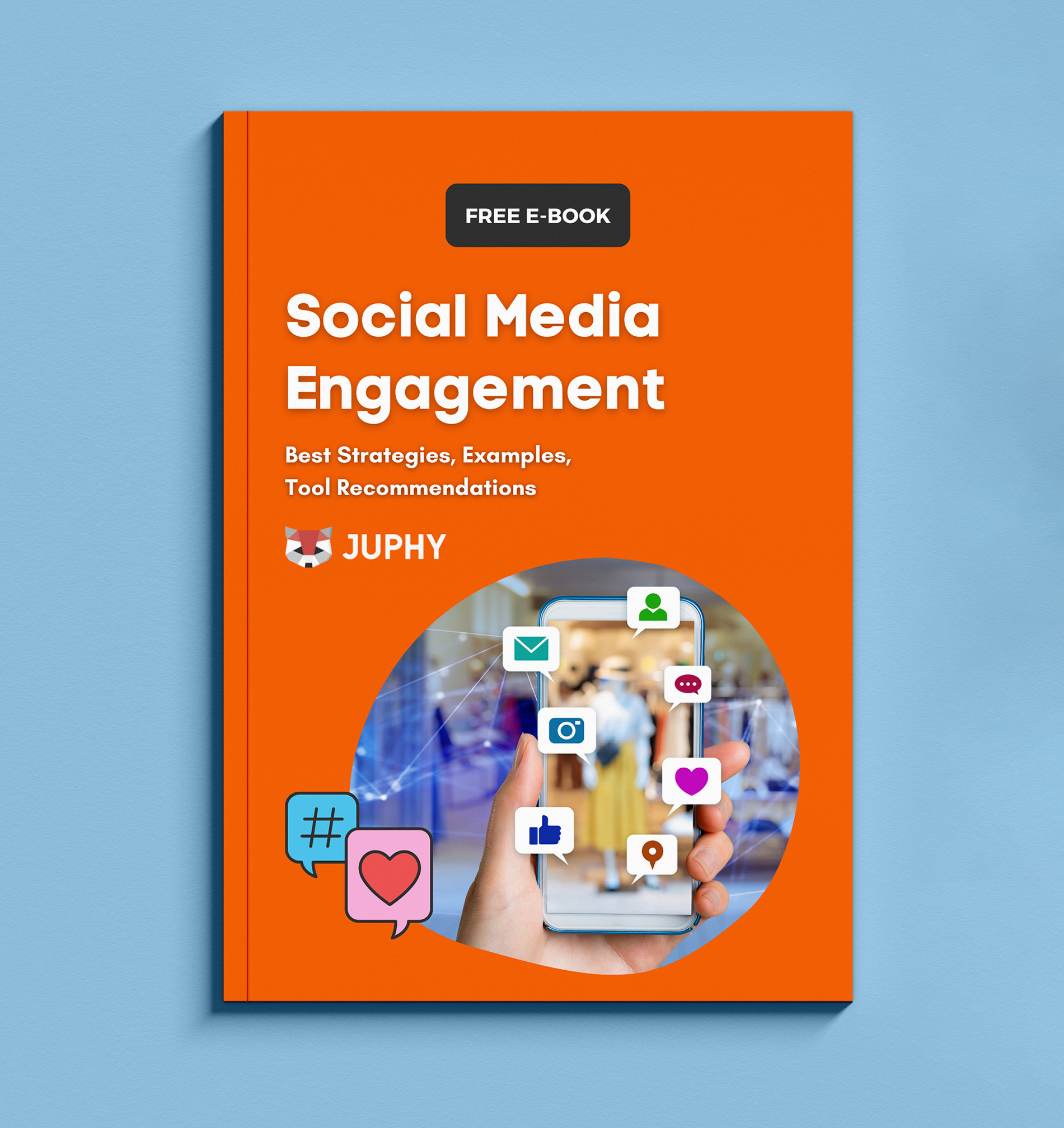 You can download this content as a free e-book by filling out the form below.
What Are the Best Social Media Platforms for B2B Marketing and Sales?
12.6% of B2B budgets are spent on social media. And this is set to grow quickly over the next few years. And according to Gartner, by 2025, 80% of B2B sales interaction will occur in digital channels. A solid B2B social media strategy should be a number-one priority for companies. But how do you know where to begin?
LinkedIn Is Perfect for B2B
LinkedIn is the home of professionals, leaders, and key decision-makers. It is the perfect platform for B2B companies to engage and connect, making it the top social network for lead generation. LinkedIn is also an excellent place to promote educational content and become an authority. It also allows you to engage in conversations, answer questions, and share industry news.
But knowing it's the best isn't enough. What are the steps to success?
Create a business LinkedIn page, and include important, relevant information. You should incorporate a CTA, a logo and tagline, and a brief description with keywords.

Start connecting, but the quality of the connection is also critical. And when reaching out, focus on supporting, not selling.

Share wisely. Create and post valuable content to your target audience—companies like case studies and industry-related research. Post regularly and get the timing right. And share testimonials and positive reviews.

Consider a paid marketing campaign.
LinkedIn B2B Inspiration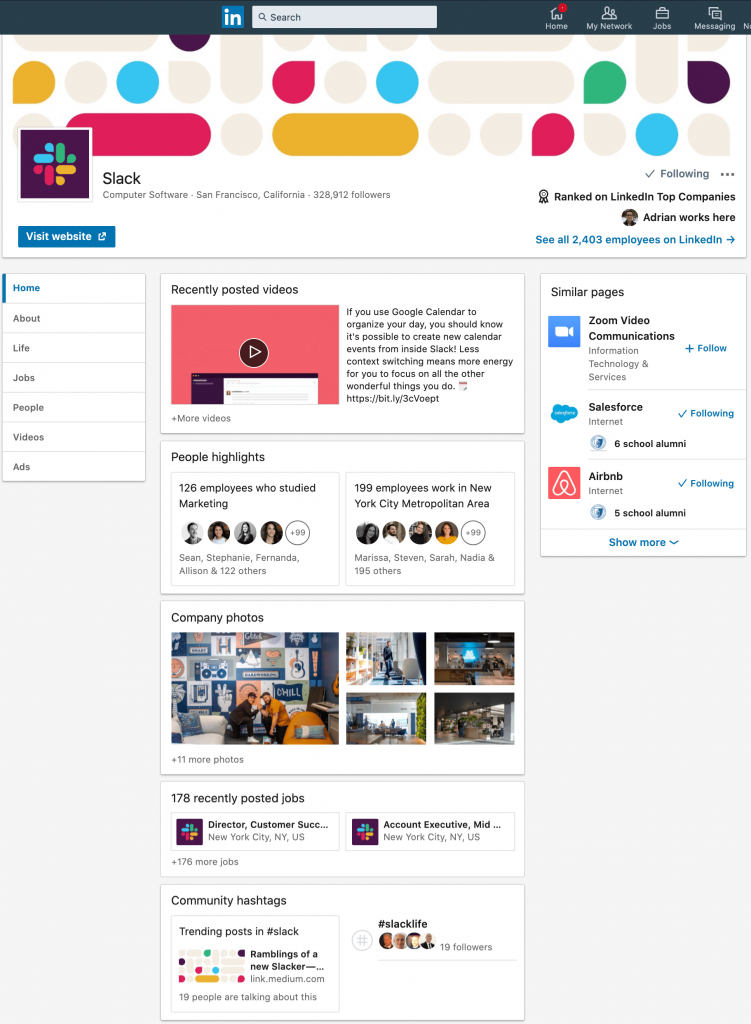 Slack is a tool that facilitates communication across communities and companies. Slack positions itself as the "perfect communication tool". But at the same time, it educates and supports its audience. As a B2B company, Slack creates great content for its LinkedIn page.
Twitter Is Booming for B2B Marketing
As one of the best B2B social media platforms, Twitter ranks number two! 59% of B2B businesses use Twitter for marketing! And a marketing campaign on Twitter can bear fruit. Why? Because time spent viewing ads on Twitter is 26% higher than on other social media platforms.
But how do you go about getting it right?
Care for your customers. Have a dedicated support handle. Use your Twitter space to answer questions. Create your own community and join other communities.
Share content. Twitter is a great place to announce company news and updates. Promote your blog posts and other relevant ones. And retweet posts and comments by companies you want to engage with.
Converse and communicate. Take advantage of trending topics and take part in the conversations. Keep an eye on mentions and engage with them.
Get Visual. Use images, infographics, and videos in tweets.
Twitter B2B Marketing Ideas
Influencers have been a great way to gain traction for B2C. But this strategy also works well for B2B when you do it right! Getting a tweet from a name with a blue check can propel your company forward. That is what Wordable did. They managed to get a Tweet from Ahrefs!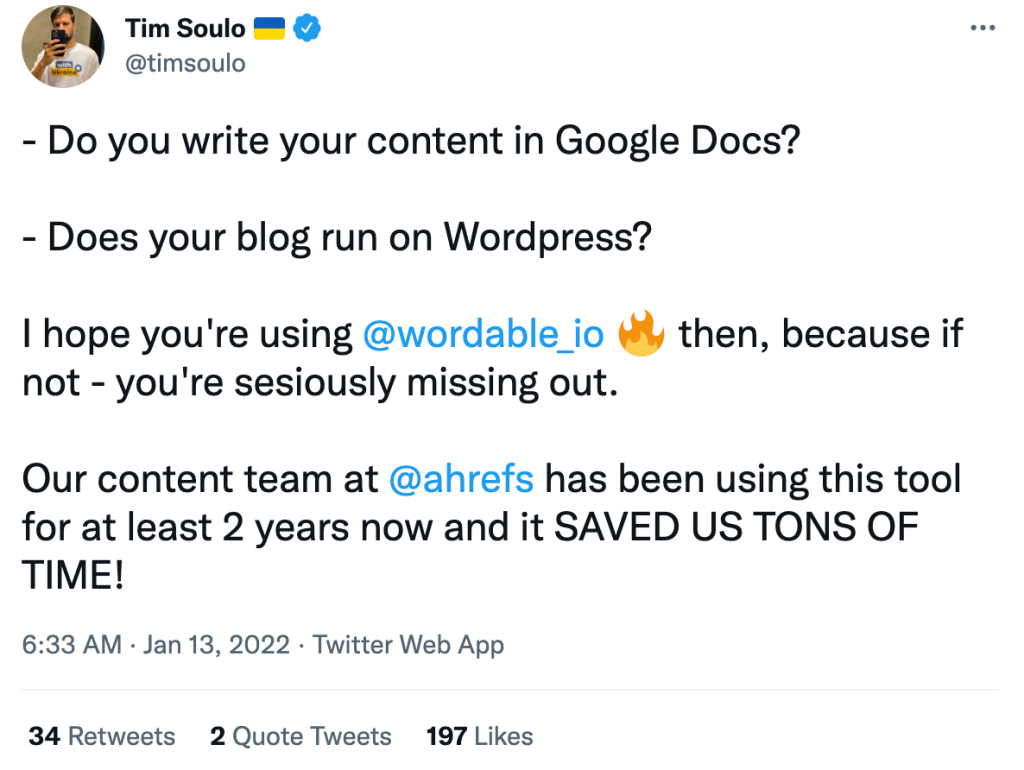 But you don't need to aim that high either. Get testimonials and tweets recommending your service or product from loyal customers. This type of support can be of great value too.
Facebook's Benefits for B2B
Facebook is infamous for its number of users, its huge audience, and the success it has brought digital marketers. B2B businesses sometimes overlook it for these very reasons. They assume decision-makers and leaders don't hang out here. But the opposite is true!
Why? 42% of B2B marketers use it, and they can't all be wrong. More importantly, 48.5% of B2B decision-makers use Facebook for research!
So what is the correct way for B2Bs to market on Facebook?
Advertise. It is inexpensive on Facebook, and it can reach a wide audience.
Build a community! And join communities. These can be a great source of leads and potential customers.
Create content. Visuals are where it is happening on Facebook, and if you have the resources for infographics, videos, and images, use them.
Increase traffic to your website. Make sure your website address is clear on your business page and other key locations.
Facebook Ad Inspiration for B2B
A major part of B2B marketing is content and education. Sleeknote uses paid advertising to provide free quality content. Of course, there are the usual CTAs, and interested parties will be led to a landing page. But the customers get value before they give value. Answering ad comments also builds trust.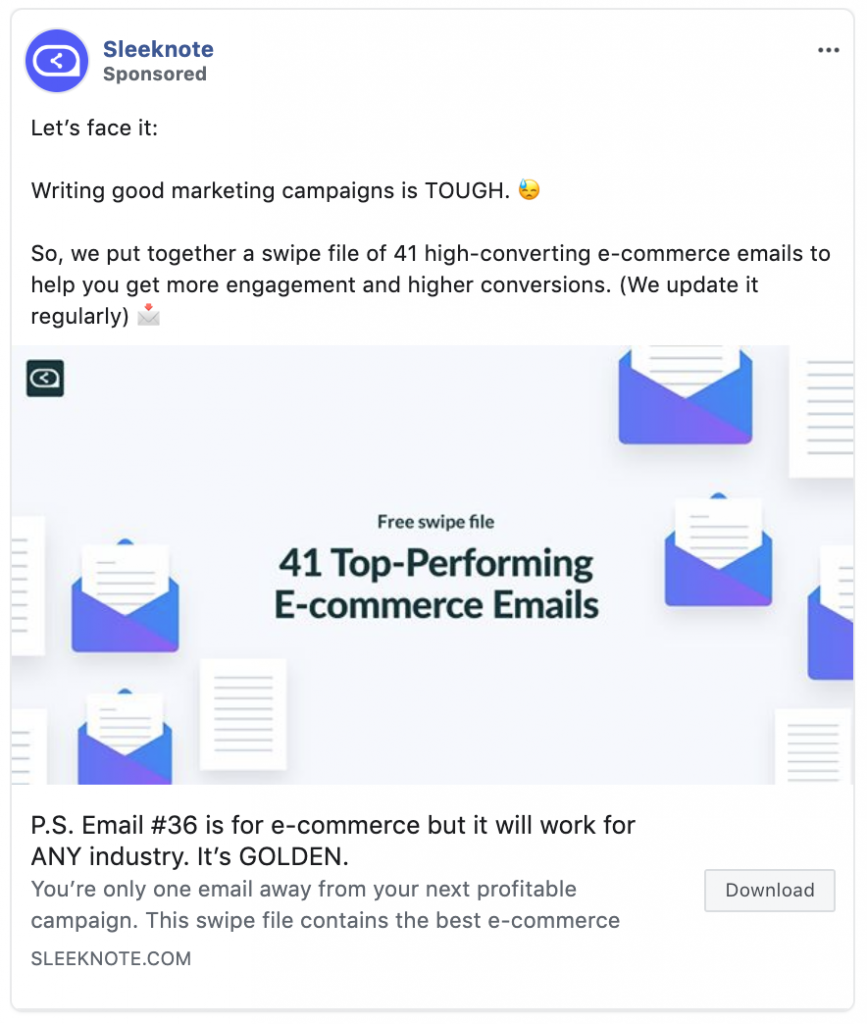 Instagram and B2B
Instagram may seem to be an unlikely ally, but it is one. 71% of US businesses are using it for their brand. And 83% of Instagram users say they find new products and services via the app.
What should a B2B Instagram strategy include?
Visuals. It goes without saying that all Instagram strategies -B2B or not- revolve around visuals. These should include reels, video posts, and live streaming. Show the creative side of the business, and don't ignore UGC.
Don't ignore educational content. Create testimonial posts, infographics, and turn blogs into carousel posts. The options are endless.
Follow trends. Brand awareness and engagement are key points for B2B and social media, so even if you are jumping on the bandwagon, it may be worthwhile in the long run. And leverage hashtags.
Need Some Instagram Inspiration?
SEMrush provides educational content via its Instagram feed. It has tips and tactics in delicious bite-size form. You could also announce discounts and offers. Show off your team and an appointment booking option!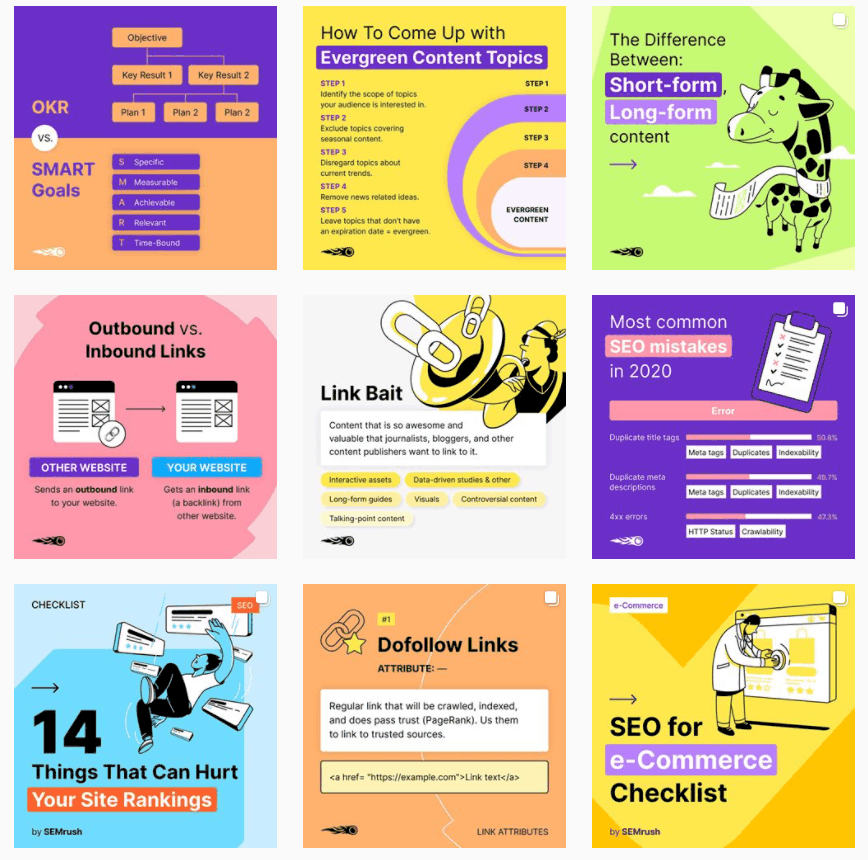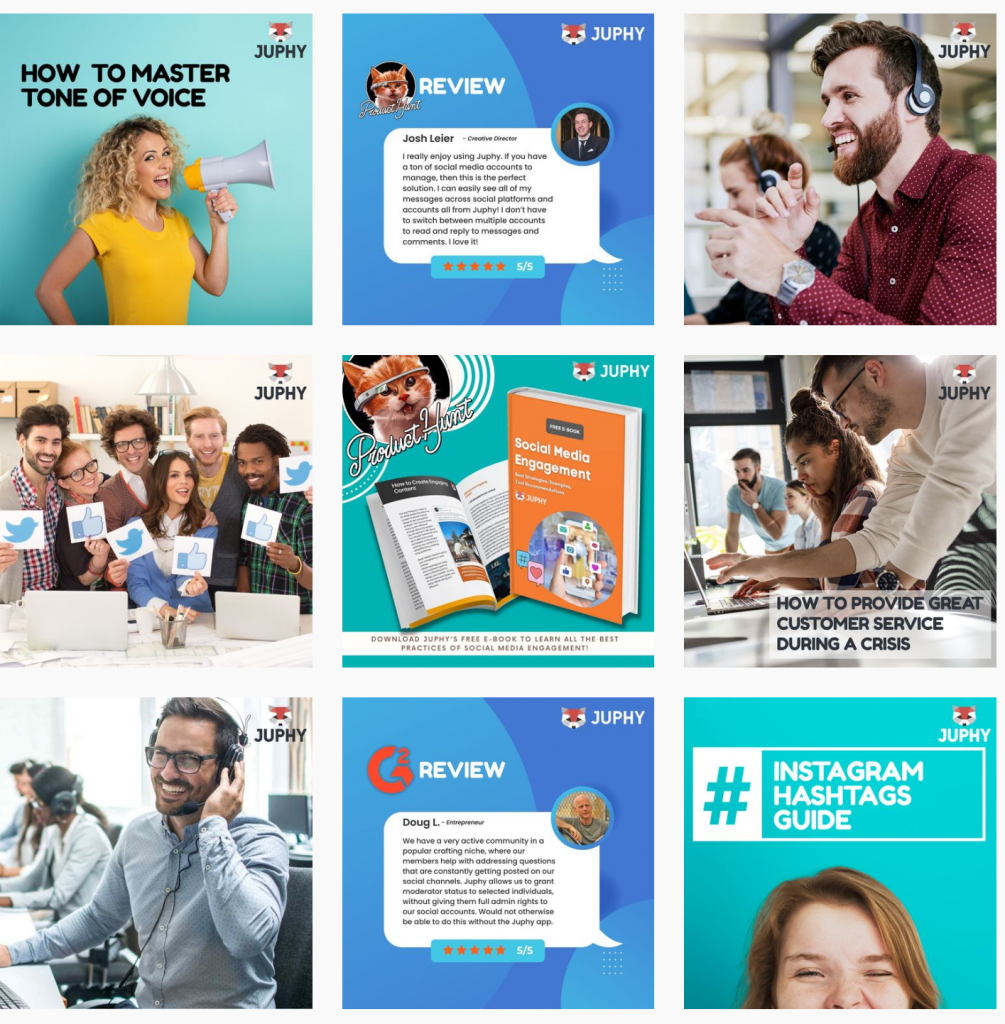 Can Juphy Help You with B2B Marketing?
Absolutely! Juphy offers a unified social inbox that is perfect for anyone in both the B2C and B2B space. It includes Instagram, Facebook (including managing ad comments), Twitter, and LinkedIn. All the best B2B platforms and more!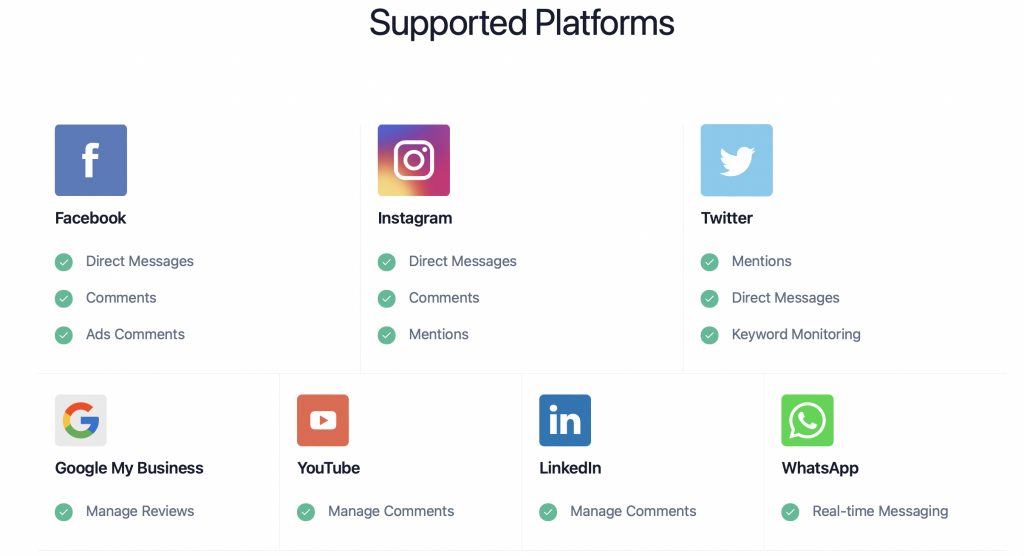 But how does the inbox help? First, by saving time. All the social platforms are in one place, and you can respond to comments, messages, and reviews on the same dashboard! Second, it helps you to do basic social listening for your business. How? By using Juphy's automation rules, keyword tracking, and tag management features.
So get ahead of the curve and improve your B2B marketing strategy by booking a free demo with Juphy now!
Create Your
Social Inbox Now
Manage all social media customer support inquiries in a unified inbox.
Related Article – How to Ask for Reviews from Your Customers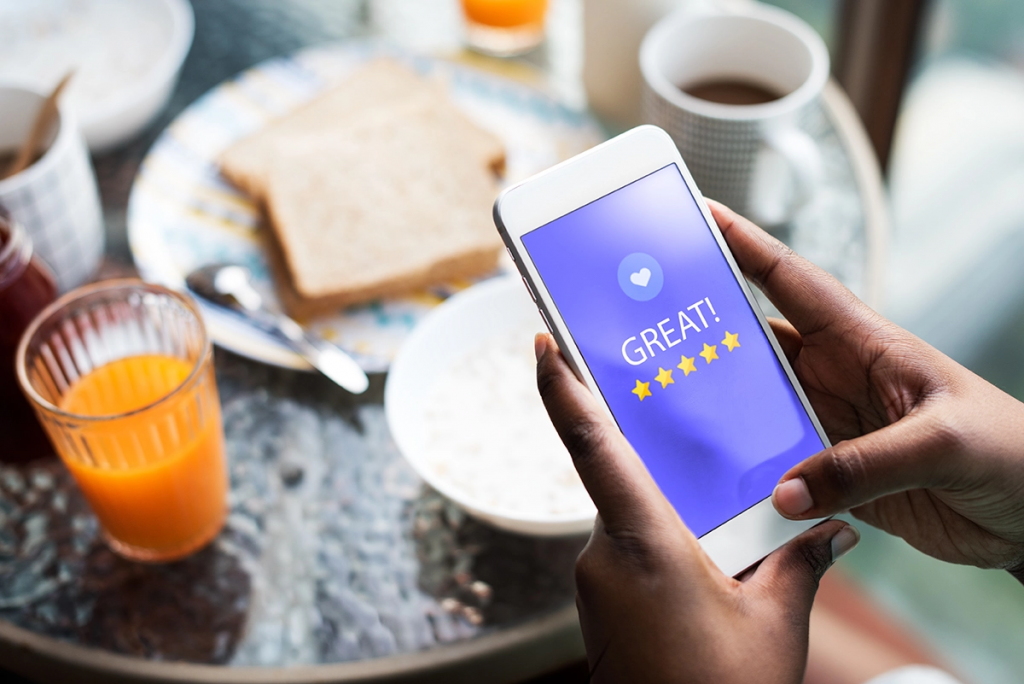 Asking for customer reviews is now easy with Juphy. Listed are sure-fire ways of asking customers to review products and services. Read More!