E-commerce and social media are two peas in a pod as brands, retailers, and e-commerce marketers put this media to greater use to create brand awareness, connect with target customers, and promote products/services through organic posts and targeted ads.
Social media is a powerful tool for e-commerce websites. The ability to direct shoppers toward a new product or an attractive deal, engage with them, and create a sense of community is instrumental.
Recently, after the wave of the Covid-19 pandemic, the importance and popularity of using social media for e-commerce have multiplied, thus, inventing a new concept or buzzword called Social Commerce.
As reported by HubSpot, "social commerce" sales have reached $4.2 trillion, 44% of social media users make a purchase after researching a product in-app, and 93% of marketers plan to move e-commerce efforts to social media.
Consider these stats from Hootsuite's Global State of Digital 2022 report:
57.5% of internet users aged 16 to 64 buy a product or service online weekly
26.5% of social media users go to social platforms to find products to buy
Moreover, Global e-commerce sales make up 10% of all e-commerce sales today and are predicted to rise to $1.6 trillion in the next three years. So, now is the best time to start selling on social.
So, if you're a business with products to sell and want to learn how to use social media in favor of your business, this blog will make you feel like that dollar-sign-eyes-green-tongue emoji.
For starters, let's understand what social commerce is and how your business benefits from it.
Create Your
Social Inbox Now
Manage all social media customer support inquiries in a unified inbox.
What Is Social Commerce?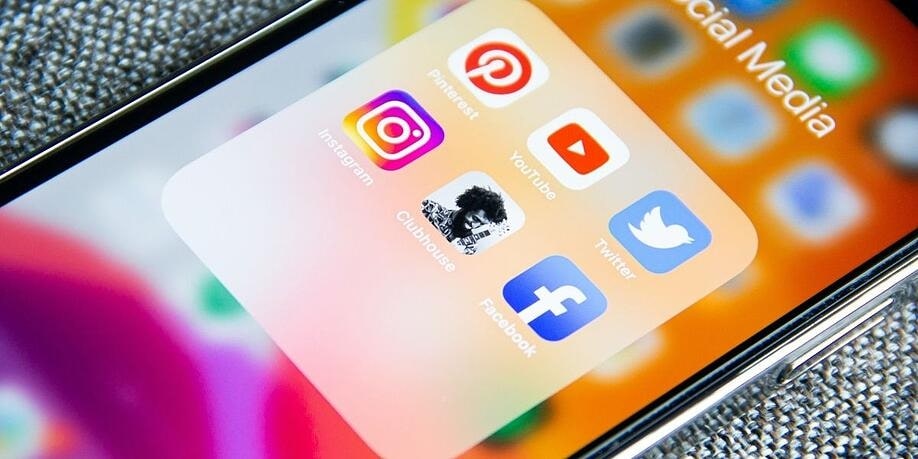 Investopedia defines social commerce as "The use of networking websites such as Facebook, Instagram, & Twitter as vehicles to promote and sell their products."
Simply put, social commerce is the art of selling products/services directly via social media. Social commerce happens at the intersection stage of e-commerce and social media.
Social commerce is different from social media marketing as it's not about driving traffic to your website but about you offering devices, browsers, and platforms the ability to check out inside the social network or platform.
You might find your favorite product on your Instagram feed, hit "Shop Now," add it to your shopping cart, and complete the purchase in the app. It is that easy.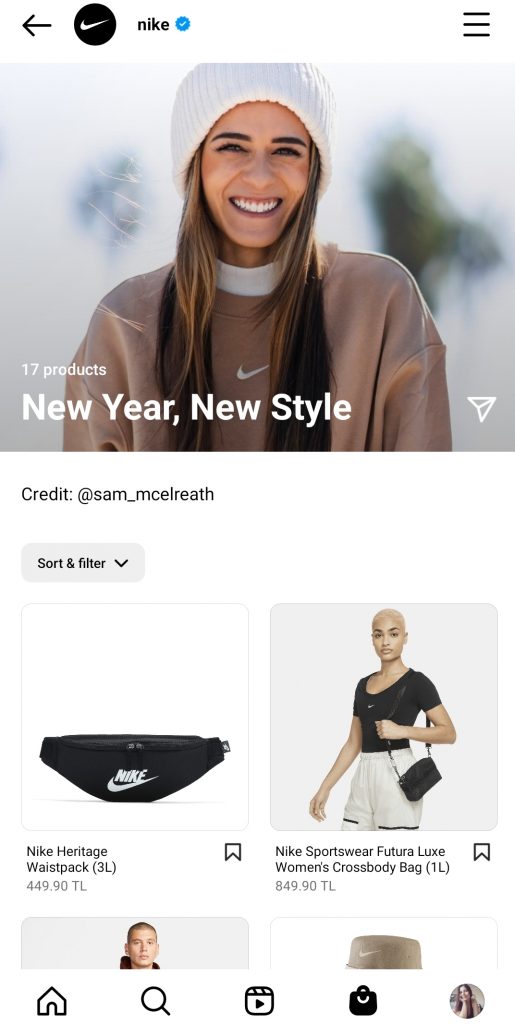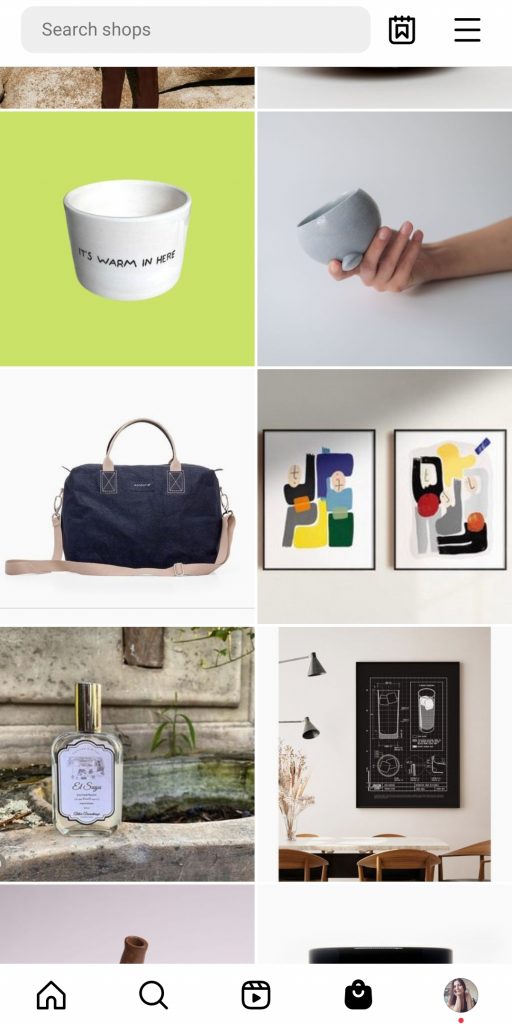 Effective social commerce encompasses different social channels of a brand for sales and for creating a seamless in-app buying journey on a plethora of platforms that have become vital sales channels for B2C, D2C, and B2B brands.
Social commerce includes many channels, such as:
Group buying (shoppers in a group that approach a vendor to buy in bulk)
Social shopping
Shopping via mobile apps
Retailers adding social features
Today, these channels have become a primary medium for online shopping. Users here interact with unique content, and brands leverage social presence to achieve their marketing goals successfully through different practices, such as:
Offering discounts and promotions to users who share products on their social feeds.
Providing personalized buying options and a seamless browsing-to-checkout journey.
Attracting users with striking graphics such as videos and images, compelling product descriptions, exciting posts, etc.
Encouraging user-generated content such as product endorsements, reviews, recommendations, etc.
In a nutshell, social commerce creates a mini-shopping experience, from product discovery to checkout, directly onto the users' social pages and motivates them to shop by interacting with the products and services. Presently, Instagram, Facebook, Pinterest, and TikTok are social apps with built-in native social commerce features.
Which Social Media Platforms Are Best for E-commerce?
For marketers who want to achieve e-commerce growth with social media, it's essential to choose the proper social media channels that are popular among customers and offer e-commerce features that are suitable for social commerce and focus on using them.
As per the latest Social Media Marketing Industry Report, it's a wise idea for e-commerce companies to focus on Facebook, Instagram, Twitter, and Youtube for social selling (LinkedIn is popular among marketers, but it has a B2B focus).
Let's look at some of the top social media channels for e-Commerce businesses.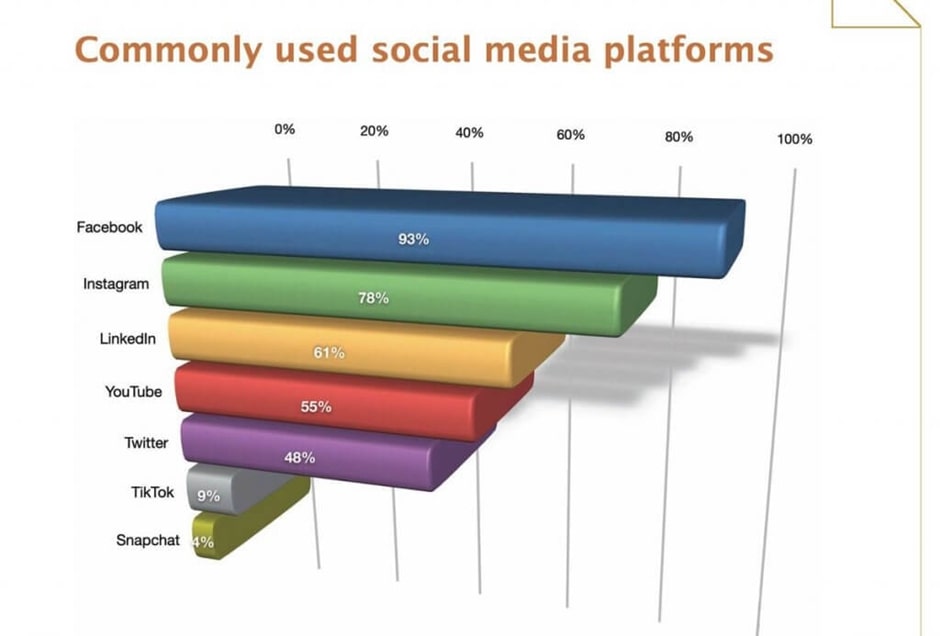 Facebook
The Facebook shop is ranked the highest (31%) among other social media platforms where shoppers were most likely to buy. Instagram and Tiktok secured the second and third spots, respectively. Facebook has over 3.5 billion monthly active users, so it's always a good idea to interact with your target audience on this platform.
Facebook Shopping helps businesses to set up Facebook shops or native storefronts to market products and sell them in-app and connect their e-commerce store's inventory to their Facebook page.
Facebook Shopping lets users discover, browse and purchase within the platform and promote a seamless shopping experience via shoppable tags on posts that facilitate instant shopping.
Instagram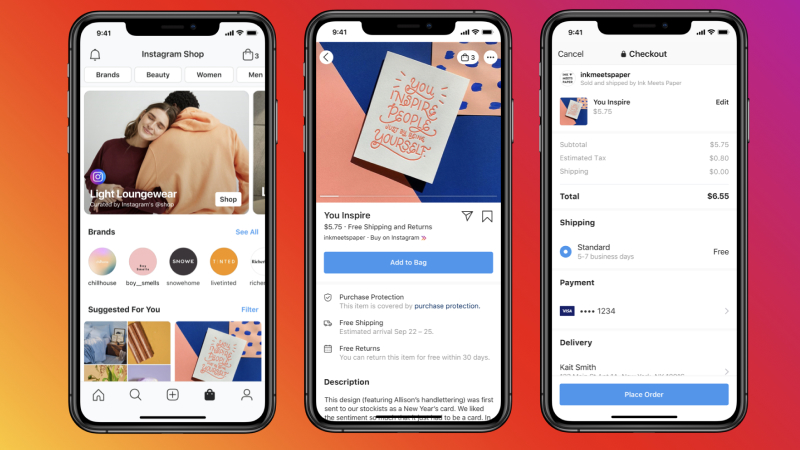 Instagram is a visual platform with around 2 billion active users. The platform allows brands, influencers, and individuals to post shoppable content instantly. Instagram is very committed to evolving as a more commerce-oriented platform that it has replaced the "Activity" tab with the "Shop" tab.
The platform allows for customizable curated collections in which you can create themes such as seasonal trends, new arrivals, and sales.
The Instagram platform also encourages social commerce through "Shoppable Posts," which are easy to discover and allow easy shopping without leaving the platform.
This is a great platform to show off your product variety, establish a connection with potential customers, and drive e-commerce sales. Instagram users, on average, use Instagram to shop weekly.
Here are some key statistics on how Instagram users behave after seeing a product or service on the platform:
79% search for additional information after seeing a service or product
46% make a purchase online or offline
31% follow the brand's Insta account online
Snapchat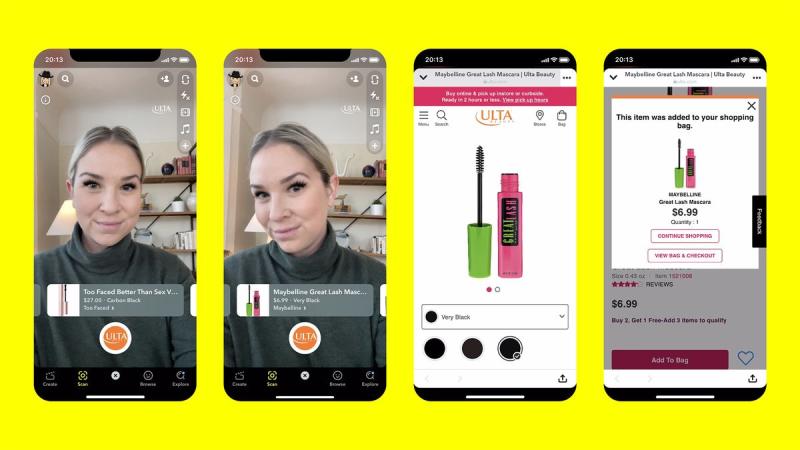 Snapchat mainly prioritizes influencer marketing. This works well for Snapchat, as 50% of its users are under 25 years old. And the best way to sell to young consumers like this is through social proof.
The primary focus of Snapchat was not social commerce in the past, but now Snapchat shows shoppable ads. They have encouraged augmented reality (AR), also known as AR lens, with interesting social commerce possibilities. As per reports, more than 170 million Snapchat users engage with AR on the platform daily.
Users can digitally try on clothes, makeup, sunglasses, or any shoppable product with an AR lens. You still need to click outside Snapchat to make the purchase, however.
Further Reading
Twitter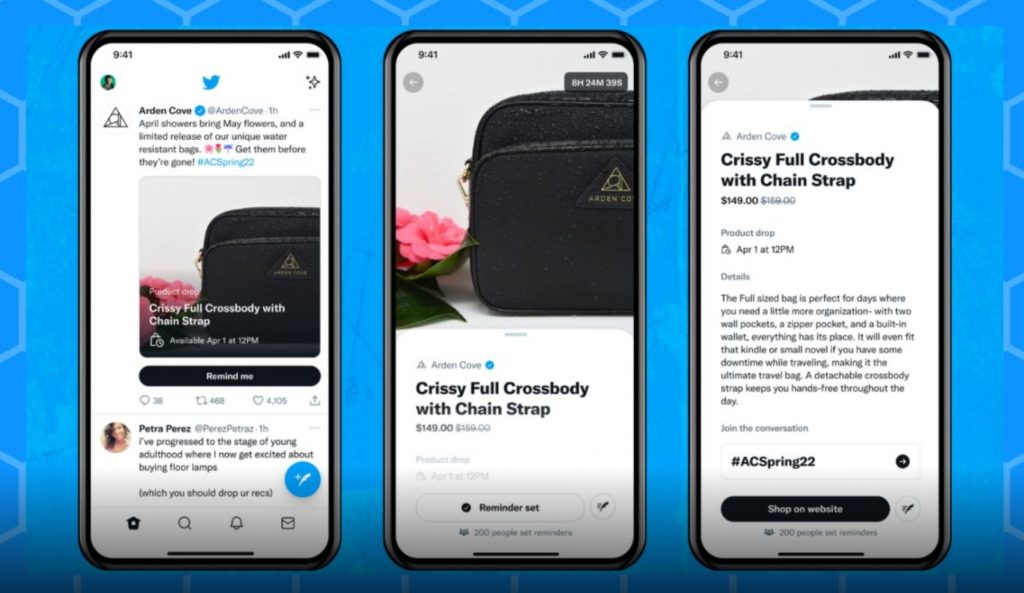 Twitter is another powerful social media platform for e-commerce businesses, with over 800 million users. Moreover, research indicates that around 52% of Twitter users have purchased products after seeing their ad on Twitter, and over 81% admit that Twitter plays a significant role in influencing their buying decisions.
Twitter empowers e-commerce sellers to share details about their products and services and link them to the product pages. It is the best way for businesses to start interacting with Twitter users and grab their attention.
Moreover, most users can directly tweet to an e-commerce brand for digital social media customer care for any issues they face. They can also call out their experiences, making Twitter the best place for providing quality social media customer services.
Best Practices to Use Social Media to Generate More Sales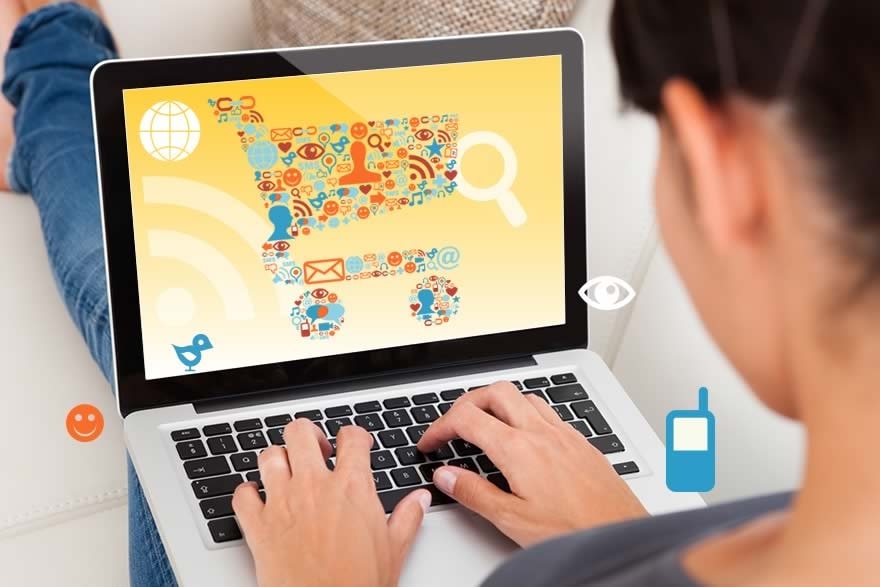 1. Build Brand Awareness
Social media is the best marketing channel to generate buzz and promote products, services, new stores, events, or promotions. And is an excellent platform to engage in conversations with your target audience.
Creating a consistent posting strategy with a unified brand voice and message is essential to build brand awareness successfully. Engage with hot-selling topics, make the best use of social media hashtags, and direct conversations with users. Publish posts on multiple channels and in various formats.
Follow these tips to build brand awareness:
Showcase your personality and values
Be consistent in your messaging
Speak to the right people
Demonstrate your value
Respond to feedback
Brand building example: tentree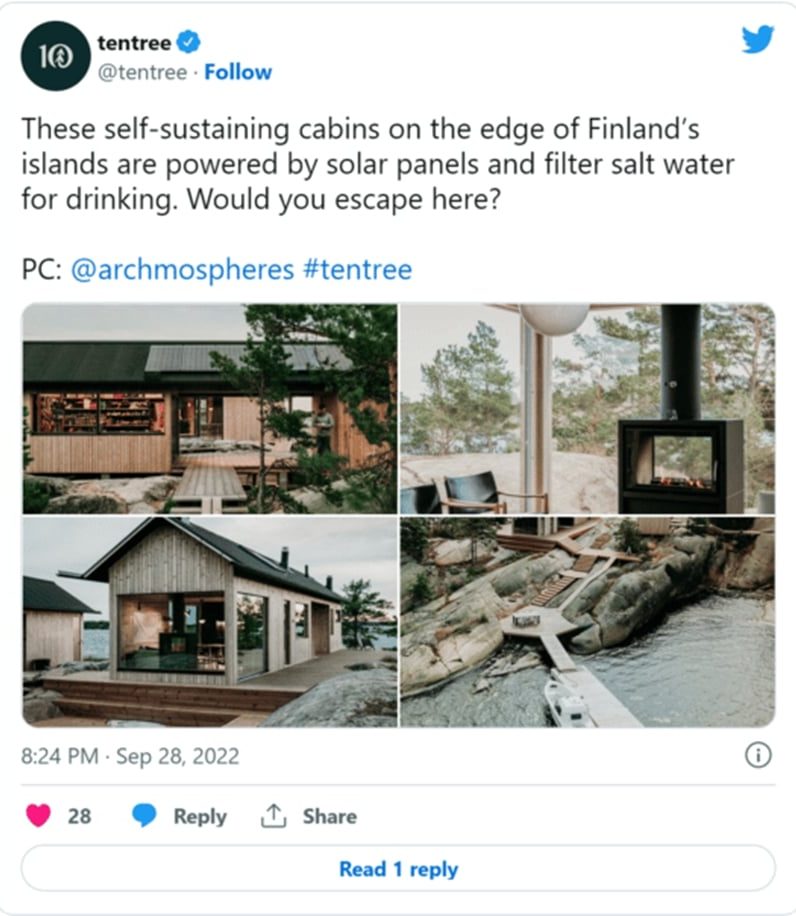 The above tweet from Tentree, a clothing company that promotes sustainability, is the best brand-building example. It showcases self-sustaining cabins in Finland. While the post doesn't directly promote Tentree's products, it is aesthetically pleasing and inspiring and reinforces what the brand is all about.
2. Advertise
There's no denying that social media is the most powerful advertising channel. The ad reaches globally on social media is gigantic and growing by leaps and bounds.
As per Hootsuite's reporting, here's the ad reach by social media:
2.17 billion on Facebook Ads
1.44 billion on Instagram Ads
1.02 billion on TikTok Ads
849.6 million on LinkedIn Ads
The audience range is enormous, which is why these social media channels have robust targeting and segmentation tools. Follow these steps to advertise effectively on social media:
Identify your target audience and market.
Layer targeting parameters to zero in on the specific audience
Create a compelling content strategy to engage with them
Define your social media KPIs and goals for each channel
Specify the proper conversion metrics
Pick the ad types that align with your goals
A goal to drive brand awareness is best suited to image, video, and carousel ads that drive store visits, ad impressions, and engagement. To drive sales, go with the product, collection, or shopping ads that drive direct purchases and product page visits.
3. Sell Products Directly on Social Media
Social commerce has never been so accessible and business-friendly. Many social media apps now come with native built-in social selling capabilities. The rest channels partner with companies like Shopify to create social commerce tools.
Here, social media e-commerce marketing overlaps with social commerce, and social media's reach and brand-building power help lead to direct business.
Listed below are the benefits of using social commerce solutions:
Free set up
Create memorable, interactive, and personalized online shopping experiences
Streamline the sales process for a seamless experience
Extend the places where sales can happen
Enable headless commerce
Empower you to create live shopping experiences for users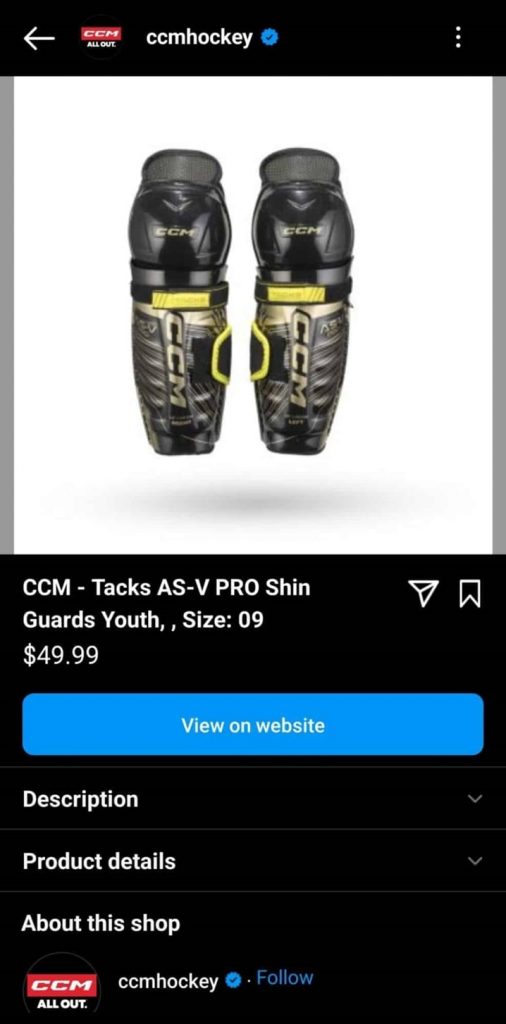 CCM is the best example of a shoppable ad's example. CCM's Instagram account is a direct blend of marketing and shoppable product placements. They showcase the professional hockey lifestyle and make the gear that NHLers use available in just a few clicks.
4. Customer Support and Services
Brands planning to expand their footprint and sales capacity on social media must also ensure to scale customer support operations, as customer service is now the new marketing.
Social platforms are ideal for nurturing and supporting existing customers. And social media have become a de facto customer support channel for most major brands.
Customers may come to your social media profile to:

Search information
Ask questions
Give feedback
Engage with your content
Offer insights into what they want
Brands—and social media managers—must be prepared to handle those incoming DMs, messages, and comments.
Ray-Ban gives us a good customer support example. Being on social media opens brands to all kinds of feedback—positive and negative. And, Ray-Ban is an excellent example of responding to a particularly hostile comment directly and immediately trying to find a solution.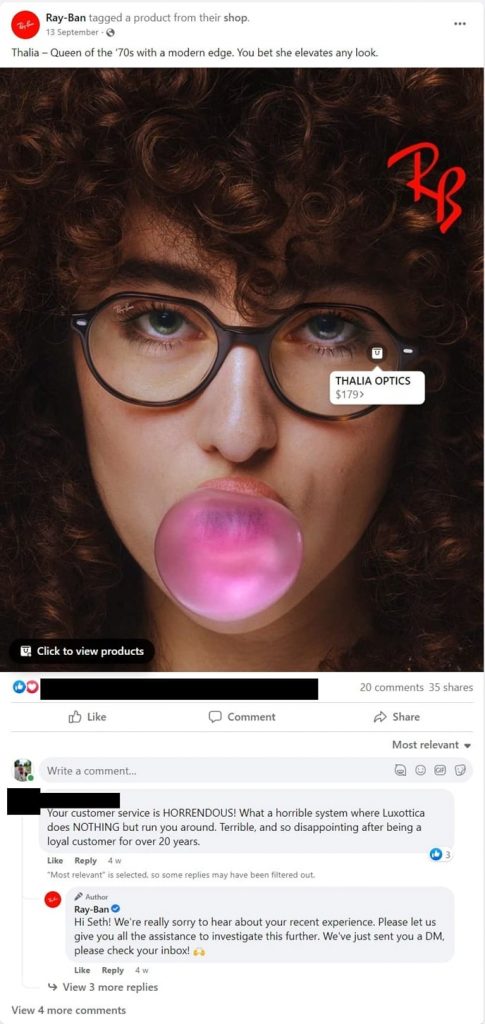 How Juphy Supports E-commerce Businesses for Customer Service and Social Media Management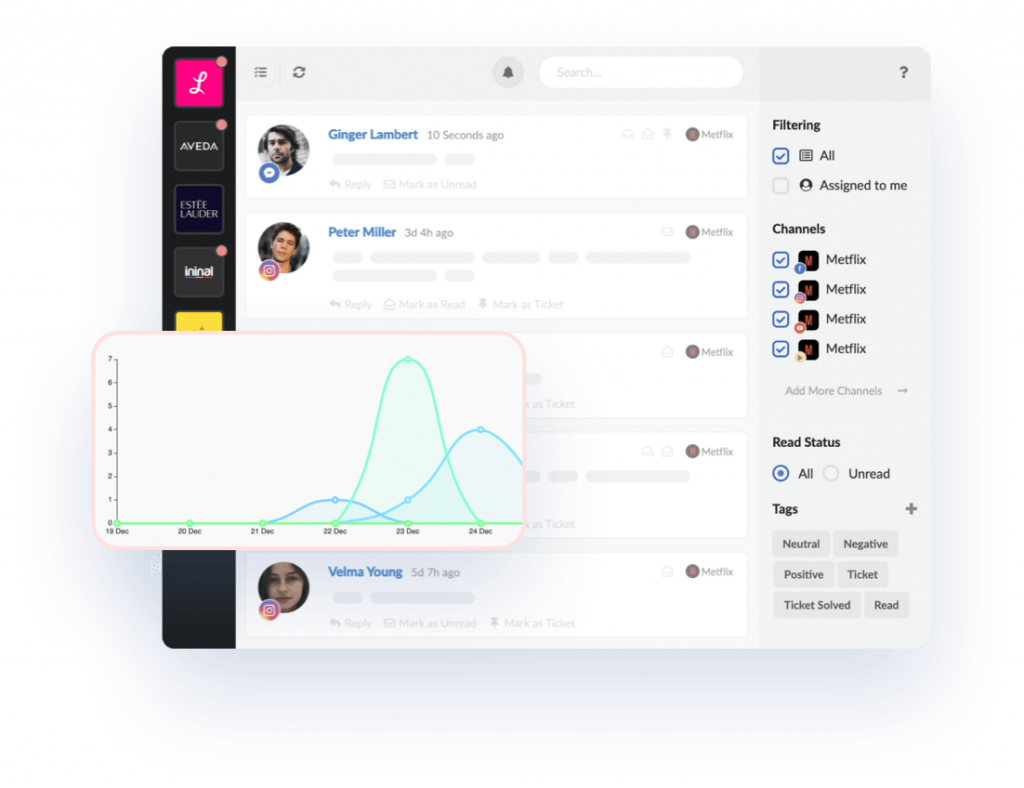 Juphy helps e-commerce businesses of all sizes (including solopreneurs!) schedule and publish posts, engage with their followers, and track success across platforms from a single, easy-to-use, interactive dashboard.
Juphy's suite of social media tools is designed to simplify your brand marketing, accelerate sales, and streamline customer service. Here are some Juphy features that e-commerce brands find particularly useful:
Social Inbox: Meet your customers where they are at. View and manage your customer conversations in one unified dashboard, and offer seamless and personalized customer support services.
✅ 1-Click Setup
✅ Fully Featured Social Media Inbox
✅ Designed for Teams
✅ Real-Time Notifications
Team Collaboration: Improve customer satisfaction through efficient collaboration. Working on your unified inbox collaboratively as a team will help to improve your social media customer support performance and productivity on all communication channels.
Assign Conversations: Streamline all your social media conversations and assign tickets to the right team members. Add internal notes about customer conversations and discuss customer queries behind the scenes with teammates before replying.
Performance Reports: Identify areas of improvement and measure your customer support performance with actionable and insightful reports based on your customer interaction data.
Canned Responses: Create your canned responses to frequently asked questions and answer your customers faster with Juphy, thereby reducing the response time and boosting social media customer support

David Hooper
Production Expert
"Juphy has been great for my connection with customers and social media followers as it allows me to put everything in a single "inbox" and easily reply via multiple channels at the same time. Customer service and communication have been great and it's something that I use daily. I highly recommend it for anybody doing social media or in need of a good customer service option."
✓ Product Hunt Verified Review
Wrapping Up
Social commerce is a pot of gold at the end of the e-commerce rainbow for businesses. Social media platforms are evolving to remain enticing and engaging for users and brands. And engaging on social media is more than just a trend. It has become the standard that customers expect from brands.
This blog will play a significant role in helping you maximize your social media platform to improve your e-commerce conversion rates.
Moreover, Juphy can be the core pillar to boost e-commerce growth via social media and develop a meaningful relationship with these social users by providing social media engagement and customer support services.
Start your 7-day free trial today.
FAQ
1. What is social commerce?
Social commerce is the use of social media platforms to sell products and services directly to consumers. It allows users to discover and purchase products within the social media platform rather than being directed to an external website.
2. What are some best social media platforms for e-commerce?
Facebook with 3.5 billion monthly active users, Instagram with over 2 billion active users, Twitter with around 800 million users, Pinterest with over 445 million monthly active users are some of the social media platforms best for e-commerce growth.
3. List the best practices for using social media to generate more e-commerce sales
* Build brand awareness
* Advertise
* Sell products directly on social media
* Customer support and services
4. How do businesses benefit from social commerce?
Businesses can use social commerce to increase brand awareness, connect with target customers, and promote products through organic posts and targeted ads. It also provides a seamless in-app buying journey, which can lead to increased conversions and sales.
5. How can businesses effectively use social commerce?
Businesses can use social commerce effectively by offering discounts and promotions, providing personalized buying options, using striking graphics and product descriptions, and encouraging user-generated content such as reviews and recommendations. This can create a mini-shopping experience on the users' social pages and motivate them to shop by interacting with the products and services.
Create Your
Social Inbox Now
Manage all social media customer support inquiries in a unified inbox.
Related Article – Customer Connection: Importance and Best Practices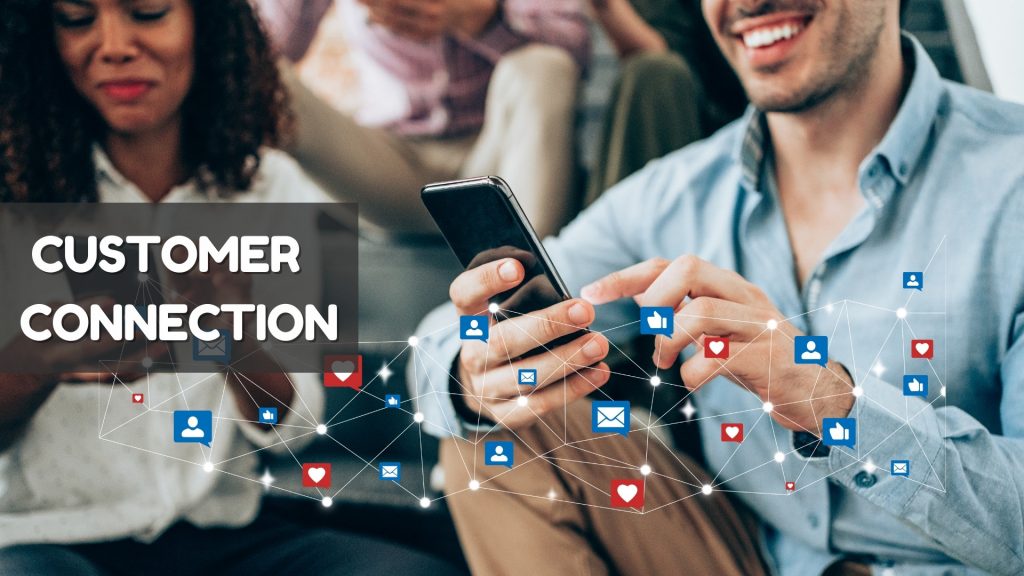 Discover the importance of customer connection and learn 10 best practices for creating strong customer relationships. Read more now!