When I want to make an online purchase on a website, I make a beeline for one section on the product's page. No, it's not the product image or the product description but the ratings and review section. 
I'm obsessed with reading reviews — only until I've had my fill of the product's reviews do I then go over the other elements of the page to make my choice. Reviews are the social proof that shoppers need to affirm their buying decisions.
It builds their trust in the seller and convinces them to either make the purchase or run far from the store. Did you know that reviews are so essential that 61% of online shoppers in the United States always check them before making a purchase?
It is, therefore, evident that for your Shopify customers to come to trust your offers, they need proof that you're legit. We'll see clearly how you can make this happen by adding reviews to your Shopify store.
Create Your
Social Inbox Now
Manage all social media customer support inquiries in a unified inbox.
Understanding the Importance of Reviews on Your Shopify Store
How do those shiny 5-star ratings and positive reviews affect your Shopify store? Let's see.
Boosting Brand Credibility
The way customers view your brand is very important. People tend to trust a brand more when it is open about customers' experiences with its products and services. On Shopify, customer reviews serve as a form of social proof.
You'd be more likely to purchase a product after 200+ people have testified of its quality and their overall experience patronizing that particular brand. A product with even as few as 10 great reviews on your website appears more trustable than one with none — 69% of consumers affirm this.
Leaving reviews on your Shopify store imprints positive impressions on shoppers. It contributes positively to your brand's reputation and can help present your brand as authentic.
Enhancing Customer Engagement
Customer engagement is paramount in e-commerce. Adding customer reviews to your Shopify store can help improve how customers engage with your brand. Reviews offer SEO benefits, for instance. When customers leave reviews, especially reviews with relevant keywords, it can help your SEO rankings, and more customers will find your store.
Customer reviews can also provide an interactive experience for shoppers on your Shopify store. Many shoppers are interested in the feedback given by other customers who have purchased a product to help them make an informed decision.
This means more customers (like me) will spend more time on your Shopify store if product reviews are available.
For example, consider a review where a customer mentions how your eco-friendly packaging made a big difference. Not only does this review add a personal touch, but it also helps in enhancing your store's SEO with relevant keywords like 'eco-friendly packaging.
Increasing Conversion Rates
The conversion rate is the percentage of visitors who take a desired action, usually making a purchase. Customers often depend on product reviews to make a purchase decision. In some cases, the presence or absence of customer reviews might be the last factor that will determine whether a customer will purchase a product or not. 
Before paying for a gadget, most consumers go online to watch multiple review videos to assure themselves of the product's quality and features and whether it meets their needs. It works the same way with e-commerce.
Detailed customer reviews on your store can help the buyer decide if your product is what they're really looking for; if they're satisfied with the reviews, they buy. This, in turn, boosts your conversion rates.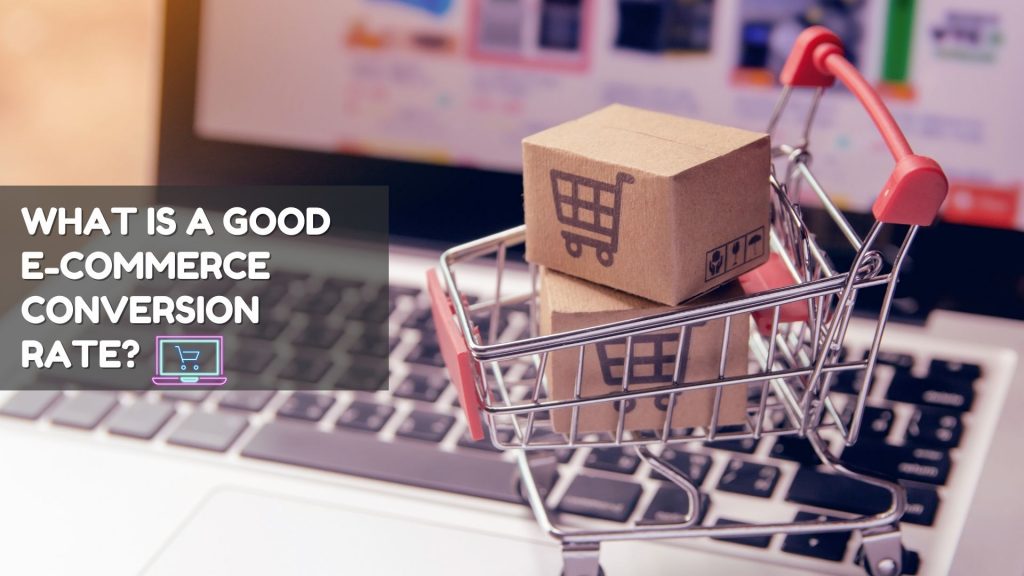 Preparing Your Shopify Store for Reviews
By now, you should be convinced about adding reviews to your Shopify store, so let's see how to prepare your storefront for reviews.
Enabling Reviews on All Products
First, check if reviews are enabled for all the products in your store. To enable customer reviews on all products, click the Customer Accounts tab under settings. Then, enable the option to allow customers to create an account on the checkout page. This will enable reviews on all products. 
Choosing the Right Review Platform for Your Store
The next step is to select a suitable review platform. Various platforms offer different functionalities, benefits, and pricing options. Look out for a review platform that's easy to use and manage. Also, the tool's ease of integration with Shopify is key.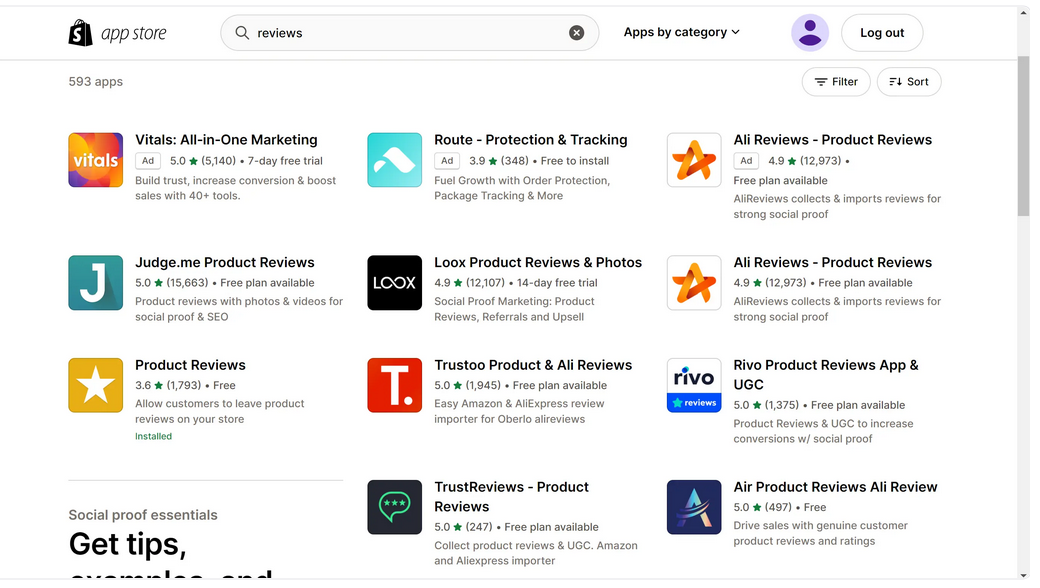 Ensure it offers enough room for customization and that it's user-friendly. Lastly, choose a platform with affordable pricing, a free trial, or a money-back guarantee.
Adding Reviews to Your Shopify Store
It's quite easy to add reviews to a Shopify storefront. In this section, we'll look at the available options for adding reviews to your Shopify store.
Manual Customization vs. Third-Party Apps
The major options for adding reviews to your Shopify store are manual customization or third-party apps. If you're more tech-savvy and willing to experiment, you can modify the theme settings and adjust the code to enable product reviews on your Shopify store. One major benefit is that this allows you to customize the appearance and functionality of the review page to your taste.
There's a downside, though. Doing this can affect your store's functionality and the compatibility of the review setting. Another option is to go for third-party review apps. These applications are readily available on the Shopify App Store.
You can use them easily since they are designed to work perfectly on Shopify. Also, these review apps offer integrations with other social media platforms, marketplaces, and management tools. However, keep in mind that most of these third-party apps charge a monthly fee for their services.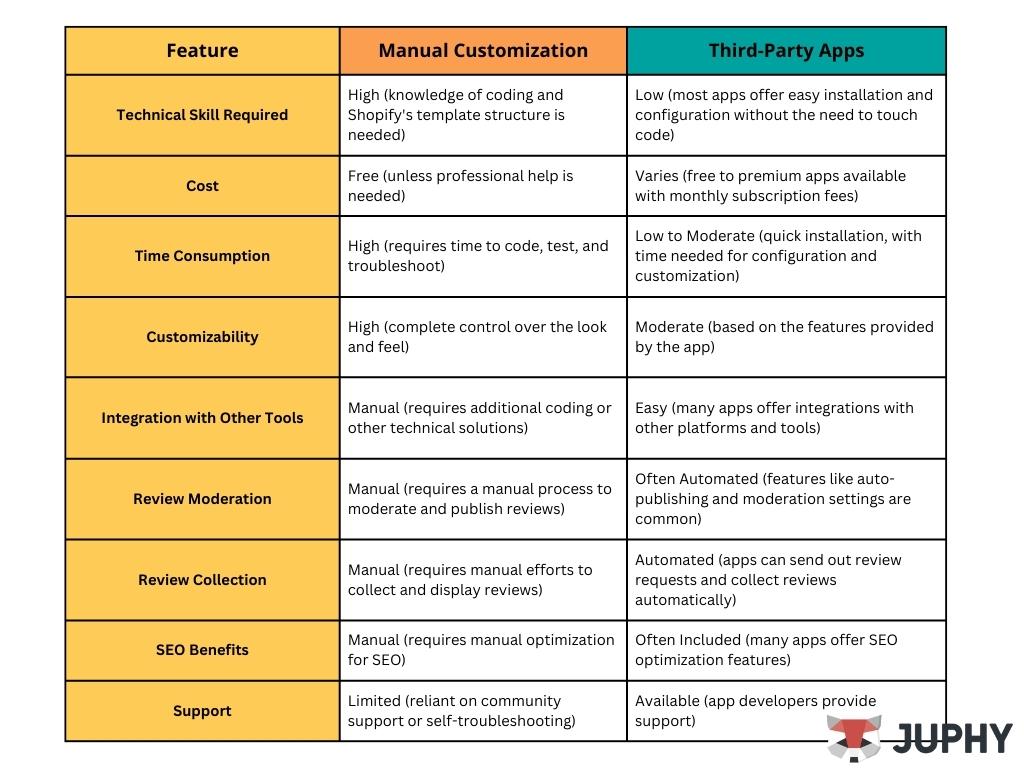 Configuring and Customizing the Review Widget
The review widget displays customer reviews on your Shopify page. You can adjust the appearance and widget settings to suit your taste. Many review apps offer the option to customize the theme, font, language, star color, and other features depending on the review app.
You can also adjust the moderation settings. In clearer terms, you can choose whether you want every single review you get to appear on your page or not. In our opinion, it's best to control the reviews that appear on your Shopify page to create a better first impression for customers.
Automating Review Gathering Process
Imagine not having to chase every customer for a review; sounds relieving, doesn't it? Automation tools can do the chasing for you.

Efficiency is key in managing an e-commerce platform like Shopify. Automating the review-gathering process can free up some of your time for other crucial tasks. There are tools available that can send out automated email requests for reviews following a purchase. Additionally, consider leveraging apps that can collect and display reviews without manual intervention. This way, you keep the reviews flowing in while also focusing on other aspects of your business.
Importing Existing Reviews from Other Platforms
Additionally, you can import existing product reviews from other platforms. You can do this through the Product Reviews App on Shopify. This is a free app from Shopify that lets store owners import reviews after downloading CSV files.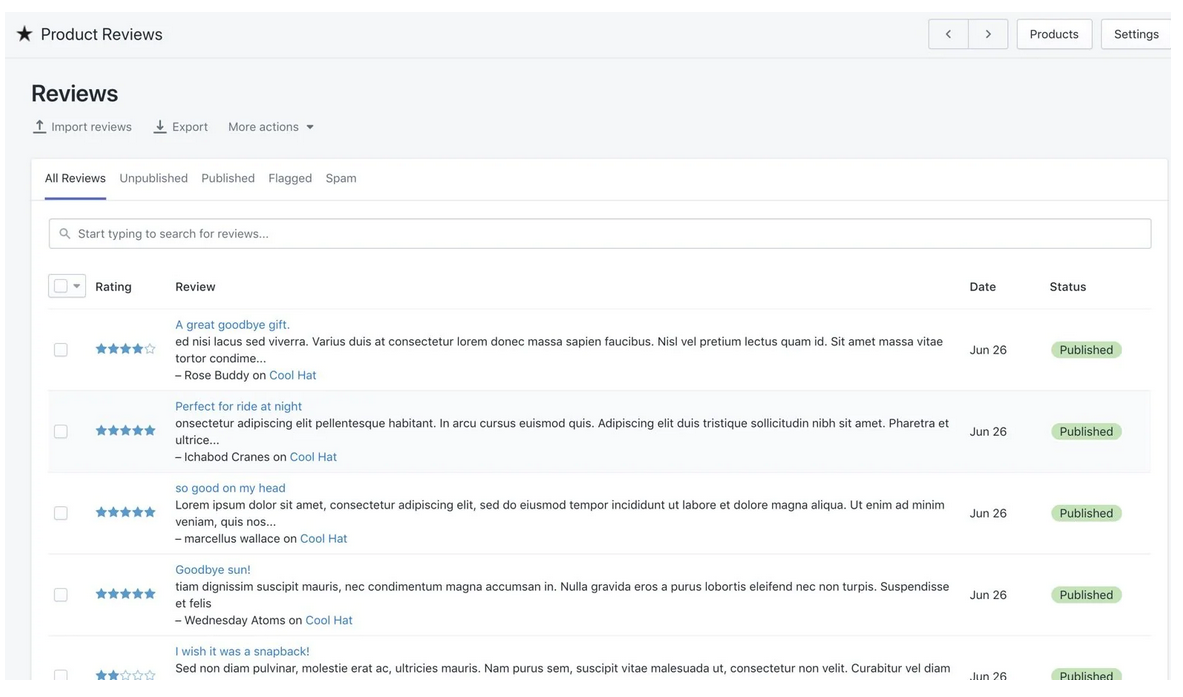 After installing the app, you can select the CSV files containing customer reviews. You'd need to ensure all the details belong in the right column in the spreadsheet, after which you can complete the process.
You can also import reviews from other platforms such as Google Reviews, Amazon, AliExpress, and more using third-party apps available on Shopify. Here's a video that details how to do this simply using the Alireviews app:
Leveraging Third-Party Review Apps
Eager to show how customers love your products? These tips will help you make the most of the available third-party review apps for your Shopify store.
Selecting the Right Review App Based on Features, Downloads, and Ratings
There are numerous third-party review apps on Shopify. When selecting one, watch out for these key things.
Firstly, ensure the review app has ample features offering functionality and customization. The review app should allow you to tinker with the appearance and review moderation. Also, look out for popular apps with high downloads. This shows other merchants have found it helpful.
It sounds strange, but you should also consider the customer reviews before choosing a third-party review app. Choose only highly-rated review apps for your storefront.
Integrating the Review App with Shopify
After you've chosen a good review app for your Shopify store, the next step is integrating the app with Shopify. You'd need to install and create an account in the app. Then, modify the settings based on your preferences.
The process may vary depending on the app. However, the review apps on Shopify's store have been designed for easy integration with Shopify. You can easily add the review widget code to your store and watch it work.
Extending the Reach of Reviews Through Social Media and Email Marketing
Customer reviews have no benefit if they don't get across to people who should see them. Social media offers the opportunity to extend the reach of the reviews on your Shopify store. Even better, many review apps have integrations with social media platforms such as Facebook, Pinterest, Twitter, etc.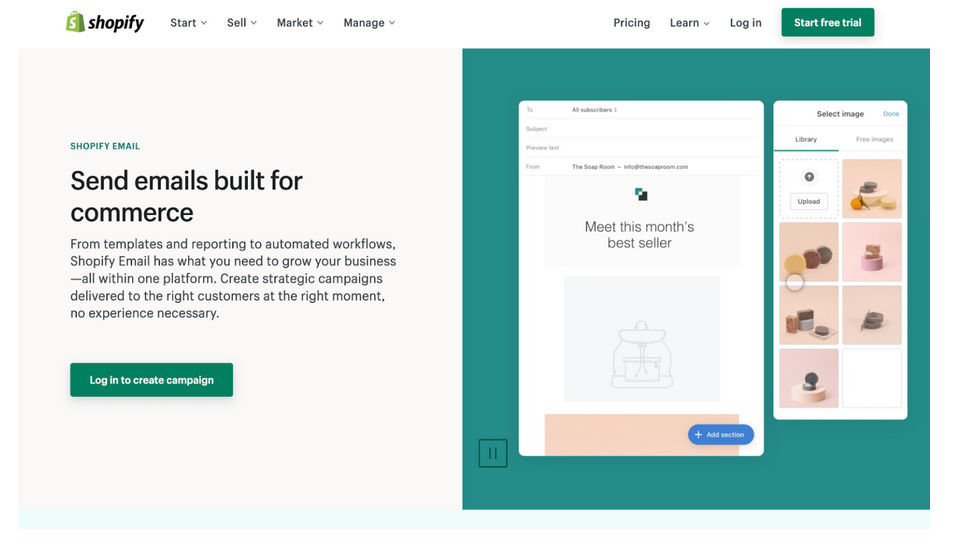 You can employ email marketing tools such as Shopify Email to engage customers using customer reviews and testimonials, too.
Here's a hack:
While offering a personalized product recommendation through email, you can include customer ratings to encourage the subscriber to make a purchase.
Analyzing the Impact of Reviews
Customer reviews are no doubt crucial to brand credibility, trust, and, ultimately, conversions. After you've selected a review app and valuable customer reviews keep streaming in, it's important to know how to use them the best way.
Monitoring Review Ratings and Feedback
Ensure you pay close attention to the stars or numerical ratings on your Shopify store. Shopify offers analytics tools that can help to track your customer feedback and review ratings.
Utilizing Reviews for Product and Service Improvement
Apart from using your reviews to drive customer engagement, trust, and conversions, you can also use customer reviews to improve your products and services. Identify what customers do not like about the products you offer or their overall shopping experience and create a strategy to improve on that.
Conclusion
Customer reviews greatly influence the impression shoppers have about your products on Shopify. Through customer reviews on your store, you can boost brand credibility, enhance customer engagement, and increase your conversion rates. Choose from any of the many review apps on Shopify — with the right tool and the right words, you can reap the benefits of customer reviews over time.
Create Your
Social Inbox Now
Manage all social media customer support inquiries in a unified inbox.