Gone are the days when only huge brands could promote their products through the use of influential figures. While celebrities are still an exclusive group that is reserved for more prominent brands, now everybody can actually be famous for at least 15 minutes and collaborate with a brand to endorse their products to a highly engaged audience. And brands, regardless of size, can utilize influencer marketing to broaden their reach through a diverse range of content creators across various social platforms. Fun fact: According to Hubspot's The State of Consumer Trends in 2023 report, "30% of 18-24-year-olds and 40% of 25-34-year-olds call themselves content creators". Not all of these content creators are necessarily engaged in branded content, and many brands may not even be aware of their presence despite the potential appeal of these "micro-influencers" to their specific target audience. This untapped potential can be effectively harnessed through an app like Shopify Collabs.
Create Your
Social Inbox Now
Manage all social media customer support inquiries in a unified inbox.
Introduction to Shopify Collabs
Shopify Collabs is an app designed to bridge Shopify store owners and influencers for affiliate marketing endeavors. Launched in August 2022, the app is free to install both for creators and Shopify merchants, but it currently operates in the US, UK, and Canada. Creators with at least 1,000 followers on a single platform are eligible to join. For brands, it is an all-in-one solution to select and recruit macro and micro-influencers, manage their collaborations, and automate the payment process.
Definition and Core Purpose of Shopify Collabs
In the simplest terms, Shopify Collabs is an "influencer marketplace" for brands, and for content creators, it is a gateway to new opportunities, exposure, and potential revenue streams. Shopify store owners can search among an extensive library of content creators and select the ones that align with their brand objectives. The selection criteria cover category, location, size of their audience, engagement rates, channels, and more, and eliminating an exhaustive search process for the correct content creators is only one of the benefits of Shopify Collabs for merchants.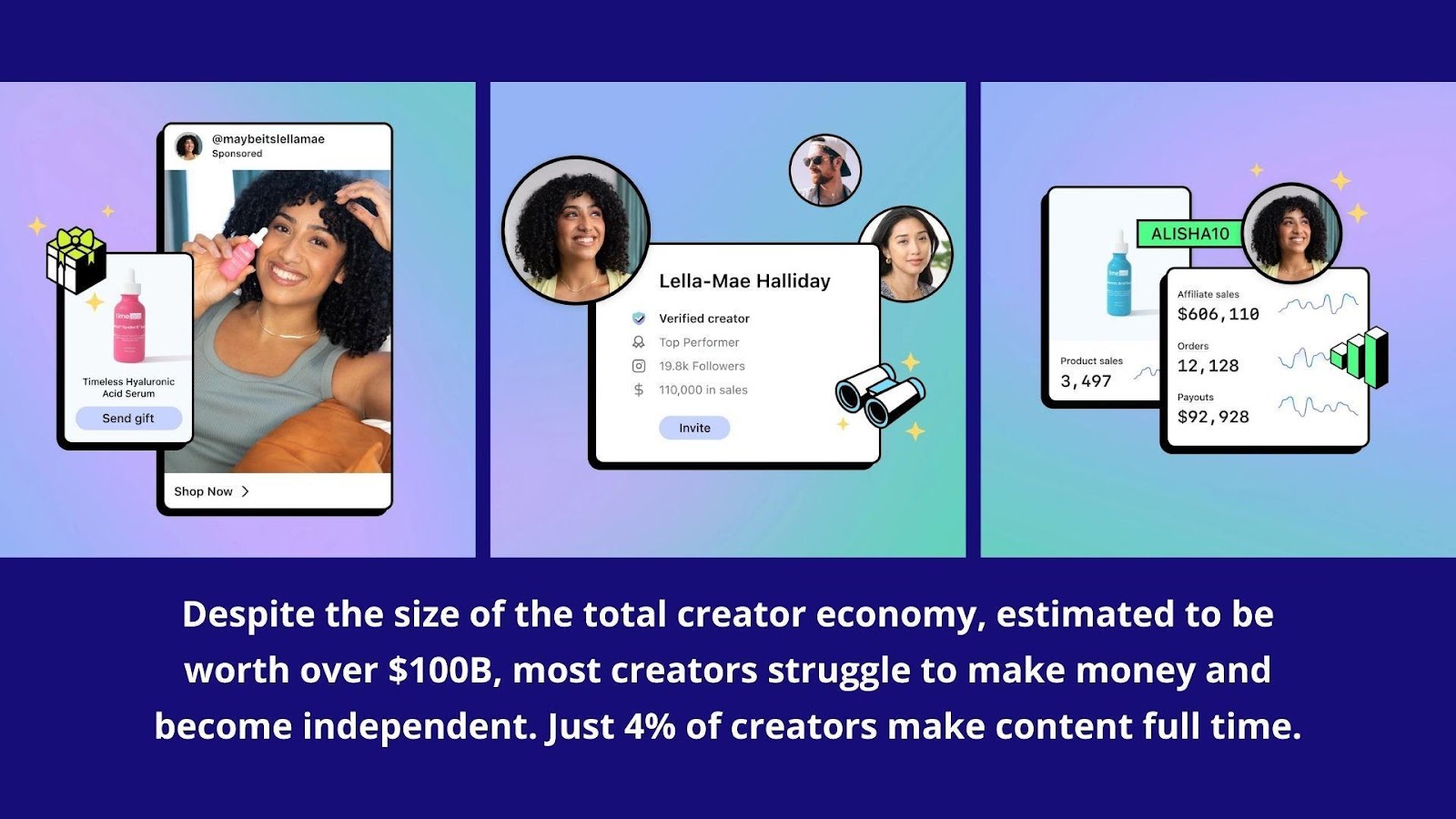 But when it comes to "core purpose," Shopify explains it as bringing economic independence to the new generation of entrepreneurs. On Shopify Collabs, content creators can discover new products related to their interests and receive samples and gifts to test and make content with. Or they can promote the products they already use and love and reap the benefits of their devotion to the brand.
The Emergence of Shopify Collabs in the E-commerce Landscape
Shopify Collabs may not be the first of its kind, but Shopify's deep-seated experience and reach as an e-commerce platform makes the app a robust alternative among competitors. While it offers a comprehensive set of business solutions, along with innovative products, Shopify also established a sizable, engaging community over the years.
The relatively new product, Shopify Collabs, creates a more fruitful e-commerce environment both for the merchants and for the content creators of this community. It enables the merchants to extend their reach to specific customers who show their interests through the content they consume and get data-driven results of their influencer marketing endeavors through affiliate links. Creators also benefit from the app as it stands as a showcase for talent, empowering them to spare more time to create content instead of discovering brands and dealing with the cumbersome process of establishing partnerships. As Shopify Collabs helps foster mutually beneficial partnerships, it bridges the gap between creators and merchants.
Bridging the Gap Between Creators and Merchants
Today, it is pretty easy for creators and merchants to get in touch and collaborate, thanks to technology. It not only enhanced production capabilities but also improved the overall quality of transactions. However, this convenience has led to a surge in participants, making it increasingly challenging to identify the most suitable partners amidst the bustling crowd of potential collaborators, creating a need for mediators.
Most creators don't fully support themselves, and obtaining the tools to create new content requires stable funds. On the business side, many micro-influencers who have the potential to make a greater impact on focused audiences at less cost can be easily missed. Eliminating the need for a mediator and helping save the resources for better content makes Shopify Collabs a democratizing figure in e-commerce marketing.
How Creators and Merchants Connect on Shopify Collabs
You can sign up on Shopify Collabs as a content creator or a Shopify merchant. Installation is free for both sides. Creators only need to sign up and provide their profile details. When they drive sales, they are automatically paid their commission. There is also an additional 2.9% payment processing fee payable by the merchant.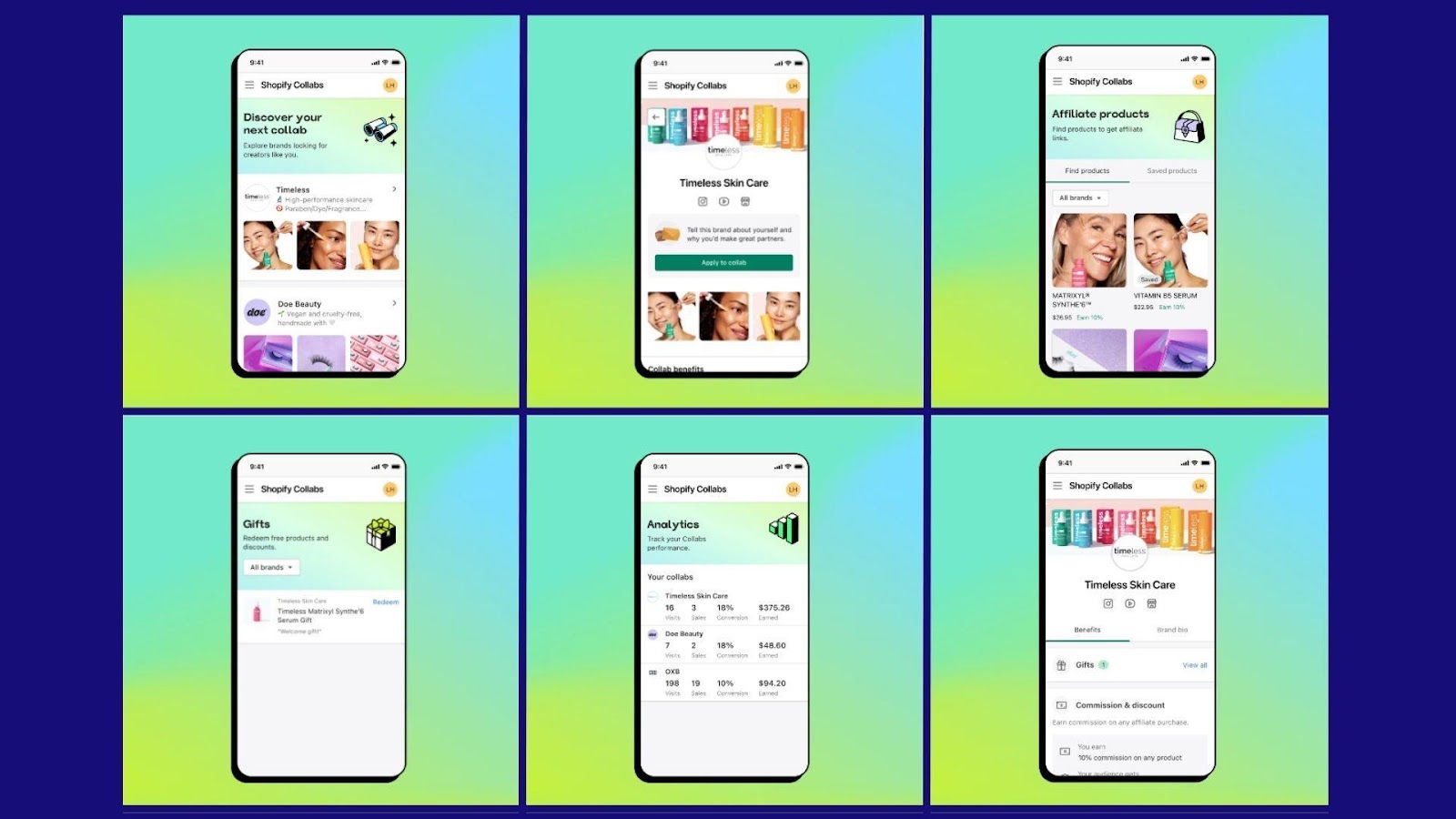 Shopify Collabs connects merchants and creators through the following:
Database search: Millions of influencer profiles are on the platform, selected with stringent qualification criteria. Businesses can search and filter the content creators that fit their brand values and business objectives.


Application survey: Choosing the right influencers among many and contacting each can be time-consuming. Businesses can set up a custom survey to see if the applicants fit the criteria and accept applications in a more informed manner.


Direct invitations: Merchants can contact trending and high-performing influencers on the platform directly or invite those they already work with to the platform. Creators can also apply to collaborate with the brands of their choice as long as they are available on Shopify.


Collaboration details: When creating their partnership requests, businesses can specify the campaign details, such as budget, duration, and type of promotion (affiliate marketing, product bundling, etc.)


Affiliate links and codes: Merchants can create unique affiliate links for the influencers to share with their audience. When customers buy the products through these links, creators get paid automatically. Since affiliate marketing is a performance-based advertising model, you can track the performance of your creator team via analytics and establish structures that reward top-performing affiliates with higher commissions.


Gifts and samples: Sending samples for the content creators to try out is an excellent way of product seeding. You can also send gifts and create deeper relationships for further collaborations. The process is made easier by eliminating spreadsheets since the creators can choose options like color and size and provide their shipping address on the platform.

This direct connection between businesses and content creators benefits both parties because it reduces costs, enhances visibility, and smoother the collaboration management process from initiating conversation to billing.
Monetizing Social Influence: The Win-Win for Creators and Merchants
In one of our earlier blog pieces, we explained why social proof is one of the most valuable forms of advertising a brand can get. The sincerity and authenticity of the user-generated content is one of the most significant trust signals and a massive force in driving sales. According to Hubspot, 40% of respondents from Gen Z "have bought a product thanks to an influencer in the past three months, and they say recommendations from influencers are more impactful to their purchase decisions than recommendations from their friends or family."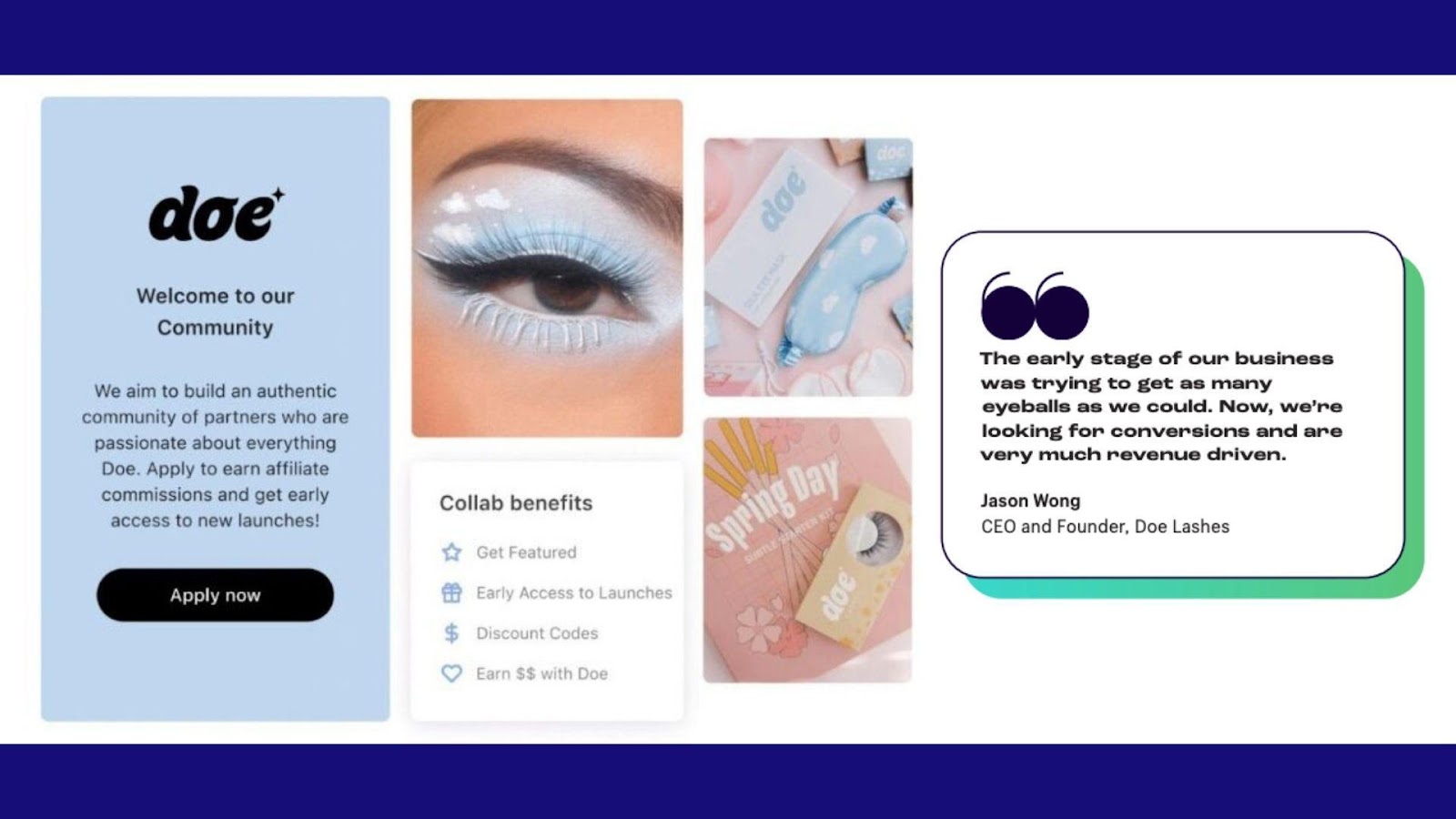 Not every brand can afford marketing campaigns that star celebrities; depending on their scale, they don't need to. By targeting specific audiences and collaborating with the influencers, they can deliver brand messages more sincerely and cost-effectively. The collaborative ecosystem empowers influencers to access the resources to create content that generates real value. While they get the opportunity to monetize their influence, merchants get to access niche audiences effectively at a time when acquiring customers has become increasingly complex and expensive.
Shopify Collabs app allows users to manage this monetization process efficiently. The easy-to-use data tracking and revenue management dashboard calculates the earnings, expected payments, performance metrics, and other details automatically. As well as visualizing insights, the app identifies gaps to improve performance.
Shopify Collabs is an easy-to-use app with a clean, intuitive interface. First of all, you need to install the Shopify Collabs app. As mentioned before, it's free for all. The signup process can be a little daunting for the creators, but providing detailed information improves understanding between parties, as well as the quality of collaborations.
As Collabs operates within the Shopify ecosystem, it streamlines the entire process through centralized management within the merchant's Shopify admin. This easy integration ensures that inventory, order, and customer data remain consistently updated, providing a real-time, comprehensive overview of the merchant's multichannel sales.
The whole process can be summed up in 3 steps:
1. Setting Up a Shopify Collabs Account
Supposing that you've installed and opened the app and also accepted the terms and conditions, you'll need to provide the following data to help Collabs match you with creators:
Your brand's product category.
The primary audience of your brand.
The countries that you are interested in working with creators from.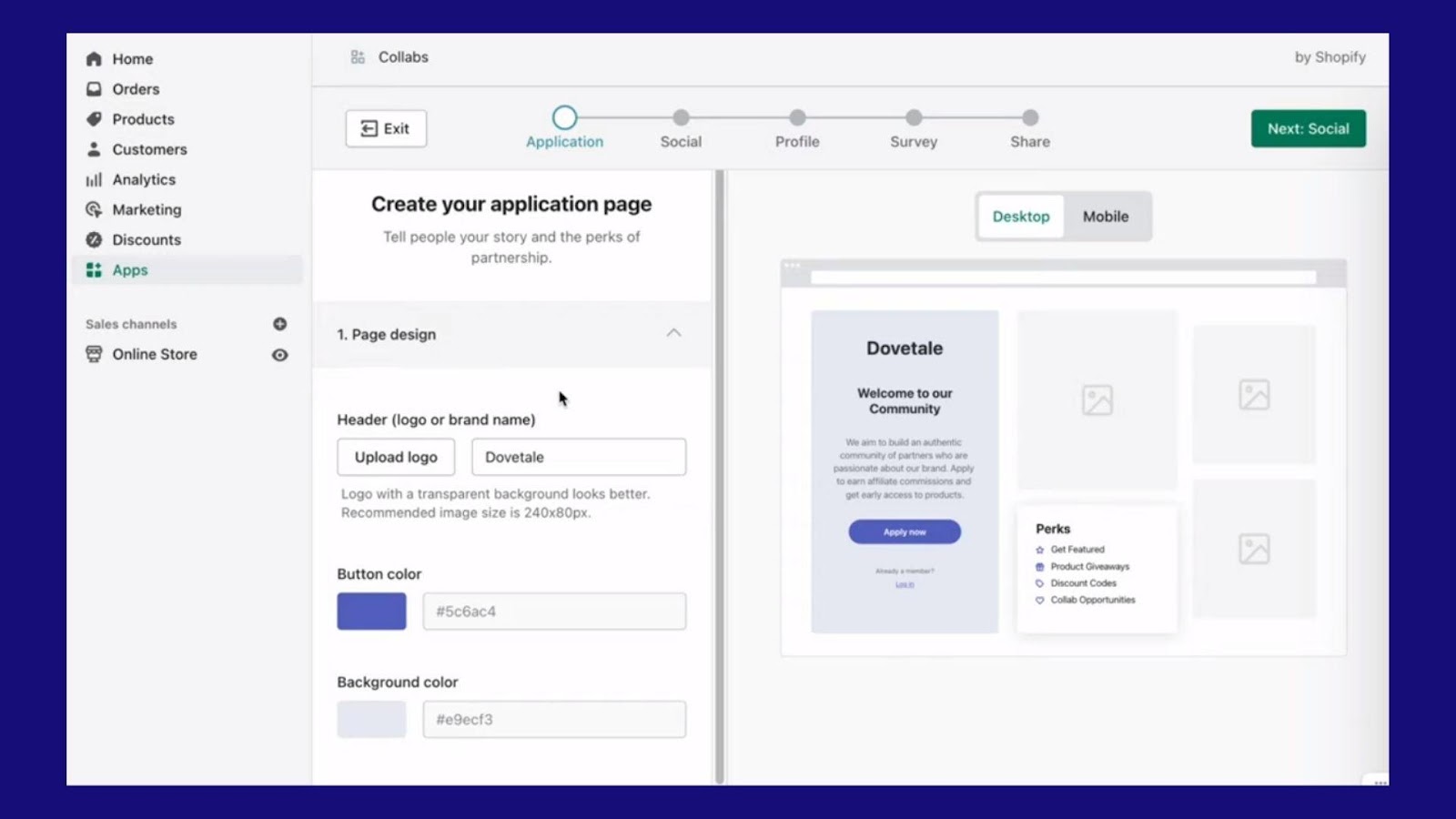 When you click the button, you finish the initial setup, which is only complete once you customize your profile details. Brand details, partnership information, social media accounts, and target market sections can be customized before you open the doors for collaborations. Then, it comes to making your profile more visible and promoting your Collabs community.
2. Discovering and Partnering with Brands
While creators can search for their favorite brands and place applications for projects, brands can also improve their visibility and recruit new creators in several ways:
Collabs Network: Collabs Network allows merchants to share their products with vetted creators instantly. But to be eligible for Collabs Network, you need to add at least one product and rate into Collabs Network settings, set up auto-payments, and have generated at least 10,000 USD in sales in the past 12 months.
Online store page: You can add your Collabs profile to your online store to give your customers the opportunity to collaborate.
Online store pop-up: You can add a floating button to your storefront to attract new creators to work with your brand.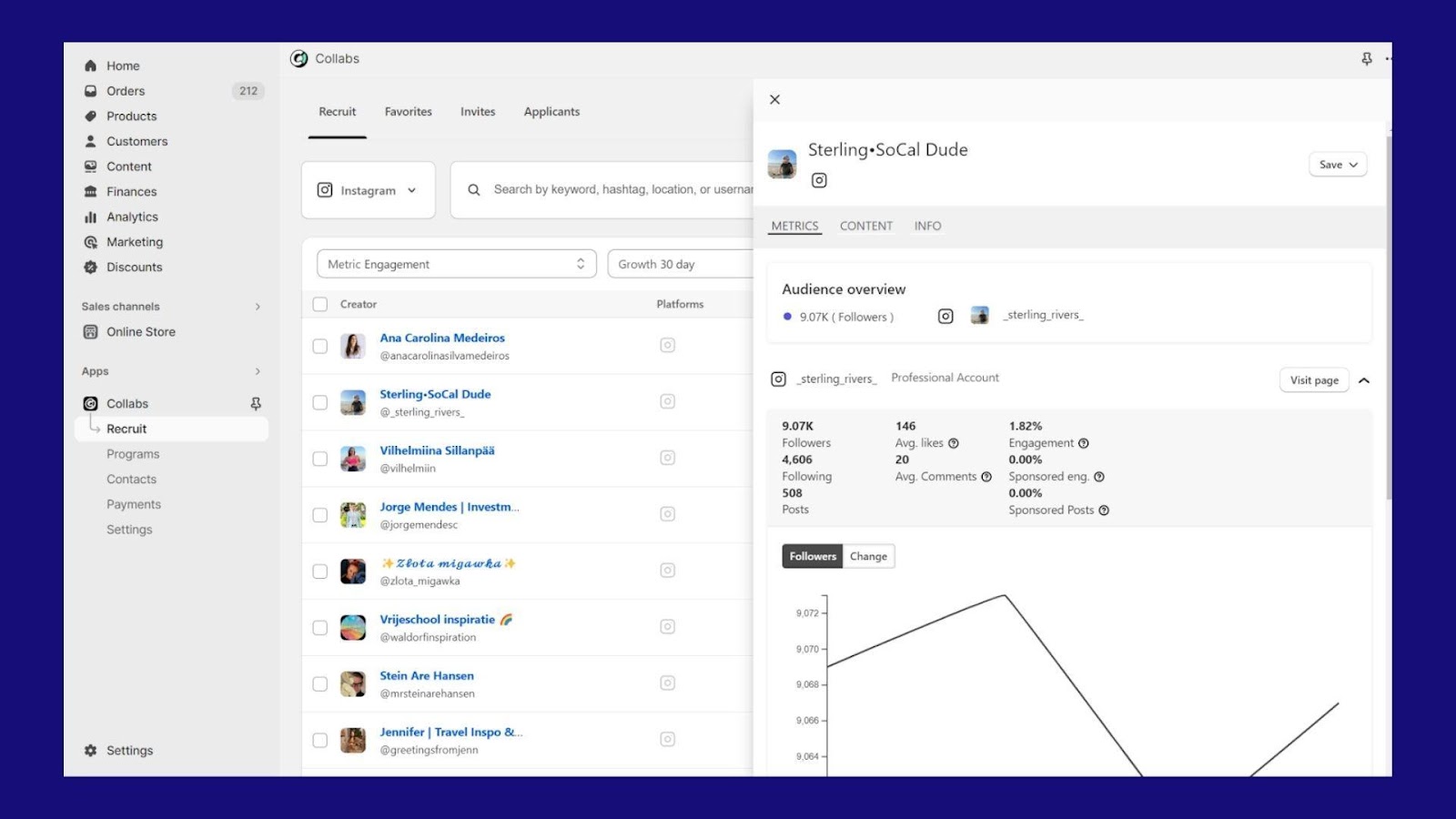 When you enable Collabs Network, you can establish a commission rate for all products or specific collections. Creators discover these products on the platform and can generate affiliate links without the need for prior approval. They get paid automatically monthly.
3. Sharing and Earning through Product Links
Shopify Collabs allows both the merchants and creators to generate affiliate links. As explained above, creators can generate unique links to the products they discover on Collabs Network. They can promote the brand's store or specific products on their own sites, social media channels, and email campaigns.
Merchants can make instant commission offers in the Collabs Network, or they can put up their online store page to collect affiliate applications. They can select based on audience size and engagement levels and generate unique affiliate links for each creator.
The Financial Framework of Shopify Collabs
Shopify Collabs is the rebranded version of Dovetale.com, founded by Mike Schmidt. Shopify acquired the company and the founder, and they teamed up to create a beneficial ecosystem for the merchants and creators. So, Shopify Collabs creates an automatic 10% discount and 10% commission tier, but businesses can customize the tears according to their resources and objectives. The system supports the influencers to create more authentic content and make a living simultaneously, and the best sellers reap the best benefits.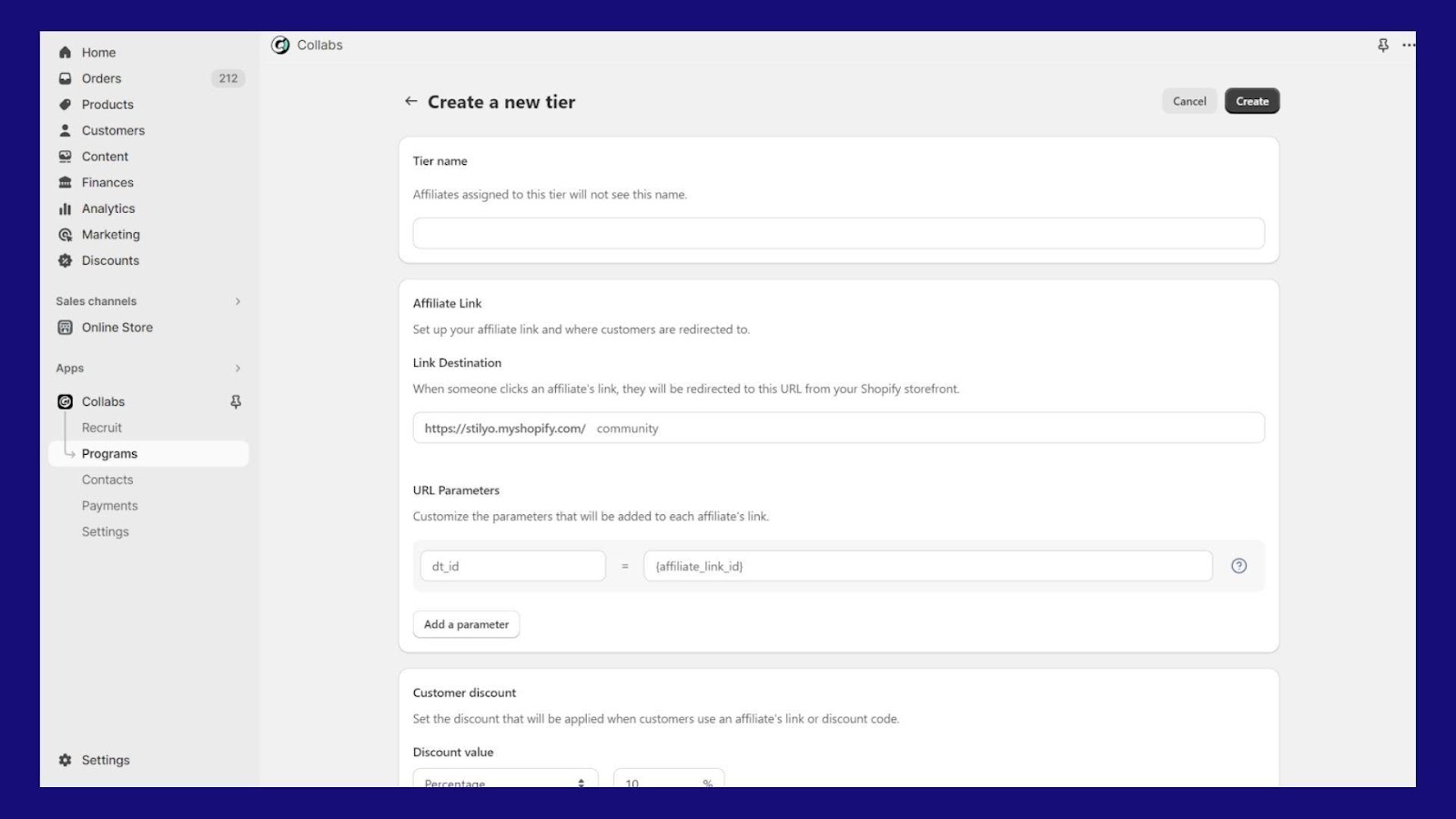 Payment Structures and Revenue Channels
For creators, there are two revenue channels on the platform. They can either apply to work with the brands they are interested in or discover products and generate their own affiliate links without needing approval from the merchant.
Suppose the merchant and creator make a collaboration deal through the platform. In that case, the creator can get better commission rates, discounts for followers, and raw material for creating content through samples and gifts. If they choose to create their unique affiliate links and start selling instantly, they get automatic commission payments every month for the sales they enable. What better way to monetize your content is by providing links to products you already use and love enough to suggest to others?
Analyzing Revenue Performance through Shopify Collabs
Shopify Collabs' clean interface allows both the merchants and creators to analyze and improve their performance and track link visits and sales. This data-driven approach enables merchants to gain insights into the effectiveness of influencer marketing campaigns. The platform provides detailed metrics, such as sales generated, commission payouts, and ROI, and helps businesses make informed decisions, optimize their strategies, and ensure a strong return on investment.
Conclusion
Finding the right people to represent your brand and improve your chances of social selling can be time-consuming and costly. Shopify Collabs offers Shopify merchants an effective way to reach wider audiences while discovering talented content creators who can help build trust and drive sales. Accessing a large and engaged community creates better income opportunities for the creators and better sales prospects for businesses. As an efficient solution that nurtures a win-win scenario, Shopify Collabs fosters stronger and more profitable partnerships in the world of e-commerce.
Create Your
Social Inbox Now
Manage all social media customer support inquiries in a unified inbox.