Messaging on social media plays an essential role in today's customer experience. Although people have a wide range of platform choices they use for different purposes, Facebook is still among the most popular ones when it comes to shopping and customer support. According to Datareportal, "Advertisers could reach 931.0 million users on Facebook Messenger in January 2023". Consumers from all over the world contact brands on Facebook Messenger to obtain information about products and prices, as well as seek support and deliver complaints. It's easy to imagine how much time and effort it requires from different brand teams to answer all those questions swiftly. Furthermore, even though social media never sleeps, those who answer the questions are also human, and they need to take a break from time to time. This is where Facebook Messenger Auto Reply feature comes into play.
Create Your
Social Inbox Now
Manage all social media customer support inquiries in a unified inbox.
What Is Facebook Messenger Auto Reply?
Auto Reply is a native feature of Facebook Messenger, and as the name suggests, it delivers short, automated responses to people on a number of occasions. The most common use cases of auto replies are welcome and away messages, but they can provide answers to frequently asked questions and deliver the brand's contact information and location as well.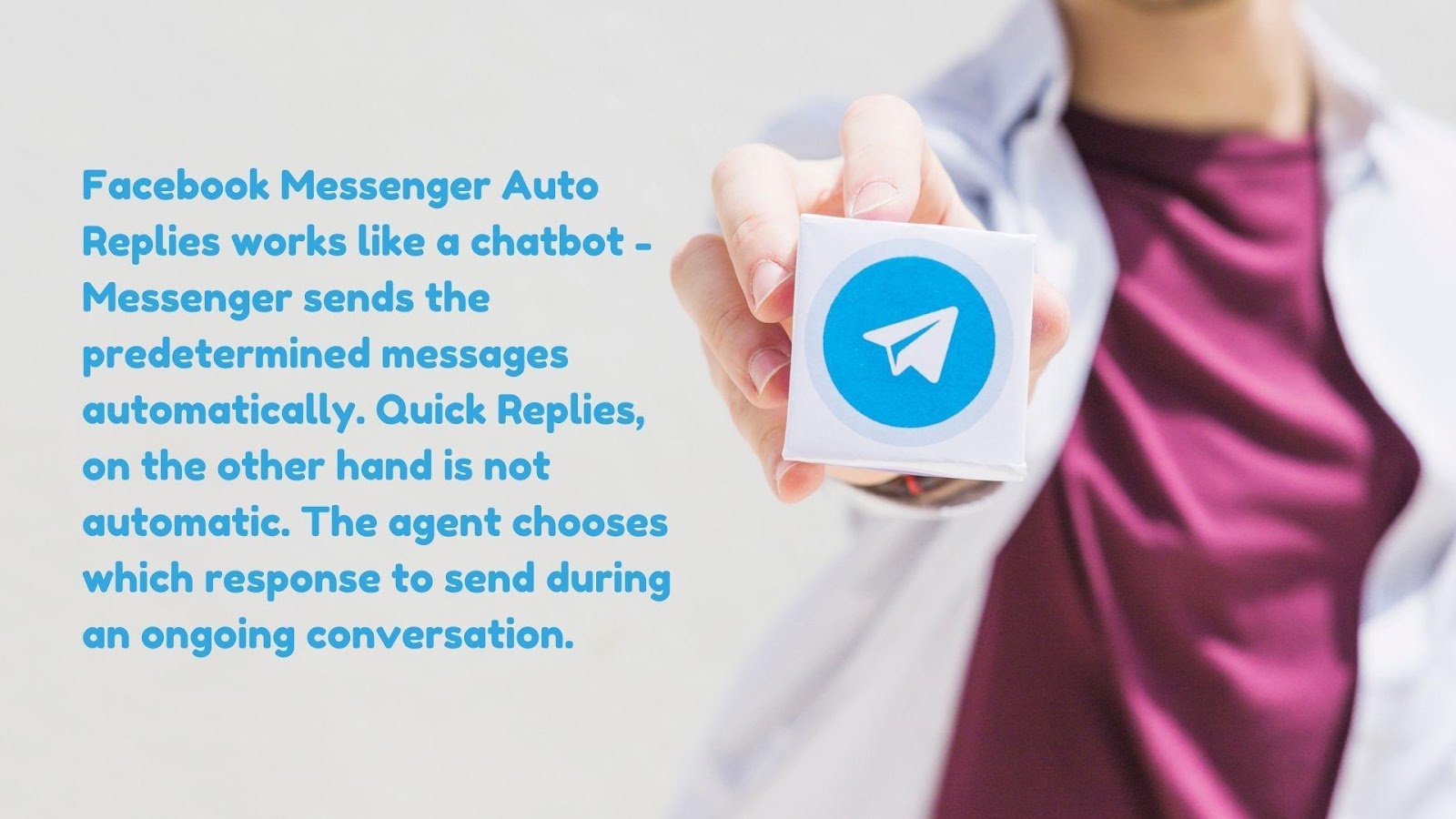 There are a number of benefits of using Facebook Messenger Auto Reply for businesses. The most prominent benefit is obvious: It saves tons of time by handling repetitive tasks. For example, thanks to the tool, you can greet all your customers by name without even lifting a finger. Besides, you can save your customers' time by automatically sending them your exact location or some frequently requested information within a second. These two alone can improve your engagement scores significantly.
Another benefit as important as time efficiency is that replying to customers instantly with relevant information makes your brand more approachable. For customers, this little gesture means that you take the time to make their lives easier, especially if you provide them with carefully prepared answers.
Best Practices for Facebook Messenger Auto Reply
Facebook Messenger Auto Reply basically works as a chatbot, but it's not a very smart one. You can use it on the following occasions:
Welcome message: When someone sends you a message for the first time, you can greet them with a warm welcome instantly and maybe ask what you can do for them.

Away message: Outside business hours, during lunch breaks, or when you're on holiday, you can make use of auto replies to tell the customers that you're not available. You can also customize your message by adding the available hours and setting customer expectations.

Contact information and location requests: Upon request, you can copy and paste your address and phone number to an instant message easily, but why bother? Facebook Messenger does this automatically for you while you deal with other customer concerns – the ones that require real human answers. The same goes for locations. Just pin your stores on the map beforehand and let Facebook share the information for you.

Answering page recommendations: Automated messages allow you to respond to people who have publicly shared that they recommend your business page. You should consider using this feature because good deeds deserve gratitude. Showing that you value your customer's endorsement is a perfect route to creating loyal customers.

Answering a negative page review: Not everyone will be satisfied with the services you provide, and they can publicly declare that your business page is not worth following. You can respond to them with an automated message, saying that you are sorry for the negative experience, and ask them for opinions to improve your service. But be careful when responding to negativity. A sloppy message can easily make matters worse, while a well-thought-out response can change perceptions.

Receiving applications: If you have published a job posting on your business page, you can send an automated instant message to thank the applicants.
Facebook Messenger Auto Reply Templates
Setting up automated responses on Facebook Messenger is simple. Composing them, on the other hand, might require a little creativity. These messages can be customized with your brand's unique tone of voice, different media formats such as videos and attached forms, and buttons. You can also customize the timing (when the message will be sent after being triggered) and personalize the message by adding the receiver's name dynamically.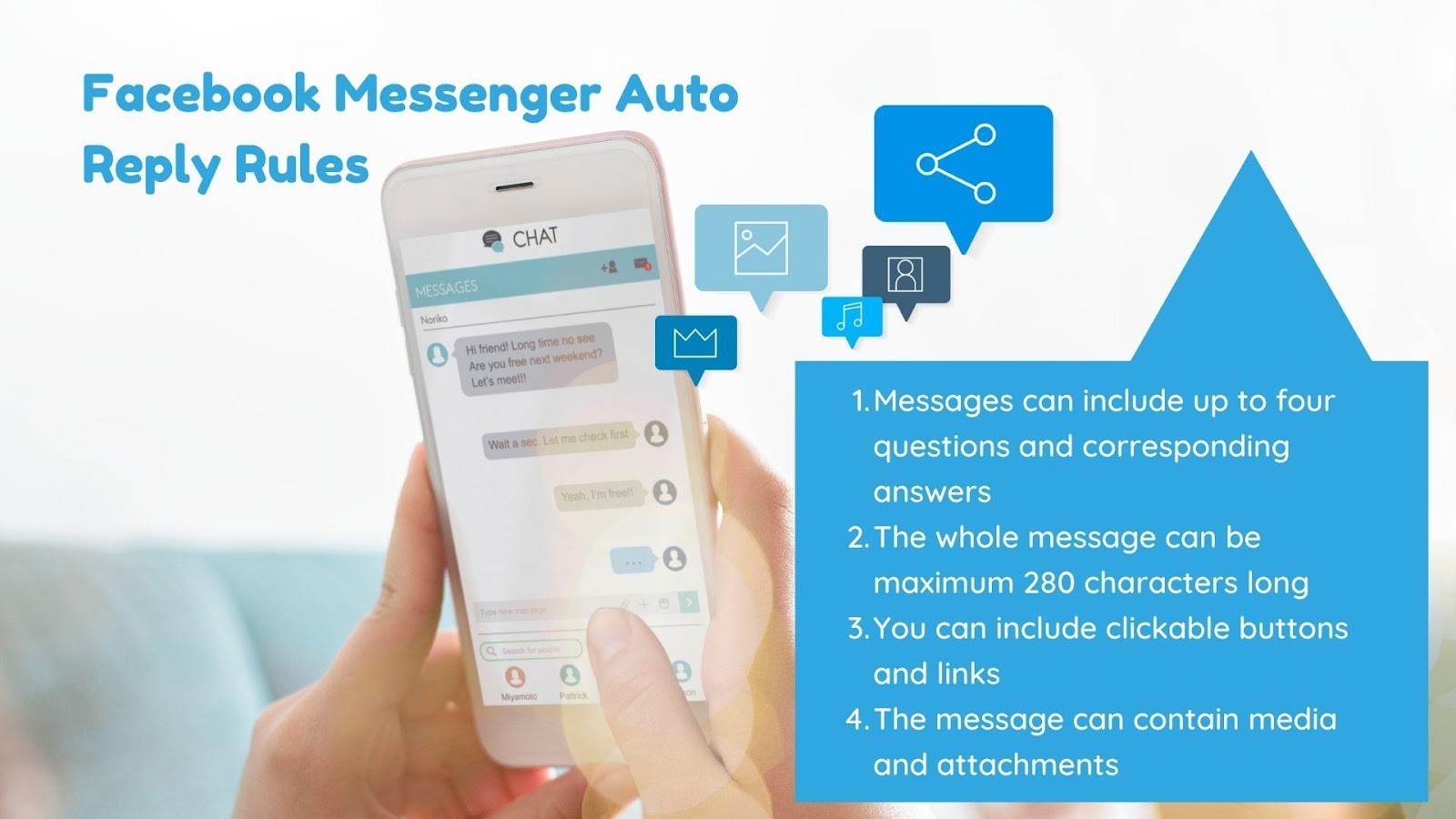 Here are some template examples and things to keep in mind before setting up your automated responses.
Personal and sincere: Welcome message templates
Hi! Welcome to Juphy <user name>! How can I be of assistance?
Hello, thank you for contacting us. We'll be with you in a jiff!
Clear and informative: Away message templates
Thank you for your message. We are away right now, but we'll be back around 10:00 in the morning to assist you. In the meanwhile, you can check our FAQ page.
Thanks for getting in touch with us. Our office hours are from 9 am to 5 pm on weekdays. We'll get back to you as soon as possible.
Show gratitude: Answering recommendation templates
Thank you for your recommendation! We're thrilled to have you with us!
Hi <user name>! It's so nice to see that you recommend us to your loved ones. Thank you for sparing the time. Have a great day!
Customer feedback templates
Hello <user name>. We are sorry about your negative experience. Can you provide us with some details on what went wrong? We'd like to make it up to you.

Hello. We're sorry that we couldn't meet your expectations. We'd like to hear your opinions to make improvements.
How to Set Up Auto Reply on Facebook Messenger
In order to use Facebook Messenger on a business page, you need to be a page admin, editor or moderator.

Go to the inbox of your business page
On the upper right side, click on Automations
See Instant reply toggle on top; turn it on
Check the box and select Messenger as the preferred platform
Compose your message and make it more appealing with emojis
Check the preview and save the changes
After creating your messages, you can turn them on and off at any time. Editing them works basically the same.
While it's quite simple to set up and operate, the tool has its limits. For instance, it only works on Facebook Messenger, as the name suggests. But businesses operate on many different platforms and can receive messages on any of them. That's why you might need a more advanced option like Juphy.
Juphy: Advanced Communication Tool for Social Media Focused Teams
If your business is active on different social media platforms, you should embrace a multichannel approach to keep up with all of them. Juphy allows you to integrate all your social media accounts, including Facebook Messenger, and manage them on a single, convenient dashboard.
Apart from its many benefits, Juphy supports message automation and canned responses on all platforms. The automation rules work in classifying incoming messages. After setting the rule, automation tags the messages as they come in and categorize them based on urgency, content, and tone. Find the details in the video below.
Canned responses, on the other hand, allow you to create predetermined messages and send the selected one as a response with a single click of a button.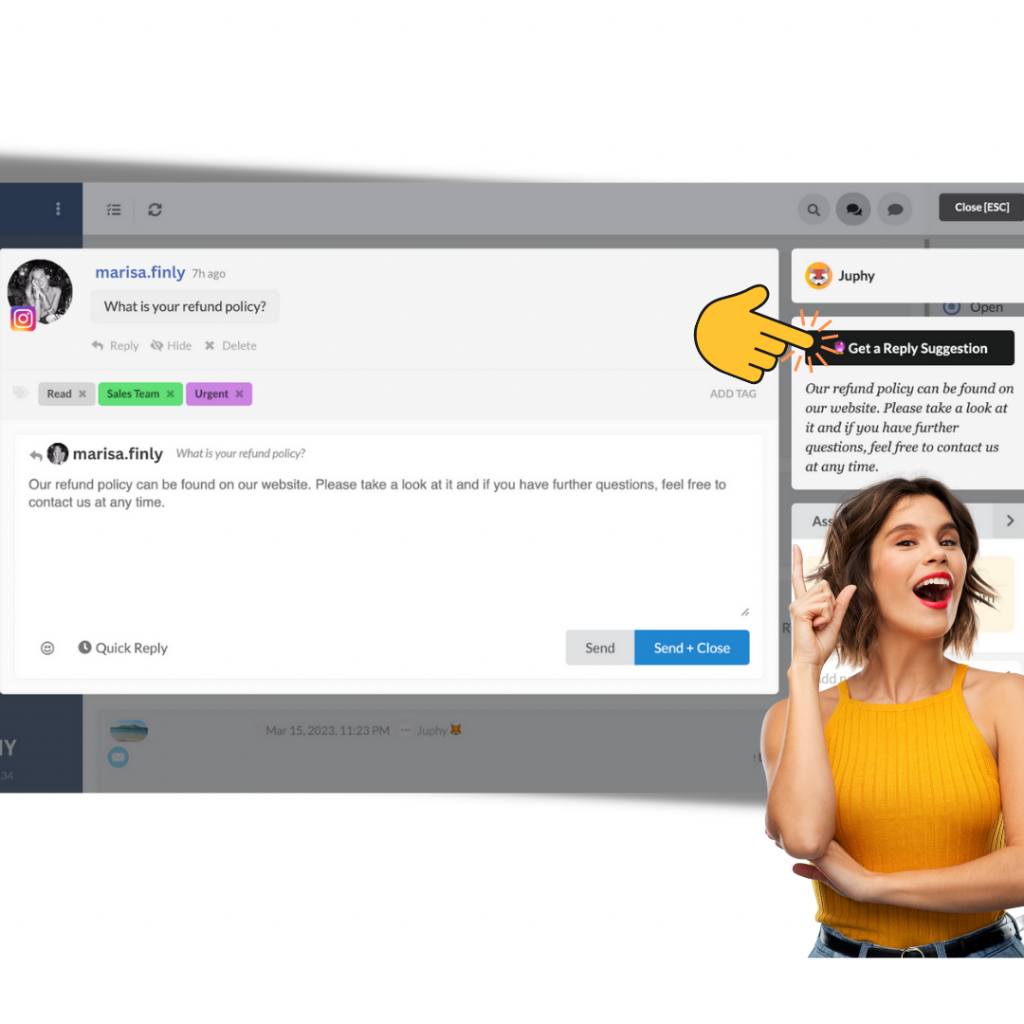 Although it doesn't work automatically like a chatbot, Juphy's OpenAI integration saves you an incredible amount of time by suggesting responses and improves the speed of your responses significantly. And you can create multiple canned responses for all kinds of situations and platforms.
Last of All…
With the types of messages it supports, Facebook Messenger Auto Reply is a valuable function for speeding up your operations. It can be a little unsatisfactory when it comes to all the other platforms that you communicate with your customers, but you can tackle this problem easily by integrating it with other tools like Juphy. Find out how convenient it is by starting your 7-day free trial now!
FAQ
1. What is Facebook Messenger Auto Reply?
Facebook Messenger Auto Reply is a native feature that delivers automated responses to users on various occasions, such as welcome messages, away messages, and providing contact information.
2. How does Facebook Messenger Auto Reply benefit businesses?
Auto Reply saves time, improves engagement scores, and makes your brand more approachable by providing instant responses to customers.
3. How do I set up Auto Reply on Facebook Messenger?
To set up Auto Reply, go to your business page inbox, click on Automations, turn on the Instant Reply toggle, select Messenger as the platform, compose your message, and save the changes.
4. What occasions are best for using Facebook Messenger Auto Reply?
Auto Reply is ideal for welcome messages, away messages, providing contact information and location, responding to page recommendations, handling negative reviews, and receiving job applications.
Create Your
Social Inbox Now
Manage all social media customer support inquiries in a unified inbox.
Related Article – Maximizing E-Commerce Sales with Facebook Dynamic Ads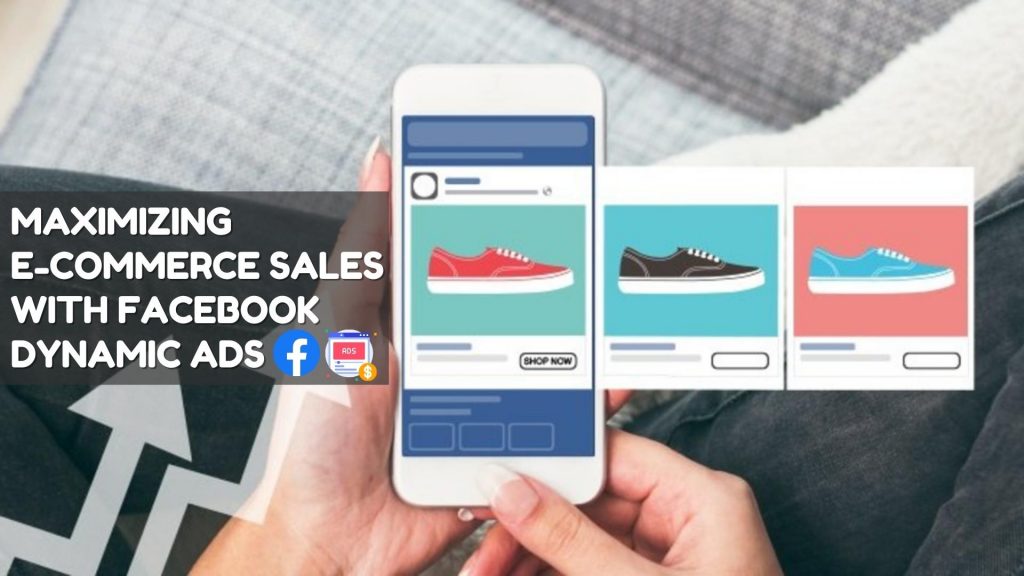 Discover best practices for optimizing the targeted Facebook Dynamic Ads to resonate with your audience and boost your sales. Read more now!