The e-commerce industry is constantly evolving. Some brands consistently do better than others in selling their products and services to customers.
Do you know why?
Businesses know online shoppers don't stick to one sales channel for shopping, so brands don't sell only on one or two sales channels but reach wherever their customers are.
According to a study by Harvard Business Review, over 73% of customers use multiple channels during their shopping journey or from product exploration to purchase.
To cater to their customers spread across different channels, brands devise tailored strategies for each platform. These channels encompass physical stores, websites, social media, marketplaces, and others. With bespoke strategies for each channel, brands enhance their ability to connect with customers, sell their products effectively, and ultimately succeed.
This concept is known as multi-channel selling as it resonates with selling on different platforms and is the most convincing method to grow market share and double your sales.
A multi-channel selling strategy, therefore, has become increasingly necessary for businesses to reach a broader customer base and improve sales.
So, if you're an eCommerce business and looking for ways to boost your sales or want to know more about multi-channel selling, you are on the right page. I
n this article, we'll deep-dive into multi-channel selling and unearth its benefits and best practices for implementing a multi-channel selling strategy,
Let's jump right into it!
Create Your
Social Inbox Now
Manage all social media customer support inquiries in a unified inbox.
What Is Multi-Channel Selling?
Multi-channel selling is a strategic approach where businesses utilize various platforms to communicate with their audience, engage them effectively, market their offerings, and eventually sell their products or services.
These include physical and digital channels like physical stores, brand websites, social media channels, online marketplaces, or any place where customers can buy your product.
Multi-channel also offers availability on different devices customers use to connect with the brand, like computers, smartphones, tablets, etc.
It is interesting to note that, unlike omnichannel selling, there is no intentional overlap or integration between the sales channels. In a multi-channel sale strategy, each channel has its individuality and is handled separately.
Lululemon is an example of multi-channel selling.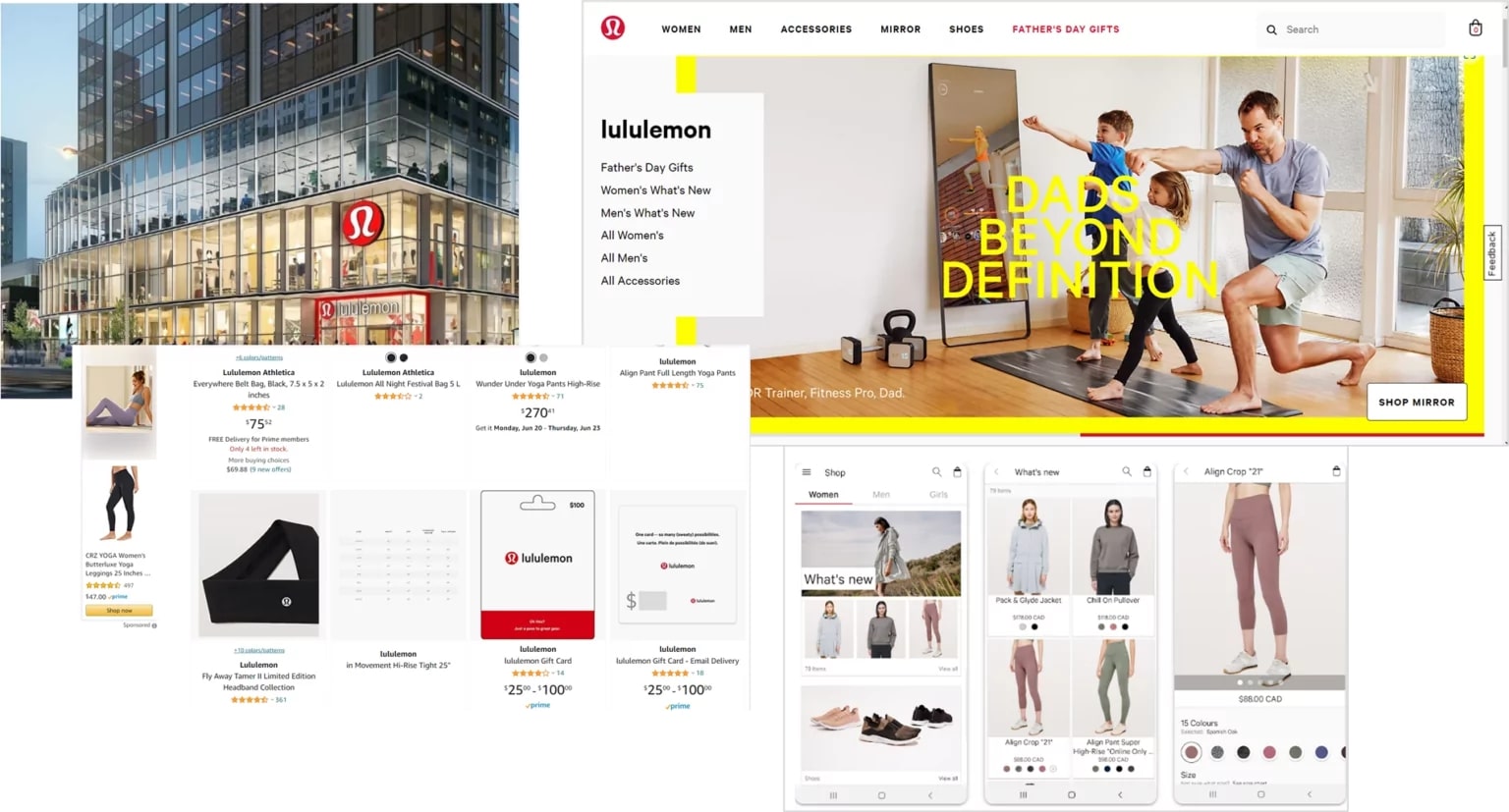 Shoppers can buy products from the brand's physical store, website, or marketplaces like Amazon.
Let's look at the primary multi-channels for sales that businesses use to reach their target audience:
Brick-and-mortar stores: The conventional way where consumers visit a physical store and shop for products.
Online marketplaces: A virtual mall or a platform that unites multiple buyers and sellers and enables transactions between store owners and their consumers within the marketplaces.
Amazon, eBay, and Etsy are all prime examples of an online marketplace.
Social media platforms: Social media is the most powerful way to exhibit your products, engage with an audience worldwide, and convert followers into customers. It helps in brand building and expanding business reach.
Instagram and Facebook are popular platforms with recently-added tools and features for social selling and direct purchases.
Online stores: With the rise of virtual shopping, many businesses have now set up online stores so that consumers can access a comprehensive range of products and purchase products directly from the brand.
Shopify is a renowned online store that helps brands to set up in minutes and start selling.
Other online spaces: Other online spaces like Mobile marketplaces and Comparison portals are becoming prevalent to address the diverse shopping needs of customers.
Google Shopping is a comparison portal that helps consumers to scan a list of products and select their preferred seller's website.
Differences between Multi-channel and Omni-channel Selling
Multi-channel and omnichannel selling are often mistaken as the same because they both use multiple channels.
However, the similarity ends there.
The omnichannel selling strategy links every channel to deliver a unified and seamless shopping experience across all online and offline touch points.
With an omnichannel approach, customers can explore products on their smartphones and purchase in the store or vice versa.
Starbucks is an ideal example of omnichannel selling. The rewards app of Starbucks encourages shoppers to place an order at the store or online in advance, pay by phone, enjoy in-store refills, and get customized offers.
Starbucks also lets customers add money to their accounts through their smartphones, website, or in-store counter. Customers can collect points from every purchase and exchange points for food or drinks.
Changes in any features or offers are updated in real-time across all channels.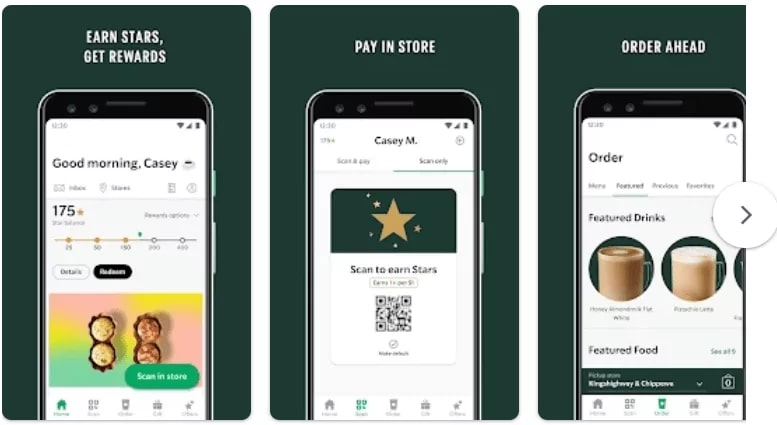 Omnichannel selling is best suited for sophisticated and well-resourced big brands like Starbucks.
Whereas multi-channel selling empowers the customers to interact with the brand across different channels.
Each experience here is unique and separate as every channel in a multi-channel approach works independently from one another.
The Importance of Multi-channel Selling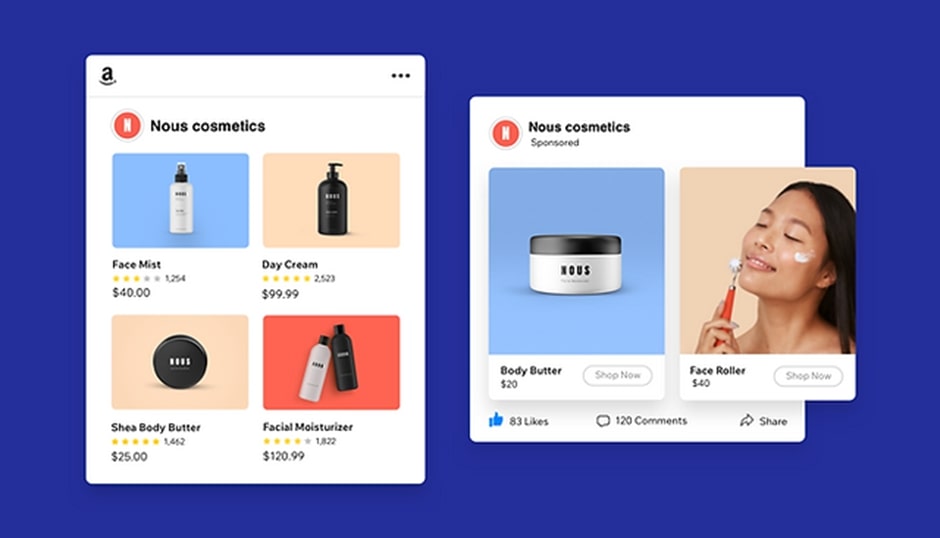 Here are some latest stats that will help you understand the importance of multi-channel selling for your business. It's crucial to consider that these figures represent averages. The impact of multi-channel selling can differ significantly across industries, countries, and customer segments. Therefore, while planning your multi-channel strategy, consider your specific business context and customer preferences.
47% of digital purchases worldwide happened via online marketplace platforms.
B2C marketplaces are estimated to surpass sales figures of $3.5 trillion by 2024.
14% of customers prefer to shop at an online marketplace for the first time.
37% of buyers prefer repeat purchases at an online marketplace.
Apart from these stats, listed below are reasons that support multi-channel selling.
Facilitates Offline and Online Sales
Multi-channel selling is a very unifying experience for businesses selling offline and online. It helps them boost sales and reach multiple consumer segments simultaneously, connecting brands to more people.
Grows Customer Base
The purchase dynamics of shoppers vary from each other. While few prefer online shopping, some have trust issues with the concept. Many customers prefer to buy from retail stores, and some buyers make impulse purchases on different channels like social media. So, placing your products strategically in multiple channels improves the chance of conversion.
Improves Customer Perception
When your brand is present on all major platforms, customers find your brand approachable and forward-thinking. It also gives them the idea that you are well aware of your customer's purchasing habits and are responsive to their needs.
Boosts Sales
Multi-channel selling opens the door to new audiences and potential leads. You can successfully convert customers into a loyal customer base.
When customers are interested in your product and see your products on different channels, they are most likely to buy it. And, if you make quality products and have a great marketing strategy, you are guaranteed to make a sale.
Key Components of Successful Multi-channel Selling
Consistent Branding Across Channels
Over 95% of customers use more than three channels in a single interaction with a brand. Therefore, companies must deliver brand consistency across all channels for a positive customer experience and earn a good reputation.
Brand consistency is the first step to reaching potential customers, as it covers the target market by delivering quality service. Maintaining a consistent brand voice imbues trust and builds loyalty with your customers.
Coca-Cola, the famous brand, is well-known for its distinctive visual identity, like its iconic red color, cursive script logo, and unique shape of its bottle that is used across all of its marketing and advertising campaigns, making it recognizable to customers.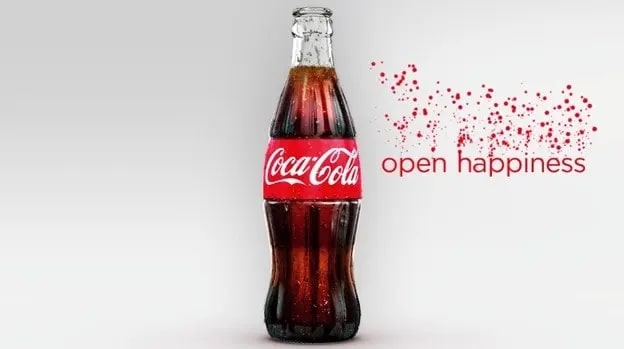 Coca-Cola's slogan, "Open Happiness," is consistently used across all touchpoints, solidifying the brand's identity. This consistent brand voice helped Coca-Cola become one of the most remembered brands worldwide.
Therefore, consistent branding helps your customers identify your brand, regardless of the channel you use. However, consistent branding does not mean all your channels should be identical. It's about creating a harmonious brand experience where all channels align with your brand's core values and message but also cater to the unique characteristics and user behavior of each channel. For example, while your website might focus more on product information and customer service, your Instagram account could be more about brand storytelling and customer engagement.
The following tips can ensure your messaging or product information resonates with your brand identity.
‍
Keeping the same brand tone of voice
Using the same brand colors
Using good-quality images of the product
Optimized User Experience
Customer loyalty is the sweet fruit of a great customer experience that merges offline and online brilliantly.
Multi-channel selling offers a consistent user experience across platforms. For example, when a customer visits an Adidas store, they know they can shop online if a particular product is unavailable in their nearest retail outlet. Stocking the entire inventory in one store is impossible. The online app helps customers continue their purchases online.
Multi-channel retailing takes strategic advantage of the channels, devices, and platforms available and the time users spend online to reach a bigger market, giving brands a perfect chance to reinforce their brand presence.
Centralized Inventory and Order Management
Multi-channel sales equal multi-channel inventory management – the core of all operations besides product catalogs on online marketplaces, eCommerce platforms, web stores, etc.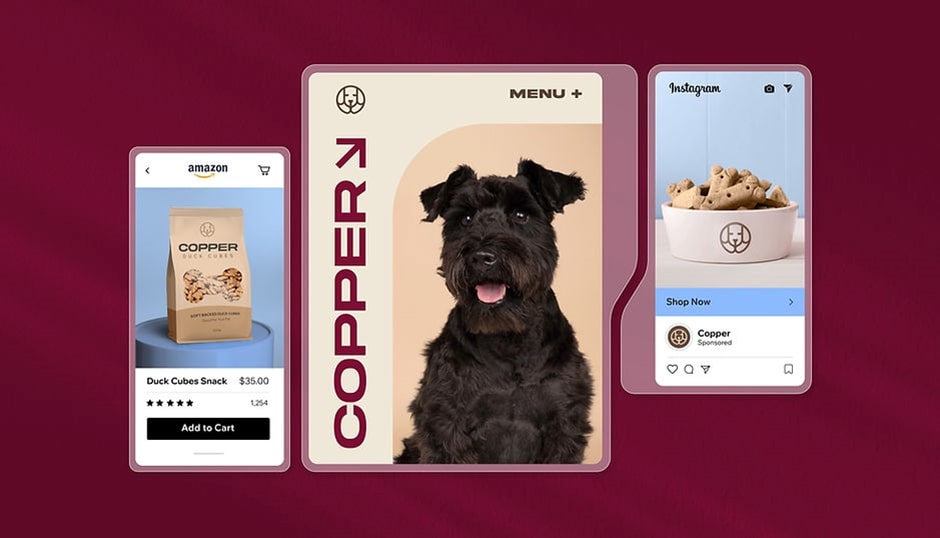 Centralized inventory management syncs your customer's sales channels to help you complete the purchase orders smoothly and hassle-free. You can effortlessly track inventory for multiple locations to avoid any out-of-stock cases.
Moreover, your customers can also get accurate inventory data on availability and shipping options.
Centralized inventory management also acts as an order management system(OMS) to view, receive, track, fulfill, and manage customer orders in a single platform. A centralized inventory gives you a clear picture of the best-performing products, helping you keep a higher stock of your best-seller products to improve sales.
Managing inventories for online and offline platforms needs a multifaceted approach. It is also essential to balance management internally to deliver a seamless, consistent, and personalized customer experience externally.
Effective Multi-channel Marketing Strategy
Selling on multiple platforms requires considerable effort and a tip-top marketing strategy. A well-put and orchestrated multi-channel marketing strategy help you make the most of your brand presence and improve engagement and profits without costing an arm and a leg.
Multi-channel marketing strategy allows you to build your brand across many different platforms by utilizing multiple tactics. A centralized marketing approach helps you make sales where your target customers are and boosts your online presence and ROI.
Multi-channel marketing merges multiple promotional and distributional channels into a unified strategy to draw customers' attention and communicate the value of the product/services.
Creating an effective multi-channel marketing strategy involves reaching customers by employing multiple channels, each with its own catered messaging but consistent strategy.
An effective marketing strategy can attract, nurture and convert leads and meet sales targets. Use these six simple steps to craft a multi-channel marketing plan for your business:
1. Define your target audience.
2. Determine the appropriate channels.
3. Craft a consistent messaging to provide users with a similar experience across all channels
4. Use analysis tools to track your campaign success and the reaction of customers.
During the Super Bowl XLVIIn, the power was out for over 30 minutes. While other advertisers were losing money from that costly TV ad buys, Oreo's Tweet: "Power out? No problem," synced perfectly into Oreo's ongoing campaign that spoofed dark-dwelling monsters.
This post blasted across social media with around 15,000 retweets and 20,000 Facebook likes.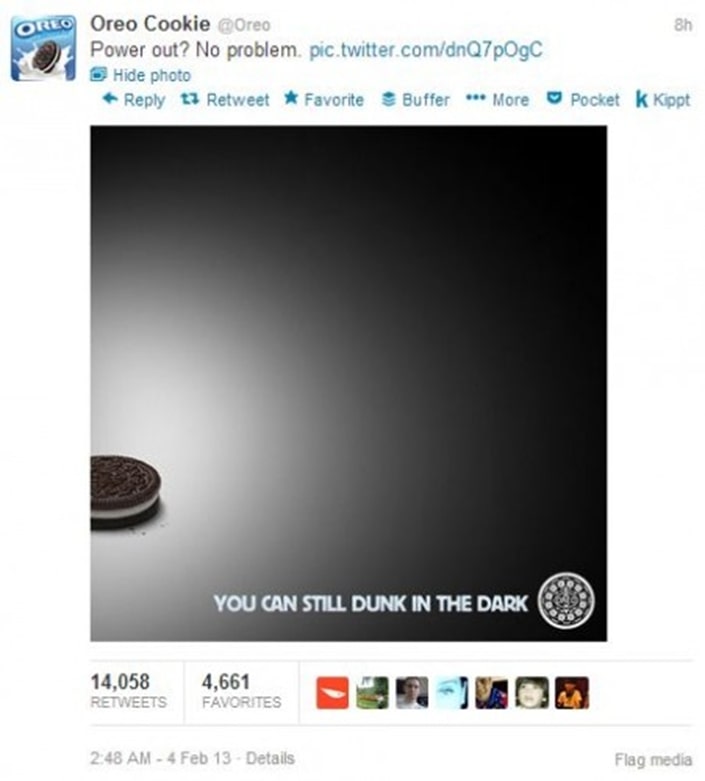 Challenges in Multi-channel Selling
Multi-channel selling comes with advantages and hurdles that can distract you from achieving the targeted Return on Investment (ROI) in the business. 
Here are four multi-channel challenges that perplex many sellers faces, and some surefire solutions to overcome them and efficiently manage multi-channel selling and reach the top spot in the market.
While multi-channel selling has immense potential, implementing it successfully can be a complex task. Businesses need to manage multiple platforms, each with its own rules and user behaviors, and ensure a seamless and consistent brand experience across all of them. Moreover, each channel adds to the operational load of inventory management, customer support, and data analysis. Therefore, it's important to approach multi-channel selling strategically, understanding its potential benefits and challenges.
Branding on Multiple Channels Simultaneously
When you sell on a single platform like Amazon, you can invest your time focusing on marketing, promotion, sales, and orders, which will result in higher sales, but managing multiple channels becomes difficult.
Every platform has different community policies, making product marketing and promotion unmanageable. Moreover, every channel has different rules for uploading product images and videos, which can impact the product display.
You need to promote the products on every available channel and harmonize an efficient data exchange between the channels.
Inventory Overstocking
Inventory management is a serious problem in multi-channel selling. Every channel has buyers who can click on any products listed for sale, a proper inventory is required for every channel, but the management is too difficult.
Sometimes sellers face overstocking issues, which costs them warehouse charges. Product unavailability is also a major risk factor that can limit sales.
A unified Product Presentation
Customers love channel-hopping opportunities, especially when a product is available on multiple channels. For example, they may see something offline from a store but purchase it online from another channel. Therefore, product description, price, and appearance must be the same across all channels.
The customer should be able to easily discover the product online by following uniform criteria. Otherwise, customers may make another product selection, leading to the abandonment of a purchase.
Customer Support & Experience
Customers are king. You must handle every customer and offer support to keep the business running. Handling every customer on every platform in multi-channel selling is a tough task.
Missing a single conversation, especially a negative comment or disappointing feedback, can hamper the brand's reputation and mislead other customers from making purchases.
How to Overcome the Challenges
To paint the right picture on the channels where you sell your products, keep these seven tips in mind:
Make a proper product catalog based on the criteria of every platform.

Save your product description to ensure consistency.

Try inventory forecasting to escape from overselling, overstocking, or out-of-stock situations.

Comply with every platform's guidelines to avoid any problems.

Listen to your customers, ask for feedback, and work on them.

Use a social inbox tool for easy synchronization of accounts of every platform to make your task easier.

Hiring a social selling and management tool like Juphy is a wise step to manage your multi-channel sales, elevate customer support, and improve your brand reputation.
Excel in Multi-channel Selling with Juphy!
Juphy is an award-winning social media management tool with social selling feature that helps businesses manage, control and measure multi-channel selling, identify potential buyers, and boost sales on your customers' favored platforms.
Start conversations with potential buyers and generate leads on social channels with Juphy's popular Social Inbox feature to manage all incoming messages, messages, comments, mentions, reviews, tags, and product queries with a high purchase intent in a single dashboard.
Juphy's conversion tracking monitors and analyzes the behavior of website visit visitors to gain valuable insights into your customers' purchases and browsing history.
Juphy's features, like canned responses, keyword monitoring, sentiment analysis, and automation rules help to enhance the customer experience by replying to every message and chat and delivering exceptional support.
Final Words
Customers love to explore different products on different channels before making a purchase. Being present on all the possible channels (website or marketplaces) and increasing your touchpoints can get the sales will start rolling in!
That said, the major challenge is the management of multiple channels. An all-in-one social media management tool like Juphy can boost your customers' shopping experience, ultimately leading to more sales.
FAQ
1. What is multi-channel selling?
Multi-channel selling refers to the business strategy of selling products or services across multiple sales touchpoints or channels. These channels can include physical stores, online marketplaces, social media, websites, and more.
2. Why is multi-channel selling important?
Multi-channel selling is crucial because it increases the opportunities for customer engagement and helps businesses reach a wider audience. It also allows customers to choose their preferred shopping channel, enhancing their overall shopping experience.
3. What are some examples of multi-channel selling?
Examples of multi-channel selling include selling products in a physical store, through a branded website, on an online marketplace like Amazon or eBay, via social media platforms like Facebook and Instagram, and through other digital marketing channels.
4. What are the challenges in multi-channel selling?
The main challenges in multi-channel selling include managing inventory across different platforms, maintaining consistent branding and customer experience across all channels, keeping up with various marketplace policies, and aggregating data from different channels for analysis.
5. What role does social media play in multi-channel selling?
Social media plays a significant role in multi-channel selling. It serves as an essential platform for customer engagement, brand promotion, and direct sales. Utilizing social media effectively can greatly enhance the customer's shopping experience and increase sales.
Create Your
Social Inbox Now
Manage all social media customer support inquiries in a unified inbox.
Related Article – The Power of Social CRM in Sales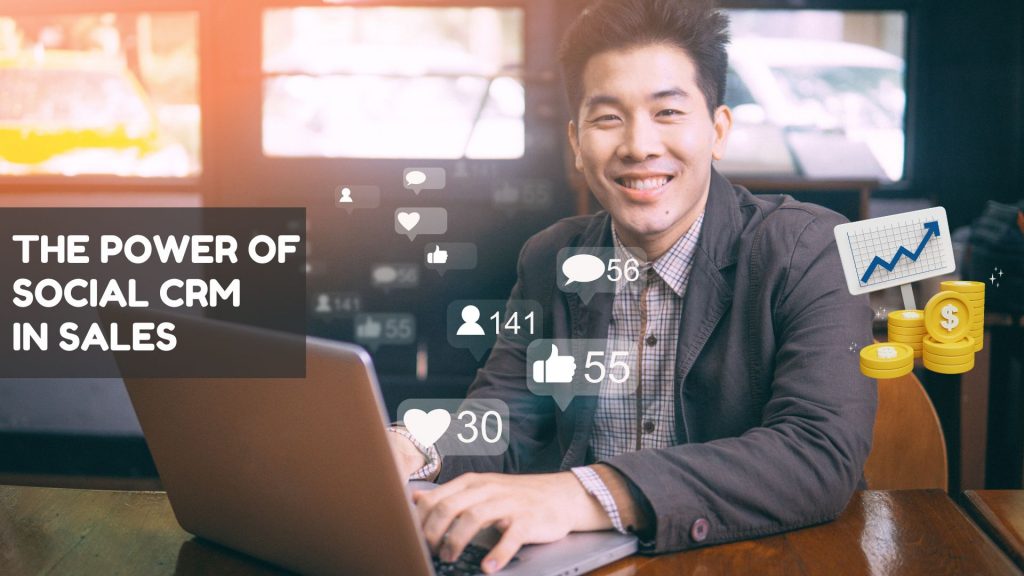 Social CRM is now an expected standard for all businesses. Learn how to use Social CRM in sales to stay ahead of the competition with Juphy! Read more now!