Revolut, a fintech company, was founded in London in 2015 by entrepreneur Nikolay Storonsky and software engineer Vlad Yatsenko. The company gained more than 15 million customers in a short time. Revolut, which has an important place in many markets, such as the United States, Japan, and Europe, continues to expand daily in global markets. The company operates in London, Krakow, New York, Toronto, Porto, Vilnius, Moscow, St. Petersburg, Singapore, and Bucharest, with 20 offices and over 2000 employees.
With Revolut, you can:

Transfer money internationally at affordable rates
Exchange currency
Convert currency
Buy and sell Cryptocurrency
Have an online bank account
And do many more banking transactions!
As such, it is no surprise that Revolut is present on social media. What we are interested in is, of course, their social media customer service performance! Let's check their social media accounts and customer service examples to decide on a final rate.
Create Your
Social Inbox Now
Manage all social media customer support inquiries in a unified inbox.
Revolut on Social Media
Revolut's presence on social media has been a key factor in its success. Revolut has built an engaged community of users and potential customers by leveraging its social media accounts. The organization consistently shares information regarding its offerings and provides valuable insights for its clientele. Additionally, it leverages its online presence to showcase novel capabilities and enticing promotions.
Revolut maintains a dynamic presence across multiple social media networks, such as Facebook, Twitter, Instagram, YouTube, and LinkedIn. Through these platforms, the company aims to:
Engage with customers
Share news and updates about their products and services
Promote their brand
Revolut's social media engagement is critical to its comprehensive digital approach, enabling the company to connect with a broader audience and foster strong customer relationships.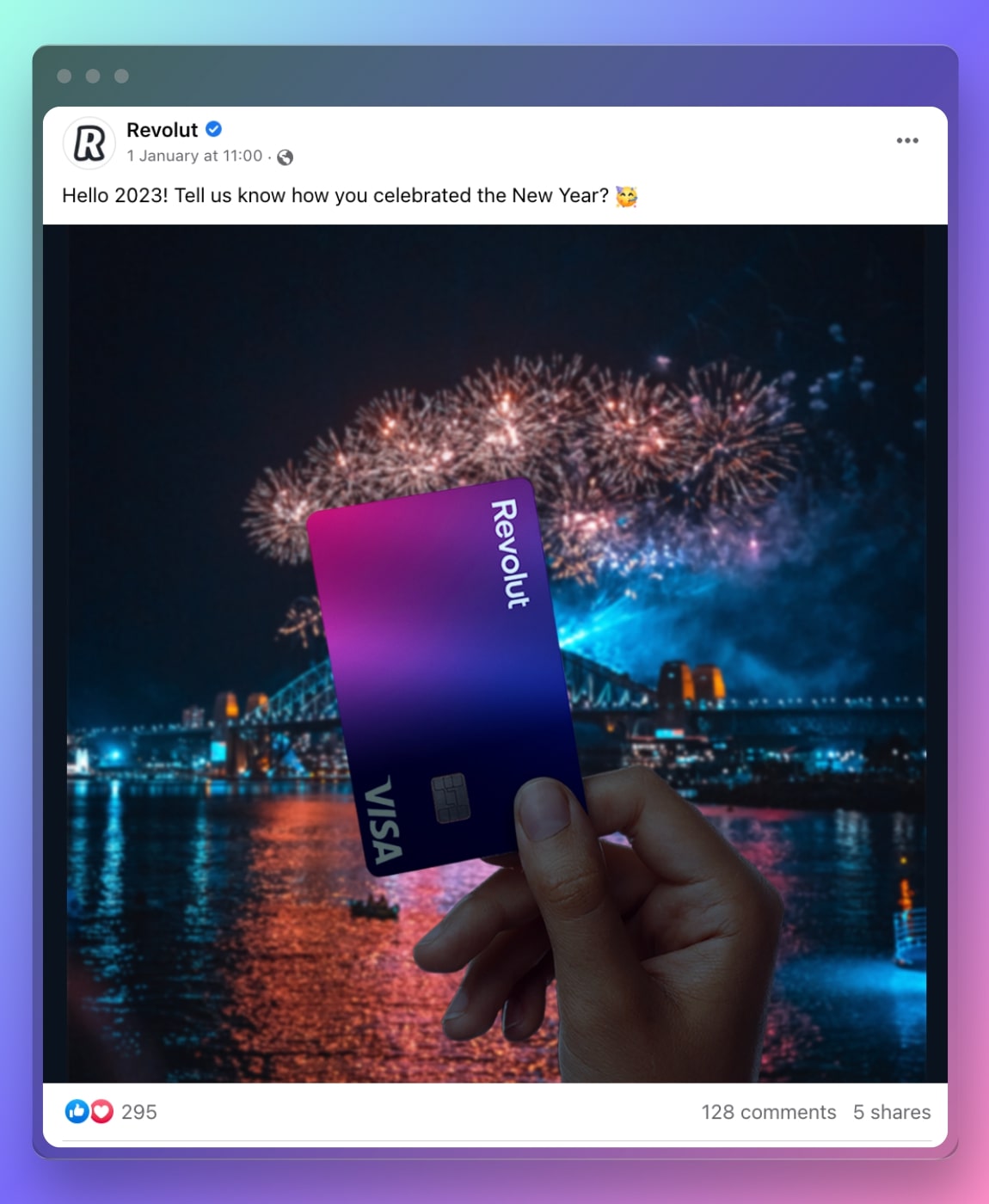 In addition to captivating content, Revolut boasts a proficient customer support team that promptly addresses questions and concerns. The company frequently organizes contests and giveaways through its social media channels, fostering a sense of community and maintaining customer interest. Furthermore, Revolut effectively leverages its online presence to appeal to potential clients. It regularly promotes its services and offers on social media, effectively reaching potential customers. Additionally, the company often partners with influencers to promote its services and increase awareness.
Revolut's Social Media Accounts
Revolut's Facebook page is full of updates, articles, and videos, which provide customers with helpful information and advice on how to use the company's services and products. There are many engaging pieces of content, and most of the post captions encourage users to leave a comment.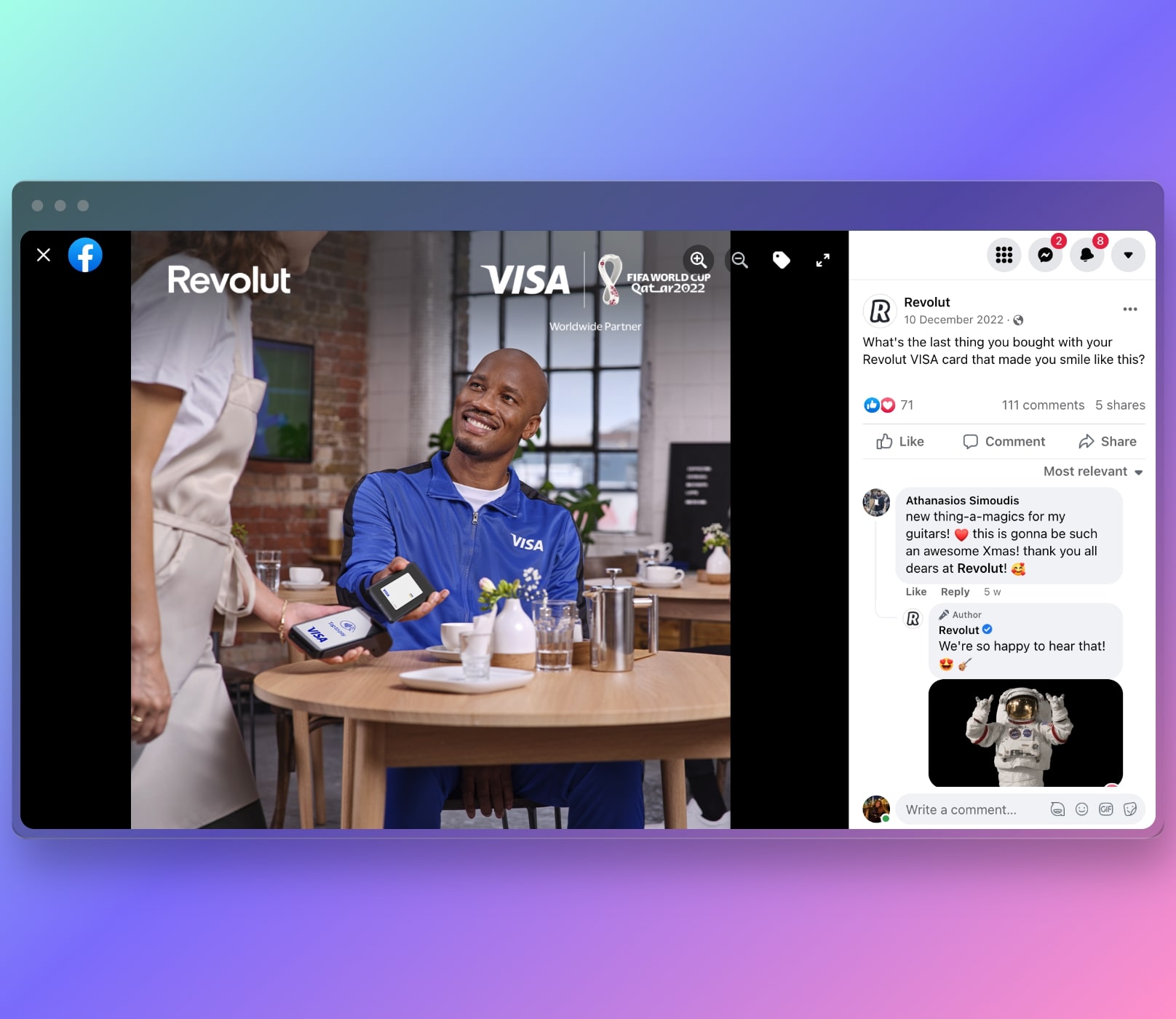 Plus, it is nice to see all these channels in the About section of their Facebook page.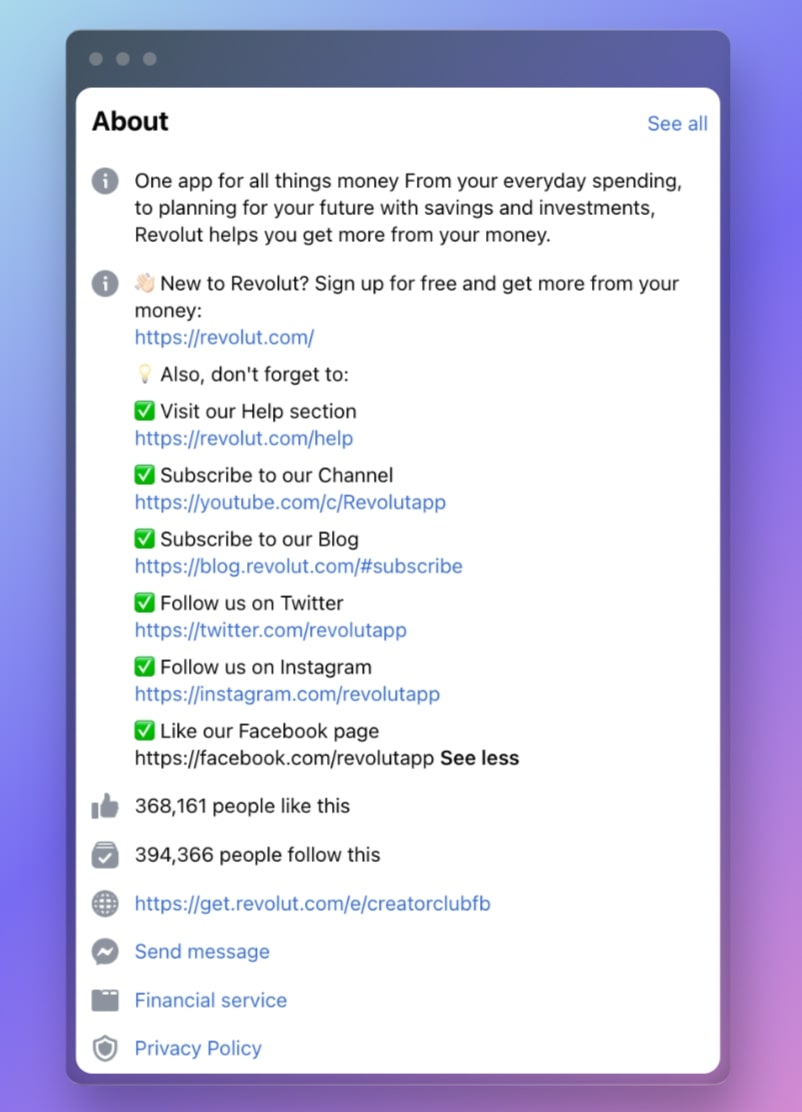 On Twitter, Revolut tweets engaging content (again), real-time updates that allow customers to stay up to date with the latest news, promotions, and other changes at the company.
When you check their latest tweets, you can see how up-to-date they are since they often use internet slang like POV, "that one friend", and more.
Instagram is another important social media platform for Revolut, allowing the brand to showcase its products and services more visually. Through Instagram, Revolut can show customers how its products and services are used in real life and share inspiring stories of customers who have benefited from the company's offerings.
Let's not forget Revolut also has a TikTok account! They keep up with the latest TikTok trends and share engaging videos. Saying that they have a strong social media presence would be right!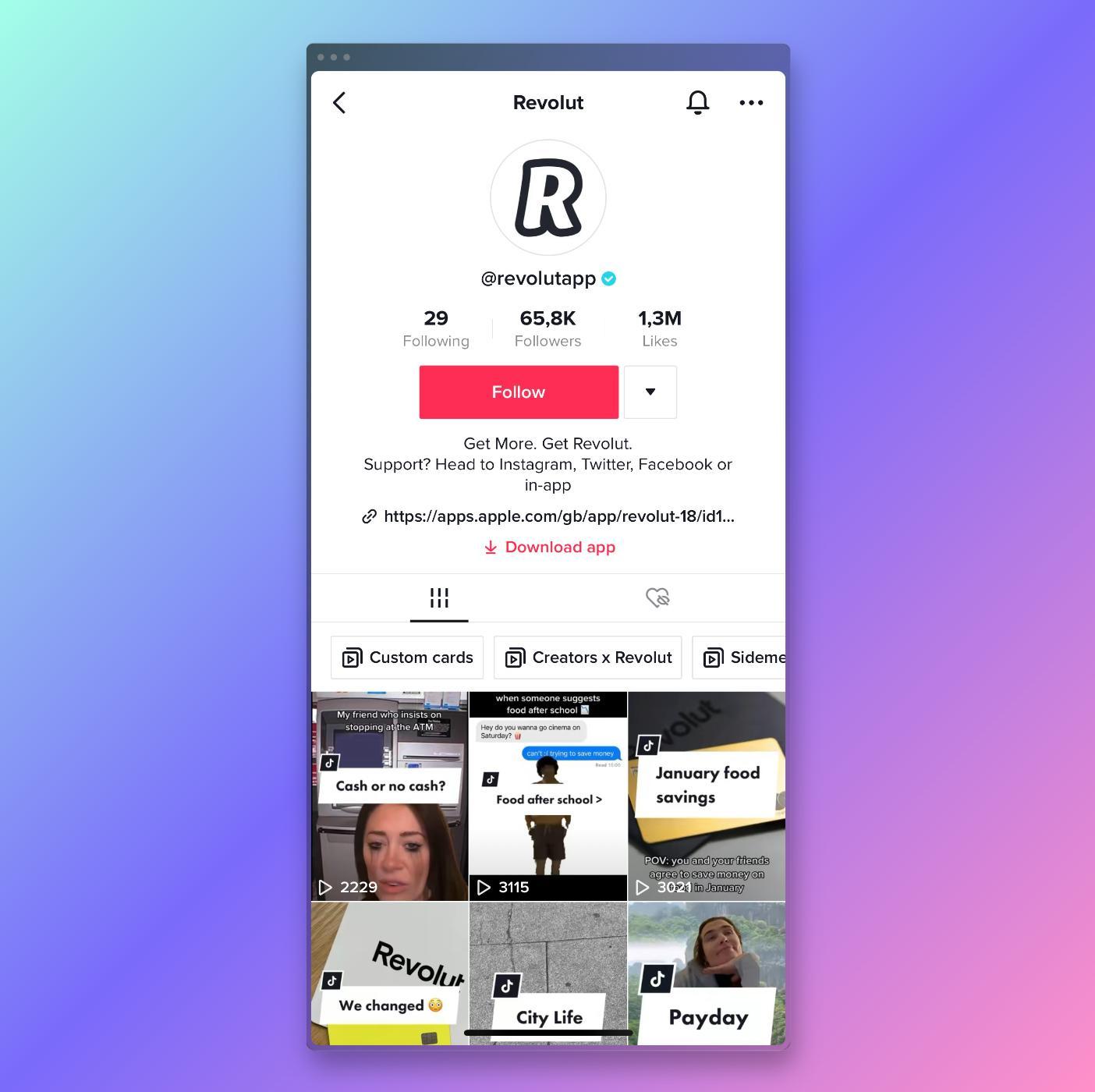 YouTube is also an important part of Revolut's social media presence. Through YouTube, the company can share educational videos and other content to help customers understand how to use the company's services and products. Revolut's YouTube channel is full of helpful videos, tutorials, and other content to help customers better understand the company's offerings.
Finally, Revolut also has an active presence on LinkedIn, sharing updates about job openings, industry news, and other relevant information. Through LinkedIn, Revolut connects with potential employees, customers, and partners.
In conclusion, Revolut's social media presence is essential to its overall digital strategy. The company can reach a wider audience, engage with customers, and promote its brand through its presence on different social media platforms. While doing all this, they don't forget to reply to their unhappy customers.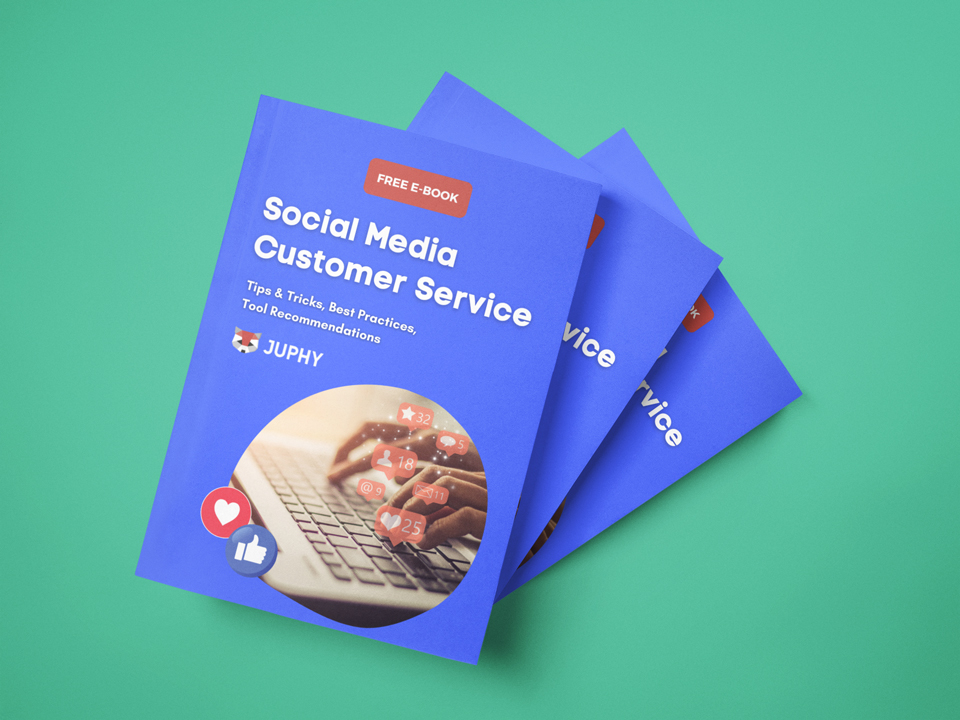 Revolut's Accessibility and Response Time
In 2018, Revolut announced 7/24 support and let people know they could reach Revolut no matter the time or day. This approach is important for all businesses, but for a financial technology service, always being able to get support is a necessity. Revolut ensures its customers trust them and feel comfortable about using their services.
Of course, their social media platforms are full of comments and other types of interaction. Since social media is the first thing that comes to users' minds, we are mostly interested in business' response times.
When we checked Revolut's response time, we saw that they replied within an acceptable duration, a maximum of 48 hours.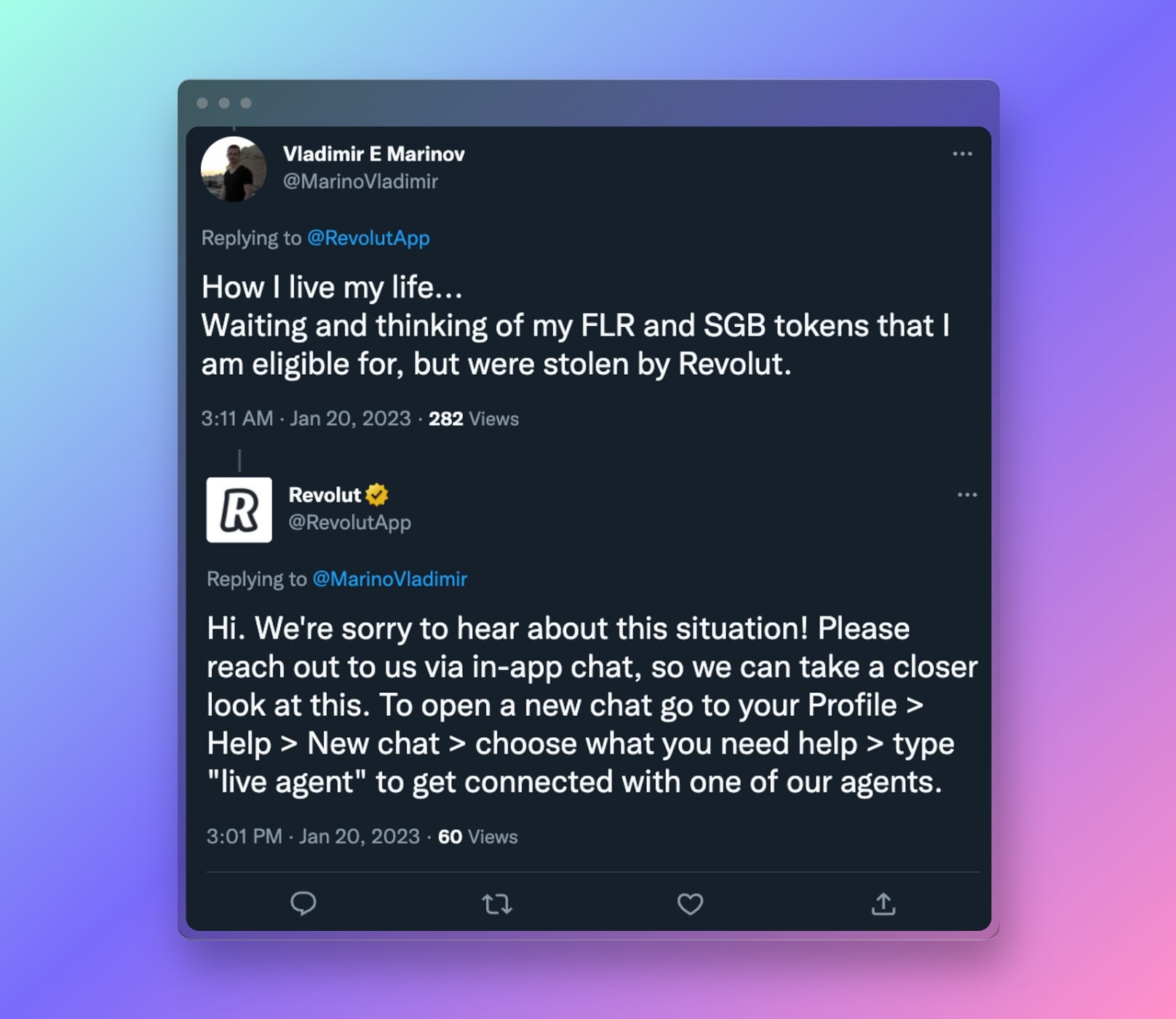 Most of the time, they reply within 24 hours through their social media platforms.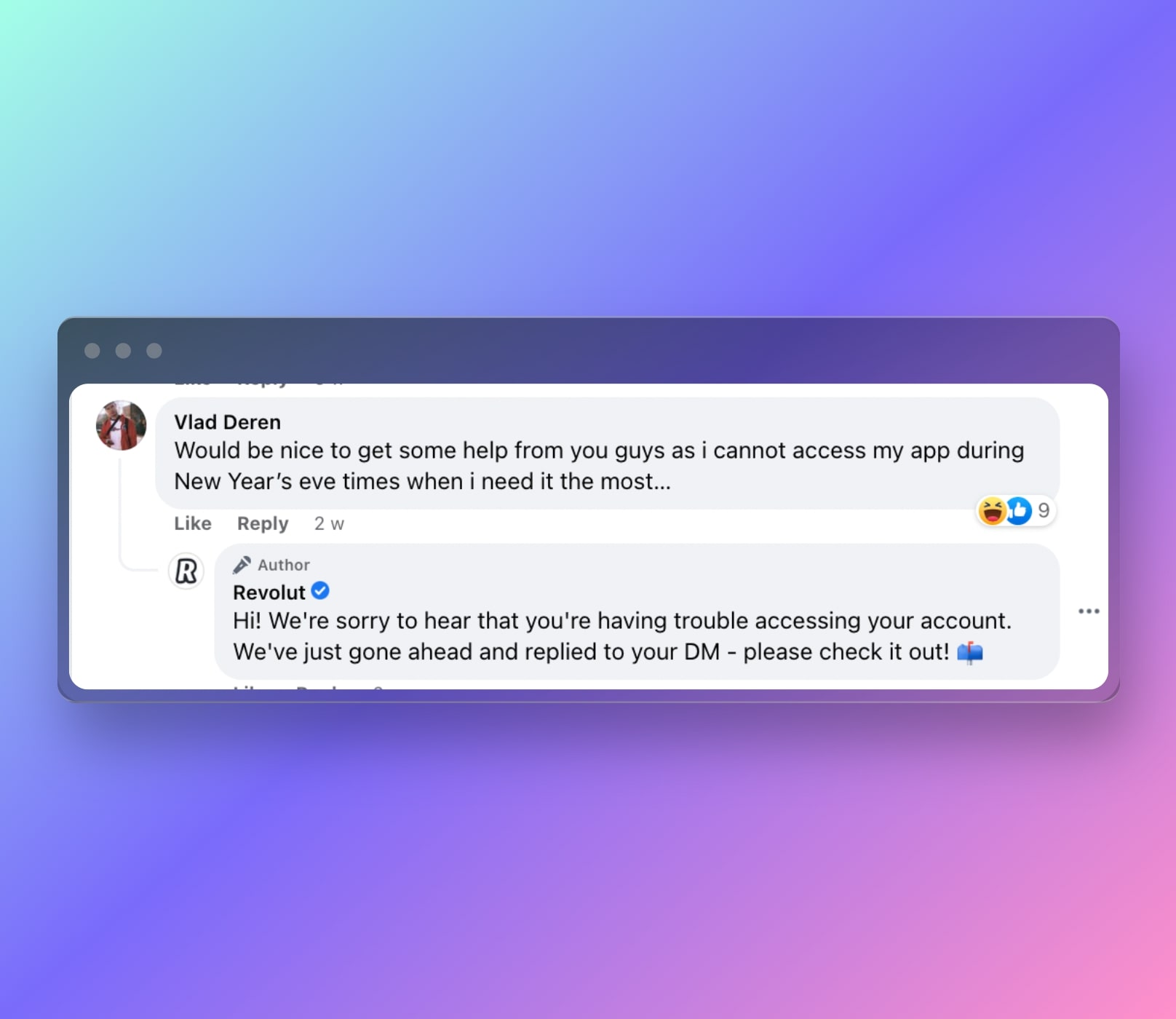 Plus, they sometimes reply to the DM and to the comment in a short time. These are nice green flags for us!
Revolut's Style and Tone
Revolt does have a strong presence on social media, and one thing is very clear about their style and tone: they are always friendly and up-to-date!
We can take this new year post as an example. In the comments section, we can see how Revolt replies using cute gifs and memes to people. Even the nice comments get a reply from them. Plus, just as you will see in the complaint conversations, they personalize the message by addressing each user and, accordingly, show that the replies are not auto-generated bot replies!
It is clear that engaging with the customers through tweets, posts, and comments is done well by Revolut, but what about the brand's interactions with customers needing help? Let's start with some examples!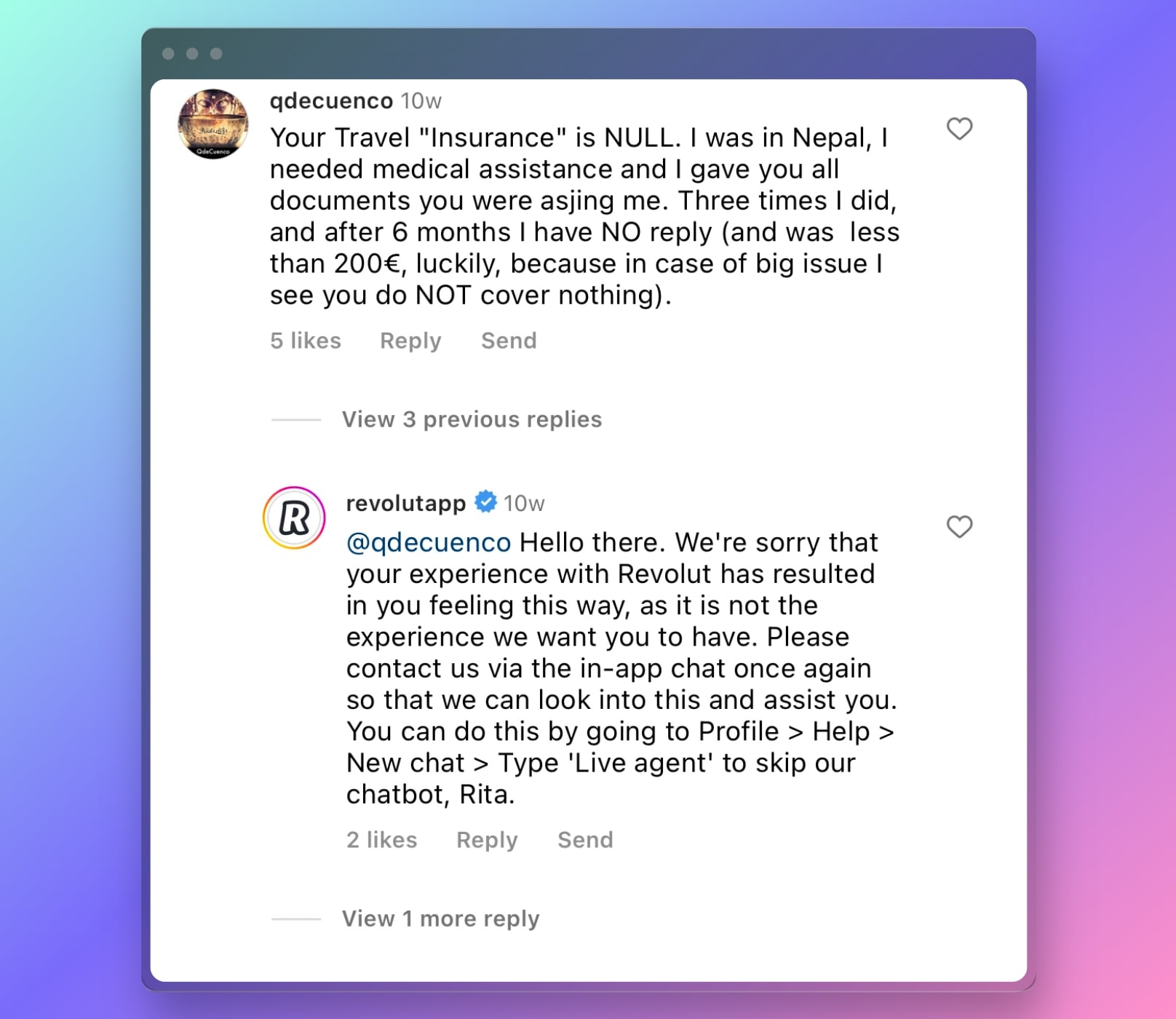 This comment on an Instagram photo has caught our attention because you don't always see a company sharing ways to skip the chat with a bot. Publicly sharing this info makes the interaction easier for both parties – but especially for the customers. Why? Because they are unsatisfied with being unable to talk to a real person!
Unfortunately, this is not the case for 99% of the solutions for the complaint comments. Most replies include "please send us a DM" rather than replying with possible solutions directly. However, this is not weird since each person might have a different kind of problem that requires personal details to be solved, or it may not be safe to share personal/financial data publicly.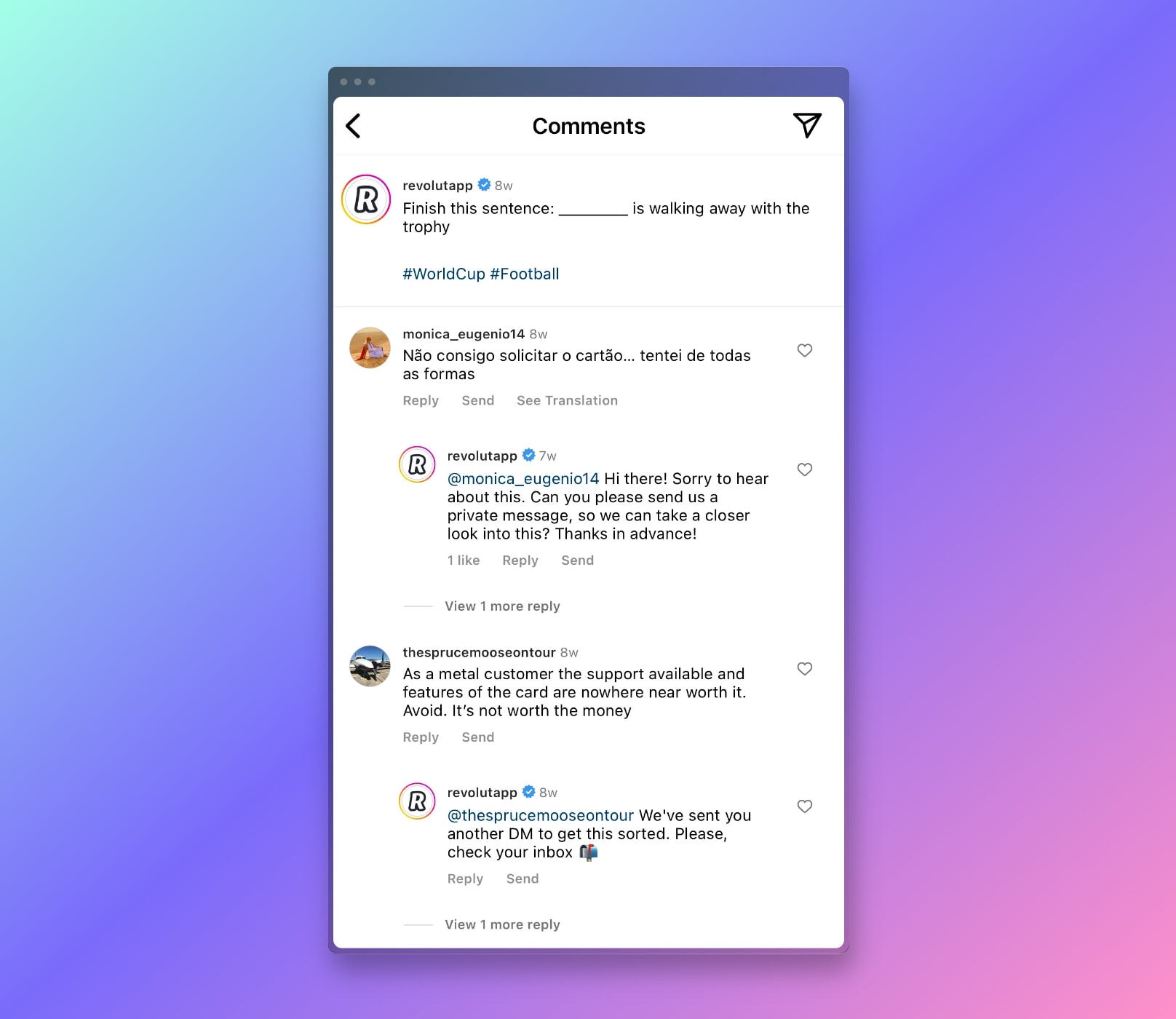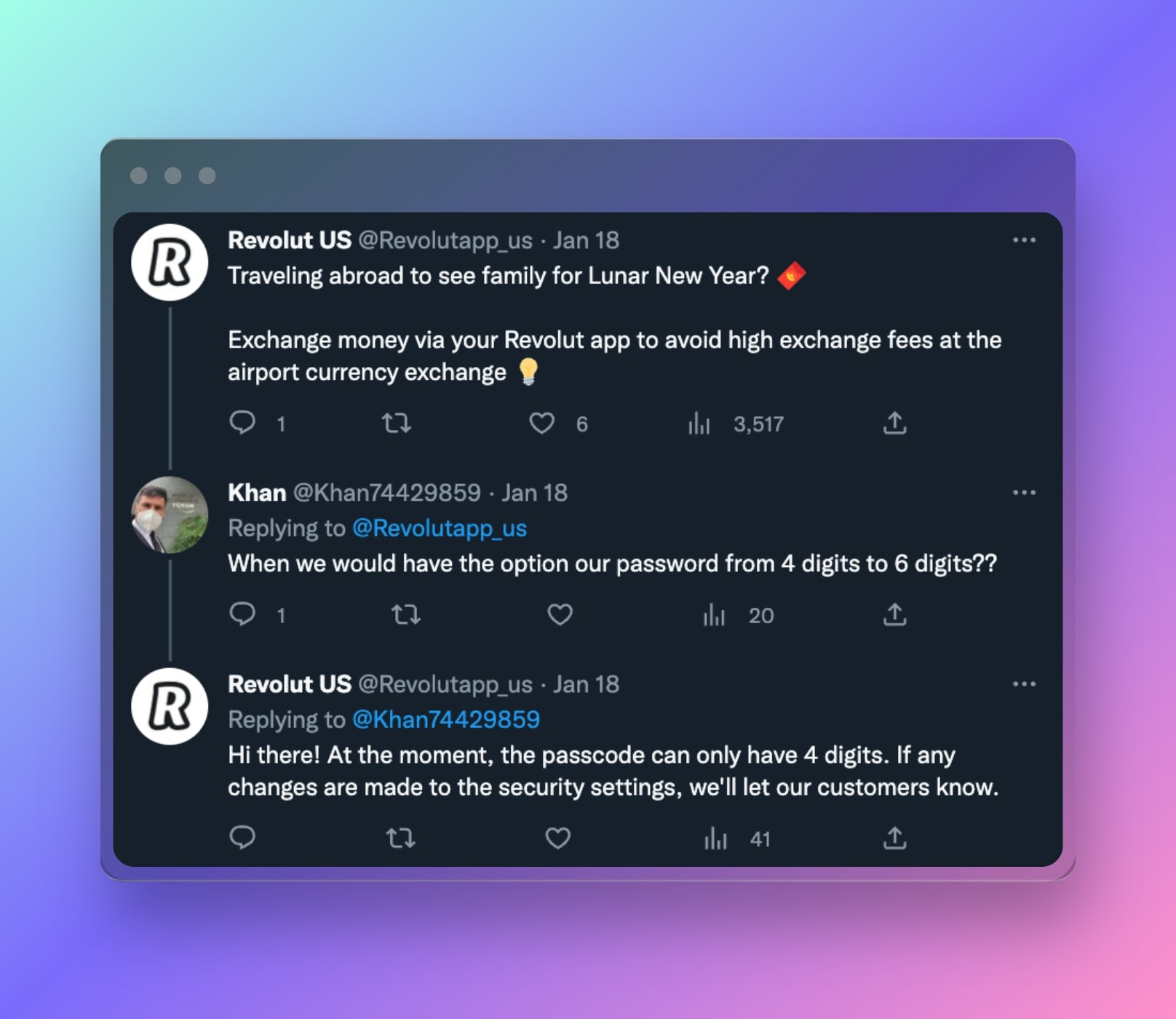 They also reply from their Revolut US Twitter account rather than ignoring customers' questions. We can say that they are accessible and seem to care about their users' problems. Even when there isn't any solution, they don't leave the users without a reply.
Actually, we can say that they interact with their customers through social media platforms as much as possible. Even from YouTube! They have 48.3K followers on YouTube, and only a few comments on their videos are left without a reaction or a reply. Whether it is a nice comment or an issue, they also reply to the users on YouTube.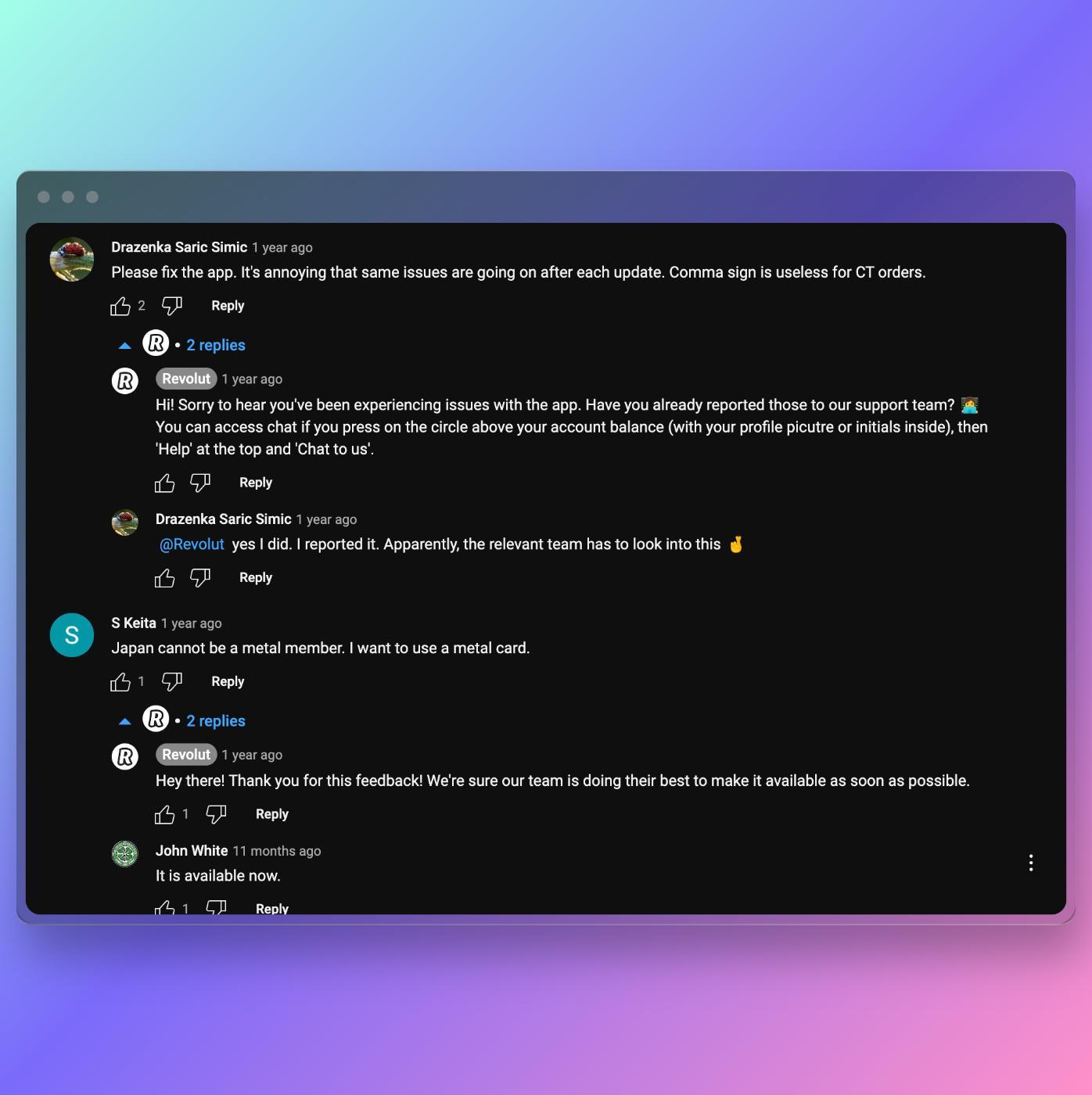 Again, it is nice to see that they also care about replying to comments on YouTube.
Final Verdict
Revolut's fast rise definitely has something to do with its successful digital platform management. Customer service is one of the things they do right through their social media. As long as they maintain this social media customer service performance and develop it, they will surely become closer to their ultimate goal very quickly.
Let's see their performance in brief,
***These ratings are based on our research and reflect only our own opinions.
Accessibility – 9/10
You can access them through their social media platforms most of the time.
Response Time – 10/10
No matter where the comment is, the reply comes within 24 hours.
Tone of Voice – 9/10
Their tone is very friendly and familiar when they don't use automated messages.
Personalization – 8/10
Revolut always refers clients to private messages the majority of the time. This shows that they often use automated messaging, but it is not surprising for a financial business company.
Engagement – 10/10
We may say that their interaction levels on all social media platforms are high due to their interactive social media strategy. They gain user engagement through sharing posts, photographs, videos, and other engaging stuff.
Overall, Revolut's social media presence has been crucial to its success. It has enabled the company to keep customers informed and engaged while also effectively attracting new customers. Revolut has used its social media accounts effectively to create a strong and positive brand image that has helped the company to grow. They seem to be doing a very nice job in terms of social media management and interaction!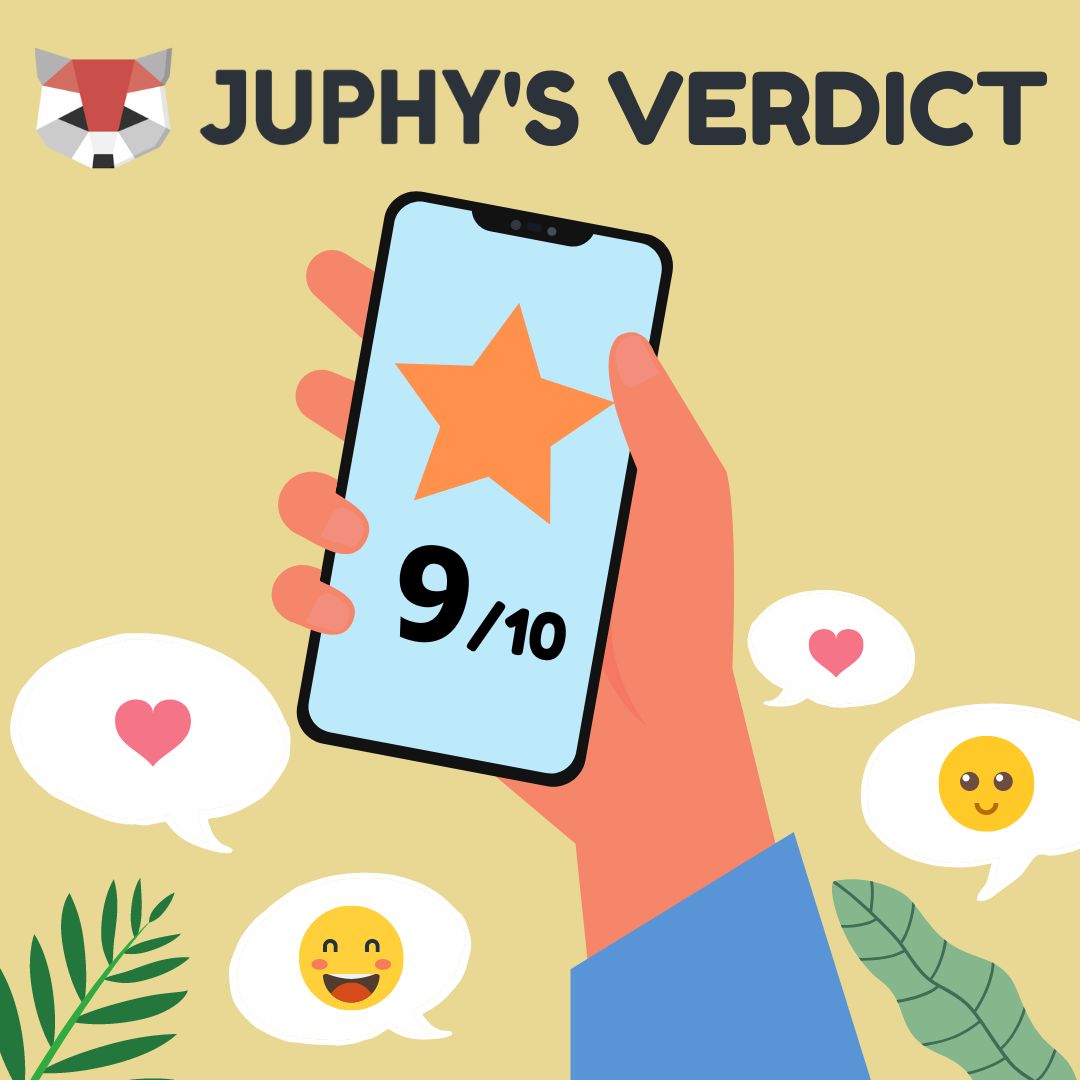 Create Your
Social Inbox Now
Manage all social media customer support inquiries in a unified inbox.
Related Article – Payoneer's Social Media Customer Service Performance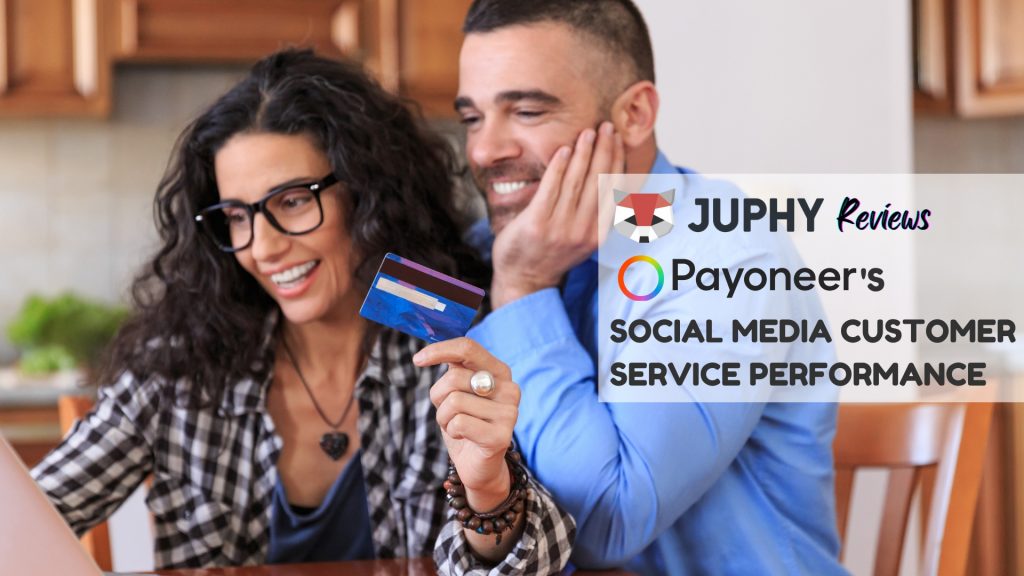 With over 2 million users in 200 countries, how well does Payoneer handle customer support on social media? Find out in our review. Read more now!