One of the best business practices is marketing to your target audience on the platforms they already exist on. The reason is that many customers prefer to shop on familiar platforms and feel comfortable using them. 
Research shows that in 2023, 43% of consumers will find shopping directly on their favorite social platforms preferable and more convenient. They will also want their shopping to be more streamlined and straightforward, with a quicker searching and buying experience.
With the social media giants like Instagram, Facebook, and TikTok hogging the social commerce market, it's easy to overlook other major day-to-day social commerce platforms that many of your customers use — like WhatsApp.
WhatsApp has over 2.4 billion active users on almost all continents, making it the ideal platform to connect seamlessly with hundreds of your customers on the platform where they're already active.
One vital resource businesses use to achieve this today is WhatsApp Cloud API.
Create Your
Social Inbox Now
Manage all social media customer support inquiries in a unified inbox.
What Is WhatsApp Cloud API?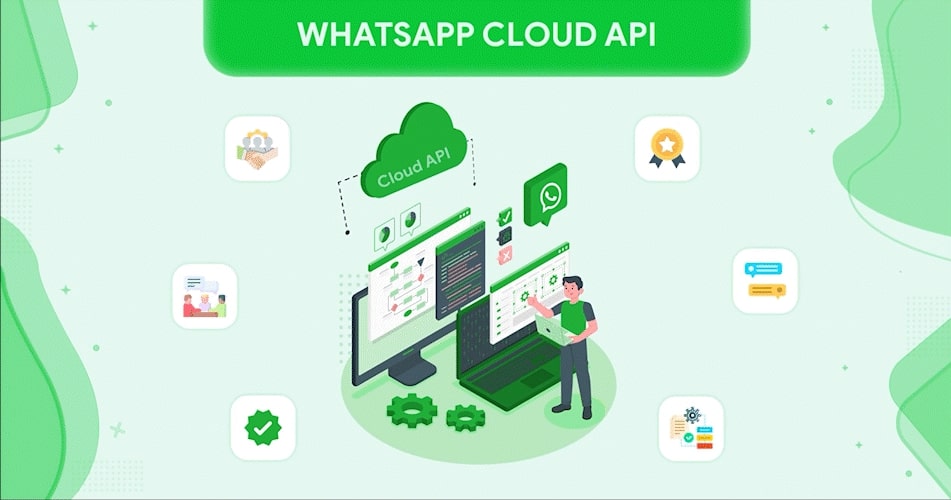 The WhatsApp Cloud API is just like the WhatsApp Business API, with its distinguishing factor being that it is hosted on the cloud. Before now, WhatsApp only had three main products available to users — WhatsApp Personal, WhatsApp Business, and WhatsApp Business API.
Small businesses mainly used WhatsApp Business, while WhatsApp Business API was beneficial to slightly larger or growing companies who required advanced messaging features, automation, integrations, and more.
Before the end of 2022, however, WhatsApp's parent company, Meta, announced the release of its fourth product, the WhatsApp Cloud API. While its alternative, the WhatsApp Business API, is hosted on an on-premise server, or the business's private server, WhatsApp Cloud API, is hosted on the cloud. 
WhatsApp Business API vs. WhatsApp Cloud API: What Are the Differences?
Both WhatsApp on-premise API and WhatsApp Cloud API have unique features that set them apart.
With WhatsApp Cloud API, Meta provides hosting and API access directly to your small business. There's no third party involved in the WhatsApp Cloud API. As a result, you'll have automatic access to security and API software upgrades without any server expenses. You only need to pay Meta's per conversation rates.
On the other hand, Whatsapp API involves both Meta and Business Solution Providers (BSPs). BSPs receive WhatsApp API from Meta. Then, businesses must either purchase the API from BSPs as part of their hosting package or host the API on their servers to obtain it.
Comparing WhatsApp Cloud API and Whatsapp API in this regard shows that the Cloud API saves time by offering direct cloud hosting and eliminates BSP-imposed fees for hosting and maintenance. Also, WhatsApp Cloud API is more scalable than WhatsApp Business API as it can handle a higher volume of conversations without needing additional server resources.
You can find the key differences between WhatsApp Cloud API and on-premise WhatsApp API summarized in the table below: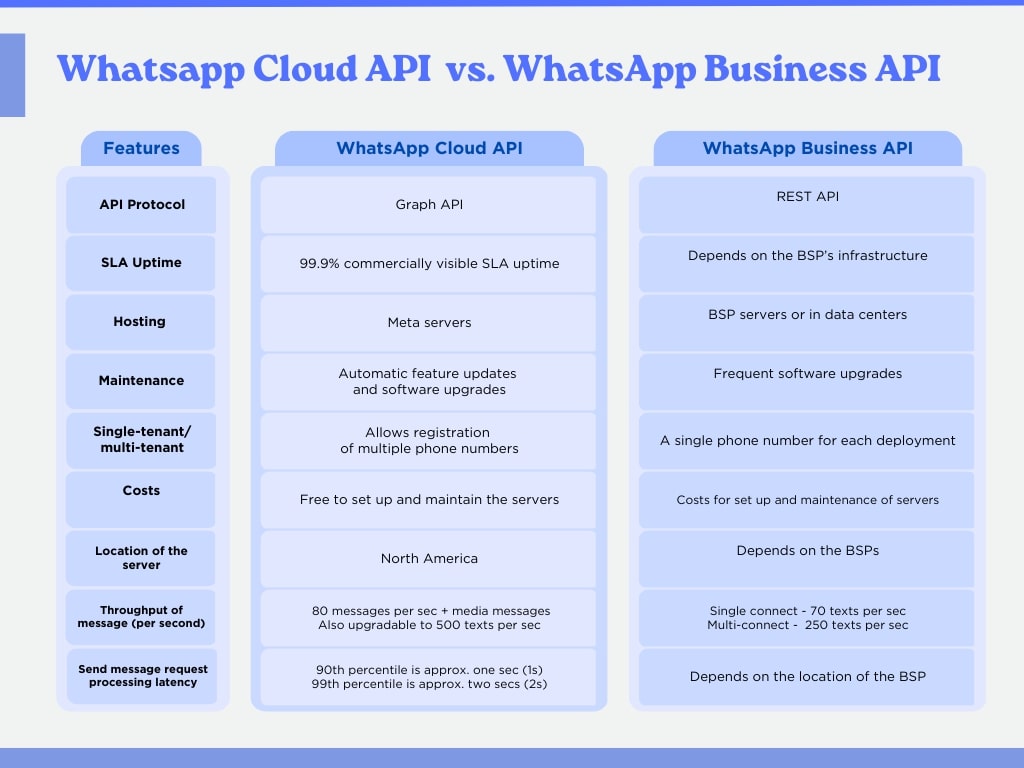 What Are the Advantages of Whatsapp Cloud API for SMBs?
There are several advantages to using the WhatsApp Cloud API, especially for the marketing and customer support teams.
Builds Trust
The WhatsApp Cloud API fosters trust in customers because of the transparency and personalization that the feature provides. With a verified Business Profile sporting a Green Tick, you can convince customers of the authenticity of your WhatsApp business account so they trust you better.
Easy Integrability
One of the best things the WhatsApp Cloud API allows for is easily integrating with numerous apps and software that businesses use for their day-to-day operations. With the WhatsApp Cloud API, you can integrate WhatsApp messaging with third-party apps, CRM software, WhatsApp Chatbot, chat automation, and other analytical features or software.
Faster to Access
Skip the waitlist by choosing the WhatsApp Cloud API. It doesn't require you to get your business approved by the service providers, eliminating the middleman, so you get quick access to advanced messaging services for businesses. You can get started immediately and enjoy improved customer support for your customers and a boost in sales.
Bulk Messaging
The WhatsApp Cloud API provides useful scheduling and automating features for sending bulk WhatsApp messages to hundreds of customers simultaneously. Not just that, you get many other practical and exciting interactive features for customer support teams, like List messages, reply buttons, CTA messages, and more.
Free to Access
WhatsApp Cloud API is more cost-effective than its WhatsApp Business API counterpart, which has a fixed charge to get started. WhatsApp Cloud API is free to access and set up and comes with 1,000 conversations free every month. You also pay per session when you exceed the 1,000 conversations mark.
Enhanced Customer Data Protection and Privacy
WhatsApp Cloud API offers end-to-end encryption, ensuring customer data and communication remain private and secure.
Global Reach
As WhatsApp is a widely used platform globally, using WhatsApp Cloud API allows businesses to connect with customers from different parts of the world.
Further Reading
How to Set up WhatsApp Cloud API — Including Pricing
Gaining access to the WhatsApp Cloud API is free, and any business can take advantage of the resource for their sales automation and customer support enhancement. Here's how you can set up your WhatsApp Cloud API account:
Step 1: Visit Facebook Developer Account
Go to the Facebook Developer site and then sign up to become a Meta developer. Select the "Create App" option to proceed, then choose the app type you want to set up. In this case, the "Business" option lets you set up a WhatsApp Cloud API.
Step 2: Add Relevant Info About Your Business
Here, you'll need to include relevant details about your company, including your display name, contact email, etc. It's important and exciting to note that you don't need a verified Facebook Account to set up a business account.
Click the "No Business Manager Account Selected" option and then "Create App."
Step 3: Agree to Terms and Conditions
If your setup is successful, you'll be directed to a new page, your Meta Dashboard. Select the option to connect with WhatsApp. Affirm the "Set Up" then click continue. Agree to the terms and conditions set out by Meta for Cloud AP hosting.
Step 4: Activate Your WhatsApp Number and Verify Your Account
At this stage, Meta will give you a unique phone number and WhatsApp Business Account ID. You can do a quick test run of the numbers to verify that you're good to go. You'll receive a verification code on your mobile device, which you should enter into the prompt to complete the verification.
Step 5: Push Your First Message
Once your verification process is complete, send your first message via the WhatsApp Cloud API to see if you have successfully integrated the feature.
Pricing and Payments
As we already said, WhatsApp Cloud API is free to access. However, there are a few fees you may need to pay actually to use the service, and this will require you to sign up for the account with a credit card. The WhatsApp Cloud API pricing is structured based on conversations between users and the business within 24 hours of initiation.
There are two main types of conversation categories, User-Initiated and Business-Initiated.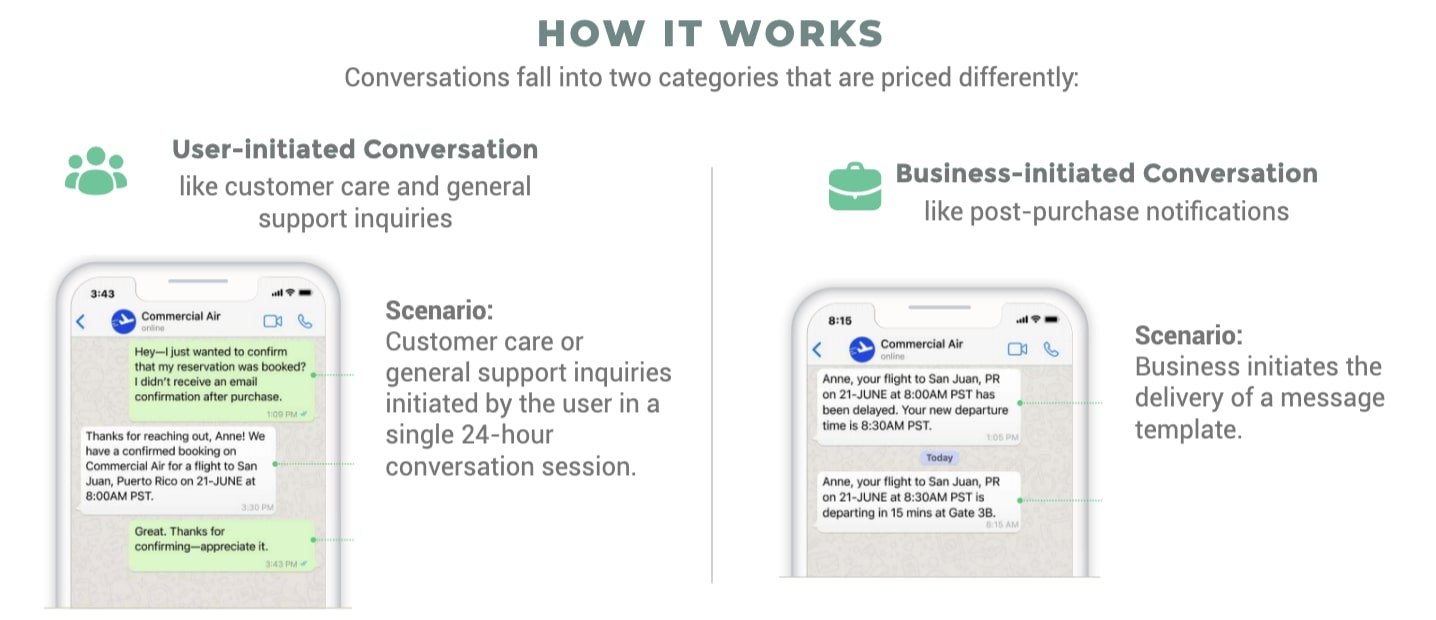 The User-Initiated category is the conversations that customers initiate. If the business replies to these conversations within 24 hours of receiving the message, it will be charged a user-initiated fee.
On the other hand, Business-Initiated conversations are the ones businesses initiate after the 24-hour messaging window has passed. On the business side of the conversation, businesses require message templates to initiate a conversation.
Every business gets to enjoy the first 1,000 conversations in a month for free, after which they get charged. Find out more about the WhatsApp Cloud API rates here.
Sell Better on WhatsApp With Juphy
Every business aims to make consistent sales while keeping its customers happy and satisfied, and Whatsapp Business is an amazing platform for growth opportunities. Juphy consolidates all your social media conversations and has made selling on WhatsApp even more effective and seamless. In this section, we'll explore how Juphy's features can supercharge your WhatsApp marketing and business efforts more comprehensively.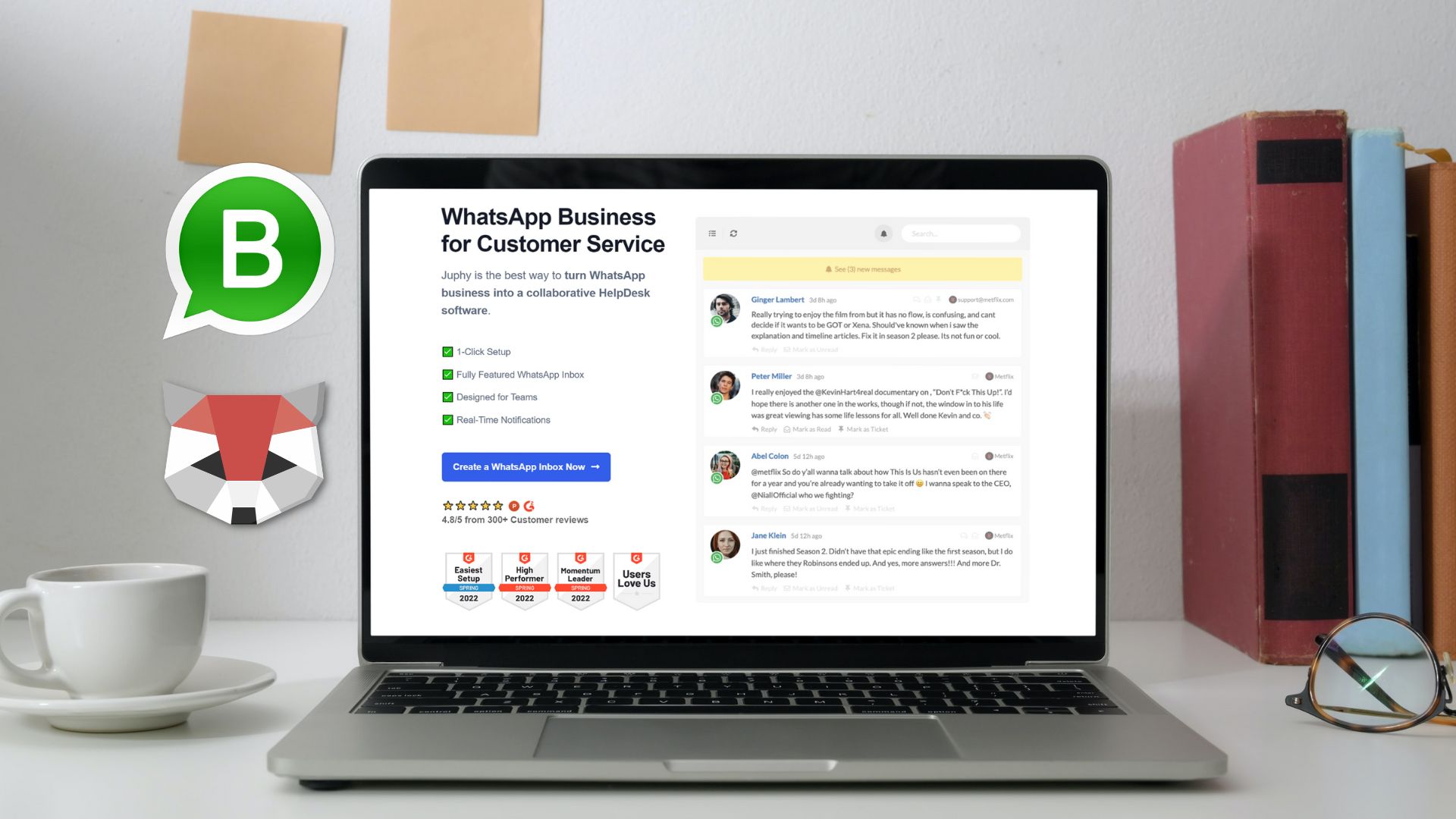 Unified Social Inbox: Juphy's social inbox gathers all your social media conversations, including those on WhatsApp Business, into a single platform. This means you can manage and respond to all customer inquiries from one location, streamlining your workflow and ensuring you never miss an important message.

Team Collaboration and Collision Prevention: With Juphy's team collaboration feature lets you work with your team members on WhatsApp inquiries in real-time. Assign conversations, add internal notes, and discuss customer queries behind the scenes before replying. Juphy also prevents team collisions by showing which team members are viewing specific inquiries and engagements in real-time, ensuring that no two team members work on the same query simultaneously. This collaborative approach provides a more efficient and coordinated response to customer inquiries, increasing customer satisfaction and conversion rates.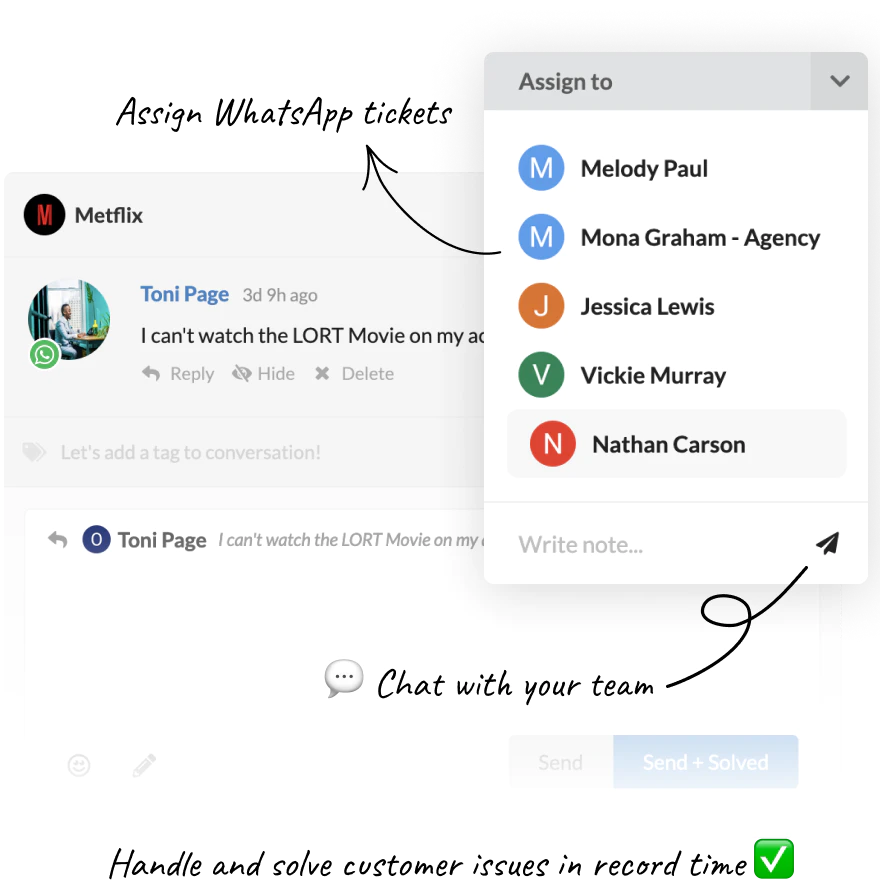 WhatsApp Business Integration: Juphy's WhatsApp Business integration transforms your WhatsApp inbox into a full-featured, collaborative help desk software. With a one-click setup, real-time notifications, and a fully-featured WhatsApp inbox designed for teams, you'll be able to manage customer messages effectively and efficiently.

Automation Rules: Juphy's automation rules enable you to classify, tag, and organize incoming WhatsApp messages based on content, urgency, and tone. Allocate messages to categories like Pre-Sales, Potential Leads, Repeat Customers, or Support, streamlining your response process and ensuring each message gets the attention it deserves.

AI-Powered Canned Responses: Save time and improve response consistency with Juphy's AI-powered canned responses feature. By integrating OpenAI, Juphy provides personalized reply suggestions for any customer interaction, allowing your team to craft engaging responses in less time. Create pre-written snippets for frequently asked questions and let the AI assist you in tailoring them to each customer inquiry, boosting your customer satisfaction and sales potential on WhatsApp.

Joshua G
CEO, Small Business
"I'm in the early stages of running a new business and managing two personal brands. Juphy is a tremendous help in unifying social media messages linked with these entities. In my case, it's handy to be able to invite specific staff members to handle inquiries from customers whose native language isn't English. I can assign/revoke roles and review all correspondence in one convenient location. They have a promising road map."

Harness the power of Juphy and take your WhatsApp sales to new heights, capitalizing on the platform's vast customer base and driving growth for your business. Enjoy this 7-day free trial to get started.
FAQ
1. What is WhatsApp Cloud API?
WhatsApp Cloud API is a cloud-hosted version of WhatsApp Business API that enables businesses to connect with their customers using advanced messaging features, automation, integrations, and more.
2. Is WhatsApp Cloud API free?
WhatsApp Cloud API is free to access and set up. The first 1,000 conversations on the tool are also free as long as it meets the 24-hour messaging window. However, if you exceed the free conversations you receive at the start of every month, there is a fee per conversation session.
3. What is the difference between WhatsApp Cloud API and WhatsApp Business API?
The main difference is that WhatsApp Cloud API is hosted on the cloud and provided directly by Meta, while the on-premise WhatsApp Business API requires businesses to host the API on their servers or purchase it from Business Solution Providers (BSPs). Also, there's no need to pay to host and maintain the Cloud API; Meta handles that. BSPs, on the other hand, bear the cost of hosting.
4. How do I access WhatsApp Cloud API?
You can access WhatsApp Cloud API on the Facebook for Developers page to set up the platform. Once it's fully set up, you can start sending messages to your customers and receiving messages as well. Follow the prompts on the setup page to get started.
Create Your
Social Inbox Now
Manage all social media customer support inquiries in a unified inbox.
Related Article – Whatsapp Broadcast and Bulk Message Guide