Customers are essential to every business, and the best companies are built on happy customers. Every company wants its customers to be happy and satisfied with their products/services and stay loyal to the brand.
The happiness of customers is the key to any business's growth. A happy customer base is a driving force for revenue in any industry. According to Forrester, an American market research company, 81% of happy customers are likelier to engage with businesses that exceed their expectations.
Customer happiness trumps all other things like positive word-of-mouth marketing, brand loyalty, repeat business, and increased business revenue. So, nurturing your customer base is always a good practice, as client happiness is a more powerful tool than any promotion or advertisement.
That said, the best way to keep your customers happy is to provide excellent customer support, take care of their needs, and make them feel valued. Customer service is not just a department. It is a company culture! 
But, in competitive customer service, where customer expectations keep increasing, it's always challenging to satisfy your customers and keep them happy, as all customers are different. You won't be able to keep 100% of your customers happy.
However, it isn't impossible.
In this blog post, we will provide the top tips to make your customers happy, and with these tips in place, your clients will be more likely to return and buy from you again and again.
So, without any further ado, let's get started!
Create Your
Social Inbox Now
Manage all social media customer support inquiries in a unified inbox.
What Is Customer Happiness?
How do we know if our customers are happy with our brand, product, or service? Over 96% of unhappy customers ideally don't complain, and 91% of those unhappy customers will leave and never come back. So, you may never know if your customers are happy unless you first understand customer happiness.
Customer happiness is the satisfaction level of customers with your product and services. A delighted customer will have no issues with the before and after sale interaction with your company.
Customer happiness also refers to the level of loyalty and satisfaction your customers experience after availing of your products, services, or experience. The customers are happy as their needs are being met regularly without fail.
Customer happiness is an excellent index for understanding if your business is scaling in the right direction.
Happy customers turn out to be loyal to your business long-term. Needless to say, customer happiness and loyalty are complementary. When customers trust your business, they are your brand's most prominent advocate among friends, colleagues, and peers.
Happy customers do not always translate to loyal customers, but loyal customers are always happy, meaning happiness is the first step towards building customer loyalty and a customer-centric brand. A happy and loyal customer is your brand's best advocate.
Why Is Customer Happiness Important?
Customer happiness is vital as it is directly proportional to your business growth. It can help companies to boost:
Brand reputation: A happy customer means positive online and offline reviews, an excellent customer experience for them, and an improved brand reputation for you. 
Satisfied customers are the best marketing tool and are the brand's best ambassadors. Their shared experience with friends and peers is positive word of mouth.
When customers are happy with your brand, they will leave good reviews on social media and review platforms and share their experiences. They might also recommend your brand to their friends and family, improving your brand reputation.
Customer loyalty: Happy customers often turn into loyal customers as they return to you if they love your brand or have had a positive and delightful customer experience. They may even choose your brand over your competitors, increasing your customer loyalty base and revenue.
When brands care for the happiness of their customers and meet customer expectations, they boost customer satisfaction. Happy customers tend to be loyal to the brand in the long term.
Reduce customer churn: Not every customer will become happy at the first interaction. Some may have an issue with your products, while others may complain about other features, rules, or policies and walk out. Customer churn is never a good sign, and minimizing your customer's leaving is essential. 
Customer churn happens for several reasons:
Wrong customers
Unsatisfied with your product
Better competitors
Do not find value in your product
Poor customer experience
While certain things are beyond our control, providing outstanding customer support is undoubtedly within our scope that can make customers happy. The happier they are, the fewer the chances of them leaving!
By recruiting customer support representatives and training them to deliver great offline and social media customer support, businesses can maximize their profits through customers.
Best Practices to Make and Keep Customers Happy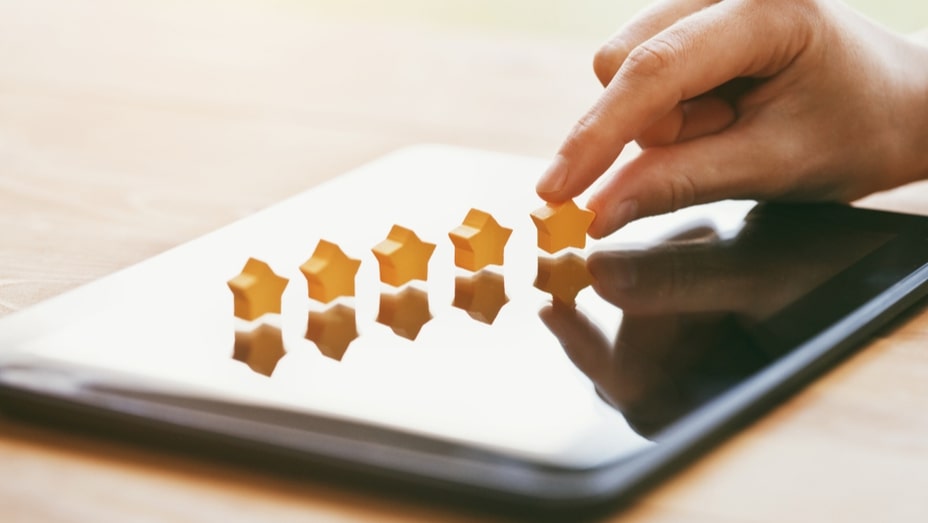 Businesses focus more on acquiring new customers. While this is important, keeping your customers happy is vital to long-term success. Listed below are some top surefire tips to keep your customers happy.
Prompt Response
When a customer reaches out to you on social media or conventional customer support, how long does it take for your company to reach out or follow up?
Response time plays a very important role in customer satisfaction, and this is arguably the most important contributor to customer retention. Studies claim that 82% of customers say the most significant factor of excellent customer service is resolving their issues in no time.
Delay in responding to customers' issues is the crucial reason for customer frustration and negatively impacts the customer service experience. Businesses can also try the canned response feature provided by top social media management software such as Juphy to reduce response time and deliver a delightful customer experience.
Personalized Customer Experience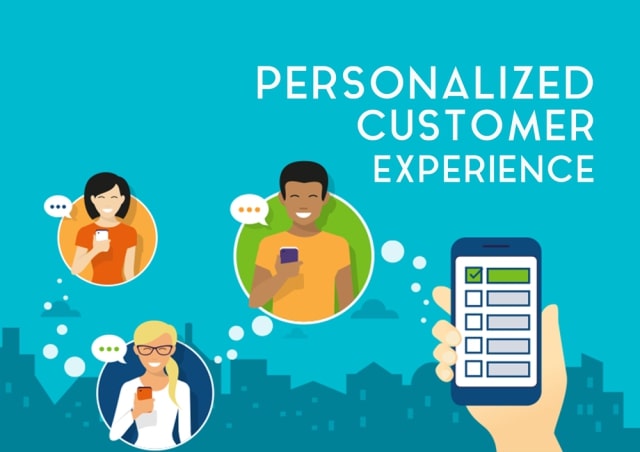 In the era of chatbots, a personalized approach goes a long way, making your customer feel heard. According to a report by Accenture, around 33% of customers left companies and brands owing to a lack of personalization.
Understanding how to deliver personalized customer service can help to boosts customer happiness. Customers expect companies to understand their unique preferences and want brands to engage with them as individuals rather than as different customer types.
A personalized customer experience makes this possible by delivering tailored messaging, offers, and products to each person. That said, with ‌new technology taking over, you can also automate personalization as much as possible.
Reward your Customers
Rewards and happy customers always walk hand in hand. When companies offer something extra to customers, it creates additional value and allows the customer to save a couple of bucks, which makes them happy. 
This technique helps attract new customers and can also increase customer loyalty and engagement. Here are some common types of promotions that proved their effectiveness over the years:
Direct discounts
Upgrade
Two-for-one offer
Free stuff
Free shipping
Consistent Omni-Channel Customer Experience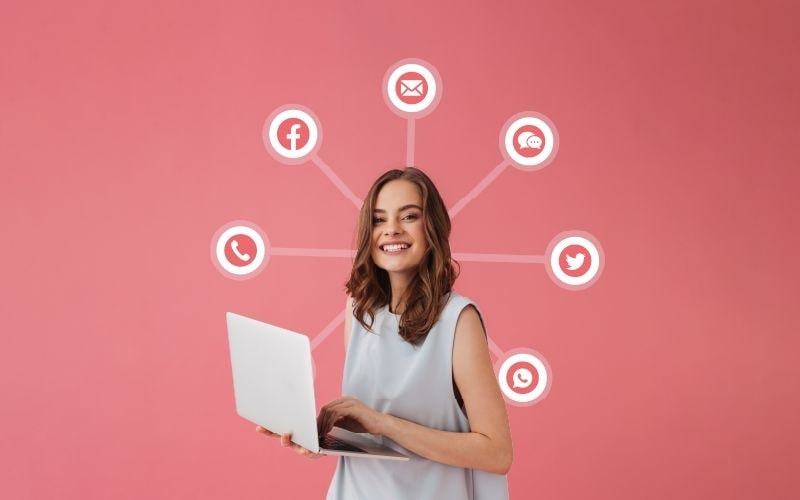 Omnichannel strategies boost customer engagement for any company as it gives the customers a choice and flexibility to communicate with your brand across any communication channel at their convenience.
Most customers want an Omnichannel experience with seamless service between communication methods. Over 90% of customers jump between different devices and channels daily. Customers expect excellent experiences across multiple channels as they use them to reach brands.
Seek and Value Customer Feedback
Businesses make loyal customers by valuing customer feedback and opinions. Feedback is an excellent way to identify the gaps between customers and brands.
One of the best ways of knowing what your customers think about your products/services and brand is to ask for a review or feedback. The aim of doing this is to understand how your customers perceive your product/services and brand. 
Happy customers share their positive experiences and success stories on social media, and one negative experience can get you in the limelight of callout culture.
Some tips to follow when collecting feedback from happy customers
Seek customer feedback at the end of every conversation, chat, or checkout
Post a link to a survey on the brand's social media handle
Keep an apt feedback form ready with close-ended and open-ended questions
Acknowledge every customer feedback and try to implement the valid ones
Escalate the input to the right team for faster resolution
Boost Customer Happiness with Juphy
Juphy is an omnichannel customer communication and social media engagement management tool loaded with features to keep your customers happy, make your business operations easier, boost customer loyalty, and generate revenue. 
Juphy helps businesses to create meaningful and lasting relationships with their customers, ensuring happy and satisfied customers with their social media engagement strategy.
Juphy is an award-winning, all-in-one platform that primarily focuses on social media customer support. It also enables businesses to manage all types of customer engagement effortlessly, such as tweets, reviews, chats, mentions, direct messages, comments, and ads on all public platforms. Juphy is integrated with several leading platforms, including:
Instagram: Direct Messages, Comments, Ads Comments
Facebook: Facebook Groups Comments, Pages Comments, Facebook Messenger, Ads Comments
Twitter: Tweets and Mentions
LinkedIn Business: Comments
YouTube: Comments
Additional Platforms:
Google My Business: Reviews
App Store: Reviews
Google Play: Reviews
Whatsapp (Twilio): Text Messages (Working on direct integration)
Juphy's social inbox helps businesses facilitate audience engagement by handling all the different messaging and customer service channels on one dashboard.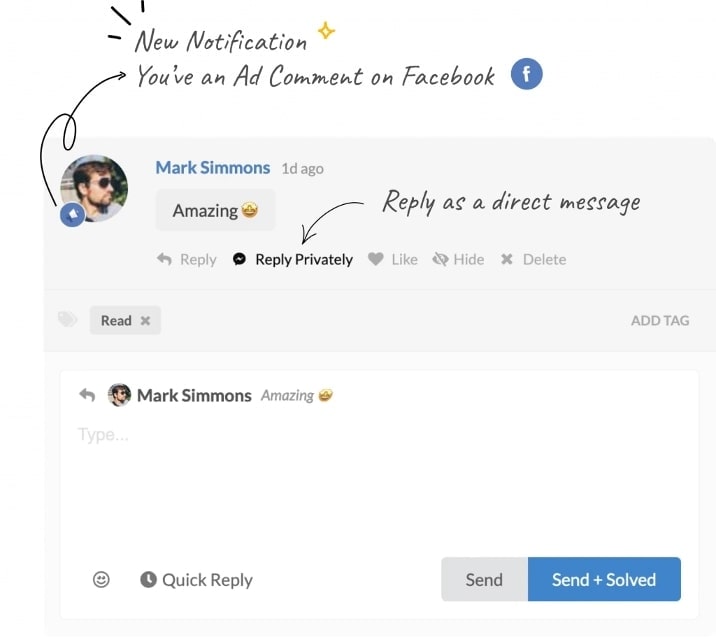 It pulls all the mentions, messages, and retweets from your social platforms into a unified inbox. This is cost-effective as each message ends up in one inbox from which any team member can promptly respond to messages, comments, and mentions, ultimately boosting customer happiness.
Juphy also helps accelerate customer replies with the canned response feature that answers the most frequently asked queries on social media, making customers happy as they receive the solutions sooner.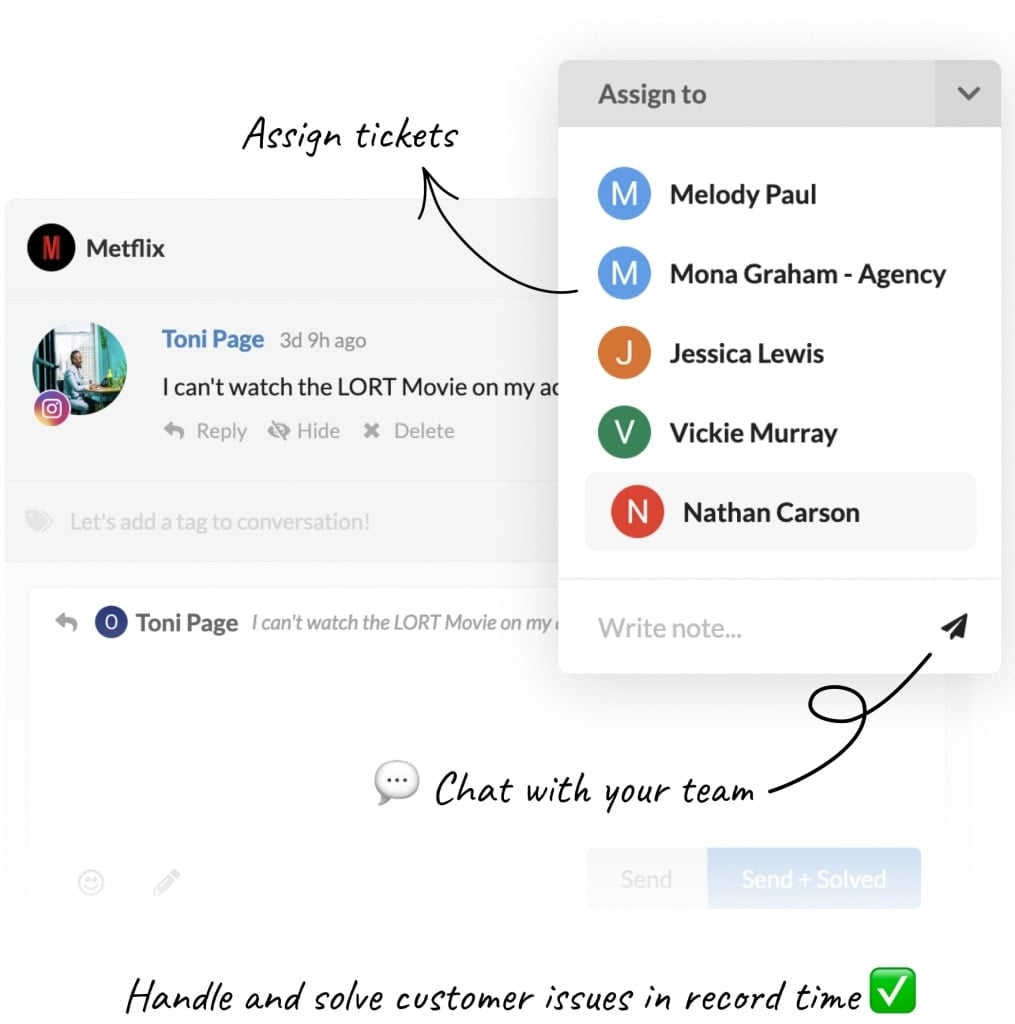 Juphy also helps deliver personalized customer support by ensuring that no single customer chat, comment, or tag has been missed. Once you keep track of all the incoming messages in Juphy's social inbox, you can use the team collaboration feature to assign tickets and tasks effortlessly to the team to respond with personalized messages.
This way, every single visitor or customer will feel valued and appreciated.
You can also add internal notes about customer interaction history so that your teammates can refer to them before replying.
Bottom Line
It is high time businesses consider a happy customer base pivotal to brand success.
Positioning your brand and its message concerning customer desires will boost customer satisfaction and help retain existing customers.
Customer happiness is non-negotiable and is the most valuable asset to any business. Juphy can help prepare the most effective social media strategy to engage customers, help companies to meet customer expectations, and increase customer happiness.
Boost customer happiness with Juphy. 
FAQ
What Is Customer Happiness?
Customer happiness is the satisfaction level of customers with your product and services. A delighted customer will have no issues with the before and after sale interaction with your company.
Why Is Customer Happiness Important?
Customer happiness is vital as it is directly proportional to your business growth. It can help companies to boost brand reputation, customer loyalty, and improved churn.
Create Your
Social Inbox Now
Manage all social media customer support inquiries in a unified inbox.
Related Article – Essentiality of a Good Customer Service Management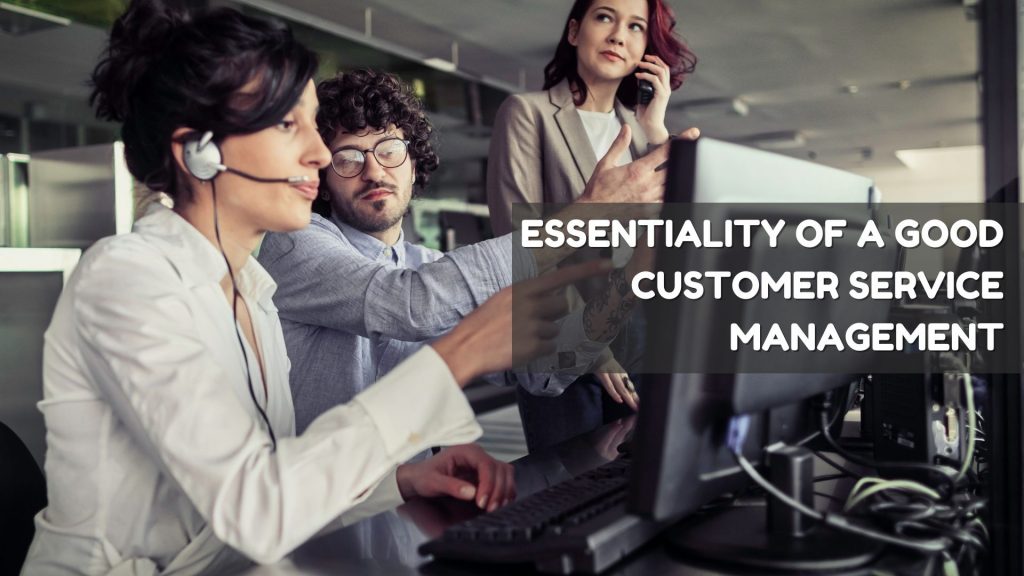 Customer service management influences business growth and customer retention. Find out other reasons why it's necessary for your business. Read now!