When it comes to social media, everyone has an opinion. These days it extends to just about anything you post online, including your business Facebook pages. Whether fans or critics, many people feel free to comment on almost any post they see online. That can be great! 🙂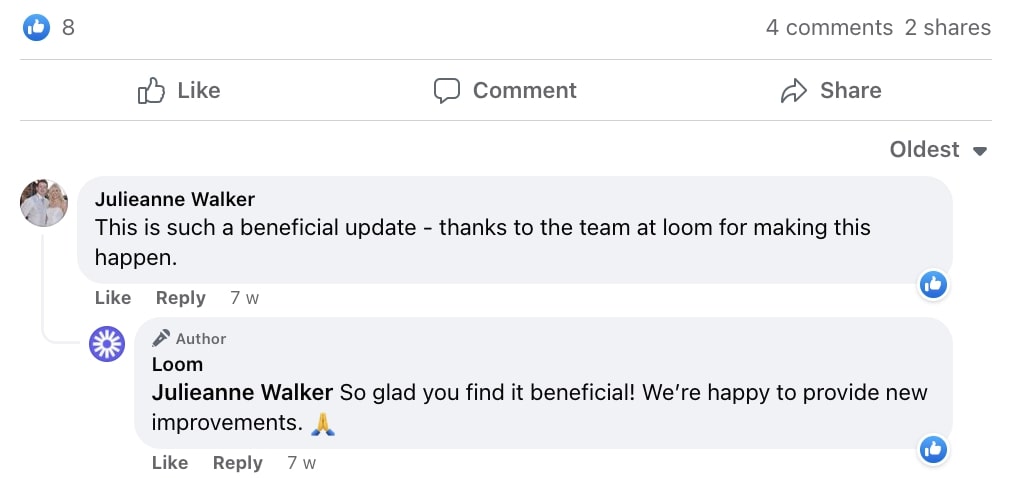 But sometimes, you might want to avoid encouraging this kind of interaction. If you'd rather avoid the comments vs. likes dynamic on your Facebook page and other sites for several purposes, here's how to turn off comments in seconds.
Create Your
Social Inbox Now
Manage all social media customer support inquiries in a unified inbox.
Why Is Facebook Comment Management Critical for Your Business?
Social media is a great way to engage with your customers and potential customers. The ability to communicate quickly and easily with people from all over the world is unprecedented.

But there's a flip side to that ease of use: you can't precisely control who's reading what you post. Sometimes, you can't even control who can react to what you post! Facebook and other social media sites have always allowed users to comment and react to posts on their sites. Over time, these commenting and reaction functions have been extended to just about every major social media platform.

This ease of use creates the potential for lots of engagement, but it also makes the potential for lots of noise. You don't want to spend your time replying to critical comments or having to monitor your comments constantly. Facebook comment management is crucial for any business that uses Facebook as a marketing channel.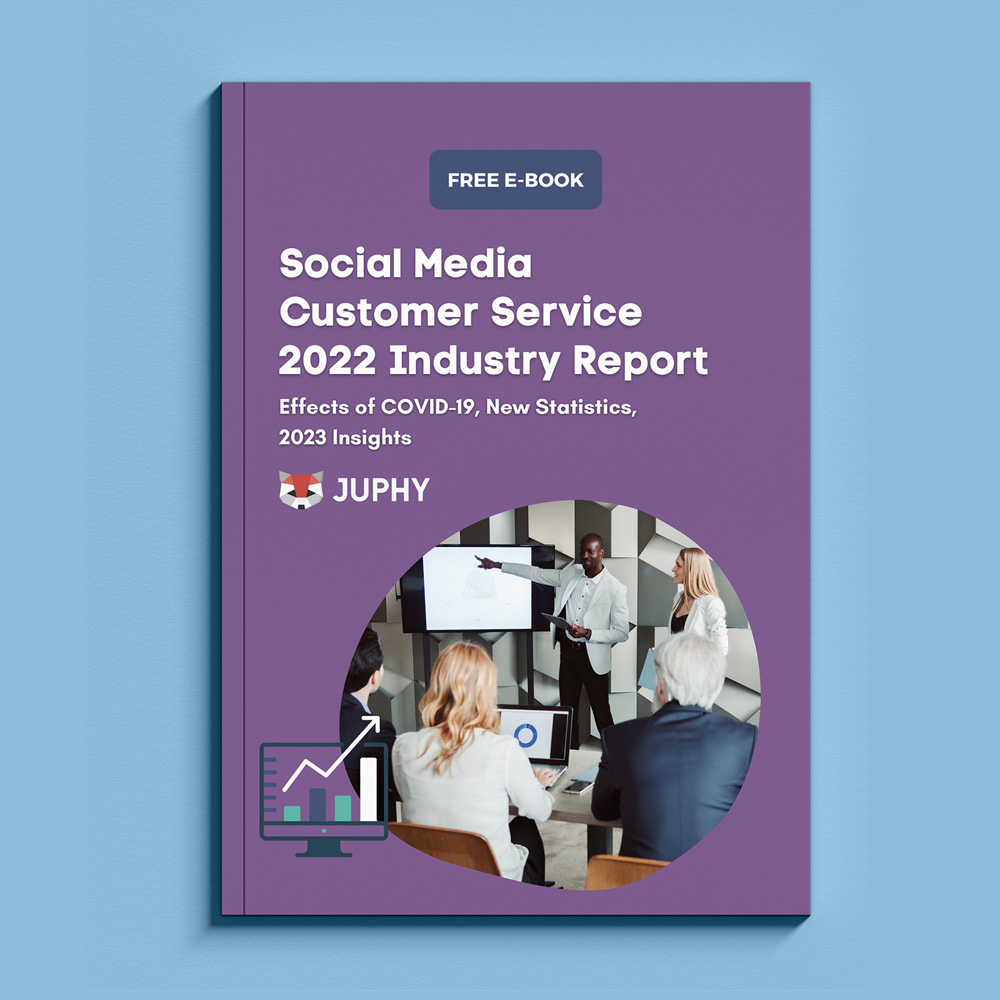 Facebook comment management is just a small section of social media customer service. We prepared a detailed report of all the developments and updates in the social customer service industry. Download it for free now!
How to Turn off All Facebook Comments
Now, let's talk about how to turn off all Facebook comments. The simplest way to do this is to turn off the ability for anyone to leave a comment on your posts. You can do this at the account level by clicking on the "Settings" tab, scrolling down to "Public post comments", and switching off the "Who can comment on your public post" setting.

Only your friends will be able to comment on public posts when you select the Friends option there. Unfriend them if required, and they will lose the ability to comment.
For many businesses, turning off all Facebook comments is a great option. For example, if you're running a contest, you don't want people leaving unnecessary comments on your post. However, there are two caveats to this approach. One is that you may want to leave comments enabled on your Facebook page. The other is that you may want to leave comments enabled on individual posts.
How to Turn off Comments for Individual Public Facebook Posts
If you're only seeing a bit of craziness on one Facebook post, you can disable public commenting on that one.
Click the three horizontal dots in the upper right of the post. Click Who can comment on your post? In the drop-down menu;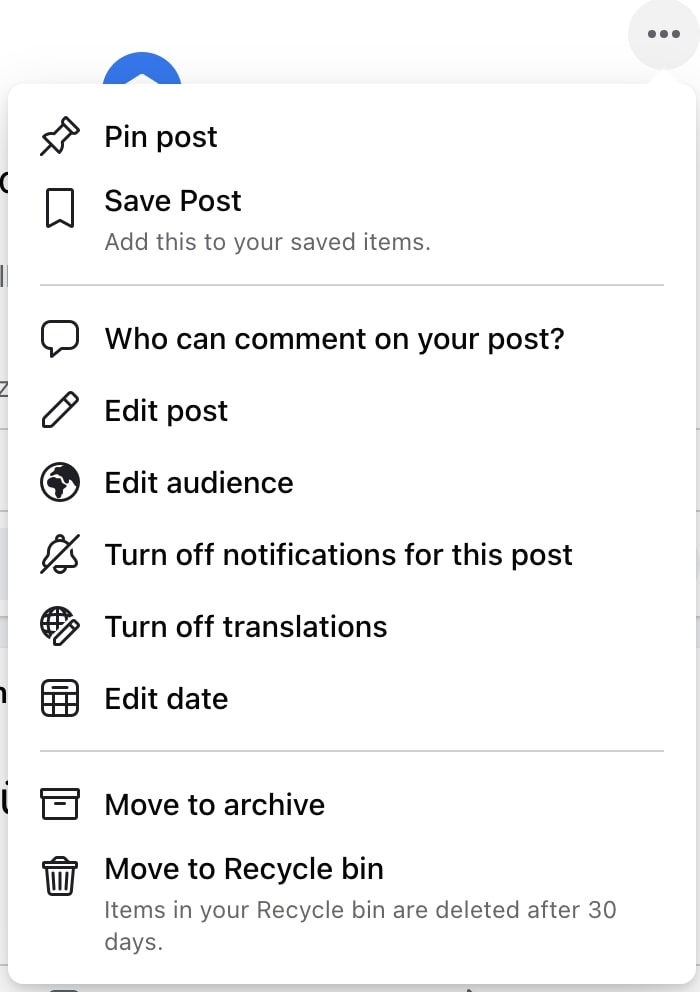 And by clicking that, you'll see the following;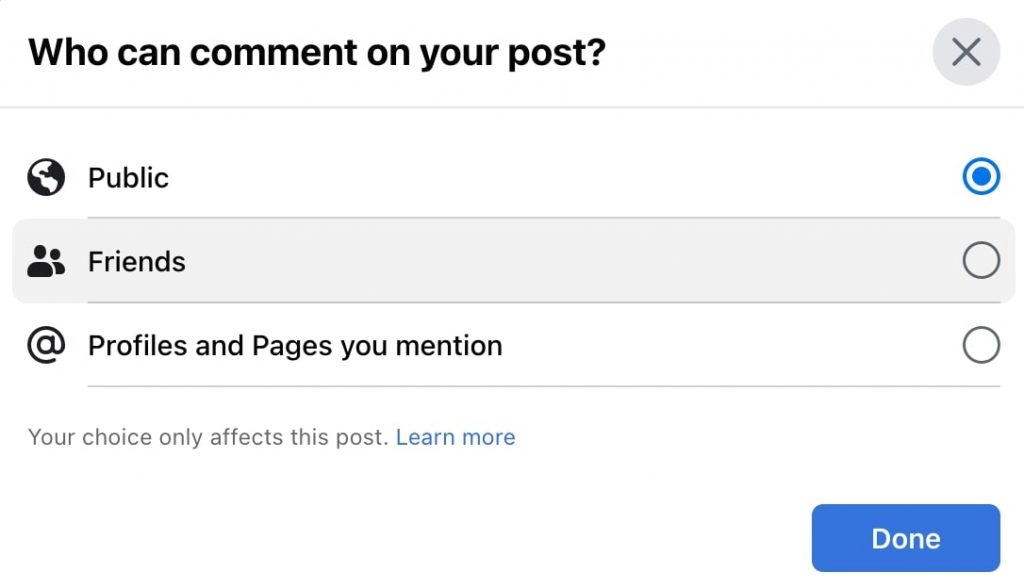 You can choose between these options. If you select the Profiles and Pages you mention, only the mentioned profile and pages in the post can comment.
Should You Turn off Comments on Facebook?
I mean, why not if it's necessary? Sometimes comments can be misleading, misinforming, or simply unnecessary. But don't worry; everything is under your control. If you've turned off comments on Facebook at the account level and would like to turn them back on for individual posts, you can do so by clicking on the three dots in the upper-right corner of the post and selecting whoever you would like to be able to comment.
In short, dynamically managing Facebook comments is the key to a successful Facebook page. All you need is the right tool to ease your life!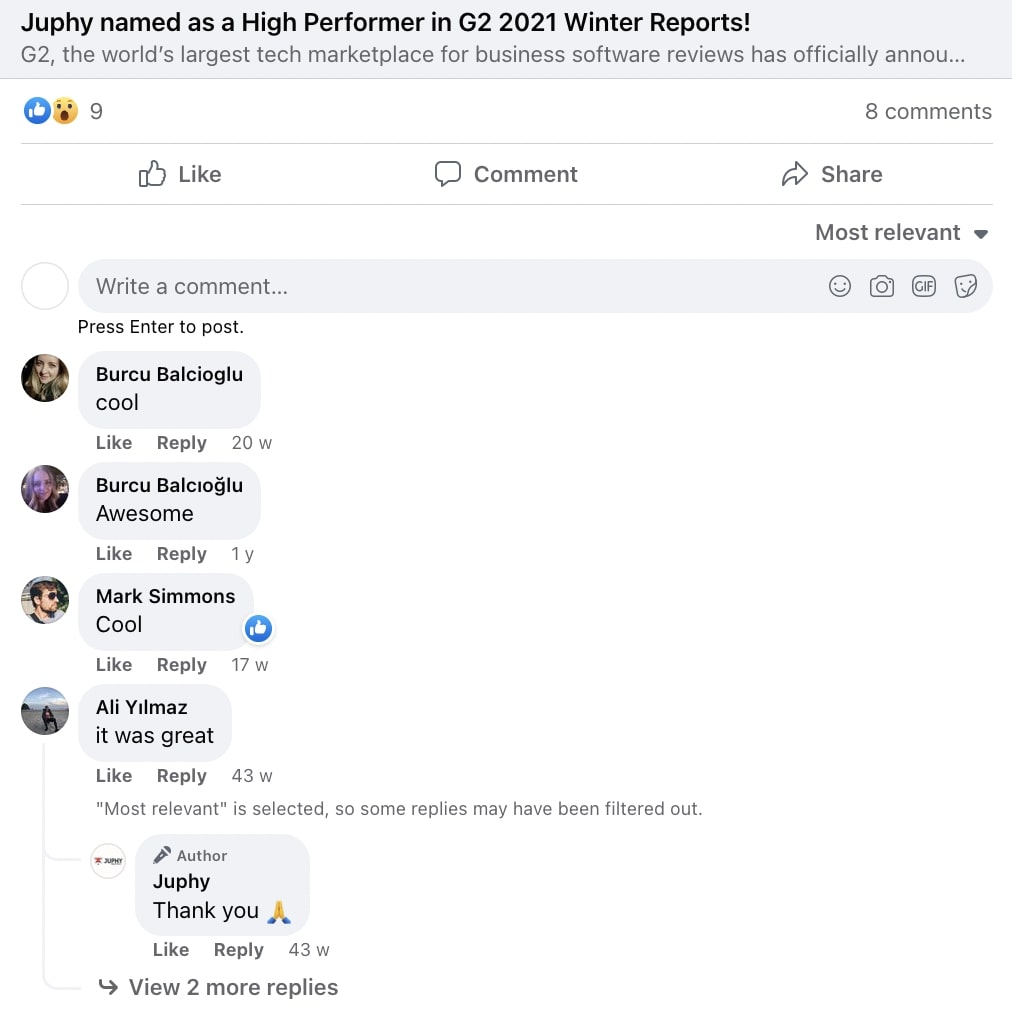 How to Manage Facebook Comments via Juphy
One caveat to the above approach is that you must remember to turn comments on or off for each post. This tip is especially beneficial if you manage multiple pages for your business. If you'd prefer to have more control over managing the comments on your Facebook page, you can do so by using a tool like Juphy.


Juphy allows you to turn comments on or off for your posts and monitor and manage all your Facebook comments.
It includes using Juphy's "conversation tools" to reply to comments from a single location. Integrating your Facebook page allows you to manage all of your channels, comment activities, and messages directly from Juphy's easy interface. Furthermore, all of your notifications, messages, and comments will be displayed on your dashboard.
Juphy also allows you to manage comments from a computer, tablet, or smartphone, meaning that you can respond to critical comments from your phone while you're on the go. Juphy is a tool that businesses of all sizes can use, so if you want more control over Facebook's comment function, it's worth exploring.
How Specifically Can You Manage Facebook Comments with Juphy?
If we listed the solutions that Juphy provides for managing Facebook comments, it would be something like this 💁‍♀️
With Juphy, you can;
Get Facebook Direct Messages in real-time right into your social inbox.
See each Facebook Comment and Ads Comment in real-time on Juphy's dashboard.
Set automation rules for tagging Facebook comments and messages and also have canned responses to answer comments and messages faster.
Manage your interactions as a team, and improve your customer support strategy on Facebook.
Monitor the performance of your Facebook comments and strategy to deliver a better user experience.
Create different workspaces for your different Facebook pages and Manage user engagement from multiple products and brands in separate workspaces.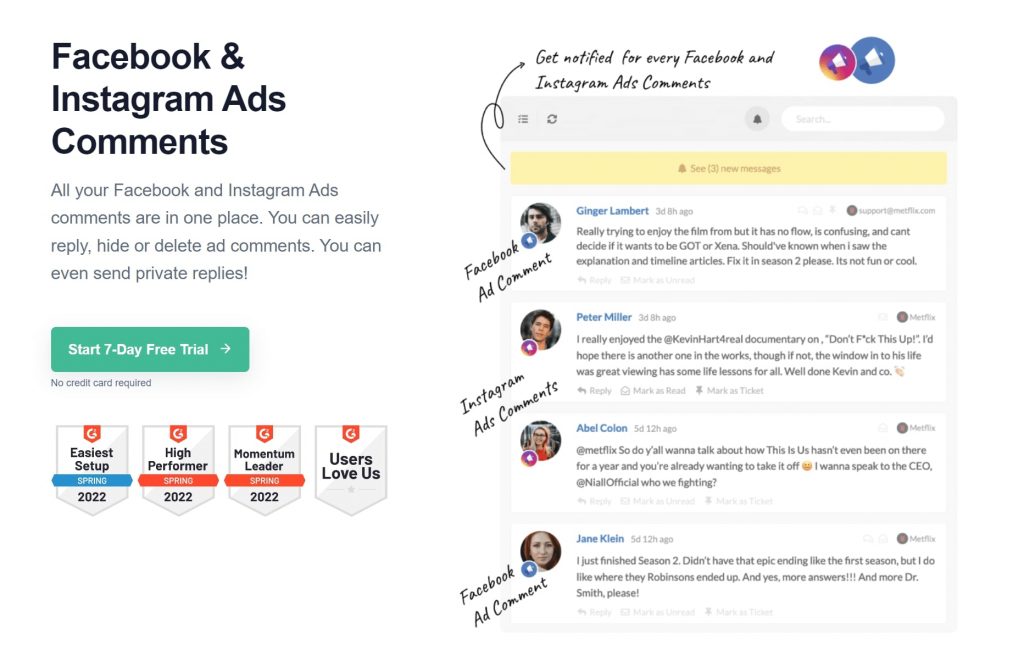 We have talked about turning off comments on Facebook, but what about deleting them? You might be curious about how it will look on Juphy when you delete Facebook comments.

Joshua G
CEO, Small Business
"I'm in the early stages of running a new business and managing two personal brands. Juphy is a tremendous help in unifying social media messages linked with these entities. In my case, it's handy to be able to invite specific staff members to handle inquiries from customers whose native language isn't English. I can assign/revoke roles and review all correspondence in one convenient location. They have a promising road map."

Yes, you can delete or hide Facebook comments on your Facebook pages. Yet, you had once notified, and the information got into your Juphy inbox, you'll still be able to see those deleted or hidden comments in Juphy's Inbox, which will also be included in the reports, as well. There is much more you can do; wish to explore? Start your 7-day free trial today!
Bottom Line
Facebook comments are a double-edged sword. While they can be an excellent way to interact with your community of followers, they can also be a headache if you're not managing them properly.
If you're finding yourself overwhelmed by the number of comments on your posts, or if you'd just rather turn them off entirely, there are ways to do that. You can turn off Facebook comments at the account level or turn off all comments for a specific post. You can also use a tool like Juphy to manage comments on a more professional level.
Doing so will help you get a handle on your Facebook commenting function so that you can focus on the engagement happening on your posts.
Create Your
Social Inbox Now
Manage all social media customer support inquiries in a unified inbox.
Related Article – Social CRM Guide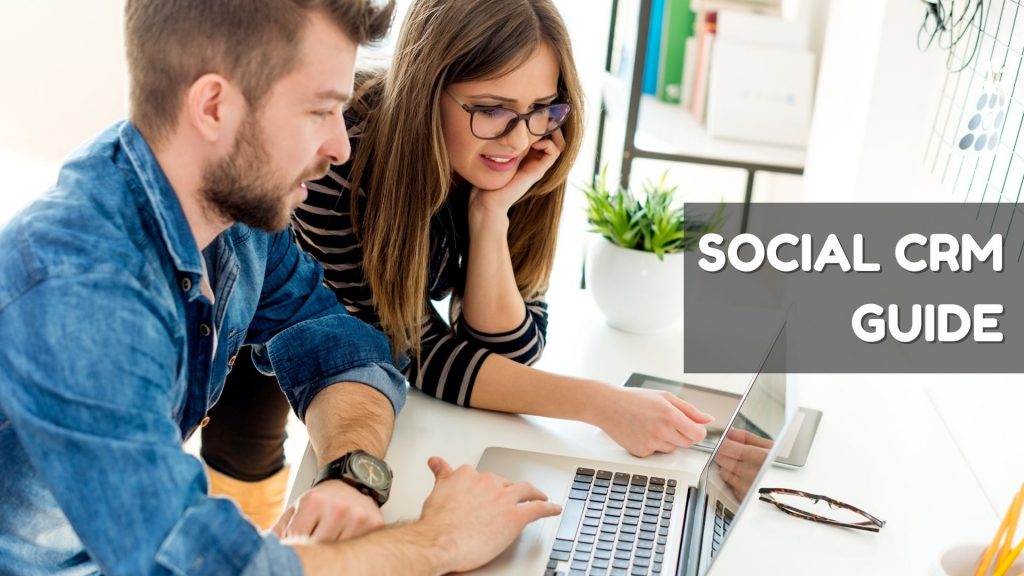 Social media combined with excellent CRM makes a powerful social CRM strategy for today's brand. We've spotlighted the steps to build one. Read more now!