At the heart of every thriving business, there is an exceptional customer service team. Sometimes, customer service teams seem like the heroes behind the scene, putting in all the work to make the company look good and maintain a great brand reputation. But the truth is building a great customer service team does not happen by magic or luck. There are good customer service management (CSM) practices, tools, and systems, that help customer service teams provide the amazing services customers enjoy. 93% of customers only want to come back for another purchase because your team offered them excellent customer service the last time.
You need good customer service management if you want a customer service team that excels at every turn. In this article, we'll share precise details about what customer service management practices are and why your business needs them.
Create Your
Social Inbox Now
Manage all social media customer support inquiries in a unified inbox.
What Is Good Customer Service Management?
Good customer service management refers to the steps, processes, tools, techniques, and tactics that a business uses to manage its customer service operations and ensure it provides consistently amazing service for customers.
It is a process through which companies manage the interactions between their brands and customers to build long-term business relationships. Other results that may ensue from this include improved customer satisfaction assured customer loyalty, up to 20% or more increase in sales, and a higher chance of encouraging repeat business.
Good customer service management strategies include training, restrategizing and optimizing customer service operations, and measuring the success of the customer service teams.
What Are the Main Elements of CSM?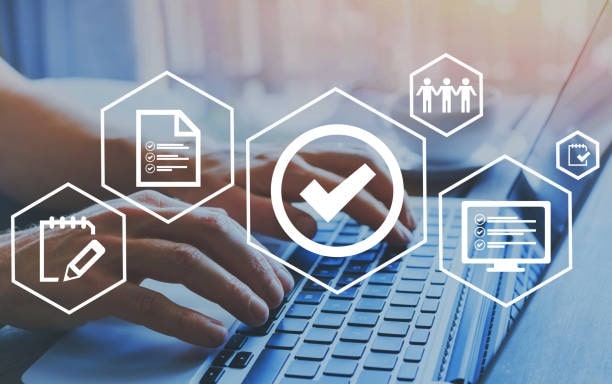 To provide excellent customer service, certain key elements must be present in your operations.
Knowledge of your customer and their needs
Precise customer support strategy
Well-trained and equipped customer service representatives
Excellent customer relationship management solutions
Constant tracking of performance and implementation of improvements
High-quality CSM requires building a framework and system around each element. The customer service team will then work with this as a guide to delivering exceptional customer service at every turn.
Why Is Management Important in Customer Service?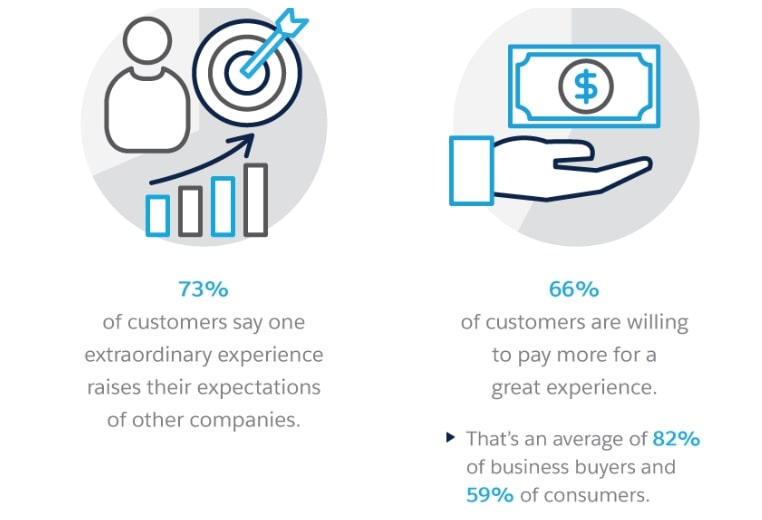 The statistics above show just how essential a good customer service experience is for today's customers. It's key to achieving customer retention and inspiring repeat purchases. You need a customer service management structure to ensure that your customer service team is always in line with your business's customer interactions and relations principles.
CSM is important for your business because it ensures that the customer support team provides the best service always, no matter what they're doing. It also keeps teams striving for improvement and refining team processes. It takes customer feedback and implements it to provide better products and services for the customer.
Management in customer service ensures customer service team members are adequately equipped for their tasks with relevant tools and useful knowledge through training. This empowers the team to do their job well and provide high-quality experiences for customers.
What Are a Customer Service Manager's Duties?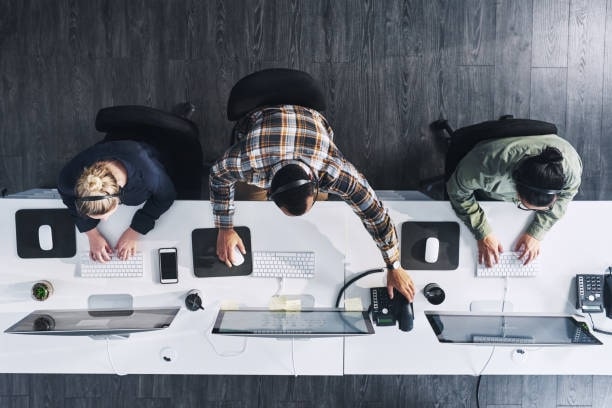 A customer service manager has a wide range of duties to ensure the customer service team is always at its best. Some of these duties range from administrative to executive, sometimes a mix of both. The manager also runs the team with both interpersonal and technical skills.
A customer service manager hires a customer service team, trains the team members, motivates their efforts, and tracks their performance. A customer service manager also brainstorms with the team to develop ideas for improving their customer service operations.
They're held responsible for every team interaction with prospective, past, and present customers. Team members also report to customer service managers for instructions and directives.
What Is the CSM Process?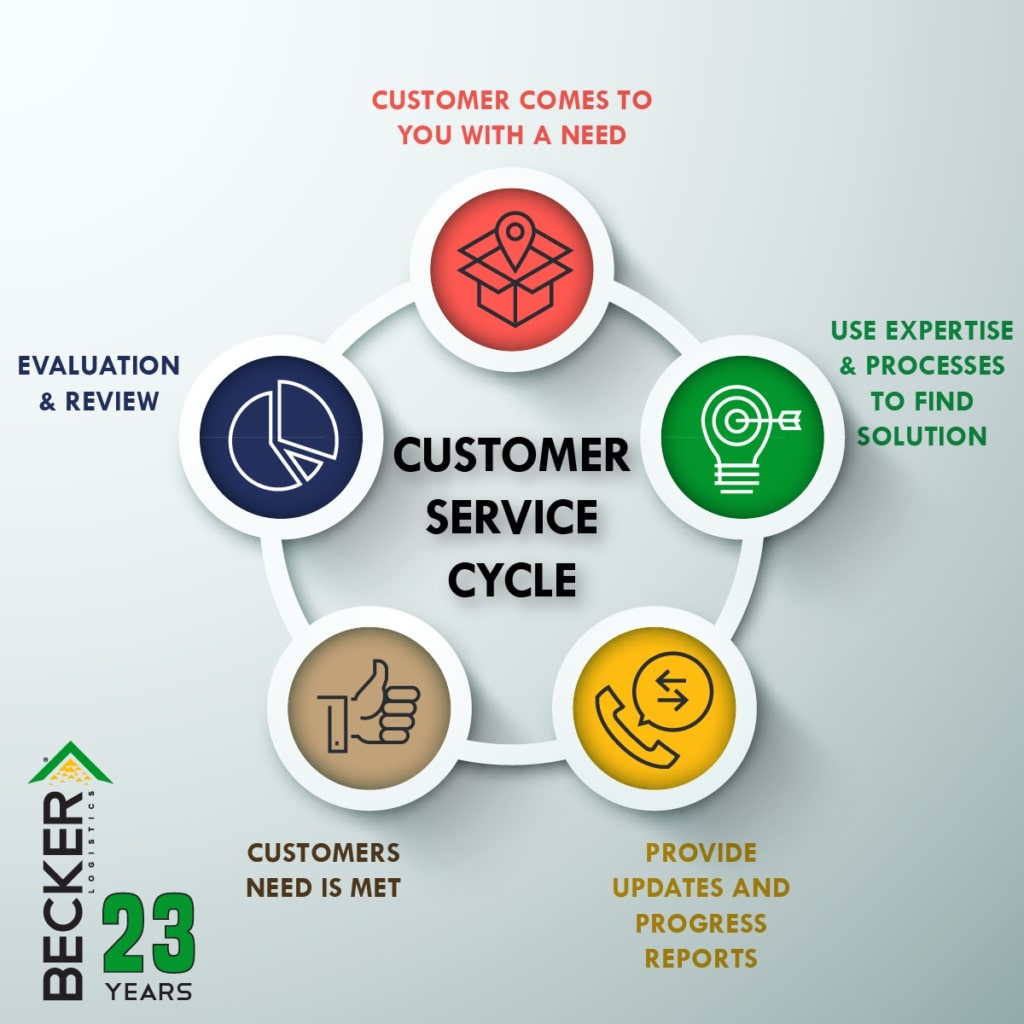 The Customer Service Management Process (CSMP) is a set of vital steps that help a business maintain relationships with its customers. Quality and consistency are key fundamentals of the CSMP process. Here's how it works:
Start by receiving customer complaints, inquiries, or requests
Next, assign team members to the customer interactions to find the best solutions
Then, they address and resolve customer issues via the appropriate means
Follow up to ensure customers are satisfied with the issue's resolution
Finally, assess the quality of service rendered through relevant metrics like average response time, customer satisfaction score, ticket resolution speed, etc.
Good customer service management ensures the customer service team provides the same or improved quality and consistency in every customer interaction. It shows a commitment to customer satisfaction, which will be quite obvious in your customer reviews, ratings, and referrals.
Why Every Business Needs a Good Customer Service Management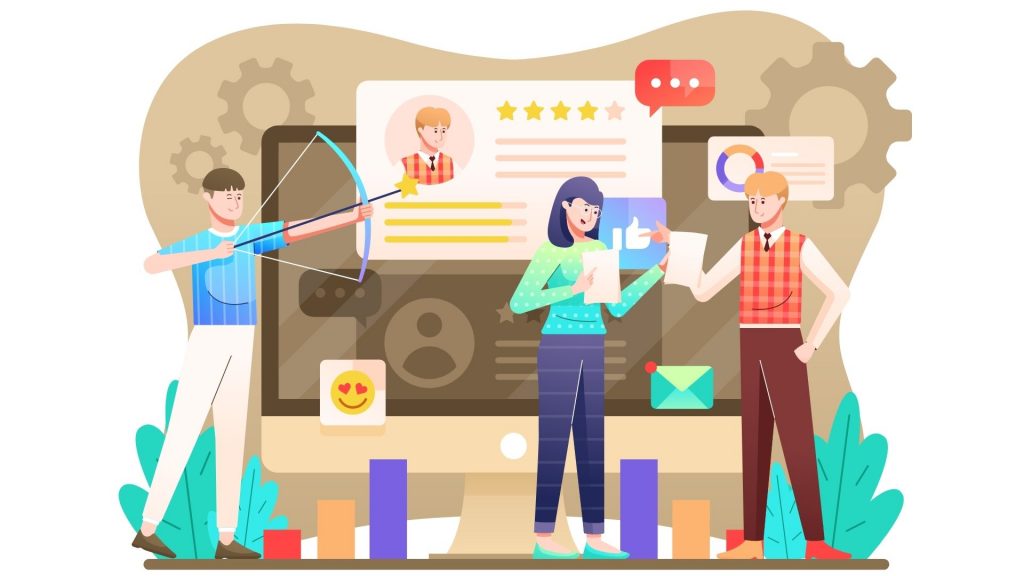 Still wondering whether good customer service management is vital for your business growth? Here are a few important reasons that can clear your doubts:
Customers who interact with your business expect to be treated a certain way. If your customer service team does not provide that level of treatment, your business falls short of expectations. Poor customer service can lead to customer churn, as 42% of consumers affirm. When many customers drop your service and move to your competition, your revenue plummets, which may lead to business failure.

Good customer service management helps you maintain consistency in quality, which is one way to create a loyal community of customers. Loyal customers help drive business growth, not only because they do business with you frequently but also because they'll refer your business to other customers — and 92% of consumers trust referrals from a known individual.

Customer service management tools like CRMs, support tools, chatbots, and other forms of automation improve your customer service team's performance to help them deliver great service around the clock. They free up time, save energy and financial resources, and even greatly reduce the chances of human error.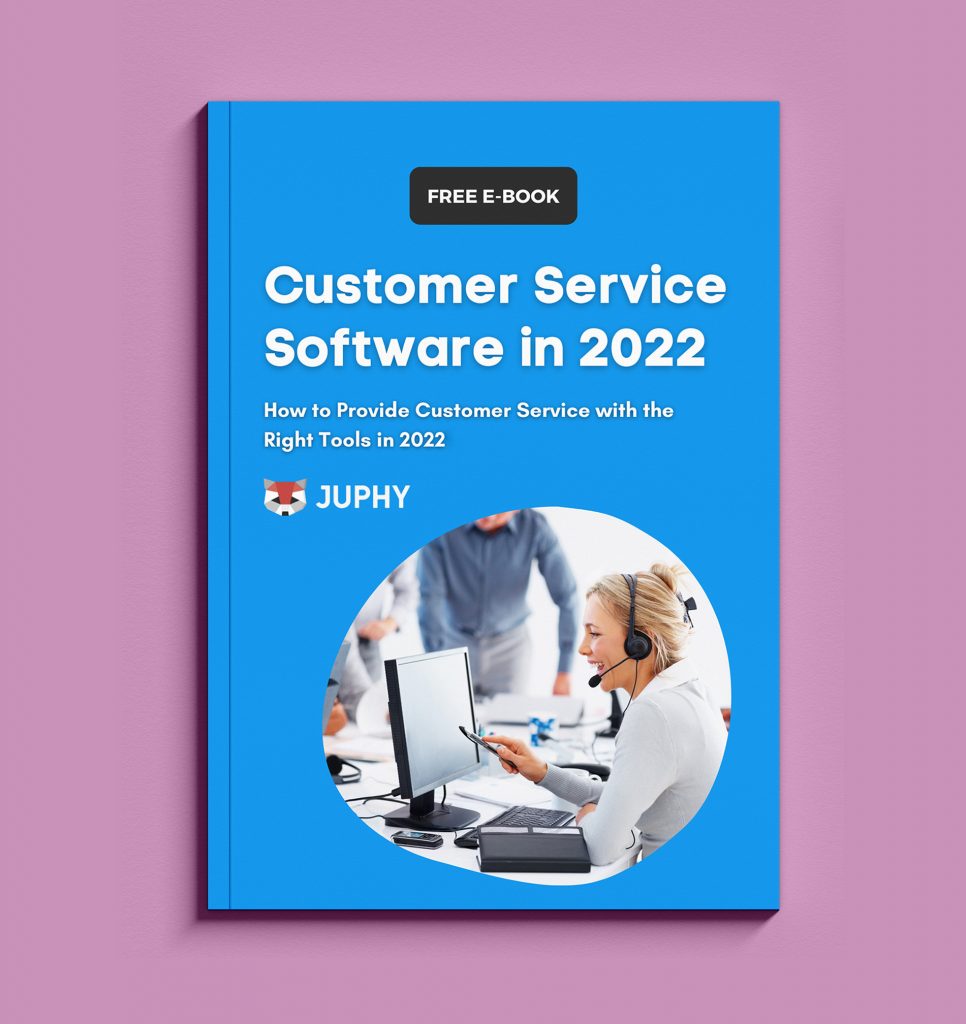 There are many different types of customer service software out there. Finding the right one can be hard, but we're here to help. Download our free ebook now!
What Is a Customer Service Management Example?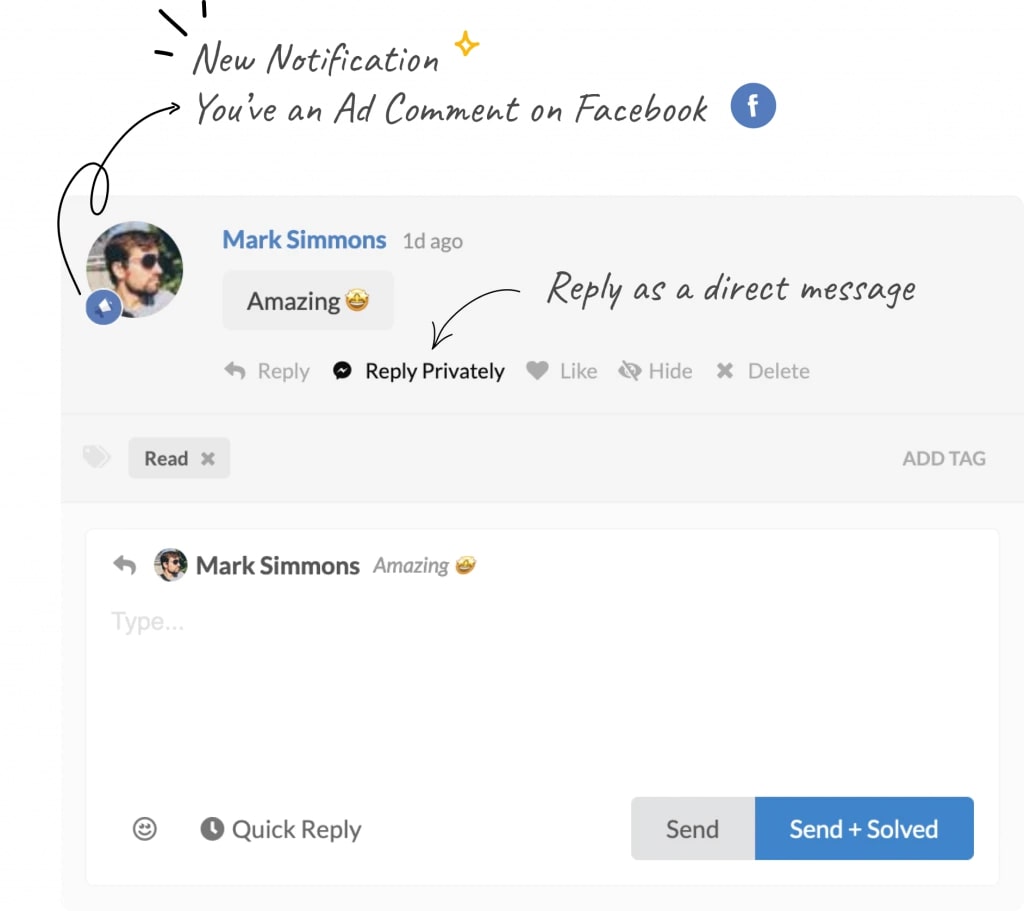 Technology is a vital resource that can be leveraged in customer service management strategies. One example of this is using customer engagement and support software like Juphy.
When customer service teams use engagement and support tools like Juphy, they can better interact with their customers without missing requests and inquiries. It also helps streamline all social media interactions into one dashboard, eliminating the need for the team to log into different social media to attend to customers.
The customer engagement tool also allows customer service teams to assign tickets and track customer conversations on the software. This ensures improved response time and personalized customer experiences all the time.
Changing the Customer Service Game With Juphy
Combining customer service management with an excellent marketing strategy is a game-changer for every business.
People love to build a connection with the businesses they deal with. It's not just about them making purchases and paying for services. They want to feel that you care about their needs and that they're not just another number on your list of customers.
This is why businesses that provide personalized, consistent, high-quality experiences through good customer service will continue to remain at the fore of customers' minds.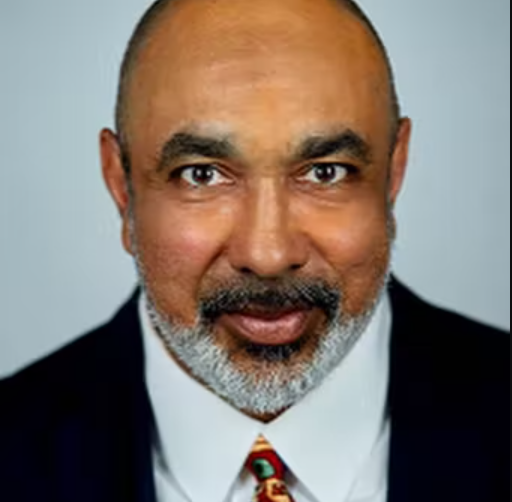 Shoan Snoday
Digital Marketer
"WE have been using Juphy and it has helped us 2x our company with one word … ENGAGEMENT! We were really struggling following up with all of our social media comments and interactions and Juphy helped us connect and engage with every single prospect AND helped us convert 33% more leads in our first week using Juphy. Our customer service department is happier."
✓ Product Hunt Verified Review
If you hope to manage your customer service excellently, working with a tool designed for customer service teams may make all the positive difference you need. Juphy has excellent ticketing and collaboration features that assist customer service teams in keeping up with large customer inquiries and requests so no customer is left unattended. Try Juphy for a free 7-day trial, and see how its amazing features quickly improve your team's customer service management efforts. There's no better time than the present to make the most of customer service management for your business!
Create Your
Social Inbox Now
Manage all social media customer support inquiries in a unified inbox.
Related Article – Whatsapp Business API Guide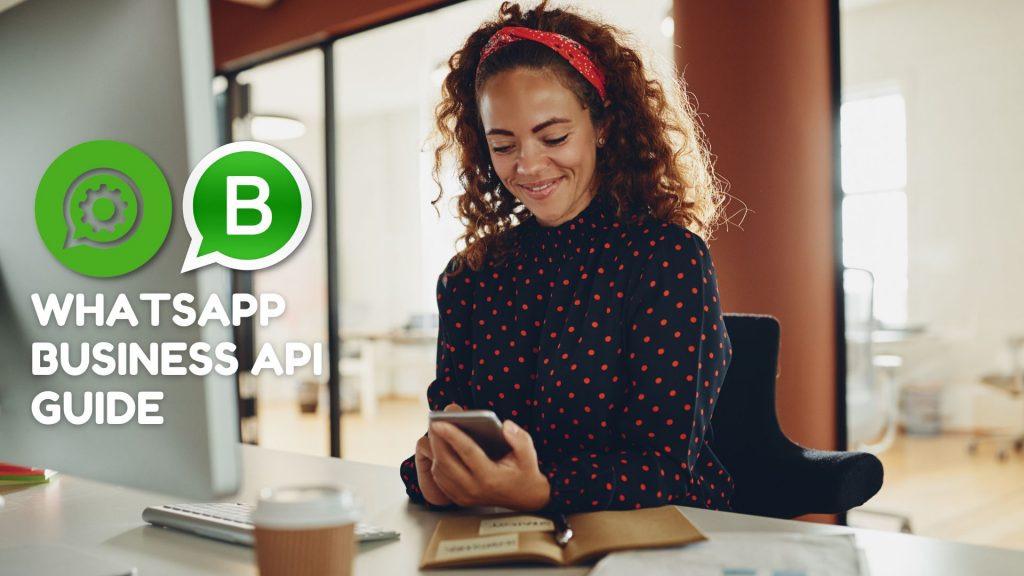 What is Whatsapp Business API? How is it different from a Whatsapp Business account? What are the benefits of the API? Read more to learn now!