We are always seeking new ways for our customers to interact with our businesses and provide them with the information they need. We actually shouldn't seek new ways. Instead, we should seek one single way – a customer portal.
A customer portal is vital for empowering customers to get relevant business information and services rather than providing the necessary support and help through several channels. In that sense, a customer portal improves your customer experience while simultaneously reducing costs. 
You probably already have several separate systems that handle customer information. But wouldn't you like to have one central place where all your customer information can be accessed?
Let's take a look at some of the benefits of using a customer portal in your business – so you can decide whether it's right for you. Let's go!
Create Your
Social Inbox Now
Manage all social media customer support inquiries in a unified inbox.
What Is a Customer Portal?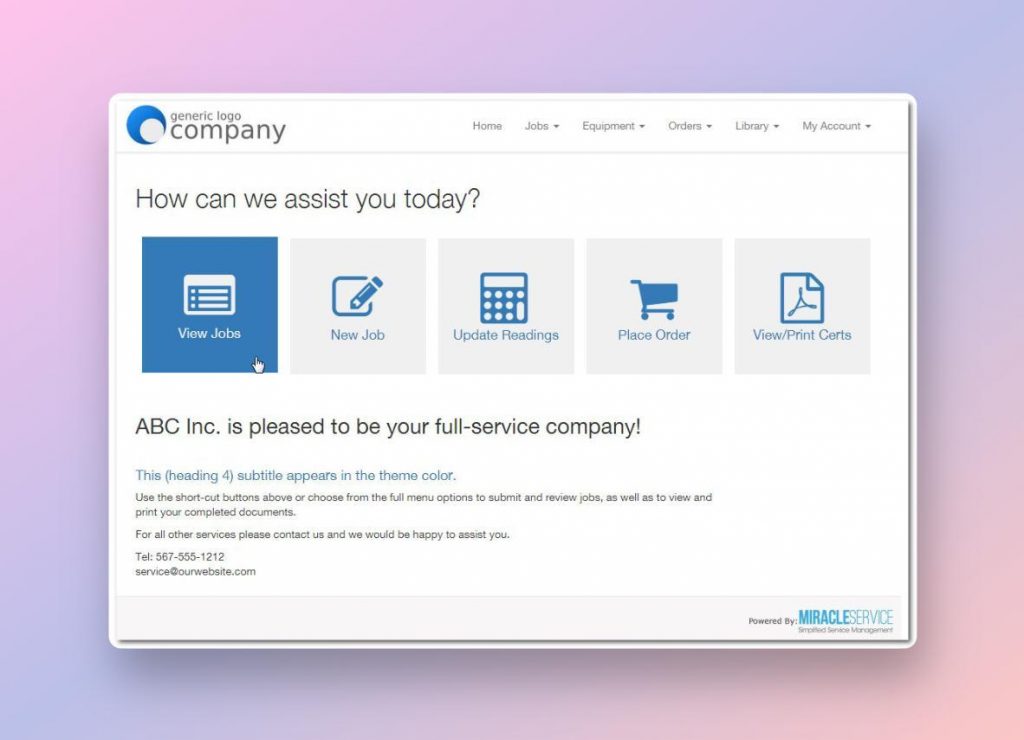 A customer portal is a website or app that customers can log into to view relevant product information, account data, services, and options that they need. It works as a single source for customers to access all relevant company information and account settings.
This way, a customer portal helps reduce the time and effort spent on customer services and increase customer experience.
Customer portals can connect customers with a company's products and services in various ways, including allowing customers to place orders and check on their status and allowing companies to manage their entire customer service process.
What Should Be Included in a Customer Portal?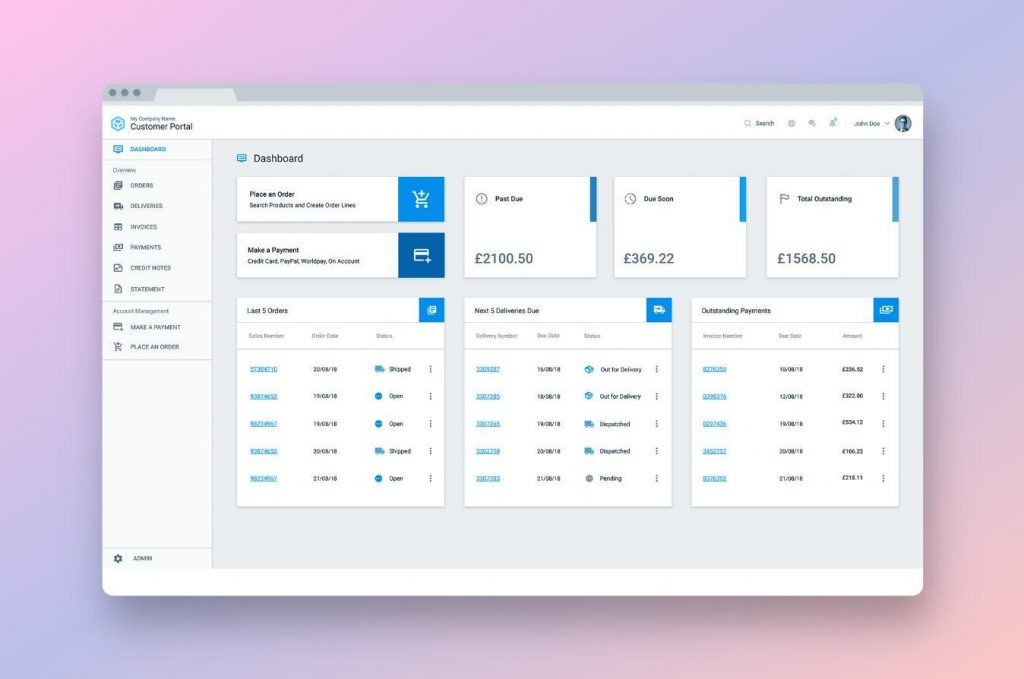 Suppose you ask about the scope of information that users can see in their customer portal. In that case, it contains information such as account data, payment history, account history, balances, customer service logs, up-to-date news, product releases, promotions, knowledge base articles, FAQs, video tutorials, and more.
You can also use a customer portal to initiate self-service activities, such as making payments, creating or canceling service requests, checking order statuses, etc. 
Some customer portals may only be limited to account information and not include self-service functionality. You can select from different types of customer portals depending on your business and needs.
Basically, a customer portal includes all information, based on the company's needs, that should be transmitted between a company and its customers.
The Essential Elements of a Customer Portal
Help Center
The first key element that shapes a customer portal is a knowledge base/help center. Your company's knowledge base is the brain that provides all necessary information and leads customers to better solutions with articles, guides, and tips.
FAQs
Most of the questions your customers ask don't differ from each other completely. Having a well-defined list of FAQs helps you solve customer problems faster and more efficiently.
Customer Feedback
You need to provide your customers with a form or box within your customer portal so that they can leave their thoughts, suggestions, and overall feedback about your product or service. These customer suggestions help businesses improve their service per their customer's needs and feedback. 
Customer Profile
The customer profile or account information should be offered to your customers in your customer portal to make it easier for them to review and change when needed.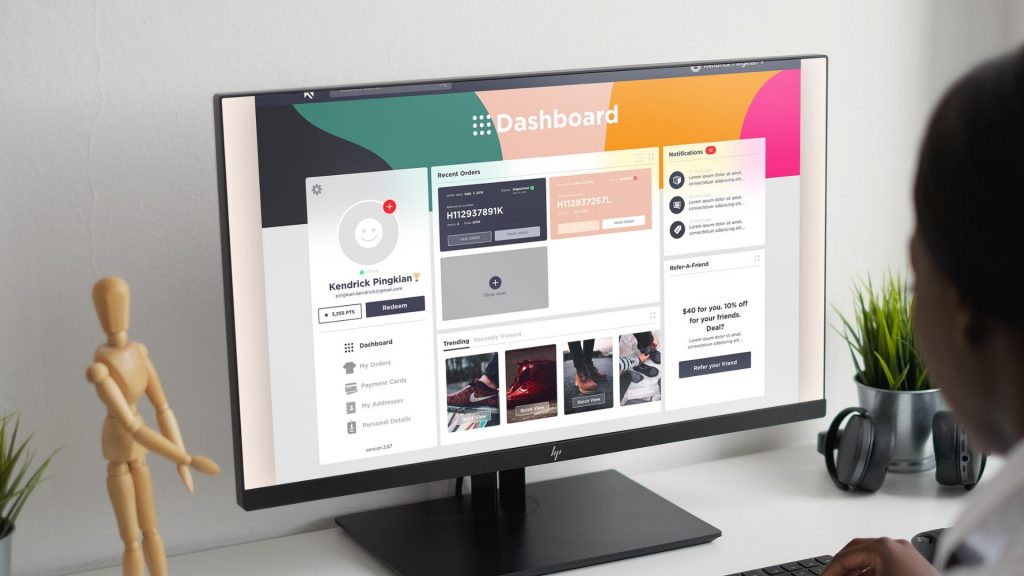 Transactions
Another critical element of any customer portal is the ability to view past transactions and order history. The transaction section makes it easier for customers to understand how much they've spent in the past and how much money they owe you. It also gives them an opportunity to see their previous orders in chronological order, which can help them find their favorite items more easily.
Preferences
Customer preferences on security and privacy should be manageable in your customer portal to ease updating when required.
Why Are Customer Portals Important?
Customer portals are becoming increasingly popular as more and more businesses move to digital channels and customer expectations change. Customers are increasingly expecting brands to make it easier to interact with them – 24/7. Easy and convenient access to account information and customer service help is one way to achieve this.
In that sense, customer portals are an excellent way for businesses to engage with customers and build relationships.
Customer portals are particularly important for e-commerce sites that deal with sensitive or personal information. They can help prevent fraud and ensure that customers know they're dealing with a legitimate business.
They also allow businesses to track customer behavior and respond quickly to changing trends, helping them stay ahead of competitors.
What Are the Benefits of Using a Portal for Your Customers?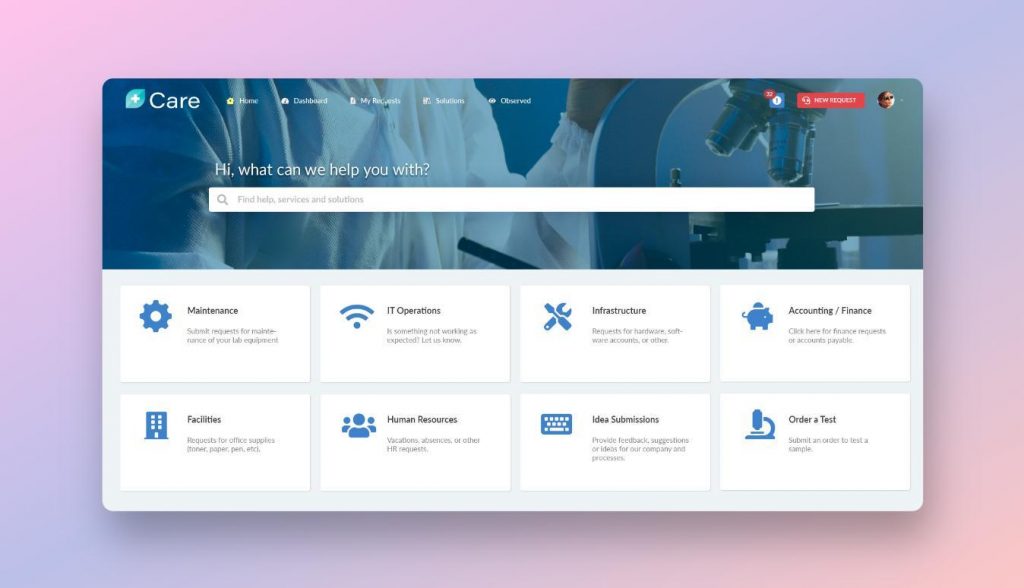 As we just discussed, customer portals provide many benefits for a business. Here are some of them:
Customer portals are easy to use. Customers can find the information they need and use self-service functions with ease.


All your customer information is in one place. This makes it easier to share data between business departments.


You can easily track the progress of customer requests or issues. You can quickly see what is resolved, what is in progress, and what hasn't been addressed yet.

You can easily meet compliance standards.


Customer data can be protected, and regulated information can be stored in a secure environment.


You can save time and money. You won't have to create reports and track progress manually. The system can do it for you, and you can even automate it.
Pros of a Customer Portal
Customers can log in and view account information anytime. It means they don't have to call customer service and wait on hold to find out what they need to know.


Customers can easily make changes to their accounts. It means fewer logs in your support system and less time spent waiting on customers!


Customers can self-manage many account functions. You don't have to manually enter information into your support system.


Customers can self-service account functions such as making payments, creating and canceling service requests, checking order statuses, etc. It means less time spent on support, again.

Cons of a Customer Portal
Customers expect the same level of support through a portal as they do on the phone. You need to train your employees to support customers through the portal and update the portal with new information frequently.

Customers may not be able to find the information they need or be able to use the self-service functions when your design is flawed for user experience. If this is the case, the customer portal is of no use, so you should focus on the user-friendliness of your portal.
How Do I Create a Customer Portal?
There are different ways to create a customer portal, like building your own system and finding the right software or a combination of both.
Thanks to the world's digitalization, suitable software for your business needs is always available. So the most crucial aspect of creating an efficient portal for your customers is choosing the tools. 
From Hubspot to Freshdesk, many customer service tools provide you with customer portal functionality.
After finding the software that meets your needs, the rest is pretty easy. You'll only need to customize and implement your customer portal.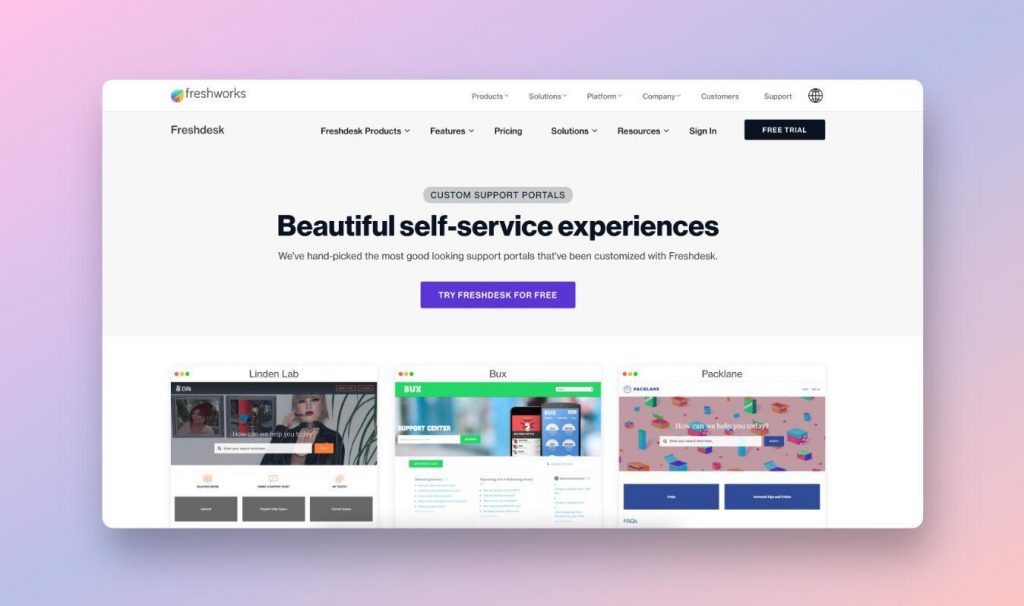 Freshdesk, for example, offers some templates that can inspire you to customize your portal with your brand style.
Similarly, Hubspot also helps you to set up your portal without developers, connect your help desk or social inbox, and automatically apply your brand style.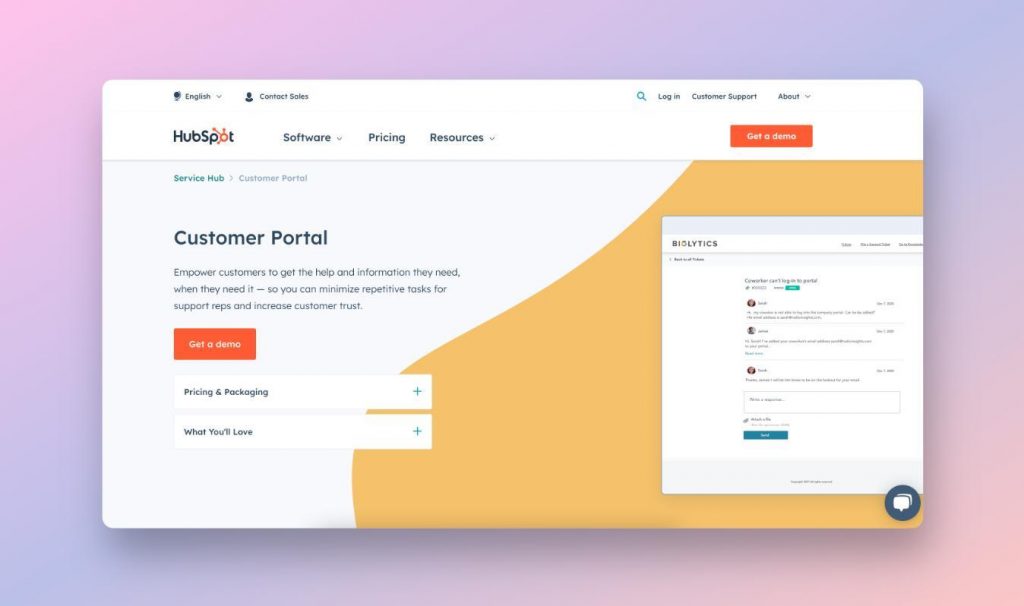 Once you customize your customer portal, you'll only need to integrate it into your website.
Apart from customer portal services provided by customer service tools, you can create a website for your business with a dedicated URL that's easy for customers to access.
When Should You Implement a Customer Portal?
A customer portal is best implemented when a business already has an established customer base. You should make sure your business has a good customer base and is ready for a portal.
On the other hand, you should also have enough employees to support customers through the portal and a plan for technological issues.
Final Words
A key benefit of a customer portal is that it provides a centralized location for customers to access all company services.

It is easier for customers to find information, improves their experience, and makes it easier for employees to make sense of the large amount of data they receive daily.
The more streamlined the flow, both sides will have a better experience.
Create Your
Social Inbox Now
Manage all social media customer support inquiries in a unified inbox.
Related Article – Customer Self-Service and How to Do It Right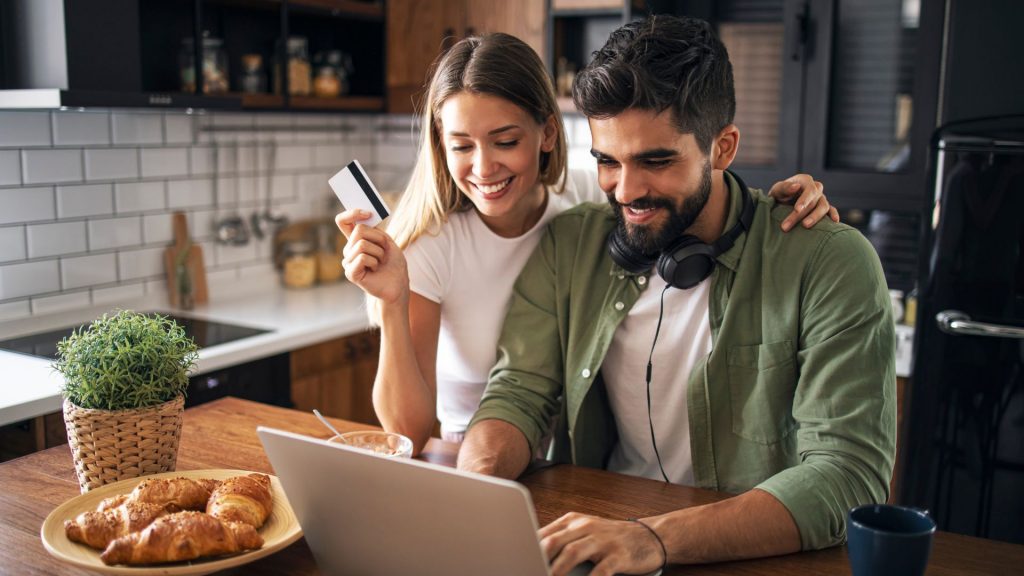 Customer self-service has many advantages for customers and businesses. Here are the best methods for implementing customer self-service. Read more!