A survey conducted by the U.S. Census Bureau's Small Business Pulse revealed that 28.8% of small businesses announced a significant price increase in September 2021, while 40.3% of them announced moderate price increases.
Price hikes like this featured across various sectors and industries, leaving disgruntled consumers in its wake.
Communicating a price increase to customers has never been an easy task. Surely, nobody likes to pay a higher rate for the same or even a reduced amount of features or services. If you're a business on the brink of a price increase announcement, there are some things you can do to make the news less ghastly to your customers.
In this article, we'll share how to announce a price increase in your business in a way that puts you at the least risk of customer churn.
Read on to get the details.
Create Your
Social Inbox Now
Manage all social media customer support inquiries in a unified inbox.
What Is a Price Increase?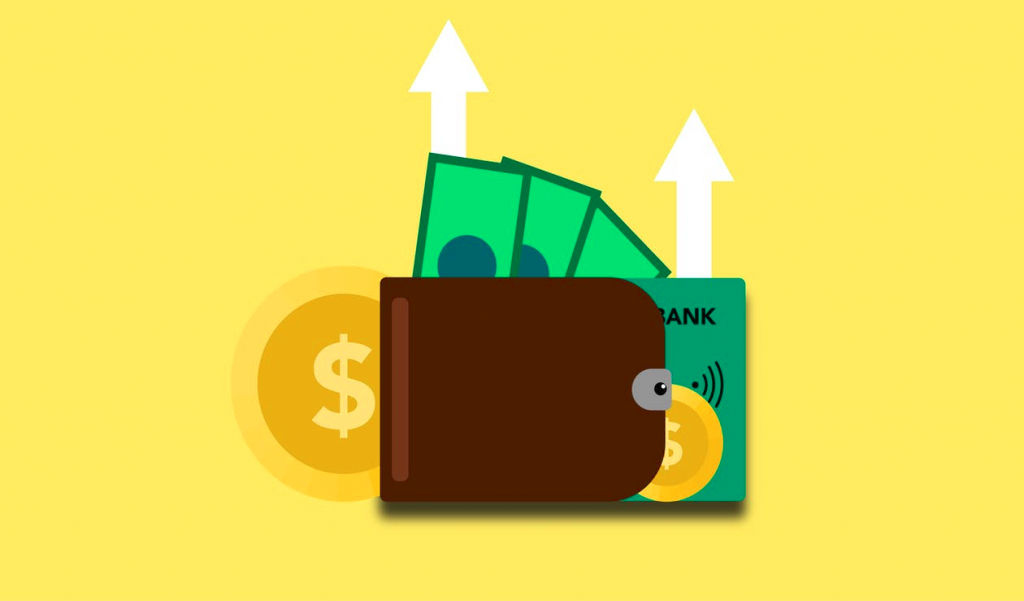 A price increase simply means to raise the cost of goods or services your business provides from its initial price to a higher one. Many businesses are familiar with the concept of price increase, and they often increase prices not because they want to but because they have to.
One key reason why many businesses raise their prices is to keep up with the costs of increased business operations. In some cases, raising your prices may cost you some customers, but that doesn't mean you should avoid it.
Sometimes, a price increase may be the only way you're able to keep making a profit. Running your business at a low-profit margin may risk losing the business entirely in the near future.
How the Pandemic Is Affecting the Prices
Since the start of the pandemic, there have been worldwide shortages of many types of goods and products. Shortly after these shortages came the price inflations in the U.S. and many other countries. The U.S recorded a 5.3% inflation between 2020 to August 2021, after averaging 1.7% In the past 10 years.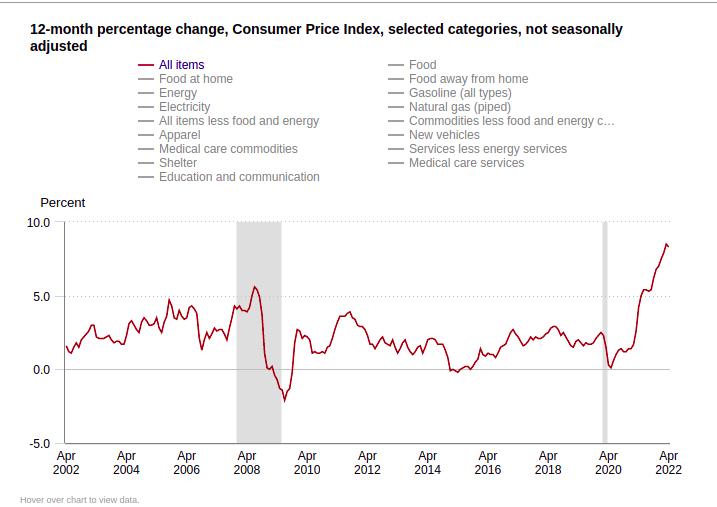 Recent research is starting to point to the fact that the pandemic caused blockages in worldwide shipping networks, which led to goods and product shortages in the first place. These shortages are one of the major causes of price increments in today's markets. 
The pandemic has not only caused a hike in prices for consumers but also for businesses. It inflated the cost of business operations, making it difficult for businesses to produce at the same rates they did before the pandemic.
All the difficulties businesses encounter in production today make restocking and product availability more complicated — and consumers, of course, suffer the consequences of these challenges in the form of raised prices.
Although it appears that shortages of many products seem to be winding down, some sectors are still finding it difficult to bounce back from the effects of the pandemic. What this means for businesses and consumers is that the strain on prices for certain goods and services is far from over.
Best Ways to Announce Price Increase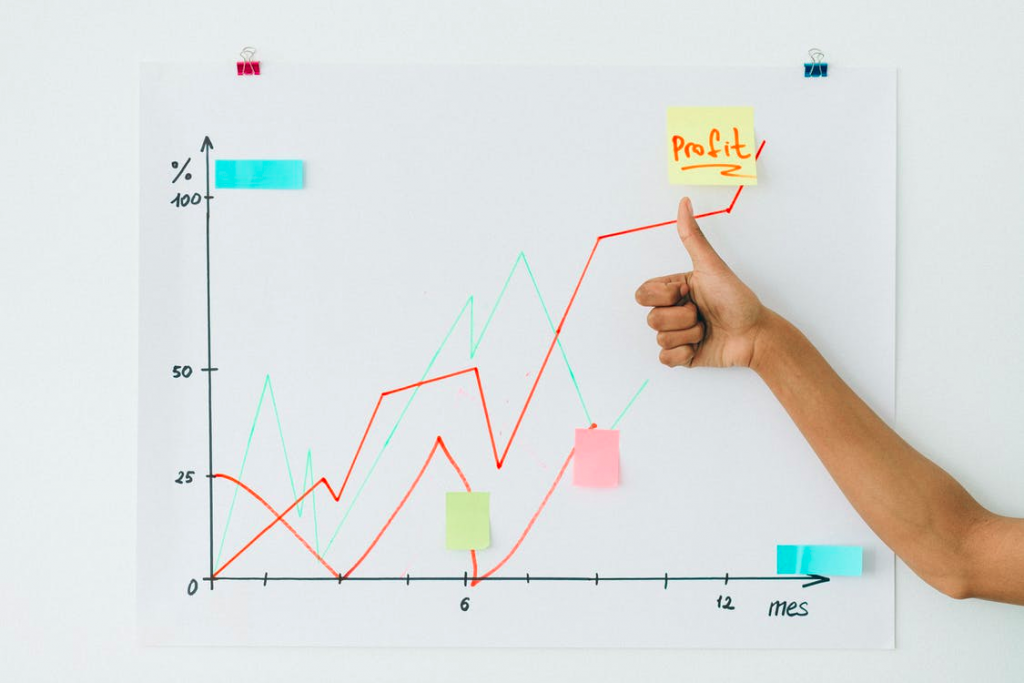 Many customers do not take the increments to price kindly for many reasons. For some, it's because they've factored most prices into their spending budget, and a price increase may cause a shortage for them in other areas.
For others, it simply gives them an excuse to churn if your competition has maintained a price they find reasonable when you announce your increase. If you want to announce a price increase that causes the least damage to your consumer base, here are the best ways to do so:
Give Price Increase Justification
If you're going to raise your prices, you need to tell customers why. Telling customers the reason for a price increase may not be enjoyable, but it helps you portray your business as transparent and open.
With every price increase, it's normal to experience pushback or negative reactions from a few customers. In fact, if you don't get any complaints from your customers, you may be still pricing your products and services too low.
The best approach when giving a price increase justification is to let them know that the reason for the price increase is so that you can offer them the same quality of service that you do and for their benefit.
Most important to avoid is relaying the price increase announcement as a mere price adjustment or price update. Consumer psychology has shown that attempting to conceal the truth when relaying such types of news to consumers often never helps.
Instead, consumers prefer an open, transparent, and value-driven communication in price optimization matters.
Inform Them Well Ahead
Your customers will find it highly offensive to learn about a price increase after they have been charged and not before. It's essential to give them the choice of whether or not they want to go ahead with your new pricing.
So, if you run a subscription service, you must tell your customers of the increase in price before their next subscription is due. Allow ample time for them to see the price increase and decide whether to switch plans or stay on.
If you have a list of customers that use a particular product or service from your business, then send a message to them detailing the new price increase, if possible, before their next purchase.
Give Them an Explanation
Similar to price justification, it's important to explain why you're increasing your prices. Be direct and precise with your explanation, covering all the bases so that customers don't feel like you're only trying to fatten your pockets.
Let them know the challenges with the market environment and how it's affecting the business. For instance, you can tell them how the market inflations have affected production and operation costs.
If the price increase is due to added or upgraded services and products, this is a good time to tell them too.
Give Room For Questions and Feedback
A price increase often comes with questions, concerns, and fears. The best way to handle these is to allow your customers to reach out to you if they need to. Let them know that you're available to explain how the new pricing structure works until they get familiar and comfortable with it.
Be available to respond to their questions, and welcome their feedback positively, even if it is negative. Reassure them that you are open to hearing about their fears and provide such solutions if there is any way you can ease them. 
Leaving your customers hanging after announcing a price increase gives room for customer churn, especially if they feel neglected.
Appreciate Your Customers 
Remember that not every customer will stay after you increase your prices. Don't part with them on a bad note. Instead, appreciate them for the time and resources they've invested in your business.
Try to maintain the relationship you have with them, even if they no longer patronize you. If you offer an online product or service, ask politely if they would still like to receive product and service updates from your business in case a more suitable offer comes up.
Perhaps, one day they'll find something they need from you again.
Offer Alternative Packages for a Reduced Price
One way to ensure you don't lose a customer completely is to offer an affordable alternative package that sells within the price range they used to pay for. This subsidized package may contain fewer products or service options, but it gives them a choice instead of none.
So, even if they can no longer go for the more extensive package because of the price increase, they have an option, albeit smaller than they're used to but better than nothing.
Examples of Successful Price Increase Announcements
Now that you've been equipped with the most effective ways to announce price increments let's check out some examples of brands that have gotten their price increase announcement right.
Spotify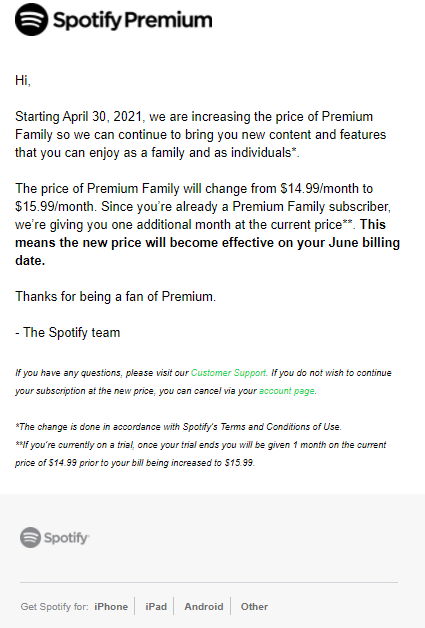 Spotify's announcement hit the mark as one of the best price increase announcements customers will find bearable. The announcement contains elements of the right way to announce a price increase, as we discussed some moments ago. Let's take a look at them:
It gives customers enough time to decide (up to a month) if they'll like the new price or not.
It explains and justifies the price increase when it says, "…so we can continue to bring you new content and features that you can enjoy."
It allows them to ask questions through the customer support team and,
Appreciates them for "being a fan" of the Spotify paid package.
Netflix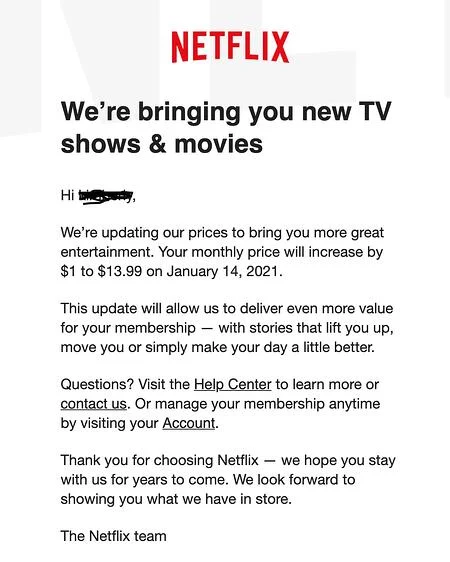 Netflix's warm and precise price increase announcement is also one that can guide yours. Here's what it does right:
It informs the user well ahead to give them a heads up before the charge.
It shares the value that the price increase will bring"— stories that lift you up, move you, or simply make your day a little better."
It provides a platform to receive questions and provide more information that customers need.
It shows appreciation and urges them to stay on as a subscriber.
Conclusion
Don't put off a price increase because you fear that your customers will not take it well. You risk running your business to the ground if you're not making enough to keep it afloat. Instead, structure your price increase announcement using the tips we've shared in this blog post for a better response and less churn. Be open to feedback and complaints, but be sure that with the right announcement, customers who see value in your products and services will likely stay loyal to you regardless of an increase.
Create Your
Social Inbox Now
Manage all social media customer support inquiries in a unified inbox.
Related Article – How to Deliver Personalized Customer Service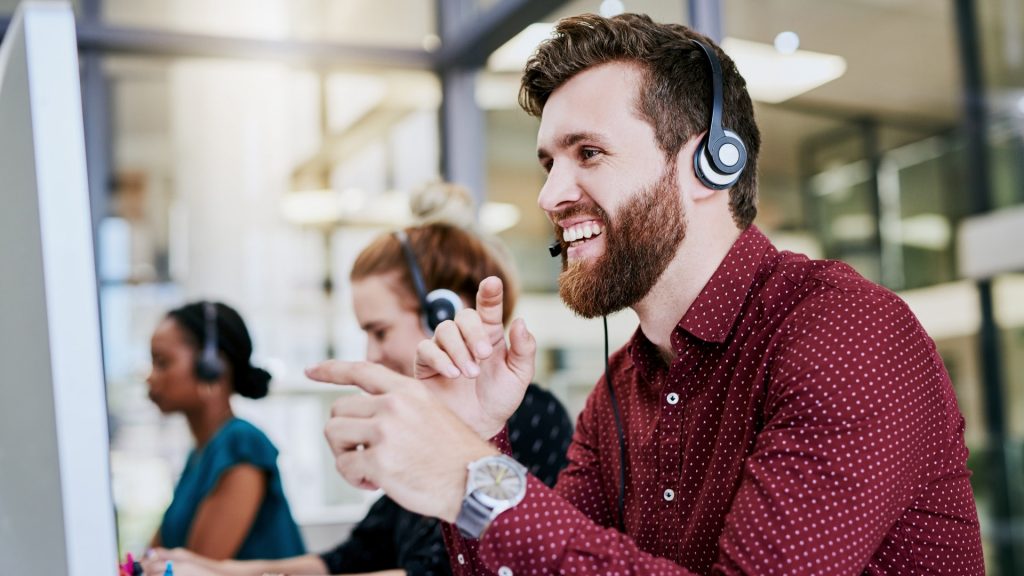 Delivering personalized customer service with tools like Juphy enhances your brand reputation from many perspectives. Read more.