WhatsApp Business is becoming more and more popular as social commerce gains momentum. Once merely a chatting app that was used among friends and family, today WhatsApp helps all kinds of businesses communicate with their customers worldwide, regardless of the restrictions presented by time zones and physical locations. With options both for small to mid-sized businesses and larger corporations, WhatsApp Business is a highly beneficial tool that should be utilized in the marketing and sales strategies of companies that aim to prosper. The main reason for considering WhatsApp Business is its 99% message opening rate, but also it offers a variety of valuable features such as product showcases, bulk messages, and auto replies.
Create Your
Social Inbox Now
Manage all social media customer support inquiries in a unified inbox.
What Is Auto Reply for WhatsApp?
As time and place boundaries in shopping continue to fade away day by day, e-commerce and social commerce have become a domain that never sleeps. However, people still need to rest and live their own lives. These much-needed downtimes are actually opportunities for online businesses that are open 24/7 to continue making a profit, thanks to the WhatsApp Business Auto Reply feature. It helps you set customer expectations, provide them with directions to find answers, and even obtain some basic data.
Setting expectations: You can set up away messages for when you're unavailable or online and inform your customers when you'll return to help with their issues.


Providing directions: You'll realize that many customers prefer asking questions directly to you instead of checking your website. You can direct them to your online shop for pricing information or your FAQ page for self-service instantly instead of saying, "Let me google that for you." a couple of hours later.


Obtaining data: You can send your customers to fill out a short pre-chat form on your website to collect data on some basic information, such as location or delivery preferences. Furthermore, with the WhatsApp Business API chatbot, your customers can simply provide all the information they need by tapping the predetermined multiple-choice answers.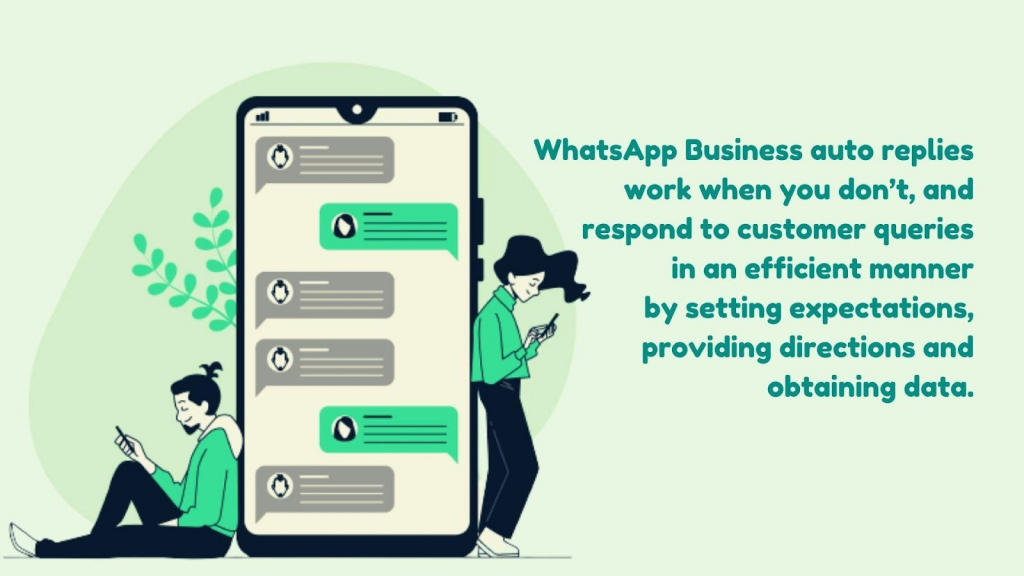 Benefits of Using Auto Reply for WhatsApp
WhatsApp Business auto reply feature helps businesses to actively engage with their customers even when they are not available to do so. It minimizes the loss on revenue-generating opportunities because, unlike 5 to 9 working employees, customers contact businesses at their convenience and lose interest if you don't respond to them within minutes. That's why you should always keep in mind that WhatsApp Business is, first of all, an instant messaging tool, and your customers use it with the expectation that you will see their message whenever you have your phone nearby.
How to Set up Auto Reply for WhatsApp
WhatsApp Business auto replies can be used both with the free tool and the integrated business software.
With the free WhatsApp Business App that is intended for small businesses, you can create three types of messages: Away messages, greeting messages, and quick replies. After customizing these messages, you can send them to everyone in your messaging group or only to the selected ones in a predetermined schedule.
WhatsApp Business App Auto Reply Set-Up

On your WhatsApp Business App, go to Chats, and tap the menu button shown with three dots on the upper right side. Tap on Settings > Business Settings > Away message

Toggle the "Send away message" button, then compose your away message. It would be good to have several messages ready on your computer, so you can edit your away message easily according to different circumstances, such as "away for holidays", "be back after lunch break", or "return in business hours".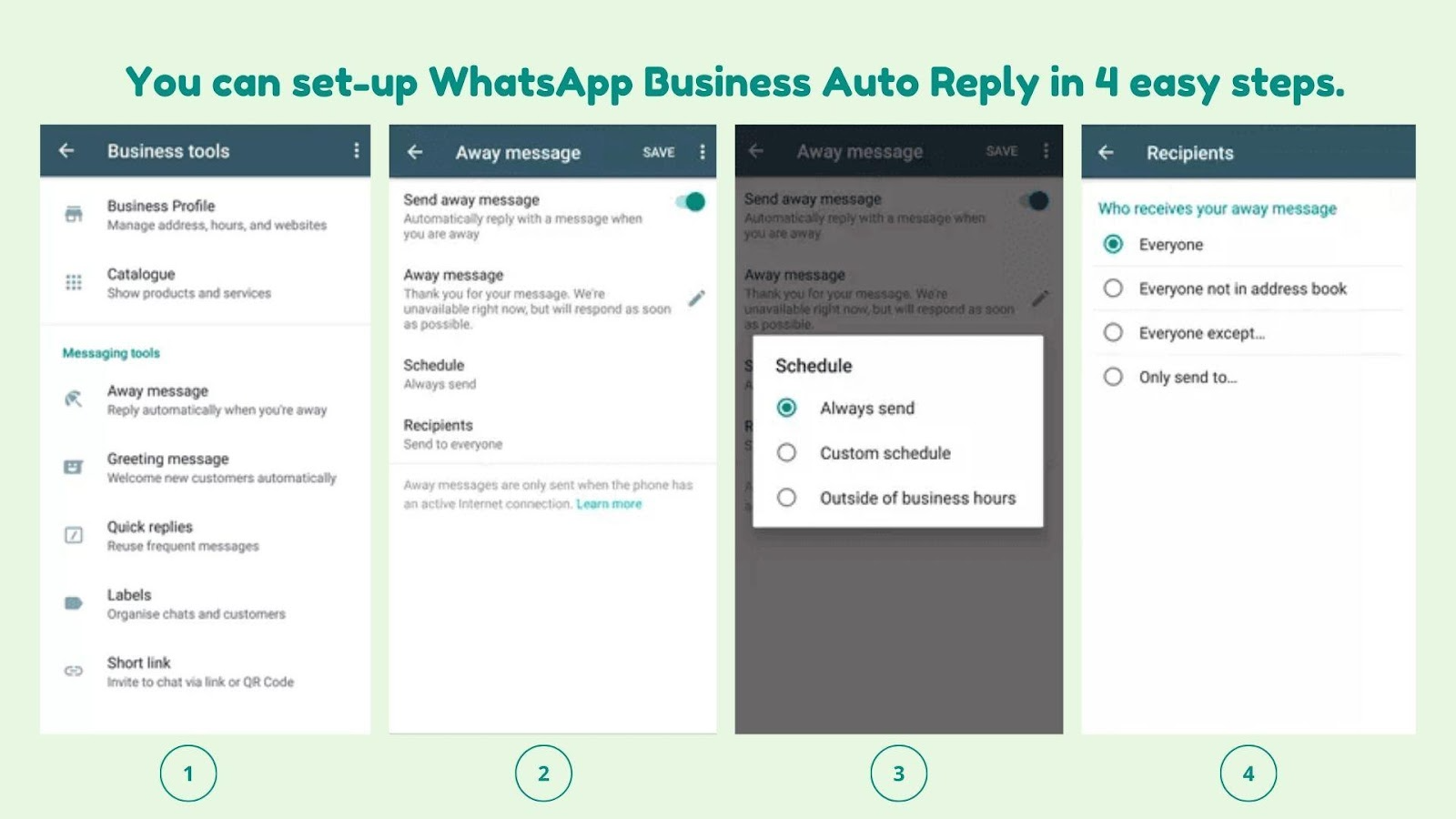 Moving down, you'll see three options for scheduling your away message.

"Always schedule" option can be used when you'll be away for days and won't be able to respond to your customers for an extended period of time. When triggered, these messages will be regularly sent until you turn them off or change the schedule.
"Custom schedule" is an option that sends away messages within a particular time frame. You can set it to minutes or hours, depending on the duration of time you will not be available to chat with your customers.
"Outside of business hours" is an option based on the business hours time frame that you've specified on your profile. The messages will be sent until you return the next day and turn the "Send away message" toggle off.


And for the last step, select the recipients to whom you want to send your away message. You can send it to all of your connections, everyone who is not in your address book, everyone except a few, or only to the ones you have selected from the list.
You're all set when you save the changes, and make sure that you have an active internet connection during your away hours.
Integrating Auto Reply with WhatsApp Business API
WhatsApp Business API, a comprehensive solution integrated into your business software, works differently and allows you to use chatbots. These chatbots can replicate human interaction and help you take orders, answer frequently asked questions, and provide customer support around the clock.
The API needs to be set up by a developer according to your needs and preferences. Once the integration is complete, the automated system will run on its own, and you won't be able to interfere with its programming on your own. If you want to make changes to the messages, you should contact your service provider.
5 Best Practices for Using Auto Reply for WhatsApp
As mentioned before, WhatsApp auto replies can be used in a number of situations for a variety of responses to customer queries, ranging from short breaks to more extended unavailability periods. Here are some examples for different cases:
"Hello! Thanks for reaching out to us. Sorry to keep you waiting, but we are busy right now. We'll get back to you within 3 to 5 hours. Thank you for your patience."
Best practice: You can send this during rush hours to all contacts that are not in your address book.
"Hi! We are all off to spend the holidays with our loved ones. We'll be back on Wednesday, but if you have any urgent queries, you can email us, and we'll get back to you as soon as possible. <email address>"
We wish you a merry Christmas and a happy new year!"
Best practice: If you haven't reminded your customers that you'll be away for holidays before leaving, you can set the message as "Always schedule" to be sent to all your connections.
"Thank you for contacting us. We are currently closed, but our team will get back to you tomorrow during office hours. In the meantime, you can check our FAQ and see if we've already addressed your concern. <FAQ page link> Chat with you soon!!"
Best practice: This is for all of your customers who haven't checked your profile or website for office hours because asking you in the middle of the night seemed like a faster option.
"Thanks for getting in touch. We are having some issues with our servers right now but don't worry; we're working on it and will get back to you as soon as possible. We appreciate your patience and will keep you updated through our social media accounts."
Best practice: This is an event-specific away message that can be sent to all of your customers or some selected ones, for example, only to those who have pending deliveries.
"Hey there! I'm out on lunch break and will get back to you in 2 hours tops! If you have an urgent issue, you can call me at <phone number>. Thanks for your patience. Cheers!"
Best practice: If you have a very small business and try to keep up with all of your customer demands by yourself, you can tune your sincerity up a notch and kindly ask everybody to give you some time when you take a necessary break.
Boost Your WhatsApp Business Auto Reply Performance with Juphy
Juphy is a highly efficient social commerce tool to streamline all your social media conversations on a single dashboard, whether they are from WhatsApp Business or other social platforms. With its integration for WhatsApp Business, Juphy enables businesses to improve their auto-reply performance and customer support experience.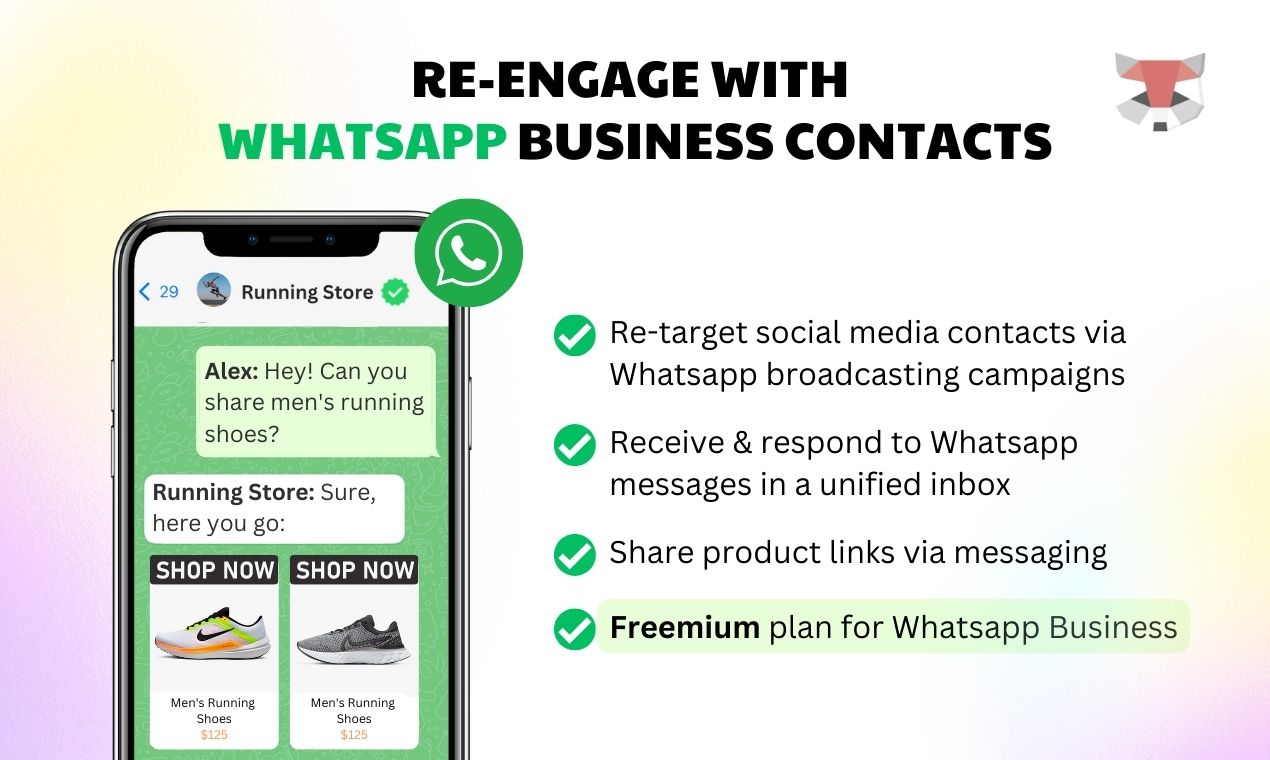 Here's how Juphy can help you enhance your WhatsApp Business auto reply performance:
Automation Rules: Easily classify and tag incoming messages based on content, urgency, and tone, ensuring that your WhatsApp Business auto-replies are accurate and relevant.
Canned Responses: Create and store pre-written snippets for frequently asked questions on WhatsApp Business, enabling your support team to reply quickly and consistently.
Team Collaboration: Work together with your team on a unified WhatsApp Business inbox, improving productivity and customer support performance.
Real-time Notifications: Stay informed about incoming messages on your WhatsApp Business account, ensuring prompt responses to customer inquiries.
OpenAI Integration: While the auto-reply feature allows you to set up automated responses for specific scenarios or timeframes, the OpenAI integration provides AI-powered reply suggestions for human agents, helping them respond more effectively to customer inquiries.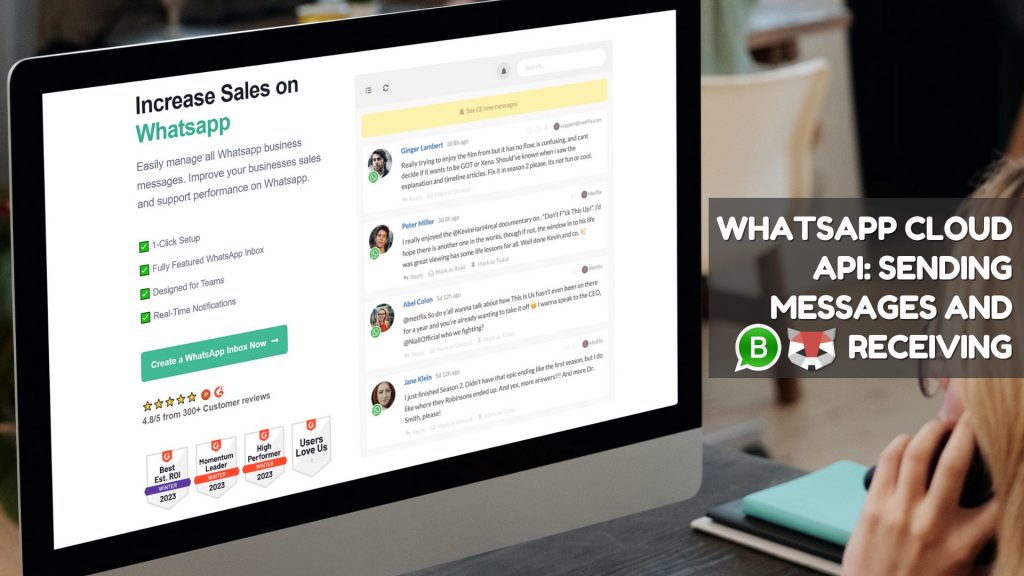 5-minute no-code implementation, you'll be able to send bulk WhatsApp messages and receive incoming customer messages for your business. Read more now!
By using both features, your support team can cover a broader range of customer interactions, ensuring prompt responses even when they are unavailable and providing more personalized and accurate replies when they are actively engaging with customers.
Reports Dashboard: Access valuable metrics and data related to your WhatsApp Business performance, such as total messages, tickets, resolved conversations, and response times.
Social CRM: Store contact information from your WhatsApp Business interactions in Juphy's Social CRM, segmenting contacts based on purchase history and interests for personalized targeting.

Joshua G
CEO, Small Business
"I'm in the early stages of running a new business and managing two personal brands. Juphy is a tremendous help in unifying social media messages linked with these entities. In my case, it's handy to be able to invite specific staff members to handle inquiries from customers whose native language isn't English. I can assign/revoke roles and review all correspondence in one convenient location. They have a promising road map."

WhatsApp Bulk Messaging: Re-engage with your business contacts on WhatsApp by creating contact lists and sending targeted bulk messages for updates, promotions, and new sales opportunities.
Experience the benefits of Juphy's WhatsApp Business integration by trying it out for free for seven days, and take advantage of the opportunities to increase sales and improve customer satisfaction on the popular messaging platform.
You can try out Juphy for free for seven days and take advantage of opportunities that have the potential to increase your sales.
FAQ
1. What is WhatsApp Business Auto Reply?
WhatsApp Business Auto Reply is a feature that allows businesses to set up automated messages to respond to customers when they are unavailable, helping them manage customer inquiries 24/7 and improving customer satisfaction.
2. How can I set up Auto Reply for WhatsApp Business?
To set up Auto Reply in the WhatsApp Business App, go to Chats > Settings > Business Settings > Away message, and configure your custom away messages, schedule, and recipients.
3. What are the benefits of using Auto Reply for WhatsApp Business?
Using Auto Reply for WhatsApp Business enables businesses to actively engage with customers even when they are unavailable, minimizing the loss of revenue-generating opportunities and ensuring customer inquiries are promptly addressed.
4. How can I integrate Auto Reply with WhatsApp Business API?
To integrate Auto Reply with WhatsApp Business API, you will need a developer to set up the integration according to your needs and preferences. Once complete, the automated system will run on its own, providing chatbot capabilities for enhanced customer support.
5. Can I use Juphy to improve my WhatsApp Business Auto Reply performance?
Yes, Juphy can help streamline your social media conversations, including those from WhatsApp Business. While it doesn't directly send away messages, Juphy's features, such as Canned Responses and Automation Rules, can improve response times and prioritize urgent messages when you return to work.
Create Your
Social Inbox Now
Manage all social media customer support inquiries in a unified inbox.
Related Article – How to Use WhatsApp for Sales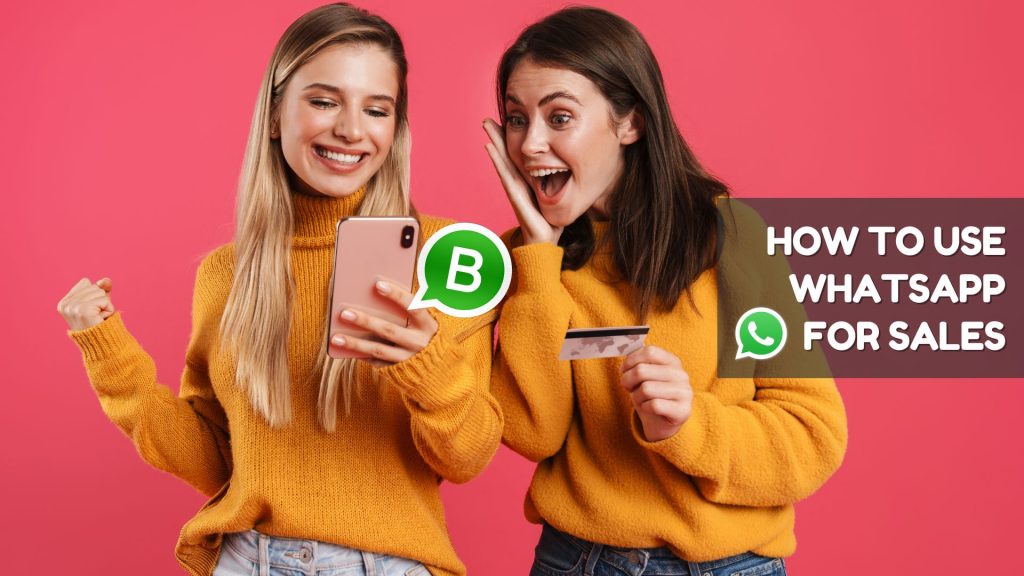 Explore best practices to use WhatsApp for sales and can grow your business by building a solid customer base with Juphy. Learn more now!