As the e-commerce market expands, many businesses are revolutionizing how they interact with and market to their customers. More businesses are working to shift their marketing, advertising, and even lead generation strategies to social platforms where their audience already exists, cue in WhatsApp.
In 2022, the WhatsApp Business app was downloaded on mobile devices a whopping 292 million times! Since the company was acquired by the social media giant, Meta, the platform has seen many e-commerce-related updates, making it a goldmine tool for e-commerce businesses wanting to expand their clientele. 
And guess what? This shift was very much welcomed by customers, as 68% agree that they find it easier to message a business on WhatsApp than send them an email. If you are in doubt about the efficacy of WhatsApp as a lead-generation tool, this article will help change your mind.
Read on to find out all about WhatsApp lead generation and how you can skyrocket your sales using the platform.
Create Your
Social Inbox Now
Manage all social media customer support inquiries in a unified inbox.
WhatsApp Business vs. Regular WhatsApp: What's the Difference?
For business owners who don't know, WhatsApp has a variety of platforms available to users. For this post, we will focus on the most common two, WhatsApp Business and regular WhatsApp Messenger.
WhatsApp Messenger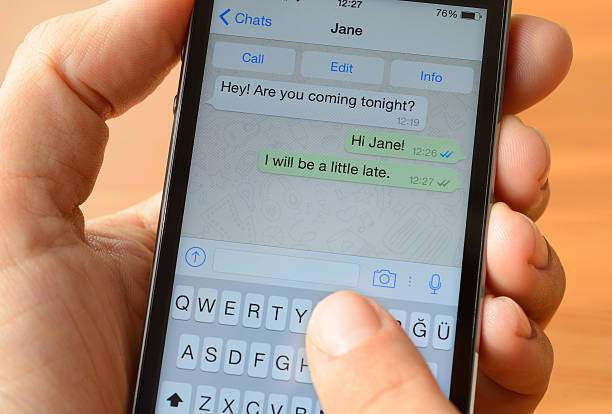 WhatsApp Messenger is the platform most people use for personal communication. It allows for 1:1 messages between users and does not contain any business features that you can use for successful business operations. It has no automation features, and you can only use it to connect with your saved phone contacts.
It is free to use and can be accessed through an app or a browser.
WhatsApp Business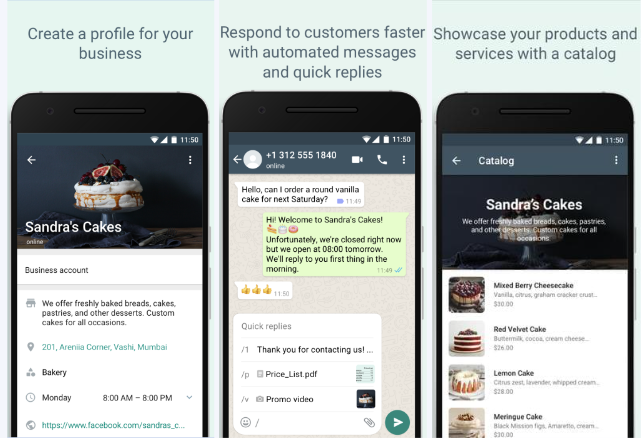 As the name suggests, this business tool provides a communication channel for small and micro businesses. It's also free to use and offers the basic chat features of the WhatsApp Messenger app. However, there are some differences.
For one, you cannot use the same phone number as your regular WhatsApp number for this platform; you can either switch from regular to Business or get a separate number for WhatsApp Business.
Two, it provides users with a feature that enables them to create a product catalog to showcase and sell their products or services. This catalog allows you to add your product images, prices, and a link to wherever you want to direct customer traffic.
You can also share your product catalog as a link to a customer that requests it. The WhatsApp Business app also allows you to add more information about your business, like your logo or picture, website, address, and working hours on your profile, to help customers identify you better.
Other tools that WhatsApp Business offers include:
Short links & QR Codes
Conversation labels
Automated messages (Greeting messages, away messages, quick replies)
Be sure to look out for the WhatsApp Business logo when downloading the app; it's different from the normal logo, too!
P.S.: If you're new to WhatsApp Marketing, this WhatsApp Marketing guide will show you the ropes.
Further Reading – How to Use WhatsApp for Sales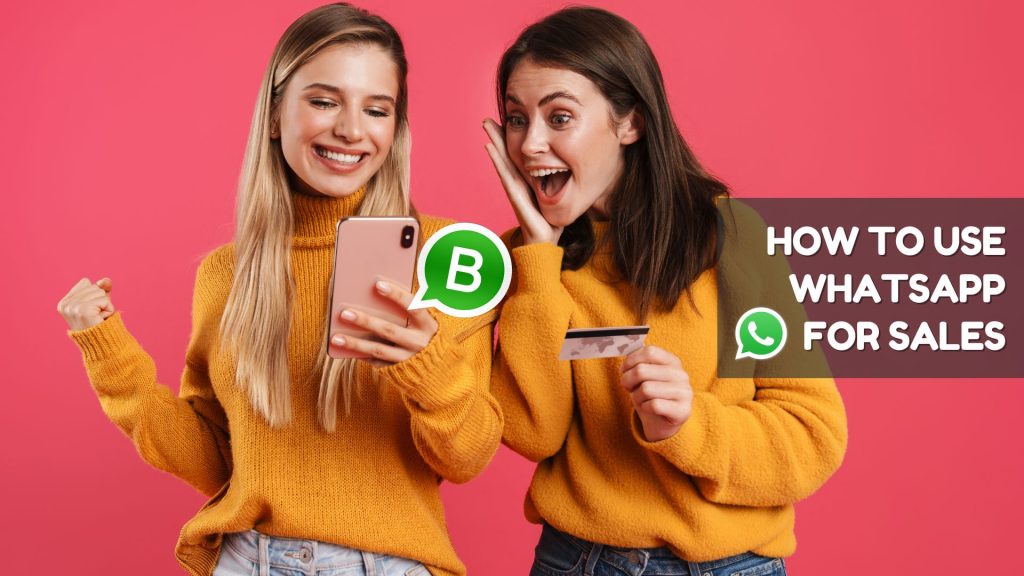 Explore best practices to use WhatsApp for sales and can grow your business by building a solid customer base with Juphy. Learn more now.
Setting Up Your WhatsApp Business Account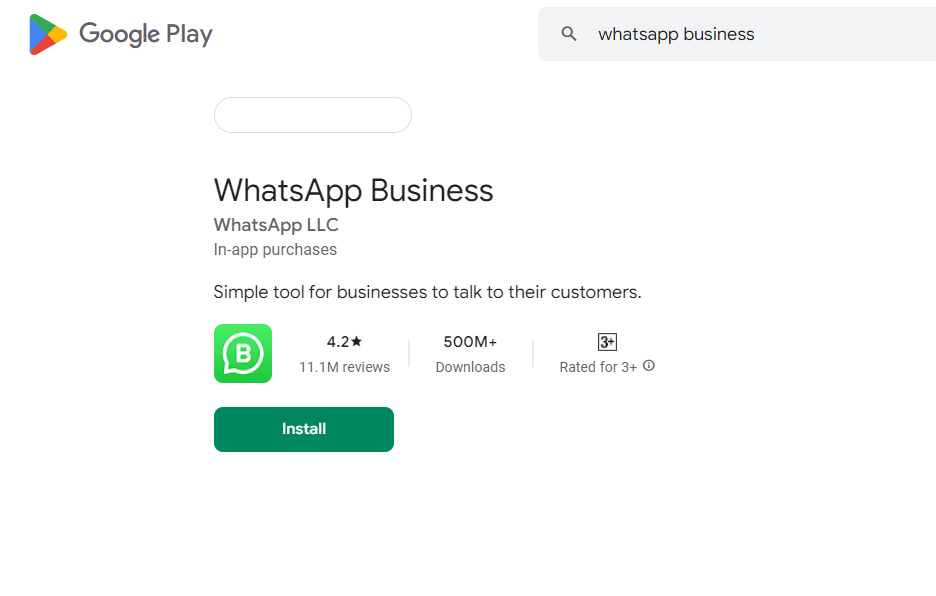 If you don't already have one, let's help you set up a WhatsApp Business account so that you can get familiar with the features available to you for lead generation.
Begin by installing the WhatsApp Business app from Google Play Store or App Store.
Once installed, register your business on the app by inputting your preferred phone number plus your country's international dial code.
Add your preferred means of being contacted to verify the number, whether by call or SMS. Then input the 6-digit confirmation code that you receive.
Next, grant WhatsApp access to your saved contacts in your phonebook.
Go ahead to add your Business name, category, and profile picture for easy recognition.
Next, create a profile that gives customers a better context about what your brand has to offer. Include your business description, work hours, store location, etc.
You're all set. Click on a phone number and start chatting!
Utilizing WhatsApp Features for Lead Generation
WhatsApp lead generation is simply using WhatsApp Business to generate new leads for your business. Leads are potential customers that have shown interest in your product or service.
There are many ways you can use the WhatsApp Business app's features to generate leads, and there are many benefits to it as well. WhatsApp has a huge potential customer base and encourages easier, more flexible conversations. It can also help you convert leads faster, and you can funnel your Facebook & Instagram traffic to WhatsApp if it's your preferred business channel.
Let's see a few ways you can use WhatsApp Business for your lead generation:
Using WhatsApp Business Catalog for Product Showcase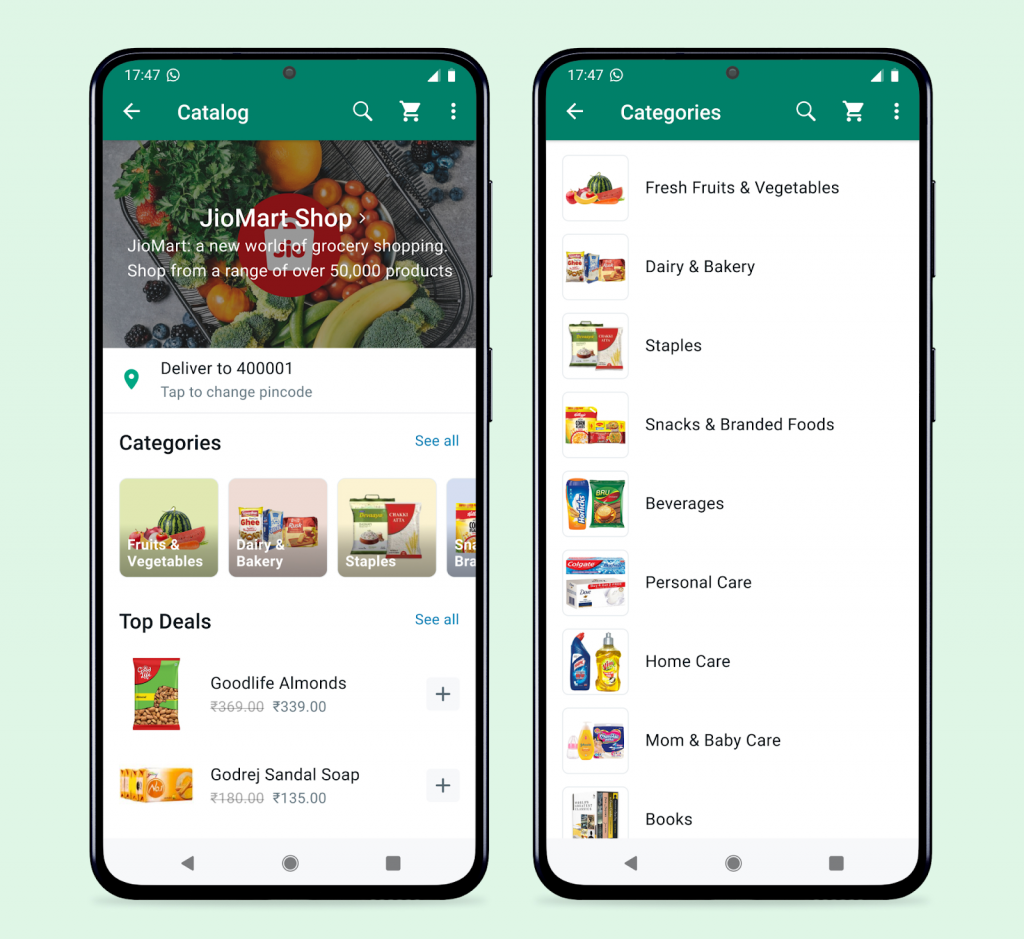 Why stop at one when you can show your customers all that you have to offer? A product catalog helps you give customers a broader overview of the products and services they can purchase from you, making it easier for them to browse through and make their preferred choice.
Sometimes, customers browsing through a supermarket may not know what they want to buy until they see it. With a product catalog on your profile, you give your customers a visually appealing product gallery to browse and shop from.
Combine your well-captured, crisp images with product descriptions and pricing information, and more customers will show interest in your business. A product catalog gives them a more immersive shopping experience, which will boost sales and leads.
Leveraging WhatsApp Status for Business Promotion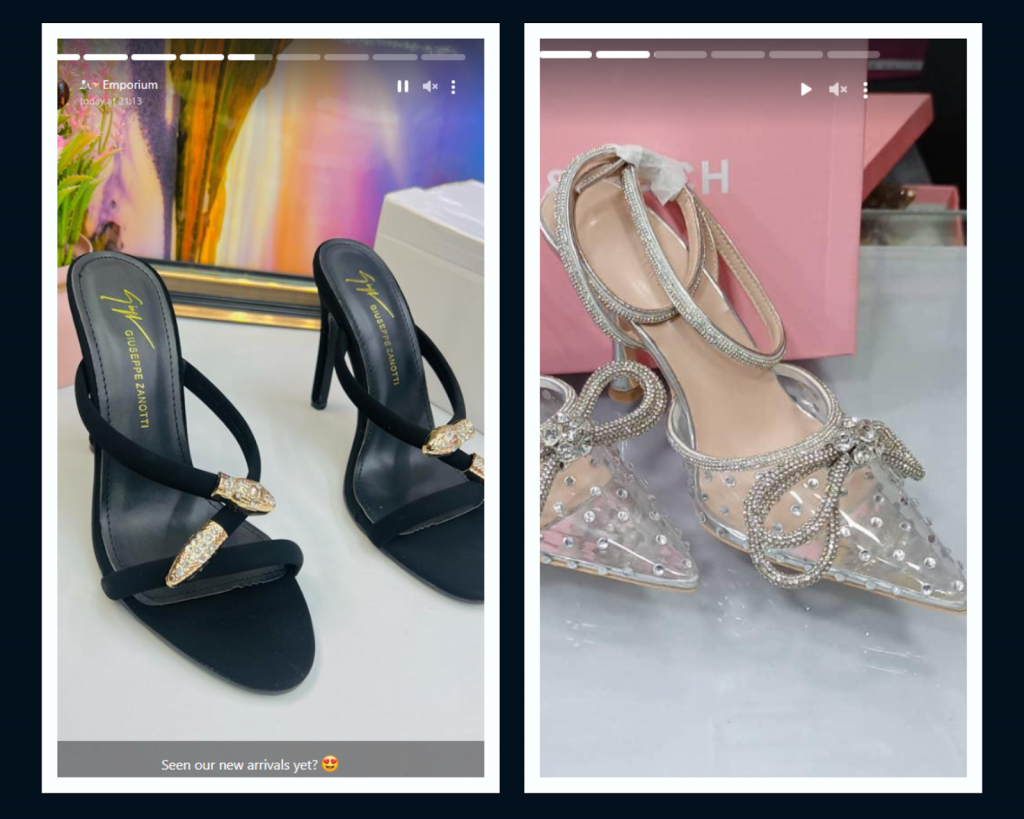 The WhatsApp status feature is one of the best channels for marketing and promoting your business to your potential and existing customers. Take advantage of the free posting space to share updates, exclusive offers, engaging content, behind-the-scenes of your business processes, and more to ignite customer engagement.
WhatsApp status posts only last for 24 hours, but you can use that to your advantage. Create posts that build a sense of urgency around your offers so that customers want to take immediate action. For instance, make a flash sale on select products and indicate that it lasts only for the length of the status post duration — 24 hours.
WhatsApp status posts also help you showcase your brand's personality to your audience, giving them a more authentic and trustworthy perception of you.
Exploring WhatsApp Business API for Advanced Capabilities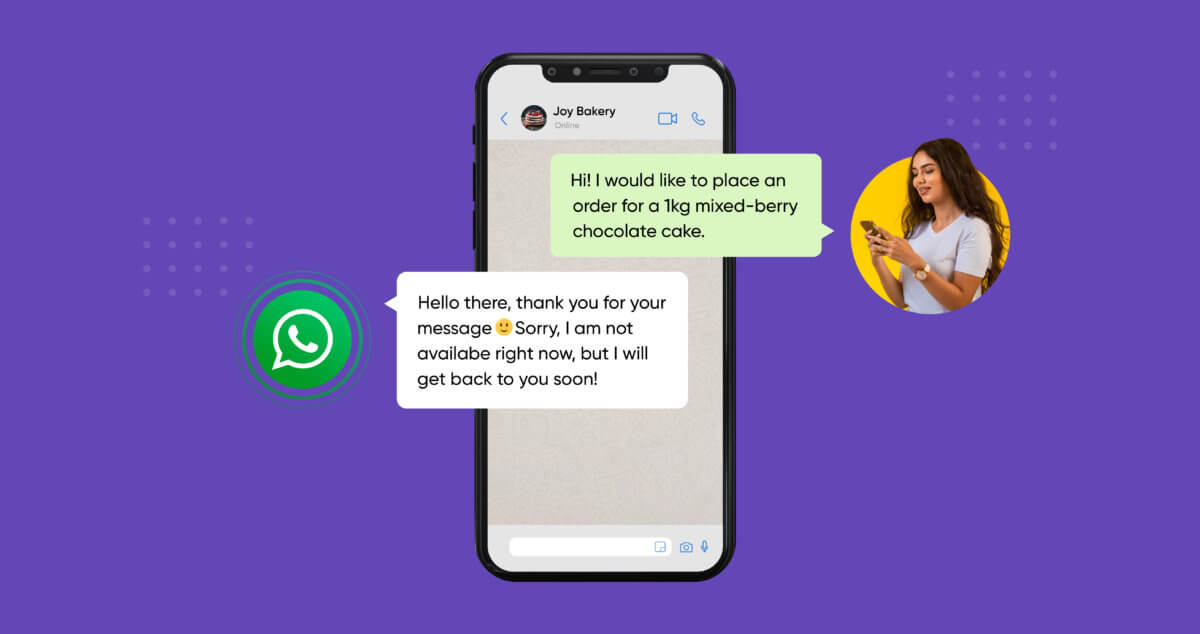 WhatsApp Business has a paid version known as WhatsApp Business API. This alternative version of WhatsApp Business comes with more advanced features to take your business operations to the next level. Some of these features include Contact Management, 24-hour session messages, and Green Tick for accounts.
As your business grows, you want to expand and bring more employees on board. WhatsApp Business API allows this. Unlike the free version, this advanced tool allows you to add unlimited users to one account. So, you can have multiple staff handling your customer support and marketing on one phone number. Never miss a lead again!
Also, its quick replies feature allows you to save and share replies to common questions that customers ask instead of repeatedly typing them daily. The WhatsApp bot can also automate customer replies in case of your unavailability, helping you collect leads even while you sleep. 
Automate and push WhatsApp Business notifications to customers at set times, and receive individual replies from interested customers. It's a great way to share business updates, exclusive deals, and more with your contacts, encouraging engagement from them.
Leveraging WhatsApp Broadcast for Bulk Messaging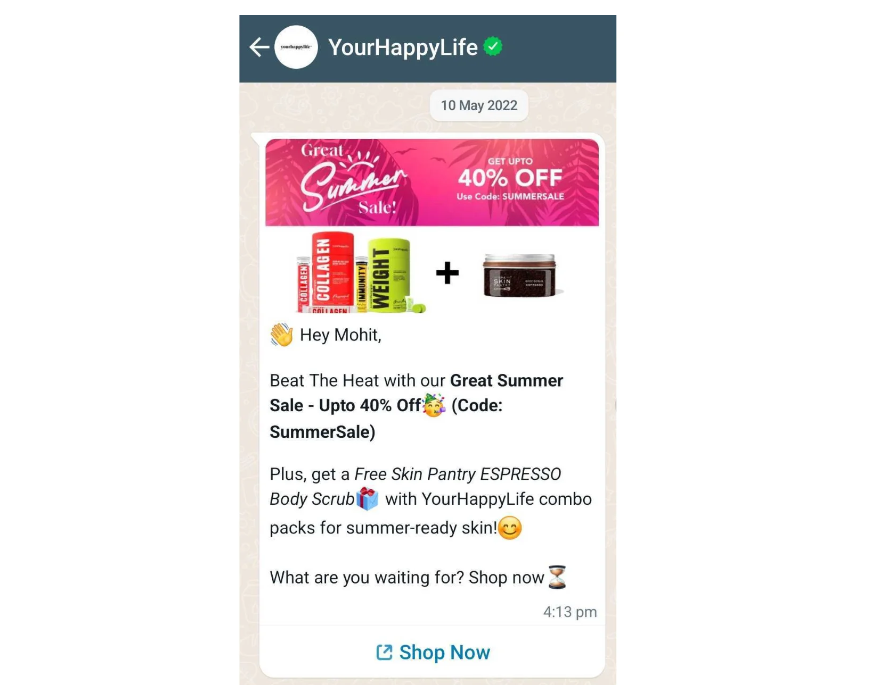 A growing business means a growing customer base. This means you will no longer find WhatsApp's "mark and send" feature convenient for sharing business updates. It's not scalable, but the WhatsApp Broadcast feature is. 
With WhatsApp broadcast messages, you can reach a larger audience base at once, saving you time and effort in your WhatsApp marketing campaign. Simply create broadcast lists based on the stage the customer ranks in your sales funnel.
So, if you have five customers who recently found out about your brand, create an awareness stage broadcast list for them. Create another one for customers who are close to making a purchase. This will help you identify the types of targeted messages to send to them that will be effective in taking them closer to making a purchase.
You can also segment your broadcast list based on customer interests, demographics, and more. This customer segmentation guide is a good resource if you need more help with achieving this.
WhatsApp broadcasts enable you to engage with your customers, increase your reach, and boost your potential to find interested shoppers.
Exploring the Challenges and How to Overcome Them
Like any tool, WhatsApp Business can have its own challenges. But worry not! With the right approach, you can conquer them all. One common hurdle is managing a large volume of customer messages. But here's the kicker: WhatsApp Business lets you use automated replies and chatbots to handle common queries so that you won't miss a single message! Another potential pitfall is spamming customers with too many messages. It's important to strike the right balance. Nobody likes an inbox full of unread messages, right? To avoid this, use the broadcast feature wisely, sending targeted and useful messages based on where your customer is in their buying journey. With these tips in mind, you're set to tackle any challenges that come your way!
Managing WhatsApp Conversations with Juphy
With great power comes great responsibility, or how does the saying go?
When you start leveraging WhatsApp Business for your business's marketing and promotions, expect an influx of generated leads to you to find out about your product and services. Are you prepared to handle all the conversations?
Many businesses work with a WhatsApp Inbox Managing tool like Juphy to stay on top of all their WhatsApp Business messages and support performance. Let's see how Juphy can help with this.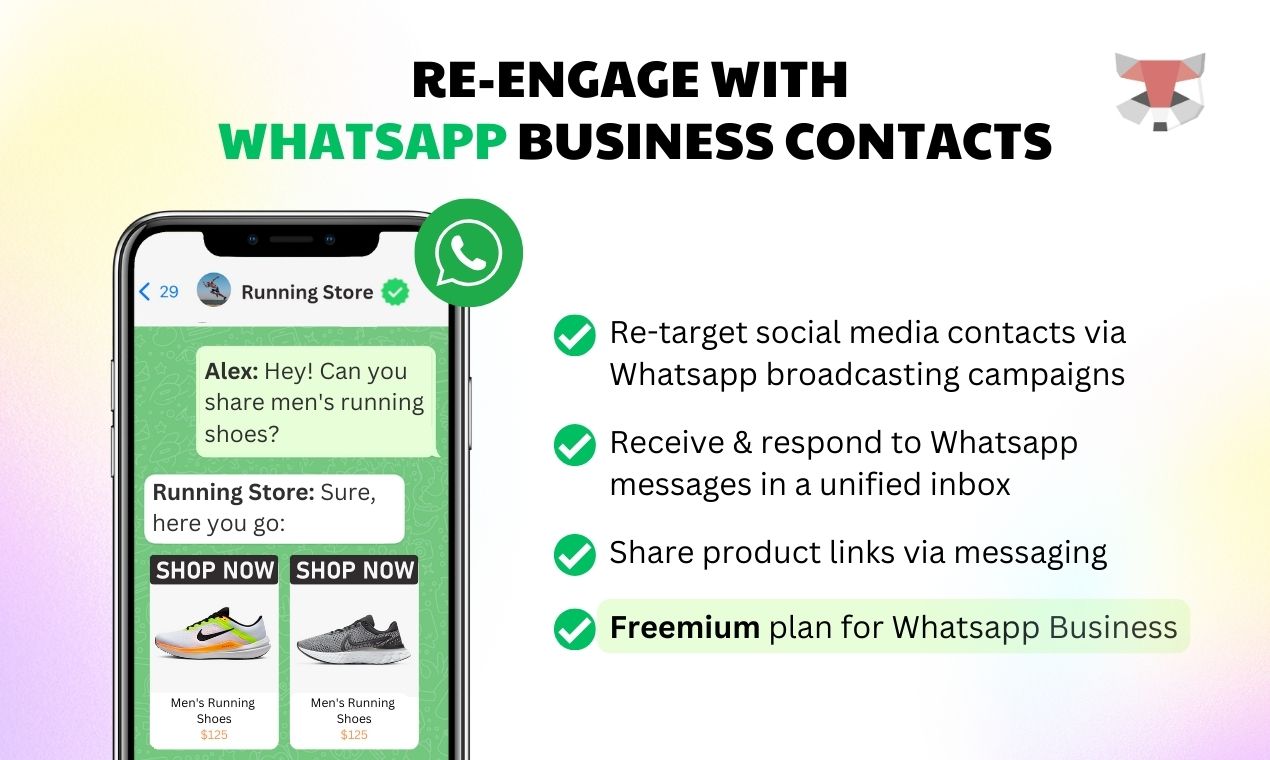 Juphy and Its WhatsApp Business Features
Juphy is the all-in-one data-driven support platform for social channels. It helps businesses unify their social conversations and deliver excellent customer service via personalized messaging apps such as WhatsApp.
Juphy's WhatsApp Inbox features help you keep track of all your WhatsApp messages so you don't miss out on any potential buyers, but you can achieve so much more with the tool. See other ways it can help:
Get notifications on the go: Just like on WhatsApp, when you use Juphy's WhatsApp features to keep track of your messages, you get real-time notifications. That way, you can attend to leads in record time. You can communicate with clients in real-time, and get notified about messages instantly!
Reach more clients faster: Juphy's Broadcast list campaigns enable you to create contact lists and send broadcast messages to clients quickly. All you need to do is set up a target broadcast campaign, select your preferred customer segment, and type in your message. If you like, you can schedule the campaign to be posted at a later time and date.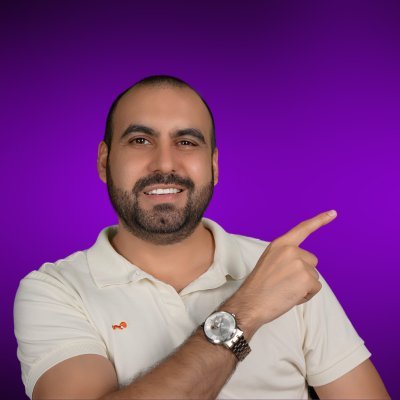 Jorge Aguilar
CEO / SaaS Master
"Having explored Juphy's offerings, I am highly impressed by its integrated approach to social media management. As a data-driven sales & support platform, it unifies social conversations across platforms, making it an excellent resource for providing customer service and boosting sales via personalized messaging​. One of the standout features is the unified inbox, which allows easy responses to all social media comments, messages, mentions, and reviews, across popular platforms like Facebook, Instagram, and Whatsapp. This saves time and boosts the efficiency of interactions"
✓ Product Hunt Verified Review
See how well your campaign performs: Tired of sending broadcast messages and getting zero feedback? You can track how well your campaign performs by viewing your contacts' actions when they receive your message. Identify contacts that may be potential leads and pursue them to close the deal.
Empower a responsive team: Juphy's WhatsApp Business features are excellent for team collaboration, helping teams provide faster responses on WhatsApp. With Juphy, you can assign conversations to team members so no lead is left unattended. You also get team inbox features so employees can communicate with each other to deliver a seamless customer experience.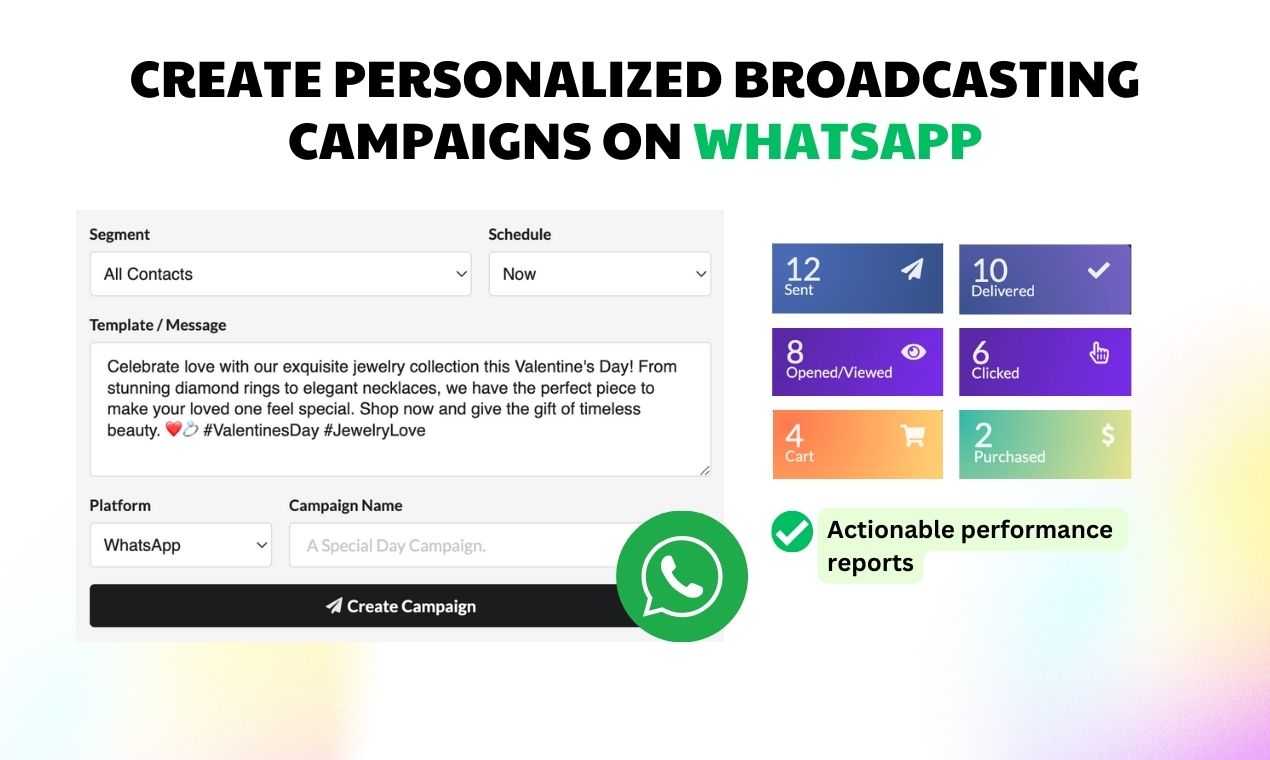 Setting Up and Using Juphy with WhatsApp Business
Juphy's Freemium Plan for WhatsApp is an excellent solution tailored to startups and solo entrepreneurs who aim to build a substantial social presence on WhatsApp. This plan comes at absolutely no cost, making it an ideal choice for those just starting their business journey. With features like support for 2500 contacts, two users, unlimited broadcast messages, and a website social chat widget, this plan equips you with the essentials to communicate effectively with your audience and grow your business on WhatsApp.
Now, let's dive into how you can set up Juphy and WhatsApp Business in a few easy steps.
Ready to run with Juphy and WhatsApp Business? Here's how you can set it up in 10 minutes!
Ensure your WhatsApp Business account is up and ready for use.
Sign up for Juphy's WhatsApp Freemium Plan. It's a free tool designed for startups and solo entrepreneurs, allowing you to build your social presence on WhatsApp. to create an account. You get to use it free for seven days!
Next, follow the prompts and connect your WhatsApp Business channel to Juphy.

First, create your WhatsApp Product on the Meta Developer App by following these detailed steps.
Once you're all done, go back to your Juphy dashboard. Click on the WhatsApp button. Your number should appear in the right-side window.
Next, click the green "Add WhatsApp Number" button to finish.

You may also connect your other social channels like Instagram, Facebook, and more.
Once you're through, your inbox is ready. Watch all your messages start to come in!
With Juphy's Freemium Plan, you are well on your way to establishing a dynamic presence on WhatsApp and reaching out to your audience in an engaging, personalized manner​.
Conclusion
Working with WhatsApp as a lead generation tool is the game changer for businesses that want to expand their client base and boost sales. Its vast user base and business-friendly features make it the powerful channel that connects businesses to their existing customers and leads, as well. Paired with an inbox management tool like Juphy, you get a powerful sales channel to enhance sales and ensure excellent customer service and efficient team collaboration. So, what are you waiting for? Unlock new possibilities for lead generation and customer support in your business. Get your free Juphy-enhanced WhatsApp inbox now.
Create Your
Social Inbox Now
Manage all social media customer support inquiries in a unified inbox.