One of the most popular messaging apps today, WhatsApp is among the leading social commerce players with its business solutions. While many companies use the free app or the API for sending promotional or transactional messages to their customers, some businesses utilize the tool's features to create complete shopping experiences. WhatsApp marketing features enable customers to browse products, place instant orders and even make payments in some selected locations. All these benefits make WhatsApp Business a pretty valuable marketing and sales tool. This popularity also makes it necessary to use WhatsApp marketing software to get the most out of the messaging app.
Create Your
Social Inbox Now
Manage all social media customer support inquiries in a unified inbox.
What Is WhatsApp Marketing Software?
WhatsApp marketing software is a specific type of tool that integrates with WhatsApp in order to enable businesses to streamline their conversations with their customers, subscribers, and even prospects. It is convenient for businesses to send individual or bulk marketing messages, receive questions about products and services, and engage their users with abandoned cart prompts, price drop alerts, or reminders.
The benefits of using Whatsapp marketing software include ease of use and up-to-date knowledge. Various tools make sending bulk messages easier, automating answers to frequently asked questions and keeping track of previous conversations. Also, the service providers keep the system up to date. Since WhatsApp Business is a product that is constantly being improved with additional features, this benefit of using marketing software is quite important.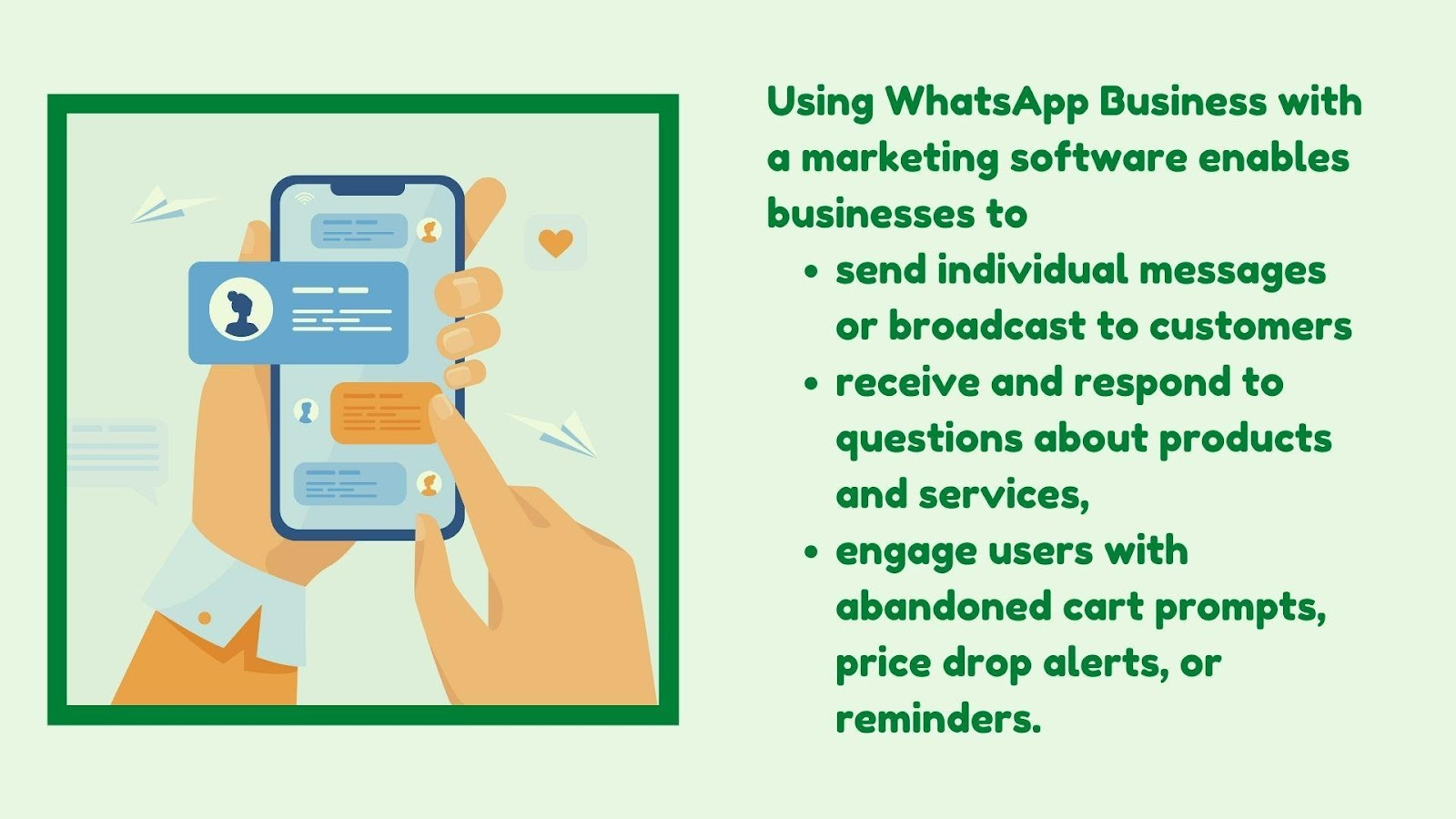 What to Consider When Choosing a WhatsApp Marketing Software
WhatsApp is a very lucrative business tool, and many companies inevitably want to get a share of this profit pie by offering various products. You'll find tons of paid and free software that enables integrations with WhatsApp Business in the market.
This blog post is not concerned with free WhatsApp marketing software, nor should you be. The free stuff isn't approved by Meta, which fills them with security gaps and a very high probability of getting your WhatsApp Business number blocked. As we mentioned in the post about bulk messages, Meta is quite serious about its products and customers, and you can easily get into trouble if you don't abide by their rules.
So the first thing to consider when choosing WhatsApp marketing software is ensuring that your solution provider is verified even if you are price sensitive. This will make your operations not only legal but also more accessible and safer.
Another issue you should consider before deciding on the software to buy is to what extent the provider you choose can meet your needs. For example, if you provide after-sales assistance through WhatsApp, you may have a list of predetermined answers for frequently asked questions. The software that pays special attention to canned responses would benefit you. Or, if you are into social commerce, you probably engage with your customers on more than one platform. This means software that supports multiple channels will be a more cost-effective choice for you.
Now that we've set the priorities, we can move on to listing the top five WhatsApp marketing software.
Top 5 WhatsApp Marketing Software
In this list, we tried to embrace a needs-based approach. Some software on the list may be too advanced and expensive for a small business, while others may need to be revised to meet a large company's automation and scaling needs.
Let's now apply those considerations to some of the most popular WhatsApp marketing software on the market today.
1. Zoko: Central hub for WhatsApp communication
With its well-organized interface and supported features like broadcast, automation, and abandoned cart recovery, Zoko is a comprehensive tool for WhatsApp marketing.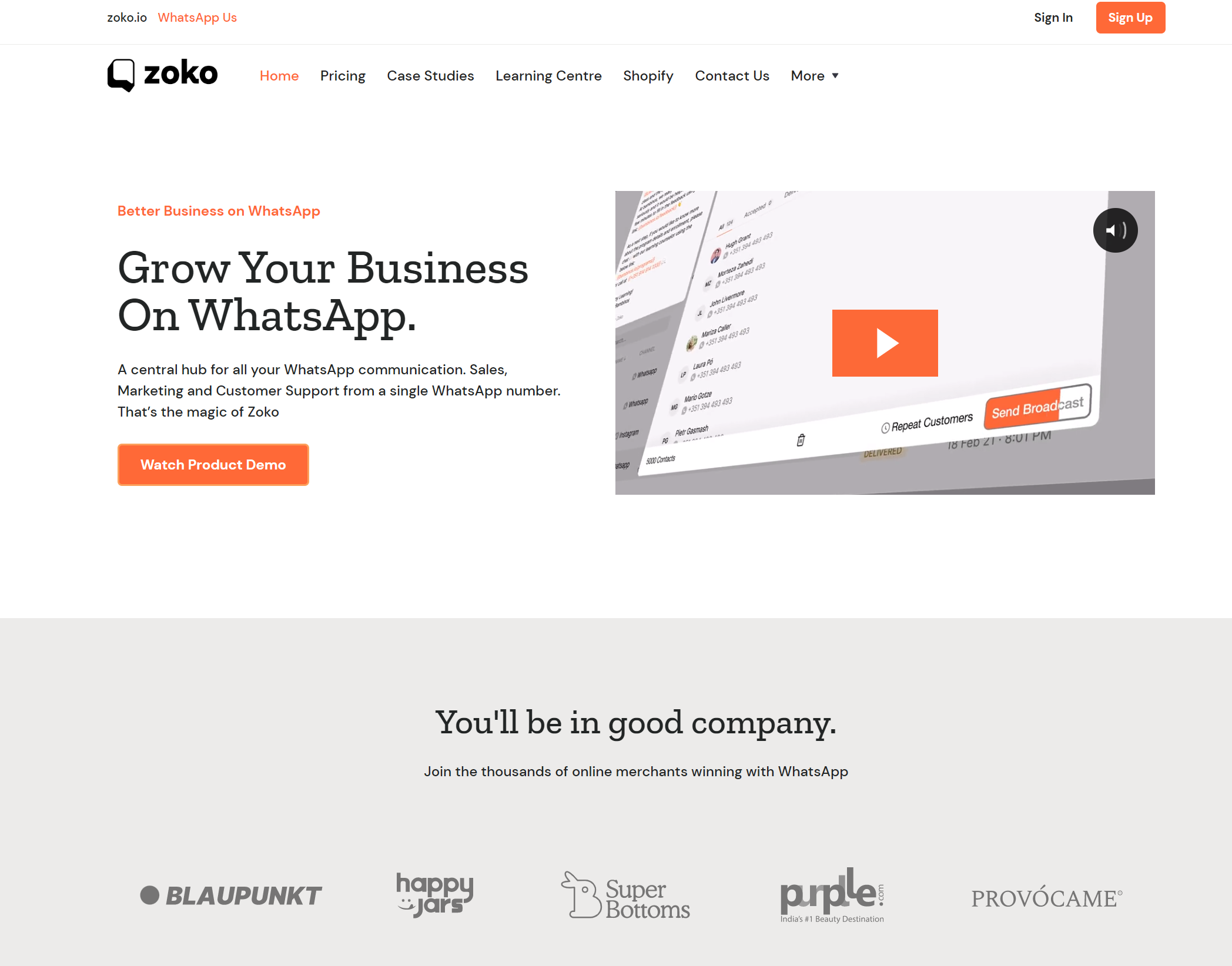 Features
Multiple agents on one WhatsApp number
Sales, marketing, and customer support through a single account
Enables creating showcases and taking orders
WhatsApp Broadcasting available
Features for e-commerce such as cart recovery, COD Confirmation, and collecting review
Pros and Cons
Can provide green tick as a partner of official providers of the WhatsApp API
Easy integration with CRM and shopping platforms
Feature for customer segmentation
Supports WhatsApp only
Pricing
Zoko has four different plans, ranging from the starter pack to the business plan for larger scales. The starter plan is $34.99 per month, followed by the most popular team plan for $54.99. Pro ($109.99) and business ($219.99) plans don't seem to differentiate much, except for the volume.
2. Twilio: Cloud communications platform for customer engagement
Twilio is a customer engagement platform mainly focused on Email, SMS, instant messaging on WhatsApp, and other voice solutions like IVR.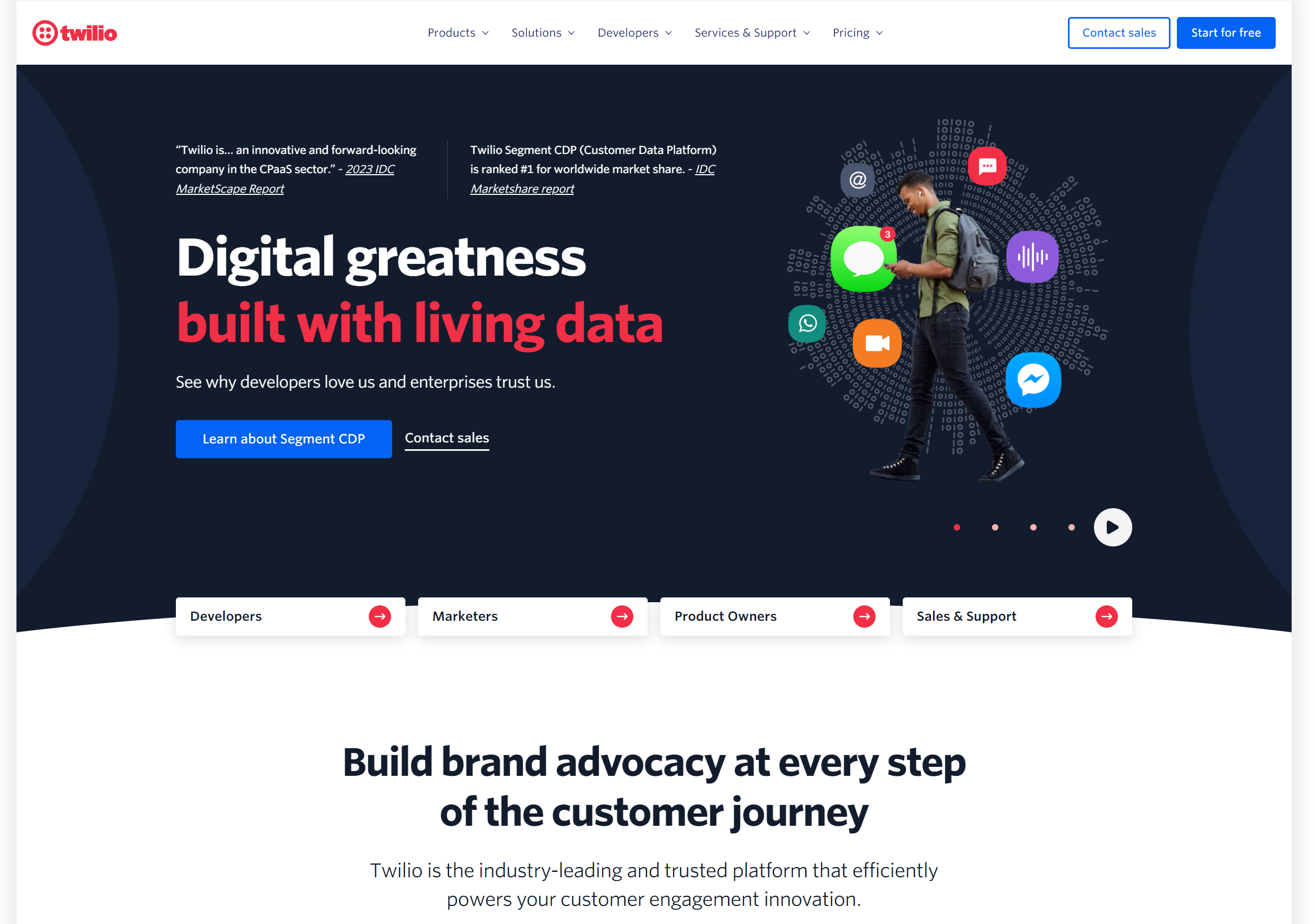 Features
Enables building, delivering, and improving customer experiences
Programmable messaging on SMS, MMS, Facebook Messenger, and WhatsApp
Services for preventing fraudulent activity
Application integrations with a drag-and-drop builder
Pros and Cons
Great for text, voice, and video messaging
Easy integrations with CRM and other apps
Enables account verification
Limited amount of WhatsApp Business features
Needs to be built according to business needs
Pricing
Twilio doesn't have set rates but offers custom pricing based on needs and uses. It also applies volume discounts. You can pay as you go and only for what you need and scale without big contracts or licenses.
3. Wati: Simple yet effective for WhatsApp communication
Wati is a customer engagement tool as well as an official BSP under Clare.ai. For a business that aims to grow through WhatsApp, Wati is a user-friendly marketing tool.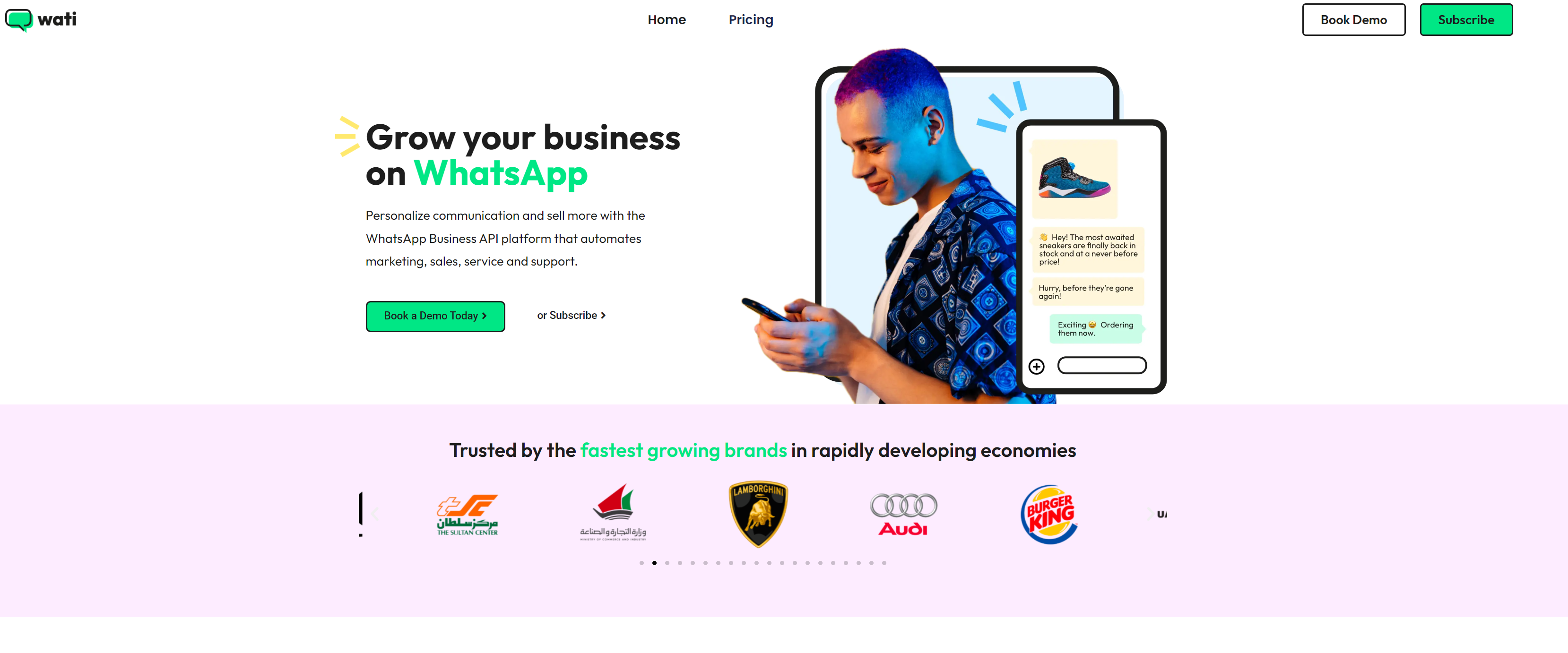 Features
A simple tool focused on WhatsApp
A shared team inbox enables easy collaboration
Bulk message and broadcasting available
Real-time messaging with alerts and notifications
No-code chatbot to automate conversations
Pros and Cons
Easy to set up and use
A small number of integrations with CRM and shopping platforms
Supports WhatsApp only
Pricing
Wati has standard and pro price ranges for mid-sized businesses and custom-built enterprise pricing for larger companies. The standard monthly fee is $40, followed by $80 for the pro plan. The annual plan provides a 20% discount, and you can try the software for free for a week.
4. Gallabox: No-code bots to automate conversations on WhatsApp
Gallabox is a Meta-approved WhatsApp bulk marketing software. Even if you're not a developer, you can create several chat-bots with Gallabox and start responding to your customers in minutes.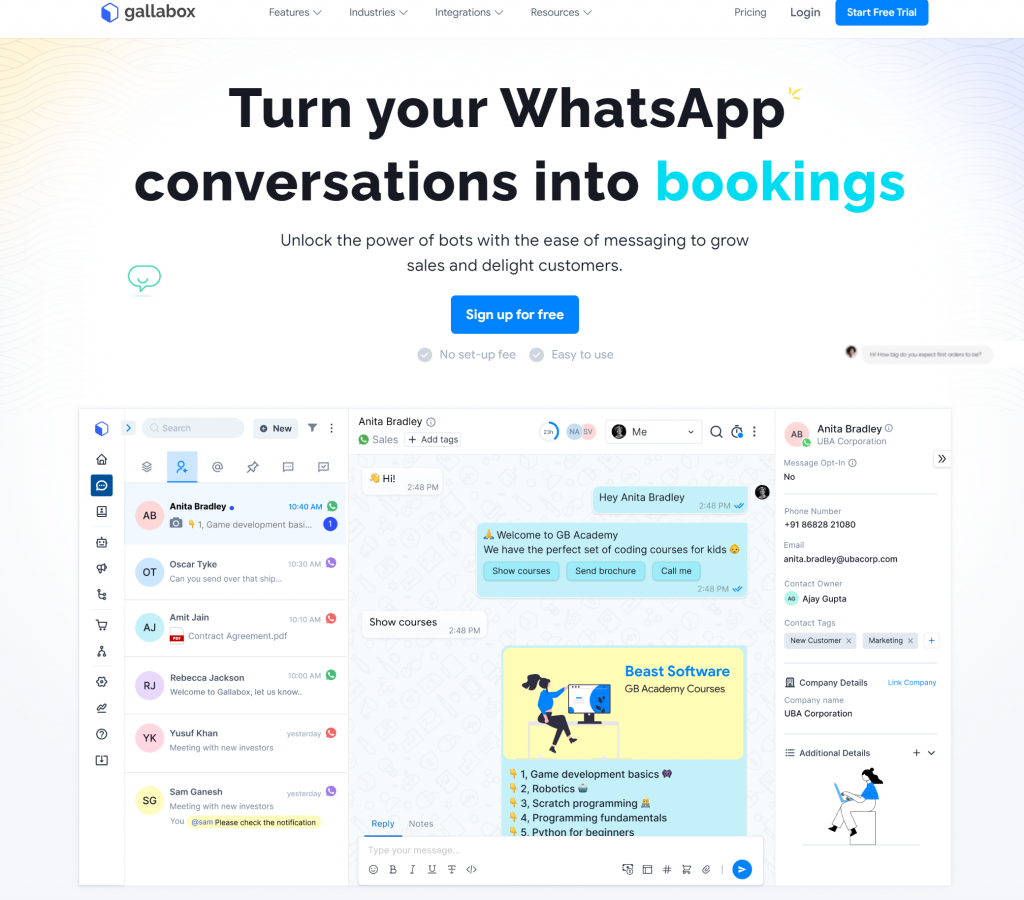 Features
Easy collaboration through a shared team inbox
Plug & play integrations with platforms like Wix and Shopify
No-code bots to serve customers 24/7
WhatsApp message automation is available
Personalized broadcast campaigns and useful campaign analytics
Pros and Cons
A needs-based library of prebuilt bot templates
Easy integration with CRM and other apps
Supports WhatsApp only
Email support can take time
Pricing
Gallabox has two standard and one custom pricing like Wati, and making annual payments instead of quarterly provides a discount advantage. With a 7-day free trial period, you can have the growth package for $36 per month billed annually ($45 for quarterly billing) and $96 for a yearly scale plan ($120 per month when billed quarterly).
Juphy offers a comprehensive suite of services for businesses seeking to leverage WhatsApp for customer service and social selling. This includes a freemium plan that caters specifically to startups and solopreneurs looking to establish a social presence on WhatsApp. The free plan allows up to 2500 contacts, one WhatsApp channel, two users, unlimited broadcast messages, and a website social chat widget.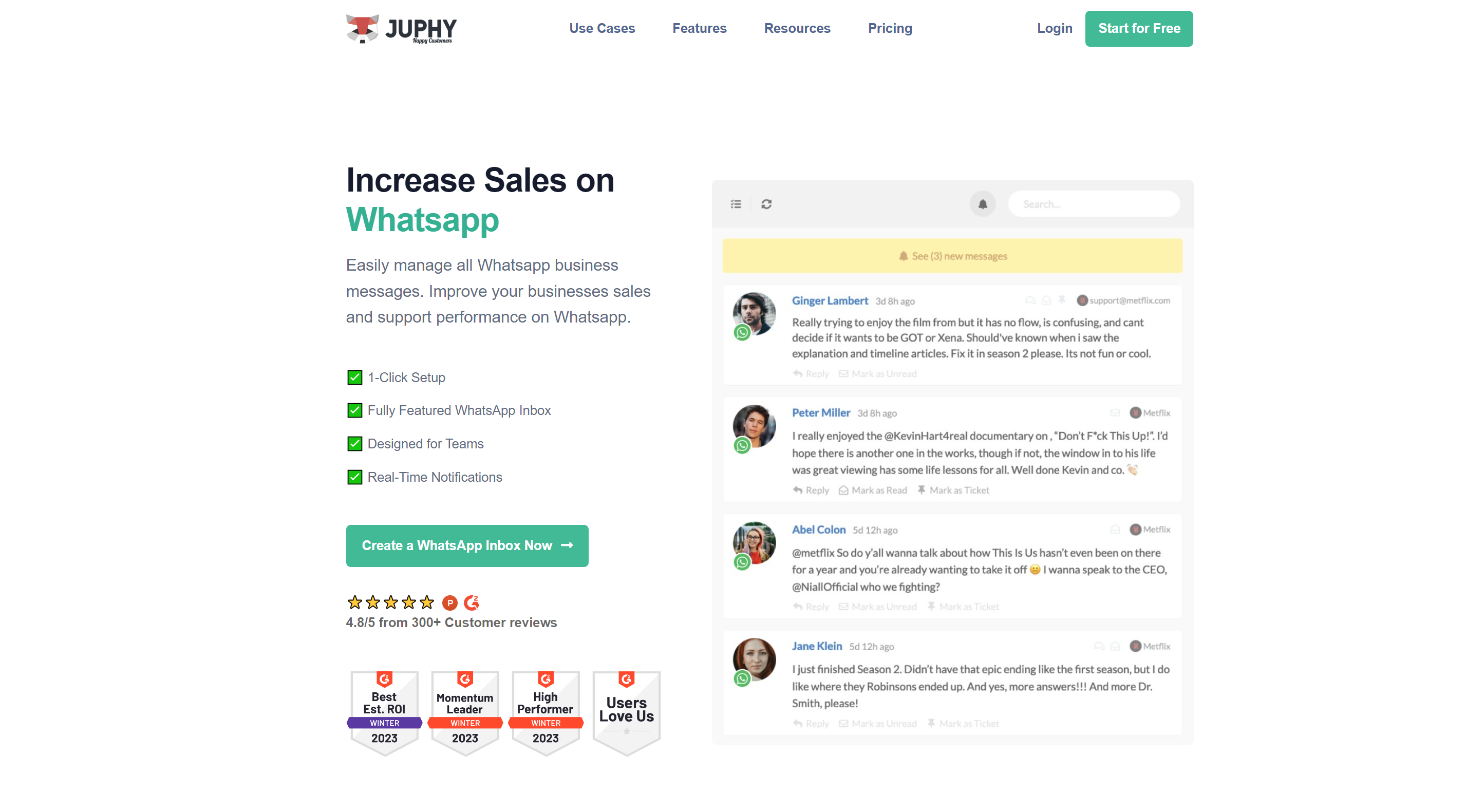 Features
WhatsApp Inbox Management: Enables the sending, receiving, and real-time responding to customer queries on WhatsApp through a single dashboard​.
Real-Time Collaboration: Offers a shared WhatsApp inbox for teams, enabling real-time collaboration among project groups or brand teams, with features like multi-account filtering and conversation assignment​.
WhatsApp Broadcast Messaging: Facilitates proactive customer conversations through targeted broadcast campaigns and special announcements on WhatsApp.
Automation Rules for Message Classification: Uses selected keywords to automatically classify incoming WhatsApp messages, streamlining the customer service process​.
Canned Responses: Helps to communicate faster and more efficiently by using pre-set responses for common scenarios on WhatsApp​.
Performance Tracking for WhatsApp Campaigns: Provides actionable reports to analyze WhatsApp campaign, channel, and team performances, helping to identify potential buyers and increase sales opportunities​.
Pros
Full-featured WhatsApp Inbox: The platform offers a comprehensive inbox that's designed for teams, with real-time notifications to ensure you never miss a customer message​​.
Campaign Tracking: Juphy helps businesses track the performance of their WhatsApp campaigns, allowing them to identify potential buyers and increase sales opportunities​.
Team Collaboration: Juphy provides features like multi-account filtering, a team inbox, and conversation assignment to help teams collaborate and provide faster responses on WhatsApp​​.
Automation Rules: Juphy includes an auto-tagging feature that automatically helps businesses classify incoming messages by selected keywords​​.
Real-Time Messaging: With Juphy, businesses can monitor and reply to WhatsApp messages in real time​​.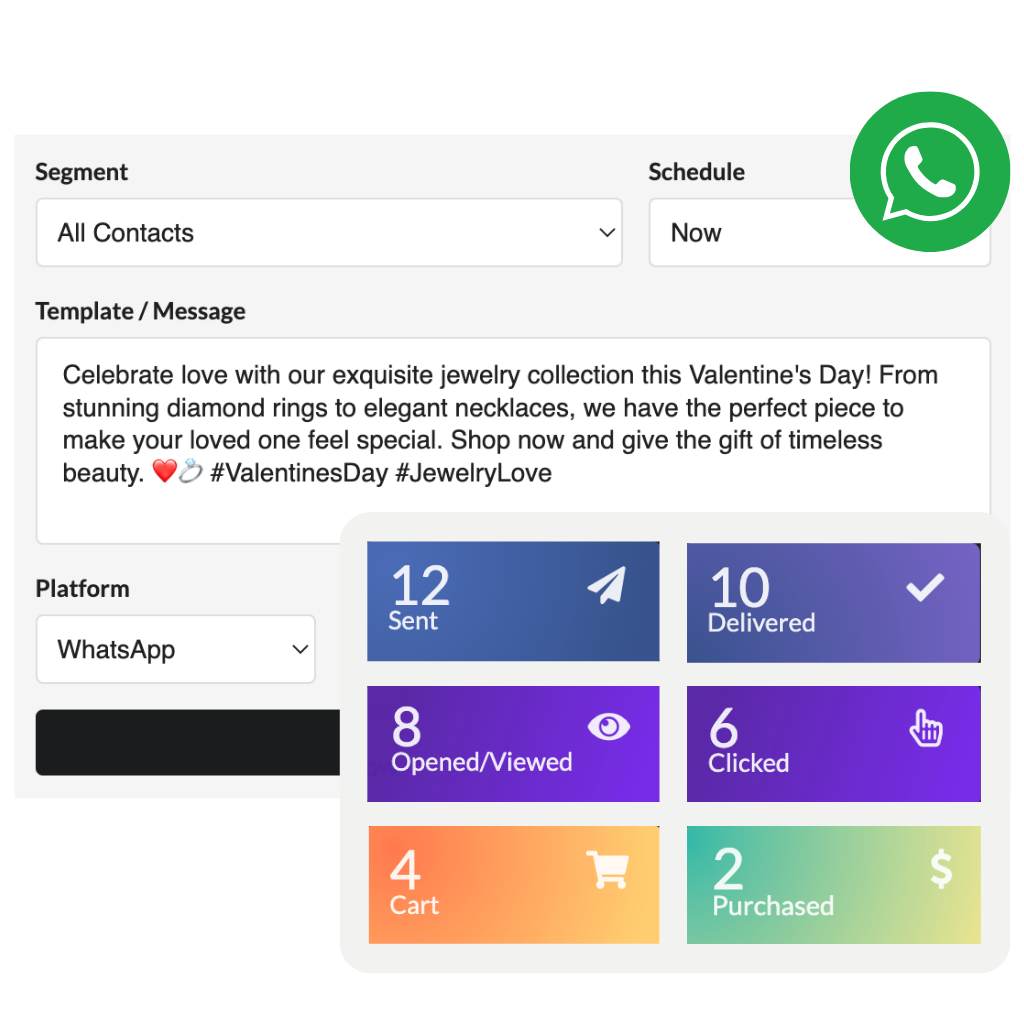 Cons
Limited Channels in Free Plan: The freemium plan only allows for a single WhatsApp channel, which may be insufficient for businesses looking to scale or manage multiple unique streams of customer messages​.
Limited User Support in Free Plan: The freemium plan supports only two users, which may not be sufficient for larger teams or businesses with high volumes of customer queries​.
Setting up and integrating a WhatsApp Business account into Juphy takes a few minutes. Click here for the setup guide.
Pricing
Juphy offers a variety of pricing plans to cater to businesses of different sizes and needs:
Growth Plan ($79/month): This plan targets small businesses and includes 4000 contacts, five channels, unlimited broadcast messages, a website social chat widget, and six months of history with standard support​​.
Advanced Plan ($239/month): This is an omnichannel solution for mid-sized businesses and includes 10000 contacts, unlimited channels, five users, unlimited broadcast messages, a website social chat widget, unlimited history, priority support, and includes ads comments on Facebook and Instagram​.
Enterprise Plan (Custom pricing): This tailored solution is for large businesses and enterprises and includes unlimited contacts, channels, 100 users, unlimited broadcast messages, website social chat widget, unlimited history, SLA support, and contains ads comments on Facebook and Instagram​.
Juphy also offers a 7-day free trial for all its plans, and a 30-day money-back guarantee, allowing businesses to test the service risk-free​.
Conclusion
As we've seen, WhatsApp, with its powerful business solutions, can transform your customer engagement and marketing strategies. However, the key to leveraging these benefits is selecting the right marketing software that aligns with your business needs and is approved by Meta. Remember to consider factors like price, features, and compatibility with your business model. So, are you ready to turn your conversations into conversions and make WhatsApp marketing a game-changer for your business? Get your Freemium plan now!
FAQ
1. What is WhatsApp Marketing Software?
WhatsApp Marketing Software is a tool that integrates with WhatsApp to enable businesses to streamline their customer conversations, send marketing messages in bulk or individually, automate responses, and stay up-to-date with WhatsApp Business's latest features.
2. Why should businesses use WhatsApp Marketing Software?
Using WhatsApp Marketing Software can increase efficiency, improve customer engagement, and help businesses stay updated with the latest features of WhatsApp Business. It can also automate responses, keep track of conversations, and simplify the process of sending bulk messages.
3. How to choose the best WhatsApp Marketing Software?
Choosing the best WhatsApp Marketing Software depends on a variety of factors including the specific needs of your business, the features of the software, its compatibility with your existing systems, price, and whether it's verified and approved by Meta.
4. What are some of the top WhatsApp Marketing Software available?
Some of the top WhatsApp Marketing Software options include Juphy, Zoko, Twilio, Wati, and Gallabox. Each has its own unique features, pros, cons, and pricing, and the best choice will depend on your specific business needs.
Create Your
Social Inbox Now
Manage all social media customer support inquiries in a unified inbox.
Related Article – How to Use WhatsApp Auto Reply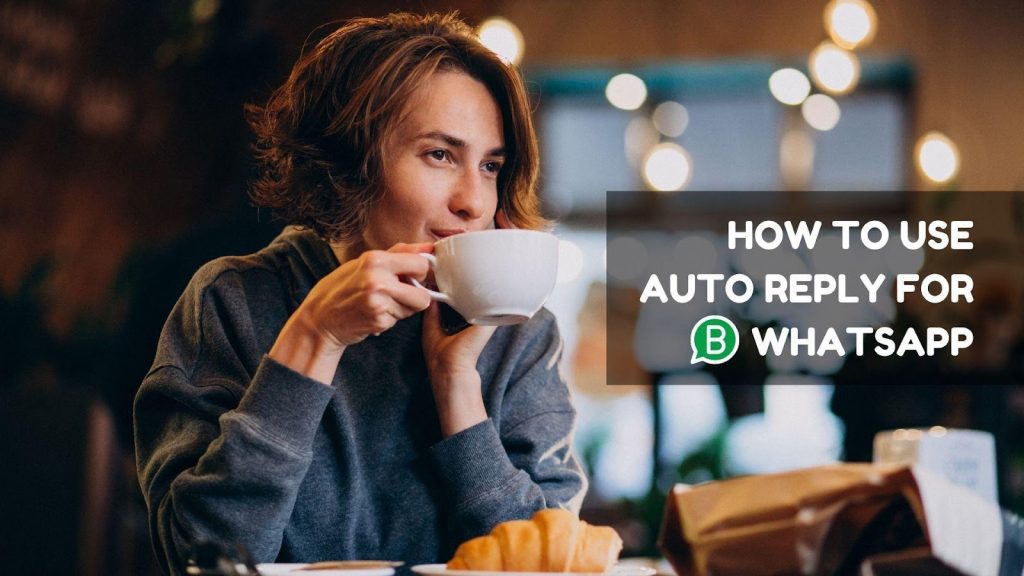 Maximize your brand's engagement using WhatsApp Auto Reply. Improve response times and keep your customers happy around the clock. Read more now!